Alcatel 3V review
A cheap phone that can't hide its budget roots
The Alcatel 3V sounds like the perfect budget phone on paper. A bigger, sharper screen and fancier camera than the Moto G6 Play for the same price? Umm, yep, that sounds like a hot deal alright.  
Alas, this is one of those sad cases of reality not matching up with the promise, though. The Alcatel 3V feels way too slow, and the battery struggles to last a day.   
It should be a budget phone killer, but it turns out this gold bar is actually made of plastic. Still, at £149, you may still find it worthy of further consideration. 
Design: Basic bits
The Alcatel 3V has the same design strategy as the Moto G6 Play. Its back is ultra-glossy and reacts to light at certain angles.
Alcatel has tried to recreate the look of a glass and aluminium phone on a budget, like the Honor 9 Lite, but here everything is plastic. There's glass on top of the screen, of course, but it's not Gorilla Glass.
For a cheap phone, the Alcatel 3V's look is perfectly fine. The Alcatel name on the back may tell techy friends this probably isn't a super-expensive iPhone X worrier, but it looks decent and is very light for such a large phone, just 155g.
You get a couple of reassuring features too. There's a headphone jack, and a fingerprint scanner on the back. It's not the fastest, but it works.
The Alcatel 3V has its share of basic bits too. Its speaker is thin and not very loud, and while it looks like there are two speakers on the bottom, there's just one. There's no USB-C charging either, just plain old microSD.
A rather measly 16GB is only half the amount of storage you get in the Moto G6 Play too, but you do at least get a microSD slot for expanding it.
Screen: Big highlight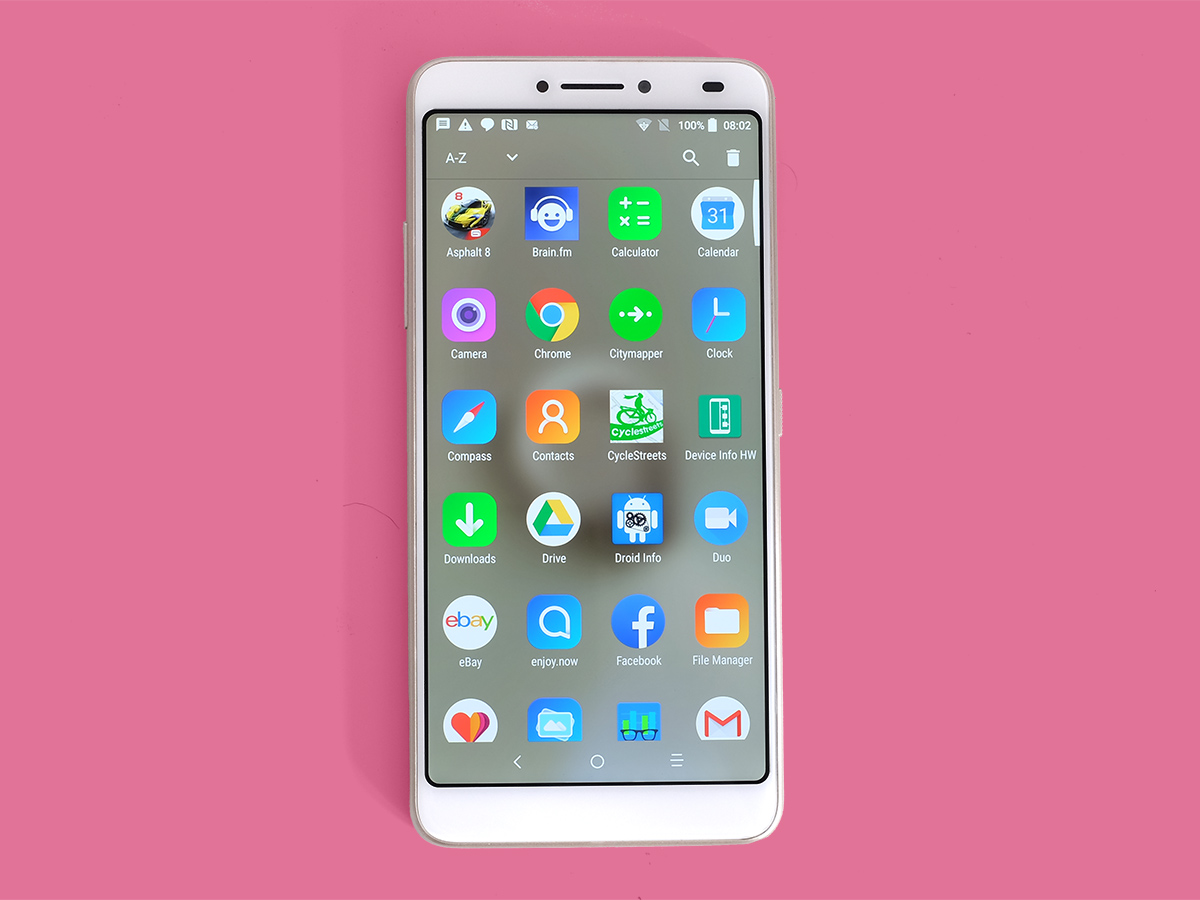 The great screen is what you get in return for the shortcomings elsewhere – it's the Alcatel 3V's highlight.
It's the trendy 18:9 shape that all the flagships are following, and is both larger and sharper than what the Moto G6 Play offers. Six inches and "2K" res for £150? That's pretty special.
You won't find many phones this cheap with displays so well-primed for video streaming and gaming. Colour is vivid enough, and until you look at the Alcatel 3V with a critical eye, it doesn't seem like you miss out much even compared to a phone three times the price.
Want the bad bits? Fancier LCD screens look brighter at an angle and the Auto brightness is a bit rubbish. You'll often need to fiddle with the backlight slider to get the screen at the right level. But getting this sort of sheer size and clarity for this price? It's pretty impressive.
Performance: Frustratingly slow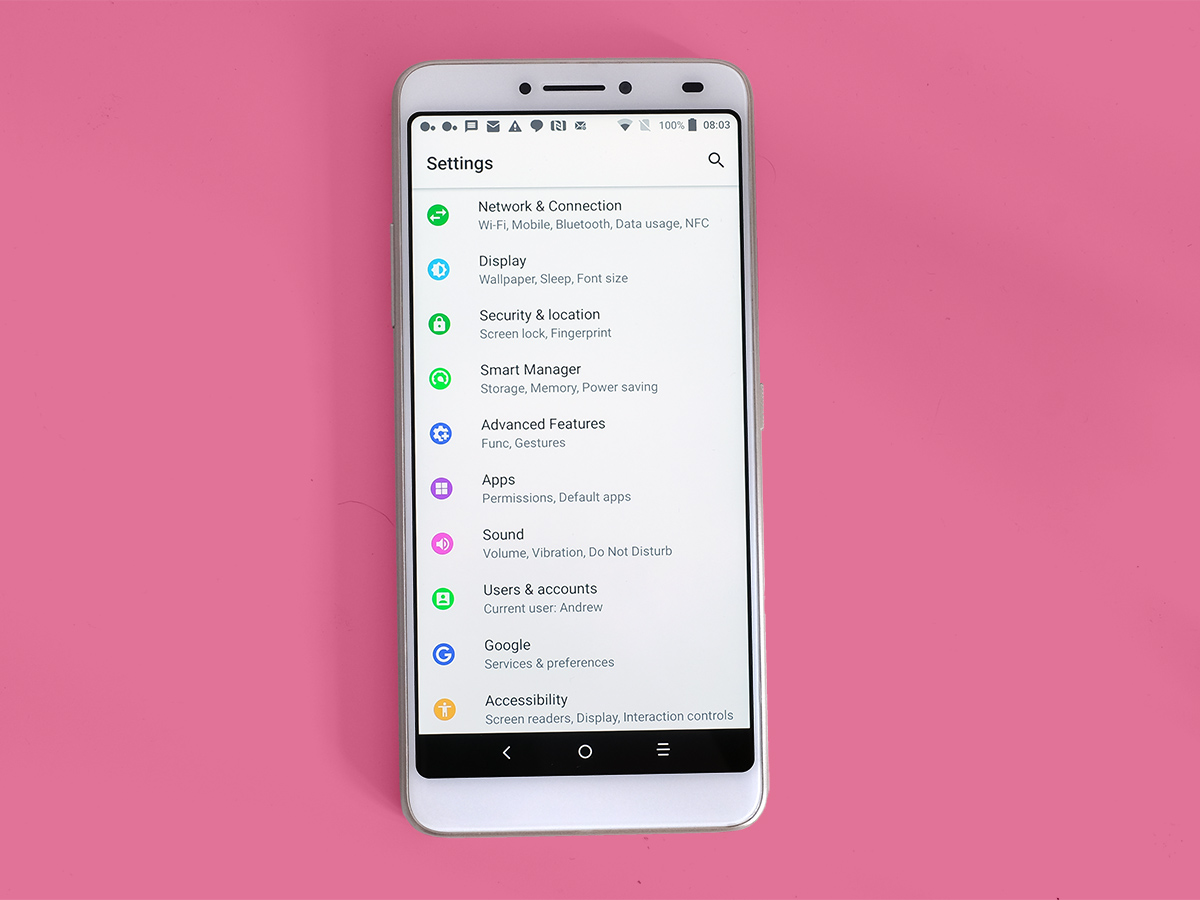 The Alcatel 3V does't make the most of this screen in other ways, though. High-end games chug along and the whole phone feels slow.
There's a wait for just about everything: app loads, for the keyboard to show up, for web pages to load, to look through your photos. The Alcatel 3V is frustrating, and you just don't get this kind of annoying lag with the Moto G6 Play.
This seems to be the curse of the Alcatel's MediaTek processor. Some of Honor's recent ultra-budget MediaTek CPU phones (not the Honor 9 Lite) have similar issues. The 3V has a MediaTek MT8735A processor, which only has four main cores and a dual-core GPU.
That's not much for a fairly high-res phone, and in Geekbench 4 the Alcatel 3V only scores 1812 points. The Honor 9 Lite earns twice as many points.
Mobile phone top trumps is usually a pretty silly game to play, as the real-life experience matters more. But from my experience, the Alcatel 3V will probably test most people's patience.
The phone's software isn't quite as good as what you get with a Moto G6 Play or Honor 9 Lite either. Its basics are fine enough. You get home screens and an app drawer, which is a vertical scroll just like that of standard Android.
However, all the app icons are a bit too big fresh out of the box, wasting the extra screen space of the 6-inch screen. Four columns of app icons in a phone as big as the Samsung Galaxy Note 9 doesn't quite look right.
There's limited customisation too, even less than the Alcatel 5 sister phone. Oh, and did we mention the Alcatel 3V is really slow?
The real pity is this would be one of the better budget phones around if it had only nailed the performance side of things.
Battery: Should do better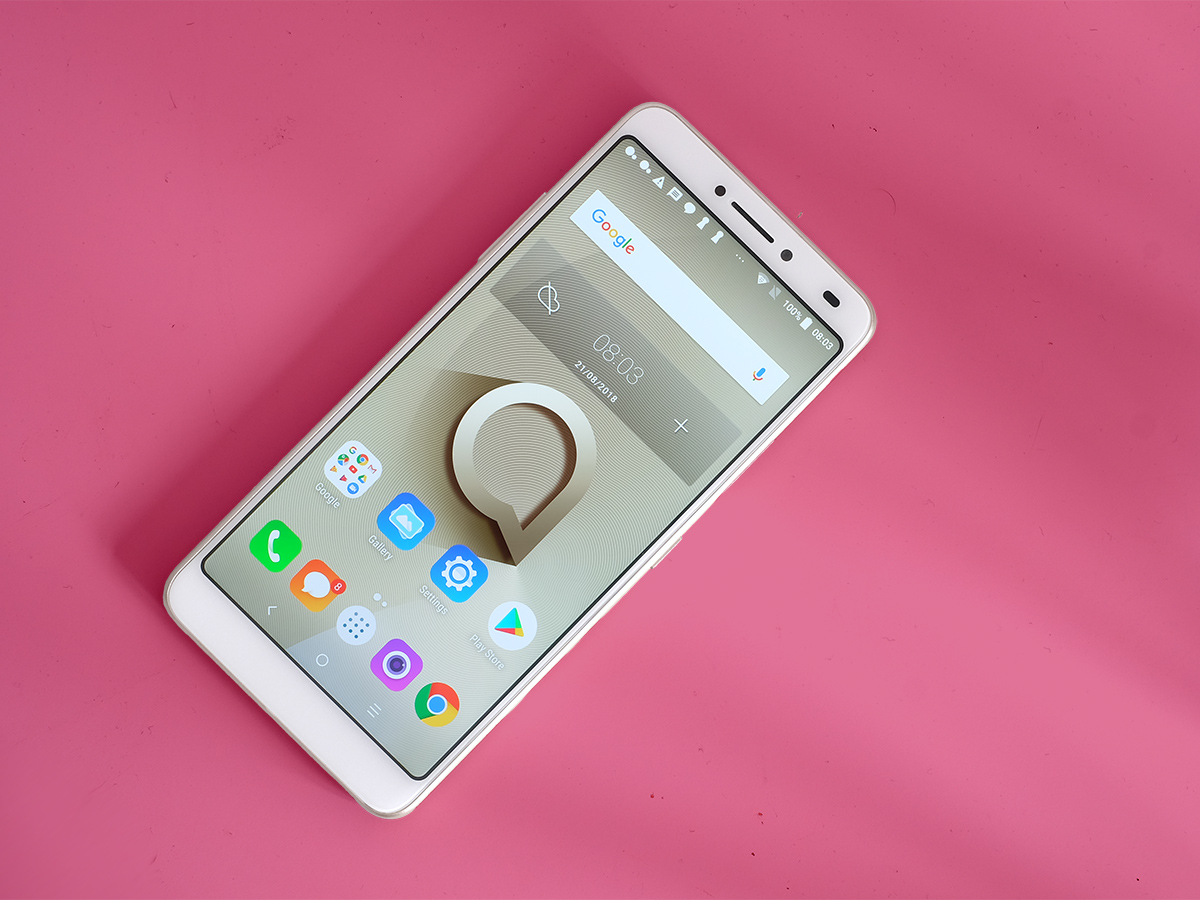 There is another problem too. The Alcatel 3V has a 3000mAh battery, which sounds just about good enough for phone with a 6-inch 2K screen.
However, getting it to last a full day of decent use can be a struggle. Watching the battery level creep down even when you barely use the phone is one of those stress-inducing trials. Who wants their Spotify playlist to conk out on the way home, leaving you with annoying phone conversations and screaming babies for company?
This phone doesn't support fast charging either, so you can't just give it a quick top-up before you head out for the night. The Moto G6 Play's battery life is far better.
Not only is the Moto's battery bigger at 4000mAh, but the Alcatel's stamina is actually surprisingly poor for its capacity.
Camera: patience required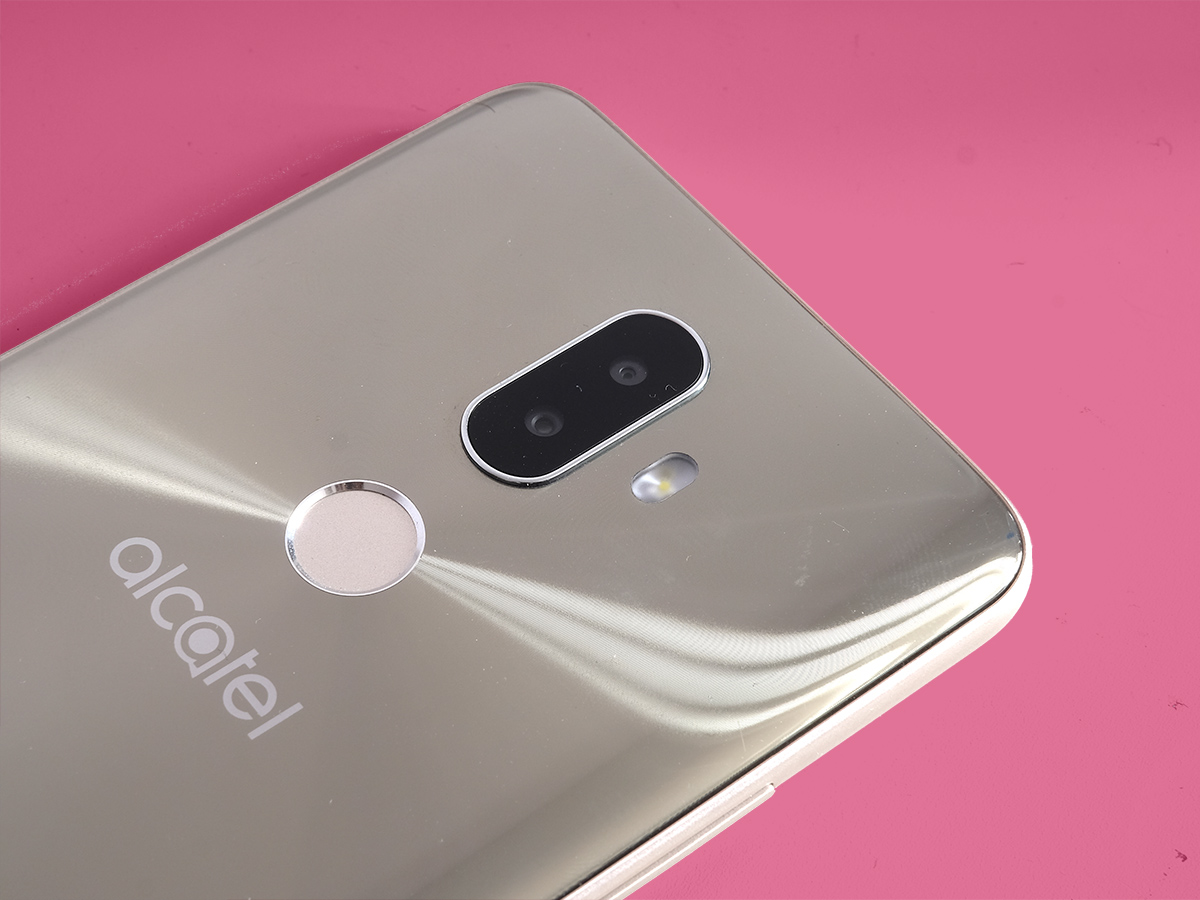 There are a few other decent parts, though. The Alcatel 3V has a 12-megapixel rear camera that, in the right conditions, can take pretty good photos.
Bright colours in flowers look vibrant but not over-done, some photos come out sharp and detailed, and the 3V even copes with night and low-light conditions better than some at the price.
The rear camera has a 12-megapixel sensor but, for some reason, you get the option to shoot 16-megapixel upscaled photos. What's the point? Who knows. However, using a lower-res 1/2.8-inch sensor gives the phone better low-light sensitivity than a lot of cheap mobiles.
There are issues, though. First – you guessed it – the Alcatel 3V camera is slow. The app takes ages to load, and it's just is not very responsive when you're out shooting.
The autofocus is a bit patchy too, and there's no Auto HDR. There is a separate HDR mode but you have to switch it on automatically. And the results aren't very good anyway.
This phone's camera sensor seems good for the price. It's the software surrounding it that introduces problems.
There's even a secondary 2MP sensor to let you shoot "depth" photos, where the background it blurred out. However, it's about the slowest portrait mode of this kind you'll find. It also struggles with anything but the most basic of scenes, keeping bits sharp that should be blurred. Still, the blur effect is real and you don't usually get it at this price.
Finally, Alcatel pulls off a sneaky trick with the front camera. It behaves like an 8-megapixel camera but is actually just a 5-megapixel one. And not a great one at that.
Fine details end up looking like they've been put through a watercolour filter much of the time.
Alcatel 3V verdict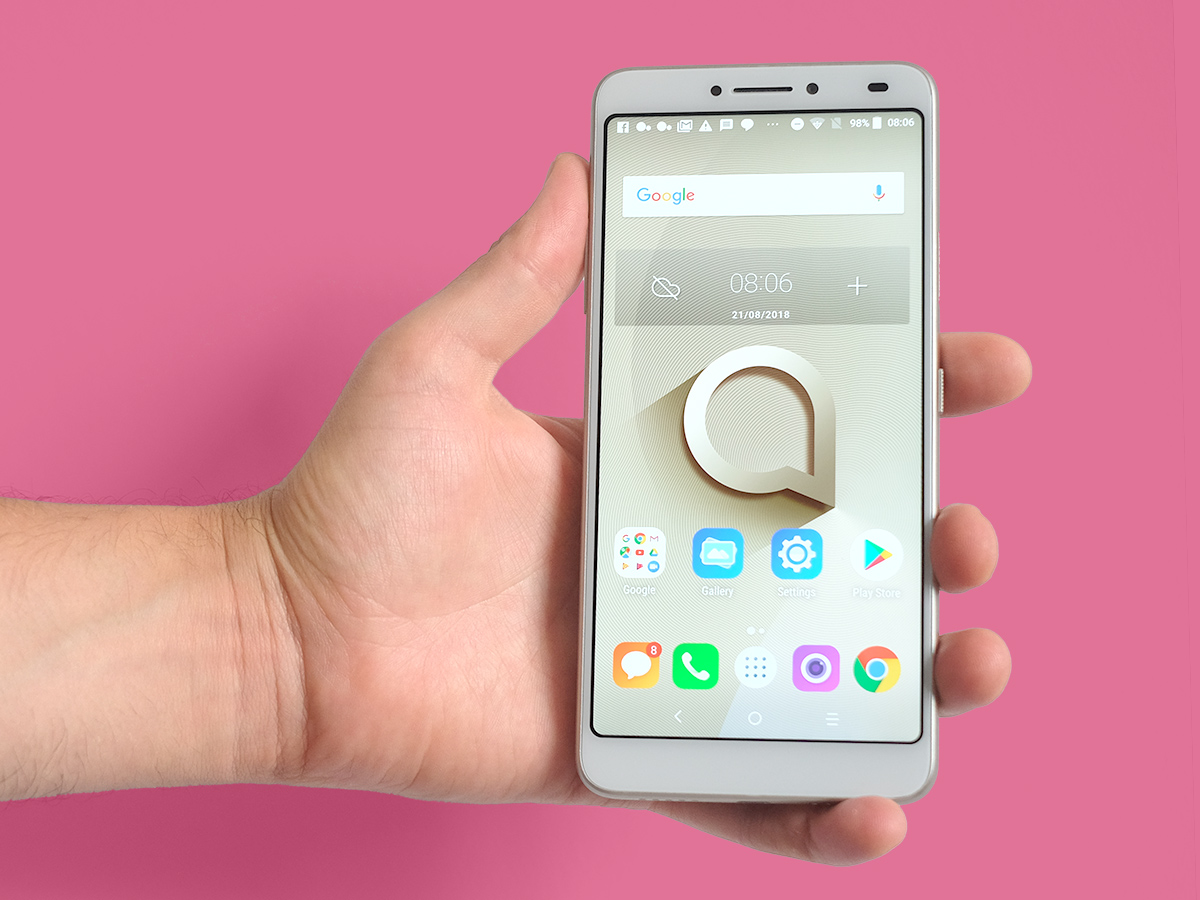 The Alcatel 3V could have been a 5-star phone. Loads of people would jump at the chance to get a screen this big and sharp for such a low price.
But Alcatel hasn't followed the Motorola Moto mantra of getting the basics right, though. The Alcatel 3V feels too slow, making it no fun to use.
That's enough to torpedo its chances of competing with the Moto G6 Play, even with a sharper screen. However, its battery life is also mediocre. Fancy parts like dual cameras and light-reactive design may be here, but the building blocks underneath need to be stronger to make this phone one to recommend.
Stuff Says…
You get a big sharp screen at a low price, but the phone's just too slow
Good Stuff
Big, sharp screen 
Low price 
Camera can produce good results
Bad Stuff
Sluggish performance
Poor battery life