Alcatel OneTouch Idol 3 5.5 review
Giant screen, smallish price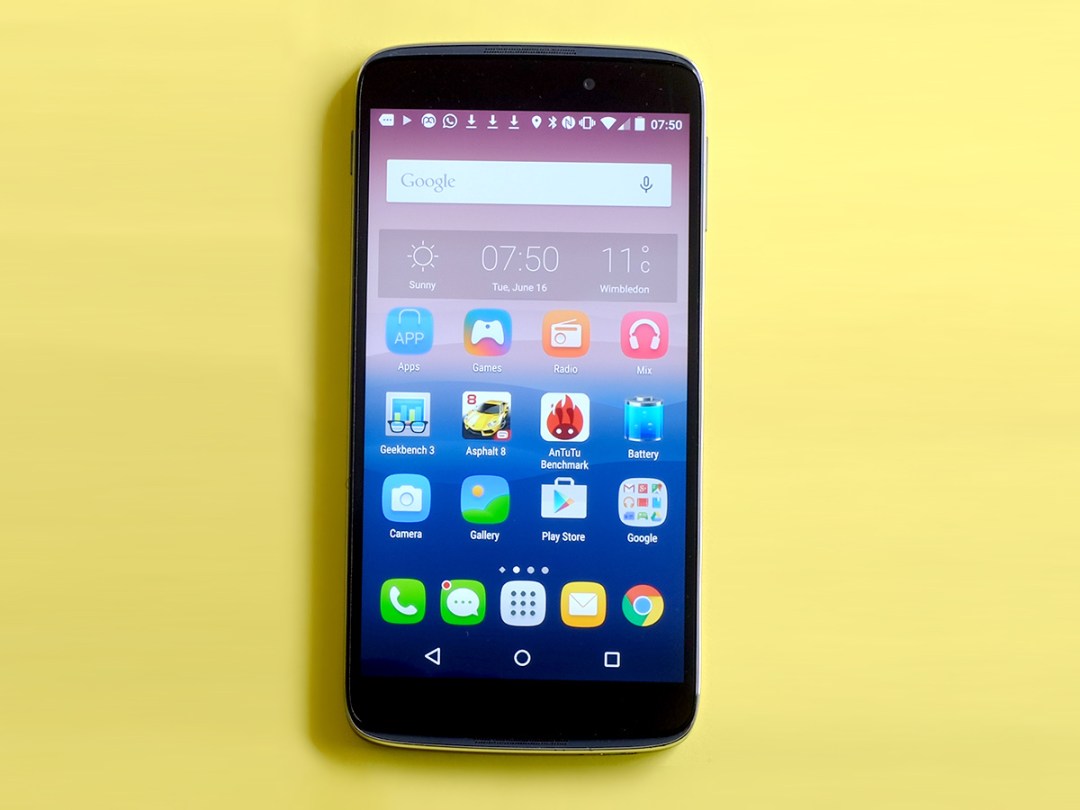 Having to pay loads extra for a large-screen phone is a thing of the past. Where once some of the biggest screens were reserved for the top dogs, you can get almost any size screen at any price these days. Ok, maybe not £50. But you get the idea.
The 5.5in Alcatel OneTouch Idol 3 is a giant-screen phone with pretty neat specs, but it costs just £270. That's around half the price of a real top-end phone. Granted, there are plenty of cheaper phones with 5.5in screens out there. This one wants to seem compromise-free, though.
Alcatel OneTouch mostly pulls it off, although some performance issues show there's some more work to be done with the software.
Plastic in metal's clothing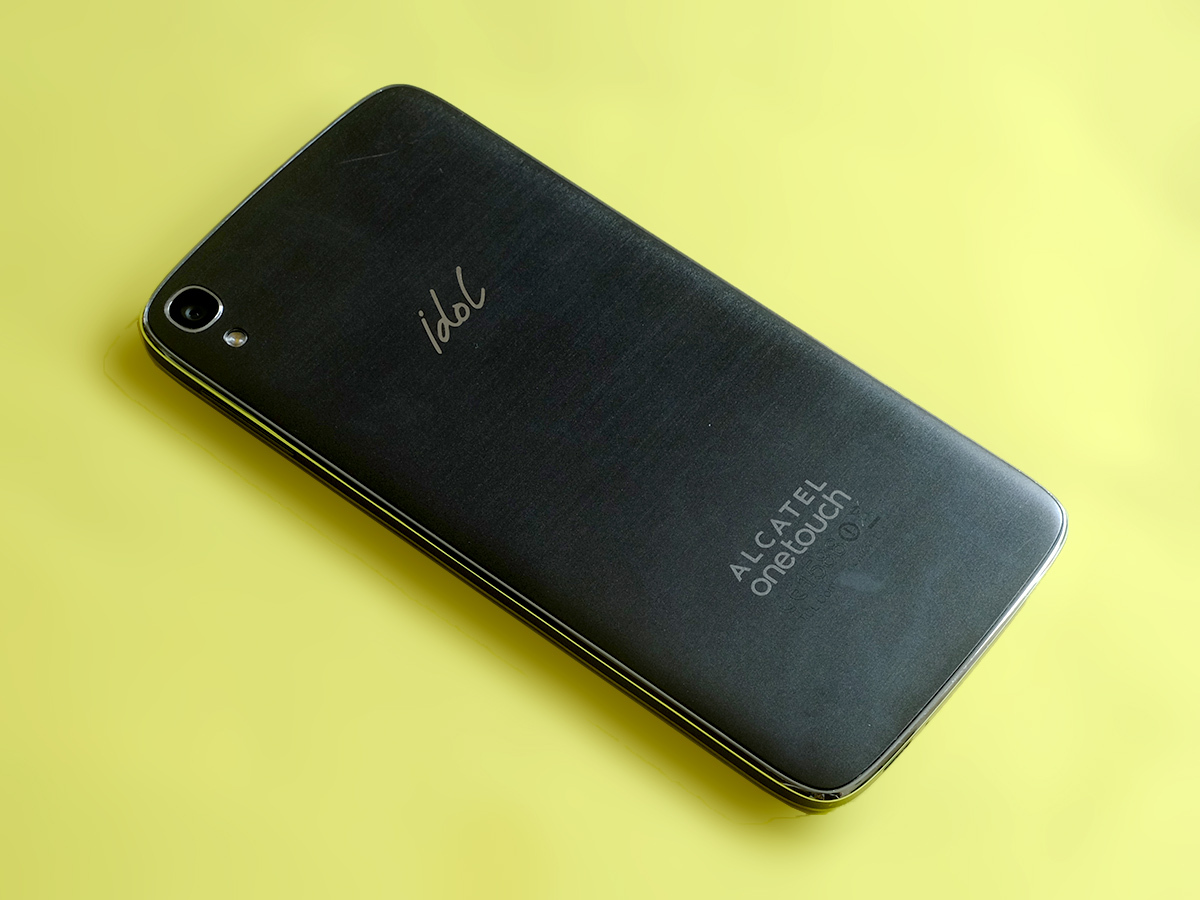 The Alcatel OneTouch Idol 3 5.5 design is almost identical to that of the 4.7in version we looked at recently. From a few feet away you could mistake it for a metal phone, but it certainly isn't one. It's all-plastic, bar the glass layer on top of the screen.
As such, it's not going to feel as expensive or high-end as something like the HTC One M9. We also found that the fake chrome around the sides gets scraped off bit-by-bit with general pocket abuse. However, the Alcatel OneTouch Idol 3 5.5 isn't flimsy either. It doesn't flex, despite being plastic and very thin at 7.4mm thick.
Being that skinny helps too, for once, ensuring the Alcatel OneTouch Idol 3 5.5 doesn't feel like too much of a handful: just a bit of one. The one part Alcatel OneTouch should have considered, like just about every other large-screen phone maker these days, is the power button.
I just can't easily reach it, as a right-handed person, when holding the phone normally. Just about every other phone this size bungs the power button half-way down the body at this point, but here it sits at the top of the left side. It's a shame, but probably not a deal-breaker: there's an optional gesture that turns the screen on with a double tap (you have to turn it on yourself, mind).
Any side orders?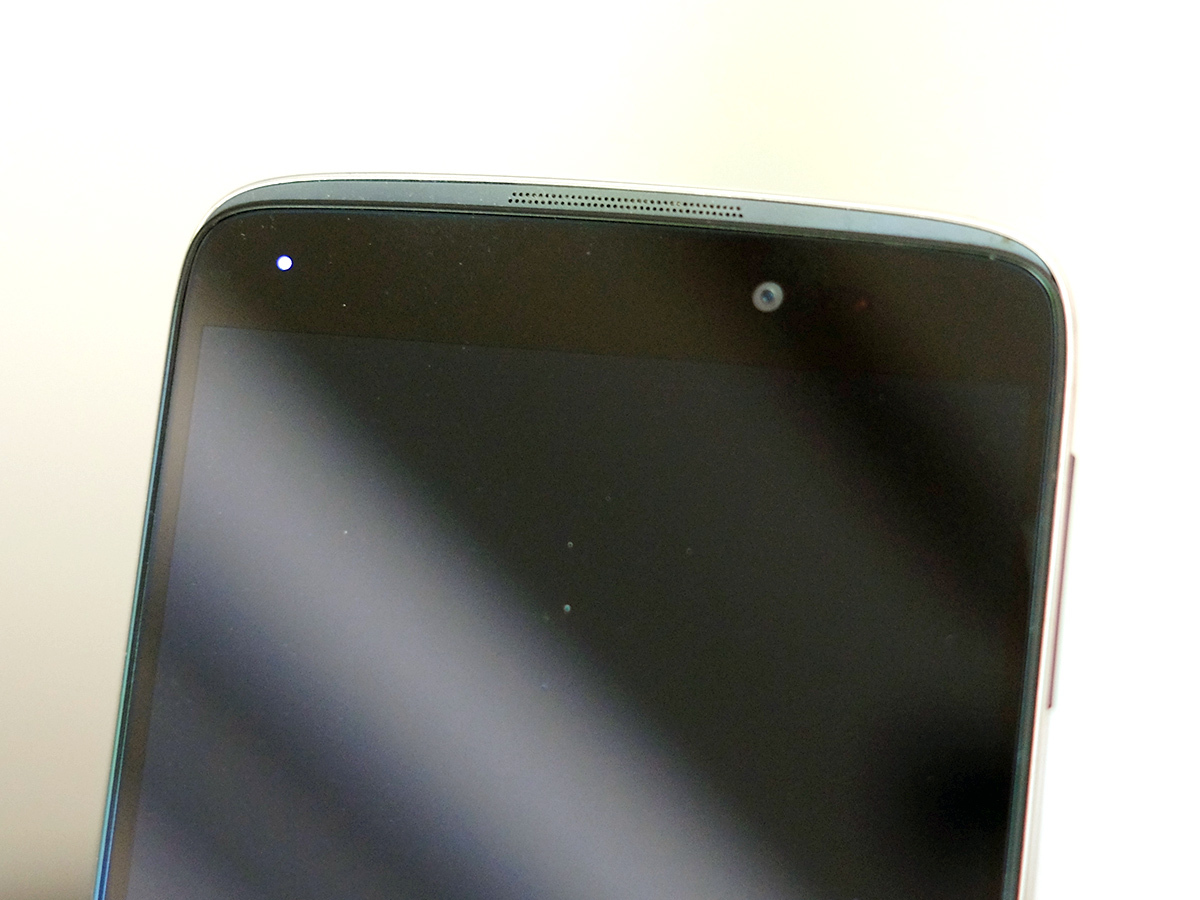 A couple of bits that also make up for this are the microSD slot and the front stereo speakers. The memory card piggy-backs on the nano SIM tray, but I didn't actually need to resort to bunging a card in as the Alcatel OneTouch Idol 3 5.5 already has a decent 16GB storage.
On to the more important stuff: speakers. Having front speakers is good, having stereo speakers is great, but having really loud stereo speakers is just top-notch. Just like the 4.7in version they're way more powerful than we have any right to expect, and the 5.5in version sounds that bit beefier. Presumably because that bit more 'cabinet space' inside. I enjoyed a good few hours of tunes while cooking, listening to the Alcatel OneTouch Idol 3 5.5.
It does seem to boost the source audio a bit too much at times, though, causing clipping regardless of volume. And anyone using headphones needs to turn off the JBL sound mode, stat. It's absolutely dreadful, making it sound as though you're listening to tunes from someone's tiled bathroom. Tweaks are needed, but the speakers are good.
Cinemascope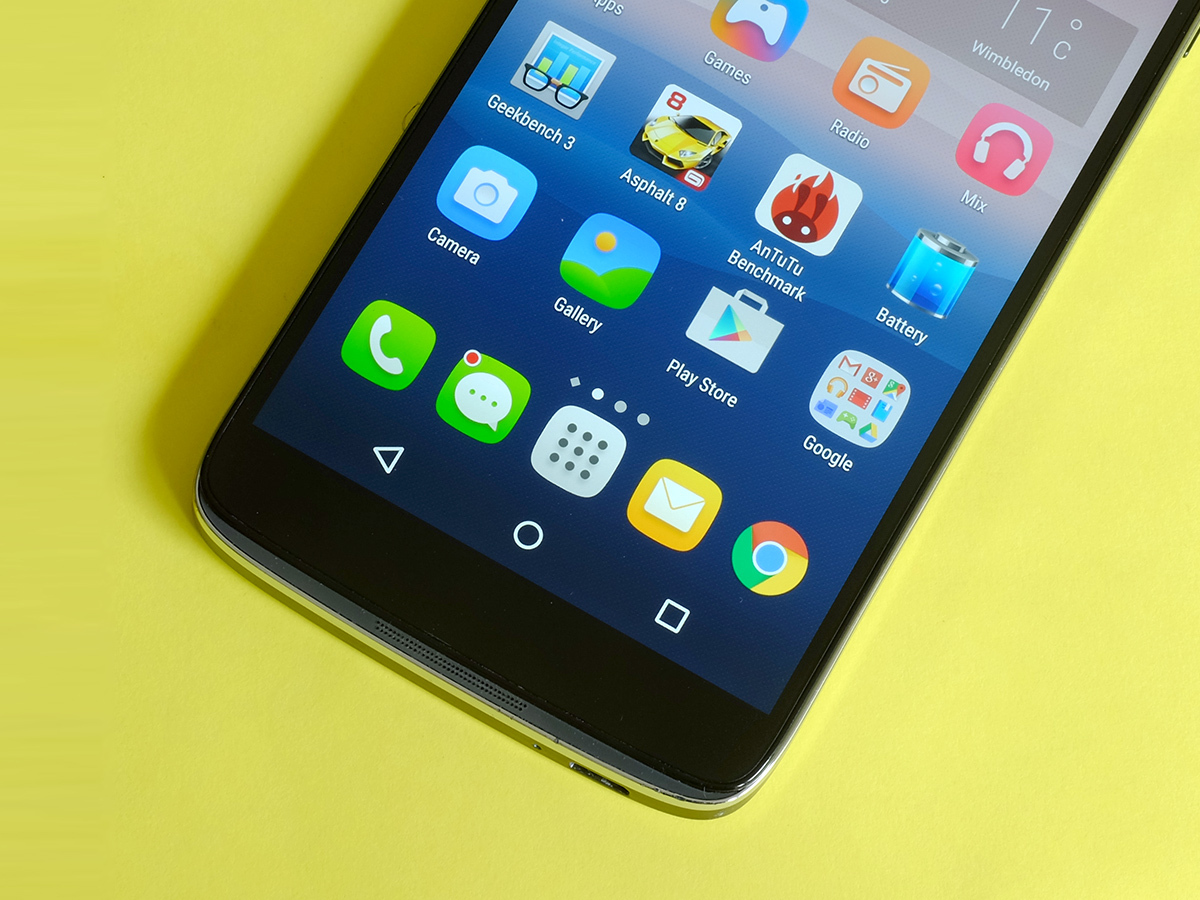 Sure enough those stereo speakers are great for mobile movie-watching too. As is the screen.
The Alcatel OneTouch Idol 3 5.5's screen is huge, and very sharp thanks to its 1080p display. That gets you 401ppi. Sure, the LG G3 gets you more for the same price (at the time of writing), but that near-to-death mobile is pretty much bargain of the year at the moment.
There's just about nothing to dislike about this phone's screen. It's bright, copes pretty well with sunny days, offers vivid but natural-looking colour and strong angled viewing.
Just one niggle: sometimes the Auto brightness settings leaves the Alcatel OneTouch Idol 3 5.5 looking a shade too bright indoors. But that's only bad because it makes you feel like the poor little thing is wasting its battery, and I found stamina to be really pretty dandy anyway.
The Alcatel OneTouch Idol 3 5.5 has a 3000mAh battery, one hidden under its non-removable back. Its the sort of size we expect from a phone with a giant screen like this, but performance is actually better than something like the LG G4.
During testing I got clean through one day's use, before the Alcatel OneTouch Idol 3 5.5 conked out the next day at 2pm. Granted, I wasn't spending hours watching Netflix, but I did do some browsing, and listened to a bunch of podcasts through the speakers. As well as spending half the day tapping away at Whatsapp. As usual.
Getting this sort of performance out of a phone this thin is pretty good going. And it's a mind- blowing improvement after some of the stamina saplings I've seen from Alcatel OneTouch in the past.
Turning things around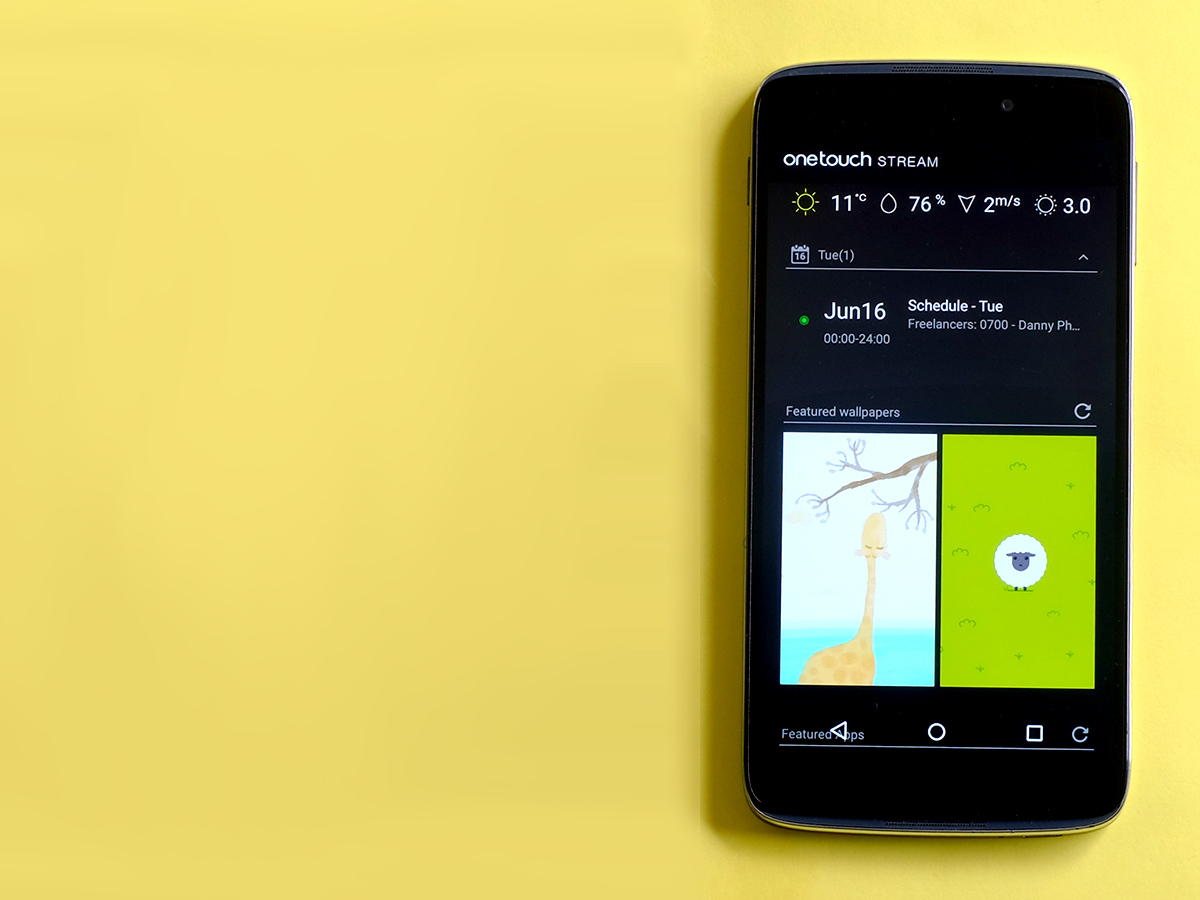 Alcatel OneTouch knows it needs to turn things around: the Idol 3 positively reeks of concerted effort to do just that. And for the most part it has totally revitalised its software too.
Previous Alcatel OneTouch interfaces were kinda dated and often plain minging in their colour scheme choices. This new one looks pretty much like Android Lollipop 5.0 with a few little tweaks. That means a nice 'plain paper' apps menu, notifications on your lock screen and a nice swooshy, liquid-y feel.
The big alteration is OneTouch Stream, an extra home screen to the left of the main one that gets you a stream of bonus info, like your calendar events and the weather. It's not great, lacking any real must-have info, for my needs anyway, but doesn't get in the way either. Similarly, there's a lot of bloat-y games installed from Gameloft, but you can at least delete them.
Performance anxiety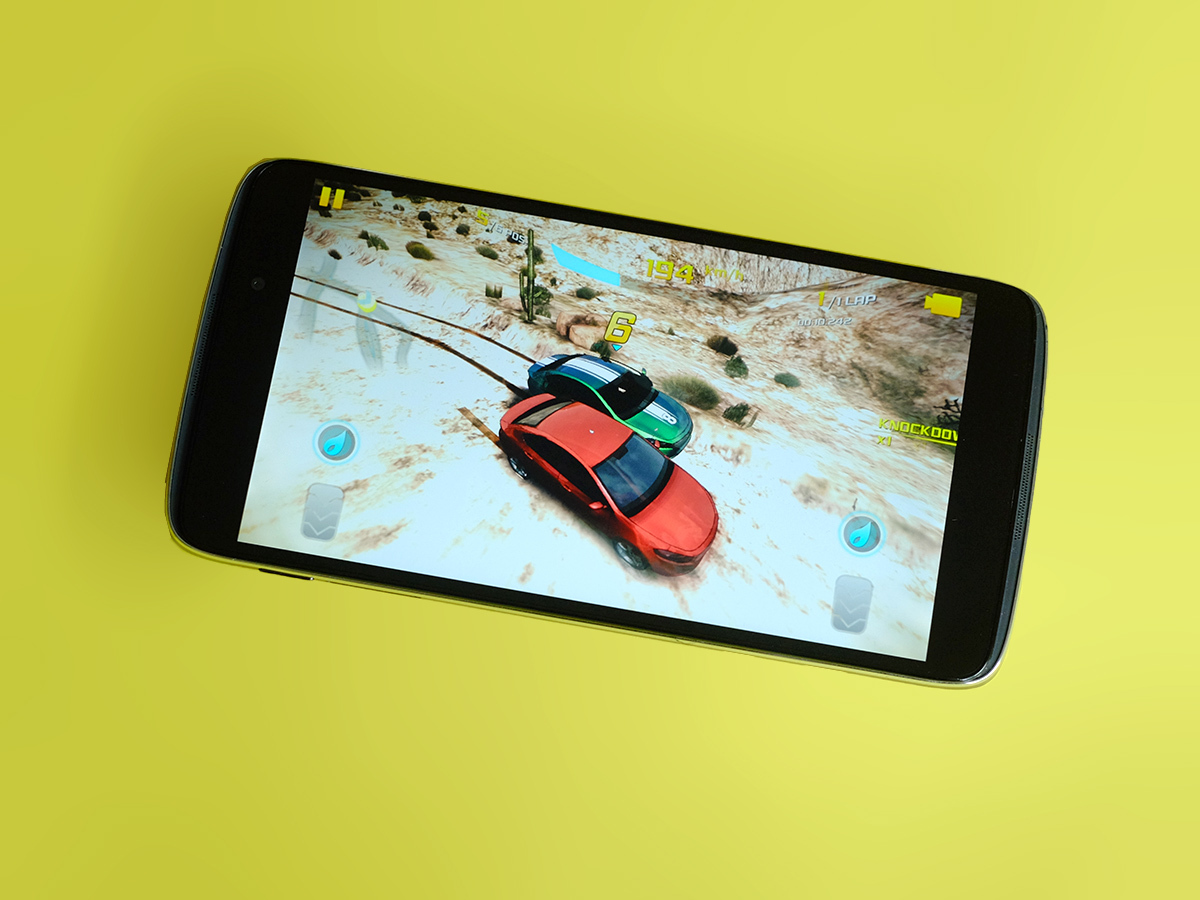 As with the 4.7in version, though, there are a few weird performance issues. And again it's oddly localised: the keyboard is lag-tactic a lot of the time, particularly noticeable if you use tap-tap typing rather than fluid gesture typing. We're calling it this time: it must be down to the Alcatel OneTouch Idol 3 5.5's software.
Why? Because the phone itself has a reasonably capable processor and plenty of RAM. The Alcatel OneTouch Idol 3 5.5 uses the Snapdragon 615, an octo-core CPU with Cortex-A53 cores, and has 2GB RAM. It's basically a version of the Snapdragon 410 entry-level CPU that can cope with 1080p screens: not a beast, not a weakling. But surely that's enough to let us write a WhatsApp message without having to wait for the keyboard to catch up. Surely?
I've also noticed the odd bug, the odd weird geriatric pause, although a pair of mid-test updates seemed to clear things up a bit. It's a work-in-progress. By the time you get hold of the Alcatel OneTouch Idol 3 5.5, keyboard lag could well be nothing but a distant memory. Fingers crossed.
Aside from these blips, performance is good: it really is just a crust on top. For example, playing Asphalt 8 the Alcatel OneTouch Idol 3 5.5 feels good even when cranked up to the top visual setting. It does better than the Snapdragon 410 4.7in Idol 3 version even though this one has to light-up a Full HD screen. It's not as powerful as the top-top end phones, and not a peppy as the LG G3, but seems to get by just fine with games.
When playing the top of the phone's back does get a bit toasty compared with its dinky brother but the larger screen more-than makes up for it. The Alcatel OneTouch Idol 3 5.5 is a surprisingly awesome gaming phone. A combo of a big bright screen, top speakers and decent power is hard to beat.
Oh snap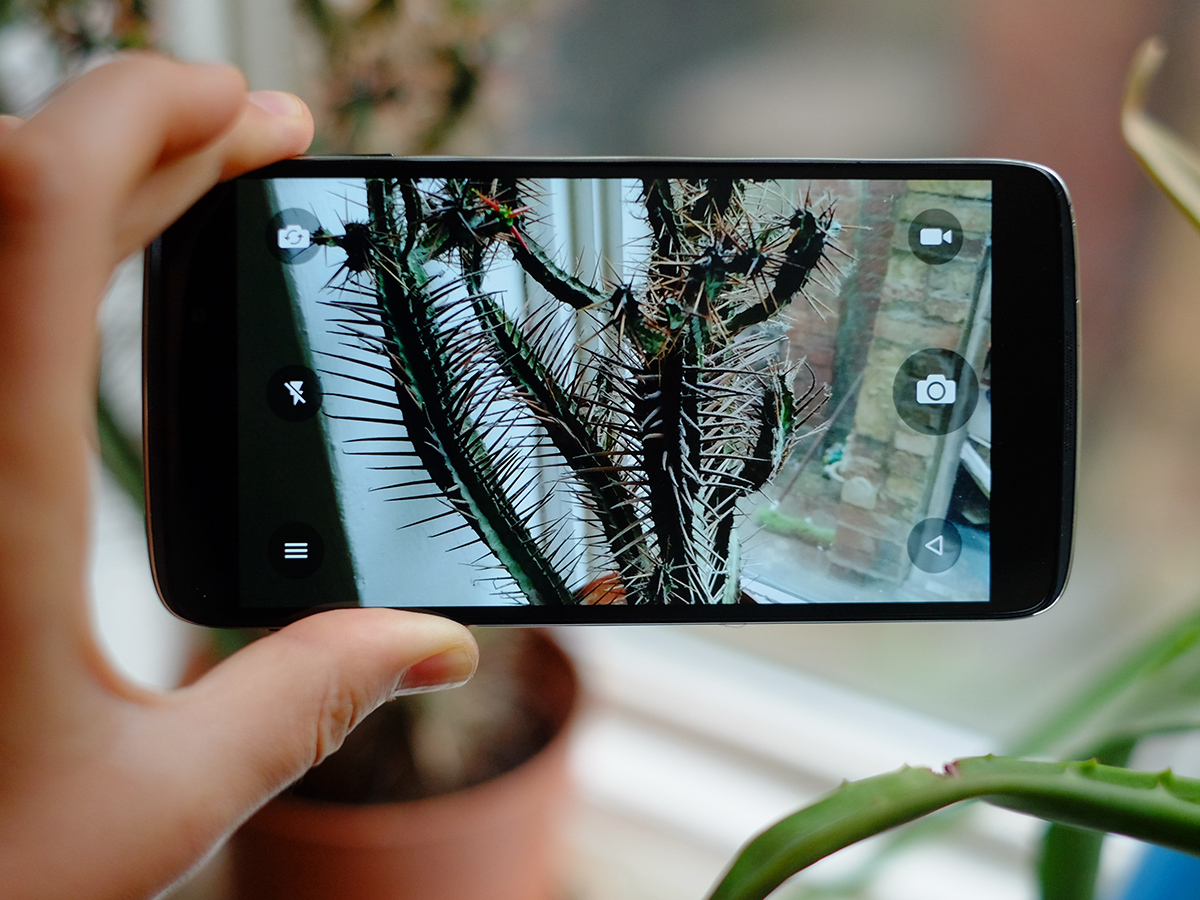 The camera's is not too bad either, although where aspects such as the battery can actually compete with or better rivals twice the price, the camera can't. The 13-megpapixel main sensor gets you loads of detail in good lighting, and most of the time shot-to-shot speeds are pretty good.
However, neither the processing or hardware matches up to the best from, say, Samsung. As long as you're not in challenging light conditions, colours are nice and vivid, but I found that most photos benefitted from bringing up the mid-tones using software such as Photoshop.
The Alcatel OneTouch Idol 3 5.5 tends to cycle between ever-so-slightly over-exposing photos and exposing OK but leaving shadows looking that bit too dark thanks to limited non-HDR dynamic range optimisation. Basically, it could do a bit more to ensure some photos avoid looking a bit dull.
Low-light shots are hit-and-miss too. The Alcatel OneTouch Idol 3 5.5 often fails to focus properly at night, and thanks to the lack of OIS it's pretty easy to produce blurry shots even with a solid focus unless you keep your hands very still.
It's no Samsung Galaxy S6 botherer then, but for the price you can't really be surprised by that. There's also a 5MP camera on the front for selfies. Indoors selfies tend to look a bit noisy, but otherwise it's perfectly decent.
Alcatel OneTouch Idol 3 5.5 verdict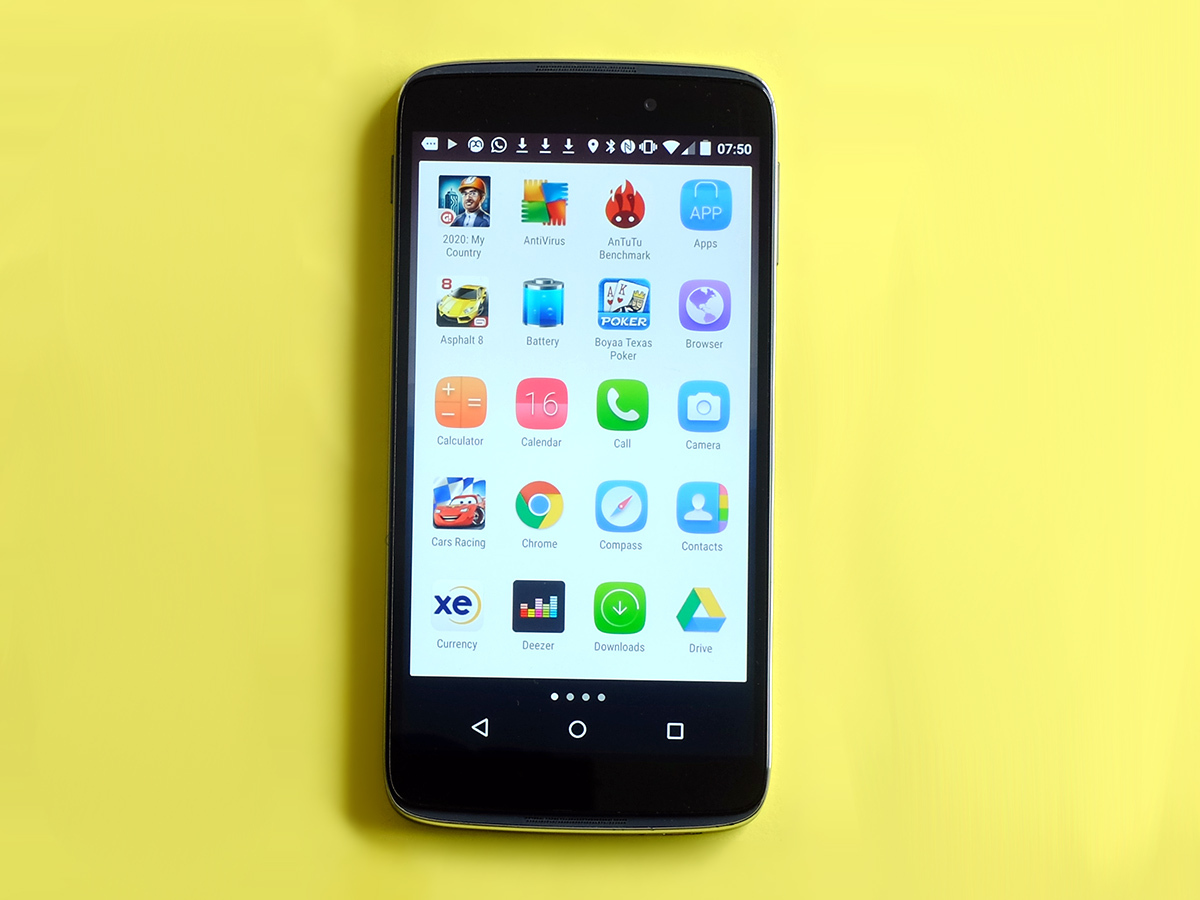 It's not often we see Alcatel OneTouch's higher-end phones on shelves, virtual or otherwise. But if any of its phones deserve more attention, the 5.5in and 4.7in Idol 3 twins do.
Alcatel OneTouch has cut out all the nonsense, focusing on the bits that really matter to people. So we get good battery life, a top screen and cracking internal speakers, all for around half the price of one of this year's real top-end phones.
Sure, it might not earn you much cred among friends and isn't as powerful as those phones. But do you want to be an Apple/Samsung sheep? The only big drawback are the performance issues, but in time it's possible that even those will disappear, making the Idol 3 an even more tempting alternative to the usual smartphone suspects.
Tech specs
| | |
| --- | --- |
| OS | Android Lollipop with custom UI |
| Screen | 5.5-inch 1,920 x 1080 IPS LCD display |
| Processor | Quad-core Snapdragon 615 CPU |
| RAM | 2GB |
| Storage | 16GB (with microSD) |
| Cameras | 13MP, f/2.65 lens, single-LED flash, 5MP front |
| Connectivity | Wi-Fi, NFC, Bluetooth 4.1 |
| Battery | 2910mAh |
| Dimensions | 152.7 x 75.1 x 7.4 mm |
| Weight | 141g |
Stuff Says…
This good-value giant is proof we should now take Alcatel OneTouch a lot more seriously
Good Stuff
Big, bright screen
Good value
Loud speakers
Bad Stuff
Fake chrome damaged easily
Some nagging performance issues