Alienware 15 R2 review
A great gaming laptop for the everyman
Once gaming laptops were a rarity. Not any more.
Now, everyone from small, specialist brands to HP wants a piece of the action, and with systems ranging from cut-price £649 weaklings to super-powered £3,000 brutes, you're spoilt for choice. In fact, it sometimes seems like you're too spoilt.
Where do you look with such a vast range of gaming laptops, and how much do you really need to spend? If that's your dilemma, then Dell's Alienware 15 R2 might have the answer. The range starts with sub-£1200 systems with a solid entry-level spec, but climbs up to high-end gaming monsters that, while pricey, still provide good value.
You might find the same spec for less, but will you get the same design and build quality? Maybe not.
Meet the Monolith
The Alienware 15 R2 sits somewhere between the new breed of slimline gaming laptops and the more traditional big bruisers. It's a chunky slab over 3.4cm thick and weighing just over 3.2Kg, and formed mostly from a tough carbon fibre composite. You could stack two light ultrabooks on top of each other and still get something smaller and lighter.
The advantage is that there's plenty of room for high-spec components and cooling, and the construction is rock-solid. There's barely any flex in the lid, the base feels rock solid and a rubber coating on the keyboard surround adds a little comfort. It's not the most svelte or elegant of gaming laptops, but there's something about its straight-edged, monolithic style that works.
In a way, the chassis acts as a vehicle for the lighting. The Alienware logo, the keyboard backlight, two thin strips on the lid and two more strips on the front of the base all glow with the same cool blue, and even the touchpad glows to match while active.
Don't like blue? You can choose your own colour for each of the 10 programmable zones, with the 20 available colours giving you a total of 10 trillion combinations. That should keep you going for a while.
Full HD might be enough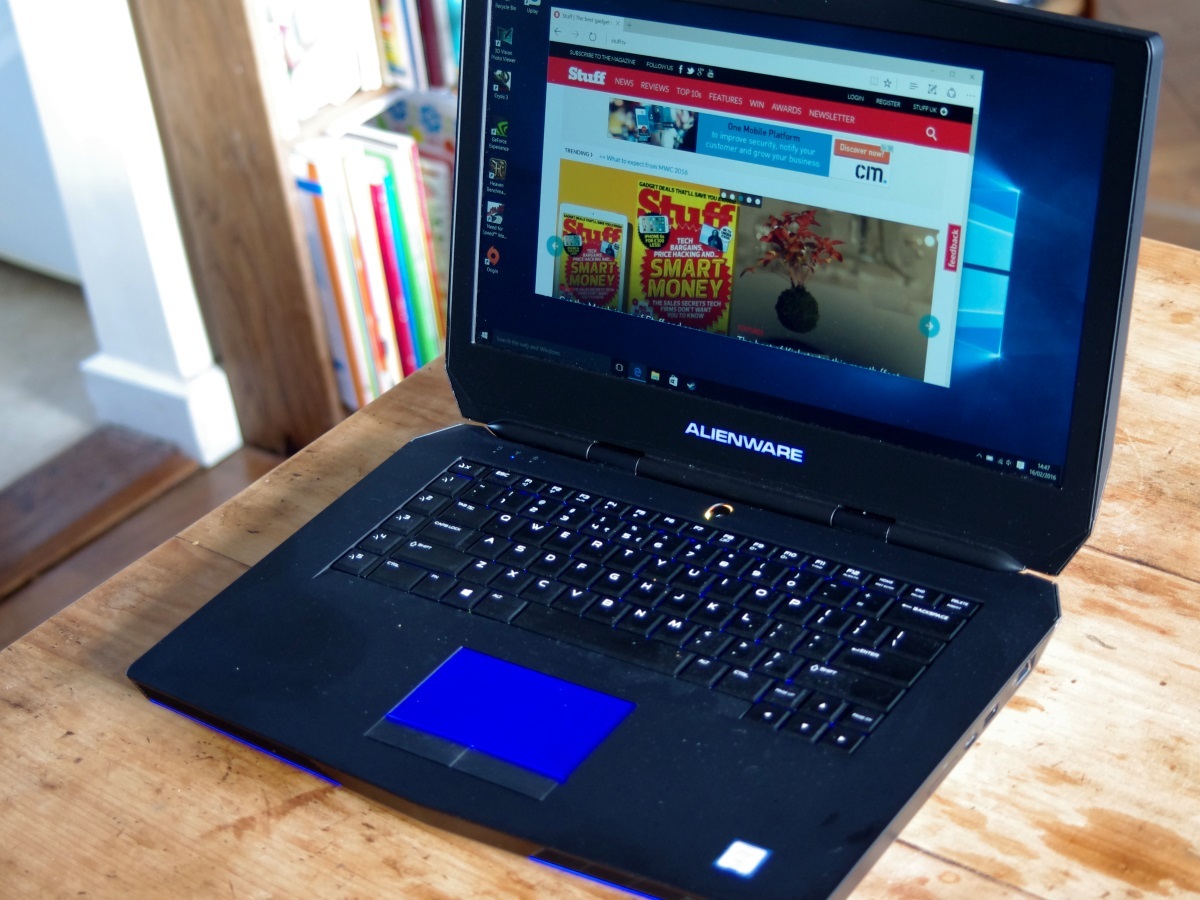 For the screen, Alienware has been smart and opted for a 15.6-inch full HD IPS panel. Sure, this doesn't give you as high a pixel density as a QHD or Retina display, but gamers tend to care more about frame rates and visual quality than high-resolutions, and when you're looking to run the latest titles at 30fps to 60fps with all the detail settings up near maximum, 1080p is where it's at right now.
At a rated 220-nits this panel isn't as bright as the panel on the Schenker XMG U726 or even Dell's own XPS 13, which can impact visibility if you're near a sunny window, not to mention overall punch. Otherwise, this screen's a cracker. Colours are rich and vibrant, there's plenty of clarity and the viewing angles are spectacularly wide. Run some full HD video and it still looks pretty fabulous. Much as we love 4K, you can still live without it.
The sound system combines hardware from Klipsch and Soundblaster to reasonably impressive effect. There's some volume and power here, not to mention some badass bang and boom, but the sound is a little boxy and congested, without much sense of space. It's fine for gaming, movies or TV streaming at low-to-medium volumes, and the array microphone should help with Skype and in-game chat.
All the same, if immersive sound matters when you're gaming, you still can't beat a half-decent headset.
You're in Control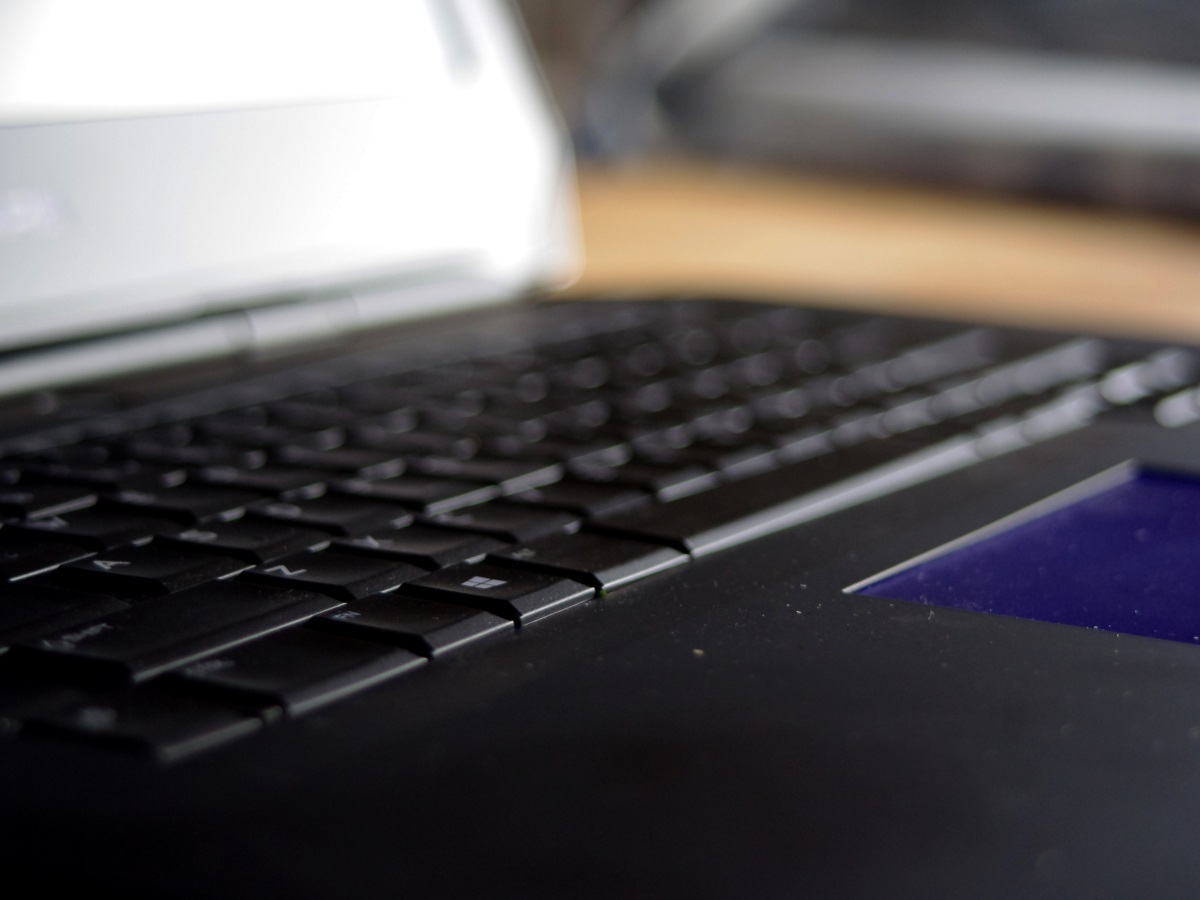 The Alienware 15 R2's keyboard is a good effort, both for work and for play. The keys have a relatively light but very responsive action, which is as useful when you're typing as when you're trying to sidestep incoming rockets or add a High Templar to your StarCraft II build queue.
As with many gaming laptops there's an extra bank of five programmable buttons, giving you fifteen different shortcuts or macros for any app or game. There's plenty of room for these without cramping the layout, and Alienware wins extra points for making the cursors so distinct, though the Enter key has lost the usual big L shape – a minor niggle.
All the speed you need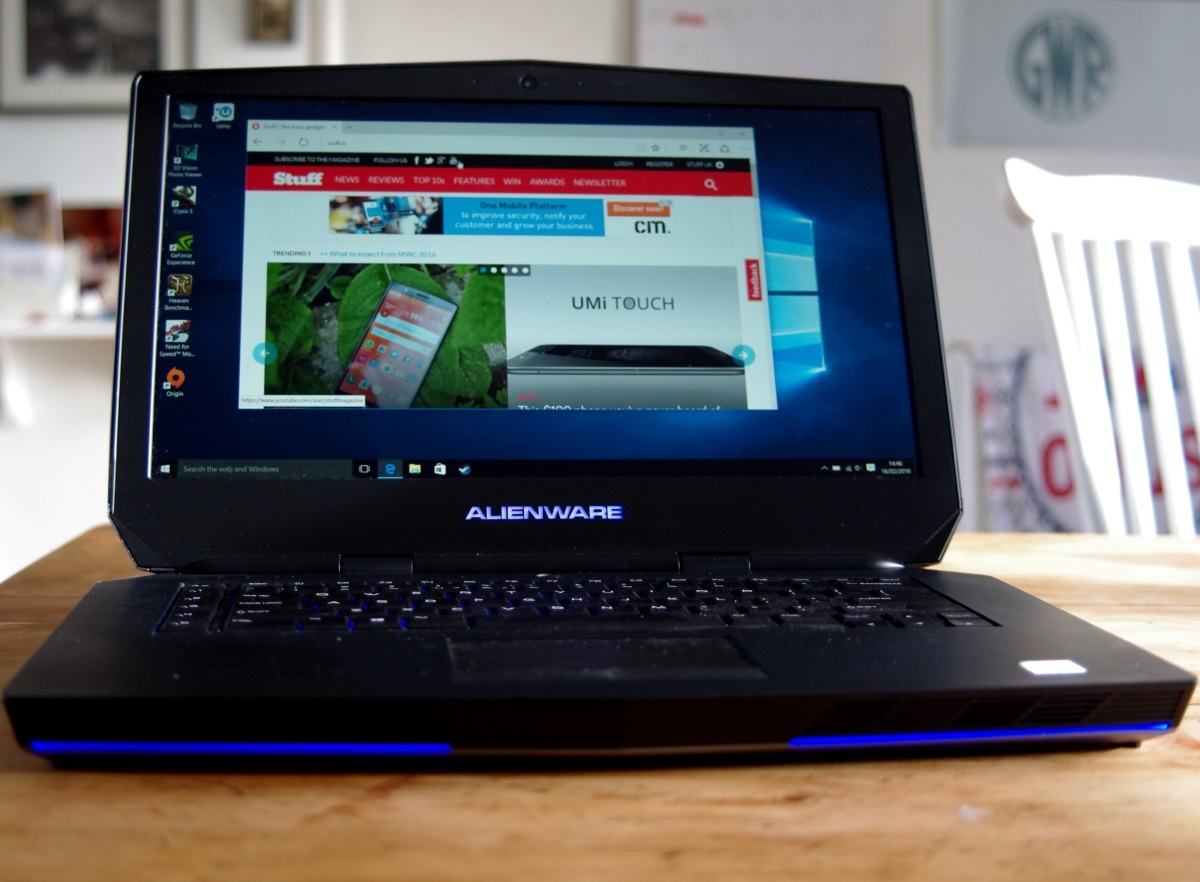 As we mentioned earlier, the 15 R2 comes in a range of configurations, starting with a quad-core Core i5 Skylake processor and an NVIDIA Geforce GTX965M then climbing through Core i7/GTX970M combinations to a choice of Core i7s with GTX980M or AMD Radeon R9 M395X GPUs. At roughly £1,500, even these aren't horrifically expensive by gaming laptop standards.
Our sample arrived with a Core i7 6700HQ Skylake chip, with four cores running eight threads at speeds of up to 3.5GHz, along with 16GB of DDR4 RAM and the GTX 980M, complete with 8GB of DDR5 RAM. That's the sort of spec we'd expect to cope with just about anything at a full HD resolution, which is pretty much what the Alienware achieves.
A strong start in the Geekbench CPU benchmark sets the scene, with the Alienware 15 R2 hitting 13241 for multi-core performance, only trumped by the XMG U726's score of 15466. And once you get to actual games, it's a bit of a stormer. Assassin's Creed: Unity – still one of the PC's most demanding games – will run pretty smoothly at the Very High detail setting at 1080p, though we'd be tempted to drop down to High just to keep the frame rate above 30fps in the busiest areas of revolutionary Paris. Both Far Cry 4 and Crysis 3 are rock solid at Very High settings.
Basically, this beauty will run most of this year's blockbusters at Very High at 1080p, and we're confident that you'll be good for another year or two, occasionally notching down an option here or there. It's not quite as powerful as the Schenker, but it doesn't get sand kicked in its face and it is roughly £1,000 cheaper. Sounds good? We certainly think so.
Running down too soon?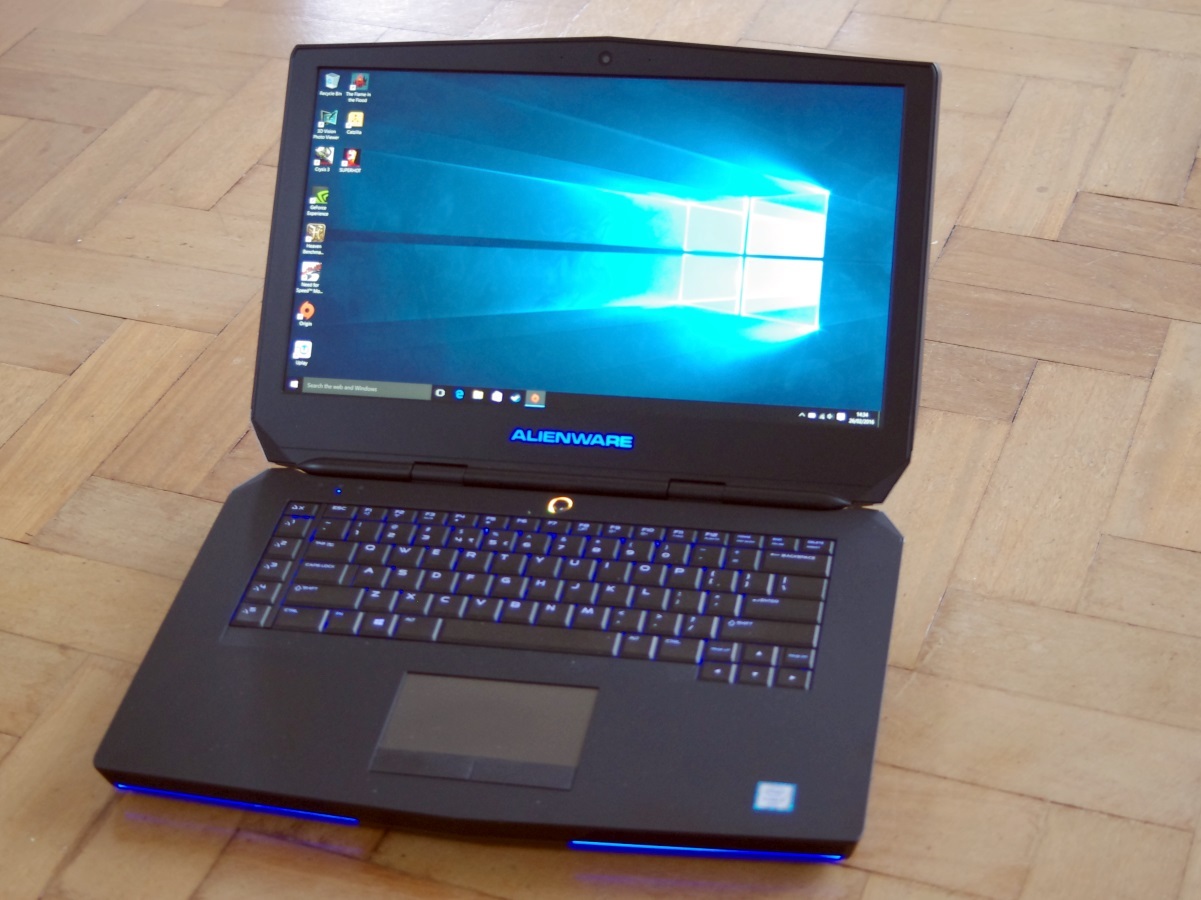 As a rule, gaming laptops struggle when it comes to battery life, but the 15 R2 is surprisingly well-equipped here. In our experience, it'll happily run for over six hours of light use, or play full HD video files for around the same duration.
That's a big improvement on the power-hungry Schenker, and even on the Aorus X3 Plus v5. That said, battery life still goes south when gaming. Start up a Far Cry: Primal session without the charger plugged in and you'll be lucky to hit two hours before the Windows battery saver spoils your fun.
Upgrade Options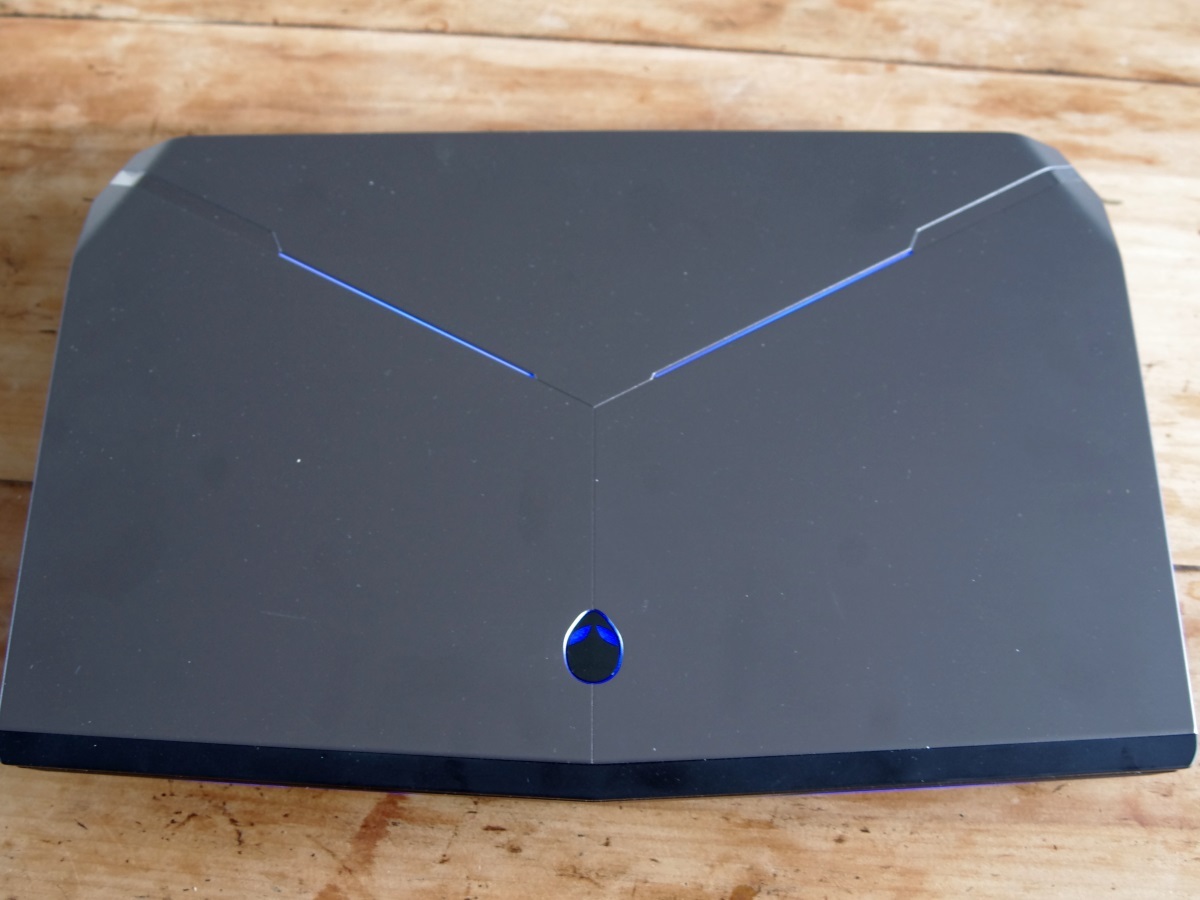 Given the amount of space along its chunky sides, the 15 R2 doesn't come festooned with connections, but with three USB 3 ports and one of those new-fangled USB-C ports, perhaps it doesn't need to. Your networking needs are well covered by a Killer Gigabit Ethernet port and an 802.11ac WiFI module.
The really interesting stuff is on the back. Next to the HDMI port sits a socket for the optional Alienware Graphics Amplifier, a little Alienware-branded box into which you can plug any standard full-length, double-width PC graphics card.
The adapter itself as expensive at around £250, while any card that would improve on the built-in GTX980M is going to set you back £400 or more. However, this gives you extra options for future-proofing or a really fast machine at home, and might – note might – even give you enough oomph to run an Oculus Rift or HTC Vive VR headset in the future; a feat few stand-alone laptops can currently achieve.
The usual dilemma with gaming laptop storage is whether you go for speed and buy an SSD or space and go for a conventional hard drive. Alienware picked the latter path with our sample, equipping it with a 1TB HDD with plenty of space for games. However, it's possible to specify the laptop with this HDD and a 256GB SSD combines, which would get you the best of both worlds. Windows will boot and run faster, and you won't run out of space halfway through the next Steam sale.
Alienware 15 R2 verdict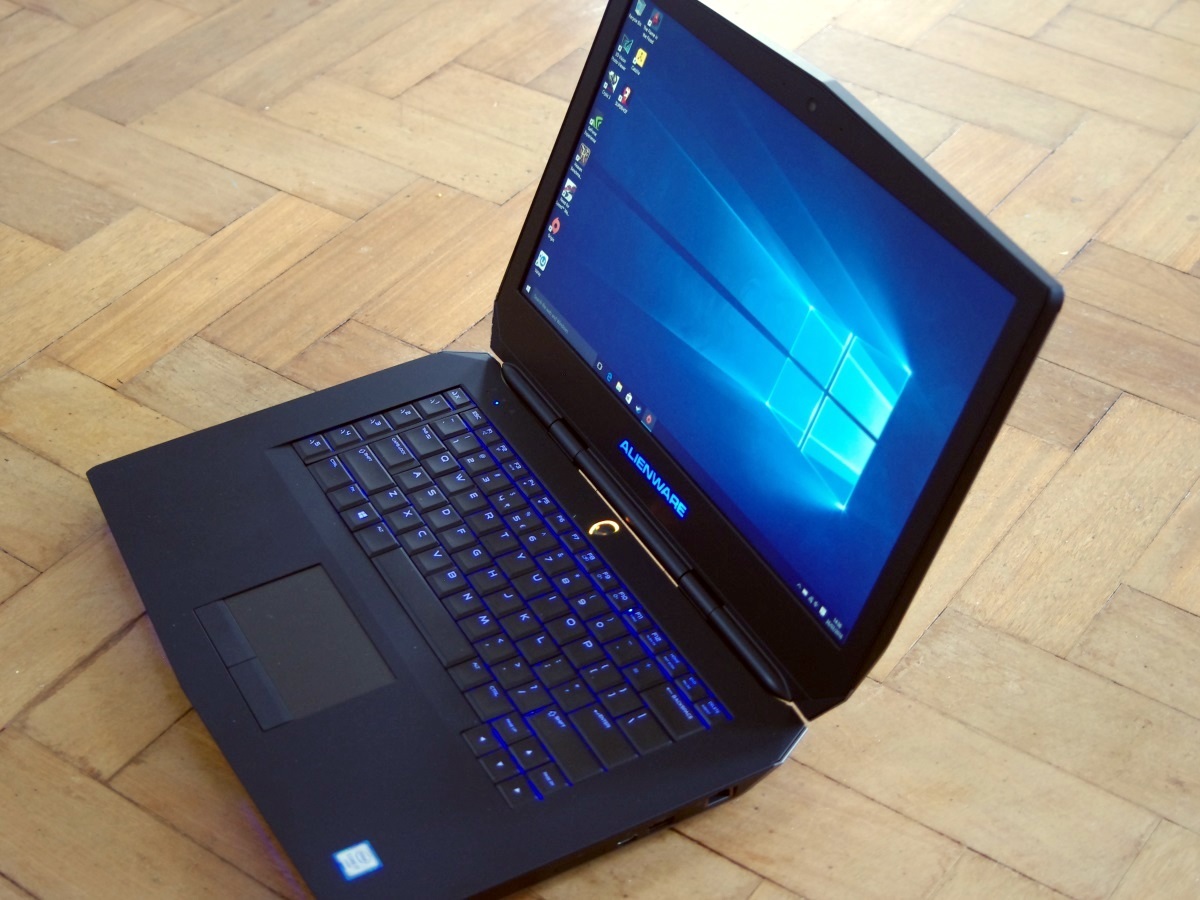 The Alienware 15 R2 doesn't try to be the ultimate gaming laptop, the sleekest or the most powerful, but it's a really nice, well-built effort that will run the latest games at a full HD 1080p without breaking a sweat, and look pretty cool while it's doing it.
At £1,500 it's hardly cheap, but in a world where high-powered gaming laptops routinely break the £2,000 price battier, it's actually decent value. Sure, you could pay more for a higher-resolution screen or slightly better performance, but when the 15 R2 is fast enough for great 1080p gaming and its rivals are struggling at 4K, you have to ask yourself whether it's worth it.
Tech specs
| | |
| --- | --- |
| Operating system | Windows 10 Home 64-bit |
| Screen | 15.6in IPS LCD with 1920 x 1080 resolution |
| CPU | Intel Core i7-6700HQ at 2.9 to 3.5GHz |
| GPU | NVIDIA GTX 980 with 8GB DDR5 RAM |
| RAM | 16GB DDR4 |
| HDD | 256GB SSD and 1TB HDD |
| Optical drive | None |
| Connectivity | Wi-FI 802.11ac, 3x USB3, 1x USBC, 1x Gigabit Ethernet, HDMI, Graphics Amplifier |
| Dimensions | 385 x 270 x 34mm |
| Weight | 3.2Kg |
Stuff Says…
A true gaming powerhouse at a slightly more affordable price
Good Stuff
Strong design and build
Excellent gaming performance
Good full HD screen
Decent battery life
Bad Stuff
Not particularly sleek or powerful
Screen could be brighter
Still expensive