Amazfit GTR 4 review: modern smarts, vintage feel
Fourth-gen wearable still looks the business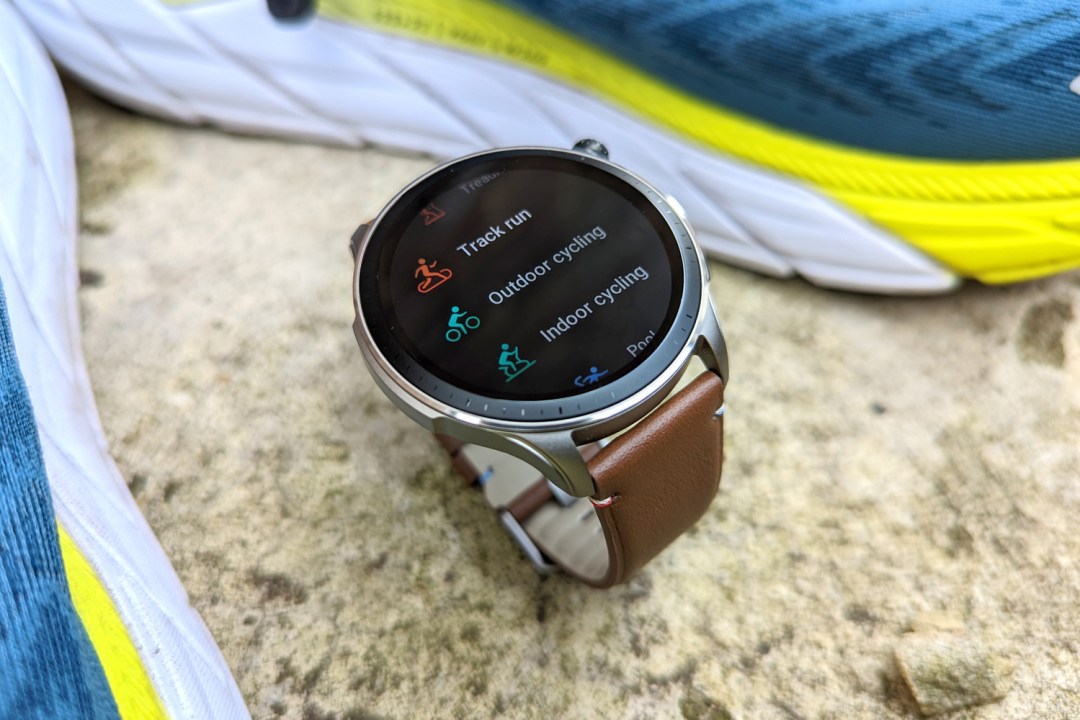 There aren't too many wearables that match your business attire, but still put the work in when you head to the gym. The Amazfit GTR 4 is one of those wearables. The sensibly-priced smartwatch goes big on looks, without forgetting what the brand's other models are best known for: amazing battery life and extensive fitness tracking.
Having arrived alongside the square-faced GTS and GTS Mini, this fourth-generation watch is a more refined take on last year's effort – and one that wouldn't look out of place among pricier alternatives. If design is your top priority, it could be a surprise competitor to the likes of Samsung's Galaxy Watch 5.
With a bespoke interface that doesn't play as nicely with third-party apps and services as the Wear OS competition, though, is there enough here for everyone else?
Design & build: can't beat a classic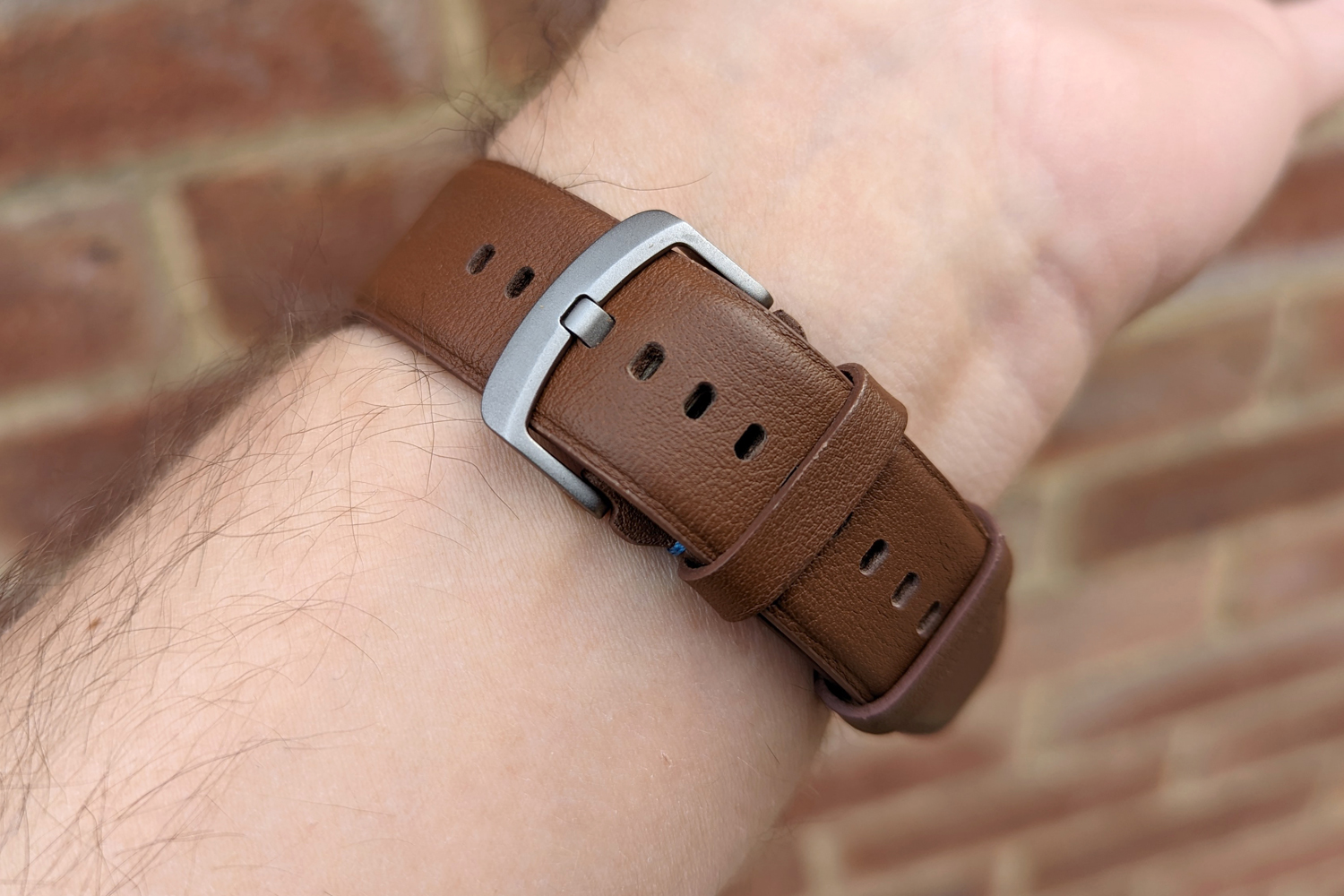 Sophisticated. Refined. Elegant. All words that apply to the GTR 4's classic chronograph styling. It's a particularly svelte smartwatch, sitting flush to your wrist and easily able to slip beneath a shirt sleeve. The metal middle frame feels cool to the touch and has a bit more flair than last year's smoother GTR 3, with sharper angles and crisper lines.
The second crown button seen on previous GTR models is gone, replaced with a simpler button. Neither it nor the crown feel quite as premium as the rest of the watch, and are the only real giveaway to Amazfit's keen pricing. The contrasting screen bezel and polished metal surround would easily fit in with watches costing twice as much.
You can pick one up with a silicone or fabric band, but we reckon the brown leather of our review unit is the one to go for: the subtle stitches add to the retro charm. It's a standard 22mm size, and quick release lugs make changing straps the work of just a few minutes. Swimmers might want to pack a spare: the watch itself will shrug off a dunking down to 5m, but there's no indication of how the leather will cope with the same treatment.
Screen: looking sharp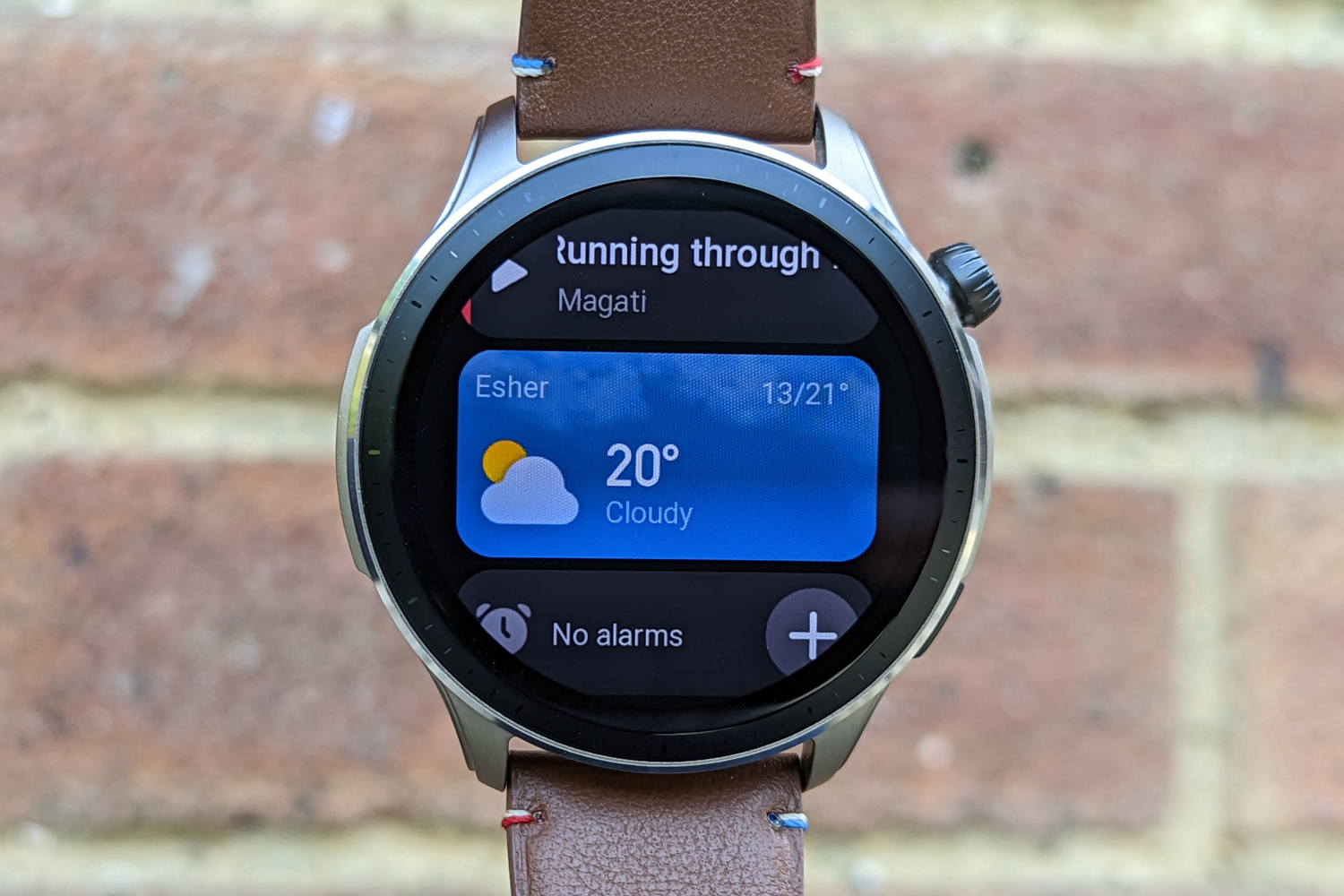 We're big fans of circular smartwatches: given Apple's penchant for rectangular faces, any alternative doing the same just feels like a copycat. There's no danger of that with the GTR 4. It's packing a 1.43in round display, with a 466×466 resolution that looks perfectly crisp at arm's length. Amazfit doesn't try to cram as much info onscreen as Huawei does on the Watch GT 3 Pro, but what is shown is easy to read.
That's still true when stepping outside, with the auto-brightness being quick to respond and getting high enough that direct sunlight isn't a problem. The AMOLED panel is vibrant, with superb contrast and deep, inky blacks that give the always-on watch faces real impact. You can pick between vivid and natural colour modes, too, if you prefer to tone things down a bit.
It wakes up quickly as you raise your wrist, and viewing angles are top notch as well.
With no chunky bezel to protect the screen, like you'll find on Amazfit's rugged T-Rex 2, it's a little more susceptible to scratches. There's no sapphire glass here (it's an affordable watch, after all), and we acquired a small scrape after a few weeks of careful use. A screen protector feels more of a must-have here than with rival wearables.
Interface: bespoke, not basic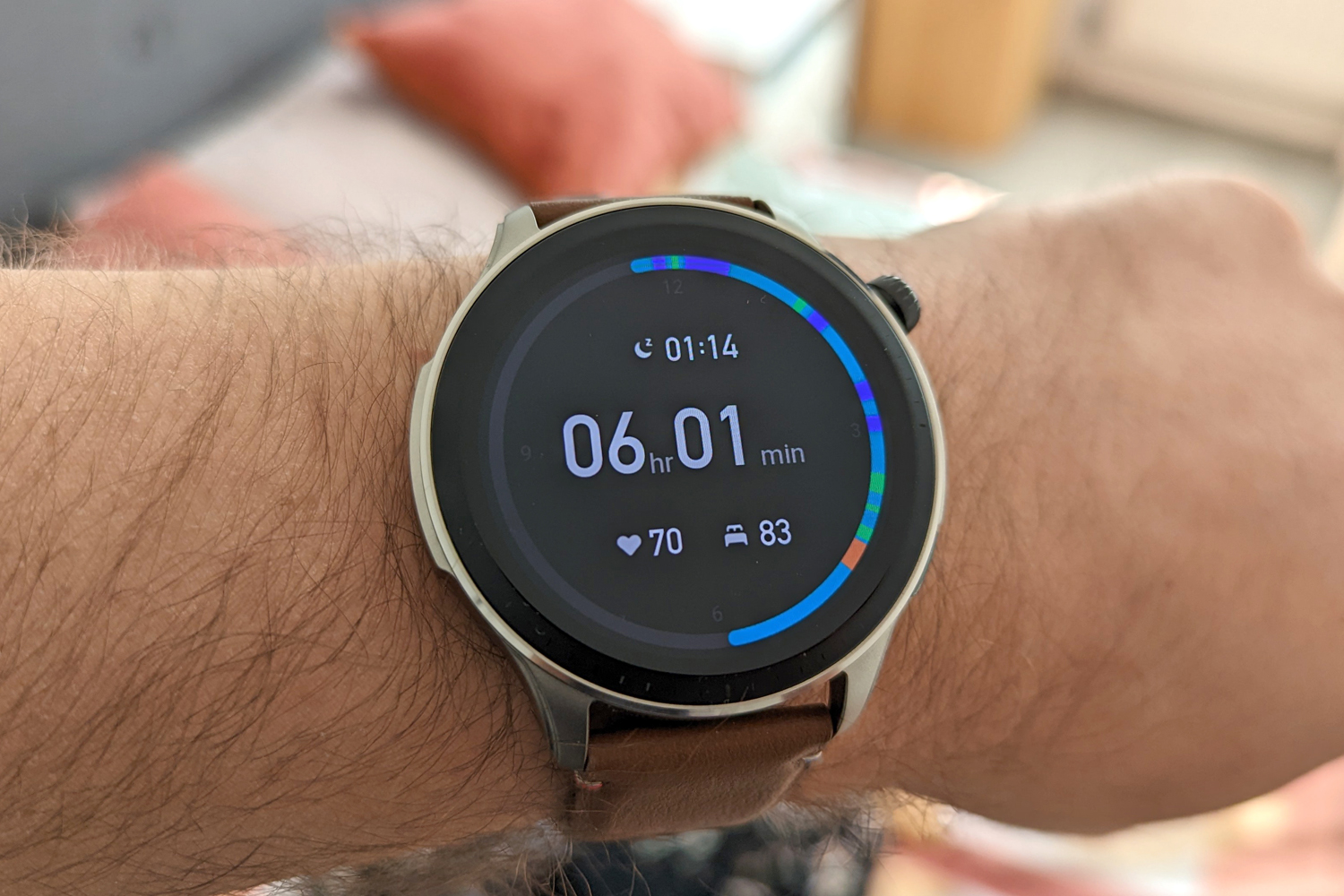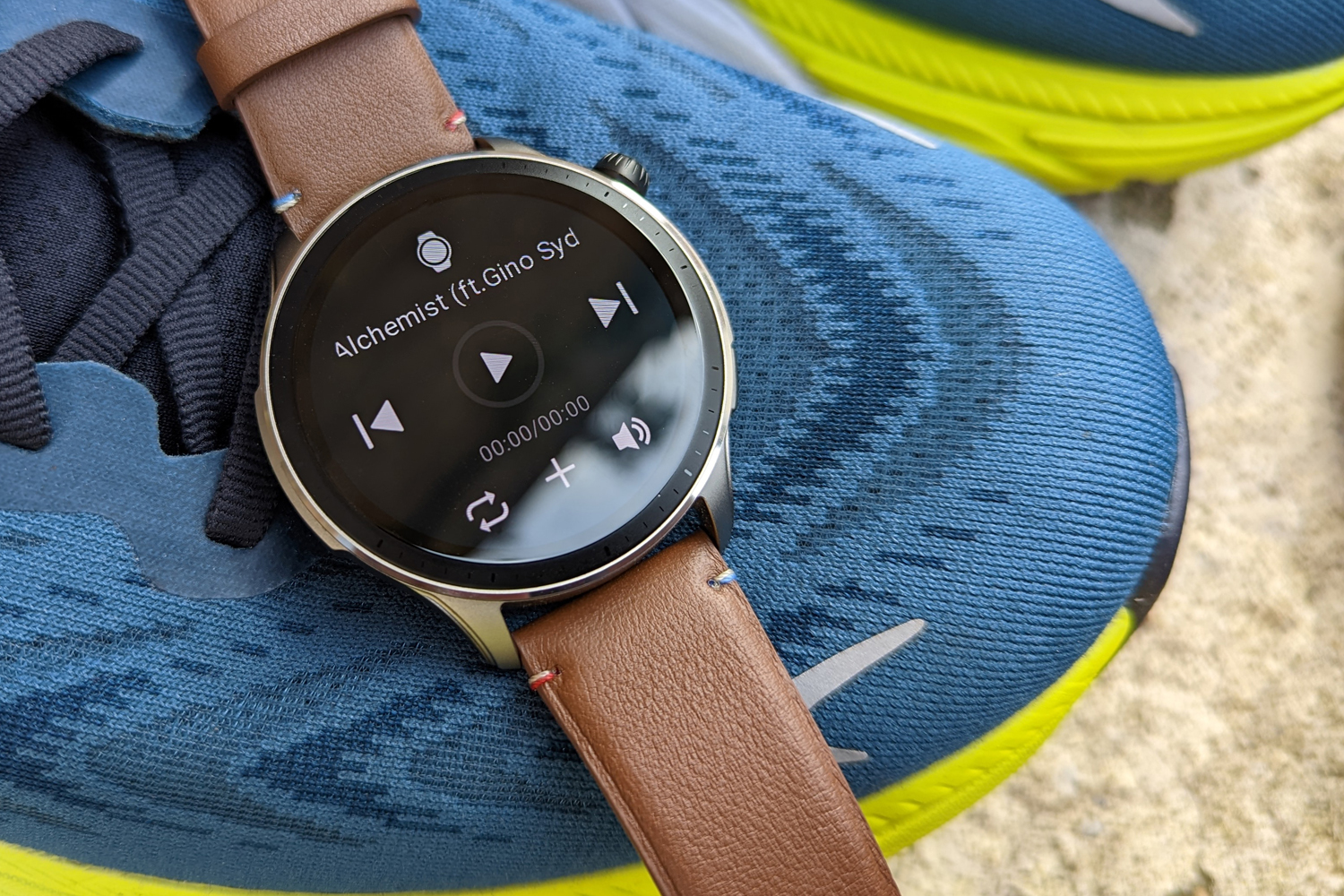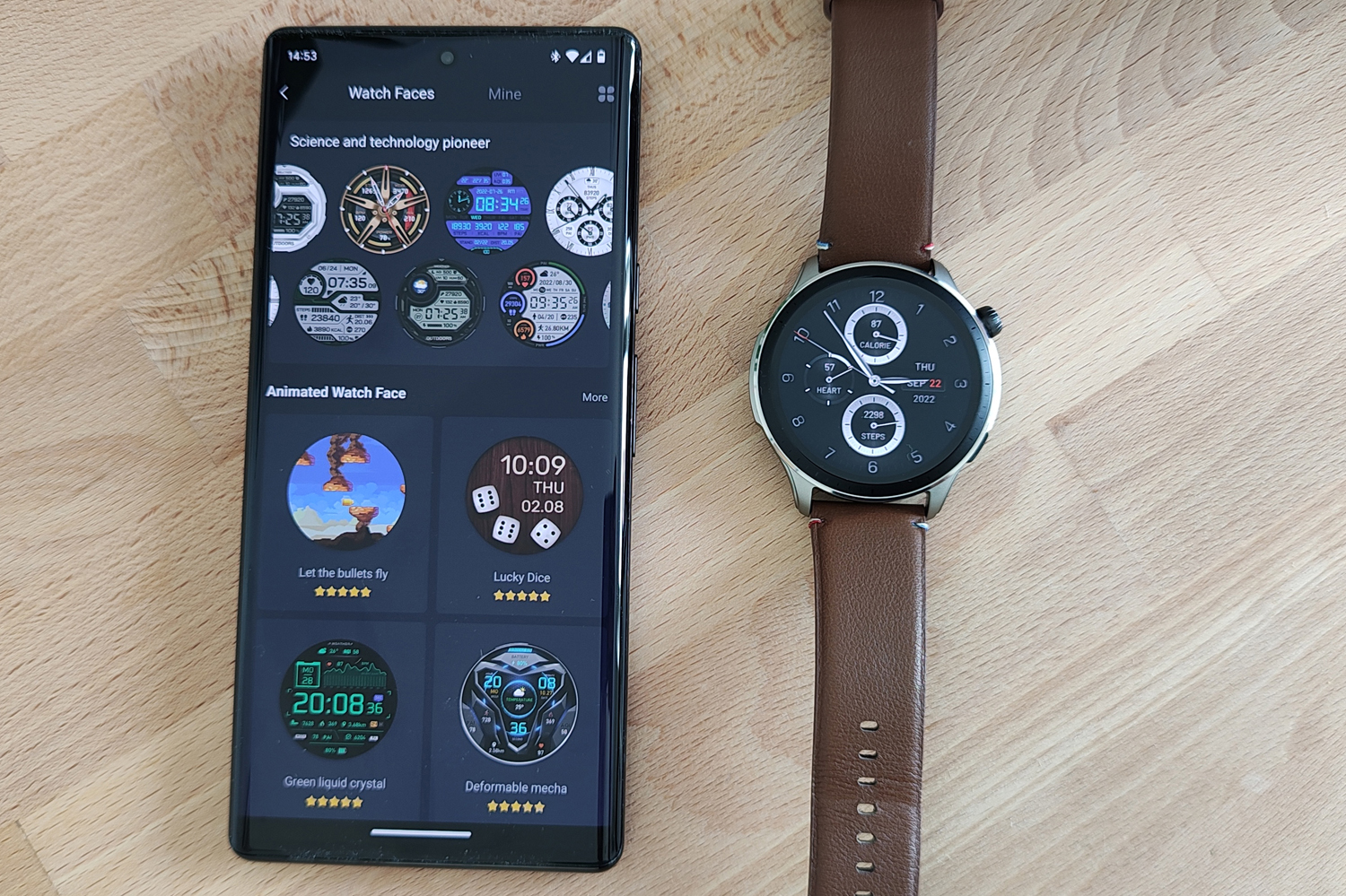 Amazfit's Zepp OS hasn't changed a whole lot since the last time we tried it out, but that's no bad thing. The icon-based interface is easy enough to get around, either with taps and swipes, or pressing and rotating the crown.
Notifications are a swipe up away, while quick settings pull down from the top of the screen for things like do not disturb, Bluetooth pairing, and theatre mode. Left and right swipes scroll between widgets, with a scrolling stack of customisable cards always to the left of the chosen watch face. There are hundreds to choose from through the Zepp companion app, available for both Android and iOS: not all of 'em are winners, but a sizeable percentage are free.
On-device notification replies are still limited to canned responses, but you can at least create your own in the app, so your mates won't think you've been replaced by a robot with basic language skills.
Health and fitness aside, most of the GTR 4's pre-installed apps are self-contained, with no way to sync them to third-party services. The Calendar pulls in events from Google, but the to-do list and voice memos have to be pulled out manually from the companion app if you want them anywhere other than your wrist. There's a third-party app store, but we wouldn't exactly call the selection extensive. The one recognisable brand name is GoPro, with most entries having been built by Amazfit itself.
4GB of on-device storage and Bluetooth support are welcome additions, letting you load the watch up with music and head out for a run without needing to bring your phone along to keep the tunes pumping. The actual usable space is closer to 2GB, which is still good for about 150-200 songs – or more than enough to get you through a marathon without any repeats.
Fitness & health tracking: work up a sweat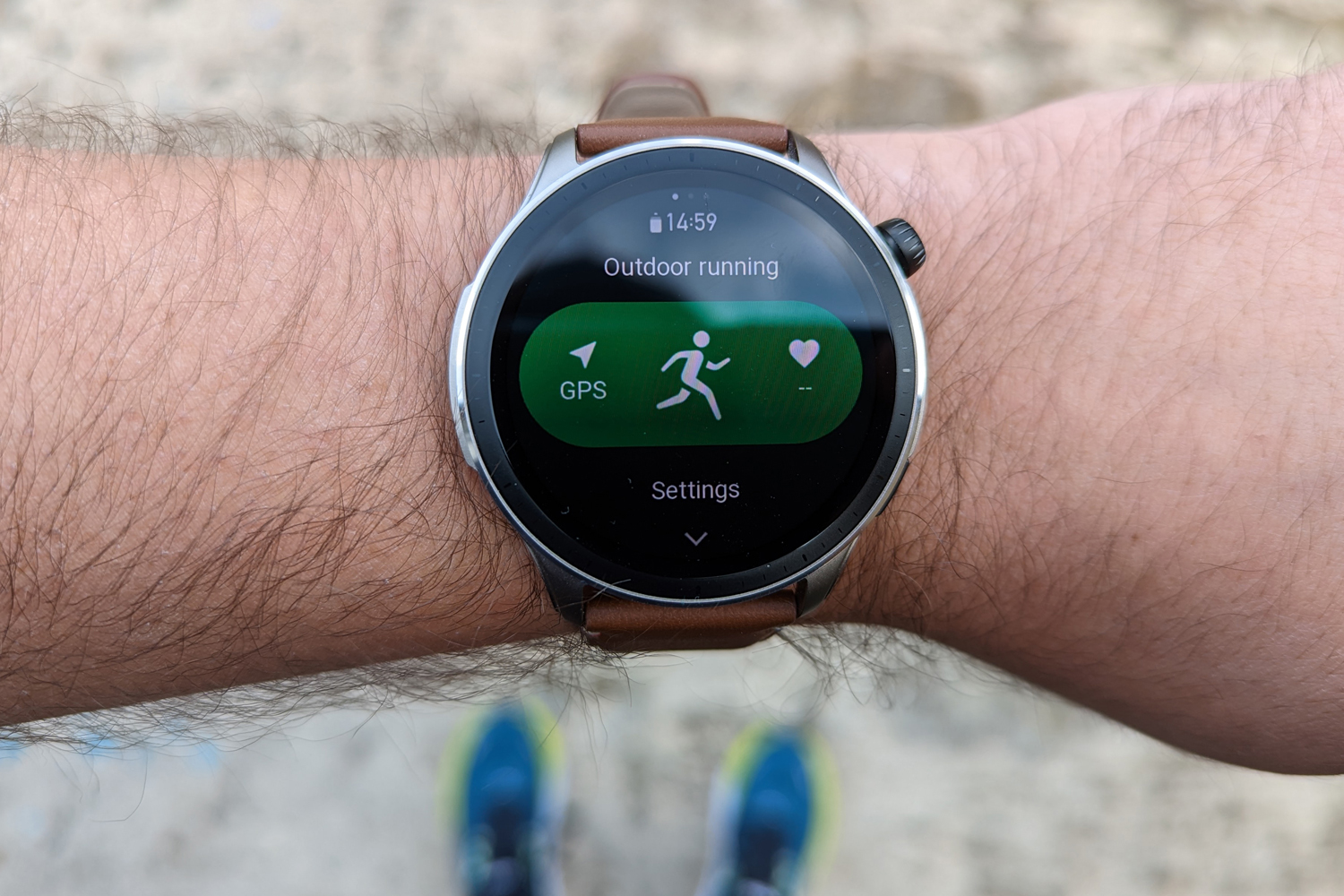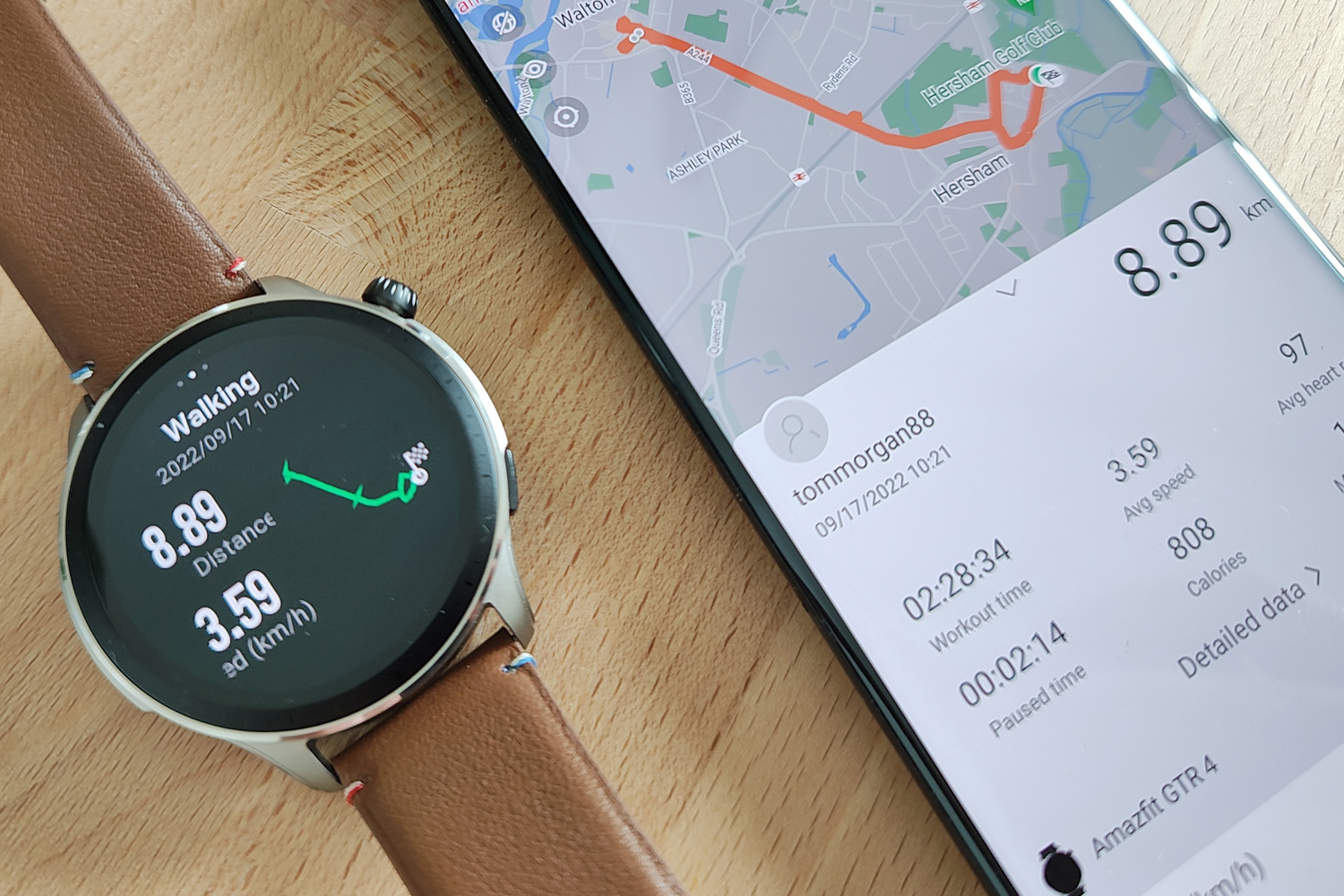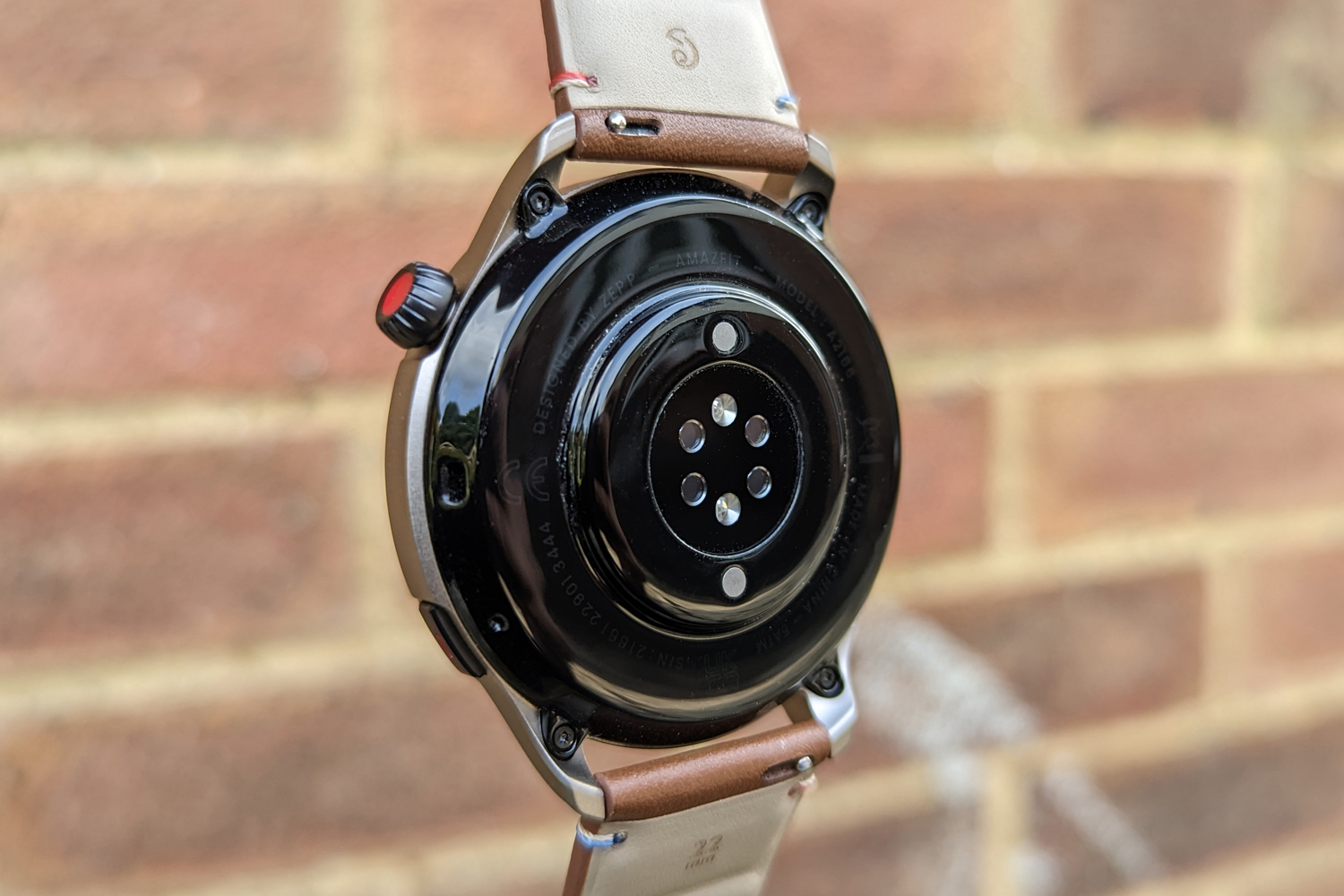 Exercise is where the Amazfit GTR 4 really hits its stride. There's over 150 different activity tracking modes, with running, cycling, swimming and a handful of others being detected automatically. The list is extensive, with ball sports, water sports, combat, dancing and winter sports all covered. Reps and sets are recorded while strength training, too – but we're not entirely convinced for the need to record chess, driving or esports.
A built-in speaker broadcasts data updates at set intervals, so you can aim for a specific heart rate or pace without having to keep one eye on the screen at all times.
Inside, a fourth-gen PPG biometric sensor keeps an eye on heart rate, blood-oxygen saturation, breathing rate and stress levels, with options for interval or 24-hour monitoring, on top of the standard step and sleep tracking. The only thing missing is ECG tracking, which isn't too surprising given the more wallet-friendly price. In all aspects, the GTR 4 was consistent with several more expensive fitness watches we had access to, so most amateur athletes won't need to worry about inaccurate data. Pros will likely stick to chest straps, which the watch doesn't support.
That's also true of GPS, with a circularly-polarised, dual-band antenna that promises greater accuracy than the previous generation of watches. The GTR 4 supports five satellite systems out of the box, with a sixth on the way in a future OTA update. It coped very well on a trek through central London, only being slightly confused when we cut through a railway station concourse and lost overhead coverage. Our usual running route, which has a small amount of tree cover, posed no problems.
As ever, Amazfit's PAI fitness metric could be better explained to first-time users, and while Google Fit, Apple Health and Strava support is all welcome, there's no wider support for third-party fitness and nutrition apps like MyFitnessPal.
Battery life: a week ain't weak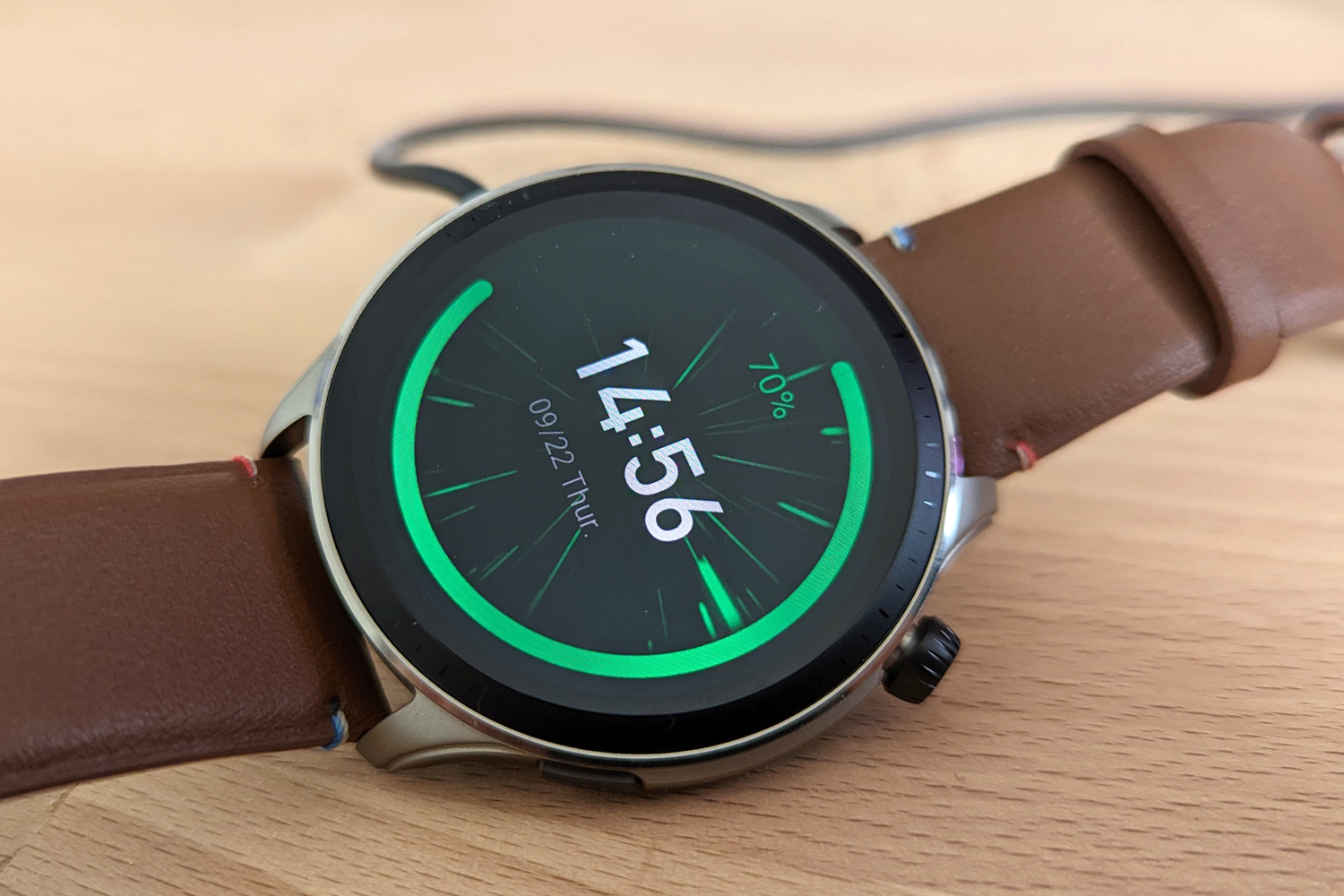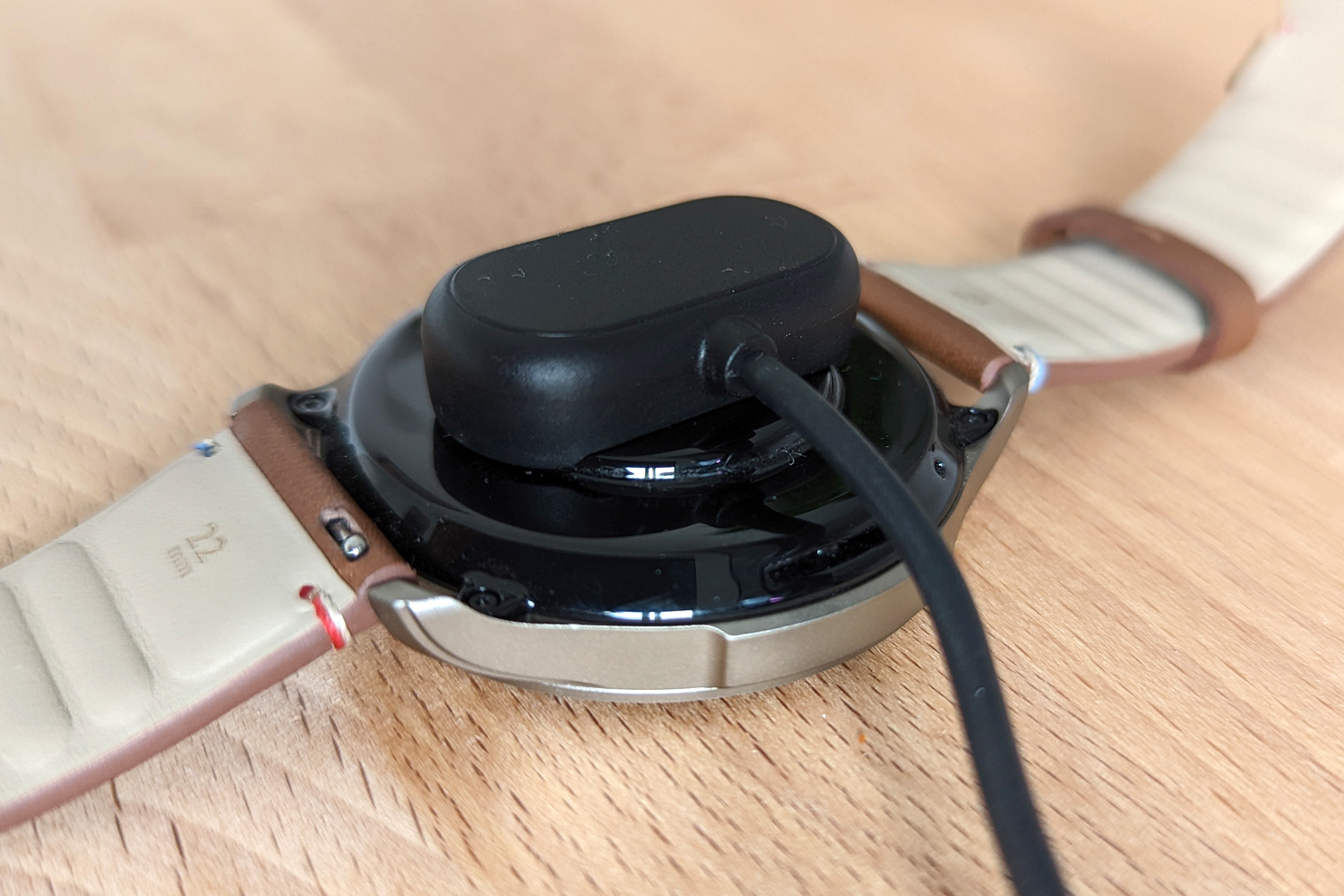 If you're used to wearables that wilt after just a day, the Amazfit GTR 4 will be a treat for your wrist. Even serious athletes are going to struggle to drain the 475mAh battery, which has between seven and 14 days of staying power. A daily half-hour run with music streaming to a pair of Bluetooth headphones, plenty of smartphone notifications, and answering a few calls on your wrist shouldn't be enough to drain it fully in a week. If you're a two- or three-sessions a week sort, ten days isn't out of the question.
Activity tracking with GPS is the biggest power drain, but marathon runners should be pretty happy with 25 hours of recording in the most accurate mode. Drop down to the balanced setting and you'll get closer to two days of constant tracking, while the power saving mode can break the 50 hour mark. Not that we had the stamina to actually run for that long, mind.
Two more general battery saving modes can seriously stretch the GTR 4's limits, if you're going to be away from a plug socket for a long time. The first is supposed to manage over three weeks before you'll need to top up, while the Clock mode can last for an astonishing 50 days – although using it disables virtually everything, at which point your smartwatch isn't really that smart any more. We haven't had the watch long enough to see how accurate those claims are, but the minuscule drain we recorded during a shorter test suggests it's not too wide of the mark.
The proprietary charging cradle is held in place with magnets, which are strong enough not to be dislodged too easily. Charging isn't especially rapid, but plugging in while you grab breakfast or take a shower should usually be enough to get you through at least a few days of general use.
Amazfit GTR 4 verdict
As a style-conscious wearable, the Amazfit GTR 4 hits all the right notes. It's slim, with a retro flavour that neatly contrasts the sharp and colourful display. Accurate GPS tracking, week-long battery life even if you're an exercise addict, and a comprehensive companion app complete the package.
It's more a good-looking fitness watch (with a few smarts) than a fully-fledged smartwatch, though. Limited third-party app support and a lack of contactless payments are black marks, and pricier rivals promise more scratch-resistant screens.
You're still getting an awful lot of watch for the cash, with standalone features that help it compete with big-name watches from the likes of Samsung. If you can look past a few limitations, we reckon it deserves a spot on your wrist.
Stuff Says…
A great-looking, sensibly-priced smartwatch with comprehensive fitness tracking. The bespoke UI misses out on a few features you'd find on a Wear OS watch, but it nails the basics.
Good Stuff
Streamlined design
Consistent, expansive fitness tracking
Long-lasting battery
Bad Stuff
No contactless payments
Limited on-board storage
Amazfit GTR 4 technical specifications
| | |
| --- | --- |
| Screen | 1.43in, 466×466 AMOLED |
| Storage | 4GB |
| Operating system | Zepp |
| Battery | 475mAh |
| Connectivity | Wi-Fi, Bluetooth |
| Durability | 5ATM |
| Dimensions | 46x46x10.6mm, 34g (without strap) |