Amazon Fire 7 (2017) review
Cheap as chips and at this price almost as tasty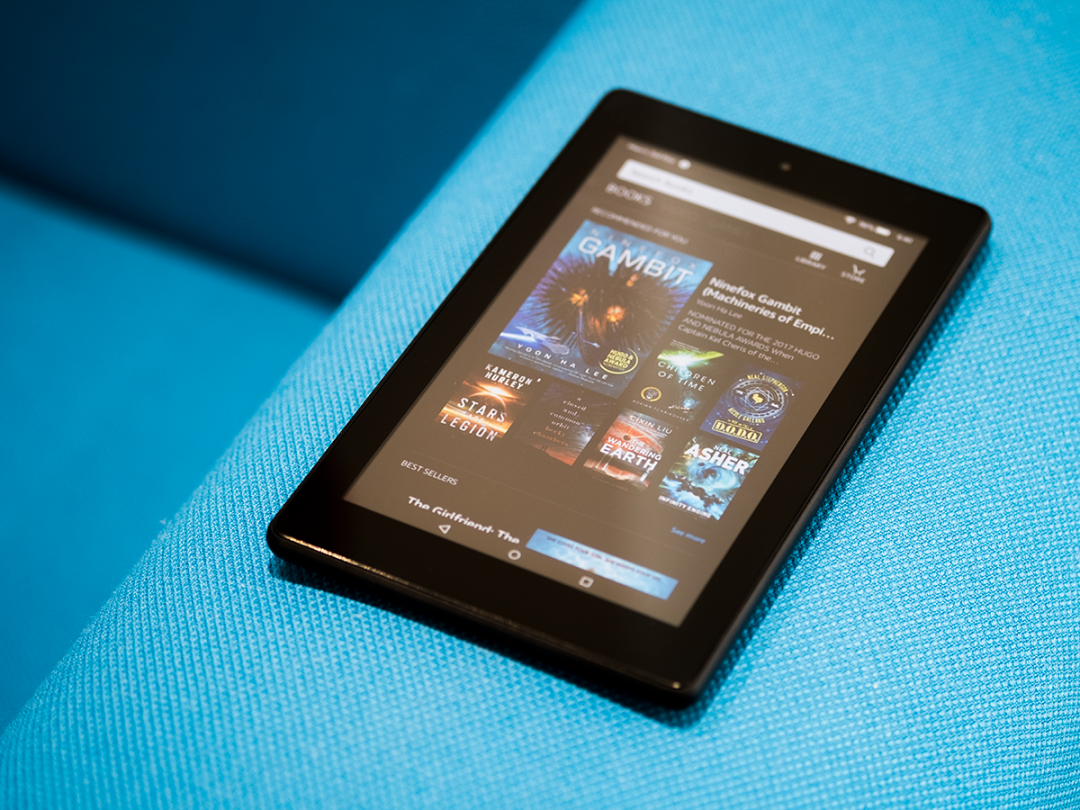 Amazon's totally got the right idea with its tablets: don't bother trying to compete with the iPad and instead just bash out dirt-cheap, almost-throwaway devices that get the job done.
The new Amazon Fire 7 is exactly that kind of device. It costs £50, fails to compete with the iPad in almost any regard, but generally gets the job done well enough.
What's more, the new version also has Amazon Alexa built in. Every home should have one.
Design: A solid plastic rectangle with a screen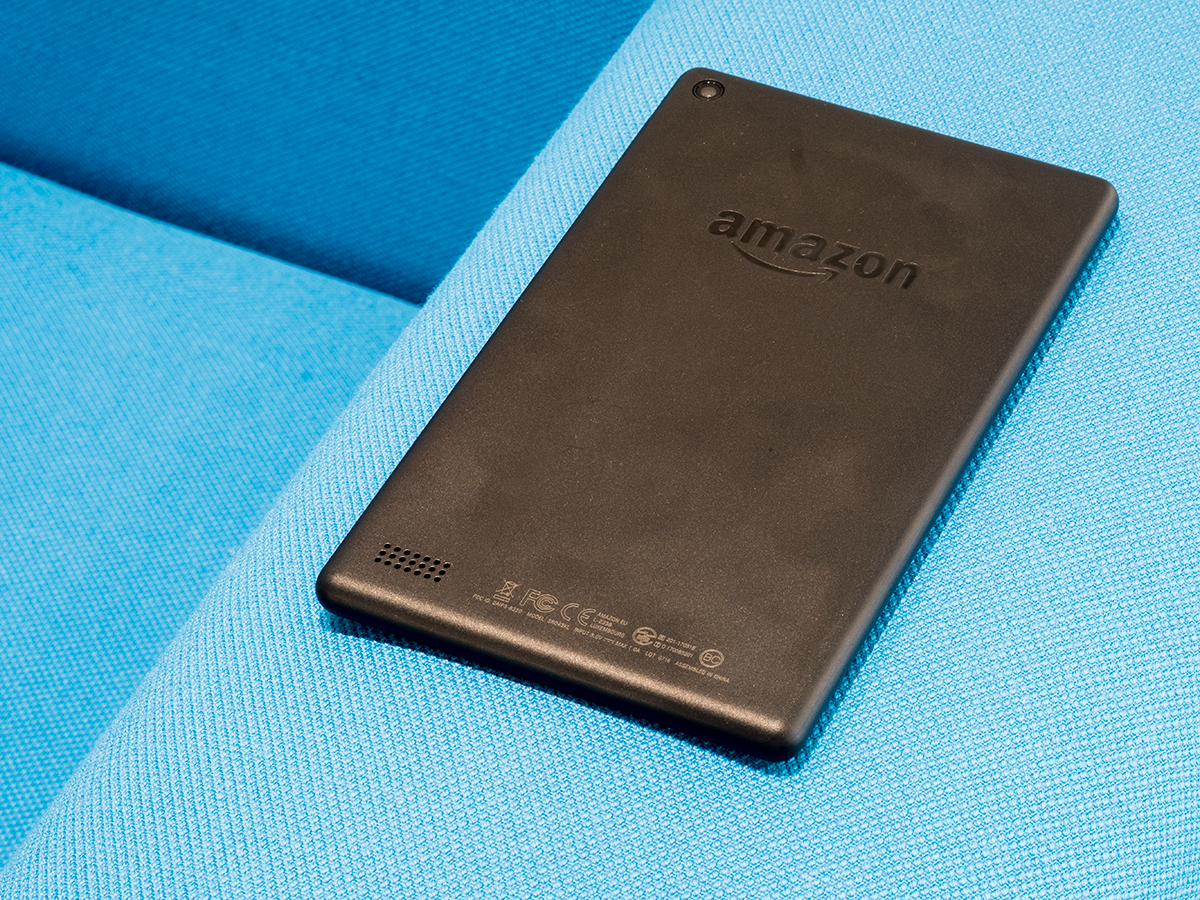 The word 'design' usually brings to mind attractive people in thick-rimmed black glasses sat in front of those desks that slope down at an angle, dreaming up quirky little touches that add flair and character.
The Fire 7 tablet might well have been designed in such a setting, but it's not obvious from looking at it. The front is just screen plus some fairly chunky bezels all the way round. The back and sides are made from durable-feeling plastic, but it's pretty chunky and utilitarian. Other than an Amazon logo on the back it's entirely devoid of any flair or character at all, although it does at least come in three funky colours, and also black.
But, but, but… none of that really matters. This is a tablet designed with one thing in mind: function. And in that regard, it's a champion. The 7in form factor works really well, whether you're using it one-handed in portrait mode or two-handed in landscape, and it's comfortable to hold. It feels really well built, too – even if it didn't only cost £50 you wouldn't worry too much about dropping it. That said, both the back and screen of my review sample have already picked up scratches – sorry about that, Amazon.
On top you get power and volume buttons, plus a microUSB port for charging and a headphone socket. There's also both front and rear cameras – neither of which are very good – and a microSD slot for adding to the 8GB or 16GB of built-in storage.
Display: You get what you pay for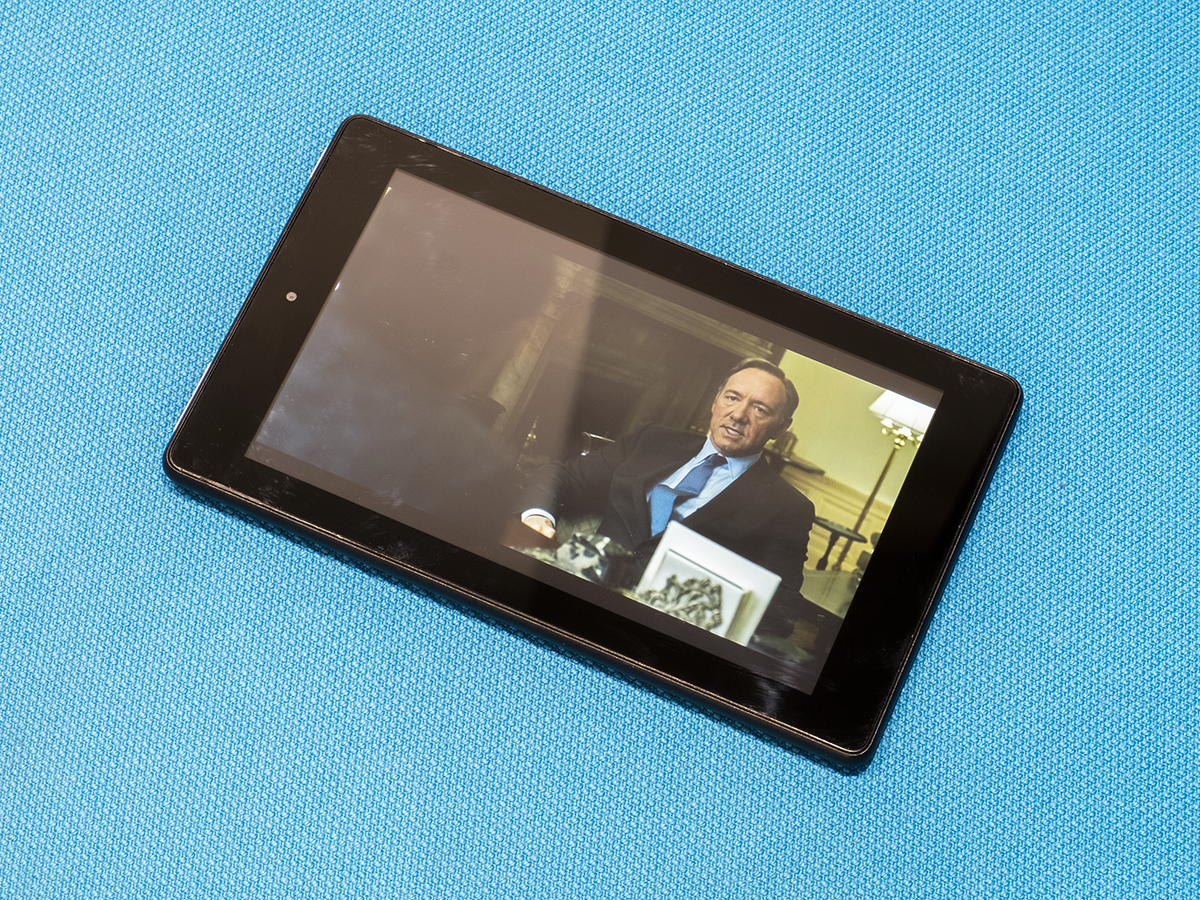 The Fire 7's screen is obviously the biggest compromise here, and anyone used to a decent full-HD-or-better display – ie everyone – will notice the difference at once.
The Fire 7's 1024 x 600 resolution is only part of the problem. Contrast is poor, colours are muted and viewing angles very limited. The combined effect is that unless you're watching almost directly face-on, it's as if you're viewing through a filter of some kind. It doesn't help that the tablet is particularly prone to fingerprints, further adding to the feeling that it's all been smeared in vaseline.
It's far from unusable, though. Brightly coloured games fare better than more pared-back TV shows and web browsing is fine, with the 7's relatively big screen giving it an advantage over most phones in terms of fitting lots in. Just don't expect it to replace your TV or rival an iPad.
Amazon Alexa: She's gone portable!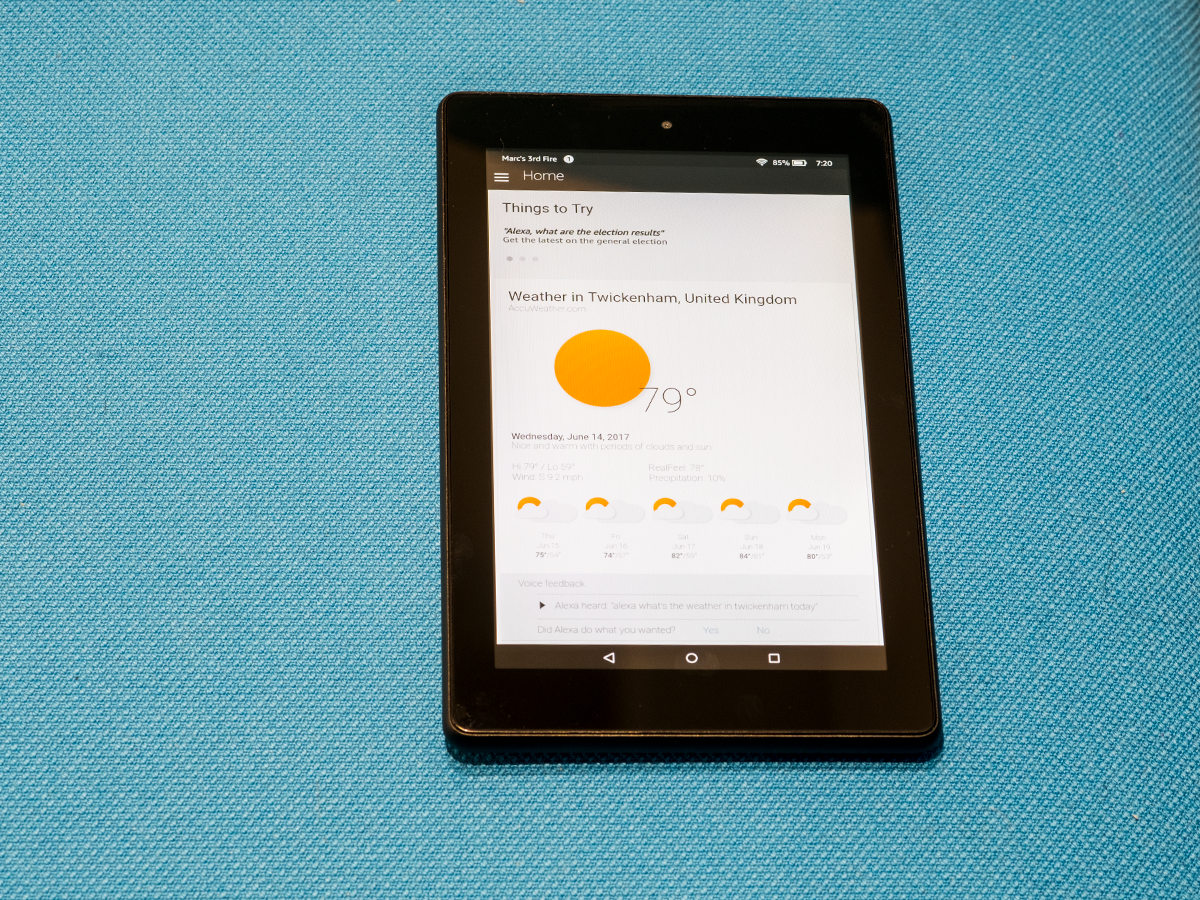 I've owned an Echo Dot for about six months now and can't imagine living without it. Alexa controls my lights and heating, updates me on the weather each morning and acts as a DJ. She occasionally even gives a useful response to a question. And now she's available wherever I am.
This isn't quite a first for Alexa, but it's close. While Apple's Siri, Microsoft's Cortana and Google's nameless Assistant have all lived inside phones and tablets for years, in the UK at least Alexa has been restricted to the non-portable Echo and Echo Dot, the non-portable new Fire TV Stick, and a limited number of phones, among them the Huawei Mate 9 and HTC U11. And useful though Alexa is, you're not going to buy a £600 phone just so you can get a mobile version of her.
In truth you probably wouldn't buy a £50 tablet just so you can get her either, but it's a nice bonus to have. But do bear in mind that Amazon has updated all older Fire tablets back to the 2014 models so that they also now have this functionality, so it's not in itself a reason to upgrade to the 2017 version.
The good news is that Alexa can do everything here that she can in her Echo guise, making the Fire 7 an easy and cheap way to get a multi-room Alexa setup. The bad news is that she won't do your bidding via voice command alone: you have to first hold down the home key.
This isn't a disaster, as you'll often have your tablet in your hands when you want to ask her to do something anyway, and it's therefore particularly suited to opening apps or voice searching for info on the web – especially as it'll present results to you in handy cards rather than just speaking to you. However, I still found asking my Echo Dot to be more user-friendly than picking up the tablet and fiddling with the buttons.
Basically, if you don't already have an Echo device and want a new tablet, the Fire 7 will give you a two-for-one deal. But if you don't need a tablet, you're still much better off buying an Echo Dot, which is itself a mere £50 too.
Power: Prepare for a bumpy ride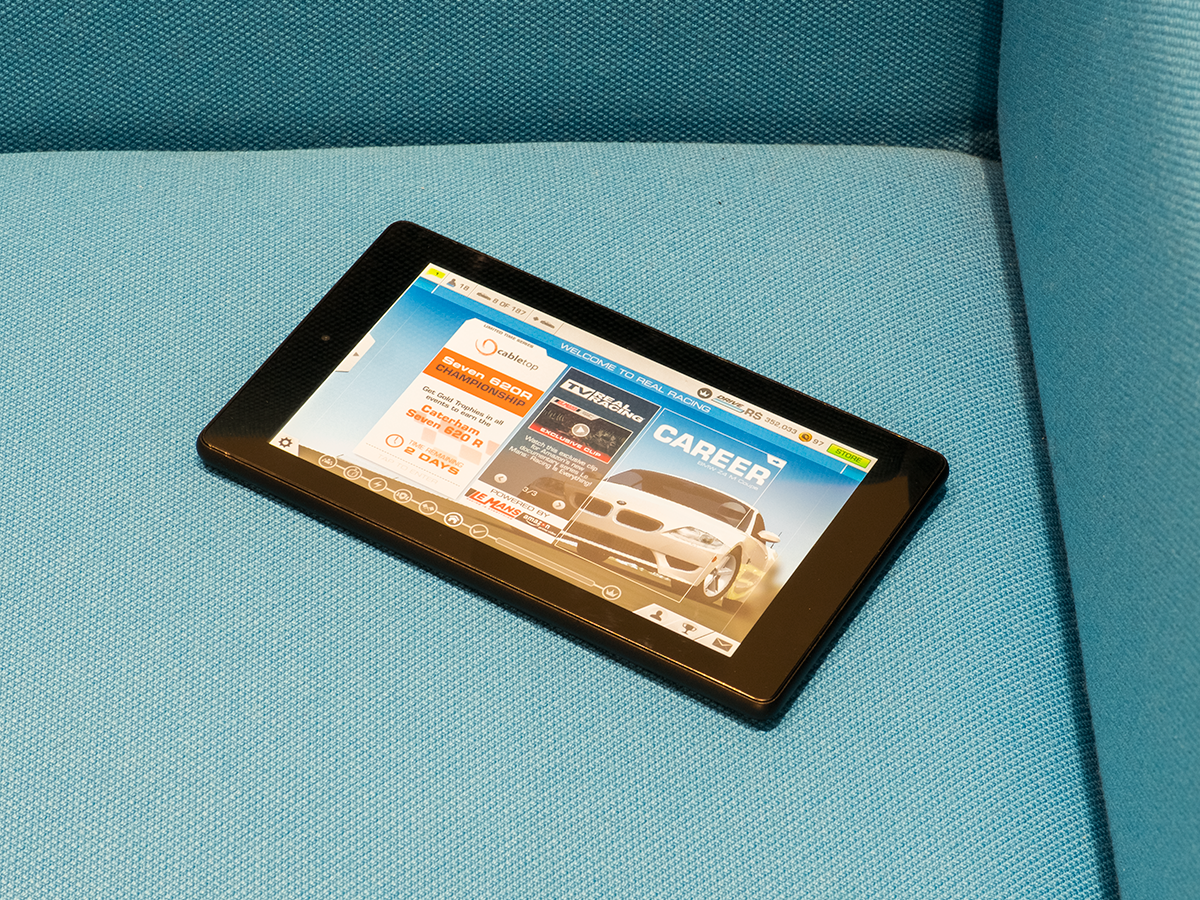 The Fire 7 runs on a quad-core 1.3GHz processor, but it's not a particularly beefy one and there are times when that shows.
Opening apps can be a long-drawn-out process. I timed how long it took to open Netflix on both my phone (a Huawei P10) and the Fire tab: my phone powered it up in about 1 second; the tablet took almost 10 seconds.
Be prepared for crashes, too. Real Racing 3, about the most intensive game I trusted it to run, would typically die about once every hour or so. In-between that, it worked fine, with no obvious lag in either graphics or control input, so it's not like you can't use this device for gaming – more that you should save regularly.
Storage is a paltry 8 or 16GB, and with around 2GB taken up for system software, that's not going to get you very far. Fortunately, you can add up to 256GB extra via microSD card, and I'd suggest that's a must if you go for the 8GB option at least. You do also get unlimited Amazon Cloud Storage for any photos taken with the device and any content – films, books etc – that you buy from Amazon.
Battery life is, unsurprisingly, not great either. Amazon describes it as having "up to 8hrs of mixed-use battery life", but presumably its definition of "mixed-use" doesn't include much in the way of games or video. I found it was good for only about 4-5hrs of continuous video or gaming, or for maybe 2-3 days if I was dipping in and out for an hour here, an hour there. There's no fast-charging option, either, so juicing it back up again is a lengthy process. On the plus side, it's microUSB, so you won't ever be far from a charging cable.
Software: Your Prime spending opportunity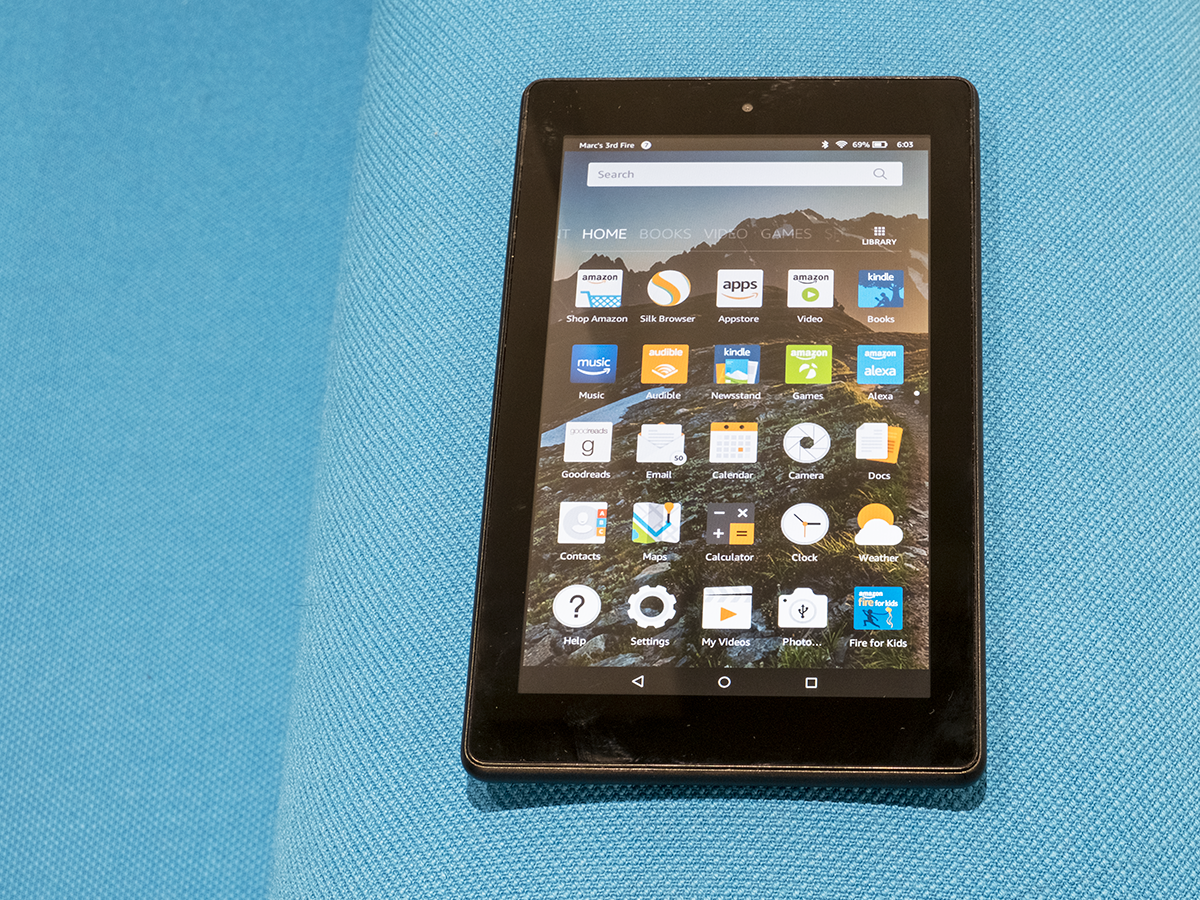 Although the Fire 7 technically runs on Android, it's a heavily skinned Amazon version. And that means… shopping! And lots of it.
The main home screen is populated with opportunities for you to top up Jeff Bezos' personal pension fund. Right at the top you'll see an app called 'Shop Amazon'. Just along from it you'll find the Amazon Appstore, Amazon Video, Kindle books, Amazon Music, Audible, Amazon Newsstand, Games and more. This is all fine if you buy into the Amazon world. All Fire tablets are primarily media consumption devices rather than creative tools as the iPad is, and you'll never be far from plenty of media to consume. After you've bought it from Amazon, obviously.
Assuming you are an Amazon Prime subscriber and do sometimes shop on the site, you'll find the Fire 7 to be a great interface to your Amazon content. If you don't, well, you should look elsewhere. That's because the Amazon Appstore is nowhere near as well populated as Apple's App Store or Android's Play Store.
Want to swap your browser from Amazon's Silk to Google Chrome or Firefox? No chance. Want to do some mobile banking? Apps are few and far between. Snapchat? Pokémon Go? Google Maps? No, no, and not on your nelly.
Still, plenty of the big guns are available and it's not like you'll be using this instead of your phone. For Amazon-based media consumption and web browsing, you'll be fine.
A treat for kids
Outside of its price, the Fire 7's best feature is actually the Fire for Kids mode. It's a superb example of how to build software aimed at youngsters rather than just putting a firewall around certain content.
You get a nicely presented carousel of apps, books and videos, into which your offspring can dive without fear of ending up somewhere they really shouldn't be. There's plenty of good stuff on offer, from big names (in the pre-school world) such as Dora The Explorer and Peppa Pig to tween favourites such as Harry Potter and Star Wars.
Parents can easily set restrictions, too – for instance locking it down so that kids need to spend a certain amount of time reading books or playing educational games before they're allowed to run wild in the videos section.
The only drawback is that it's not free. The price depends on whether you have a Prime subscription and whether it's for more than one child, but it starts at £24 for the year, which is pretty good value for what will effectively be a teacher and babysitter combined into one. Well, sort of.
Amazon also sells a kid version of the tablet, which adds colourful rubber bumpers and a year's subscription to the Fire for Kids service, then bumps the price up to £99. You'll have to work out which represents the best value based on how many kids would use it and how clumsy they are.
Which other tablets should you consider?
There's really no obvious rival to the Fire 7. The next cheapest tablet that's also half-decent is Amazon's next-step-up Fire HD 8, which costs £80, and after that you're into the £130-odd range of the Lenovo Yoga Tab 3 and its ilk.
One thing is clear: this is no iPad competitor. The difference in quality between any iPad and the Fire 7 is like the difference in brain power between Stephen Hawking and Katie Hopkins. So if you want a truly excellent all-round tablet experience, go for the £620 iPad Pro 10.5. Or if you can't stretch to that, then try the £340 standard iPad.
Still too much? There are plenty of options in the £150-£200 range, among them the Nvidia Shield K1 and Amazon Fire HD 10. You'll find them reviewed in our Best Cheap Tablets group test and any of them will do a good job.
They're all still 3-4 times the price of this tablet, though, so the Fire 7's real main rival remains Amazon's own Fire HD 8. That model costs only £30 more but has a bigger screen with a better resolution, more storage space and a beefier battery. It's probably just about worth the extra cash.
Amazon Fire 7 verdict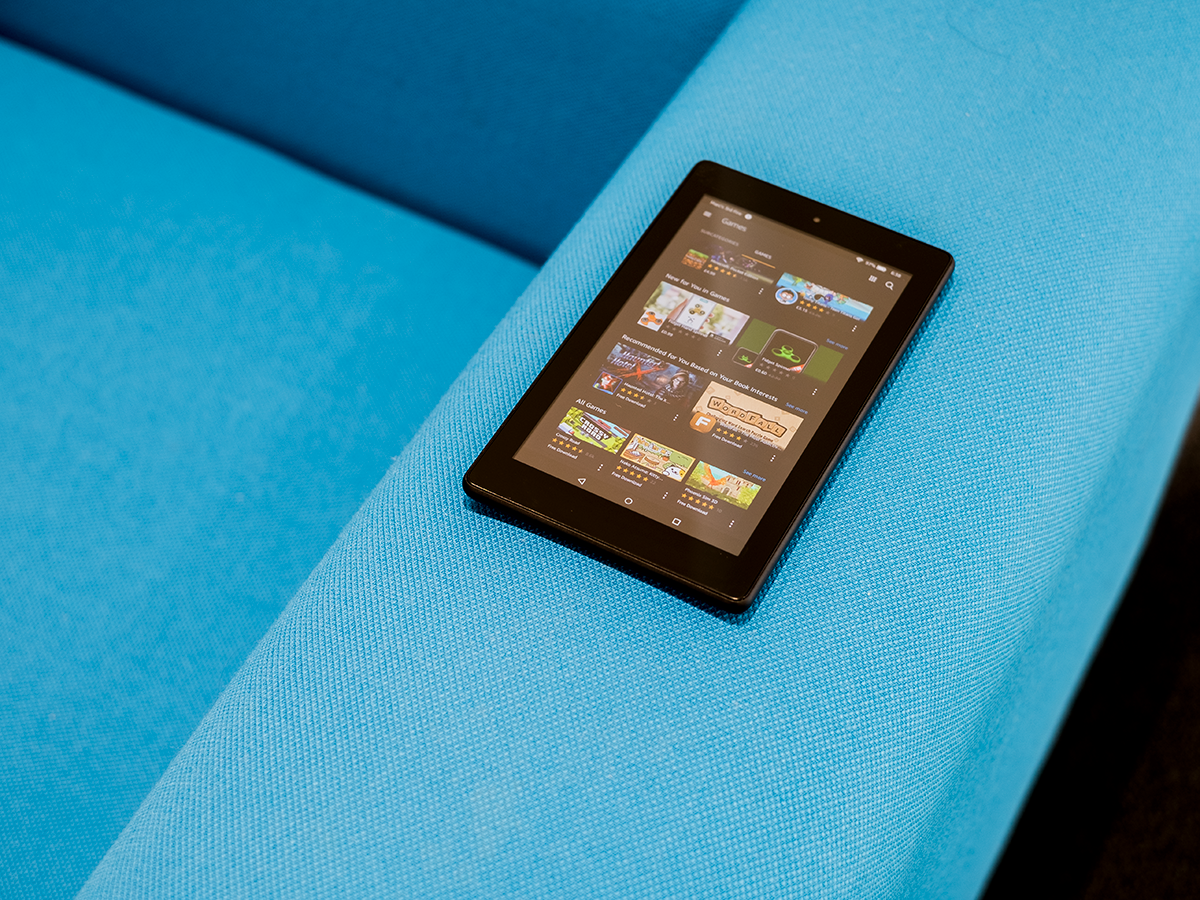 It's almost impossible to judge the Amazon Fire 7 outside of its price tag. Not that we'd do that anyway – after all, our job is to help you decide whether to buy one. And the answer is that unless you really want a premium tablet experience, you should definitely buy one.
Look, it's £50. What else are you going to do with that? Probably fritter it.
Yeah, it's full of compromises – the screen is poor, it's slow, and Amazon's Appstore is way too locked-down. But most of the things you'd want to do with the Fire 7 aren't majorly hampered by those flaws. If you have kids and want to keep them entertained on long flights, you should buy one. If you don't own a tablet and think it'd be a handy thing to have for a bit of sofa-based web browsing, you should buy one.
Obviously, if you want a really good tablet for doing creative things and possibly even replacing your laptop, then you'll want to look in Apple's direction instead. But you'll need deep pockets for that. You absolutely won't need deep pockets to buy the Fire 7, and for that reason it's a no-brainer purchase.
Stuff Says…
The Fire 7's far from the best tablet but it's easily the best ultra-cheap tablet
Good Stuff
That price
Solid build
Loads of content for Amazon users
Great for kids
Bad Stuff
That screen
Prone to crashes
Lacks some big apps