Amazon Fire HD 10 (2019) review
Is the latest version of Amazon's biggest tablet a budget star?
Two years ago we gave the Amazon Fire HD 10 a full-whack five-star review. It deserved every one of those stars.
£150? Full HD screen? Good speakers? There wasn't much to dislike at that price. Two years on and, well, the great bits are still great.
The Amazon Fire HD 10 has easily the best tablet screen you'll find at the price, a new processor and some other tweaks. Buy this if you want to read digital comic books, keep the kids happy in the car (as long as they're not too young, then buy the Kids version), or simply don't want to spend too much on a tablet.
But the longer we spend with the Amazon Fire HD 10, the more the great big holes in its games library get on our nerves. Almost every ambitious Android release isn't available for this tablet. It is like losing two stone for a summer holiday but finding your wardrobe restricted to just jumpers from Primark.
On hardware alone, though, the Amazon Fire HD 10 is a sure-fire hit.
What's new?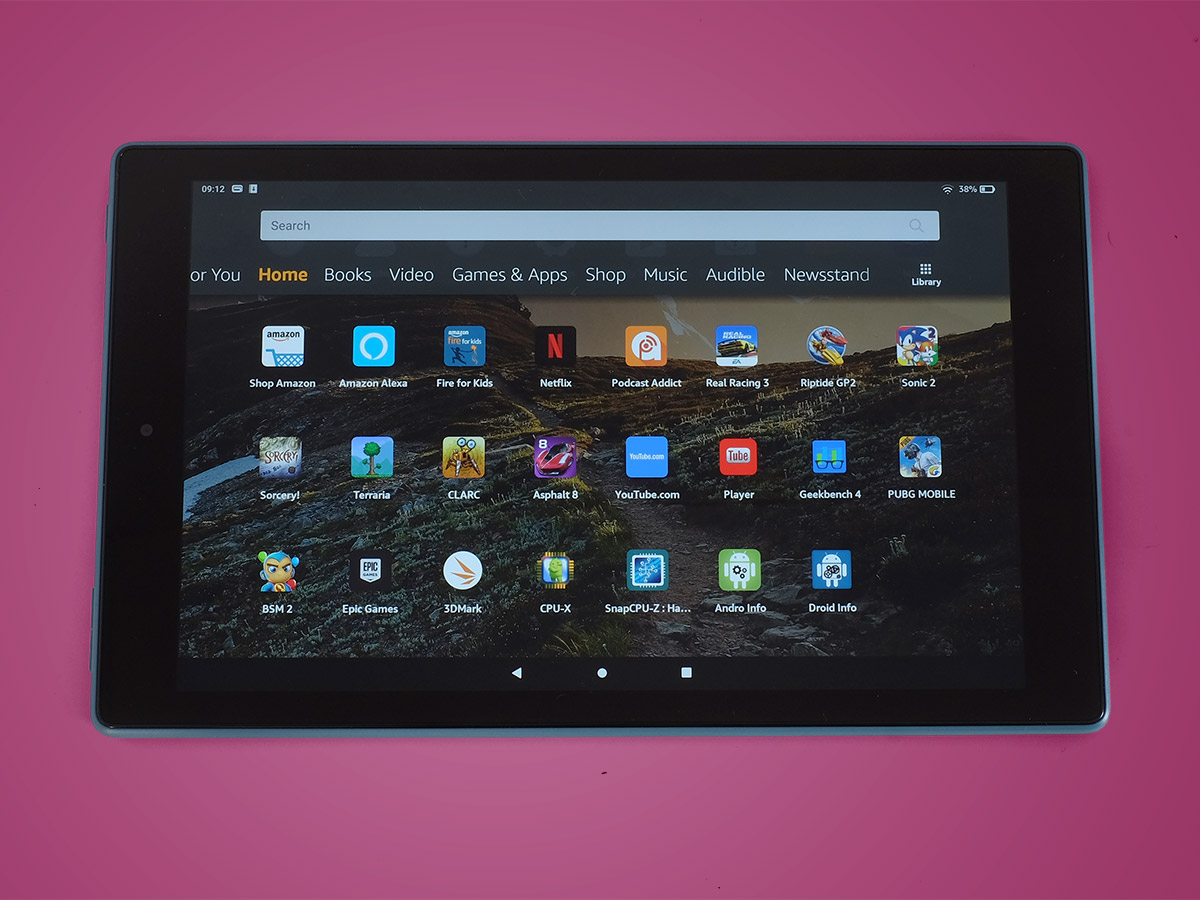 The big question to ask of any new Fire HD tablet is: what's new? They tend to look eerily similar each year because Amazon doesn't really update its tablets with a big fanfare.
Our list of Amazon Fire HD 10 updates looks depressingly short. Amazon has switched the charging socket from a microUSB to a USB-C, like virtually every new phone, and changed the processor to a MediaTek MT8183.
We're not sure we have ever used a phone or tablet with this CPU, so we looked it up. MediaTek originally intended the MR8183 for Chromebooks, in 2018. But almost no Chomebooks have MediaTek CPUs. Our best bet is Amazon bought a warehouse full of the things for a song.
But is it rubbish? We get double the number of cores as last time, eight, CPU power similar to a £250 phone. However, the graphics grunt is less than half that of the Moto G8 Plus, or G7 Plus. Just like last time, though, the Amazon Fire HD 10 has easily enough power to get by. And we had to dig out chip-melting benchmark app 3DMark to test this out.
You see, the number of games available to the Amazon Fire HD 10 kinda sucks. The majority of the titles we'd love to try out on a big-screen tablet like this just aren't there on the Amazon Appstore. Here's a list of just some of the games we'd love to try on this tablet, but can't:
Deep intake of breath
Civilization Revolution, XCOM: Enemy Within, Life is Strange, Bully: Anniversary Edition, Grand Theft Auto: San Andreas, Baldur's Gate II: Enhanced Edition, The Walking Dead, Planescape Torment, The Elder Scrolls: Blades, PUBG, Don't Starve, Rome: Total War, Layton: Curious Village, Florence, Asphalt 9, ARK: Survival Evolved and Tropico.
There are many more missing titles too, as you might expect. We also tried side-loading the so-popular-they-probably-talk-about-it-on-Loose-Women Fortnite, which you currently have to do on any Android tablet. But it won't run. It's not supported either.
Buy an Amazon Fire HD 10 looking for the cheapest way to experience the biggest, best games on Android and you'll be disappointed. The same is true for apps, but when the basics are covered (if often by knock-off alternatives), it's games we miss the most.
One caveat. This may not be Amazon's fault. The game developers have probably decided that people buying a budget Android tablet are unlikely to spend real money on a tablet game – and chances are they're right.
The Amazon Fire HD 10 does have access to some cracking classics, though, including Chrono Trigger, Star Wars KOTOR and Banner Saga. You can browse the Appstore over at Amazon if you want to see what's there before taking the plunge.
Screen and Media: above and beyond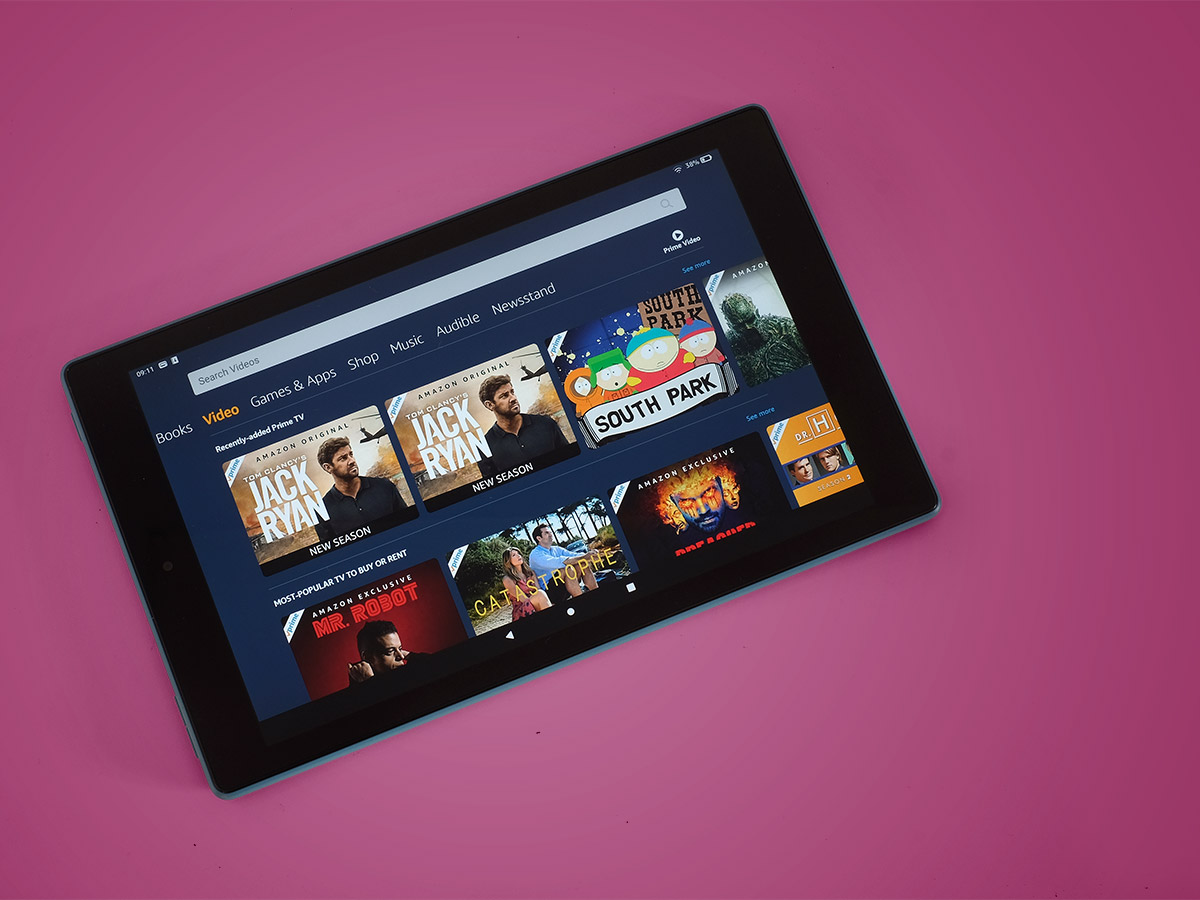 We think this is a pretty serious reason for some of you to look elsewhere. But in almost every other respect the Amazon Fire HD 10 is a cracking buy.
Its 10.1in screen is brilliant for the money. This is a Full HD LCD with no signs it belonging in a £150 tablet other than that you have to alter brightness manually.
Colour is rich and engaging, top brightness is good. And while it's not quite as sharp as an iPad, every kind of content bar small text looks great on the Fire HD 10's screen.
The speakers are also decent. There are two along the edge of one of its longer sides, for stereo sound. They don't have anything like the bass of an iPad Pro, but they do a great job of making YouTube videos and games more involving.
You can make the speakers sit by your hands, for a cosier soundstage, or turn the Amazon Fire HD 10 around to leave them up top. This tends to make them sound less direct, but a little more tonally neutral. There's also a headphone port. Amazon hasn't followed Samsung in leaving it out, thankfully.
This is a great tablet for video streaming, even if you don't subscribe to Amazon Prime and use Netflix instead. Netflix streams at full 1080p resolution and looks fantastic on the Amazon Fire HD 10's screen. You won't find better for £150.
The "streaming" part is important too. You only get 32GB storage with the entry level spec, which won't stretch too far if you download some chunky games. Not every part of the Amazon Fire HD 10 does beyond the standards of the price.
Design and Battery Life: No real sacrifice
All Amazon tablets are made to a budget, and the spend is doled out carefully. That's why they tend to look and feel… pragmatic.
The Amazon Fire HD 10 has a simple textured plastic back just like the last version. It comes in black, white, blue or "plum", and we don't mind its basic styling at all.
The plastic texture feels pleasant. In our experience the matt finish tends to become shiny in parts after a few months of abuse, but like a supermarket take on Cheerios, the price drop is worth the lack of frills for many of us.
There's also no real sacrifice in battery life, which is actually one of the most important factors for week-to-week use. Amazon says you'll get around 12 hours of use out of a charge.
We played a long YouTube video on the Amazon Fire HD 10 to see how it holds up, and found it lasts around 11-11.5 hours at the sort of brightness you might use indoors.
Camera and Software: the bad bits
The Amazon Fire HD 10 has a few other weaker areas. Its cameras are rubbish, like those of most budget tablets. There's a single non-autofocus 2MP camera on the back, and a similar one on the front.
You couldn't get much more compromised hardware without pre-loading a veneer of vaseline under the lens. We'll take this as a tacit Amazon admission that tablet cameras suck, and anyone who uses them is an idiot. Harsh, Amazon, harsh.
The software is also just like that of any other Amazon tablet, and you may not like it. This is based on Android, but there's a thick layer of Amazon gunk on top.
Those who watch Amazon Video, subscribe to Amazon Music, read Kindle books on the reg and are glued to Amazon.co.uk may wonder why you'd complain about it – but it is heavy-handed. Every part bar the home screen is dedicated to getting you to consume more stuff, or to subscribe to more Amazon services.
This interface barely seems to have changed in the last five years. To be fair to Amazon, it looks decent enough, but you don't get the opportunity to make your Amazon Fire HD 10 feel like "home". You may have bought this tablet, but somehow Amazon is still the landlord.
As it's populated with stuff from Amazon stores and services, the Fire HD 10 suddenly looks barren when you lose internet. All the content disappears from most of the tabs, replaced by a message begging you to reconnect to Wi-Fi. This tells you quite how much of a housebound tablet the Amazon Fire HD 10 is. However, your Home screen is unaffected. You can still run your apps and so on just as you would with any Android tablet.
Amazon Fire HD 10 verdict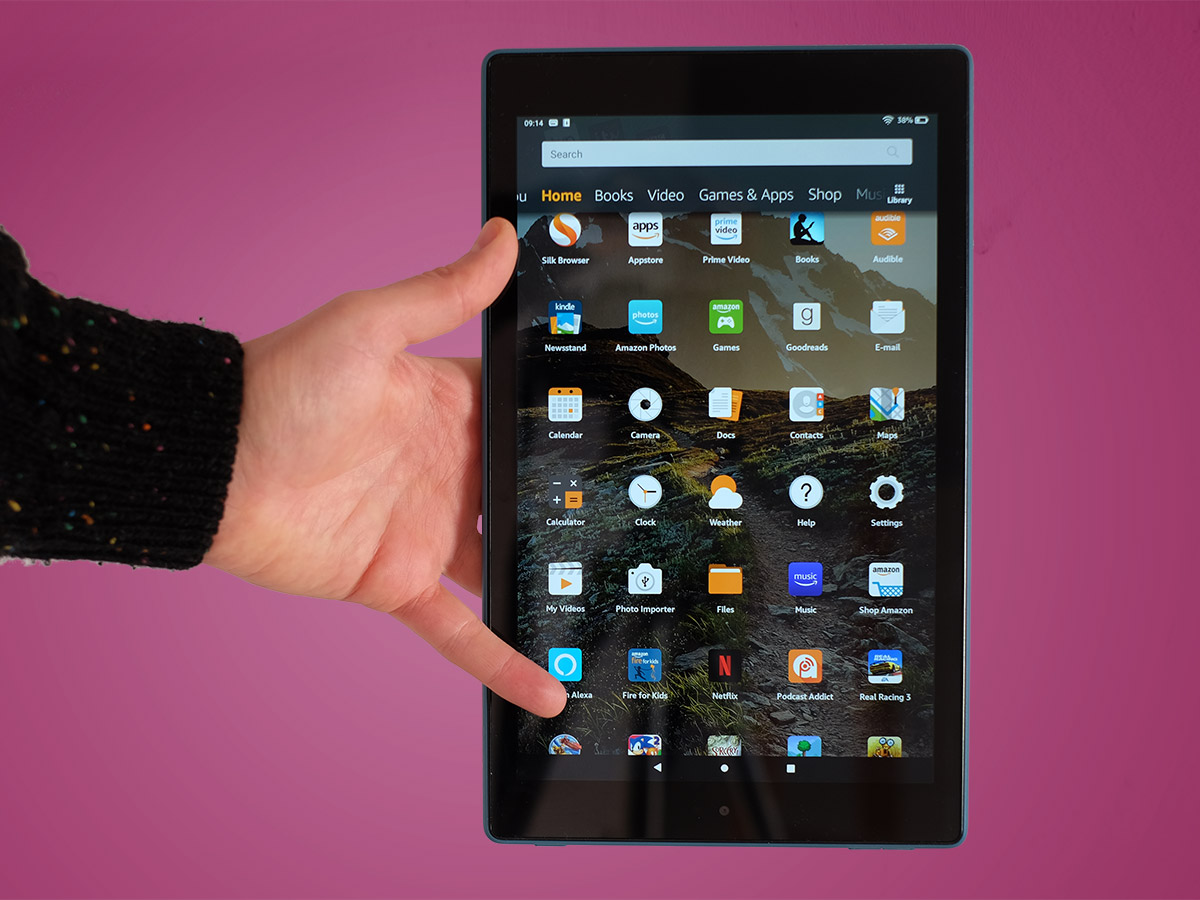 A great screen is the highlight of the Amazon Fire HD 10. It's big, looks rich and is simply better than what you normally get at the price.
Samsung may have finally pulled its finger out and made a cheaper tablet with a half-decent screen, the Galaxy Tab A 10.1, but it's still a chunk more expensive and isn't nearly as powerful as the Fire HD 10.
That the hardware is so capable for the cash highlights how far behind Amazon's apps and games libraries are though. Too many top Android games aren't available, including PUBG, Asphalt 9 and Call of Duty: Mobile. Capable techies may be able to "hack" Google Play onto this tablet, but that crowd and the usual Amazon Fire tablet audience are worlds apart.
Stuff Says…
Still the obvious choice for bargain hunters after the basics, but the games library is miles behind Google Play's
Good Stuff
Excellent value
Great screen for the cash
Good battery life
Bad Stuff
Misses out on (almost) all the best Android games
… and many great apps too
The camera sucks
Limited storage on the entry level version