Amazon Fire HD 10 Kids Edition (2019) review
Amazon's digital babysitter gains more power and a nifty kick-stand
The illusion of free will is never more obvious than during parenthood. You might think you have a choice as to whether to buy your child their own tablet, for instance, but obviously you don't – well, not unless you want to spend years wiping sticky fingerprints off your phone and paying vast sums for unauthorised in-app purchases in My Little Unicorn Princess Palace.
The only answer is to bite the bullet and splash out on a dedicated child-friendly device. And on that front, Amazon's range of Fire Kids tablets are about as good as they get.
The latest of them is the All-new Amazon Fire HD 10 Kids Edition – a £200 digital babysitter with a colourful chunky bumper, two-year replacement guarantee and all manner of parental controls to make sure they're not seeing anything they're not meant to be.
In truth, the 2019 update doesn't bring a lot to the party, with a faster processor, longer battery life and kick-stand being the only major additions. But no matter – this was already the best kids tablet out there, and it just got better…
DESIGN AND BUILD: KICK-STAND AND DELIVER
With its protective case surrounding it, there's no mistaking who the Fire HD 10 Kids Edition is aimed at: it's a big, bold and rubbery affair that looks faintly ridiculous in the hands of anyone over the age of about 12. It works brilliantly, though, cushioning the tablet from even a hefty fall onto a hard kitchen floor.
The case has had a couple of changes for 2019, with the main one being the addition of the kick-stand. The stand itself is pretty well implemented: it rotates through 270 degrees, so you can prop up the tablet to watch videos with the screen leaning either slightly forwards or slightly backwards, and it's big enough to provide plenty of stability in this mode.
Amazon's had to make the case bigger in order to fit the stand on, but that really doesn't matter, because the Fire HD 10 Kids Edition is already far too large to be used one-handed – particularly if those hands are little chocolate-covered ones.
But one extra benefit from the size increase is that there's now space for the speaker cutouts to be positioned on the front of the case, facing towards you, rather than on the bottom where they were before. This was obviously an essential change for it to be used standing up to watch videos, but as a nice bonus it now sounds much better when being held, too.
The other big physical change is that there's now a USB-C port on the top for charging the Fire HD 10, rather than microUSB. This is mostly a very good thing, offering faster charging so long as you're careful to also use the included 9W charger. Amazon reckons it'll now juice up from flat in 4hrs, which is at least an hour quicker than the previous version, and in my testing that proved accurate. USB-C is also easier to plug in and many phones and laptops now use it too.
Against that, bear in mind that if your kids are anything like mine they will now spend approximately 30% of every day shouting that they can't plug in their tablets because they've picked up the wrong cable, and failing to appreciate lectures about the overall benefits of moving to a new USB standard. Idiots.
Otherwise, the Fire HD 10 is almost unchanged in design terms. There are volume and power buttons on the top, plus a mic and headphone port – all accessible via deep holes in the case and therefore a little fiddly to reach – plus (terrible) 2MP front and rear cameras. If you remove the tablet from the case, which is much easier than putting the damn thing back in, you'll also find a microSD card slot, which you can use to expand the built-in 32GB of storage.
Lastly, there's finally a third colour option to avoid the dreaded pink/blue dichotomy, with the addition of a nice purple version. This is very much appreciated, even if my kids would have preferred "red" and "blue". There's no pleasing some people.
SCREEN: STILL GOOD ENOUGH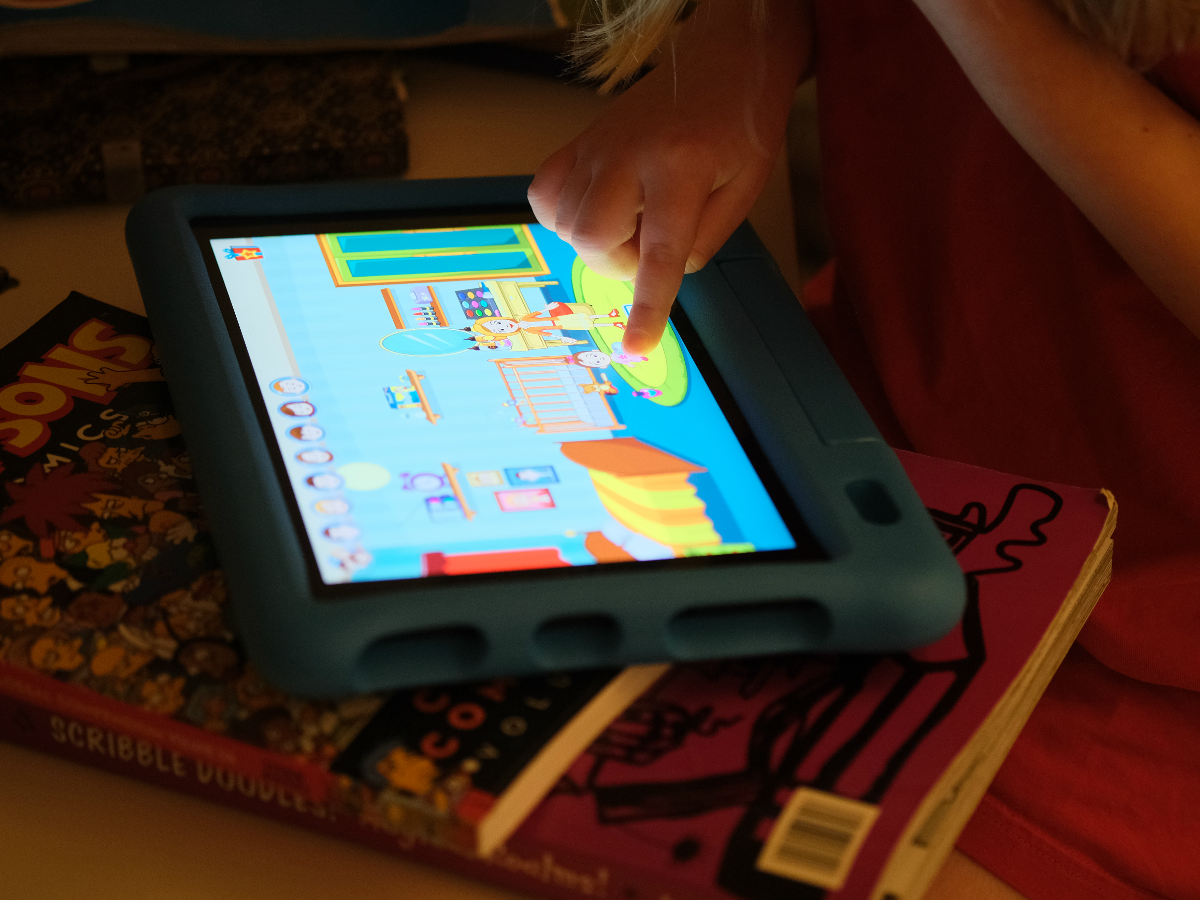 The Fire HD 10's 10.1in display is identical to that on the previous generation, which means it has a 1920×1200 resolution. That equates to 224ppi, which is way behind what you'd get on any iPad and about half that of most flagship phones, but still perfectly fine for kids.
Videos and games are certainly sharp enough and viewing angles are pretty good too – you can use it with the stand and not have to sit directly in front of it. It also goes pretty bright – handy if you're taking it on holiday with you.
Alright so it's only an IPS panel rather than fancy-pants OLED, so you shouldn't expect smartphone-beating colours or contrast, but really anyone who says they need a better screen than this on a £200 tablet is being mean.
PERFORMANCE: FASTER, LONGER, BETTER
If we had one criticism of past Fire HD tablets it's that they never seemed entirely stable. Apps would crash from time to time, or take ages to load – particularly if they were fully fledged Android games from the main Amazon Appstore.
The new Fire HD 10 appears to have fixed that problem, with a speedy(ish) octa-core processor now running the show and proving much, much more reliable.
To see what difference it made in practice, I simultaneously loaded apps and videos on both the new tablet and a previous-generation one. Unsurprisingly, the new one was first every single time – but it surprised me quite how much faster it was.
Take Minecraft – by far the most-played game on my daughters' tablets. On the last-gen device it took 37 seconds to load, but on the new one it got there in just 12 seconds. By way of comparison, that's exactly the same amount of time it took on my phone, a OnePlus 7 Pro. Impressive stuff. That said, I did still experience the odd crash, so it's not yet perfect.
The other main hardware upgrade is to the battery. As well as now charging more quickly it also lasts longer: 12 hours, according to Amazon, versus 10 hours on the previous version.
It's hard to put the claim to the test because so much depends on usage, particularly with kids – they're obviously not using them for 12hrs a day (or at least they probably shouldn't be), so it's generally spread over a week or more. What I will say is that both my kids were handed a fully charged tablet at the start of a week and the new one lasted a full day longer before needing to be charged up – which, given that they're allowed 2hrs a day each, sounds about right.
SOFTWARE: (ALMOST) UNLIMITED FUN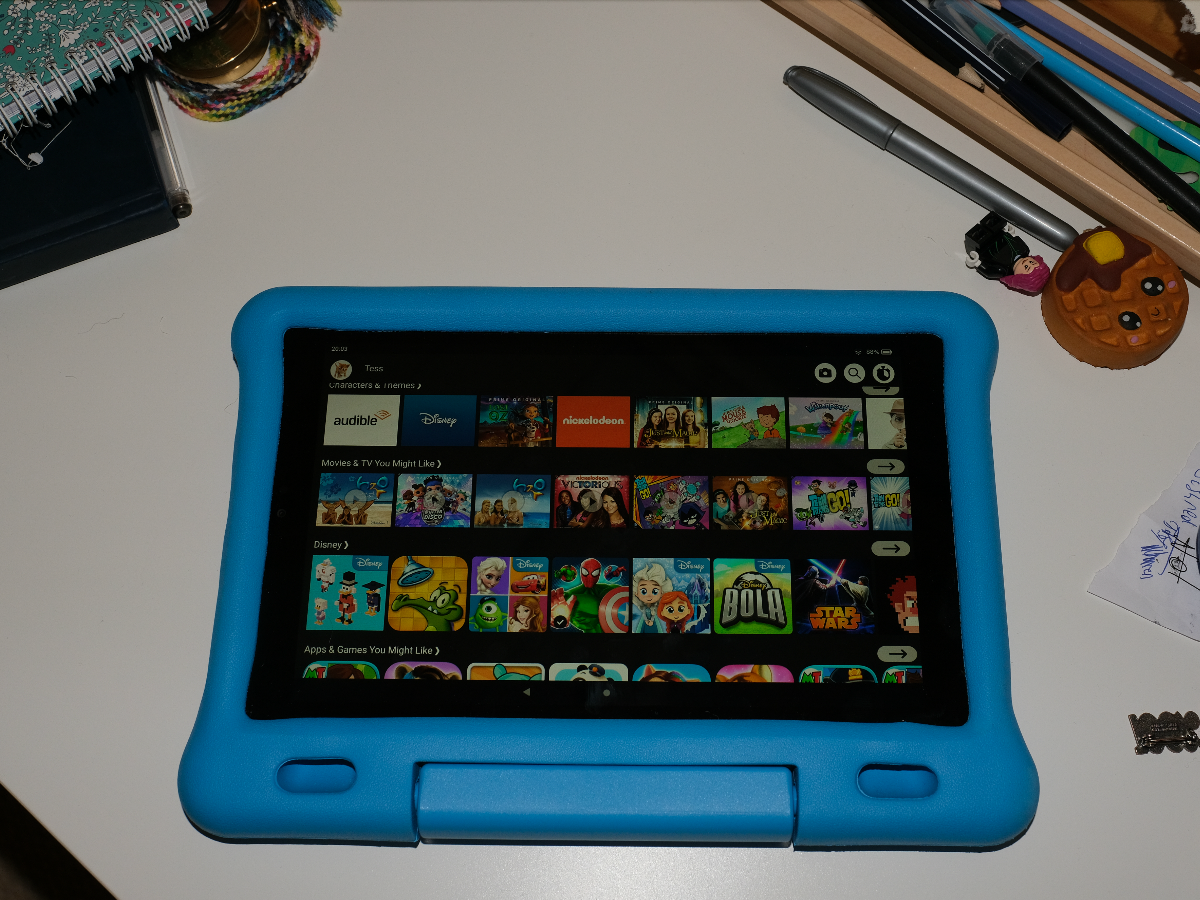 If the Fire HD 10 Kids Edition's hardware is decent rather than class-leading, its software is a different matter.
Every Kids Edition comes with a year's free subscription to Amazon's Fire for Kids service – a sort of Netflix for hobbit-sized people, offering games, videos, books and more on a safe and secure platform. Once that year is over you'll be charged the full price: £3.99/month for one child or £1.99 if you have a Prime account, with various other options for families.
You'll almost certainly want to continue paying, because there's really a lot to like about it. First and foremost, it is an entirely risk-free environment in which to let your kids run (digitally) free. There are no ads, no in-app purchases, no danger that they'll accidentally click on something they shouldn't.
So, while YouTube is here, it's only accessible in a stripped-back form. It's a similar deal with the web browser – there are a handful of pre-approved websites, but otherwise it's up to you to add more via a 'safe list'.
Mostly, kids will be perfectly happy with the games, books and videos available for free from the Amazon Fire for Kids 'store'. This is all filtered by age, so if you've set your kids to only view stuff for 6-8 year-olds, that's all they'll see.
There's plenty of choice on offer, too, including big-name titles from Disney and the BBC, popular characters such as Peppa Pig and Spider-Man and tried-and-tested fare from Lego and the excellent Toca series.
Not all of them are educational, by any means, but you can easily set up the tablet so that your kids have to consume a certain amount of 'good' stuff before they get to the 'bad' stuff – for instance forcing them to read books for 30 mins before they can watch any videos.
The video fare is a lot more mixed than the games, actually, with a high proportion of trash, but there's good content in there should your kids defy the odds and seek it out. Books-wise, you get a few big-hitters – Harry Potter, Goth Girl and Big Nate, for instance – but there are plenty of gaps, too.
Overall it's best suited to the younger age of the spectrum and although Amazon says it caters for 3-12 year-olds, I suspect most tweens will start hankering after an iPad before they hit 12.
Still, you can easily add paid-for books, games or videos from your own library with a couple of clicks – which means you can give them the likes of Minecraft and Netflix (not available in the Fire for Kids library) and probably extend the tablet's lifespan by a couple of years in the process.
AMAZON FIRE HD 10 KIDS EDITION VERDICT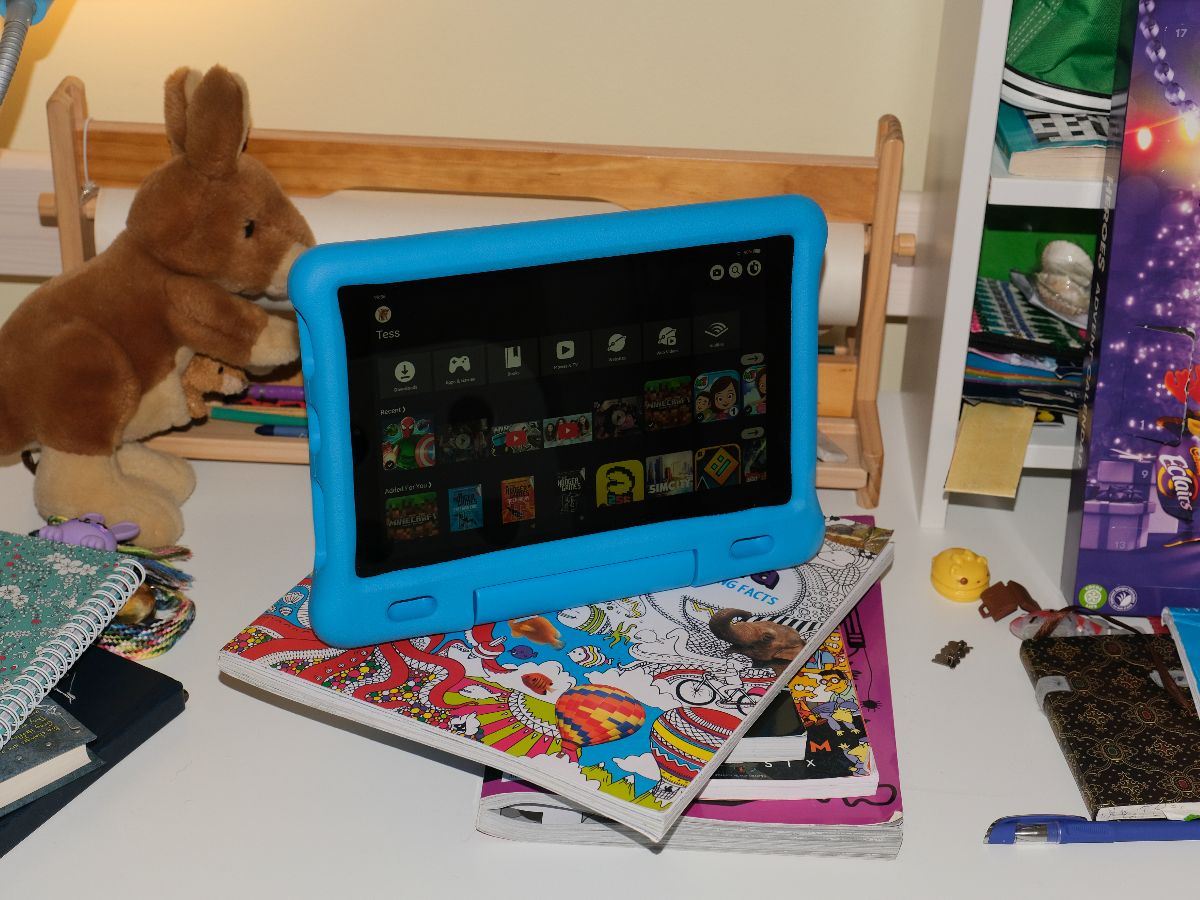 The previous version of this tablet was already the best kids device out there, and one that earned a 5-star review from us last year.
There's no reason to change that mark this time round – in fact it's moved further ahead of the competition thanks to a couple of upgrades that really matter (faster processor and better battery life) and a couple that aren't so important but are still welcome (USB-C and the kick-stand).
It's well-priced, too, with your £200 giving you a year's Fire for Kids access which in itself could be worth nearly £50.
If you've got a primary-school-age child it's a great investment – both for peace of mind and to give you some much-needed peace and quiet.
Stuff Says…
A couple of welcome upgrades ensure the Amazon Fire HD 10 Kids Edition remains the best child-focused tablet you can buy
Good Stuff
Speedy performance
Good battery life
Excellent kid-friendly software
Robust case
Bad Stuff
Lacks enough content for older kids
Cameras are rubbish
Screen could be better