Amazon Fire HD 8 (2015) review
Not a fire-starter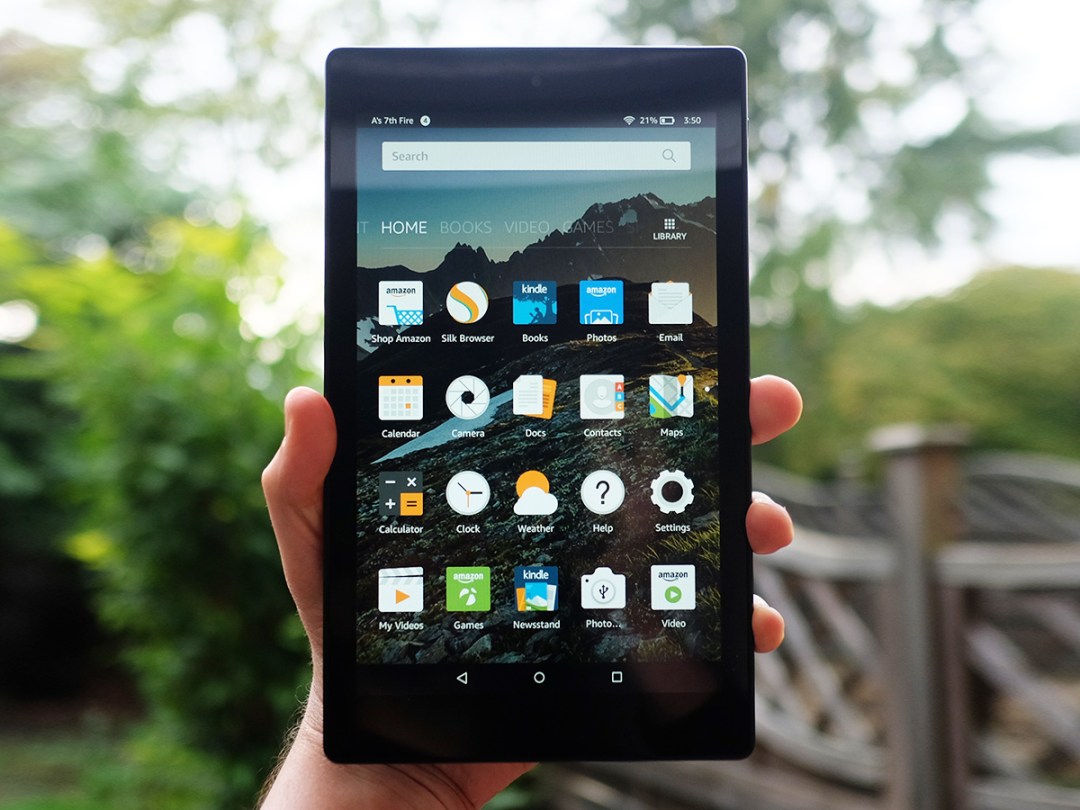 Throw open your tablet tote bag and make some space for a slate. The Fire HD 8 is Amazon's take on the Tesco Hudl 2 or iPad Mini 4.
It doesn't cost that much and has an 8in screen, which is pretty much the perfect size for a tablet: big enough to dwarf your phone, not so big that you look like a kid playing with an Early Learning Centre toy. A £129 ticket price is sure to get a few people interested, too. However, it's still not a great choice unless you're yet to lay eyes on a single 'good' tablet.
Like the other Fire HD tabs, the Fire HD 8 has a pretty low-res screen that really detracts for the 'bargain' status it's aiming for.
Slim figures
One thing the Amazon Fire HD 8 does have on its side is its svelte build. At just 7.7mm thick and 311g, this is the sort of tablet you can hold pretty carefree in one hand. It's also dead stiff, with none of the flexing you can get in some cheap tablets.
The Amazon Fire HD 8 does feel cheap a bit cheap, though. While there's a metal shell under the hood, the outer parts bar the screen covering are made of budgety plastic all-round. The rear is ultra-glossy too, with the sides being textured to help avoid scratches from becoming apparent on day one.
On first impressions, this tablet makes a belly flop.
Price wars
You might look at the Fire HD 8's £129 price and think "fair enough" but you it's worth considering that to get the 16GB version without inbuilt ads you have to pay £159. That's only £60 less than the far superior iPad Mini 2 16GB.
The £129 version really is low-end, with just 8GB storage and Amazon content ads that appear on the lock screen. You can bung a microSD card in the thing, but you'll need to.
In terms of pricing context, the £99 Tesco Hudl 2 is actually closest to the £159 version of the Amazon Fire HD 8. Ouch.
Of course, being 100g lighter and a fair bit thinner, the Amazon does have a practical design advantage.
IPS SOS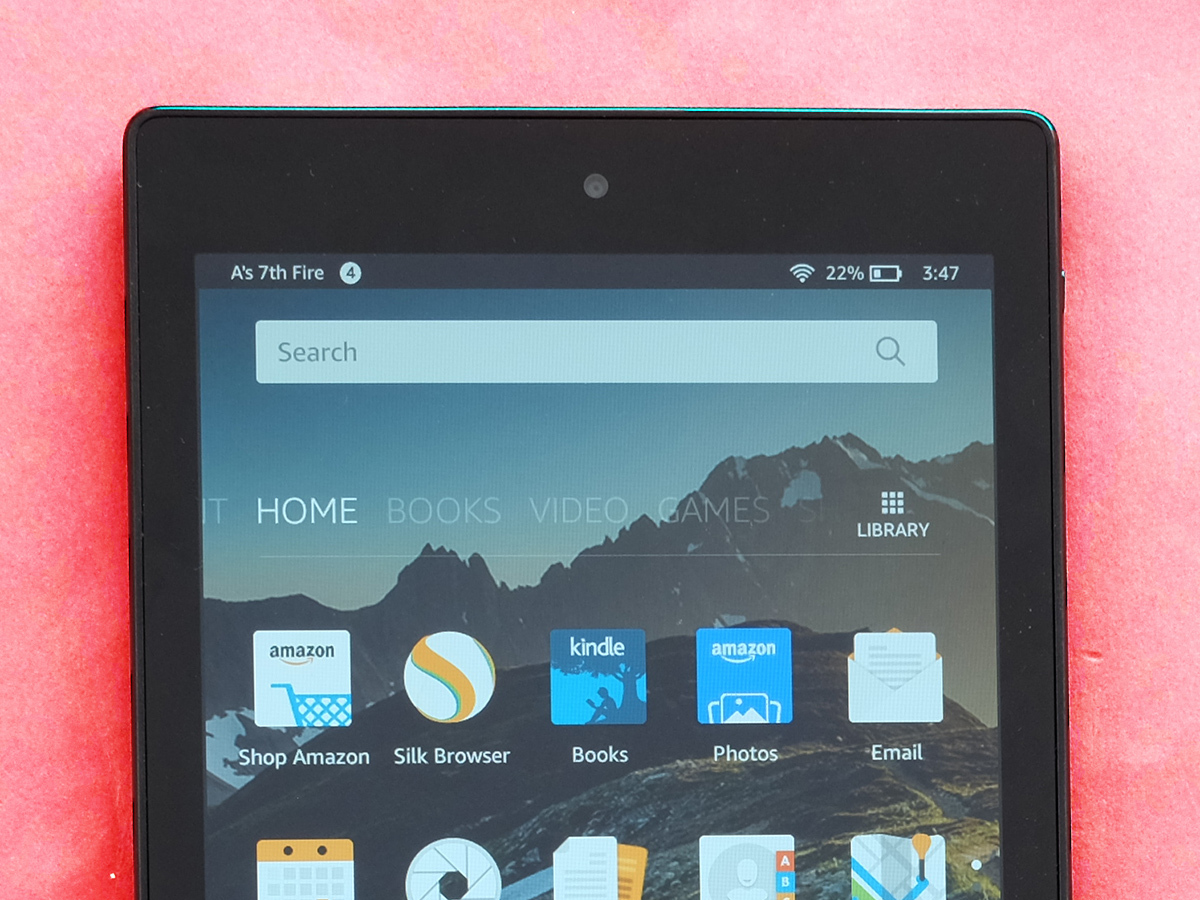 That'd be great if the Amazon Fire HD 8's screen also didn't let us down. It has an 8in 1280 x 800 pixel display, getting us pixel density of just 189ppi.
There are quite a few skinflint stragglers at this resolution like the Lenovo A8, and the Samsung Galaxy Tab 4. But the lot are totally outclassed by the 1080p-and-greater crowd, which don't always cost any more cash. Given how much of a gut punch Amazon could have given to the tablet market with these new Fire HD tablets, that it seems content to duke it out in the lower leagues with the also-rans is disappointing.
How bad is it? Well, it's nowhere near as blocky as the Fire HD 10, which has the same resolution but a larger display, but we're also nowhere near Retina-grade here.
I find screen quality to be perhaps the single most important aspect that separates tablets. And this one is, at least relatively, a dud. I say relatively because not everything's bad. It's an IPS LCD screen, the right sort for everyone but an OLED maestro like Samsung, and its colour reproduction and viewing angles are both totally fine.
Screen quality just isn't really high enough, though, and our review sample has some pretty obvious backlight bleed in one corner. The tone is very warm too: not bad-looking, but clearly a bit 'tweaked'.
The screen issues make the Amazon Fire HD 8's display look scrappy and a bit dated. On the practical side, the thing also lacks an auto brightness setting. That means you'll have to manually adjust it whenever you move outdoors. We expected a bit more from you, Amazon.
Meeting the mitigators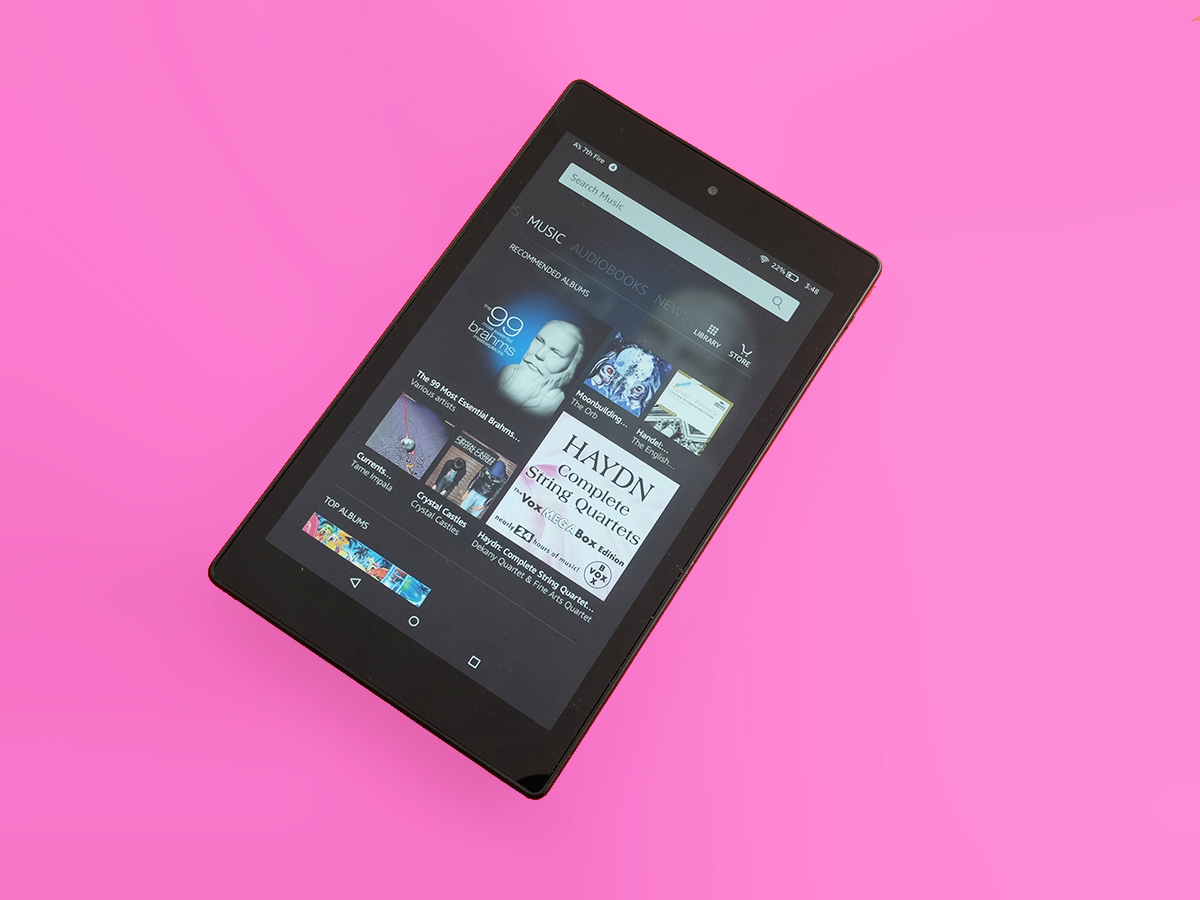 It does maintain a decent standard in other areas, though. For example, the speakers are pretty good, especially for a sub-£150, sub-8mm-thick tablet.
There are two little speakers on the bottom edge of the device, getting you a stereo-ish image and a bit of a fatter, less compromised sound than many. It's good enough to make casual music listening using them more-than bearable. That's more of an achievement than it sounds for a cheap, thin tablet.
Battery life is fine too. Amazon says you'll get eight hours of use, and I squeezed a full 10 hours of local video playback, using a 720p movie.
Of course, this is about a light a stress test as you'll find. It's no wonder it exceeds Amazon's claim. Still, even when working the processor hard with higher-end games you'll get at least three and a bit hours of use from the Amazon Fire HD 8.
Setting Fire to the OS
The Amazon Fire HD 8 feels like a tablet designed for people who are going to want to consume a lot of stuff, too. It's all down to the way Fire OS works.
While the Amazon Fire HD 8 is really an Android tablet, the Fire OS software underneath completely determines how the tablet feels, and its style is totally different to standard Android. Rather than having a core interface filled with apps and games you've downloaded, all the 'digital stores' Amazon runs are weaved into the core software. They sit on the surface, not underneath.
There are 10 homescreens, which you flick through horizontally just like those of a normal Android phone or tablet. However, only two of them are really about showing you content you already own. These are your app drawer and a page of your recently-used apps — the closest you get to multitasking.
The rest are really out to suggest new stuff for you to download. We'll hand it to Amazon, it has a whole lot of digital areas sewn up pretty nicely right now.
Direct from the Amazon Fire HD 8 you can watch films from Amazon Prime Instant Video, download audiobooks from Audible, buy books from the Kindle Store, plus newspapers, magazines, and music. Naturally, there's a space for the Amazon retail site too, and a few spots for the Amazon Appstore. That's Amazon's alternative to Google Play.
This style gives the Amazon Fire HD 8 pretty much no customisation, beyond choosing the system's wallpaper. Everything else is determined by Amazon algorithms that put what it thinks you're most likely to buy in front of your eyeballs. It feels at times like you're a lab rat in some grand commercialism experiment.
It's pretty heavy-handed. If you like the idea of being shown new stuff you can download all the time, Fire OS is perfect. However, I'd rather an easier-going style. I use a tablet for brainless relaxing more than not, and I'd rather it not come across like the equivalent of the Home Shopping Channel.
A good tablet can end up feeling like 'home', but this one may not. And while the system moves pretty nicely these days, it can seem a bit like a digital brochure.
Not too bothered about the tablet profferring you with undiluted consumerism? There's actually a lot to like among Amazon's various offerings.
Amazon's best bits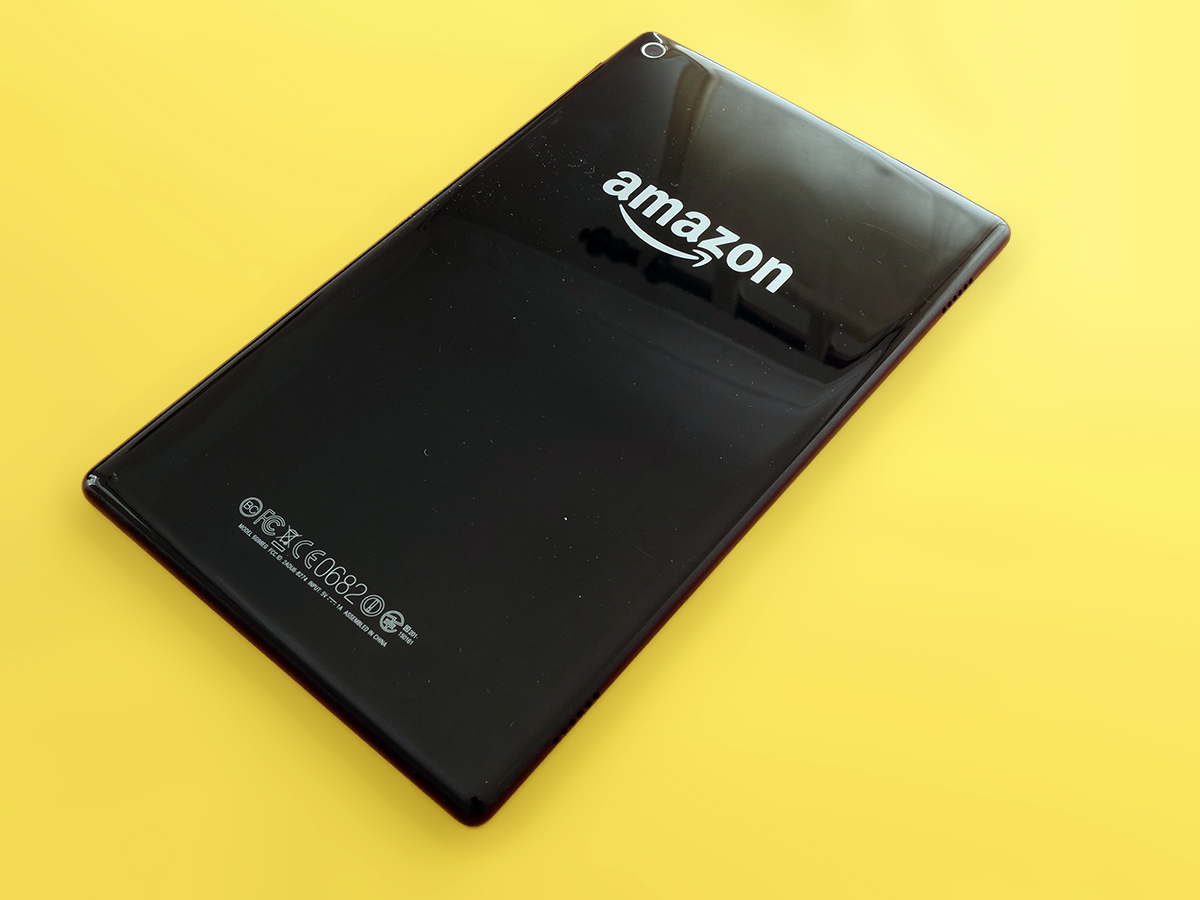 Direct integration of the Netflix-style Prime Instant Video service is pretty sweet, if you're a member, and Amazon Underground is a disruptive experiment in the in-app-purchase-heavy world of mobile games. It takes games you'd normally have to pay for, and makes them completely free with no IAPs.
The Amazon Appstore has always been a great place for freebies, but Underground takes it to the next level. You can try out thousands of pounds' worth of apps without paying anything. I'll admit to having been able to try a few gems I've always been too cheap to fork out for to date.
Take Mickey Mouse: Castle of Illusion as an example. It's £5.99 on Google Play and free on Underground. Of course, Underground is not exclusive to Fire tablets. Just about any Android owner can get on-board, because it's about getting more people hooked on Amazon's services rather than a way to flog tablets.
Tablets come and go, but the services are here to stay. Well, in theory anyway.
Thinking time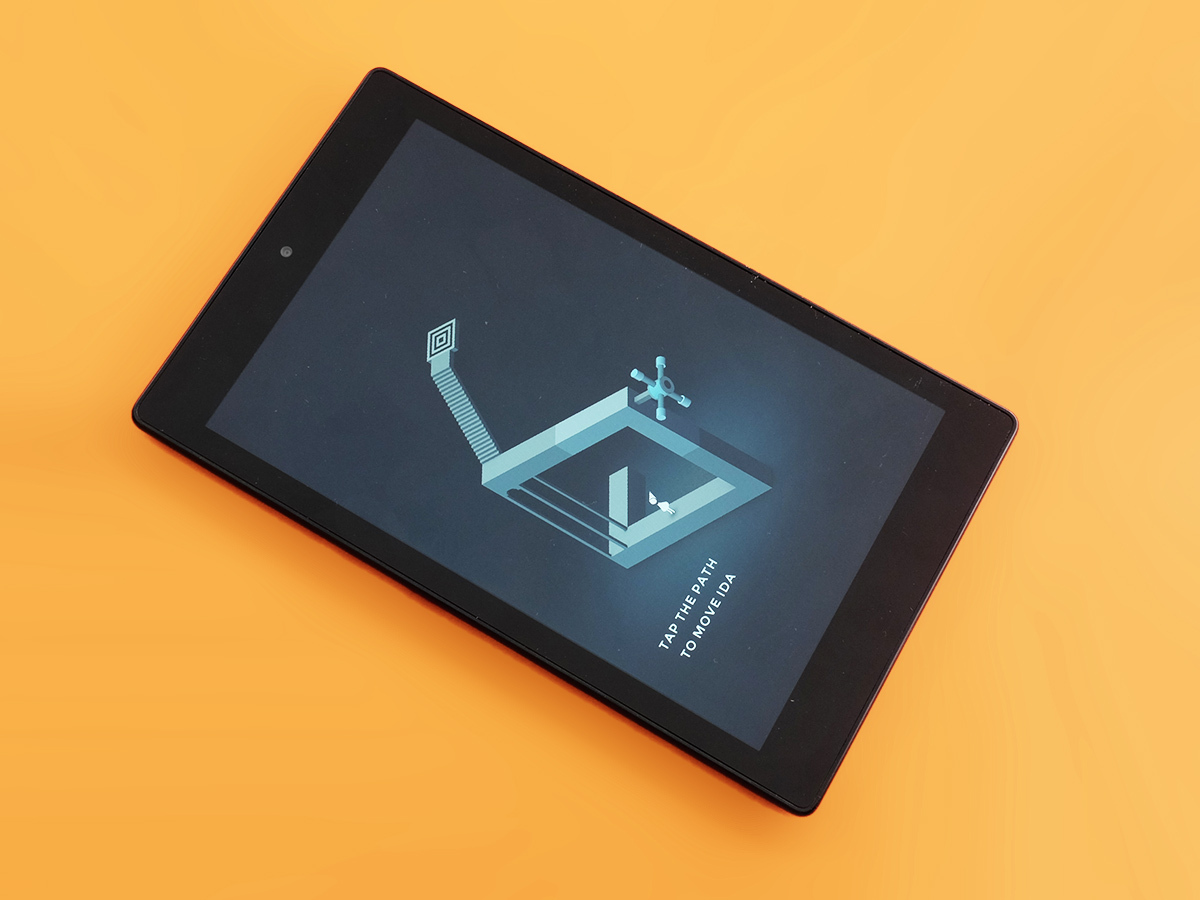 The Amazon Fire HD 8 is arguably not the best place to try out some of these services either. As well as the ropey screen, performance is a bit all over the place.
At times it seems fine, but it's also intermittently really quite laggy. Leave it alone for a while and it'll often run like a dog for a few minutes, as if you've knocked all its paperwork to the floor just by turning the thing on.
App load times are inconsistent too. Sometimes they're fine, sometimes not. Even after years of development, Fire OS just doesn't feel taut.
It could be down to the Amazon Fire HD 8's innards, particularly as it has just 1GB RAM and runs on the RAM-hungry Android 5.1 at heart. However, the CPU and GPU aren't too bad.
It has a MediaTek MT8135 CPU, with a 32-bit brain comprised of two high-power cores matched with a lower-power pair. In Geekbench 3 this combo earns the Amazon Fire HD 8 1440 points. That's similar to what a Snapdragon 410 device might score.
It's nothing to shout about too loud, especially when much older tablets like the LG G Pad 8.3 and Nexus 7 were significantly more powerful. But it's ultimately enough for a device with just a 1280 x 800 pixel screen. While it can feel a bit slow, I also found it'll play things like Riptide GP2 at 'high' visual settings without any frame rate chug.
When skipping between the Amazon Fire HD 8 and the 2K-display £170 Asus Zenpad S 8.0, though, 3D games in particular look far nicer on the high-res competition. Low pixel density is always going to show up 'jaggies' in 3D games unless they use anti aliasing, which smoothes-out those bits. Most don't use this, though, as it sucks up processor power with Dyson-like efficiency.
Photo fail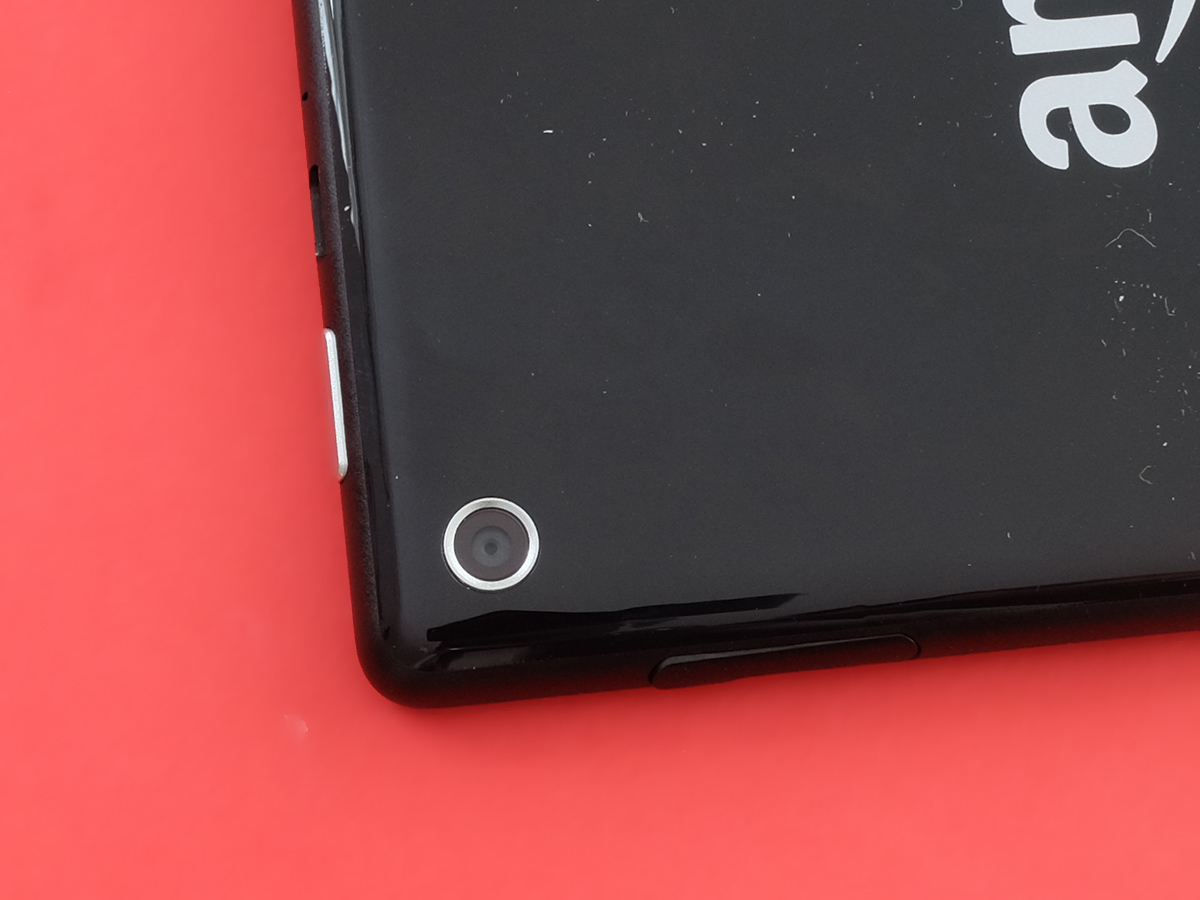 As you've no doubt gathered by now, the Amazon Fire HD 8 supplyies just enough performance to scrape by when it comes to some features and goes above and beyond for others.
Unsurprisingly, Amazon hasn't splashed out too much on the cameras. It has a 5-megapixel flash-free camera on the back and a basic 'HD' camera on the front, meaning it can shoot 720p video and 1280 x 720 pixel photos, just under a megapixel.
Neither camera produces particularly good photos. The rear camera manages to be both soft and noisy, and it's slow too. There's often quite a bit of shutter lag, making the Amazon Fire HD 8 camera feel a bit sluggish.
The one bit that raises it above a real bottom-rung tablet camera is the inbuilt HDR mode. You need to keep your hands pretty still to avoid ending up with ghosted images, but it can really help out in those conditions where a low-end camera sensor has otherwise no chance of coming up with the goods. Still, stick to your phone, eh?
Amazon Fire HD 8 Verdict
The Amazon Fire HD 8 is a cheap tablet, but it's ultimately not cheap enough to excuse some of its outdated parts.
Instead of really trying to offer the best experience it can for the its price, like the classic Nexus 7 or Tesco Hudl 2, the Amazon Fire HD 8 just seems like something designed to attract people with a snazzy product page. People who have never seen the thing first-hand.
A few software updates will likely improve the so-so performance, but the HD 8's screen quality means there are better options out there for eyes that have already checked out a few tablets.
Tech specs
| | |
| --- | --- |
| Software | Fire OS 5 with Android 5.1 |
| Screen | 8in 1280 x 800 IPS LCD |
| Storage | 8/16GB |
| RAM | 1GB |
| CPU | Quad-core 1.2GHz MT8135 |
| GPU | PowerVR G6200 |
Stuff Says…
Amazon's latest budget tablet just doesn't match the best out there.
Good Stuff
Direct access to some great Amazon services
Flex-free frame
Bad Stuff
Low-res screen
No Auto brightness mode
Unreliable performance
Several cheaper, better rivals