Amazon Fire HD 8 review
The Fire is still a very hot prospect, especially at this price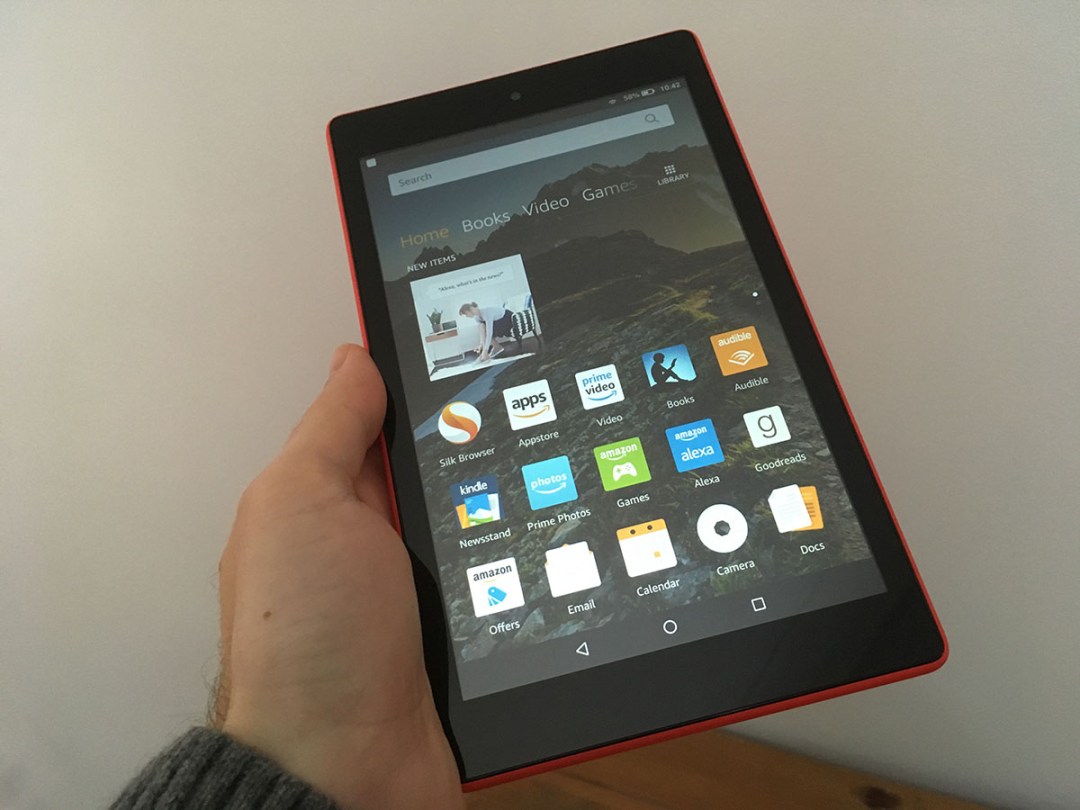 Amazon has long been king of the budget tablet market. Its Fire HD range offers an Amazon-skinned version of Android, half-decent cameras and solid build quality for an unbeatable price.
It already claimed the scalp of the Tesco Hudl range, which is no mean feat, considering that line's rave reviews across the board.
The Fire HD 8 is Amazon's newest version. As the name suggests, it's an 8in model that has all the usual upgrades, including a new front-facing camera, beefier processor and more expandable storage. But the headline news is a new optional dock and case that lets your tablet sit upright while charging.
This means you can watch videos, get visual answers to your queries using Amazon's Alexa personal assistant, and make video calls to other Amazon devices, all hands-free. It's a neat extra, though it does push up the price a bit.
So has Amazon done enough to retain its budget tablet crown? Let's find out.
Amazon Fire HD 8 Design: Cheap 'n cheerful
Well, it's still a rectangle. Those bezels are starting to look quite chunky compared to high-end, all-screen smartphones, but they don't get in the way too much. And hey, it's a budget device. What do you expect?
It looks very similar to the previous model, which isn't surprising. You get a choice of four colours: black, yellow, blue, or the rather fetching red of our review unit. Though if you do use the optional case, your colour of choice will be hidden. But more on that later. The design might not be all that inspiring, but it is perfectly functional.
Stereo speakers down one side provide pretty impressive sound, and while the plastic finish does feel quite cheap, it's also pretty hardwearing. Couple this with the built-in kids' mode, and it could easily serve as a family tablet that you don't mind having jam smeared all over.
There's a headphone jack on the top too, if it all gets a bit much and you have to block out the sound of the kids screaming.
Amazon Fire HD 8 Interface: Android, but not as we know it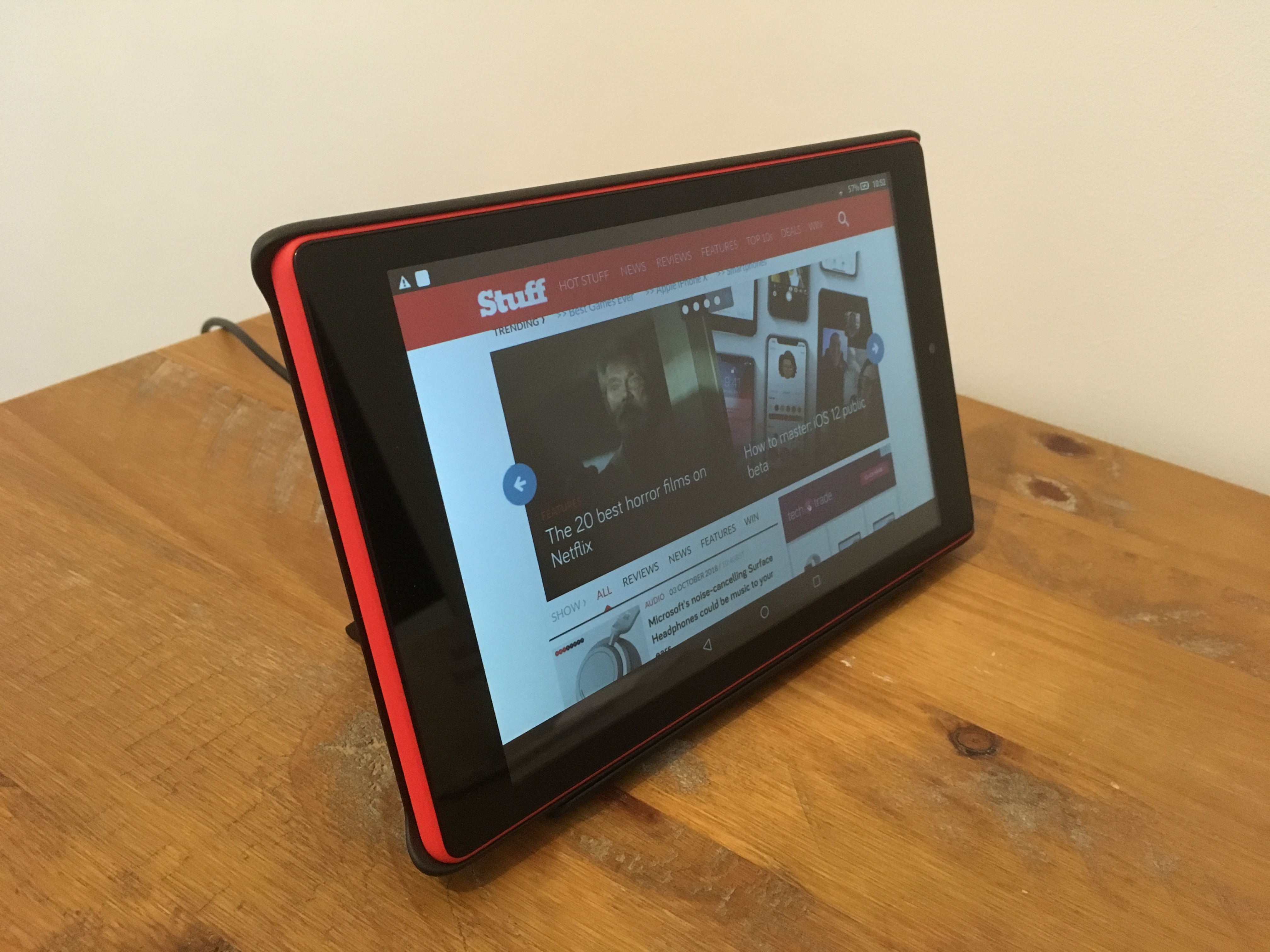 As soon as you fire it up (excuse the pun), you know it's an Amazon device. But not in a good way. During the set-up, it tries to flog you a subscription to Amazon Prime, and one to Goodreads. Then of course there are adverts on the lock screen (which you can remove by buying the non-ad model for a tenner more). It's all very hard sell.
The operating system is Fire OS 6.3, which, like its predecessors, is based on Android but heavily skinned by Amazon. It has its own look and feel, and the apps are skewed in favour of Amazon: Amazon's Appstore, Prime Video, Books, Kindle Newsstand, Prime Photos and more receive pride of place, and there's no Google Play in sight.
Which is fine if you're a fan of Amazon's ecosystem. But some might find it a bit constricting. On the surface, there's not much difference between Fire OS 6.3 and the Fire OS 6 that runs on the older crop of Amazon tablets.
But it has one neat trick up its sleeve: Show Mode. This takes a more visual approach to answering your Alexa queries. Ask "Who is Theresa May?" for example, and it'll show you a photo of the PM while it gives you a brief bio. Ask for a weather forecast, and as well as reading it out it'll show you the weather for the next seven days. It's a handy way of getting extra information without being overloaded, or with Alexa banging on for too long.
News briefings are also improved. Ask for a flash briefing, and it'll show a three-minute video headline recap from BBC News, followed by a sports one from Sky Sports. Alexa works even if the device is locked too, which is very useful if your hands are otherwise occupied while cooking, say. These features come into their own when coupled with the optional Show Mode Charging Dock.
Amazon Fire HD 8 Show Mode Charging Dock: An Echo Show in all but name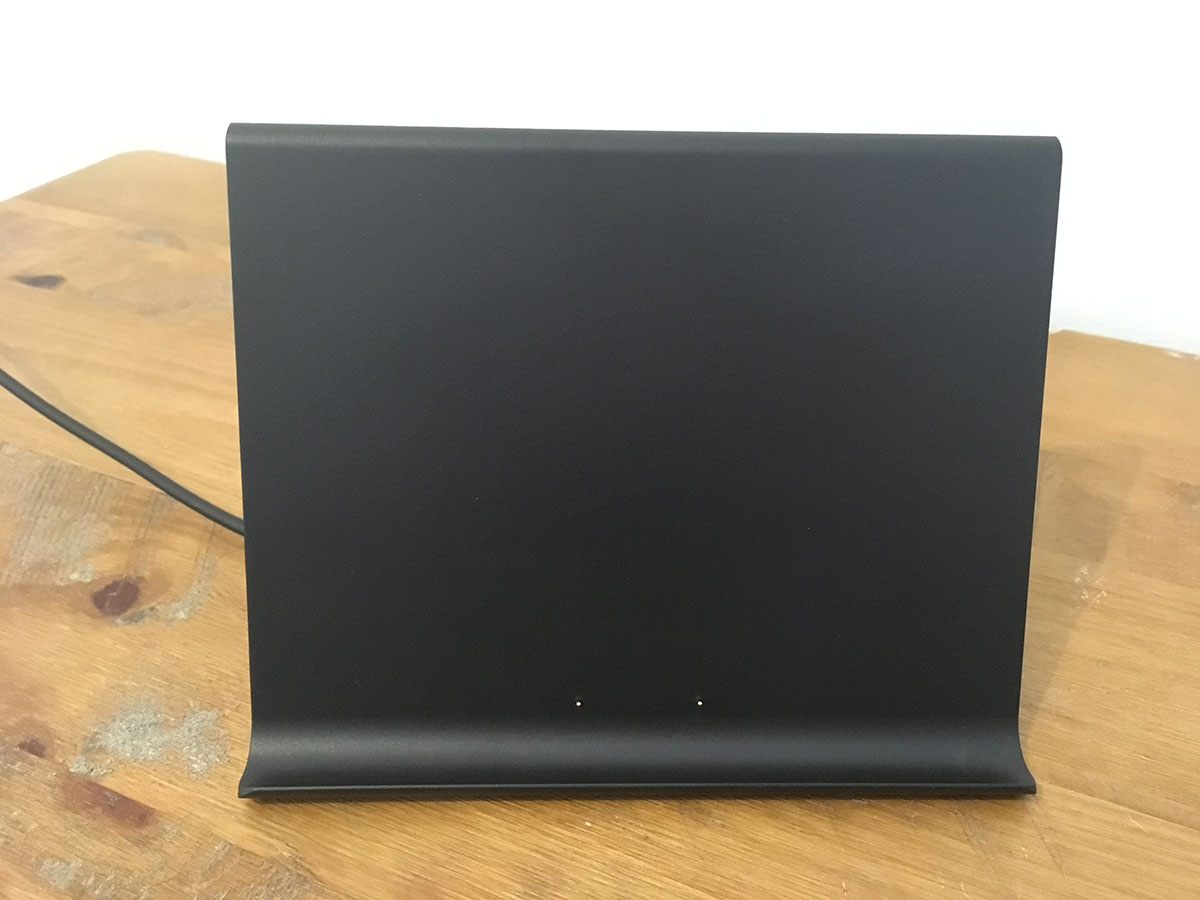 If you want to dock your tablet to charge, having it stand up and basically work as an Amazon Echo Show smart speaker, you'll need the Show Mode Charging Dock. It costs £109.98 when bought with the Fire HD 8, and will go on sale separately for £39.99 (or £49.99 to fit the existing Fire HD 10).
It comprises a back case that you clip the tablet into, with a connector that slots into its microUSB port. You then place the case-wearing tablet into the dock – magnetic points make sure it's positioned correctly, and it makes a little trill to tell you it's docked.
Plug the dock's USB plug into a wall socket and it'll charge up the tablet, post-haste. Want to take the tablet out? No problem. Just lift it out, case and all. It's a great addition, and effectively turns the tablet into an Echo Show smart speaker (which is probably why Amazon made sure it had a decent speaker). And it's almost £100 cheaper than the Echo Show. Bargain.
It's not quite as slick though. Alexa isn't quite as turned on as on an Echo speaker, and struggled to hear us summon her in a loud room. The case also covers whichever colour option you've chosen for your tablet – no great shakes if it's black, but if you've opted for the bright yellow, blue or red options, the hue is reduced to a thin border around the edge of the tablet when docked. Which is a bit of a shame.
You can alter the angle by adjusting the stand though. And while the case does make the tablet a little bulkier, it adds another layer of protection when you inevitably drop it.
Amazon Fire HD 8 Performance and battery life: More of a slow burn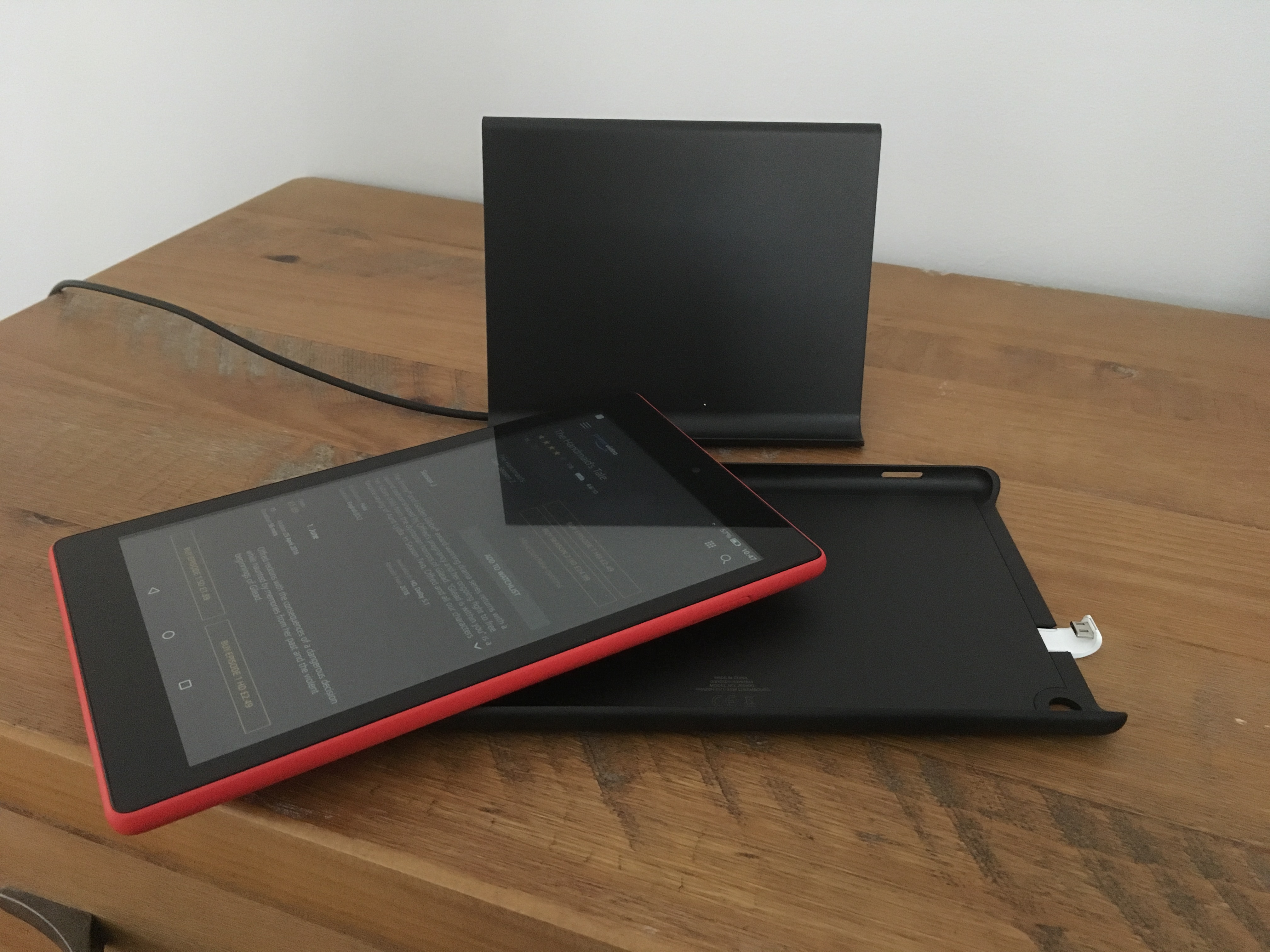 How good can an £80 tablet really be? The answer is, not bad at all. The Fire HD 8 has a 1.3GHz quad-core processor alongside 1.5GB of RAM. It's not the quickest when it comes to responding to your taps and swipes, but it's more than capable for most basic tasks.
Games run surprisingly well, too. The Walking Dead: Road to Survival ran pretty smoothly, with no hiccups. Amazon's Silk browser is occasionally a little slow to respond, and it uses Bing as the default search engine. Well someone's got to.
The screen also isn't fantastic. The 1,280×800-pixel resolution can't quite cope with high resolution videos – a 4K demo vid on YouTube had a distinctly fuzzy sunset and waves that looked a little blocky and artefacted. But it's a budget tablet, 4K was never on the cards.
16GB should be plenty of room for storing videos and games, and you can expand that by up to 400GB using a microSD card. There's also a 32GB model, which will set you back £99.99 with ads, £109.99 without.
The battery lasted between six and eight hours with fairly heavy usage. Which isn't too bad for a budget device like this. And as for the front- and rear-facing cameras? They're a bit of an afterthought. But then if you're using a tablet as your main camera, you want to have words with yourself.
Amazon Fire HD 8 Verdict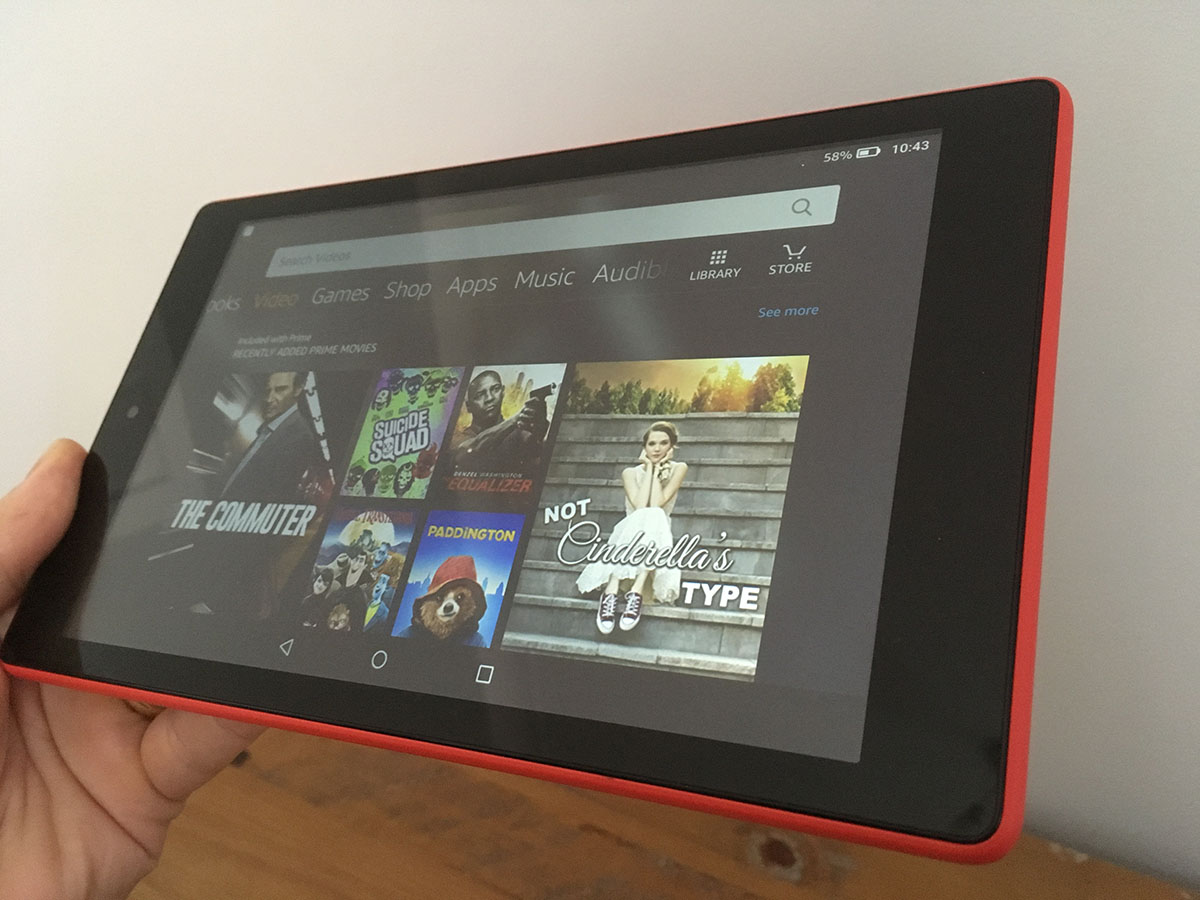 The Fire HD 8 certainly isn't perfect. There are far more advanced tablets out there, with sharper screens, fancier design flourishes and more capable cameras. But they also cost a lot more. For £80, you get a stonkingly capable tablet that does everything most people need it to, and then some.
Throw in the optional Show Mode Charging Dock, and you've effectively got an Echo Show smart speaker for almost £100 cheaper. At this price, we really can't see anyone catching Amazon.
Stuff Says…
You get a lot of tablet for £80 – bargain hunters will lap it up this Christmas
Good Stuff
Bargainous price
Dock is a very useful accessory
Expandable storage
Bad Stuff
OS is heavily skewed in favour of Amazon
Iffy cameras
Silk browser isn't the smoothest