Amazon Fire TV (2015) review
Streaming heats up with Amazon's revamped wünderbox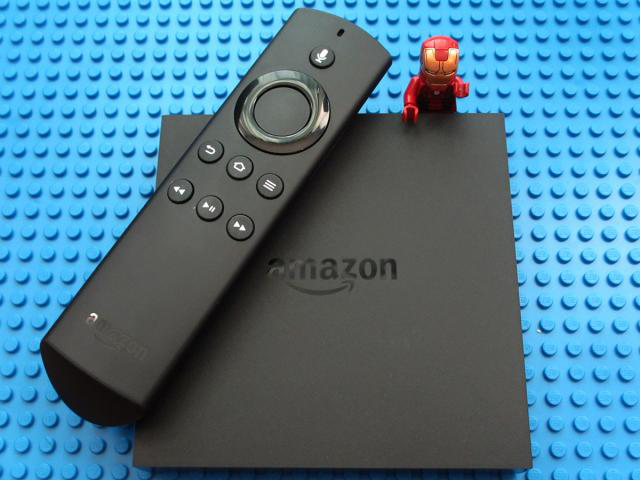 Amazon's original Fire TV is only a year old, but it's already a goner thanks to imminent new rivals from Apple and Roku.
That means the second Amazon Fire TV is here, and it's faster and more powerful than before. Plus, it's got some impressive new bits to wave in rivals' faces. Like what? Like 4K streaming, that's what. Flame on!
DESIGN: BUSINESS AS USUAL
On the outside, very little has changed about the Fire TV. It's a black box (matte on top, glossy around its sides) that's the size of a two-stacked CD cases. Minimalist enough to look cool, subdued enough to ignore – there are far worse designs to plonk under the telly.
The remote has had more attention. It's a little heftier than before, with a more solid directional pad. The buttons are now rubbery. The body is no longer rubbery. It's barely a facelift.
PLUGS AND RECREATION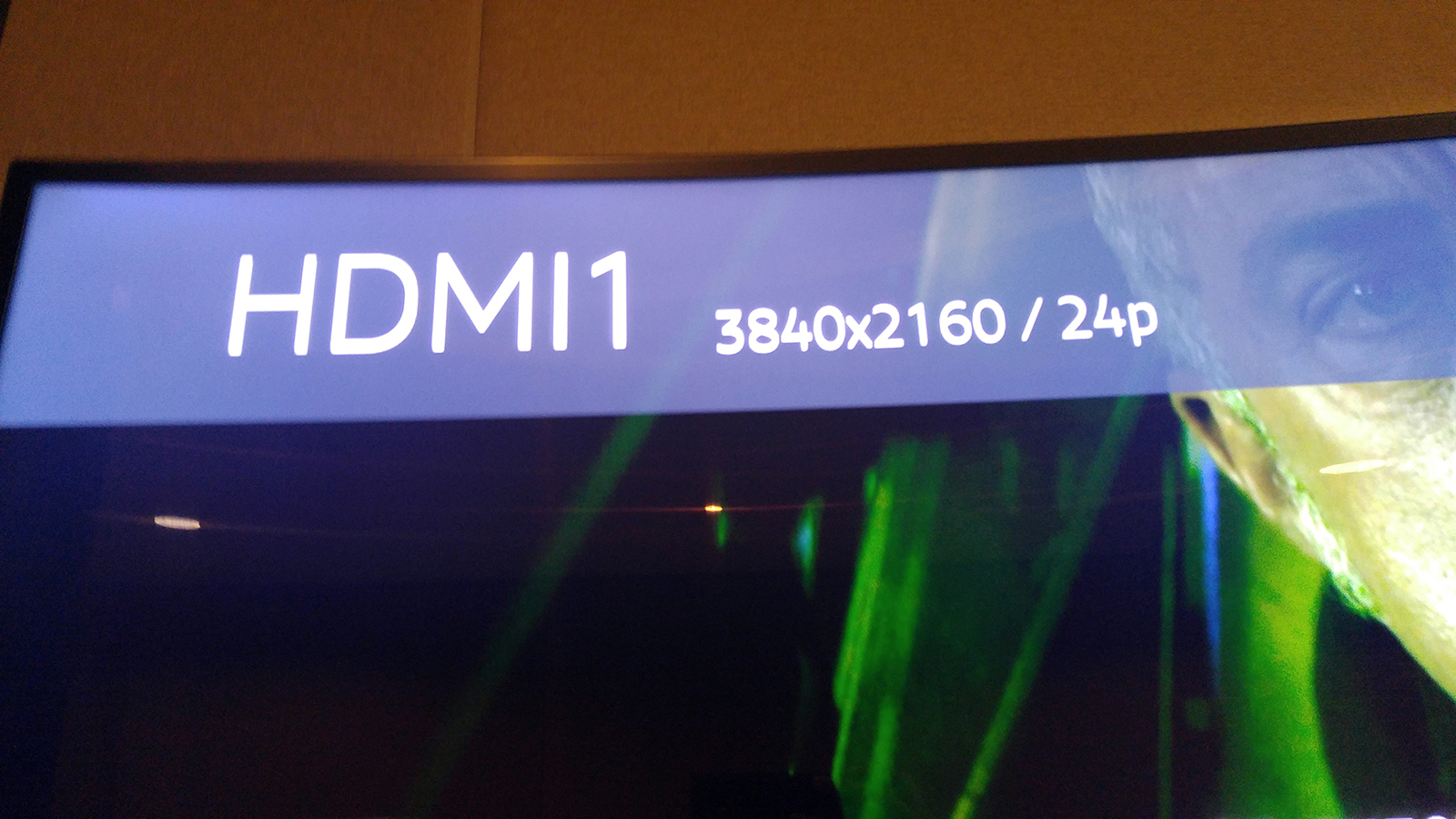 Setup is quick and simple. Just connect the mains lead (included) and an HDMI cable (not included, still). Turn it on and a cute animation walks you through everything, only this time it's possible to skip the thing.
Amazon makes speeds things up by preregistering your account details on the Fire TV. No need to faff about with your email address unless you enjoy that sort of thing.
Dual-band, dual-aerial wi-fi makes a return, only now it's 802.11ac, which is faster and has a farther reach. This worked smoothly for us, but there's also an ethernet port for those who prefer the stability of wired connections.
The digital optical output of the original Fire TV has been replaced with a microSD slot, which means more storage. It's compatible with cards up to 128GB – just as well as it won't take long to fill the built-in 8GB with apps and games.
You can also add USB sticks. They too can store apps and games, or you can load your own music, video and photo files. Amazon won't handle them natively but third-party apps like Plex work just fine.
PUPPIES AND ESPRESSO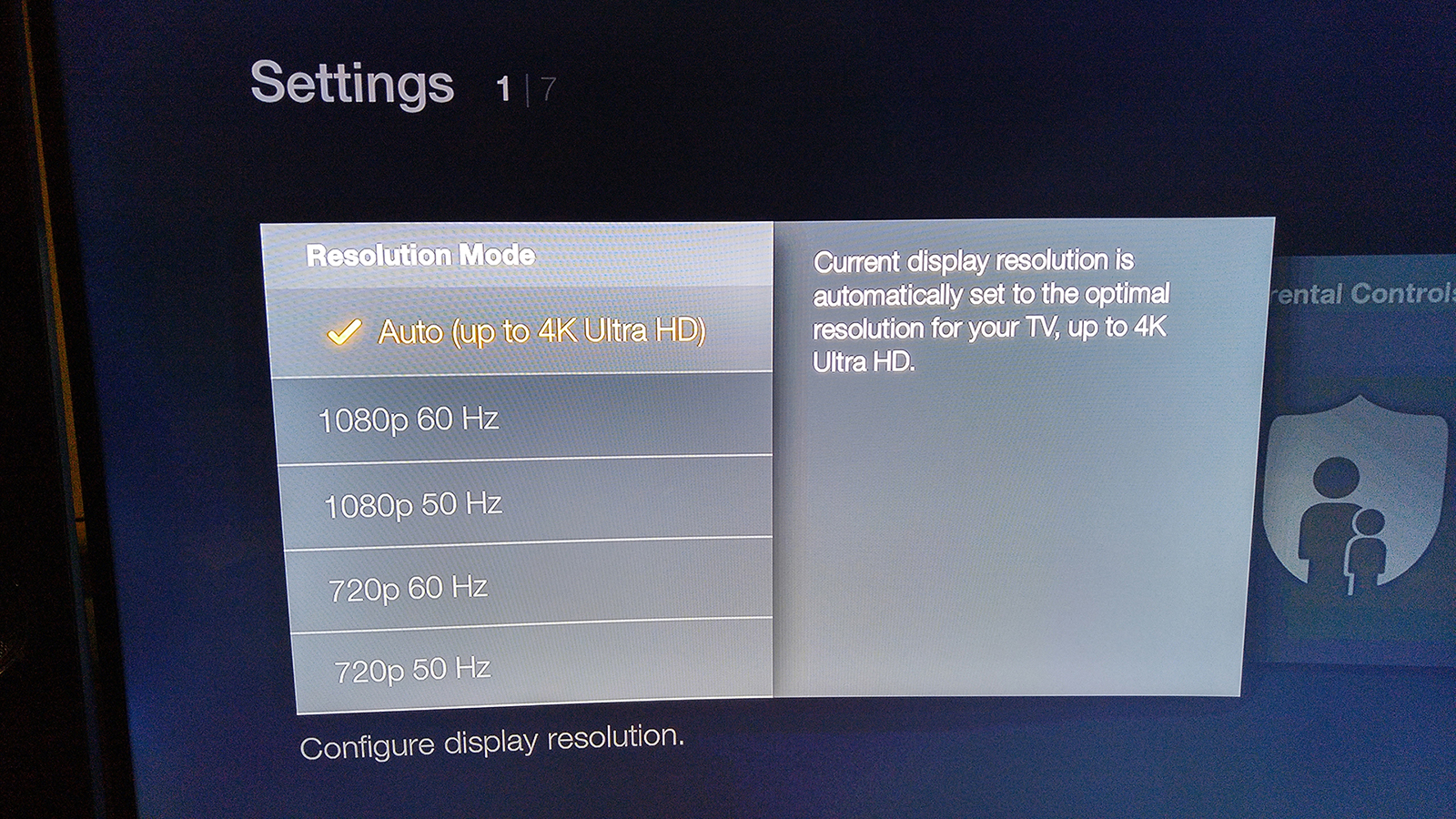 The Amazon Fire TV totally pumped and raring to go: a quad-core, 2GHz Mediatek processor and 2GB of RAM promises a 75 per cent boost in processing compared to last year's Qualcomm. That's quite a feat considering the original Fire TV already zipped about like a puppy on espresso.
The new Fire TV is even more caffeinated. You will never have to stare vacantly at the screen as the cursor catches up with restless button jabs. Menus and apps load quickly enough to give your eyeballs whiplash. It's a little too snappy to feel smooth, but it's great for the impatient.
There's even a clever bit of processing called 'ASAP', which pre-buffers content based in your viewing habits. That means our next Archer binge will start the moment we hit 'play'. It's a perfect feature for the lard-arse in everyone.
IN THE FACE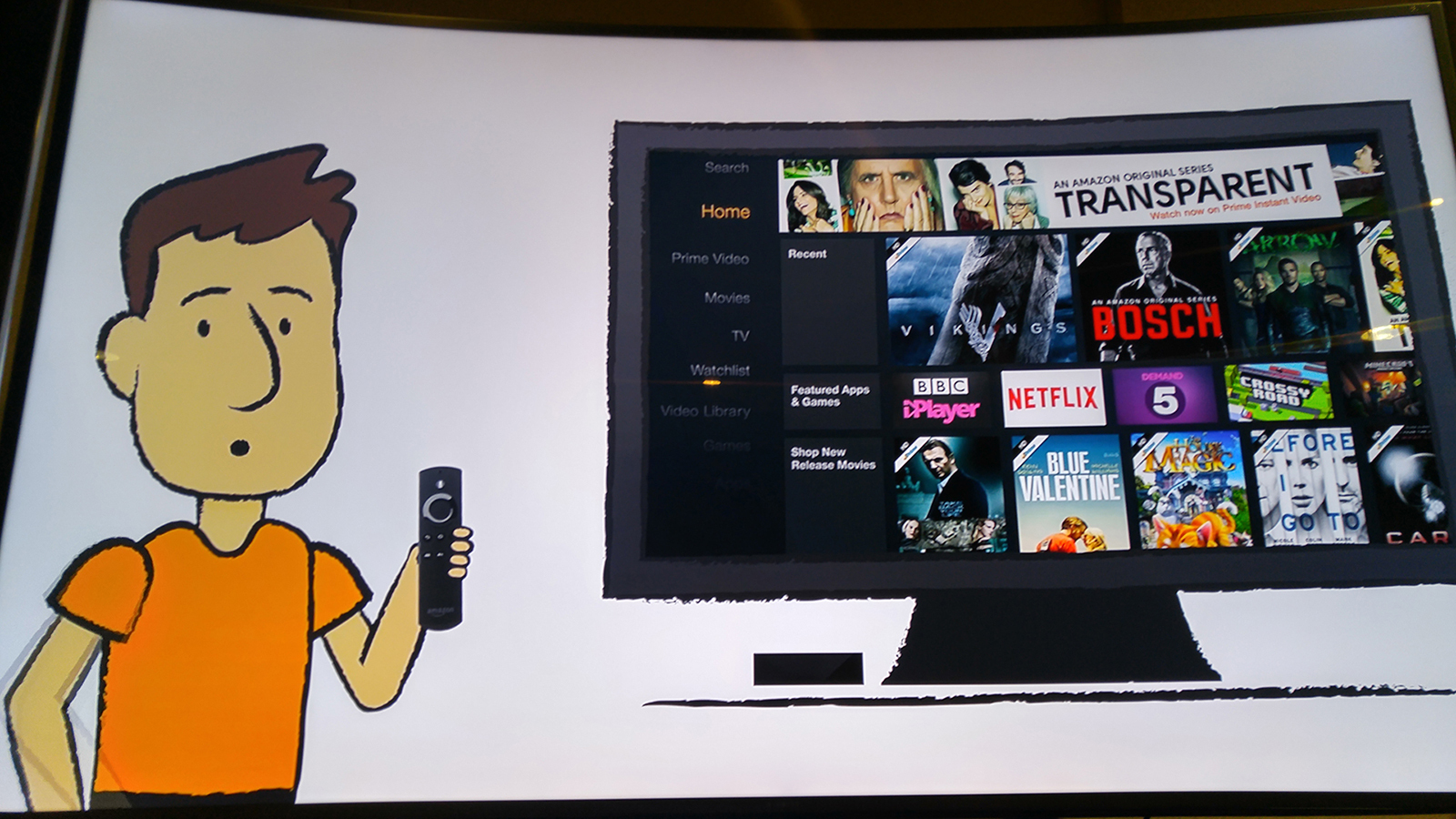 The interface is a mixed bag. This is Amazon's party so we're not surprised to see first party content take precedence. This means you'll wade through a river of Amazon's own stuff before you do anything else: Prime Video, non-Prime purchases and rentals, as well as your Amazon video library and watch list.
It's not as welcoming as Roku's open-door approach, but you can download third party apps with the Fire. Even if they get tucked away in their own outsiders' section further down the list.
The apps ease the pain. This is the only streaming box in the UK to offer both Amazon Video and Netflix. On top of that there are other big hitters such as BBC iPlayer and Spotify. Sadly, the voice search function is only limited to Amazon. The film you want maybe free on another service, but it won't show up.
It's a shame, because voice recognition is better than ever. 'Chiwetel Ejiofor' usually brings up all manner of hilarious alternatives like 'Genital Edgier 4′ – but here the Fire TV correctly brought up The Shadow Line and 12 Years a Slave.
PLAYING WITH FIRE
Most films and TV shows are available in 720p and 1080p, with surround sound pass through up to 7.1 where available. You get 4K content on Amazon Prime and Netflix, which makes Fire TV the first and only streaming box in the UK to stream Ultra HD.
Both subscriptions offer unlimited streaming of 4K TV shows. Want 4K films? There are none on Netflix, and the ones on Amazon aren't included in your subscription – you'll have to shell out a separate £18 for Crouching Tiger, Hidden Dragon.
Picture quality? Up to Full HD, it's not far off what you get from a Blu-ray. The discs have slightly better sharpness and dynamic contrast, but there's not much in it. The 4K – 2160p video at 30fps – is a huge leap up. The level of detail is stunning. From the texture on clothing to Annie Wersching's freckles, details are clean and very crisp. This is a hugely insightful picture.
The catch with the 4K is that you need to jump through a few hoops. You'll need a 4K TV compatible with HDCP 2.2, a type of copyright protection not found on older models. Then you'll need a good internet connection. Amazon says you'll need a minimum of 15mbps. Netflix says 25mbps. Anything less and you'll get HD quality.
Elsewhere, Amazon wants to separate itself from other streamers with games. The extra processing power of the new Fire TV means it can handle some 'proper' games such as a simplified version of Lego Star Wars.
There's a dedicated gamepad, sold separately for £40, which may as well be an Xbox One controller. There's fun to be had. It's a step above the likes of Angry Birds, and the experience is slick enough to actually get some use. It's still not going to worry a PS4, though.
Amazon Fire TV (2015) verdict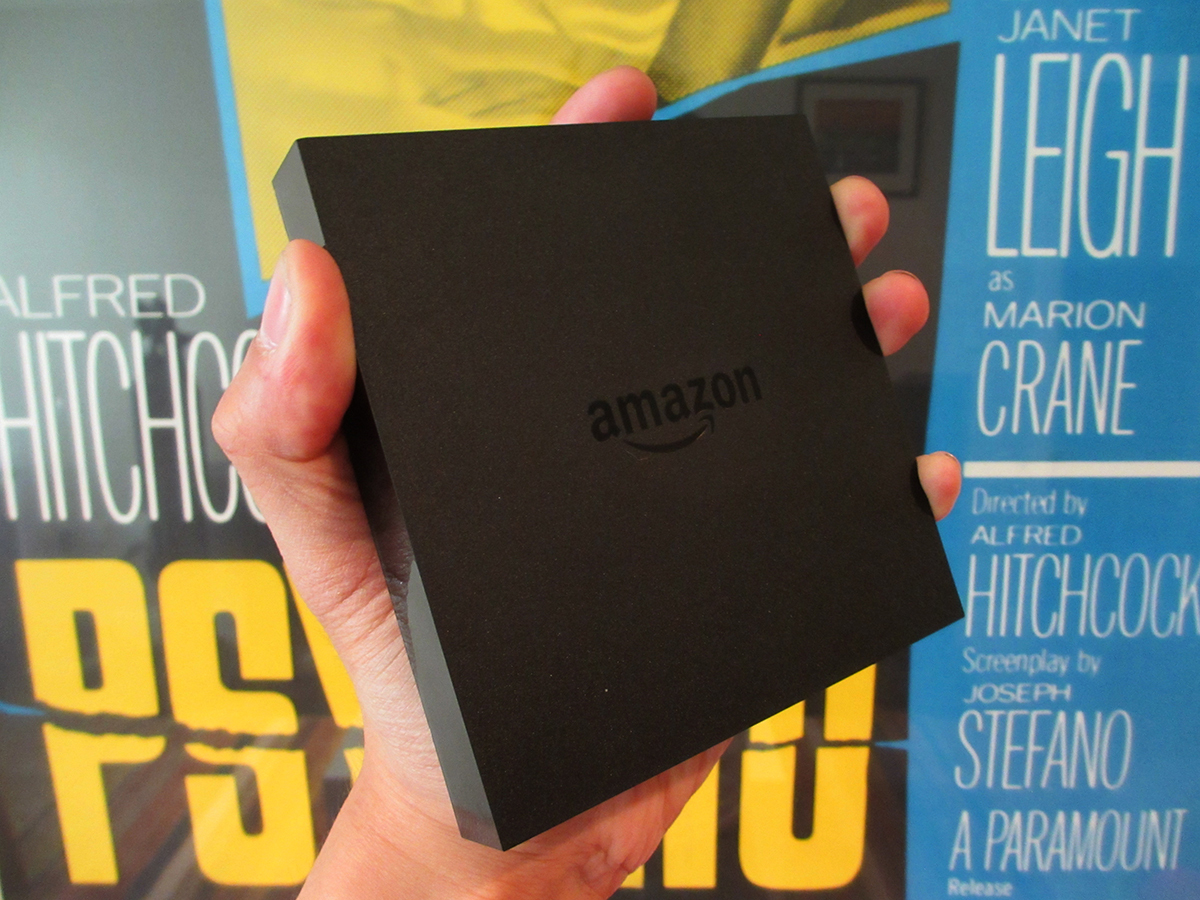 Should you buy the 2015 Amazon Fire TV? Yes, if you want a streaming box and don't have the original Fire TV. This revision is a significant step up and fixes many of the original's problems.
Even if you own the original, it may be worth investing. It is the first streaming box in the UK to offer 4K. It is super fast, plenty powerful, and offers an excellent range of content. Voice search is cool, and it even makes a firm gesture towards serious gaming.
The battle for next-generation streaming has begun, and Amazon Fire TV has drawn first blood.
Tech specs
| | |
| --- | --- |
| Dimensions | 115x115x17.8mm |
| Weight | 270g |
| Processor | MediaTek Quad-core up to 2GHz |
| RAM | 2GB |
| Storage | 8GB (expandable) |
| Connectivity | HDMI; ethernet; USB 3.0; microSD |
| Video output | 720p and 1080p up to 60fps, 2160p up to 30fps |
Stuff Says…
With 4K, greater speed and a lot more power, Amazon's second box is very hot stuff.
Good Stuff
Easy to use
Good AV performance
4K!
Power and speed
Bad Stuff
Amazon platform could be more open