App of the week: Affinity Photo review
Take your jaw off the floor – this really is pro-level photo editing for iPad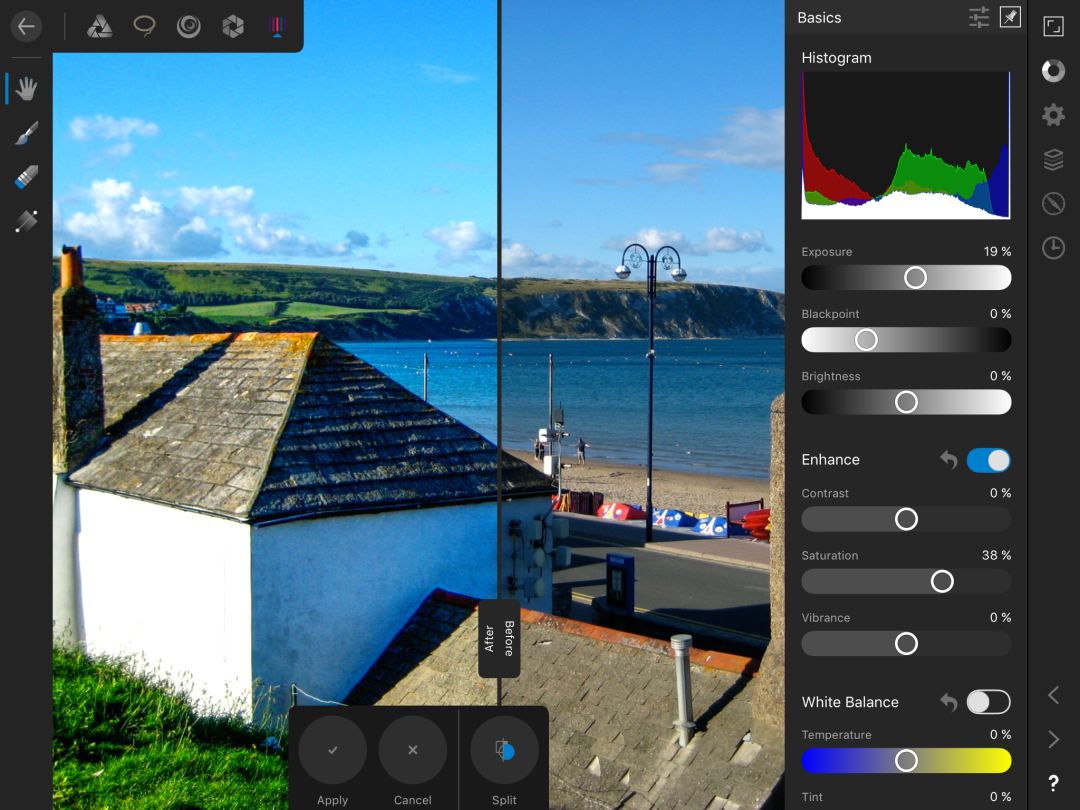 Affinity Photo was an audacious land-grab by Serif – a low-cost, high-quality Photoshop rival for desktop that has since snapped at Adobe's heels. But on iPad, the app is transformative. It catapults Apple's tablet into a better future, while gleefully hammering the final nail into a coffin lid labelled 'consumption-only device'.
This is professional photo editing right on your iPad. You can look for compromises all you like, or to see whether someone's sneakily glued a desktop PC to your tablet. But no: this is, in effect, the desktop app squirted into your iPad, and reworked for touch.
Finger friendly
That last bit is vital. All the power in the world doesn't matter if an app spends its time fighting your fingers or Pencil. But Affinity Photo's interface is fluid and efficient. Toolbars live at screen edges, and can be fully retracted with a tap. So a massive range of tools is always within reach, but they don't get in the way of your work – important on a 10ish-inch display.
Common tools are housed in the Photos persona – 'persona' being Serif's fancy word for 'workspace'. There, you can edit with brushes, utilise fills, add shapes and text, gradually fashioning complex multi-layer art that can incorporate non-destructive effects.
The other personas are more specialised, dealing with selections, mesh-based distortions ('Liquify'), careful adjustments ('Develop') and tone mapping. Each has its own context-sensitive toolset. You're therefore sorted whether making subtle enhancements to a photograph, or mashing everything into oblivion before thinking better of it and going for something simpler.
Picture perfect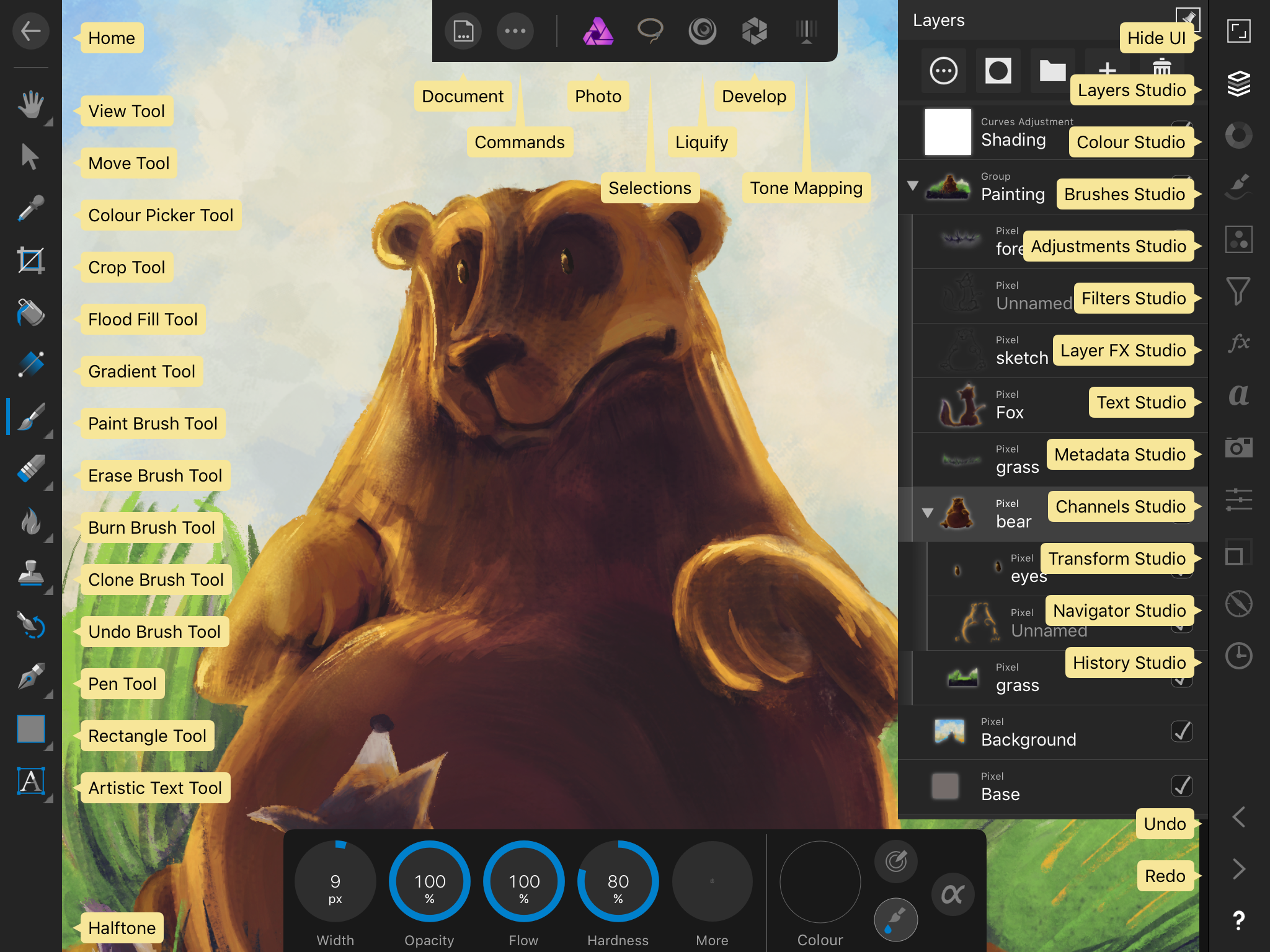 Despite the range of tools available, Affinity Photo does its best to remain approachable. There are example documents, tutorials, an interactive introduction, and a help icon you can prod to view tooltips for all of the major on-screen buttons.
When working on a document, the app tries to speed things along and aid creativity. Tool options sit at the foot of the screen, with dials begging to be twiddled; apply an effect, and you can drag your finger and watch as your image updates live. It's a tactile, intimate experience that betters the equivalent procedure on a Mac or PC.
Elsewhere, the filter palette smartly provides thumbnail previews of how your image would look if they were to be applied.
Use it wisely
Despite being shown off at WWDC 2017 on Apple's swanky new iPad, Affinity Photo is compatible with all iPads back to the iPad Air 2. Even on that older iPad, glitches are rare, and live effects still feel like they're being fired from your fingertips; only the occasional slower response and longer wait for progress bars betray the lower power of the device.
It is worth reiterating, though, that this is a professional product. If you're wedded to one-click presets and apps with a billion crazy filters and stickers, Affinity Photo probably isn't for you, unless you're willing to put in some serious time and effort.
But if you're looking for a proper editor that's also more powerful than the otherwise excellent Pixelmator, and that will free you from being chained to a desktop or notebook for high-end image work, Affinity Photo is a no-brainer purchase.
Affinity Photo is available for iPad
Stuff Says…
A bold, ambitious, creative app that blows the competition out of the water, and helps cement the iPad's place in the future of computing
Good Stuff
Huge range of pro-level tools
Efficient, well-considered interface
Parity with the desktop app
Bad Stuff
No round-trip editing with Photos
Very basic document manager