App of the week: GRID Autosport review
This AAA racer obliterates the notion you can't get console-quality gaming on mobile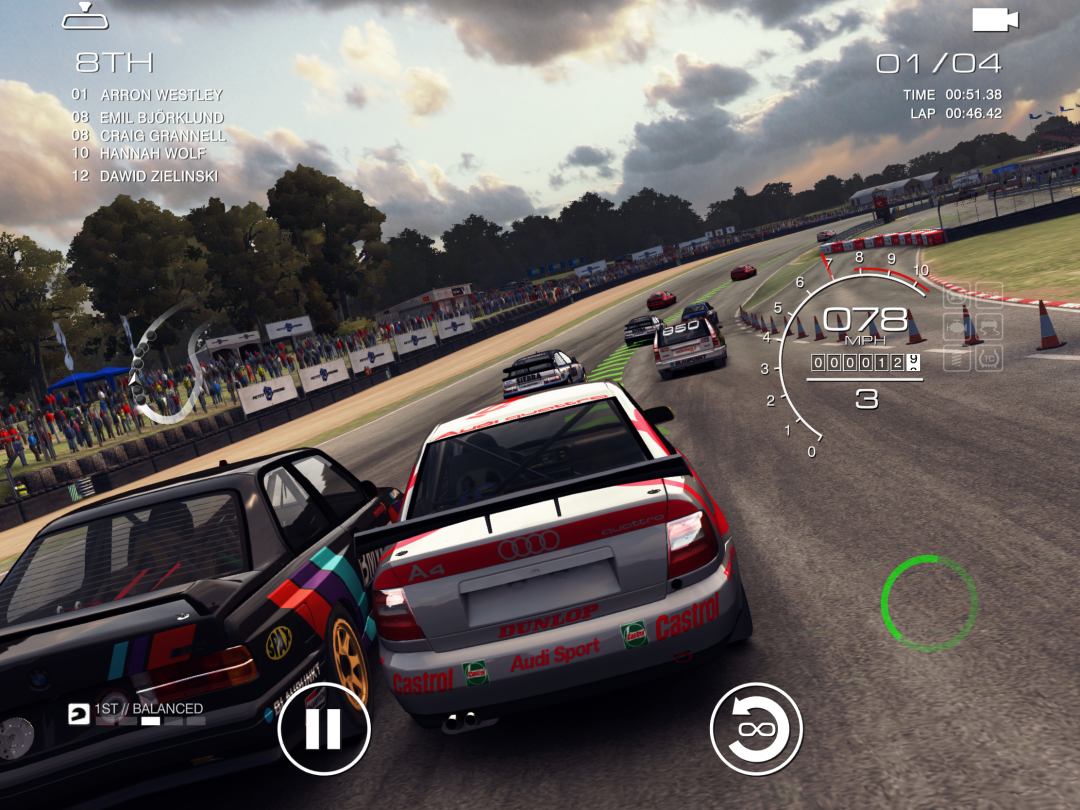 A few years back, Stuff reviewed AAA console racing sim Grid Autosport on the PC and PS3. It was a return to form. There was no pointless storyline stinking up the place, and the game had a firm emphasis on dazzling visuals, track racing, and handling. Now it's on a phone.
Let that last bit sink in. This isn't a weird zombie app wearing Grid Autosport's skin. It's not an auto-runner or a cut-down take on the original. This is the Codemasters PC and console hit on your iPhone, iPad or Android device.
Big is beautiful
This game's big in every sense: its importance in terms of mobile gaming; the inclusion of 100 cars and 100 circuits; and rather more literally in that you need 6GB of free space to install the thing. (The game's so big, it needs to use free IAPs to get around Apple's app size limitations.)
Its sheer scale and imposing stance – you're reminded several times, in stern fashion, that Grid Autosport is a simulator – may intimidate. However, even if you've been weaned on forgiving arcade mobile racing fare such as Asphalt, you'll quickly find you don't need a degree in car-onomics to get started.
Opt for a Quick Race, stick with the default 'rookie' difficulty settings, and jump into some touring car action. With the help of driving aids, you should quickly start winning – as long as you point your car in the right direction, and avoid the aggressive AI wanting to send you spinning from the circuit.
Vrooming great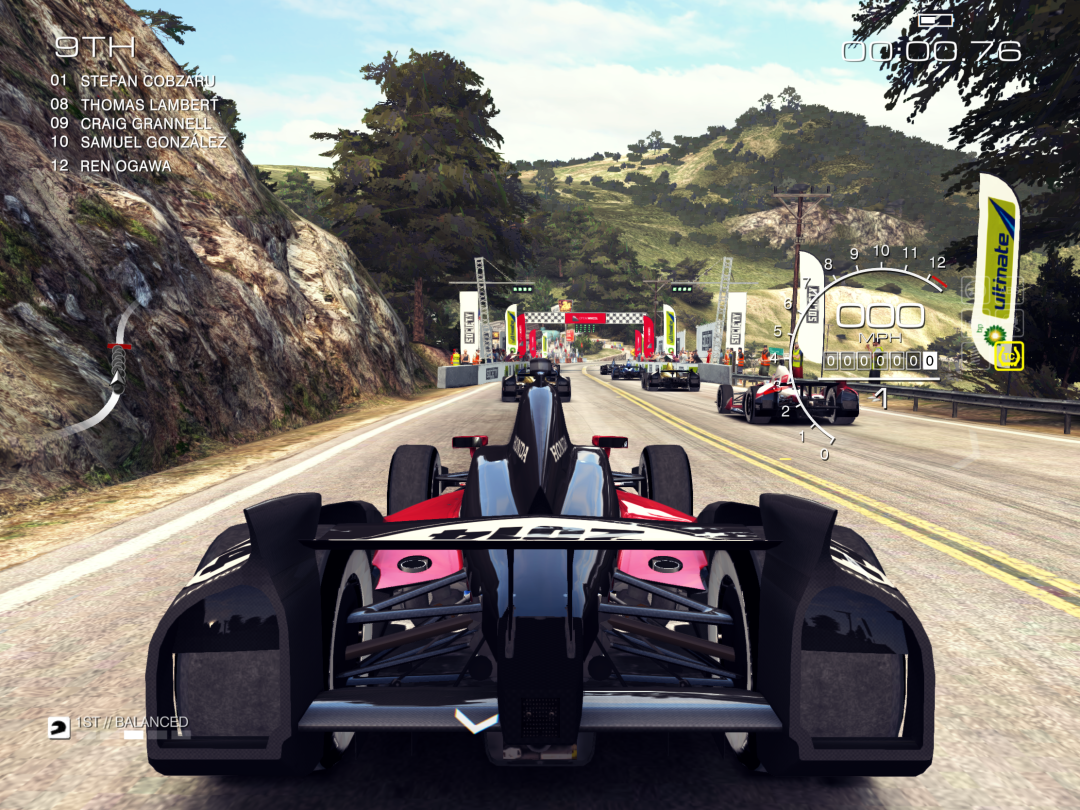 The game looks spectacular. On recent hardware, there's the odd frame-rate glitch, but mostly the only thing that reminds you you're not playing on a PC or console is the size of the display, and the fact you're holding it in your mitts – assuming you haven't opted for a tablet/controller combo.
Get a few wins under your belt, and you can then properly start flexing your racing muscles. For a harsh lesson in your current ability, set the difficulty level to maximum. With all driving aids gone, you'll spin into the gravel, and smack into walls, while AI drivers blaze past, having been transformed into a terrifying combination of Ayrton Senna, Richard Petty, Michael Schumacher, and Penelope Pitstop.
A smarter move for anyone but experienced simulation racer veterans is to experiment with the custom difficulty option, gradually removing driving aids as you grow in confidence, mastering circuits and cars alike. And it's thrilling when you finally nail a skill, such as driving slippery open-top cars, blazing past a rival at the finish line.
It's a keeper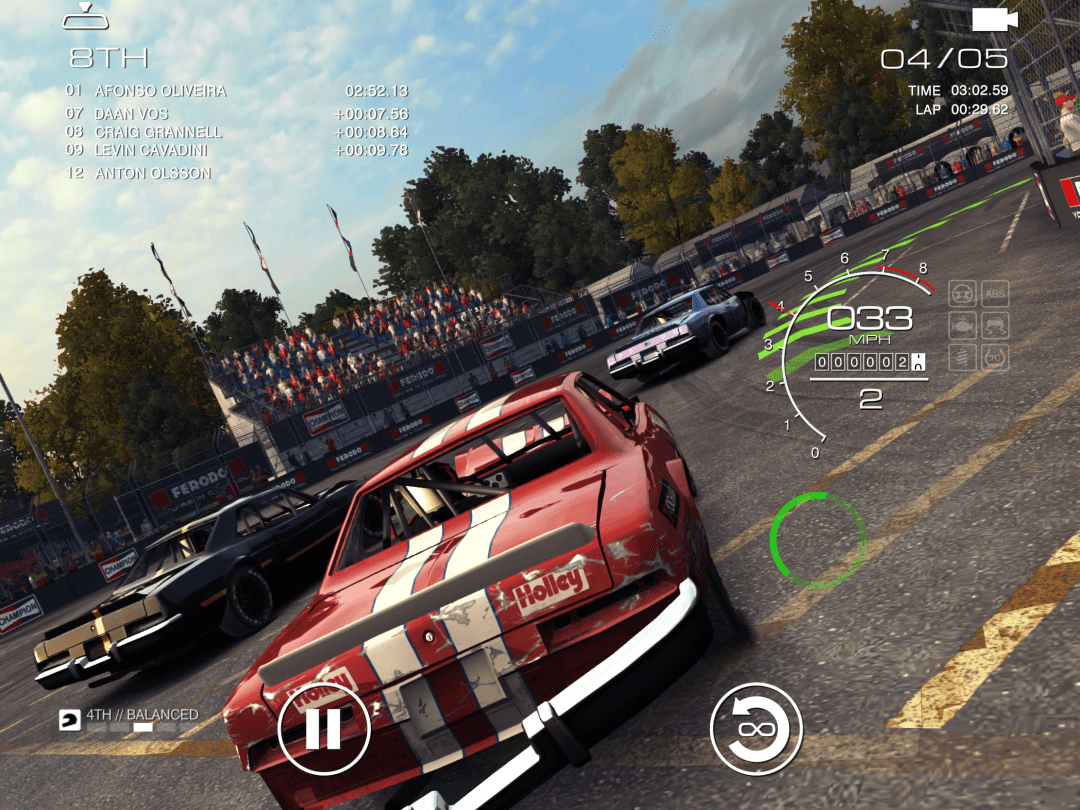 Grid Autosport is for the long term. This isn't a throwaway title you'll delete tomorrow, but a game that rewards perseverance. There's no messing about with grinding to unlock sections and modes, nor stupid in-game currencies. Everything's available from day one, whether you fancy delving into career mode, or spending a lunch hour getting smashy at a demolition derby.
Only very rarely does the odd crack appear: the lack of mirrors and detailed dashboards (flaws that aren't unique to mobile, note); racing series not saving should you want to exit part way through; longish load times – at least for mobile; your device turning into a small portable heater if you play for an extended period of time.
But the bottom line is Grid Autosport is a console-gaming experience on a phone – a 'proper' full-on racer that's jaw-dropping in execution, and that, importantly, remains an awful lot of fun. Here's hoping the market responds accordingly, rather than balking at a ten-quid price tag, and instead choosing freemium tat.
Grid Autosport is available for Android (Google Play) and iOS (App Store). The game is demanding, and so developer Feral lists requirements for the game to be officially supported. On Android, 26 specific devices are listed (including Pixels back to the Pixel 2 and Samsung Galaxy from the S8), along with the requirements of Android 9 and 3.9 GB of free space. On iOS/iPadOS, the game requires iOS 12.1+, 3.9 GB of space, and an iPhone 7/SE or newer/iPad 2017, Pro or newer. However, the game will run – possibly with glitches – on other hardware. More free space is recommended to avoid installation issues and to ensure you can download HD textures. Note that this article has been updated to incorporate the Android release in December 2019.
Stuff Says…
The best racing game for mobile, and an astonishing achievement in itself. Buy it
Good Stuff
Console-quality gaming on your mobile device
A fully premium experience with no grind
Seriously polished controls and gameplay
Bad Stuff
No mirrors, and dashboards are blurry
AI can sometimes be a bit psychotic
Drains your battery at speed