App of the week: Reigns: Game of Thrones review
Don't lose your head in this swipe-happy Tinder-like battle for survival in the deadly land of Westeros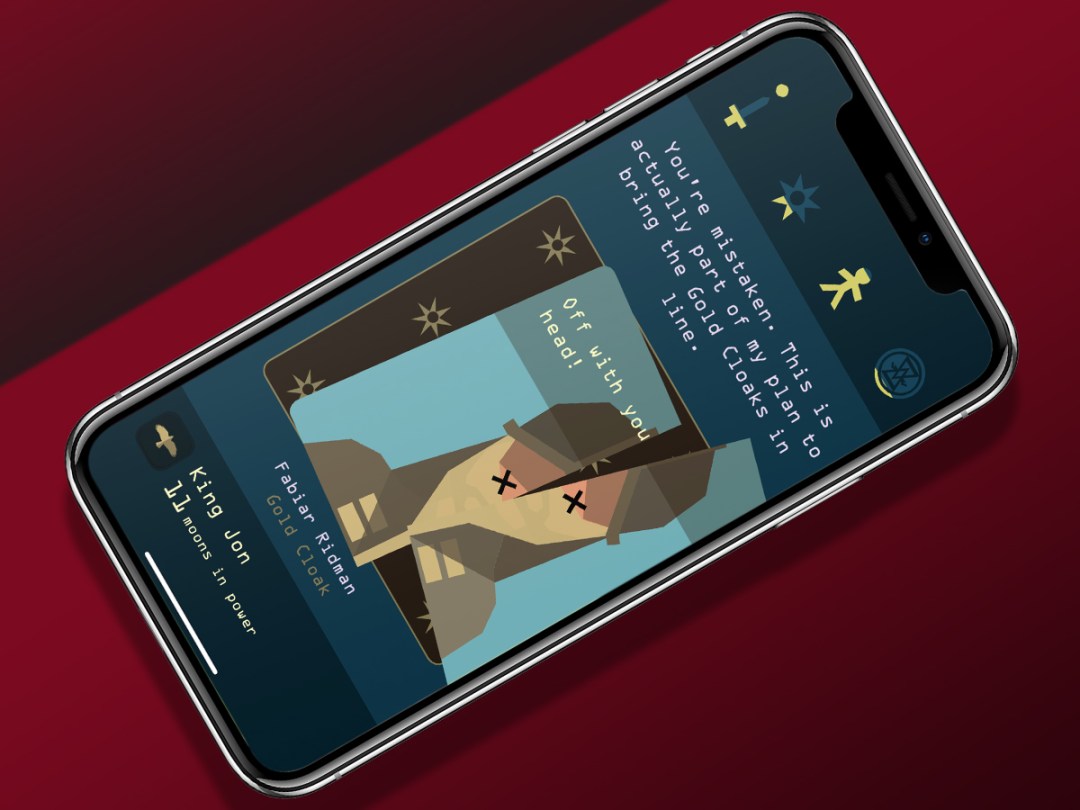 We're back in kingdom management meets Tinder territory with the latest Reigns, only this time it's been smashed into telly hit Game of Thrones. Yep, this time you can 'be' John Snow (and, entirely accurately, 'know nothing') or Daenerys Targaryen with her handy dragon bodyguards, swiping left and right in a desperate quest for survival.
As in other Reigns games, success depends on keeping everyone happy–ish. Four meters at the top of the screen represent your army, religious nuts the Faith of the Seven, the proles, and the merciless Iron Bank. Annoy anyone too much and you're dead. But also, fill a meter to the top and you're dead too – for example, if the public really loves you, jealous Lords get all stabby.
In short, expect to die. A lot.
Balancing act
Perhaps surprisingly, given the cartoonish visuals and audio squawks emanating from the protagonists and other characters, Reigns offers a surprisingly authentic take on the world of Westeros. In an abstract sense, corruption abounds, and everyone's out to (often literally) stab everyone else in the back.
You can err on the side of diplomacy, and at other times think "nuts to it" and instigate a surprise death by slicing someone in half. This all happens in a non-canon setting that nonetheless draws heavily on plot threads from recent seasons of the TV show – and runs with them.
The writing is really smart and frequently peppered with humour and personality to balance all the violence and death. Despite the simplicity of your interactions, their enforced limitations, and the speed you barrel through events, there's a gravity to the game. That's especially true when you've had your bum on the iron throne for a while, look at the meters, and realise you're heading towards your inevitable doom.
It does, however, feel like a production that benefits heavily from the licence. If you're not familiar with events from the series, in-jokes and heart-wrenching moments alike might zoom over your head, like a brain-ball recently detached from an unfortunate monarch.
Winter is coming
With ancestry in Choose Your Own Adventure books, Reigns isn't without problems from a structural perspective either. After multiple playthroughs, sections may become an all-too-familiar trudge, making it doubly frustrating when you hit a new bit of the underlying narrative and immediately get killed.
For the most part, though, the game is akin to a maze, where the fun isn't so much in winning, but in figuring out the responses required to unlock new pathways to explore. You get hints by way of achievement targets, nudging you towards certain actions; some unlock new throne claimants you can play as next time round.
You'll also get the chance to do something the telly lot haven't yet – survive winter. Doing so is easier said than done, because winter in Westeros is tough. As snow lazily drifts down the screen, bad decisions can quickly leave you seated on the iron throne as a zombie-like wight, drooling into eternity. It's not a good look.
So: this one's not as novel as the original, occasionally grates, but is mostly lots of fun. If you're after a Game of Thrones fix, knowing the next season's many months away, you can do a lot worse than unleashing your inner Cersei via the power of your thumb.
Reigns: Game of Thrones is available for Android and iOS. The game has also been released for PC/Mac/Linux on Steam
Stuff Says…
It's a touch familiar, but this big-screen-inspired entry in the Reigns series mostly hits its mark (probably with a poison dart, because Westeros)
Good Stuff
Great writing and humour
Bite-sized gaming with depth
Several characters to play as
Bad Stuff
May flummox GoT newbies
Can get repetitive
Some save issues during testing