Apple 21.5in iMac with Retina 4K display (2017) review
The screen's the dream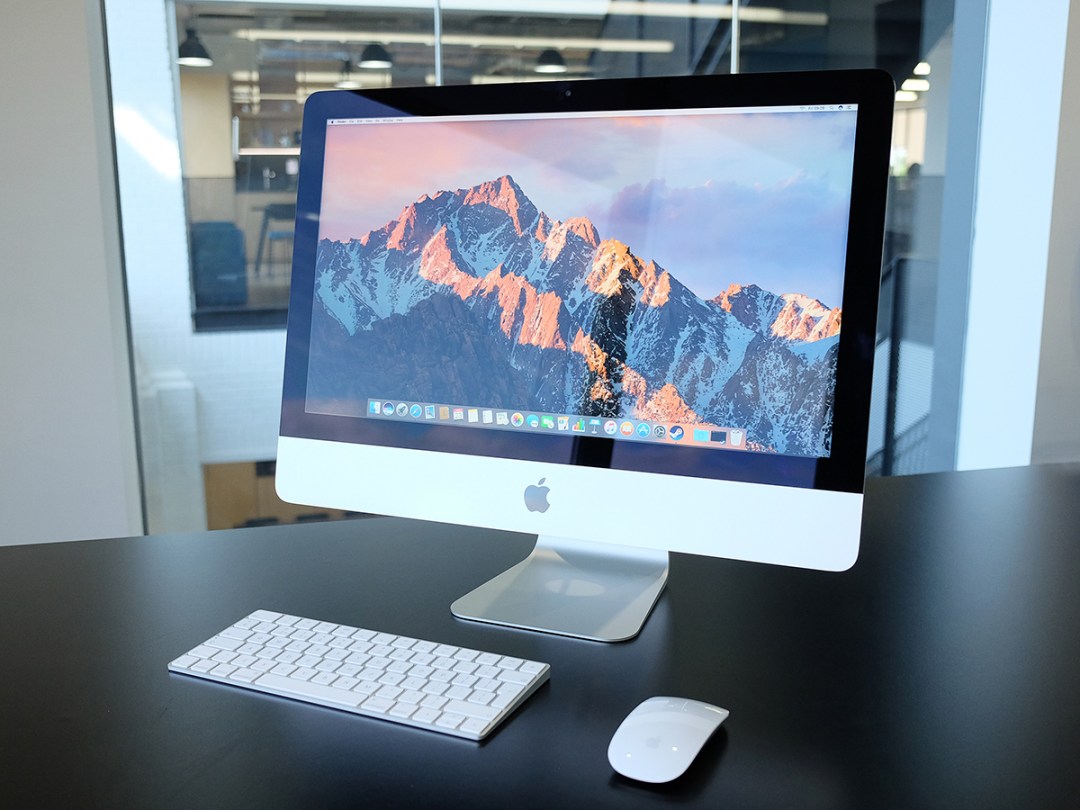 Reckon you're pretty good at Spot the Difference? Try all you like – you'll need full-on X-ray vision to see what's changed between last year's 21.5in 4K iMac and this all-new model.
That's because underneath the familiar, ultra-minimal silver shell, Apple has given its dinky desktop a major makeover. We're not talking a few tweaks and changes, but a complete overhaul with faster CPUs, speedier storage, and dedicated graphics to push all those pixels.
Oh, and lets not forget a brighter display that uses the same wide colour gamut as the digital 4K projectors in your local multiplex. Only this time it's even more brighter and more colourful.
It's the screen that really makes this new iMac stand out – as if you're going to spend all day staring at one, you're going to want it to be the best.
Look no further, then – this is as good as it gets in an all-in-one.
SCREEN & SOUND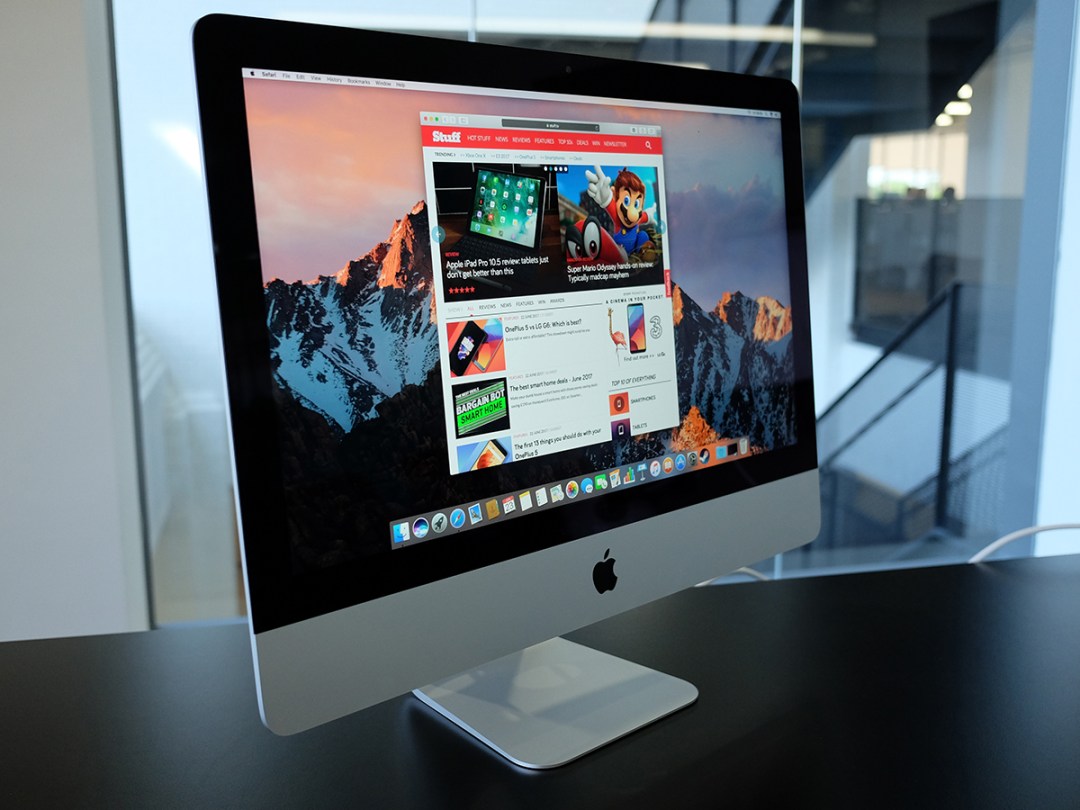 The previous-gen iMac was the first computer to make the jump to DCI-P3 – or the first one us mere mortals could afford, anyway. While the rest of the world was slumming it on old fashioned sRGB, Apple's all-in-ones were pumping out more vivid, true-to-life colours.
This new model, though? It's even more truer-to-life. If that's even possible. It uses 10-bit dithering on an 8-bit panel, which sounds like a lot of techno-babble, but is actually pretty clever.
By rapidly alternating the colours of each pixel, it can give the impression of colours the panel can't actually create itself. This is the same tech trickery that TV manufacturers use to get their TVs playing nicely with HDR video, but here it helps widen that all-important range of colours to make your photos and videos look truly spectacular.
That means a potential one billion onscreen colours, and the results, stretched over a 4K, 21.5in panel, really speak for themselves. There's no distracting banding effects between different shades of colour at all, so sunsets and moody greyscale photos absolutely leap off the screen. Photos are beyond rich, but manage to stay realistic instead of becoming blown out or overly vivid. It's a superb display for editing, but it's a treat on the eyes even if you're just bingeing on Netflix shows.
Brightness has been given a major boost, too. At 500 nits, this new iMac is 43% brighter than the outgoing model, which is high enough that you'll never be bothered by light reflections. Maybe turn it down when you're working in the dark, though, unless you've got a pair of sunglasses handy.
You're not getting a near edge-to-edge display like on Dell's XPS 27, which has bezels skinner than a supermodel's waist size, but that's not a major loss: with the ultra-vibrant colours grabbing your attention, you're going to spend more time looking at the pixels rather than the black bars that surround them.
It's a shame you can't use all those beautiful pixels as an external display for your other tech, too, but that's more down to Intel not supporting the tech at such high resolutions than Apple refusing to include Target Display as an option any more. Maybe something for the 2018 iMac, then?
The iMac's built-in speakers haven't seen as much love as the screen, but they still pack a punch, with ample volume and great clarity. They might not face forwards like the XPS 27's literally-in-your-face tweeters, and can't match them for sheer loudness, but they're the ideal volume for desk-bound workers.
DESIGN & BUILD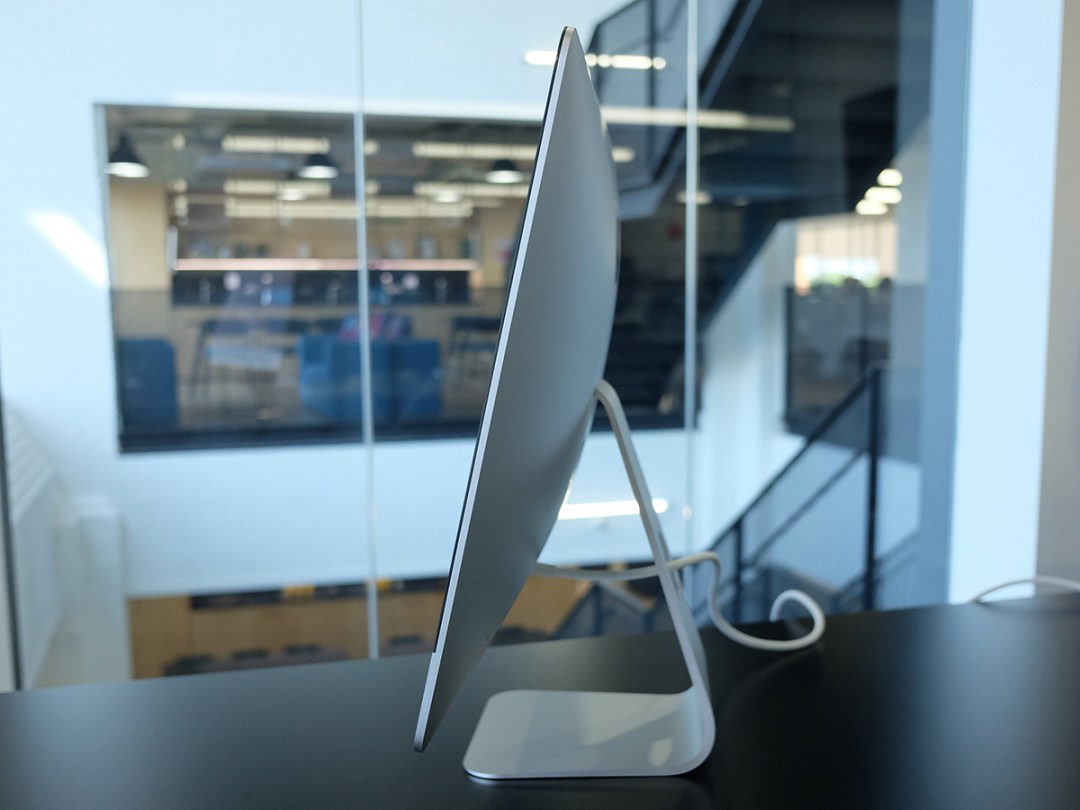 That all-new panel has been squeezed into the same aluminium unibody chassis Apple has been using for a few years now – which is no bad thing. I still reckon it's the best-looking all-in-one computer around, with the exemplary build quality you'd expect – even if you still can't adjust the screen beyond a simple tilt.
It's an exercise in minimalism, with curves in all the right places and no visible lines or seams. It feels like it belongs in a Zen garden, not on a desk.
You'll have to head to the back of the iMac to spot where things have changed. Apple has added two Thunderbolt 3 ports to the existing array of four USBs, for super-quick file transfers and hooking up external displays. They conveniently double up as USB-C ports, too.
The usual SD card reader, 3.5mm headphone port and Ethernet port all make a reappearance too. They're still awkward as hell to plug things in to without swivelling the whole machine around so you can see what you're doing, but this 21.5in model weighs so little that it's hardly a chore.
PERFORMANCE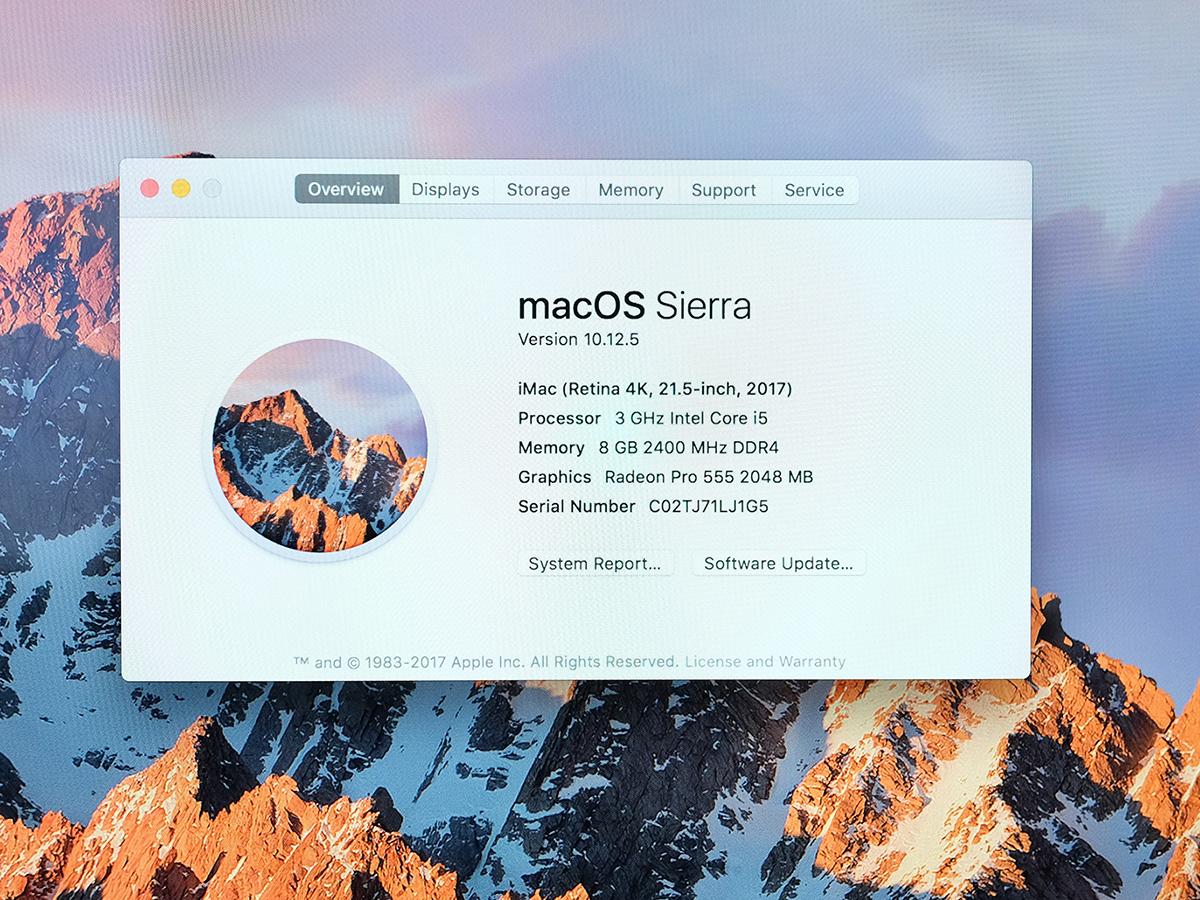 It's underneath that gorgeous glass front that you'll find all the real action, including one of Intel's 7th generation Kaby Lake CPUs. The one in this entry-level 4K iMac usually ticks along at 3GHz, but can clock all the way up to 3.5GHz whenever you need more go-juice.
Combined with 8GB of RAM, there's enough power here for just about any desktop task – and that includes editing huge high-res images, or even cutting together multiple 4K video streams. I didn't experience a jot of lag or stutter when scrolling around the macOS desktop, and could run a handful of apps happily without things slowing down.
If you've got last year's iMac the difference won't be huge, but basically, unless you're creating 3D models or doing seriously taxing CAD work, even this baby iMac will have the grunt to cope.
Graphics have been given a shot in the arm, too, with this basic 4K model getting a dedicated AMD GPU for pushing all those pixels. The Radeon Pro 555 has 2GB of dedicated video memory, and is at least twice as fast as last year's model – in both professional 3D rendering and games.
4K gaming is still asking a lot, of course: try to pop a cap in a terrorist in Counter Strike: Global Offensive and you'll need to drop down to 1080p to get properly smooth frame rates. Older titles and less-intensive games like Blizzard card Battler Hearthstone are perfect for some full-screen, native resolution action though.
It's a shame you don't get an SSD as standard, but a 1TB is the next best thing: it's got a small amount of flash memory with really nippy read and write speeds, plus a huge hard disk for storing all the files you don't need at a moment's notice. You'll have to spend extra to get an SSD, but if you do splash that cash, you'll get one that's about twice as fast as last year's model.
KEYBOARD & MOUSE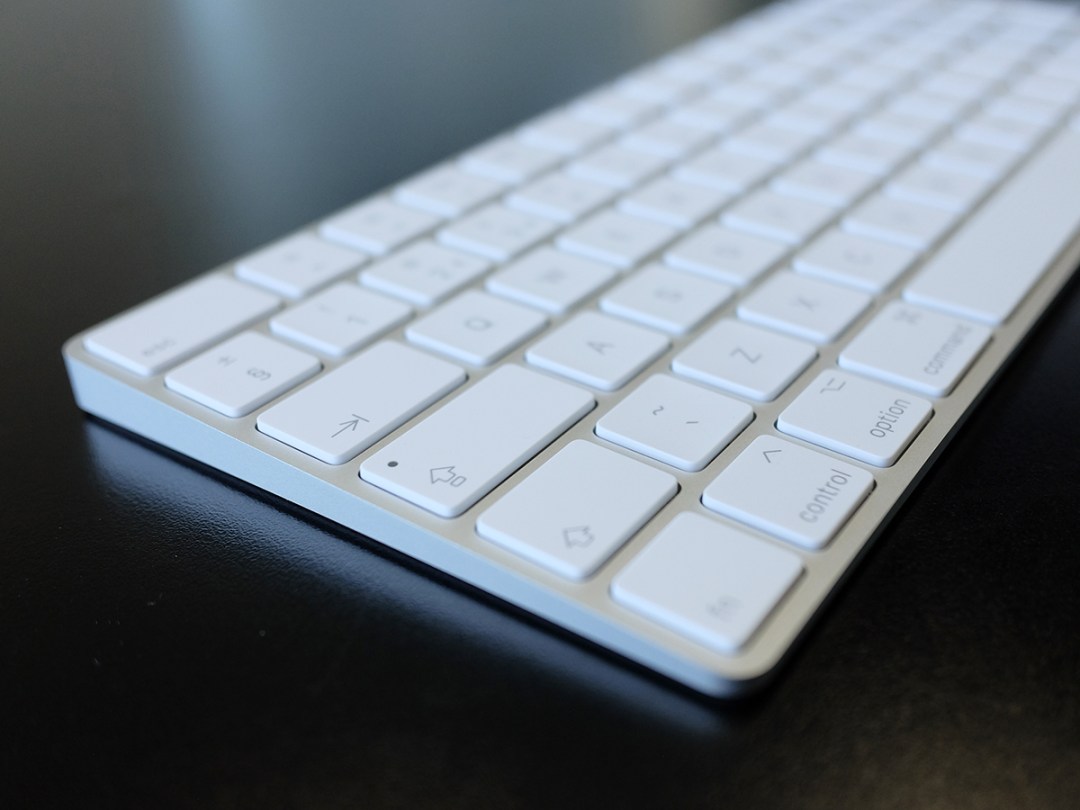 The basic iMac bundle hasn't changed for 2017, so it still ships with Apple's wireless Magic Keyboard and Magic Mouse 2.
The former uses a custom scissor mechanism switch that gives a lot more feedback with every key press than the older wired version. It's the same setup you'll find in the latest MacBook Pro, only there's a lot more key travel here, which makes it slightly more comfortable to type on.
There's no numerical keypad, but you can spend a little extra and get one included if that's important to you. Honestly, I didn't miss it, but then I'm not spending my day tapping numbers into spreadsheets.
The Magic Mouse has a gesture-sensitive glass surface, and can recognise the one- and two-finger taps and swipes that macOS uses so well. If that's not gesture-y enough for you, you can swap it for the Magic Trackpad 2 before you buy. It supports Force Touch, just like you get on the iPhone 7.
There's even a Lightning cable in the box now, so you'll be able to top up both keyboard and mouse without having to borrow your iPhone's charging lead. Even if you can't use and charge the mouse at the same time, because the charging point is on the bottom.
Still, this is the best bundled mouse and keyboard you'll find in any all-in-one, and there'll be no need to ditch them for third party alternatives – which is more than can be said for most of the Windows-based competition.
SOFTWARE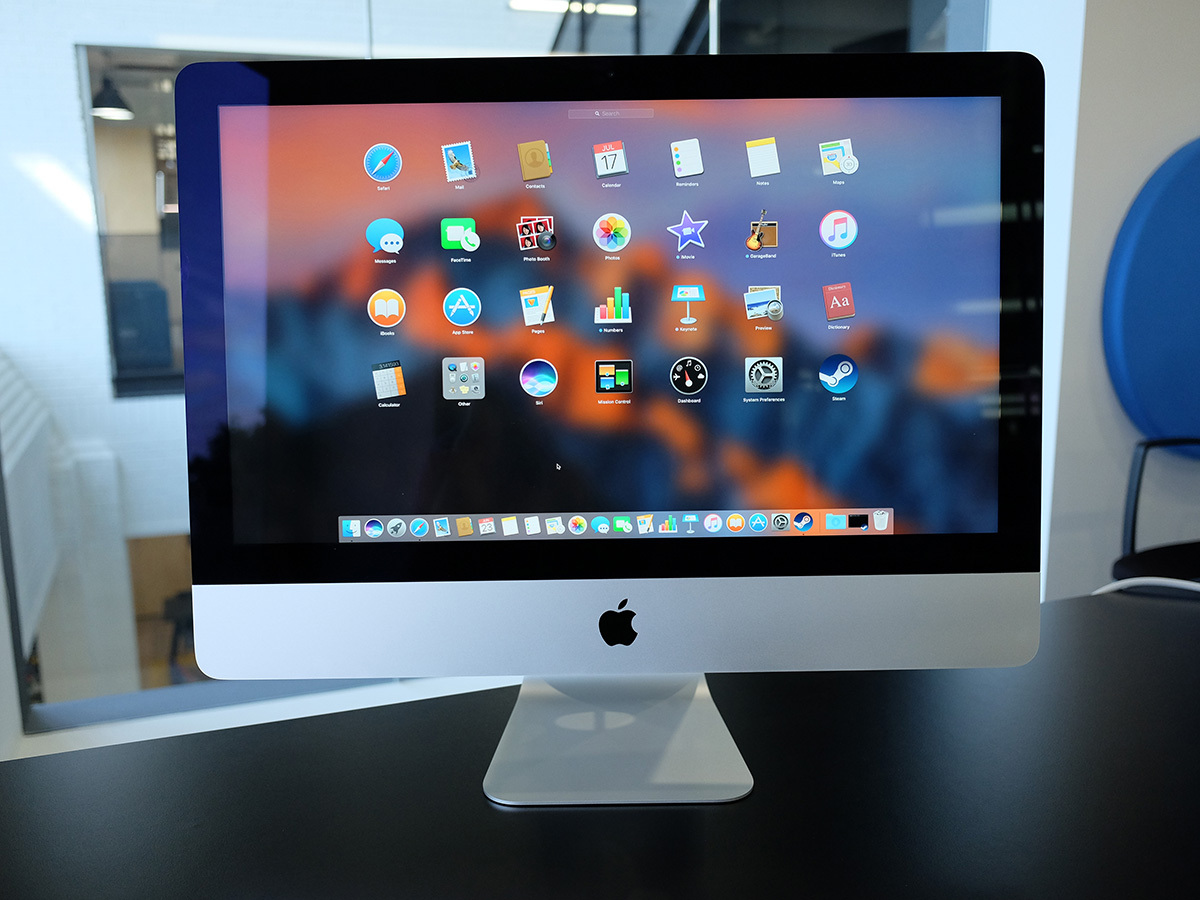 Buy an iMac right now and it will arrive with macOS 10.12 Sierra. It's a fantastic operating system, which added handy extras like Siri and picture-in-picture video playback when it first arrived back in 2016.
This was also when iCloud first got properly integrated throughout the OS, a very useful addition for anyone already using an iPhone or an iPad.
It's on track to get even better, though, with macOS High Sierra due to land later in the year.
As well as giving Safari a privacy-minded shakeup and adding better support for 4K video playback, High Sierra will add faster file transfers using a brand new APFS file system – which will save on storage space at the same time.
All in all, that's nothing to sniff at for a free update.
Apple 21.5in iMac with Retina 4K display (2017) VERDICT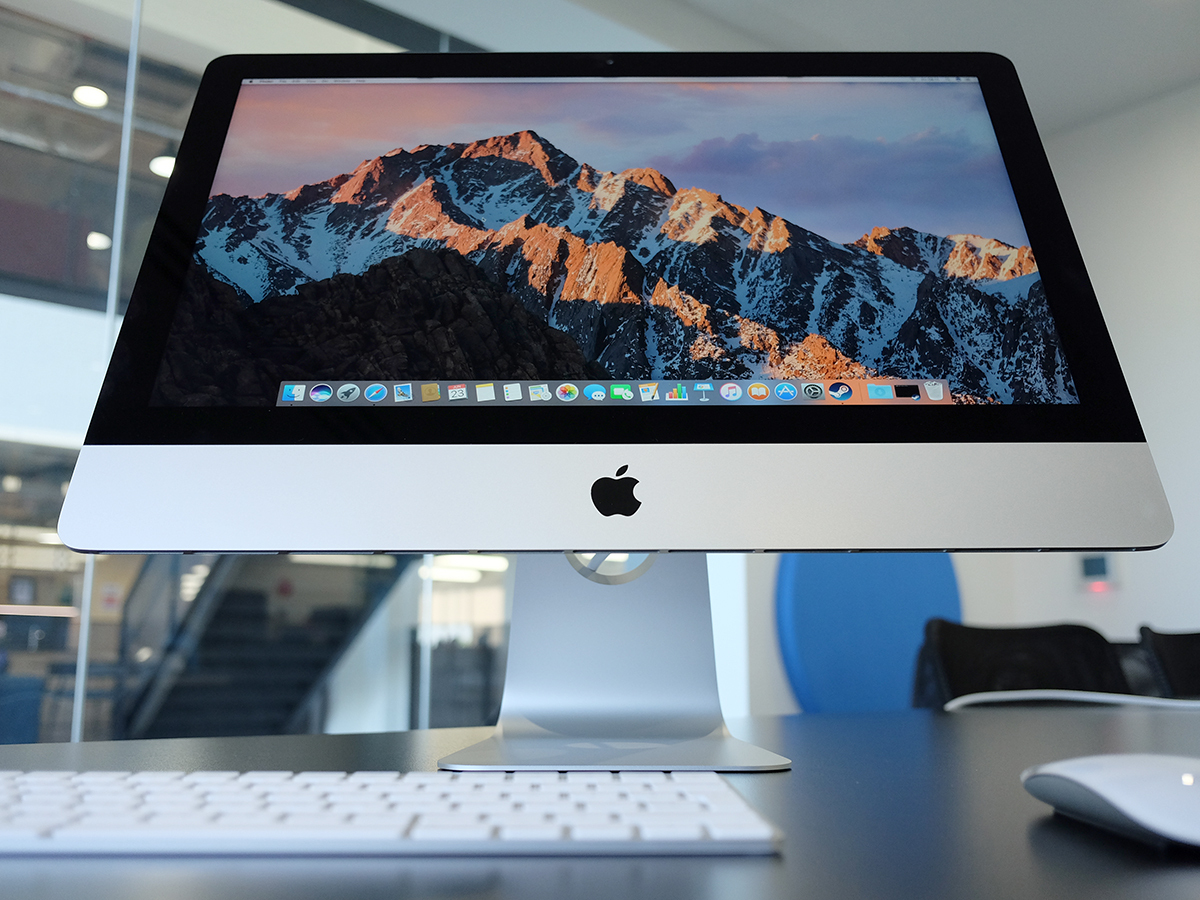 It's an iMac. Only better. That's about all you need to know.
Our favourite all-in-one computer from last year has been given some welcome improvements, especially to graphics and display, and the price hasn't changed. So it's pretty much a shoe-in for this year's best all-in-one computer too.
This 21.5in model makes the most sense for day-to-day work, and there's more than enough power for image and video editing. After something with even more grunt? The 27in 5K version is probably a better bet.
Then there's the iMac Pro, which is waiting in the wings for an autumn launch. Unless you're working for Pixar, though, you're probably better off with this.
Either way, if you're tied to a desk and a laptop just won't cut it, this is the machine you want.
Tech specs
| | |
| --- | --- |
| SCREEN | 21.5in, 4096×2394 resolution LCD w/ DCI-P3 wide colour gamut |
| CPU | 3GHz 7th-generation Intel Core i5 (Kaby Lake) |
| MEMORY | 8GB RAM |
| GRAPHICS | AMD Radeon Pro 555 w/ 2GB VRAM |
| STORAGE | 1TB hard disk |
| CONNECTIVITY | 4x USB3, 2x USB-C/Thunderbolt 3, Ethernet, 3.5mm headphone, SDXC card reader, 802.11ac Wi-Fi, Bluetooth 4.2 |
| OPERATING SYSTEM | Apple MacOS 10.2 Sierra |
| ACCESSORIES | Magic Keyboard, Magic Mouse 2, Lightning cable |
| DIMENSIONS | 450x528x175mm, 5.66kg |
Stuff Says…
Updates to almost every area hammer home the 4K iMac as the best all-in-one system around
Good Stuff
Fantastic display combines resolution and colour refinement
Dedicated graphics a welcome step up from last year
Baby Lake CPUs bring the power
Bad Stuff
No Target Display mode to use that stunning screen with other kit
Screen only has tilt, I guess?