Apple iMac 17in 2006 review
Every new iMac features an iPod Shuffle-style remote control, which magnetically clings to the side of the iMac and, with Front Row, you can control iTunes, iPhoto, iMovie and the DVD player from up to 30 feet away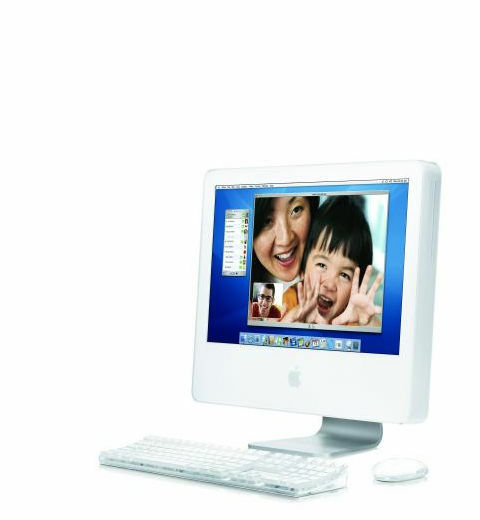 Moving to Intel processors was never going to be easy for Apple: not only does it have to placate fanatics who consider Windows-friendly Intel the enemy, it also has to rewrite all existing software for the new chips – and then get third-party developers to do the same. So it's lucky the iMac is such a well-formed computer…
Apple claims the Intel iMac runs at up to 300 percent the speed of the G5 iMac. We found that Apple's software actually works between 25 and 100 percent faster but Photoshop ran noticeably slower on the new machine because it hasn't been rewritten for Intel. That makes little difference for home use but professionals should wait for Adobe and others to update their software before switching to Intel Macs.
Every new iMac features an iPod Shuffle-style remote control, which magnetically clings to the side of the iMac. Thanks to Front Row's sofa-friendly interface, you can control iTunes, iPhoto, iMovie and the DVD player from up to 30 feet away.
In fact, this iMac is very lounge-friendly, thanks to a host of wireless options, super-quiet operation, optical output for surround sound and a mini-DVI video connection that allows you to mirror the iMac's screen or use your TV as a separate monitor – so you can watch a DVD and browse the web simultaneously. It's a shame there's no telly tuner, but we're not going to let that spoil our fun.
Apple's iCal and Address Book are also included. They're the neatest organiser apps we've seen, not least because they'll synchronise via Bluetooth or USB with a heap of gadgets without you installing any new software (visit www.apple.com/isync for more). To use Apple's .Mac websync/hosting/email services you'll have to pay £69 a year.
You'll get a bunch of camera tools into the bargain too. Whilst the quality of the built-in camera isn't quite up to Apple's external iSight cam, it will capture 640x480pixel video, making it perfect for video conferencing.
The integration of a webcam into the iMac is supported by an excellent software package – Apple's own iChat allows video conferencing with up to three other iChat users simultaneously. It's compatible with AIM and Google Talk, too – although text-only.
Meanwhile, Photobooth will have you crying with laughter, if you find distorting carnival mirrors and silly filters funny – we do – and Comic Life will allow you to create template-driven comic strips in minutes.
You'll also get a dose of iLife 06: the latest addition to the iLife software that comes pre-loaded on all Macs is iWeb, Apple's slick website creation tool. It's easy to use, if slightly inflexible, and works hand-in-hand with the brilliant iMovie, iPhoto and iTunes. You can record music and podcasts in Garageband (also free) and post them on the web.
It's not all plain sailing though. Considering Apple has been pitching the iMac as a digital hub for years, it really should have included more than three USB 2.0 ports on the rear – even if they were at the expense of FireWire. After all, iPods no longer support FireWire and even video cameras are going USB.
We weren't overly impressed by the Microsoft Office test drive, either. Once the 30-day trial's up, if you want an upgrade, you'll have to stump up an eye-watering £349. It makes Apple's decision not to bundle a full version of its own (Microsoft-compatible) iWork suite (£59) even more frustrating.
Despite a few minor hiccups, though, we've swallowed our objections to the Intel inside the latest iMac and are ready to take a big bite of the new Apple.
More like this: Toshiba Satellite A100 review