Apple iMac with Retina 5K Display hands-on review
Thought 4K TVs were impressive? The new iMac one-ups them on resolution, and packs in a computer to boot. Here are our first impressions of it
Ever been in a room full of middle-aged men rubbing their faces on large-screened all-in-one PCs? We have, because we've just witnessed the launch of the Apple iMac with Retina 5K Display.
And to answer your immediate question, yes – that screen is just phenomenally impressive, no matter how close you get.
But of course, there's some stuff going on behind the screen, too, and we just tried some of it out. Here are our first impressions of the highest-resolution desktop computer to have ever graced the planet.
That screen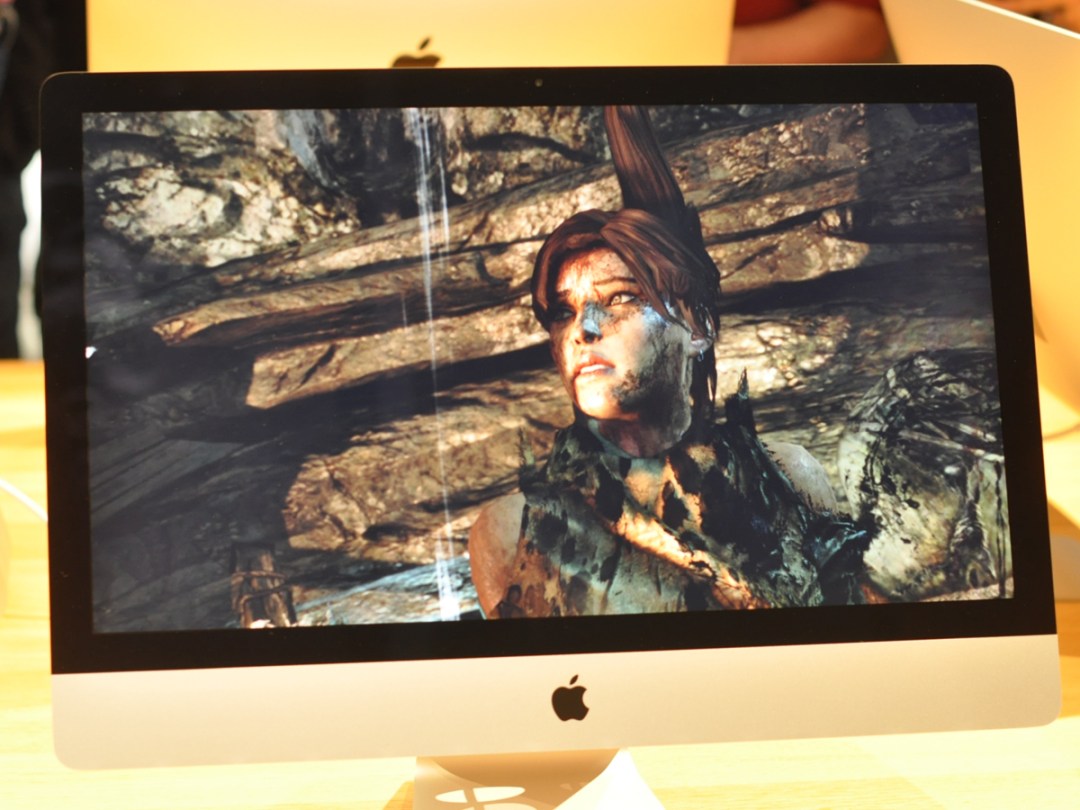 Now, the testing environments at launch events are never great, not least because there's always a demonstrator bending your ear about how wonderful the gadget you're inspecting is. But even with the bullsh1t detector at work, it's obvious that the Retina 5K Display is something else.
It's 27in across, with a resolution of 5120 x 2880 – those 14.7million pixels yield a resolution of 219ppi, versus the 109ppi of its 1080p-equipped siblings.
It's a bespoke-designed panel with from-the-ground up electronics, to which glass is fused directly to reduce the barrier between viewer and pixels. Though it was hard to judge properly, in the test conditions colours looked punchy no matter what angle we were viewing it from, and details in images of medieval churches and full-frame Hasselblad-grabbed street scenes were rendered amazingly crisply. Text in menus and documents is burr-free – pure, eggshell smooth, right up until you get to about a hand's breadth away. At a glance it's almost as if the screen's a fake, printed directly on the glass.
But, yes, the image moves, and it was equally impressive with the video we saw demonstrated in Final Cut – a full 4K movie of sample footage that played smoothly and, despite being rendered pixel-for-pixel, left space for the toolbars around the screen. Indeed, for anyone after a professional photography or videography machine, those extra pixels could make for an invaluable workspace.
In short, the man telling us this screen was rather good wasn't fibbing. We can't wait to see how it performs under lab conditions.
Performance: 5K gaming is now a thing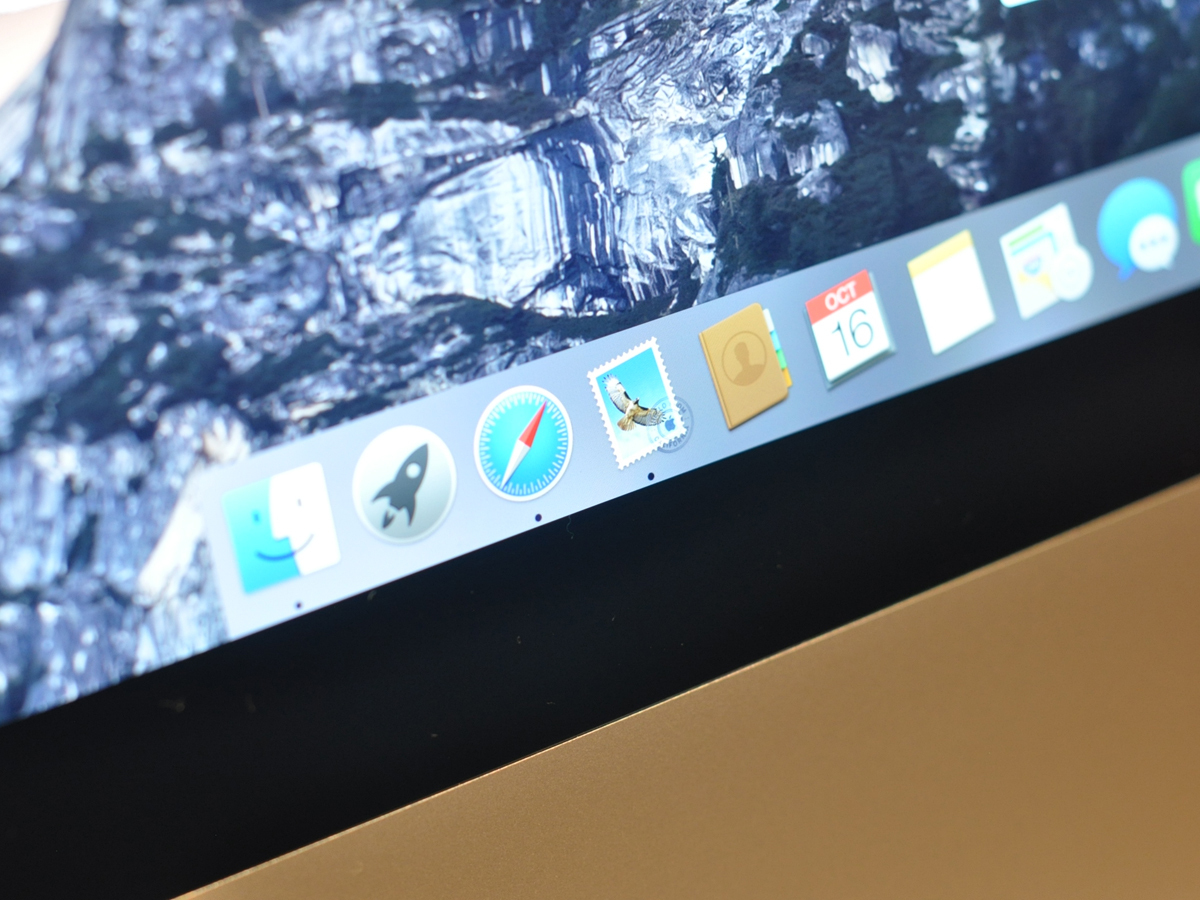 The machine we tried was stock £2000 specification: a 3.5GHz Core i5 processor, 8GB memory, Radeon M290X graphics and a 1TB Fusion drive (a combination SSD / hard disk).
It tore through OS X Yosemite at speed, opening most apps without a pause. The only software that posed a challenge was Tomb Raider, which took a few seconds to spring to life, but even that was impressively quick. And, frankly, seeing any familiar game at this sort of resolution is special.
The experience wasn't universally smooth, though. Dragging huge RAW images around on screen was a little jerky, and it was obvious that Tomb Raider has seen silkier renditions – there were clearly dropped frames. It's forgivable, though; that 5K resolution is nothing if not demanding, and the detail on screen at the time was hugely impressive.
(As an aside, any apps that meet the latest Yosemite specification will support 5K resolutions – so there will be several games available to put the display through its paces.)
It'll be interesting to see how the Retina 5K iMac deals with the rigours of the workplace; investing in more RAM (up to 32GB), faster storage (you can get 1TB of PCIe-based solid-state) and the upgraded processor (a 4GHz i7) and graphics (Radeon M295X, capable of delivering 3.5 teraflops) will probably mean getting more from that display. If you're going to part with the cash, it might well make sense to go all-in.
On the other hand, we should probably mention that the fully specced-up version will set you back £3520. Or, if you add all of Apple's extras – external Thunderbolt storage, Apple Care protection, Apple TV, Final Cut Pro X etc etc – a fairly ridiculous £6628.90. But nobody's going to do that.
Design and build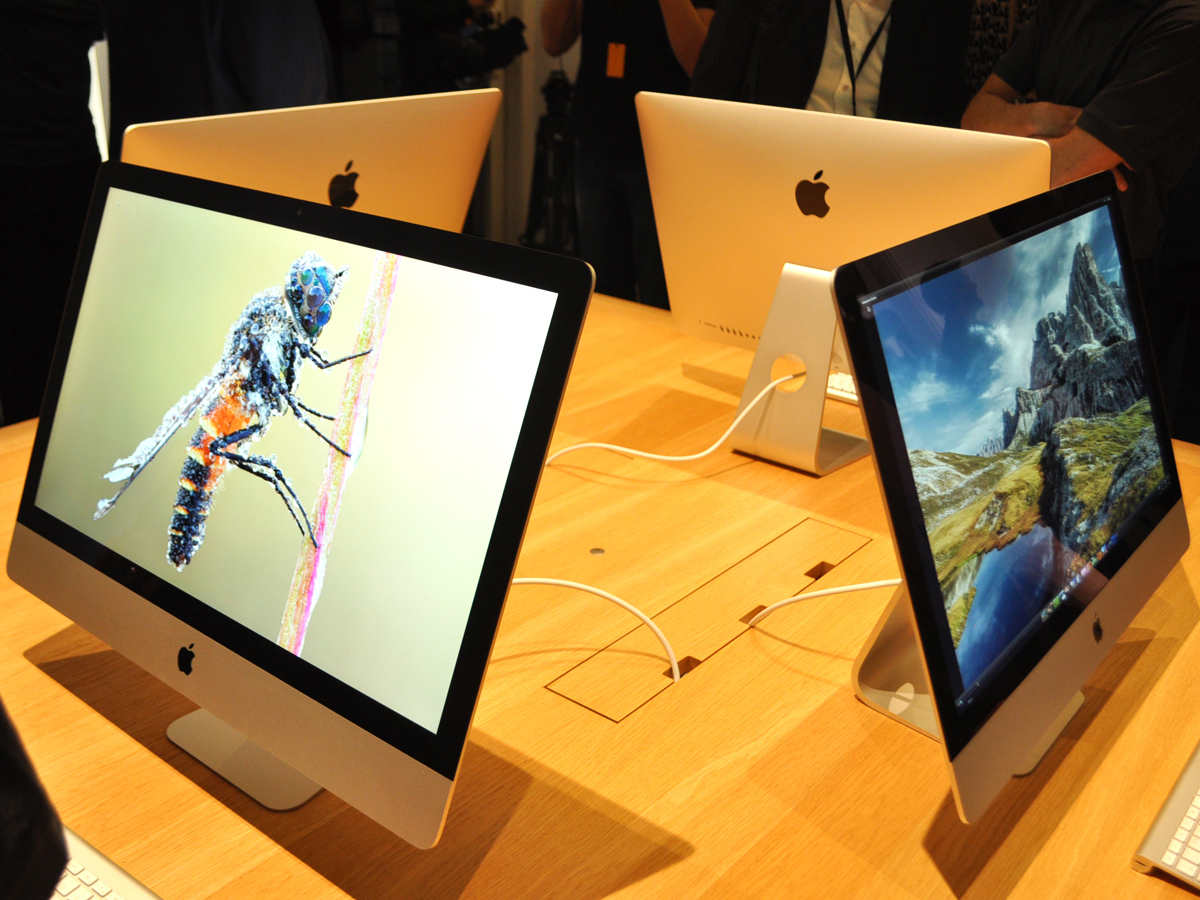 The iMac's aluminium rear curves from a deep bulge in its centre (where the hard work happens) to an amazingly slim 5mm edge. It's as impressive now as it was when we first saw it in 2012.
As before, the various holes for ports and built-in speakers are drilled and machined cleanly, and the hinged stand feels robust and smooth. Yes, we are now used to this stuff from Apple, but that shouldn't detract from how impressive an achievement it is.
Connectivity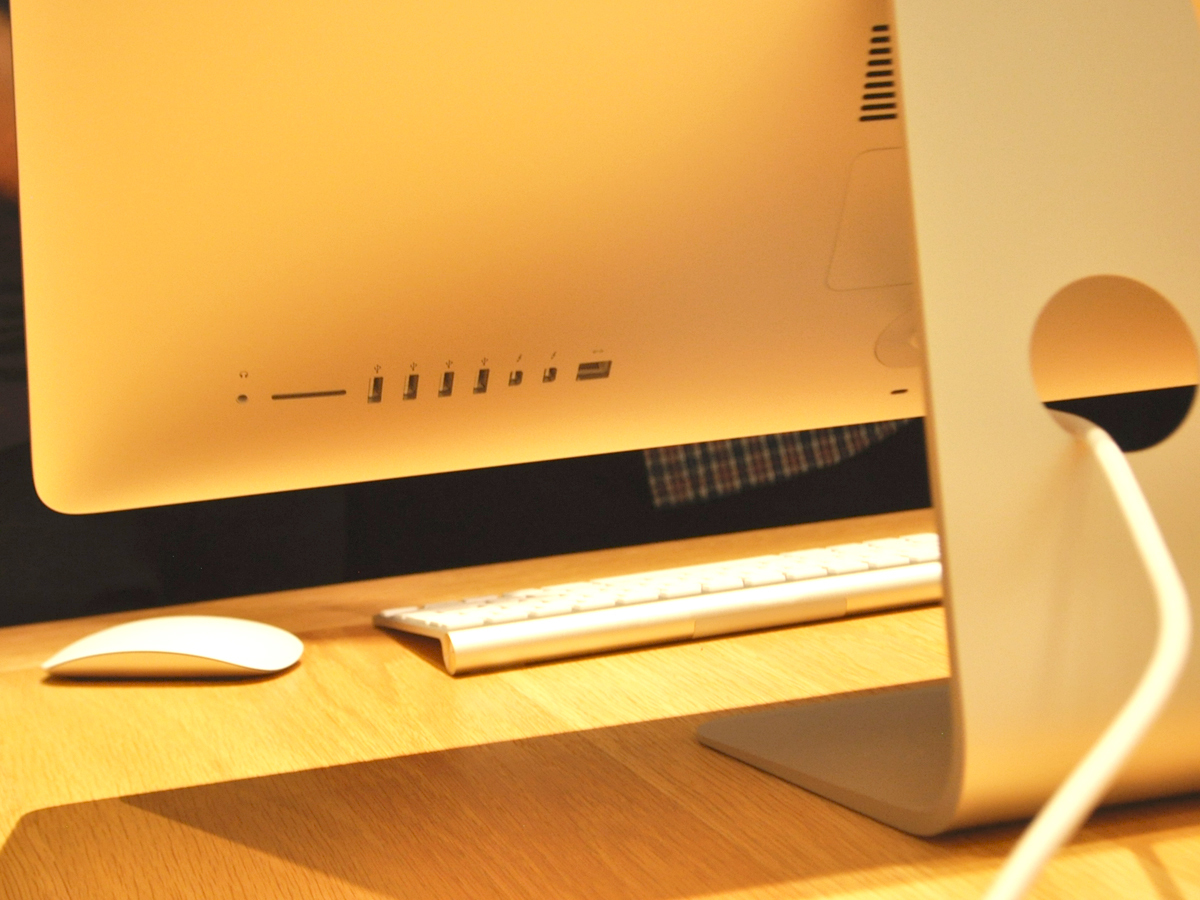 Round the back are an SDXC slot, four USB3.0 and two Thunderbolt 2 ports. That might seem frugal, but Thunderbolt 2 runs at up to 20Gbps (pow!) and allows the daisy-chaining of connected displays, hard disks and other accessories, so it should be sufficient for most set-ups.
For networking, there's Gigabit Ethernet, 802.11ac Wi-Fi and Bluetooth 4.0 – all present, correct, and ready to chat to iOS gadgets, so you can integrate with OS X Yosemite's Continuity feature.
The early verdict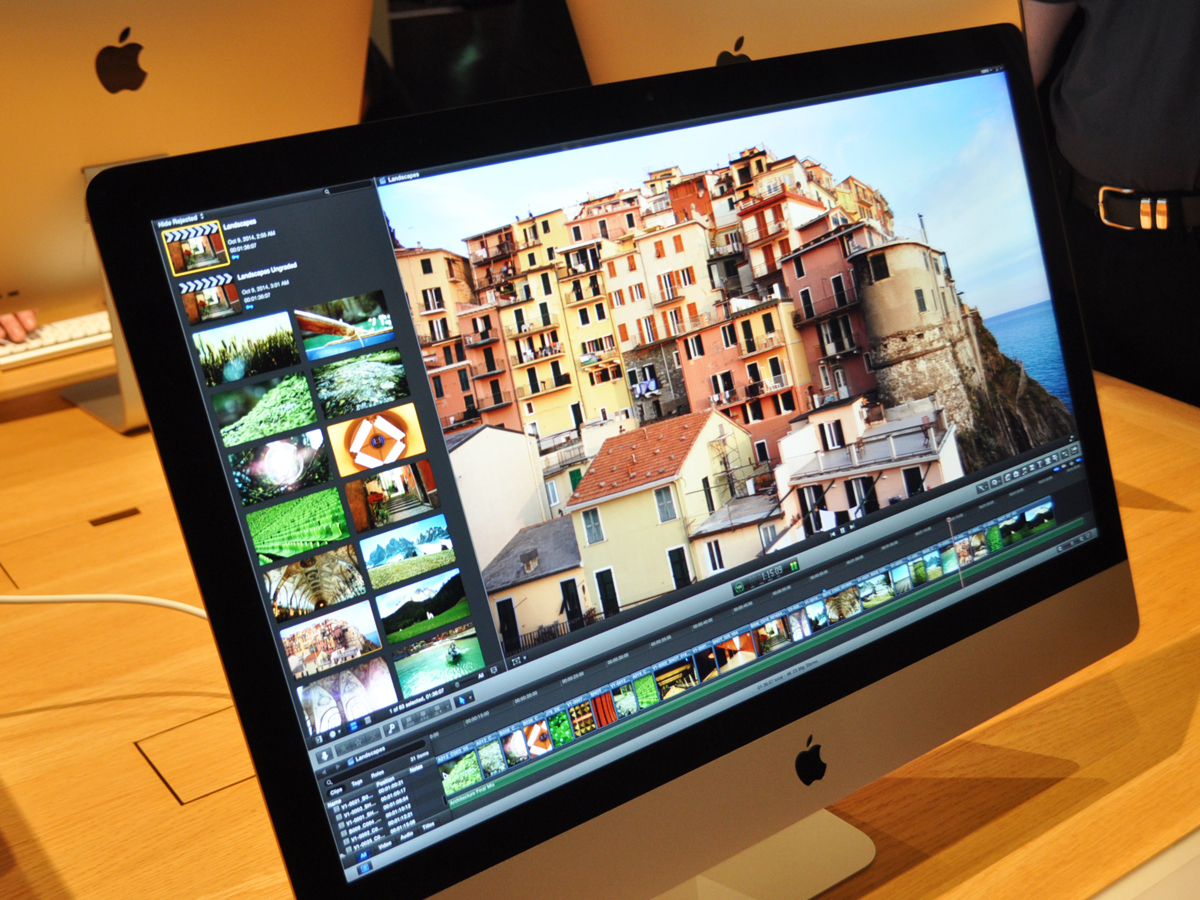 It's impossible not to be impressed once you've laid eyes on the Retina Display iMac's visage. The screen appears to be just as good as its specs suggest, and the overall package, with its smooth tapering back and sharp edges, is nothing if not tempting.
That said, it's not yet clear just how well the different configurations are going to perform. There was nothing lacklustre in our demo, but if you're spending two grand on a new computer, you might expect perfection – and it's not clear that the base version delivers it.
It's still one of the most exciting products we've seen this year, though – and specced up, it's likely to be the best desktop computer we've seen so far. We'll have the full Stuff review just as soon as we can muscle a sample off Apple.