Apple iPad Mini 2 with Retina display review
The first iPad Mini was so impressive, Apple chose it as the basis for the awesome iPad Air. So is the best tablet in the world now 7.9in sized? We spend a week with the Mini to find out.
The 7.9in Apple iPad Mini made a jaw-dropping first impression when it arrived last year and a disappointing, nose-scrunching second one. Cooing over the slim, light and elegant design we could hardly believe our luck, brain cells frantically bashing into one another to try to make sense of tablet hardware this impeccable. Until we turned it on, that is. And saw a 1024×768 iOS homescreen of comparatively fuzzy icons and text – the likes of which we thought we'd left behind with the iPhone 3GS.
We understood that Apple had to do something to keep costs from spiralling out of control, but we were also a little heartbroken. Cupertino had given us a taste of this smaller, leaner iSlate and as soon as we had it in our hands, we knew exactly what we wanted: an iPad Mini with a Retina display. Not a slightly faster iPad 4 or iPad 5. A Retina Mini.
All year we've been commending tablets with the caveat that the Retina Mini should be showing up sooner or later to blow them out of the water. So now that our fantasy tab is here – at the not-so dreamy starting price of £320 – can the iPad Mini 2 possibly live up to our expectations?
Well, it ain't perfect. But it comes ever so close.
Design and Build – Bringing Sexy Back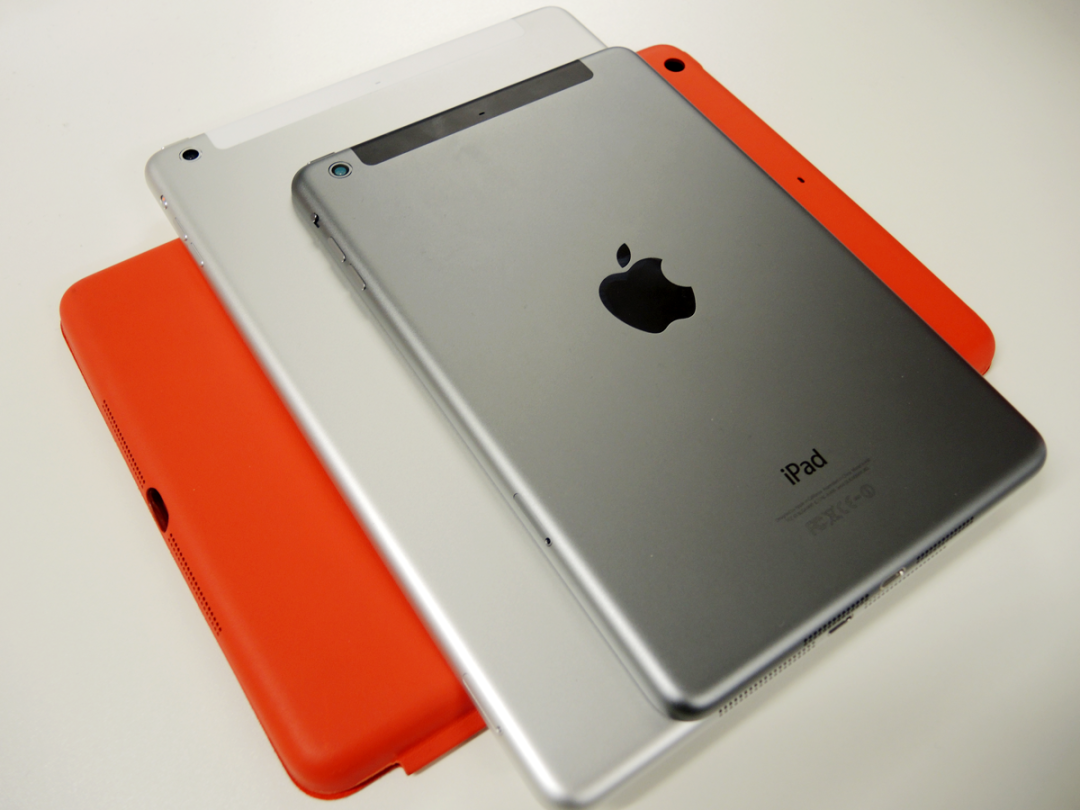 What. More. Can. We. Say? The Mini was such a phenomenal piece of design – as important to Apple's future slates as the iPhone 4 was to its smartphones – that not only is it almost identical on the second Mini but the 9.7in iPad Air is now just an oversized version of the smaller tab too.

With the cool-to-the-touch aluminium build, rounded edges and machined speaker grilles come the sheer terror of scratching or knocking it against your laptop, coffee cup or stray bony elbows. It's also smooth enough to slip from the hand if you don't rest those corners firmly in your palm creases. Everything becomes the enemy, your own butter fingers included. That's why, criminal as it is, most Mini buyers will probably end up housing the iPad Mini's famous form (now in Space Grey and Silver) in a case – at least Apple's own Smart Case doesn't add too much bulk.

It's a touch heavier and a smidgeon thicker than last year's model – 331g and 7.5mm versus the originals' vital stats of 312g and 7.2mm. You honestly won't notice either of these changes to the dimensions as they're fairly tiny. What you will notice is the bump in speed thanks to the A7 chip and the bigger battery, which are no doubt responsible for the extra grams and micrometers.

As with the Air there's no Touch ID fingerprint scanning for the Mini. But compared to the bigger iPad, this is a much niftier bit of kit. The Air is now thinner and lighter, but there's no denying a 9.7in screen still takes up a fair bit of space. Occasionally you're going to decide it's too big to take out and will leave it on the bedside table at home. Not so the Mini.

Just remember, this isn't a 7in tablet. It's not quite as pocketable as the Google Nexus 7 or Amazon Kindle Fire HDX 7in (the two main rivals we've been comparing it to). It's not quite as light, either – though all three are light enough to hold for much longer periods than a 10in tab. And both 7in slates are more comfortable to type on with two hands than the Mini, too. So why are we sticking by the Mini? Because that extra screen space, especially the big vertical chunk, really does change how you use the iPad compared to its Android rivals.
Screen – Hues Control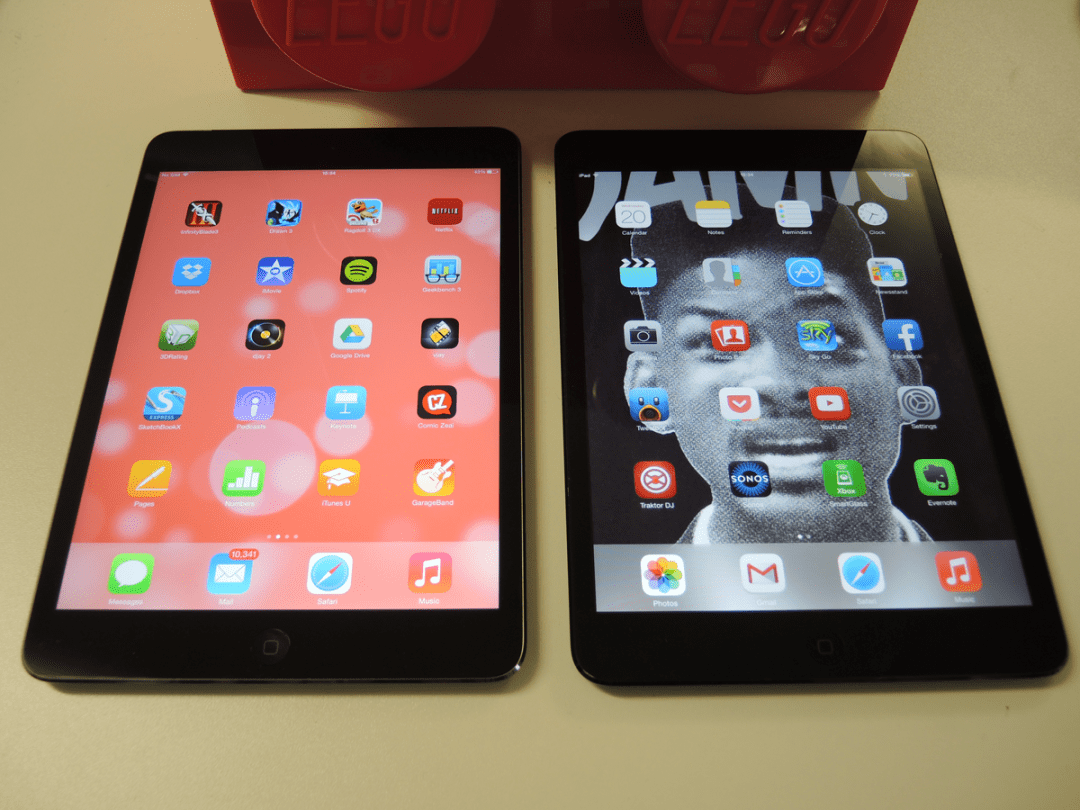 This upgrade is all about the screen, and boy, what a screen it is. Bright, crisp and vibrant the iPad Mini's Retina display is just lovely to look at. Side by side with its predecessor, it's clear why the upgrade might be tempting too. The new Mini gives our peepers a mesmerising massage, making the original's screen look pixelated – the Achilles' heel of many a good tablet display. With its superb viewing angles, it's in many ways a match for the Air's display.

It's a 2048×1536 resolution and Apple makes full use of it. There's a lot of quite tiny text in iOS 7 – from the title text on iMovie's clip thumbnails to the IM chat boxes in Skype to the previews and 'unread' message in the Mail app – but everything looks pin sharp thanks to the extra pixels. Hi-res images look also wonderful when zooming in on detail, while HD movies are smooth and nicely balanced.

At 323 ppi, the Mini's screen also has greater pixel density than the Air (matching the Nexus 7 and Kindle Fire HDX) as it's the same number of pixels squashed into smaller dimensions. The Air still has a marginal upper hand, with slightly greater vibrancy and accuracy in its colours, and while that's far from troubling in everyday use you might want to consider spending the extra on the Air if tablet-based photo editing is your thing.

The Mini's screen is still one of the best out there, though. It's very bright and very rarely needs nudging past halfway on the Control Center slider. It is a fingerprint fiend, though, as is the Apple logo on the back, so treat the iPad to a cleaning cloth every now and again.

The new iPad Mini's speakers sound great, too – we wouldn't recommend an extended Spotify session but the dual speakers are reasonably loud and sound slightly fuller and warmer than those of the excellent Kindle Fire HDX.
Performance – It's hit the silicon gym
Not many people would have complained about the original Mini being a touch slower than the iPad 4, yet Apple have pumped up the performance of the Retina Mini with the same 64-bit A7 chip as the iPad Air with the battery-saving M7 motion coprocessor along for the ride.

Cupertino tends to be fairly unspecific when it comes to specs, but Geekbench 3 tells us that the Mini's running on a 1.3GHz dual-core A7 with just under 1GB of RAM. That's clocked just slower than the Air's 1.4GHz processor so you might expect a hint of difference in the benchmarks.

And you get it. The Air bests the Mini on Geekbench 3's test (scoring 2696 to the Mini's 2518), while the two A7 Apple tabs score an even 5902 and an average 22.6fps on AnTuTu's 3D benchmark.

Even so we've had no hitches with the Retina Mini so far, aside from one crash when closing a game and some occasional lag when scrolling through image-heavy iTunes and App Stores and a jumpy swipe down to bring up search. The only sign of trouble has been the Mini warming up considerably after a heavy two hour session playing games. And that's nothing we haven't experienced with devices running the Snapdragon 800.

With dual-band Wi-Fi on board, the Mini serves up fast app and movie downloads (we filled four homescreens with our previous App Store purchases in a matter of ten minutes) as well as the smoothest stream compared with the Nexus 7 and the Kindle Fire HDX. It's perfect for Netflix addicts and the Sunspider benchmark confirms this – it scores 467.4ms (lower is better) which is just behind the Air's blinding score but considerably faster than the HDX (568.8ms) and the Nexus 7 (1031.2ms).

There's a nanoSIM slot if you want to take out a 3G/4G contract, and if it's 4G you're concerned with the Mini – as with the Air – gets access to more bands (14 LTE bands in total) than most devices, too. That simply increases compatibility with the ultrafast networks of other countries but here in Blighty both iPads absolutely fly on EE 4G.
What's the M7 motion coprocessor doing in the iPads?
Camera – Photoshop Handsome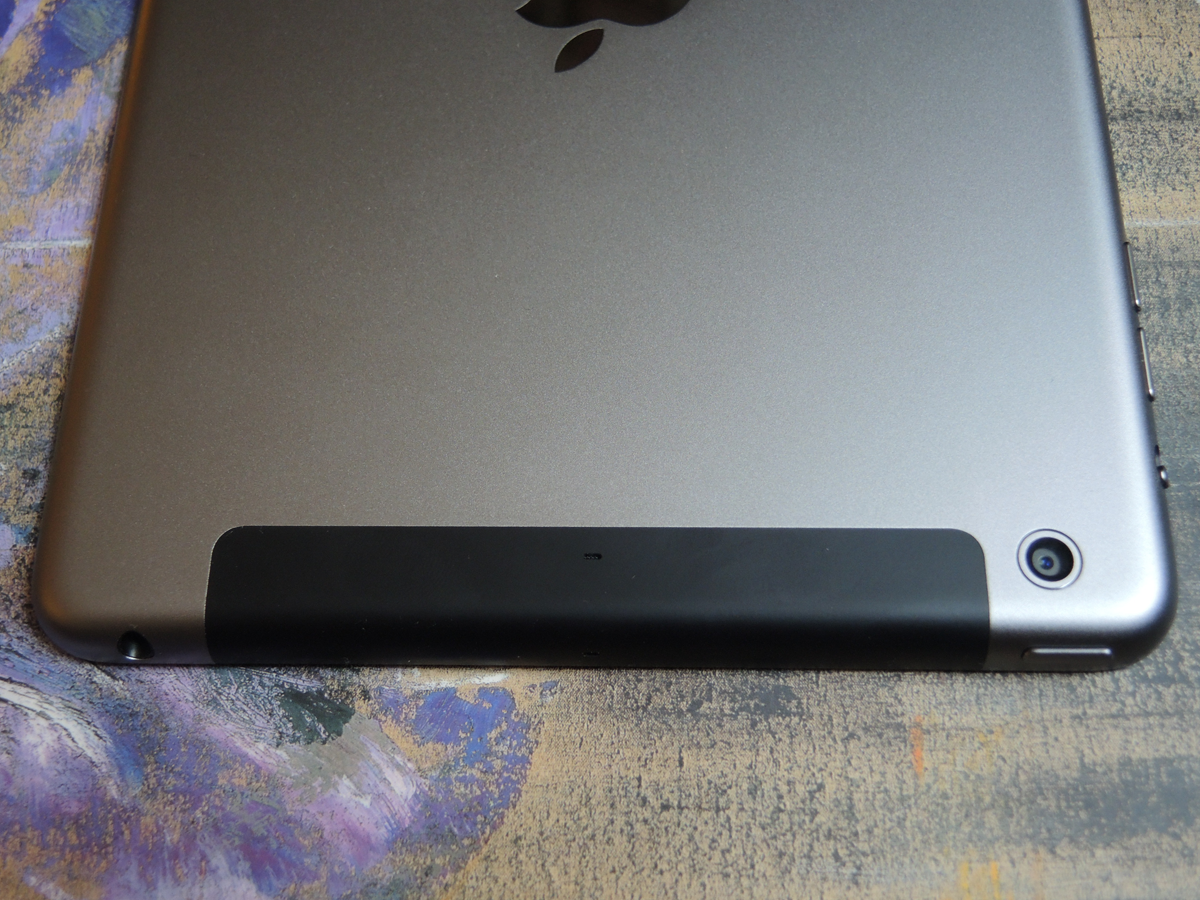 Mo' slow-mo, mo' problems, as Biggie probably said. The iPad Mini's cameras keep it nice and simple compared to the iPhone 5s' bag of tricks – so no slow motion – and we reckon that's mainly a good thing.
The 5MP snapper on the back captures more detail at a distance than the Nexus 7's (though for macro shots, it's a little more even), and it shoots respectable 1080p video, too. The only options in the retro-tastic iOS 7 camera app on the iPad, in fact, are Photo, Square and Video, with an HDR mode thrown in for good measure.
The 1.2MP 720p front-facer is also great – just as good as the Air's for brightening up below-par bedrooms for Skype calls. There are dual mics on board for clear chats and the Mini's light enough to hold up as you make video calls.
A small annoyance: there's no room in those skinny bezels for a front camera at the top in landscape and as that's how we like to video call, we think it's a better placement – see the Kindle Fire HDX for how it's done.
OS – Free Apps/Better Apps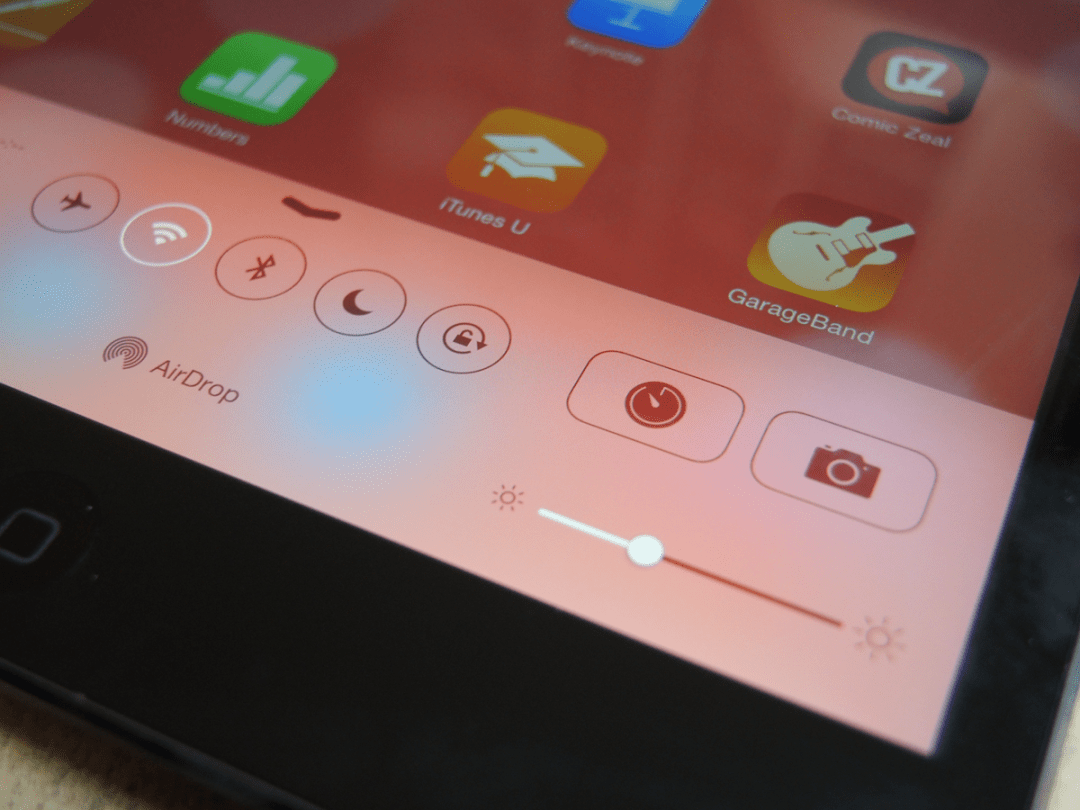 Here's a great way to feel better about the iPad Mini's £320 price tag. Tot up how much Apple's giving away in free, not to mention fantastically useful, apps with new iPads running iOS 7 – £2.99 iPhoto, £6.99 iMovie, £6.99 Pages. All in all, even though Garageband is now free you're getting about £30 worth of freebies.

It's not just brilliant, obscure, independent apps that look better on the iPad – everyday apps such as Spotify also look better, while apps from the likes of Sky and Lovefilm have more features on iOS and get quicker updates. And Apple's own suites really are worth using, as it's some seriously capable software and iCloud keeps iMovie projects, Garageband tracks and your photos and iWork documents easily synced across iDevices, Macs and in some cases Apple TV, too. Cloud storage and back-up works when you don't need to think about it and that's the case here.

It's a great-looking OS – from the glowing lockscreen numbers to the futuristic, swipe-up Control Center – but it also brings lots of long awaited functionality. Alongside the eager to please but hit-and-miss Siri and Apple Maps, notifications and multi-tasking now look prettier, show more information and are more useful than ever.

Since the iPad Air's launch, iTunes U and iBooks (which had been forgotten) have both been spruced up to match iOS 7's fresh and colourful design, with white backgrounds replacing faux-wood shelves. Jony Ive must have jumped out of his skin when he saw them initially slip through his fluoro net.
Battery life – Up All Night
Remember when the iPad got fatter? We know – it sounds like an urban legend but it happened. When Apple first introduced the hi-res Retina display into its tablets it took the iPad 2 and stuck a fairly heavy battery inside to make sure the slate could still go all day. Ah, how far it's come from those ham-fisted days.

There's certainly a bigger battery powering the iPad Mini 2 – although we don't know specifics – as it almost matches the Air's ten hour battery life. Impressive for a design as slim and light as before.

Crucially, it does last longer than the Nexus 7. Over an hour of streaming video from Netflix at half brightness, the Nexus dropped 17%, the iPad only 10% and on our regular HD video rundown test the iPad Mini lasted 9 and a half hours. Stamina is helped by the fact that the iPad can go much brighter than it actually needs to and standby time is great, barely budging overnight.

It's just another instance of the Mini and Air staying pretty much neck-and-neck. So which is best for you?
iPad Mini with Retina display versus iPad Air
Verdict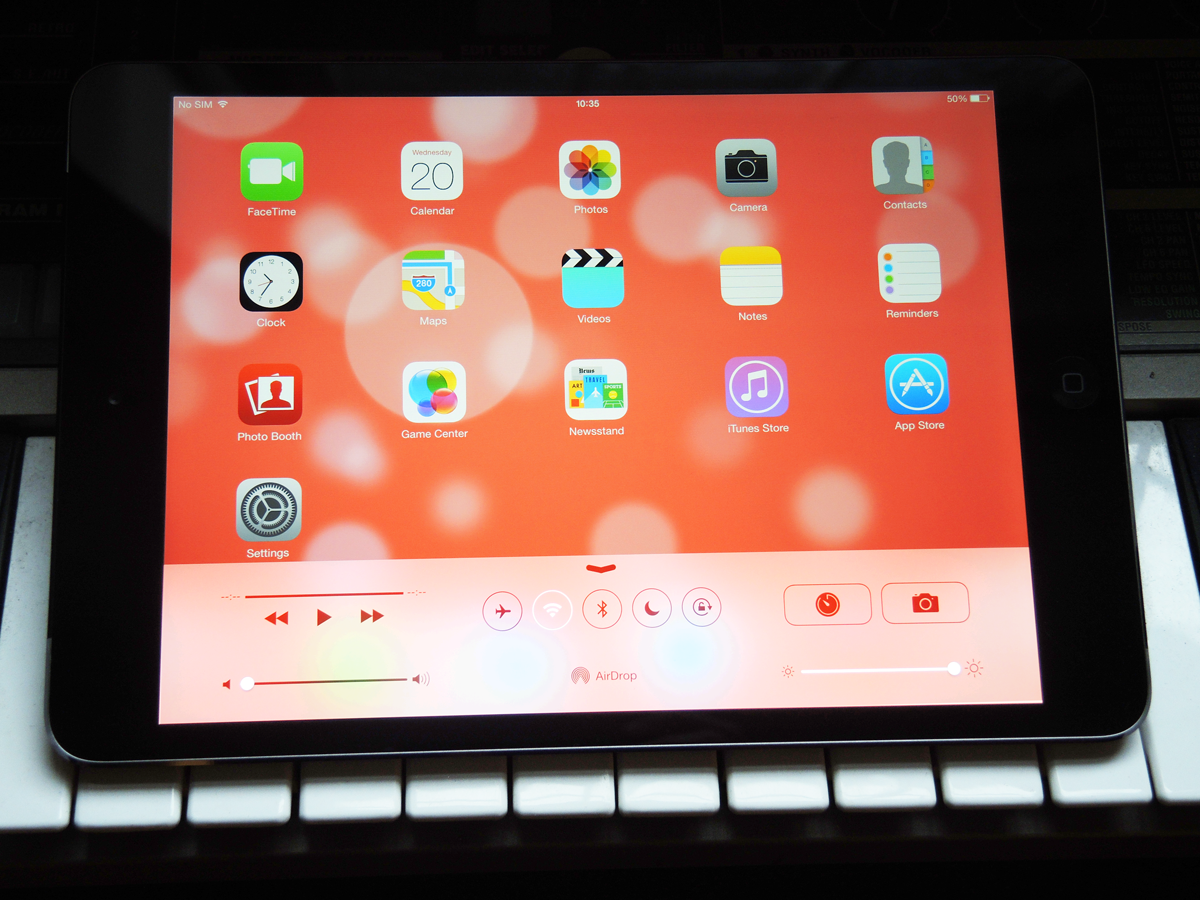 If it wasn't for the tiny niggles of colour reproduction, performance and price, we'd give the iPad Mini with Retina display the overall tablet crown. Colours look slightly more vivid and accurate both on the iPad Air (which also performs ever-so-slightly better) and key, cheaper rivals such as the Nexus 7 and Kindle Fire HDX. Then there's price – now we know the Mini isn't quite as good as the Air in absolutely every respect, making that £80 difference bigger than it may at first seem.
But this is still the stunner of a screen we'd been hankering for, with superb contrast and clarity, while performance is much, much better than expected, too. It's lighter and much more compact than the iPad Air, and it has the same great apps and battery life, making it a killer everyday, everywhere tablet.
In our review of the original iPad Mini we said the extra screen space really does change how you use the tablet, compared to the Nexus 7. And after a week with the Mini 2, it's obvious that the Retina resolution only expands what you'll end up creating and consuming on this tiny tab. The Retina Mini really is the future of tablets: supremely portable, bursting with amazing apps and with no significant compromises.
The Retina Mini is now our favourite small tablet, beating the Google Nexus 7 to that coveted second spot in the list of the best tablets you can buy right now, and narrowly missing out on the overall top spot, which remains the lofty perch of its bigger brother, the iPad Air.
Stuff Says…
Small doesn't have to mean second-rate, we've seen the future of tablets and it looks like the Retina iPad Mini
Good Stuff
Gorgeous build, stunning Retina screen
All day battery life
Much faster than the original Mini
Bad Stuff
Very expensive compared to 7/8in tablets
No expandable storage
Marginally inferior colours compared to Air's screen