Apple iPhone 6s Plus review
Is the 6s Plus any more than just a scaled up 6s? Well this time round it might just be...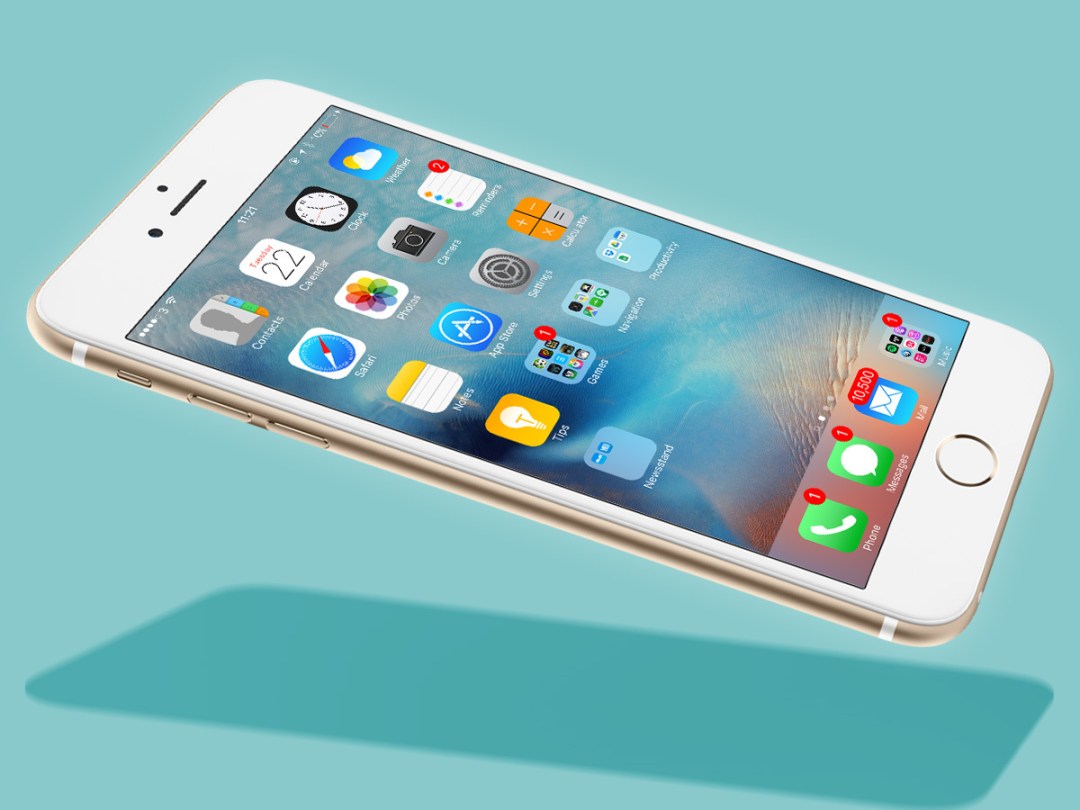 When Apple's first phablet dropped last year, it basically turned out to be a big iPhone.
Although Samsung's Note series had shown you could do a lot of things differently with an ample display, the iPhone 6 Plus simply offered you more of the same. More battery life, more pixels in its 5.5-inch screen and more aluminium to hold on to. It was fine, but a little boring – like a bumper-sized pack of lightly salted crisps.
One year on, you might be wondering whether the iPhone 6s Plus has found its own identity. The advent of 3D Touch and 4K video seem to offer it a coming-of-age moment. One that arrives without the need to spend Saturday in high school detention or head to the woods in search of a dead body.
Then again, with a near-identical design to its predecessor and no stylus in sight, is the iPhone 6s Plus just the 6s after a growth spurt? Allow us to size it up for you.
A touch of the future
Pressure-sensitive interaction with your iThings was first introduced with Force Touch on the Apple Watch and the new generation of MacBooks. While it's more of a fancy right-click on the MacBooks and a shortcut button on the Apple Watch, the purpose of the feature has been refined on the iPhone 6s and 6s Plus.
It's also been renamed to 3D Touch. Because why not?
There are two things you can do when using 3D Touch with Apple's own apps. Firstly, you can use it to preview messages and emails. Should you like what you see, just press a little harder to be taken into said message. Secondly, it brings up a tiny menu of options so you can jump directly into actions without wasting a single second.
We'd love it if we could customise the options within these Quick Actions. But this is an Apple-made phone so you'll take what you're given, alright? Now stop complaining.
Ignoring the limited-edition Huawei Mate S 128GB, the iPhone 6s Plus and 6s are the only flagship handsets to currently offer 3D Touch as a feature. This is a big deal because it's a super-convenient bit of tech, one that makes using the 6s Plus a whole lot more pleasurable. Your old iPhone will feel like a luddite in comparison.
Hitting the right note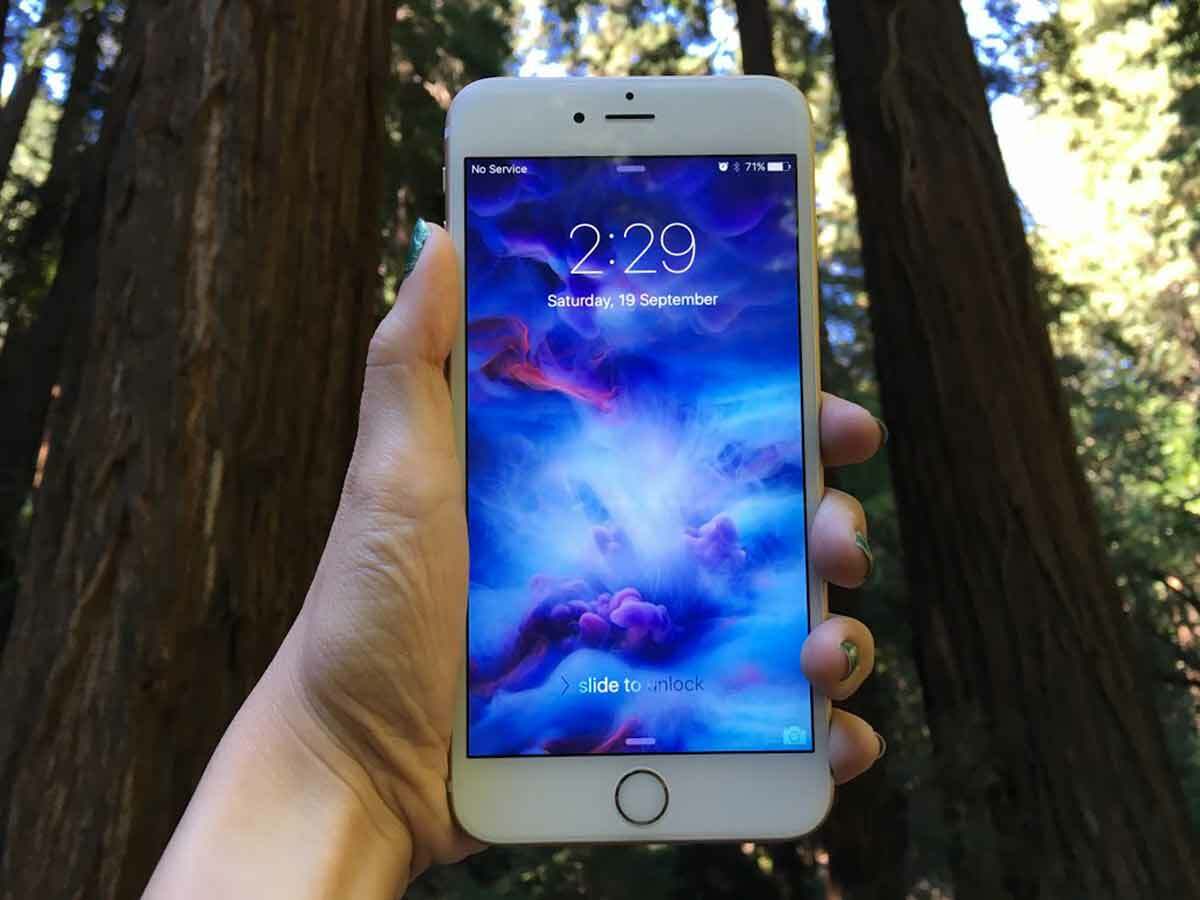 'In a world where the Apple Pencil exists and costs US$99 (£64), why doesn't the 6s Plus offer stylus functionality?' you might ask in exceptionally geeky fashion.
Well, 3D Touch is the answer and it's a surprisingly great response for Apple to have in its back pocket. 3D Touch offers a lot of the same functionality you'd get with the Galaxy Note 5's stylus. You'll lose a little precision, but that doesn't really matter given that you're using the feature as a means of navigation – not to turn your phone into an Etch A Sketch.
Also, you can now press and hold the 6s Plus' keyboard to turn it into a trackpad so you can edit your typing exactly. The same feature exists on the 6s, it just makes more sense on a bigger screen.
Similarly to when you're first using a Galaxy Note's stylus, 3D Touch will take some getting used to. We kept tapping and holding on the screen at first, instead of pressing and holding, causing the apps to shiver in fear of deletion. But once you get the hang of things, it's as if you've never lived a day without the feature.
What's needed now is for more third party app developers to jump on the 3D Touch bandwagon. It looks as though big names such as Instagram, Pinterest, Facebook, and Dropbox have 3D Touch integration on the way, but until then this feature is restricted to first-party apps such as Safari and Mail.
Is that an iPhone 6s Plus in your pocket…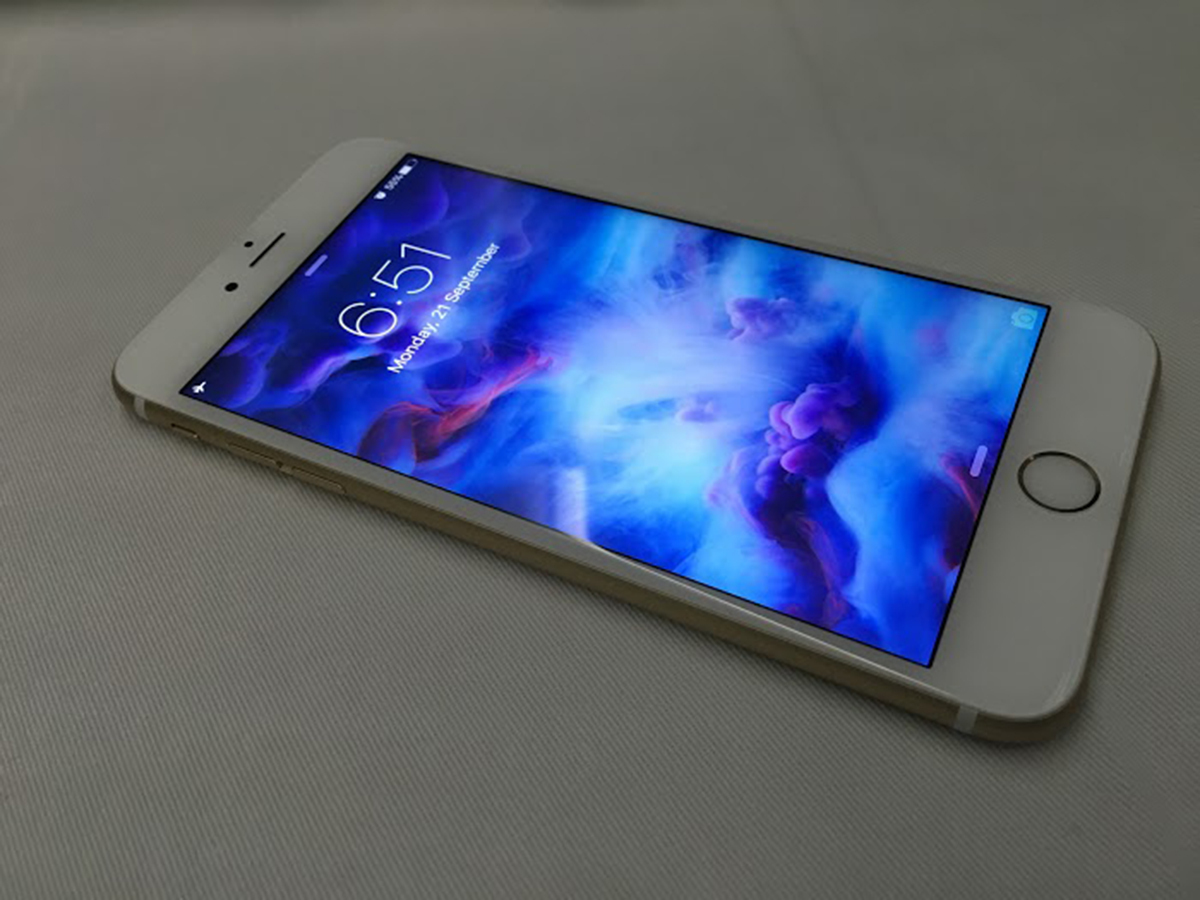 Although the iPhone 6s Plus' 5.5-inch screen isn't the biggest you'll find on a phablet, it does mean you'll need large hands to comfortably use it. As was the case with its predecessor, the 6s Plus has a 1920×1080 resolution display. Unlike the iPhone 6s, this means it can screen Full HD video footage, which is great news for anyone who watches a lot of Netflix or YouTube on the go.
With 401ppi clarity, the 6s Plus is still quite a way behind the other flagship phones when it comes to dazzling your eyes with pin-sharp detail. The LG G4 and Samsung Galaxy Note 5 are currently in the front of the pack with 538ppi and 518ppi respectively, while the 4K Sony Xperia Z5 Premium is about to knock it out of the pixel park at 806 ppi.
Unless you've got laser sharp vision and put the iPhone 6s Plus next to its Android competition, you shouldn't notice the difference on a day-to-day basis. Especially since Apple excels at getting the best from its displays. The 6s Plus offers rich, natural colours compared to the oversaturated tones you'll get from many an Android alternative.
More cushion for the 3D Touchin'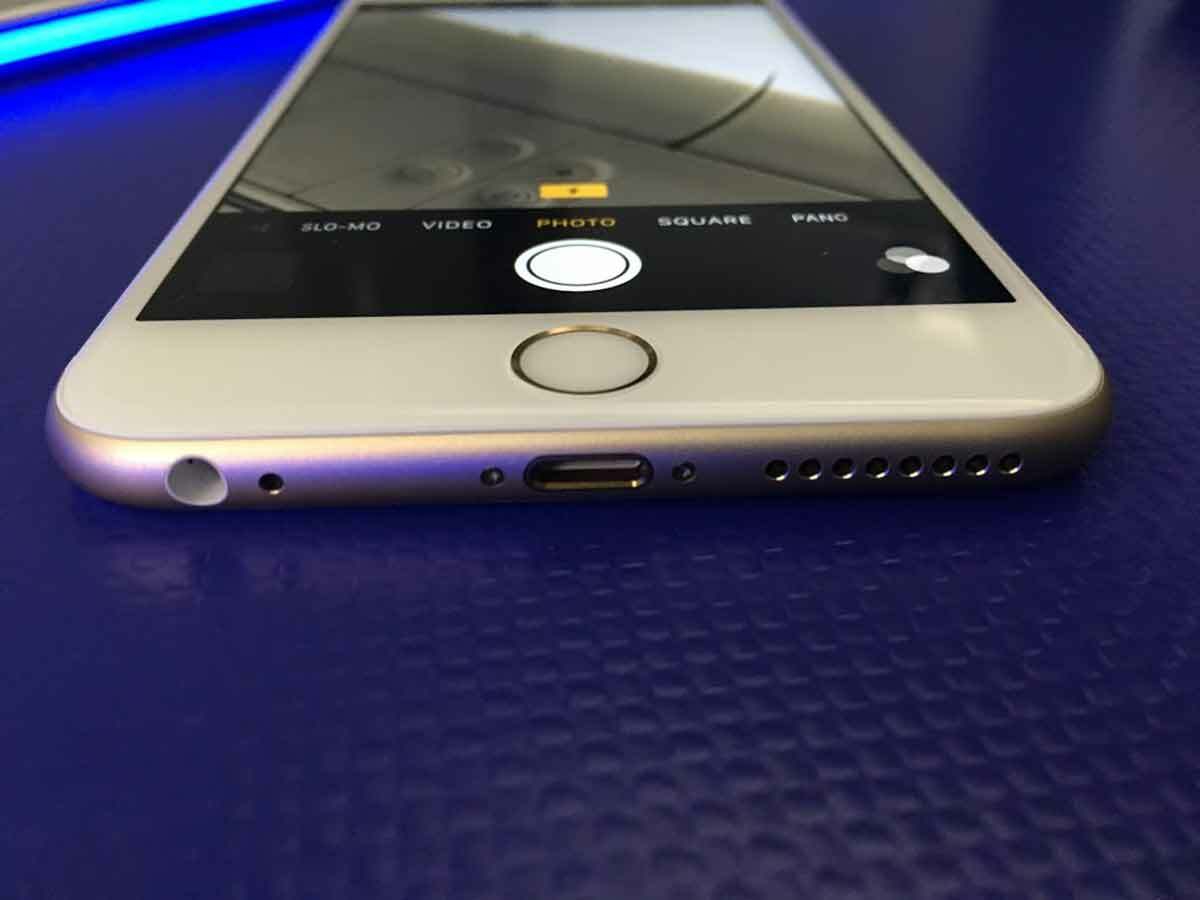 Aside from offering a screen that's almost an inch bigger than the 6s, the 6s Plus is 49g heavier. What's the cause of this added plump? 3D Touch, of course.
The thicker glass this pressure-sensitive tech requires also means the 6s Plus now weighs 192g in total. Put both the 6s and 6s Plus in your hands like a human scale and you'll certainly notice the difference. If anything this phablet's added heft is reassuring, you don't feel like you could accidentally toss it across your living room. In contrast, handling the 6s is a more precarious affair.
Aside from its new-fangled glass, the 6s Plus' construction has also been strengthened with 7000 series aluminium. The same material you'll find in the Apple Watch and a jumbo jet airliner. Why? So 'Bendgate' doesn't happen again for anyone who carries their iPhone around in their back pocket.
We tried checking if this were the case, but the 6s Plus proved too big to squeeze into our jeans. Petite folk of the world, consider yourselves warned.
Built to last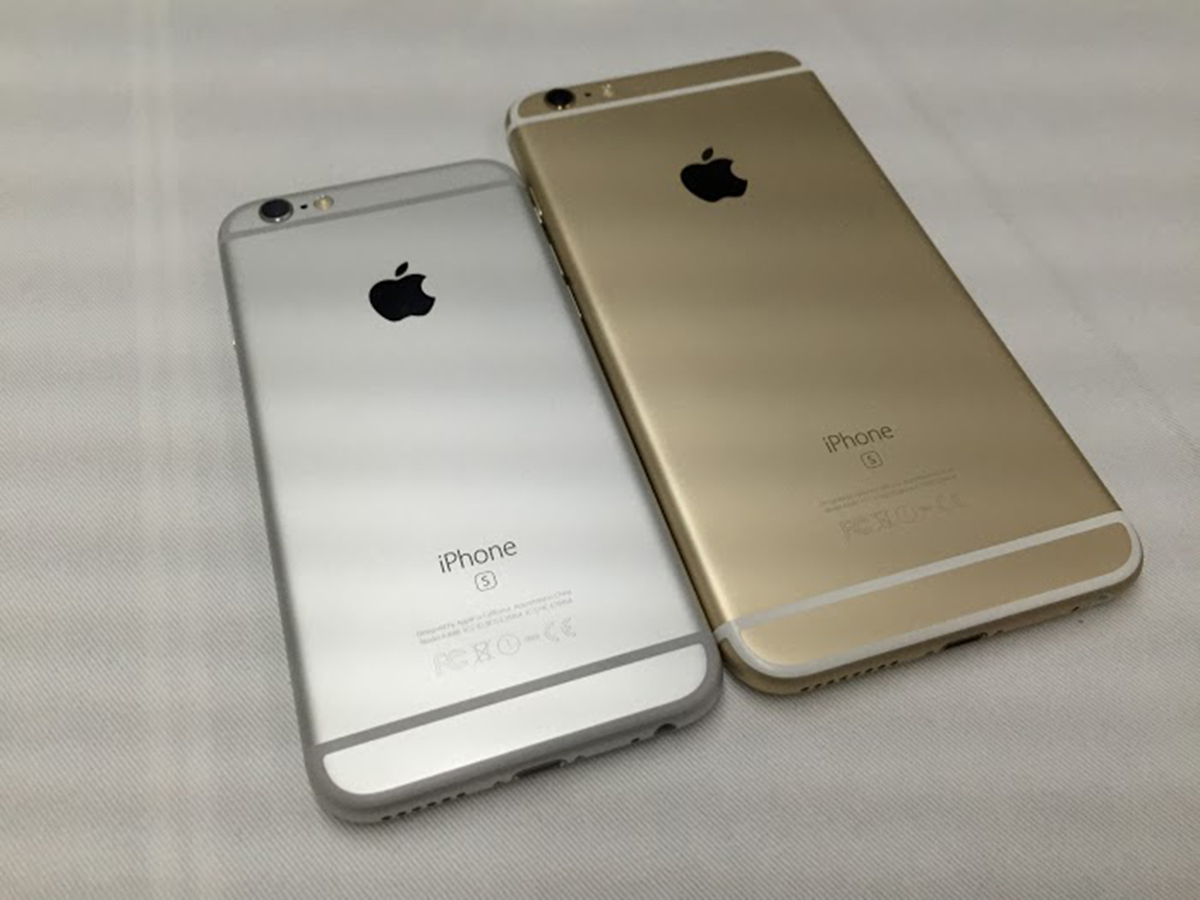 As with the iPhone 6s, the 6s Plus's battery capacity has been reduced to accommodate its new 3D Touch-enabled display. Unlike with the 6s Plus' smaller cousin, this shouldn't offer as much cause for concern.
To get technical for a moment, the 6s Plus is said to have a 2750 mAh battery. This means it's about 5% smaller than the 6 Plus' 2,915mAh battery, but still significantly bigger than the 6s' 1715 mAh battery. While some of this extra charge will be used to power the 6s Plus' bigger screen, Apple's phablet definitely offers greater stamina than its standard iPhone.
After hammering the 6S Plus for a good eight hours with power-sapping 4K videos and Live Photos, we were left with a fifth of its battery life left. To tide us through the commute home, we simply activated iOS 9's new Low Power Mode that instinctively shuts down or decreases the thirstiest features in your phone.
Stuff like push emails and background app refreshes are culled to stretch out what's left of your battery life, and you'll barely notice. It's no biggie at all. If you're torn between the two new iPhones, battery life might be just the factor to sway you.
Unlike the Galaxy Note 5, the 6s Plus doesn't come with fast charging tech. This means you'll have to remember to charge it overnight, because a 10 minute lift before dashing out the door won't cut it for this slow-sipping battery. Comparatively speaking, the Samsung Galaxy S6 Edge+ (3000mAh) and Note 5 (3,020mAh) also offer more power to see you through a day's use and that little bit extra.
That junk in its trunk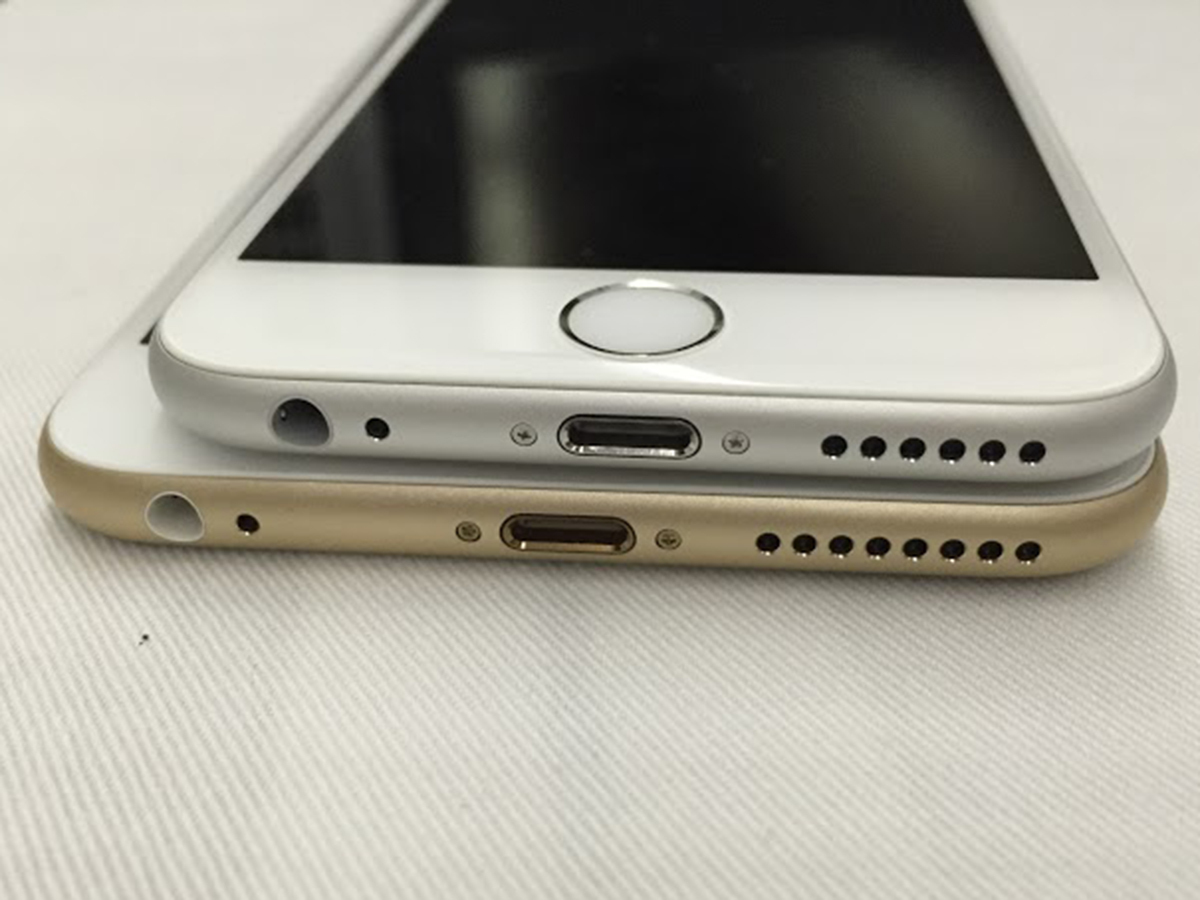 The iPhone 6s Plus comes with Apple's new A9 processor and is rumoured to feature 2GB RAM too. That would be double that of its predecessor, but Apple is coy to confirm anything and we're loathe to rip open this phone's casing to find out.
One thing we can tell you without whipping out our ratchet and hammer is that the 6s Plus is ever so slightly slower than the plain old iPhone 6s. It received a maximum score of 4181 for multicore performance in our Geekbench 3 testing, compared to the iPhone 6s' 4410 rating. When you consider the 6s Plus has more screen to work with, this isn't all that surprising.
What it does mean though, is that the 6s Plus is far from a speed king. Although its A9 chip makes it faster than the LG G4 (3502), It's something of a slouch compared to the HTC One M9 (4200), Snapdragon 810-powered OnePlus 2 (4460) and the Samsung Galaxy S6's Exynos 7420 CPU (5200).
How this translates to real life is that you'll be able to play Crossy Road, answer an email, and go back to playing your game without experiencing non-responsive frustration. Swiping, tapping and now 3D Touching our way through the 6s Plus was stutter-free. This phablet was as eager as the rest of its family in responding to our touch, even though we've crammed it full with a lot of photos and videos already (11,765 in total to be exact).
We're a little trigger happy, okay?
When it comes to handling a graphics intensive game such as Riptide GP2, the A9 chip keeps good pace with what's asked of it. Not once did we experience any stutter that might get in the way of our hydro jet racing career. And that large screen provided for incredibly immersive gameplay, buoyed by slick smooth visual rendering.
Tap that Touch ID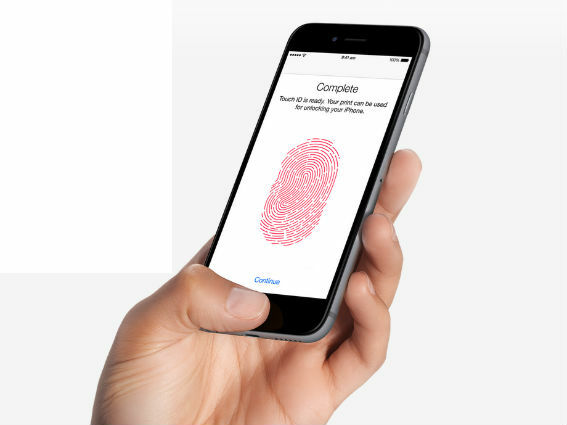 As with the iPhone 6s, Touch ID on this monster phone is blazingly fast. And that's a very good thing given its sometimes unwieldy size. You don't want to drop your brand new dink-free iPhone 6s Plus while attempting to type in your passcode now, do you?
Even if your hands are too dry or too clammy, the sensitivity on the fingerprint sensor has been improved. The Touch ID of old would have prompted us to try again countless times before we finally gave up and entered our passcode manually.
This Touch ID waved us through in the time we took to press the Home button to wake the phone. Who even needs passcodes anymore?
OIS is a killer camera feature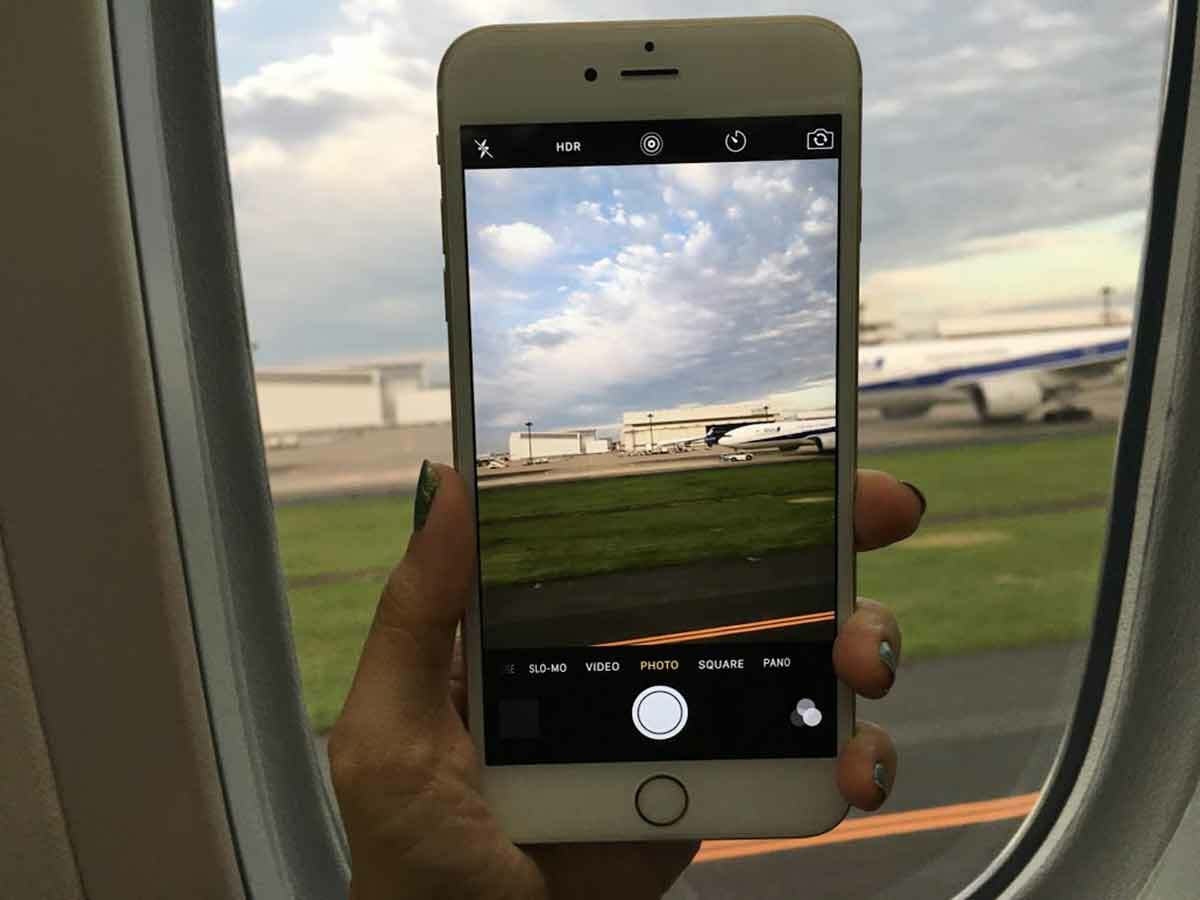 Following suit with the 6s, the iPhone 6s Plus' camera has finally been upgraded to offer 12-megapixels instead of the paltry 8 you may have been used to. It also features a pleasingly wide ƒ/2.2 aperture that means your photos look more intricate Hieronymus Bosch than smudgy Van Gogh.
Using the 6s Plus' camera is like having a sharpening filter applied to all your photos. Your eyes will lap up all that glorious detail, which is only made better by the generous screen.
Nevertheless, both the LG G4 and Galaxy S6 are still better-specced for photos. The G4 has a 16MP sensor with a wider f/1.8 lens for capturing more light in dim conditions, while the Galaxy S6 has a 16MP sensor with a f/1.9 aperture. Both phones also feature optical image stabilisation (OIS).
As with screen quality and battery life, photography is an area where the iPhone 6s Plus fares much better than the iPhone 6s and this is largely thanks to OIS. By compensating for camera shake, this feature ensures your photos and videos won't look like they've been shot by someone walking on a trampoline of Jell-o.
This tech compensates for some motion blur, keeping lines sharp, but don't expect it to save you in really tricky weather conditions. When shooting video on San Francisco's waterfront, the wind was so strong that our phone kept shaking and the footage looked pretty shonky. OIS is great, but you'll still need a pair of steady hands to create National Geographic-worthy footage.
Introducing… GIFs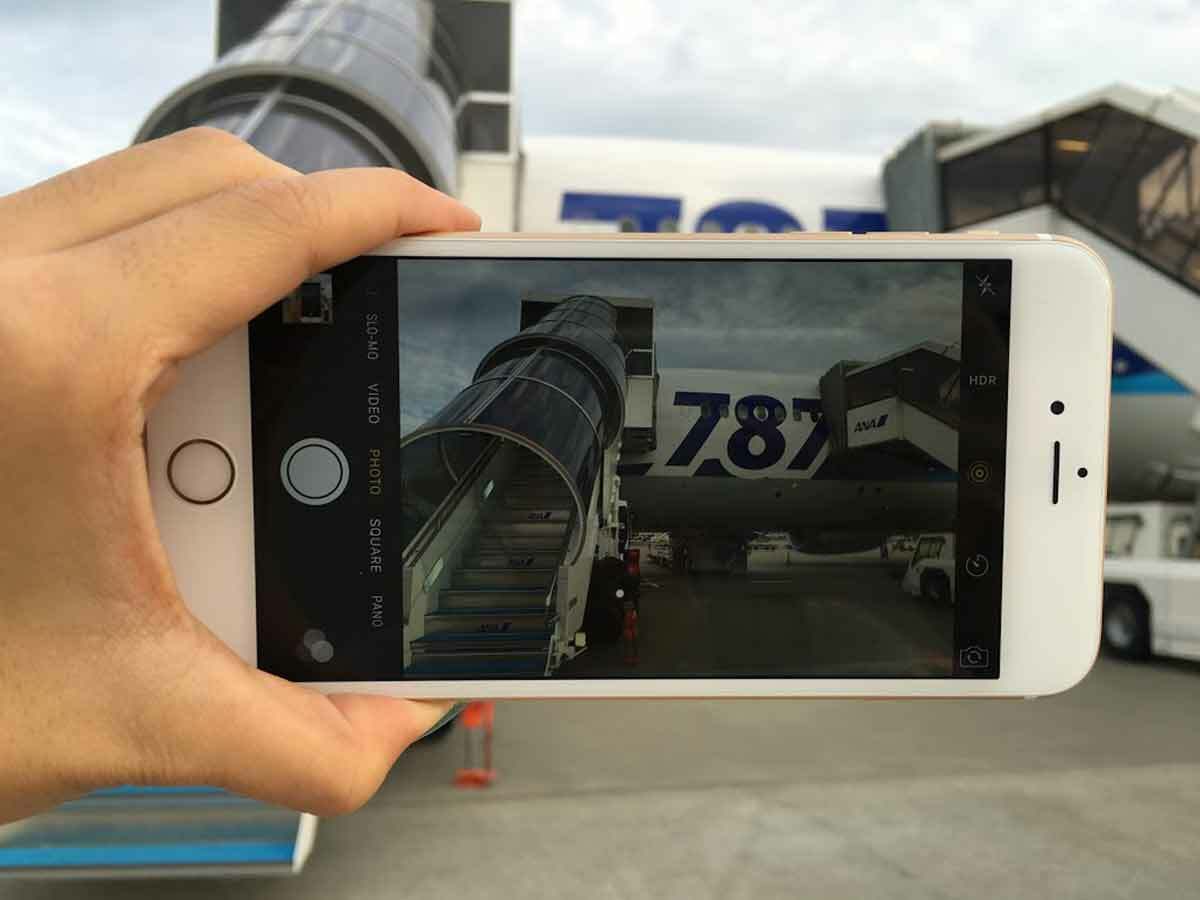 The iPhone 6s Plus also introduces Apple's neat new Live Photos feature, which inserts 1.5 seconds of footage before and after your still snap. You'll want to hold your phone in place before and after hitting that trigger, otherwise it will just be a hot mess of movement.
For those who truly love themselves, Live Photos also works on the FaceTime camera and you can use these selfies as your wallpaper. With a press and hold, they'll start to move before your eyes. For the provided Live Wallpapers. the harder you press on them, the quicker they unfurl on your screen. Take your finger off and it rewinds itself. It's almost like poking your finger into a time warp.
Sure, it's nothing groundbreaking but it's one of the many small details on the 6s Plus that will raise a smile. We found ourselves demonstrating it to people to explain what Live Photos are about, and also tapping it whenever we were bored. Just bear in mind that Live Photos take up twice the space of a normal photo so proceed with caution.
4K video killed the HD star
You still really need loads of natural light to make 4K really pop. Footage we shot in the dusky light of the shady Muir Woods was a little grainier than we'd have liked, but where sunlight is abundant, 4K sparkled like Edward Cullen. Literally. Just check out our video of Sausalito's waterfront and look at that light glinting off the water.
From gossamer spider web threads to bubbles, it did a brilliant job of capturing what's barely there. It's like going back to previously perfect eyesight before it was ruined by too much computer use. 4K requires minimal effort and turns out maximum results so we won't be surprised if it becomes your default video recording resolution.
We don't think we can go back to to 1080p, let alone 720p, which is bad news for our storage. 4K will munch right through your precious GB – a minute of 4K averages 375MB – so don't go too crazy. Otherwise you'll find yourself having to sacrifice apps to make space for an extremely detailed video of a snail gliding across the picnic table.
Storage wars
This phablet doesn't come cheap, as with all Apple products. The 16GB costs £619, the 64GB £699, and the 128GB – a princely £789. The 32GB Galaxy Note 5 costs around the price of the 16GB iPhone 6s Plus in the US while the 32GB version of the LG G4 rings in at £525 for the more expensive leather-backed version if you need a little perspective.
Either way, the 6s Plus is an expensive piece of kit which makes its 16GB entry-level storage even more disappointing. It's not hard to figure out why Apple has skimped on offering a 32GB model as standard, a 16GB device is cheaper to make and will push more people towards a 64GB 6s Plus. Still, none of those benefits apply to you: the consumer. Given Apple's obsession with customer satisfaction scores, its intransigence on storage is totally perplexing.
You'll soon fill up 16GB on a 6s Plus with music, apps, photos and video. It just doesn't offer enough space for the modern day smartphone user. If you don't mind coughing up the cash, we'd recommend that you steer clear of the entry-level 6s Plus and get a 64GB or 128GB handset that can make the most of its features.
iPhone 6s Plus verdict
No matter what people say, size matters. And because of its sheer screen size, the iPhone 6s Plus does tremendously well at showcasing some of Apple's new hardware features. It's particularly good for 3D Touch, and has a great screen for showing off those 12Mp photos and 4K video you can now shoot. Perhaps best of all, it enough battery life to see you through a day and then the morning afterwards.
Is the 6s Plus the better iPhone of the two? Only if your hands can handle its generous curves. If not, you'll find it cumbersome to operate quickly which defeats the purpose of having those fab photo features. Also, the iPhone 6s is the faster phone by a clear margin.
When it comes to the league of giants, the iPhone 6s Plus is actually one of the smaller phablets around. In terms of screen quality, storage, battery life and sheer power it doesn't offer as much as the Samsung Galaxy Edge+, Note 5 and many other flagship handsets.
Smart with a good eye for camera work, the iPhone 6s Plus still puts the 'fab' in phablet. Only just though.
You can now check out our iPhone 7 Plus review.
Stuff Says…
The iPhone 6s Plus provides an expansive immersive experience thanks to its giant screen – but that's only if you can handle it
Good Stuff
Big bold screen to show off your pictures
OIS is a much appreciated newly added boon for shooting 4K video
3D Touch is the future of smartphone navigation
Bad Stuff
A little too much phone to handle for smaller hands
Apple can afford to pack a few more pixels into all that screen real estate in light of 4K