Apple iPhone 6s review
Has everything really changed for the iPhone 6s? Stuff's verdict is in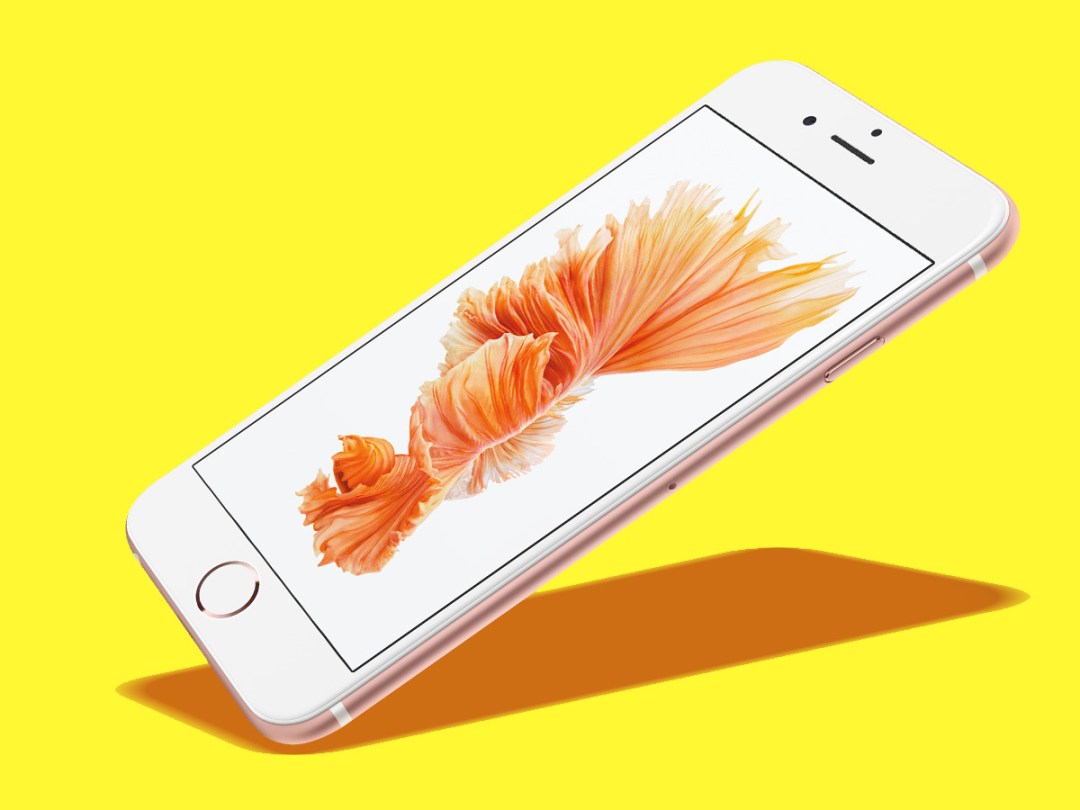 The iPhone 6s is the Sir Alex Ferguson of smartphones. It is Superman once the world's been purged of kryptonite. It is a kebab you drunkenly ordered at 3am.
In other words: it is a surefire winner.
For Apple's latest handset to not shift by the bucketload, Tim Cook would have had to have pledged allegiance to ISIS while unveiling it two weeks ago. The iPhone 6 was the world's best-selling smartphone. As was the iPhone 5s.
So why innovate with the 6s? Apple doesn't need to push smartphone tech forwards to make an obscene amount of money.
And yet Apple claims it has innovated, adding 3D Touch, a new 12-megapixel camera and the faster than ever A9 processor to what is already a supremely capable phone. With the iPhone 6s, Jony Ive and co say they've finessed every aspect of an already great product. Not sat on their laurels or chased the bandwagon in a never-ending specs war.
On first glance, the 6s looks near-on identical to its predecessor. On every glance, in fact, little seems to have changed from the iPhone 6. Even when you get right up close and even inside its svelte aluminium casing you'll find a screen with the same resolution and as little as 16GB internal storage.
Where does the truth lie? We've got the answer.
It's just, ah! A 3D Touch, ah!
Let's get straight into it, the headline feature – 3D Touch. Practically every tweak that's been made has been so with the aim of cramming in the pressure-sensing tech.
3D Touch, or Force Touch as it's been previously known on the MacBook and Apple Watch, works by sensing extra pressure on the screen to activate extra features. And it rewards you with haptic feedback, so you receive helpful vibrations under your thumb or finger as the phone registers the increased force. The feature has evolved to become more than just the fancy right click it is on the new MacBook, too. It completely changes the way you interact with your phone by giving you options where you didn't previously have any.
Take snapping a selfie, for example. Where previously you needed to tap two different icons with intermittent loading times, this action has now been shortened to one firm press of the Photo app icon. Then you can leap right into triggering the shot. Instagram obsessives, rejoice!
3D Touch also has some supremely convenient uses with other native apps – the ones Apple makes itself. You can can jump directly into a new email in Mail and open a new tab straightaway in Safari – shaving seconds off your smartphone navigation. That may seem small change in writing, but over the course of the months and years you may spend in the iPhone 6s' company it will equate to a snappier, more satisfying user experience.
In addition to skipping straight into everyday tasks, 3D Touch also offers up the ability to preview messages and emails, and even links within them. All you have to do is press down on them to read, and should you need to take further action, apply a little more pressure and you get transported into the task itself.
Apple terms the first glance as Peek and the full open as Pop, and they're a prime example of what the iPhone 6s is all about: subtle changes that you have to feel for yourself. And unless you've somehow managed to get hold of a limited edition 128GB Huawei Mate S, you won't find these features in any Android phone.
3D Touch is a typically Apple innovation then, right up to how you customise it: you can't.
Even if you take Time-Lapse videos more often than you do Slow-Mo, the 3D Touch shortcut choice has been made for you.
Potentially, this feature will be even better when third-party app functionality kicks in. Imagine applying pressure in Real Racing 3 to speed up, just like you would gun the accelerator in real life.
's' for 'spot the difference'?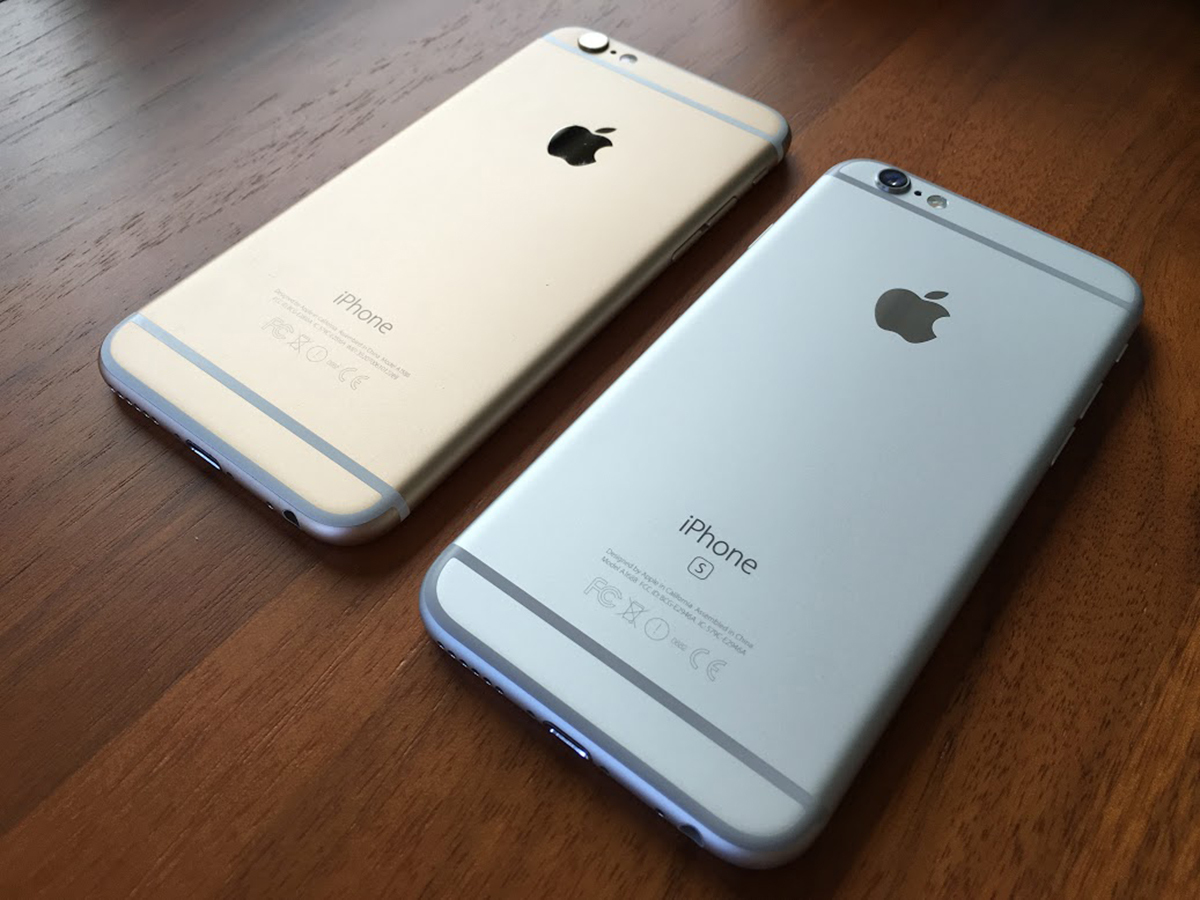 Unless you're rocking a new Rose Gold (read: pink) 6s , putting your new handset next to a mate's could well spark a case of mistaken phone identity. The 6s retains the iPhone 6's ultra-slimline design and, from the front, you'll struggle to spot the difference.
Flip both models around and you'll see it as clear as day. The 6s has been branded with an 's' on its ass.
You could easily get sniffy at the lack of change on show, but it's worth bearing two things in mind.
Firstly, the iPhone 6 has been the best looking smartphone you can buy for quite some time now. So much so that Samsung's Galaxy S6 was clearly created with its svelte, aluminium aesthetic in mind. Secondly, what were you expecting? This is how Apple does its 's' upgrades. By sticking to the same design and bumping up its new handset's internals.
Once again, 3D Touch has inspired the most dramatic difference between the iPhone 6s and 6 – a "shocking" 14g weight gain and 0.2mm jump in thickness that in real life you'll struggle to notice. This is due to the new glass required to make 3D Touch to work, a fair payoff if you ask us.
The 6s' construction has also been strengthened by Apple. It's made from 7000-series aluminium – the same material that's used in the Apple Watch and the aerospace industry. Why? To help avoid Bendgate Round 2 when you put it in your back pocket, like a ninny.
This also means that at £539, the 16GB iPhone 6s is more expensive to buy by the kilogram than a Boeing 747 jet. According to our fag packet maths, at least.
More importantly, for fans of statistics that actually mean something, the 143g 6s is slightly heavier than the 138g-weighing Sony Xperia Z5 Compact and Samsung Galaxy S6, but a tad lighter than the 155g LG G4.
Lies, damned lies and PPI statistics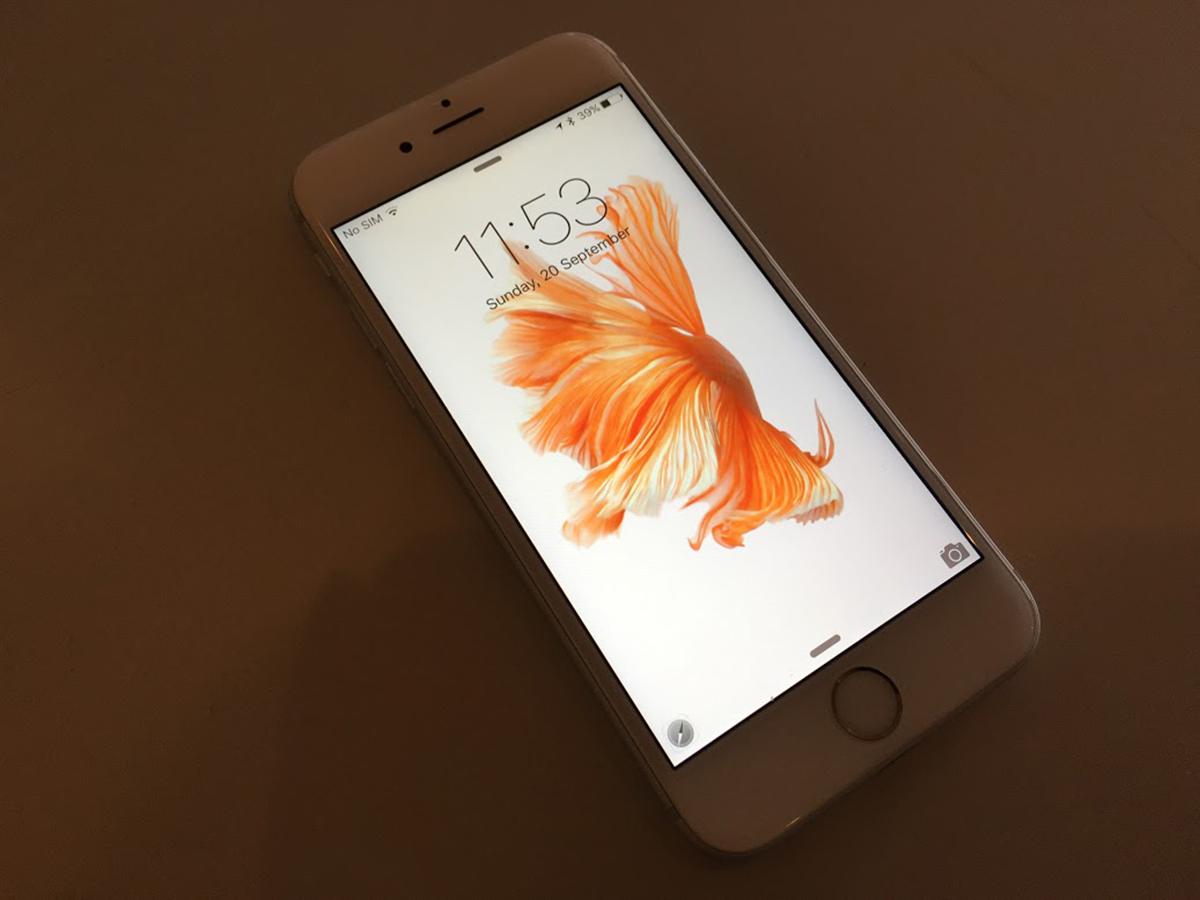 As you might expect, given its near-on indistinguishable design, iPhone 6s sports the same 4.7-inch Retina display as its predecessor. This means it can still only screen 720p video, not the Full HD footage you'd expect. In purely numerical terms this leaves the 6s lagging behind its flagship competition like it's Kim Dotcom at the Olympics 100m final.
Comparatively speaking its 1334×750 resolution touchscreen offers 326ppi, whereas the Samsung Galaxy S6's packs a 577ppi punch and the 4K Sony Xperia Z5 Premium knocks it out of the pixel park at 806ppi.
But when you're talking about screens, big numbers don't necessarily add up to great-looking images. Regardless of its make-up, the iPhone 6s' display is as crisp and clear as you'd need it to be to play a fiendish game of Where's Wally.
Colours look natural on the 6s and it handles motion well. Blacks are deep while colours are bright without venturing into Willy Wonka land exaggeration – a complaint you can often throw at Samsung's defaultly oversaturated Galaxy phones. Theoretically, a lower resolution screen should also help the 6s retain an all-day battery life too.
Sure, we'd take the extra pixels if offered, but our real wish for the iPhone 6s's display has nothing to do with its resolution. Take the phone out in strong sunlight and images almost disappear from its screen, so the ability to amp up its brightness even further would help.
TL;DR? The 6s' screen resolution isn't a patch on that of other phones, but it's a brilliant display all the same.
All fired up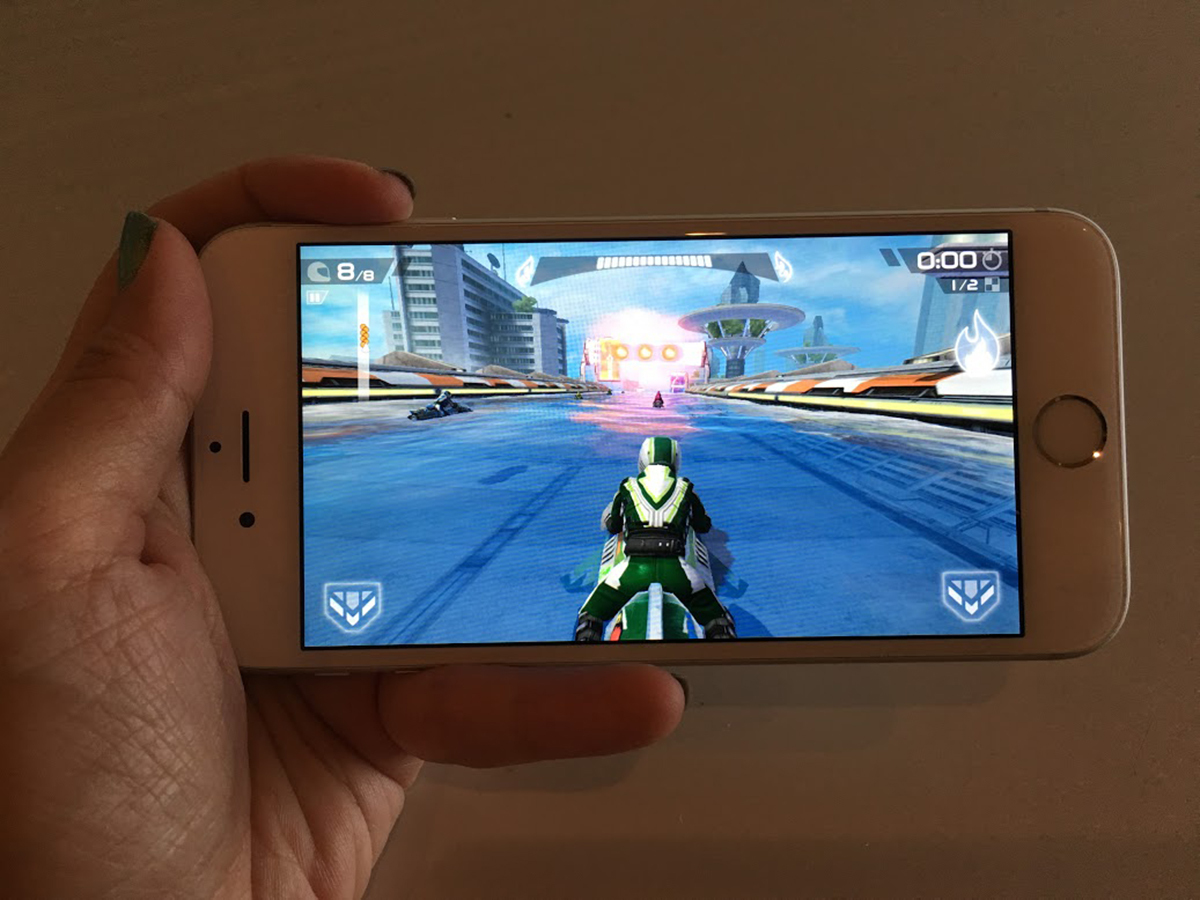 If all this ambiguity is a tad boring, then the 6s' new A9 processor is reassuringly brash. Put simply: it's a speed monster.
A Geekbench 3 test scores its A9 chip's multicore performance at 4410, trouncing the iPhone 6's score of 2886. In terms of its Android competition, the A9 chip also trumps the HTC One M9 (4200) and LG G4 (3502). That said, it's ever so slightly slower than the Snapdragon 810-powered OnePlus 2 (4460) and is left trailing in the dust by the Samsung Galaxy S6's Exynos 7420 CPU (5200).
What does this all really mean? The iPhone 6s is almost the fastest phone you can buy. It's not as quick as the Galaxy S6, but you still won't be left wanting for speed.
In everyday terms, this handset handles the rigamarole of web browsing, maps and social media without a hitch. All its processing power really shines in a heavy-duty game such as Riptide GP2 though, where gameplay flows smoother than Jony Ive's dulcet tones.
Not once did we experience any stutter that might get in the way of our hydro jet racing career. The phone does start getting a little warm after 15 minutes spent scything through some tremendous waves, but not so much that we were in danger of third degree burns.
Siri's always waiting on you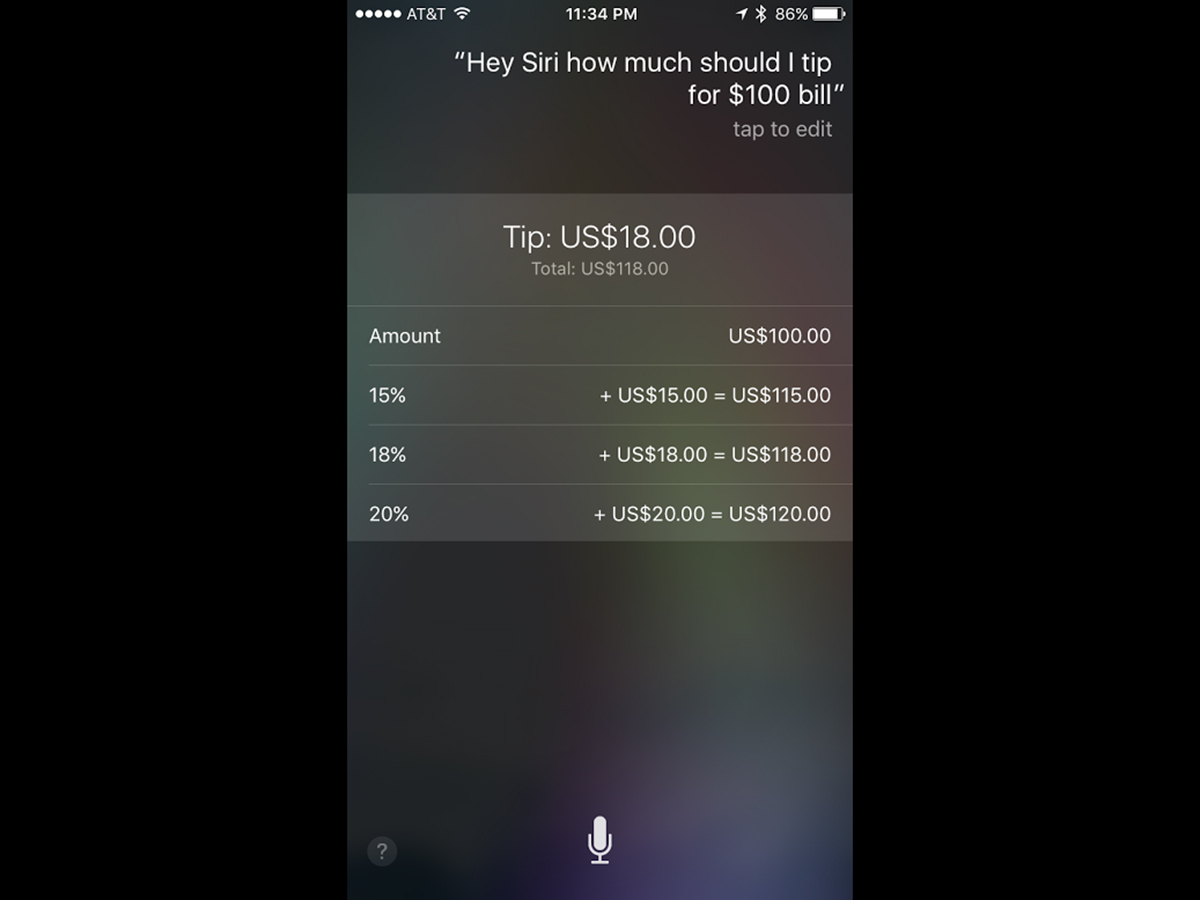 Remember your old friend Siri? Well, thanks to the 6s' integrated M9 motion coprocessor, your friendly handheld voice assistant is now always on standby.
Because of this, its setup process for the iPhone 6s differs from before. Upon first turning on the phone, you'll be asked to speak to Siri a few times so it'll learn your voice like a well-trained pooch. All you have to do is holler, "Hey Siri" several times.
You're going to want to do this alone in an empty room. Not least because Siri's hearing remains hit and miss in noisy environments, and talking to your phone in public remains a surefire ticket to the loony bin.
In the privacy of our own home however, hands-free Siri is the personal assistant we wish we could afford. We found ourselves asking her to play specific songs a lot, especially when our fingers were preoccupied with typing out emails, checking the news or working out calculations.
Yes, we're busy and important people. What of it?
A touch quicker
Alongside Siri, Touch ID is another of Apple's subtle innovations that we've come to rely on. Even though we weren't blown away by the fingerprint scanner when it was first announced.
Added security, speedier access and phone-based contactless payments all sounded nice, but not exactly game-changing, right? But fingerprint scanning has proven to be way better than expected, to the extent that every major Android manufacturer has followed suit with its own take on the feature.
And now the iPhone 6s has a new Touch ID. And it's actually a pretty significant upgrade.
This writer is cursed with sweaty palms, meaning Touch ID can be a struggle to use. That's not the case with the 6s though. We were so used to pressing the Home button to wake the phone, then resting our digits for Touch ID to kick in, that we were completely floored when we realised this is now a combined process.
The moment we hit the Home button, the fingerprint sensor had already read our print and unlocked the phone. Talk about fast reflexes.
Again, this faster Touch ID might seem like a small detail, but once you get your hands on it, those nanoseconds you shave off add up to something quite substantial. Especially when you consider just how many times you unlock your phone in a day. Clue: it's a lot.
The lesson here? If 3D Touch evolves to be half as useful as Touch ID has become, then Apple will have scored another yet another winner. Not through flashy, headline-grabbing gimmicks, but by seemingly small improvements that work impeccably well.
That said, not every change is quite so welcome…
All day every day?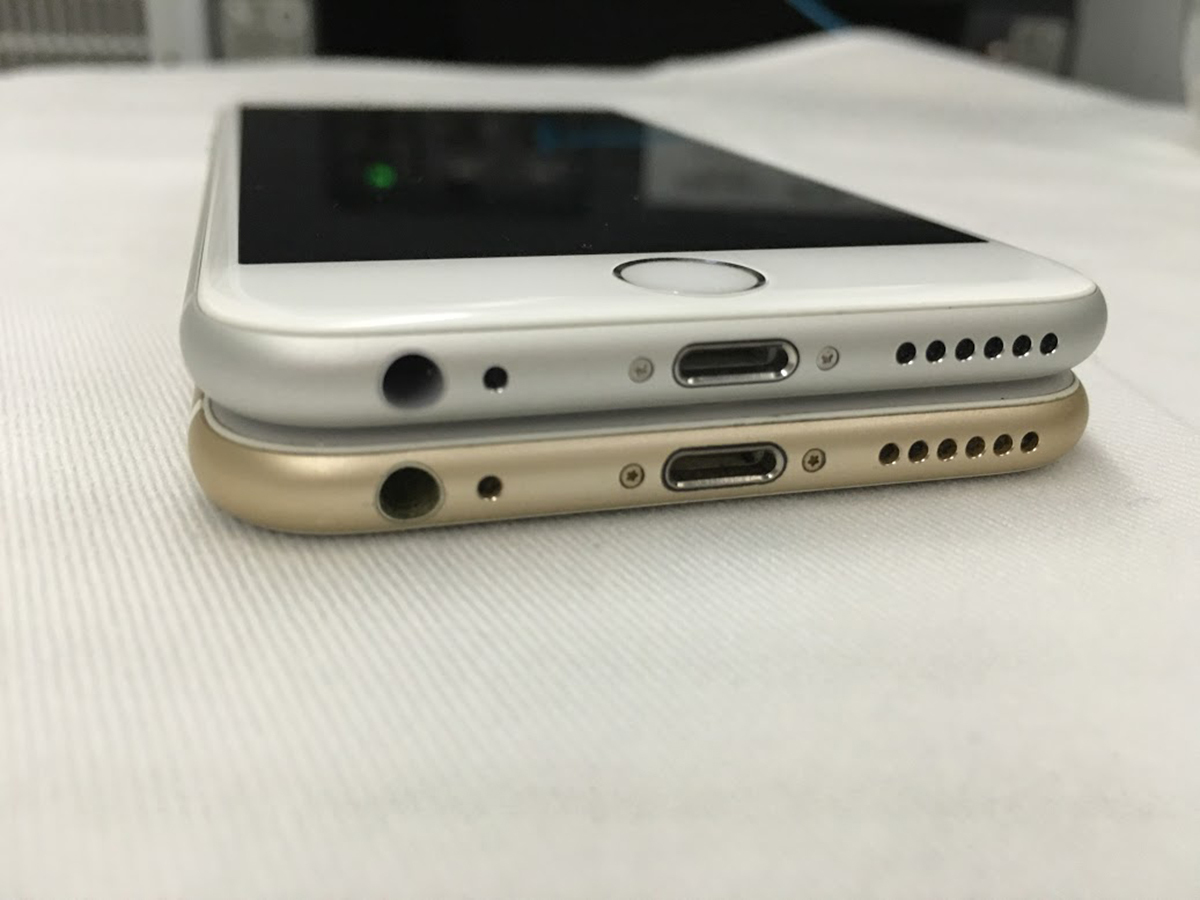 We could almost hear the collective gasp of horror across the world when news of the iPhone 6s packing a smaller battery broke.
Apple's implementation of 3D Touch and rigid adherence to a slimline aesthetic has caused the 6s to have a 1715 mAH battery, which is a downgrade on the iPhone 6's 1810 mAh effort. Whichever way you look at this design choice, it's an arse. Not the poised derriere of a Hollywood hunk or starlet, but two great big cheeks hanging out of a builder's jogging bottoms.
By the end of your two-year contract with the 6s, you'll probably be charging it twice daily. In the meantime, it won't withstand anywhere near the same amount of graphics-intensive gaming or Netflix streaming as something like the Galaxy S6 and its 2,550mAh battery. As for the OnePlus 2, that offers a whopping 3,300 mAh capacity.
Mercifully, iOS 9's power-economising finesse means a new iPhone 6s does offer a solid day's worth of usage. After pummelling it for a good 10 hours we're still left with a third of the 6s' battery life remaining. This spare charge can be stretched further with iOS 9's Low Power Mode, providing you with more than enough time to find a plug socket and drink up its sweet, sweet electricity.
If it wasn't for the 6s' technical figures, you'd barely notice the difference between the iPhone 6 and 6s' longevity. Still, we wish that Apple had gone a little thicker on its latest handset in order get rid of its awkward camera bump and stuff in a bigger battery at the same time.
Oh well, there's always the iPhone 7.
iOS 9 is hella fine
One small mercy to tide you over those 12 months until the iPhone 7 is iOS 9. The iPhone 6s has been built for Apple's latest mobile operating system, which will help a lot with battery efficiencies. Even without buying a new iPhone, updating your old phone to iOS 9 will give you almost the same satisfaction. Almost.
There are new features within Notes to make your grocery shopping lists more artful masterpieces – and you can attach a photo of kale for your clueless partner should the need arise. Siri suggestions sum up all of the shortcuts you need (recently contacted friends and apps) just by swiping to the left of your Home screen, and most importantly, it's got that Low Power Mode we mentioned earlier.
Yes, you no longer need hyperventilate when you sink to that dreaded 20% battery low. This universally available feature switches off the biggest battery suckers within your iPhone for you so you don't have to dive into Settings to toggle each one individually. Hallelujah.
We've gone into more detail on iOS 9 in our full review, but the most important thing for potential iPhone 6s owners to note is that we experienced no palpable lag with its new creative tools and deeper searches. The phone and operating system work in sync, which still isn't something you can say for every flagship Android handset.
Mo' megapixels. Mo' detail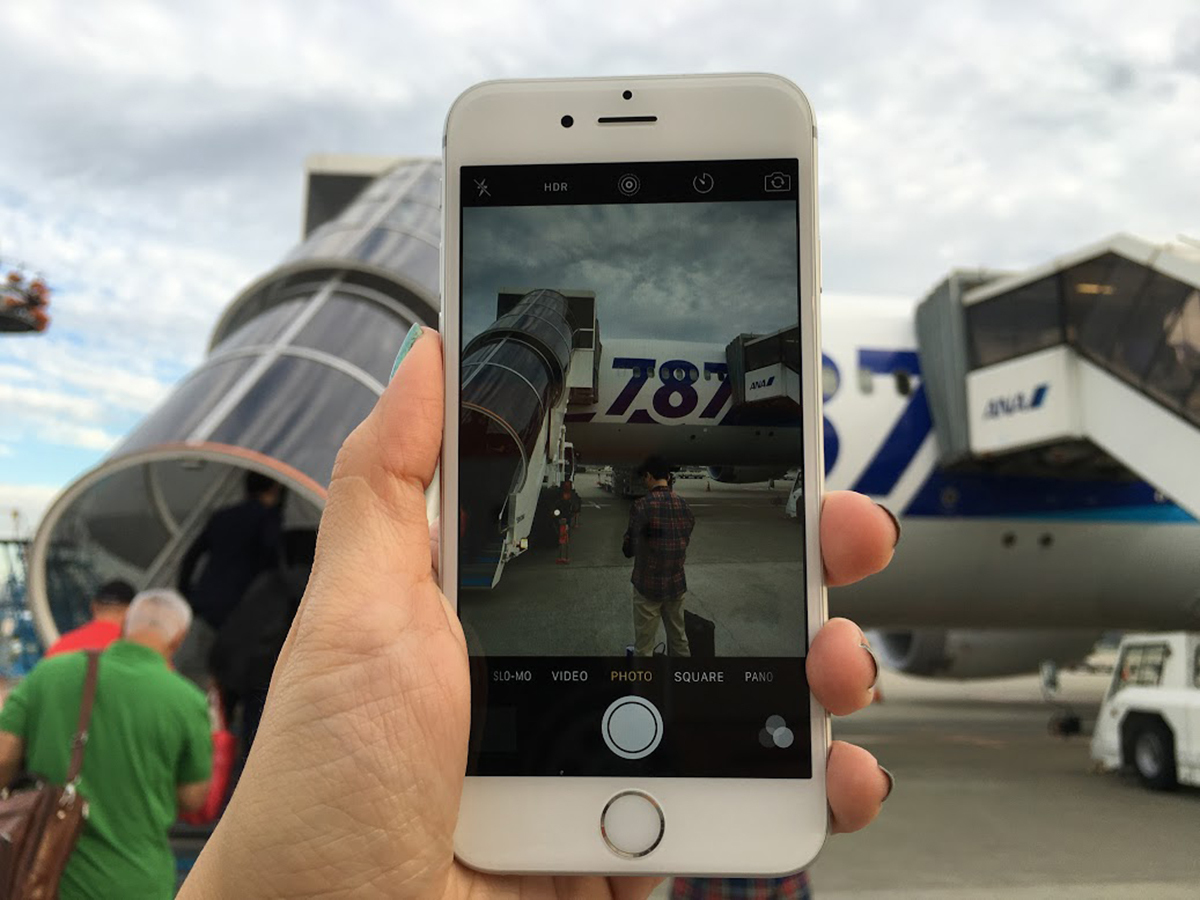 There's one other major iPhone 6s upgrade to talk about. Finally, after four iterations, the iPhone's 6s' camera sensor has jumped upwards in resolution from 8MP to 12MP, while retaining the ƒ/2.2 aperture you'll find in the iPhone 6's snapper.
While you've always been able to rely on an iPhone to take a great photo, there's been no denying that Apple has been falling behind the pace of picture-taking progress of its Android rivals. As the results of our recent smartphone camera test showed, the 6 trailed Samsung's Galaxy S6 and the LG G4 on crucial factors such as colour, exposure and, erm, selfies.
Although it's worth noting that more megapixels don't necessarily mean much in the context of such small cameras, both the LG G4 and Galaxy S6 are still better-specced for photos. The G4 has a 16MP sensor with a wider f/1.8 lens for capturing more light in dim conditions, while the Galaxy S6 has a 16MP sensor with a f/1.9 aperture. You can see why Apple needed to give its own camera some TLC.
What a 12MP sensor brings to the 6s is a lot more detail in your photos. That blob in the distance can be zoomed in upon and identified now, especially when there's loads of sunlight about. As ever with an iPhone camera, software and hardware work in perfect harmony to create images that are true to what you see in real life. That means that when they're uploaded onto your computer, they look just as good as they did on your iPhone. You'll get vibrant colours that aren't oversaturated, warm skin tones, and non-distorted lines require no filter at all for your Instagram showreel.
In low light, you're going to have a tougher time taking a great shot with the iPhone 6s. That's because, unlike the 6s Plus, the iPhone 6s still doesn't come with optical image stabilisation (OIS) – a nifty bit of tech that compensates for camera shake. Accordingly, low light images aren't blurry if you have steady surgeon hands, but move a little and it will result in smudgy photos. Best rest your elbows on something before attempting a night time shot.
It's not just the 6s' rear camera that's grown up. Its FaceTime camera has also been bumped up to 5MP from its 1.2MP former self. Narcissists everywhere will be happy to hear Apple is really encouraging selfie-taking in iOS 9. Alongside the Selfies folder in your camera roll is a new Retina Flash mode that causes the display to light up and behave like a True Tone flash when snapping away in dim conditions.
The result is softer, more natural-looking nighttime photos. Be warned: previously unidentifiable bar selfies will now appear far clearer.
Live! Photos! Action!
To make the most of the iPhone 6s' new and improved camera, Apple has lavished it with a couple of new features. Live Photos might sound gimmicky but these GIF-like moving images are so easy to capture, you'll find yourself taking a load of them. Especially if you haven't seen HTC's Zoe software on the One (M9) pull off a very similar trick.
When you hit the trigger in the Live Photos mode, the still image is captured along with the 1.5 seconds before and after, adding a little context to an otherwise stationery snap. They're not videos, so the best way to capture them is to keep your camera as still as if you're taking a static photo. The yellow Live indicator will blink on to signal when it's recording and off when it's safe to move your camera again.
Live Photos are really addictive, but bear in mind that they're twice the size of your normal photos, so you might want to save them for special moments when there's a decent amount of movement. As of now, there's no social media major support for Live Photos on any social media apps, either, but they're said to be coming to Facebook by the end of the year. Until then, you'll just have to settle for showing them to your friends in person or sharing them via AirDrop or iMessage.
So there are still a fair few ways to let everyone know you've got the new iPhone and they haven't.
Oh hey, 4K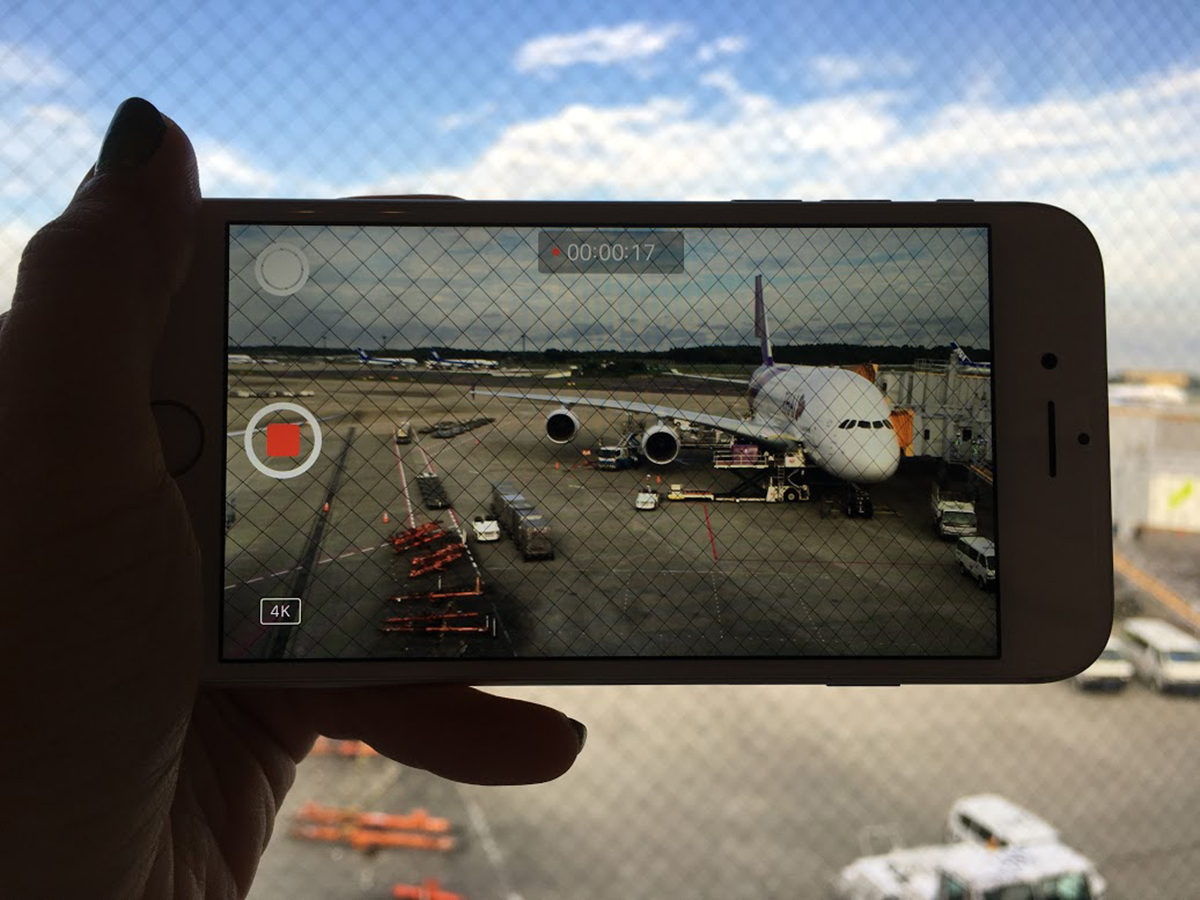 4K footage is the other key trick the 6s' camera pulls and it's pretty exciting. Especially if you've recently bought a new 4K TV and have already Netflixed all of Breaking Bad in Ultra High Definition.
The beauty of 4K footage is that it offers four times the details of standard HD video, which aren't exactly ghastly in the first place. This means the video of our trip to Pier 39 is so sharp it's possible to see the bald spots on its live-in sea lions. Thankfully, their stench remains in San Francisco.
Similarly to when you're just taking stills with the iPhone 6s, its lack of OIS is a frustration. This, again, means the 6s Plus takes better video, but 6s owners can get by with a tripod or by resting their elbows on a sturdy platform.
The resulting footage is nice and sharp, and really shone when we were shooting brightly lit scenes with a lot of texture and detail, such as an animal – or a pile of them in the sea lions' case. If you're shooting a scene with too much movement, 4K can easily get lost. Our advice? Use it selectively.
One unavoidable issue when it comes to 4K video is storage. Shooting a minute of 4K video at 30fps will take up 375MB on your phone, while shooting a 1080p video at the same frame rate for the exact same length of time will only take up about 130MB. This might not sound like much to someone packing the 128GB variant of the iPhone, but it will take a mere 40 minutes of 4K video footage to completely choke up a 16GB handset.
No wonder Apple tucks away the option to toggle between 4K and HD video within the camera's Settings mode. That not every iPhone 6s owner will get to enjoy the best from one of its headline features is a real blot on its copybook.
Storage woes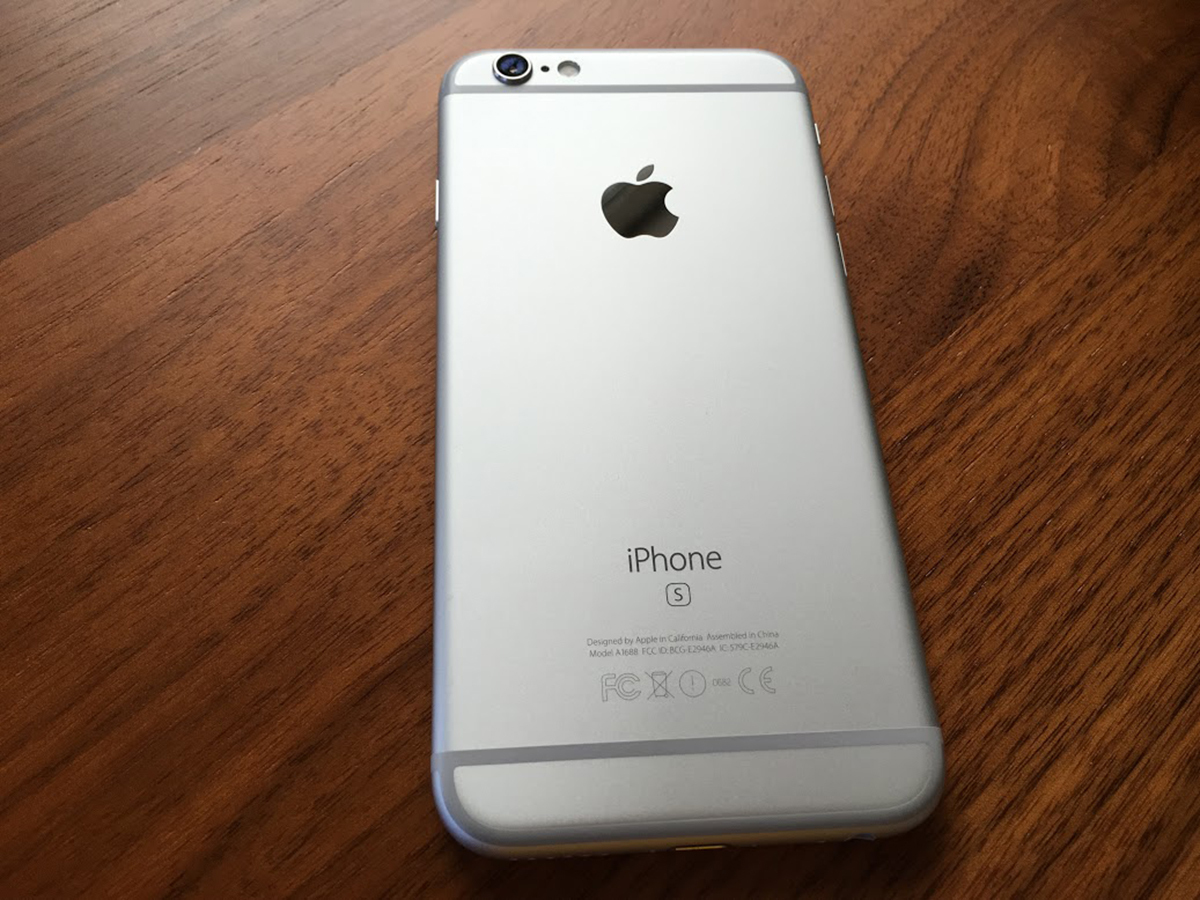 If a week is a long time in politics, then three years is a lifetime when it comes to technology. Hell, BlackBerry and Nokia still made phones back in 2012 when the iPhone 5 was released. That was Apple's first phone to offer 16GB storage on its entry-level model.
Now you can argue the toss about cheaper iCloud storage plans and the popularisation of streaming services, but ultimately Apple shouldn't be selling a 16GB iPhone. Not just because the Samsung Galaxy S6, LG G4, HTC One and almost every other major Android handset offer 32GB as standard.
If an iPhone is meant to be one thing it is premium. Offering a 16GB 6s for £539 feels cheap. It's a lousy move that's designed to save Apple money on manufacturing costs and upsell more people to the 64GB (£619) and 128GB (£699) 6s models.
Considering the £80 price increase for each subsequent 6s storage option, buying the full fat 128GB almost makes the most sense. Especially, if you plan on making full use of the data-hungry new features in the iPhone 6s. At £699, it's still cheaper than the £740 Samsung Galaxy S6 of the same volume but significantly more expensive than the £525 leather-clad LG G4 with 32GB storage that you can bolster with over up to 2TB thanks to removable microSDXC.
Next year, we'd expect to see an entry-level 32GB iPhone. Otherwise people will struggle to get the best from their iPhone 7.
iPhone 6s verdict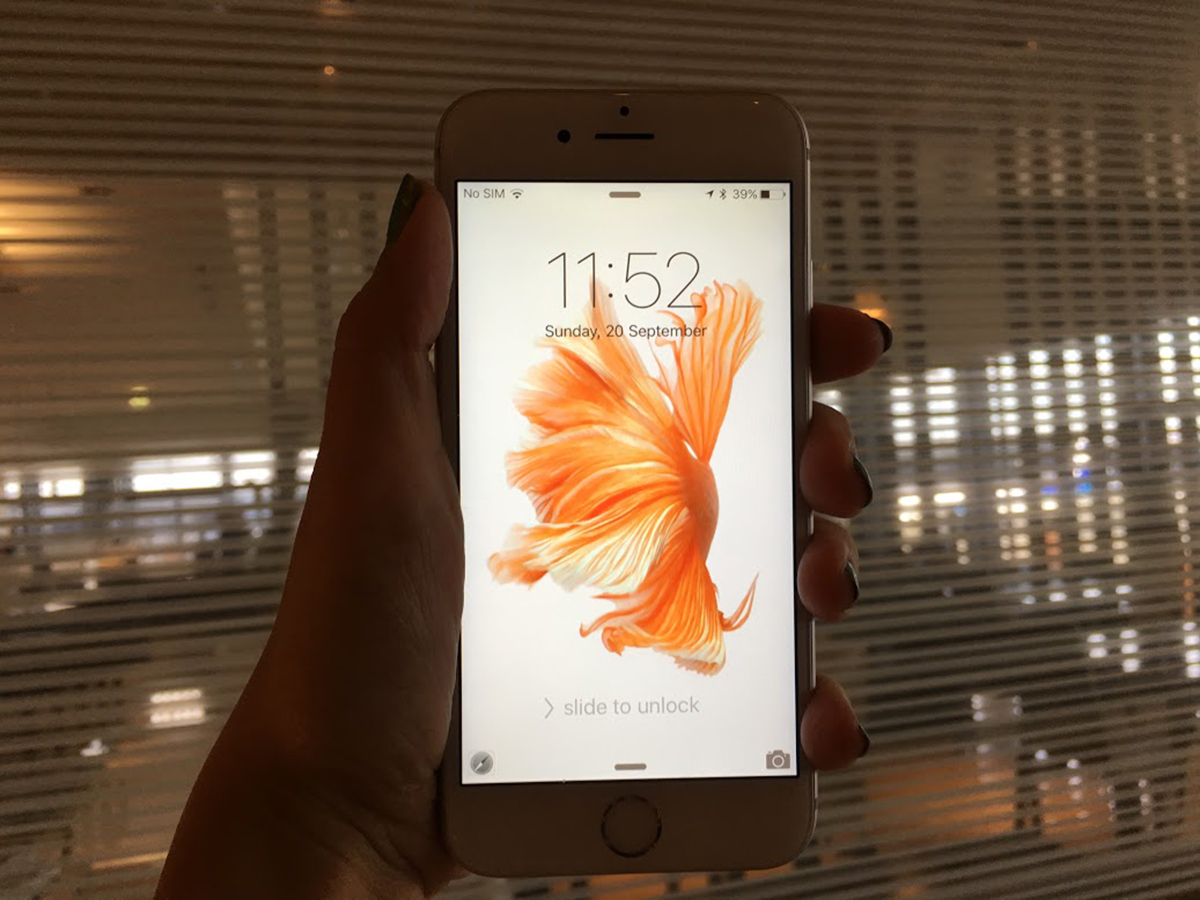 Apple will tell you, "The only thing that's changed about the iPhone 6s is everything".
Is that a bare-faced lie? Not exactly. The iPhone 6s is far from a revolutionary product, but it does offer more than enough innovation from the iPhone 6. Enough so that you can buy it without the nagging sense that you've been short changed.
If you own an iPhone 5s or earlier, you'll really notice the A9 processor's added speed. If you care a lot about your picture quality, the 6s' snapper gives you a lot more to work with. And if you always want to get more done in less time on your iPhone, 3D Touch and an always-on Siri will help with that too.
3D Touch is the 6s' tour de force, the kind of feature that makes a practical impact on how you use your phone. We love it for symbolising what Apple does best: treating a product as the sum of its parts and proving you can make real change with a deceptively small idea. And you can't find the feature on competing flagships… yet.
This is how you make someone feel some kind of passion for a slab of glass and metal. Not by skimping on features such as storage space.
Like any dominant force, Apple's iPhone 6s holds a little back. Not so much that you could say it's anything less than an excellent smartphone. But the best? That title still belongs to the Samsung Galaxy S6, which outperforms the 6s for screen quality, speed and battery life. The LG G4 is also a slightly better phone, too.
But for those determined to stick with iOS (and who could blame them?), the iPhone 6s is the best phone Apple has ever produced.
Of course that's stating the bleeding obvious. What's more surprising is how much of a step-forward the iPhone 6s is over its nigh-on visually identical predecessor.
Buy the Apple iPhone 6s here SIM free or on contract here
Stuff Says…
"Everything's changed" is pushing it, but within the 6s' familiar body lies a surprising amount of innovation
Good Stuff
Sweet camera with lovely extra features
Touch ID is we-can't-believe-it fast
All round powerful performance
3D Touch is a time-saving delight
Bad Stuff
3D Touch and Live Photos could both do with broad third-party support
Battery life hasn't been improved upon