Apple MacBook Air 11in (2014) review
Apple's new MacBook Air 11in is the company's cheapest laptop ever – but has it cut corners as well as the price tag?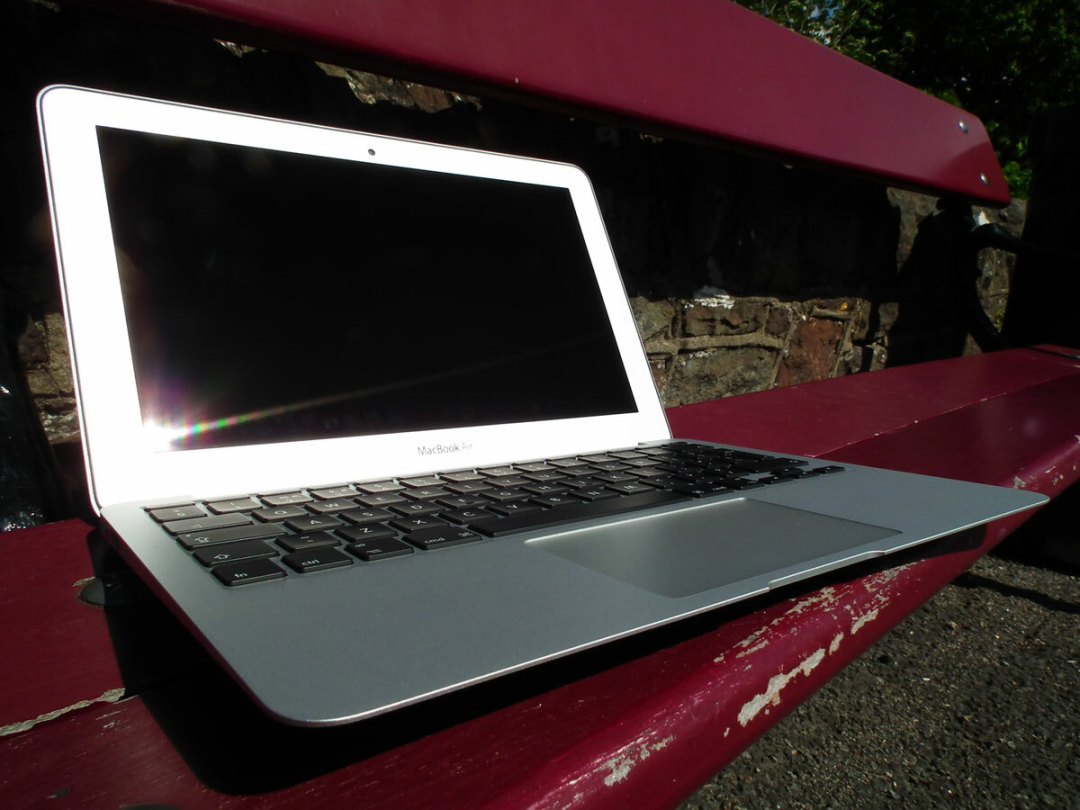 Want to buy a MacBook Air without breaking the bank? Meet the new 11in model.
While not exactly cheap, the 2014 version of Apple's ultra-thin 11-incher is by some way its most affordable laptop ever.
With a £750 price tag for the entry-level version, it's £100 cheaper than the 2013 model – good news in these belt-tightened times.
So, a premium product at a reasonable price – sounds too good to be true, right? Let's find out if there's a nasty sting in the new MacBook's aluminium tail.
READ MORE: These are the 10 best laptops in the world right now
Not so Big Mac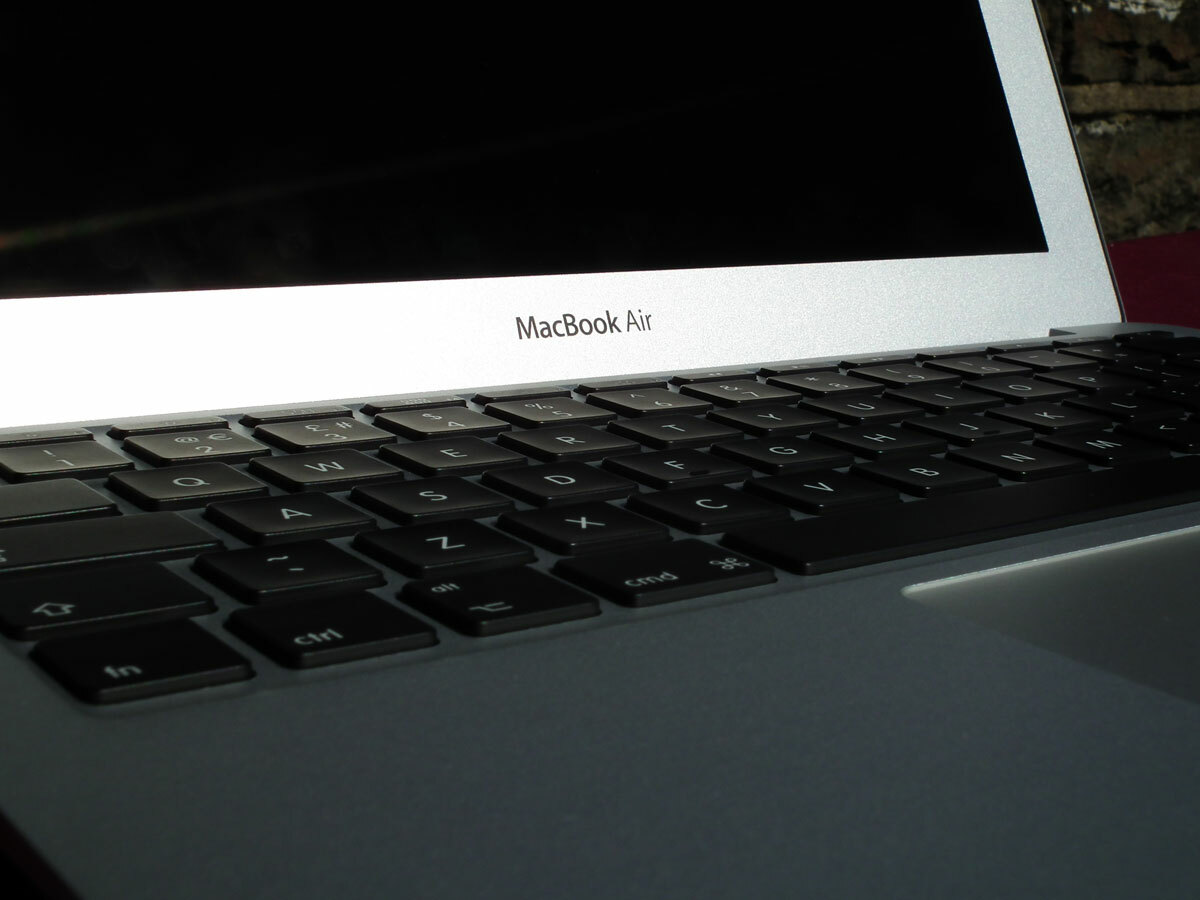 With its 11.6in screen, the MacBook Air 11 is also Apple's titchiest laptop offering. It's a good ultraportable size which is just made for slinging in a capacious handbag or manbag, and at little more than a kilogram in weight, you'll barely even know it's there.
Open it up and the backlit keyboard and glass-topped trackpad are exactly the same size as those in the MacBook Air 13, and it doesn't feel cramped at all. It's got to be the most usable laptop in this form factor.
Em-bezel-ment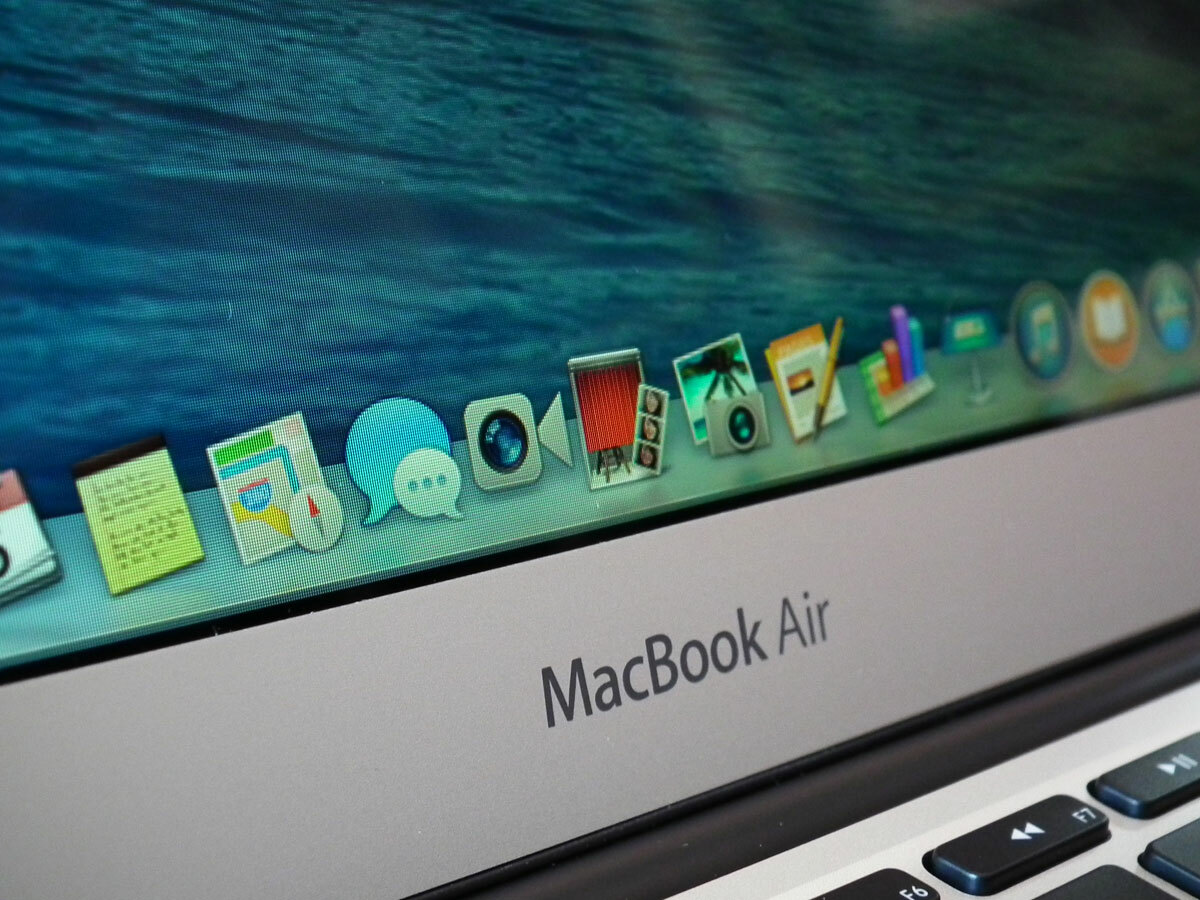 While the keyboard and trackpad may be a nice size, the bezels aren't. They're just too big when compared to the size of the display; frankly, the screen looks a bit lost in the middel of them. But it's the display itself which is the biggest disappointment.
Its resolution is a mere 1366 x 768 pixels with a pixel density of just 135ppi. There are 11in Ultrabooks out there that leave it in the dust on this front. The Dell XPS 11, for instance, fits in a 2560 x 1440 display with a pixel density of 253ppi.
It actually has a higher pixels-per-inch count than the Air 13's 1440 x 900 display, but it somehow looks worse – possibly because the smaller display means you have to get closer to the screen to see what's going on. Nor is resolution its only flaw – viewing angles are also less than superb and colours are slightly muted.
It's not completely hideous and we have definitely seen worse screens, but this is clearly one area where Apple's compromised in order to keep the price down.
READ MORE: Apple MacBook Pro 13in with Retina Display review
Port-able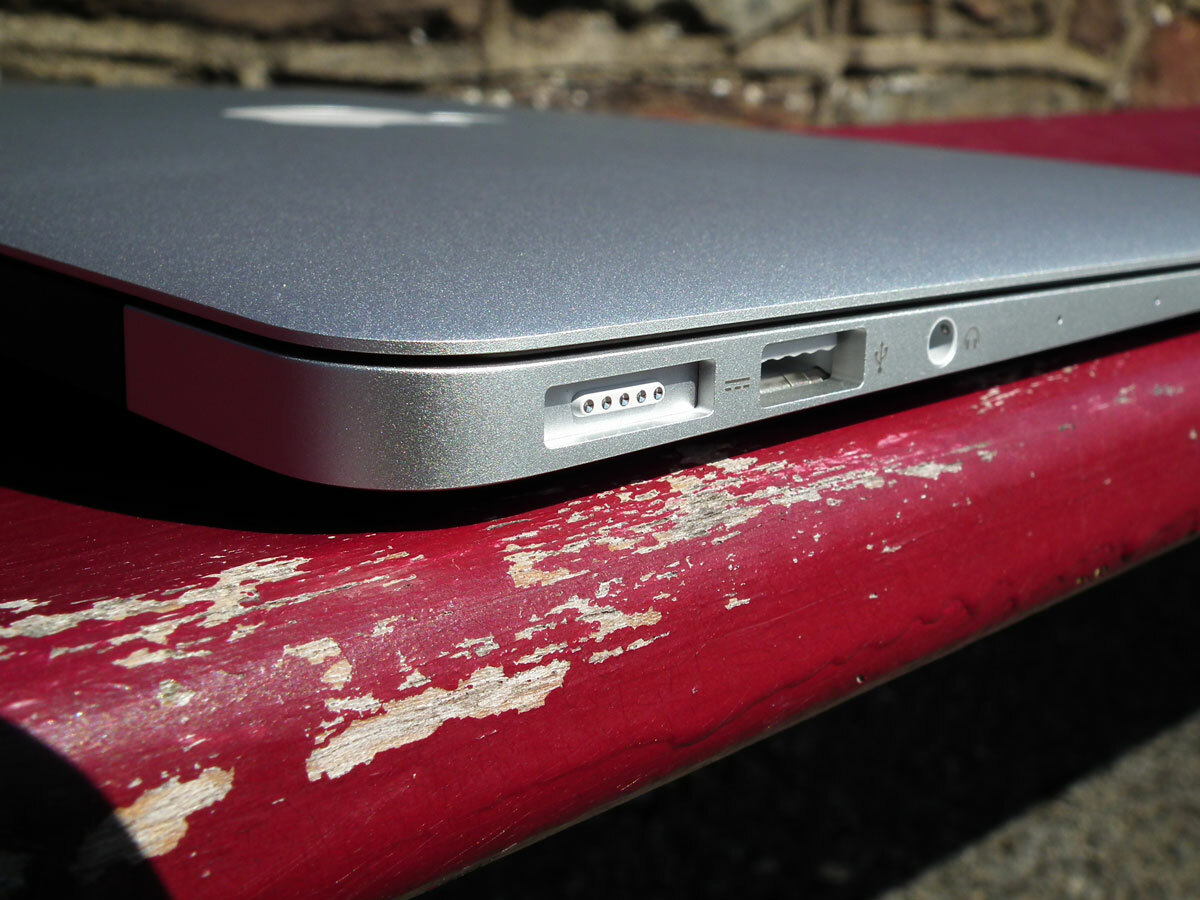 Aside from the lack of an SDXC card reader, the ports on the MacBook Air 11 are identical to those found on the MacBook Air 13. That means you get two USB3.0 ports, a MagSafe 2 power connector, a headphone socket and dual noise-cancelling microphones. There's also a Thunderbolt connector, which can be used with an adapter to link up an external monitor.
Pretty much everything you need is here, then, especially given that most people now move files around via the cloud. And if you do need more, you can always buy a cheap USB hub.
Intel Inside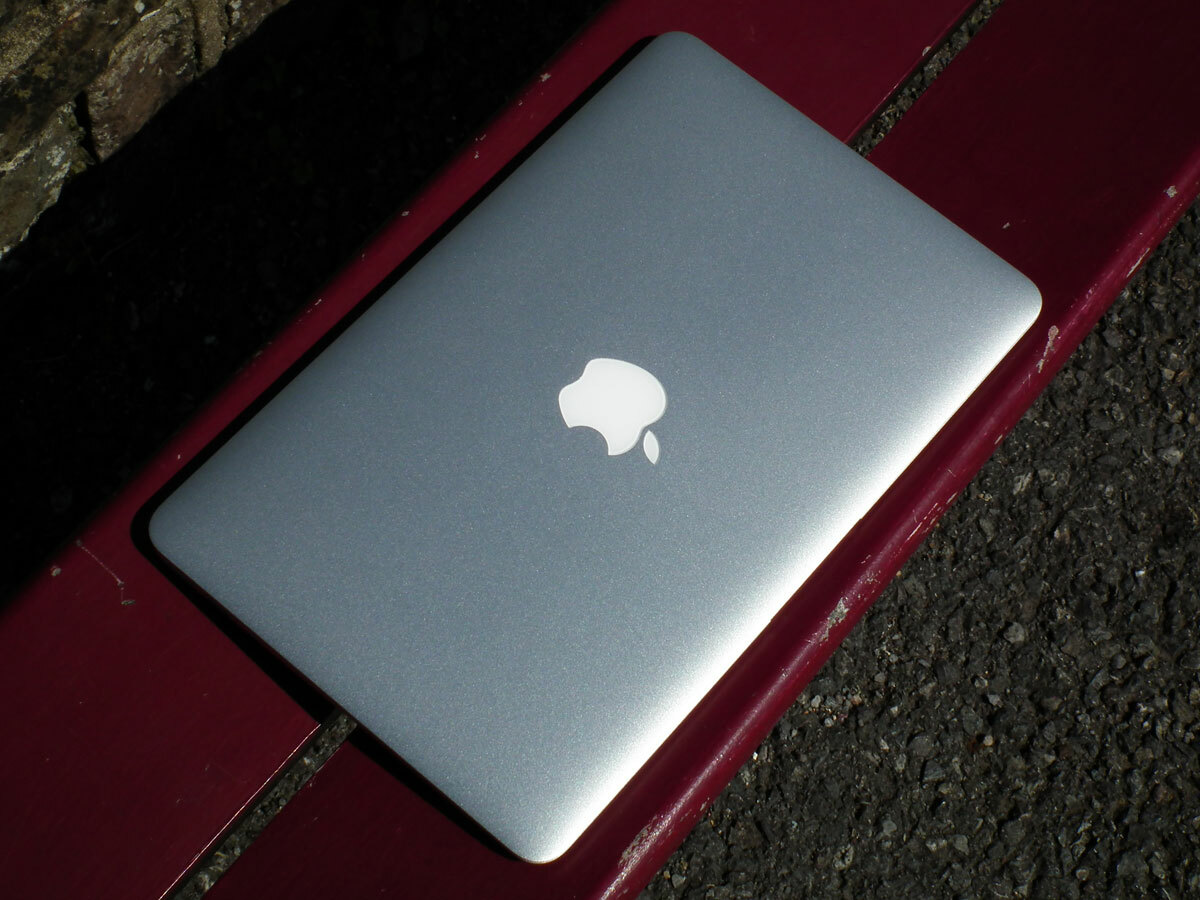 The inner workings of both the Air 11 and 13 are identical, with both running Intel's latest Core i5 processors backed up with 4GB of memory, and a 128GB solid state flash hard drive.
The chip, memory and storage are all configurable, so you can add a Core i7 processor, 8GB of memory and a 512GB drive for up to £240 more, but our minimally specced sample is perfect for day-to-day tasks, and it boots up and loads programs snappily.
Intel's HD 5000 graphics chip is the only component which isn't upgradeable, but it's adequate for watching HD movies and some really light gaming. An Ultrabook with similar components will cost you a bit more, so Apple deserves kudos for filling the MacBook Air 11 with Intel's latest and greatest at this price point.
As far as battery life goes, it's a similar story. Thanks to the MacBook Air 11's smaller size, the battery capacity is shrunk to 38-watt-hours, which we found matched Apple's estimate of nine hours' usage.
It's not quite up there with the Air 13's amazing 12 hours, but it's still a really good result and better than most Ultrabooks.
READ MORE: Apple MacBook Air 13 (2014) review
Versus Chromebook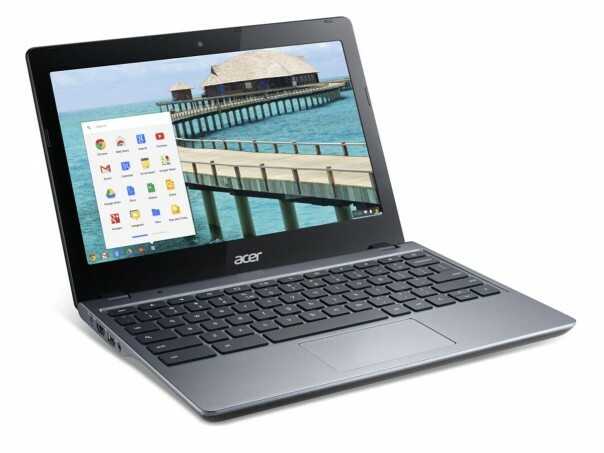 The elephant in the room, and the reason we suspect Apple has dropped its price, is Google's Chromebook. To the untrained eye of a Windows user it may seem as if the MacBook and Chromebook are similarly limited compared to computers running Microsoft's operating system. However, while a Chromebook is about a third of the price of a MacBook, it also offers a lot less.
With a MacBook you're getting a whole ecosystem of apps, including iMovie and GarageBand, for nowt – with the ability to run Photoshop and Microsoft Word on top. A Chromebook can be a bit of a false economy once you realise how little they can do.
READ MORE: Acer C720 Chromebook review
Apple MacBook Air 11in (2014) – VERDICT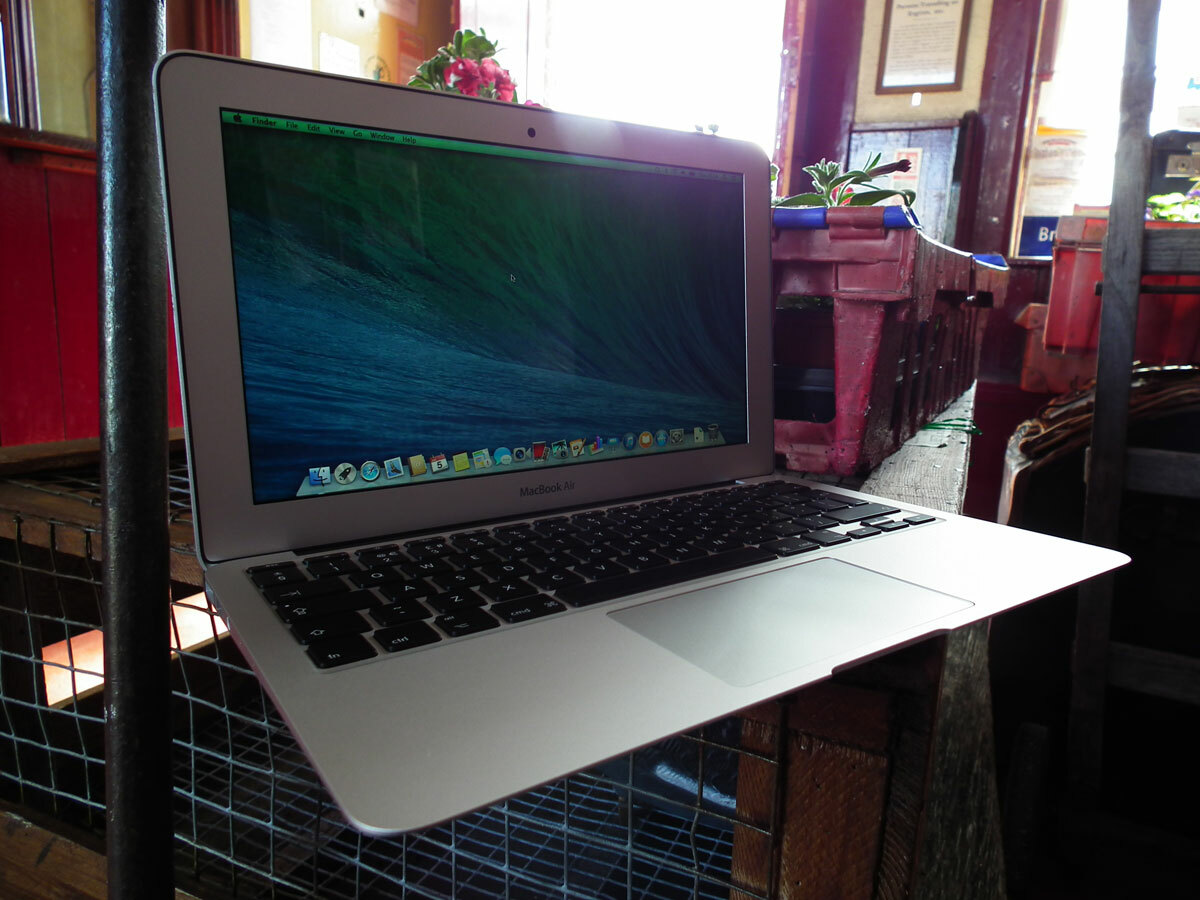 Even Apple's cheapest laptop is head and shoulders above most of its competitors, and in terms of build, battery life and usability the MacBook Air 11 is an all-round winner.
It's also that most unusual of items: an Apple product which represents good value for money. That screen is really starting to show its age, though, so fingers crossed that Apple brings out an Air with Retina Display soon.
Stuff Says…
A well-specced and beautifully built machine which is now cheaper than ever – but that screen definitely needs upgrading
Good Stuff
So small and light it's barely there
Reasonably priced
Great performance
Loads of free software
Bad Stuff
Disappointing screen