Apple macOS Sierra review
OS X is dead, long live macOS. Celebrate. Just don't be Siri about it...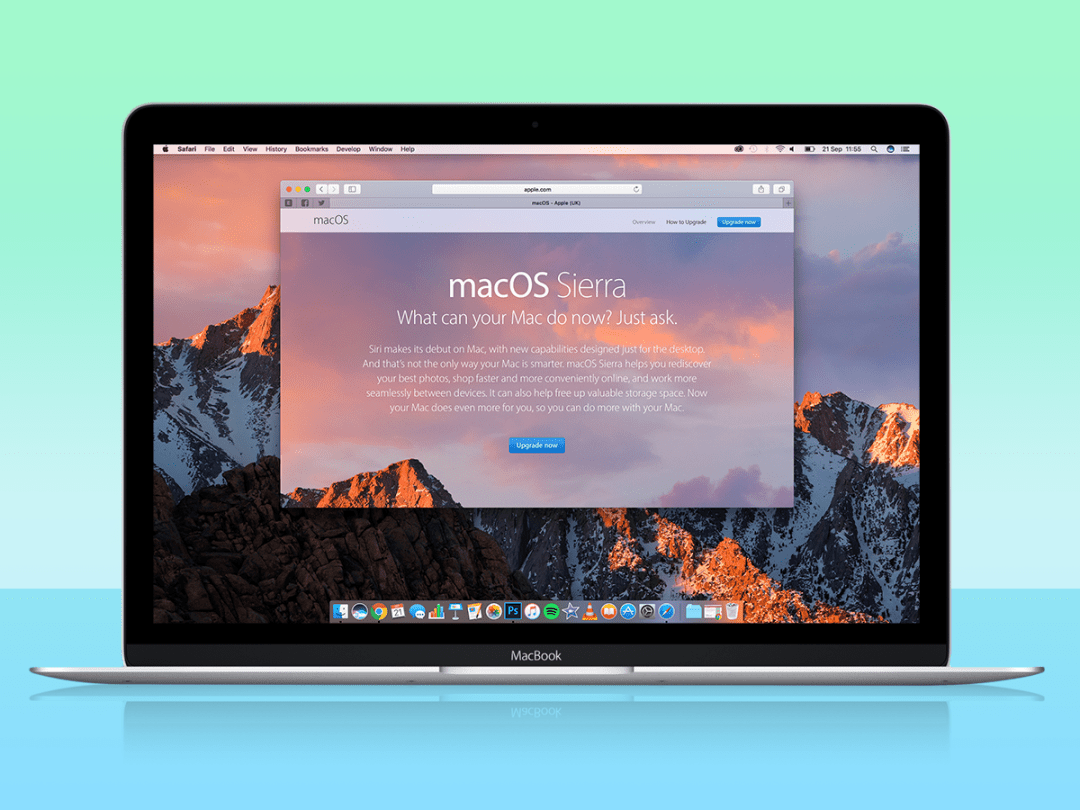 Well, this must be the most feeble excuse we've seen yet for the relaunch of a desktop operating system.
You've named all of your other software using a convention that demands 'name of system + OS' – try tvOS, watchOS or (of course) iOS. So OS X just didn't have a place in the Apple's world any more. So say hello, then, to the first iteration of the first release of macOS – Sierra.
Compared to the almost-all-new iOS 10, Sierra is a relatively subtle overhaul of a system that most of us (well, OK, those of us in the Stuff office) consider to be just about perfect anyway.
But that doesn't mean that you shouldn't upgrade. Sierra hides more than enough tricks up its sleeve to make the 5GB upgrade from El Capitan worth the wait and endless Espressos.
unlock your Mac with your Apple Watch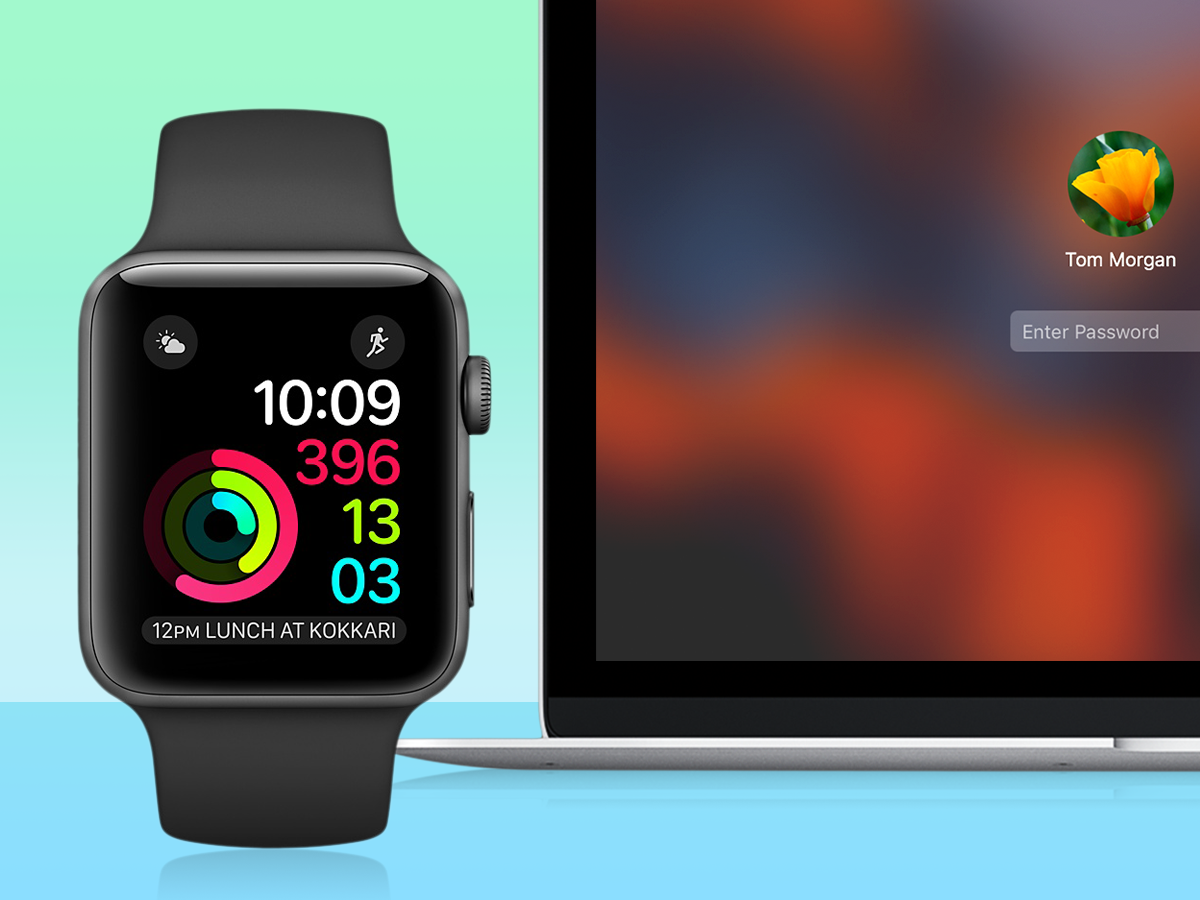 This one's a doozy, and you may never find it.
Go to System Preferences, and you'll find a tiny little tick box under Security & Privacy that promises to allow you to open your Mac with your Apple Watch.
Before you charge ahead, you'll need to disable Two-Step Authentication on your Apple ID (and like any sensible person, you will have enabled it… right?), and then enable Two-Factor Authentication from your iPhone (you'll find it under iCloud > your iCloud profile > Password & Security). Oh, and you'll need watchOS 3 installed on your Apple Watch.
Then go back to that little tick box and tick it. You'll see 'Turning on…' for a few seconds, after which the tick box will stay ticked.
Now close the lid on your Macbook and go for a coffee, or some other form of distraction. Come back to your Mac (whilst wearing your Watch), and gasp as the magic happens – your login screen shows a message that your Mac is unlocking using your Watch, and… hey presto, there's your desktop.
You even get a little notification on your Apple Watch confirming that this has happened. Now, prepare to engineer as many situations as possible where you can casually show off your party trick to friends at work, and be strong enough to ignore their pitying sneers.
Siri hears all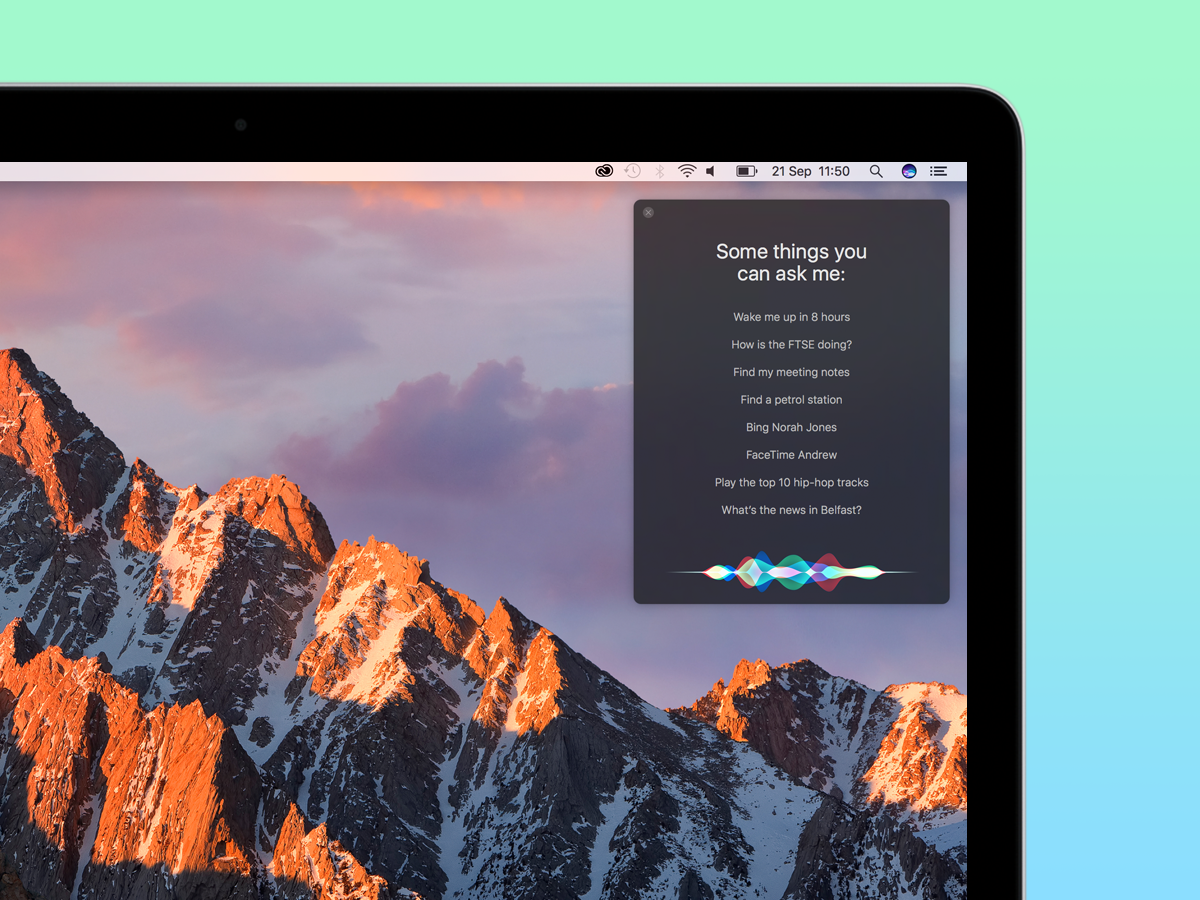 Sierra's most noticeable addition to the Mac desktop is Siri. Yes, that's right, you can now talk to your Mac, and it will either answer, do your bidding or both.
And from our experience, it does these things very well. 'Show me all the emails from David in the last week' doesn't fluster it. The black Siri panel that slides in from the right of your desktop may ask who the hell David is, but once you've told it, it will find all of his emails sent to you in the last week.
The same goes for most of your Mac's popular services. 'Show me photos taken in the last week' opens Photos to your last week's snaps. 'Take a note' has Siri asking what the note should say, then saving it to Apple Notes. And you can tell it to search for things using Bing, then pin the results to your Today panel (not that we can ever imagine a scenario where we'd find that useful).
You get the idea. It's Siri as you know it from your iPhone, ported to the Mac desktop. Which is all very lovely, except for one thing – most of the people we know (not us, of course – we're confident and brash) feel silly talking to their computers in public.
And in a lot of environments, you'll need to be shouting quite loud for Siri to register what you're saying. 'Play Abba's Greatest Hits' just isn't the sort of thing you want to be bellowing at 120db sat in Pret on Waterloo Station at rush hour.
Make your Messages wild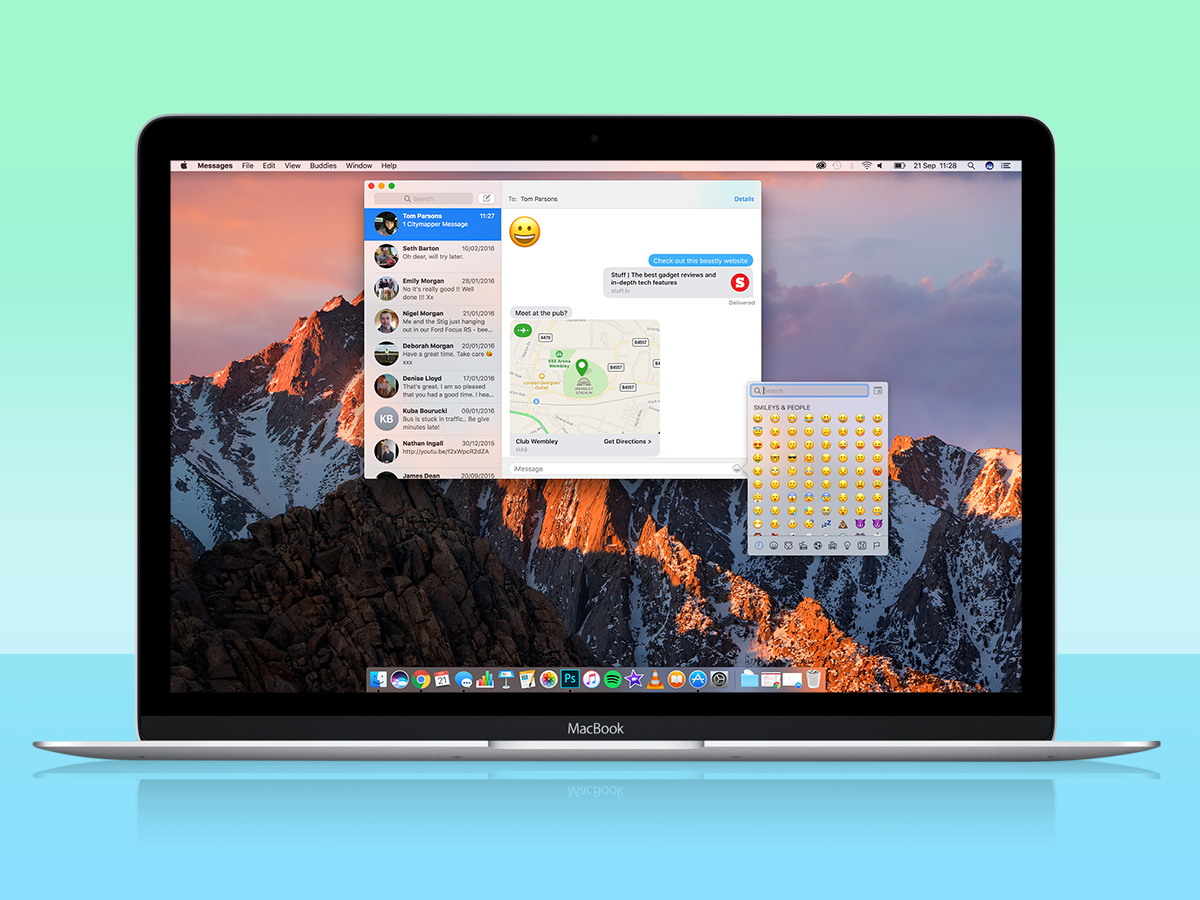 If you've installed any of the iOS 10 beta builds, you'll know that the Messages app now knows how to express its emotions (or yours) via the medium of crazy fonts and a wickedly large arsenal of emoji.
Messages on the desktop isn't quite so wild (in fact, it isn't that wild at all), but it does include the weaponised array of emoji. And if you send a link, you get a rich preview of the page or site. That's wild enough for us.
Copy on this, paste on that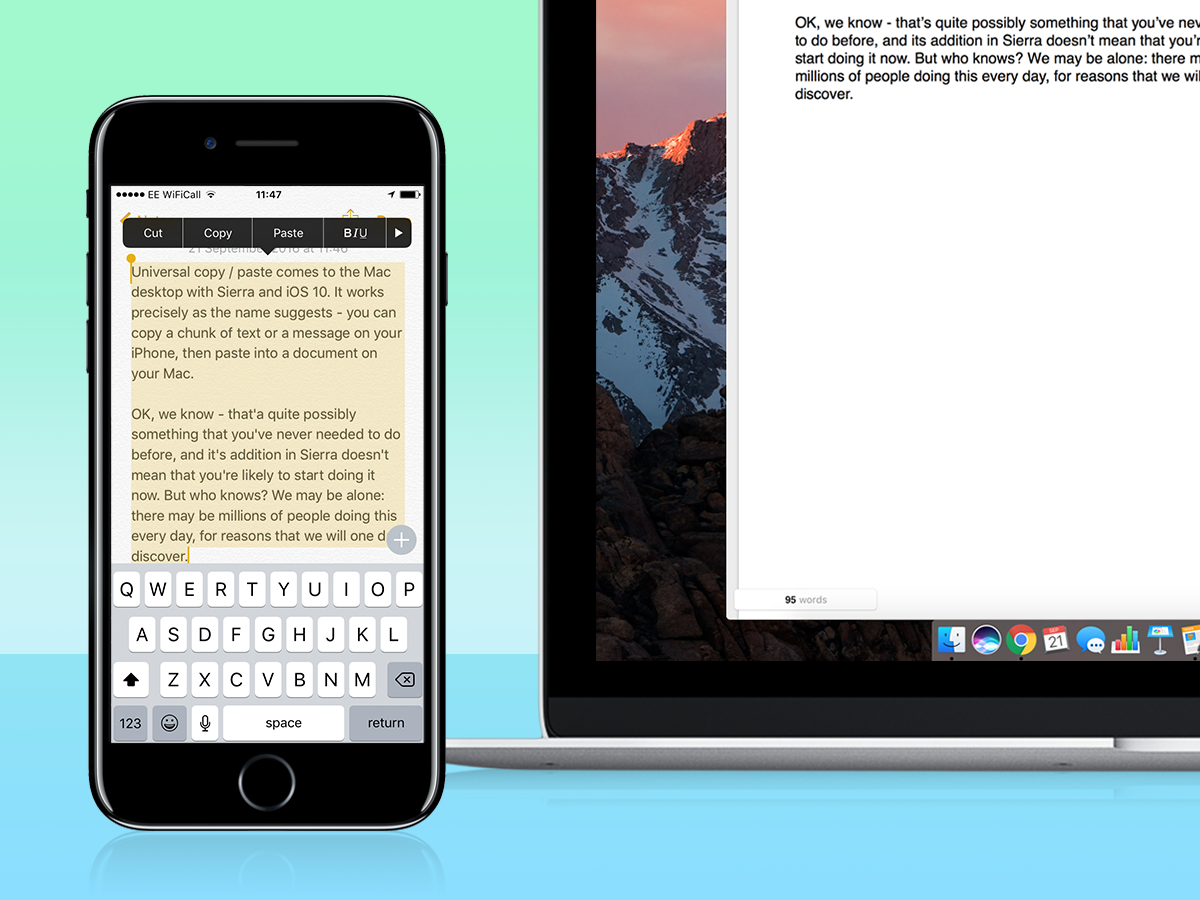 Universal copy / paste comes to the Mac desktop with Sierra and iOS 10. It works precisely as the name suggests – you can copy a chunk of text or a message on your iPhone, then paste into a document on your Mac.
OK, we know – that's quite possibly something that you've never needed to do before, and its addition in Sierra doesn't mean that you're likely to start doing it now. But who knows? We may be alone: there may be millions of people doing this every day, for reasons that we will one day discover.
Take a photo tour back in time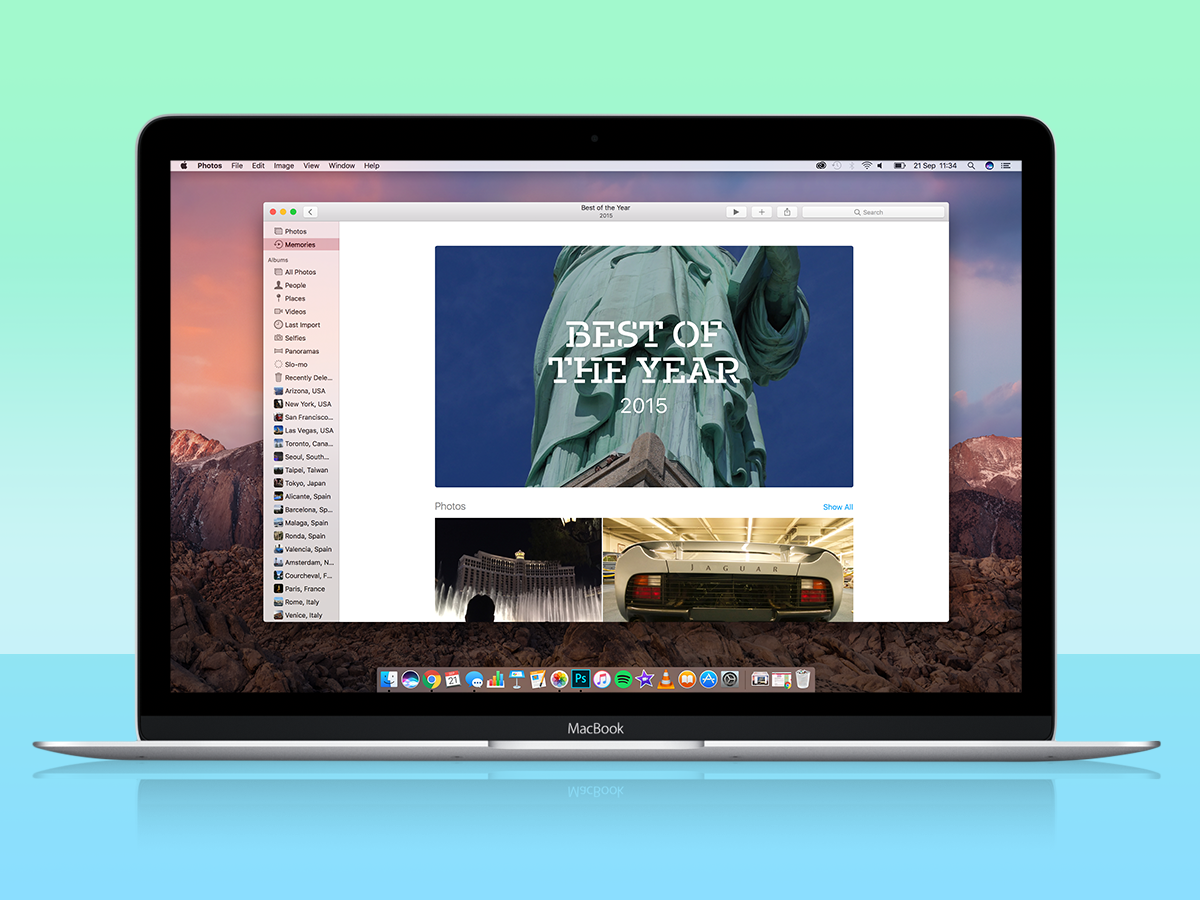 Sierra comes with an updated Photos app that replicates the new Memories feature of its iOS 10 counterpart. Basically, the app scans your photo library, and creates new albums based on significant dates or places.
You're right – this isn't new. Google Photos has been doing something very similar for quite a while. But that doesn't mean that the feature isn't welcome in macOS, and Apple has done a commendable jobs of creating pretty libraries that include maps, related people and other related albums.
iCloud backup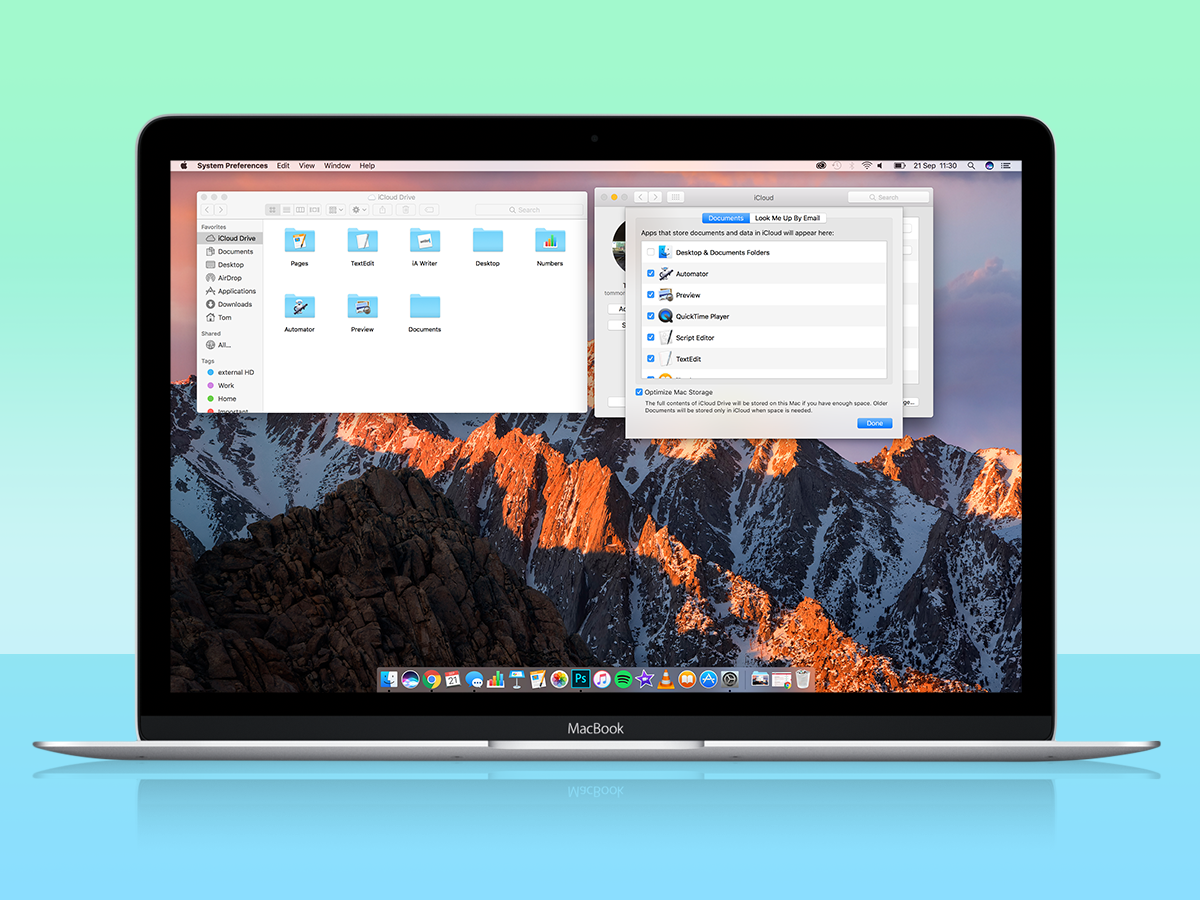 This one's quite sneaky on Apple's part. You see, Apple probably knows that countless Mac users have installed Google Drive or OneDrive. In that sense, the market's pretty sewn up for automated file backup systems (and that's before we've mentioned the hundreds of other third party backup apps).
So to tease you into iCloud a little more often, Sierra comes with automated backup to iCloud of your Documents folder and Desktop.
And its the desktop backup that's the sneaky move. If you're anything like this reviewer, your desktop is a dump bin of recently trawled files, all of which you'll get around to filing away over the weekend. Further, you'll also know that organising OneDrive or Google Drive backup of your desktop is actually a bit of a pain (dragging folders within folders etc).
So when you're offered an auto-backup of your desktop when you first boot into Sierra, your instinct is to say yes. And the result is that I'll dip into iCloud more often when I'm out and about, and perhaps even start using it as my full-time storage. Couple that with the online real-time document collaboration announced by Apple a few weeks back, and there's just the sniff of a real Google or Microsoft rival.
Only… only I'm totally vested in Google Drive, as is the rest of the Stuff team. And while Keynote is a killer presentation app, Pages and Numbers aren't fit to stand in the same boxing ring as their Google or Microsoft equivalents.
Still, nice try, Apple.
…And the rest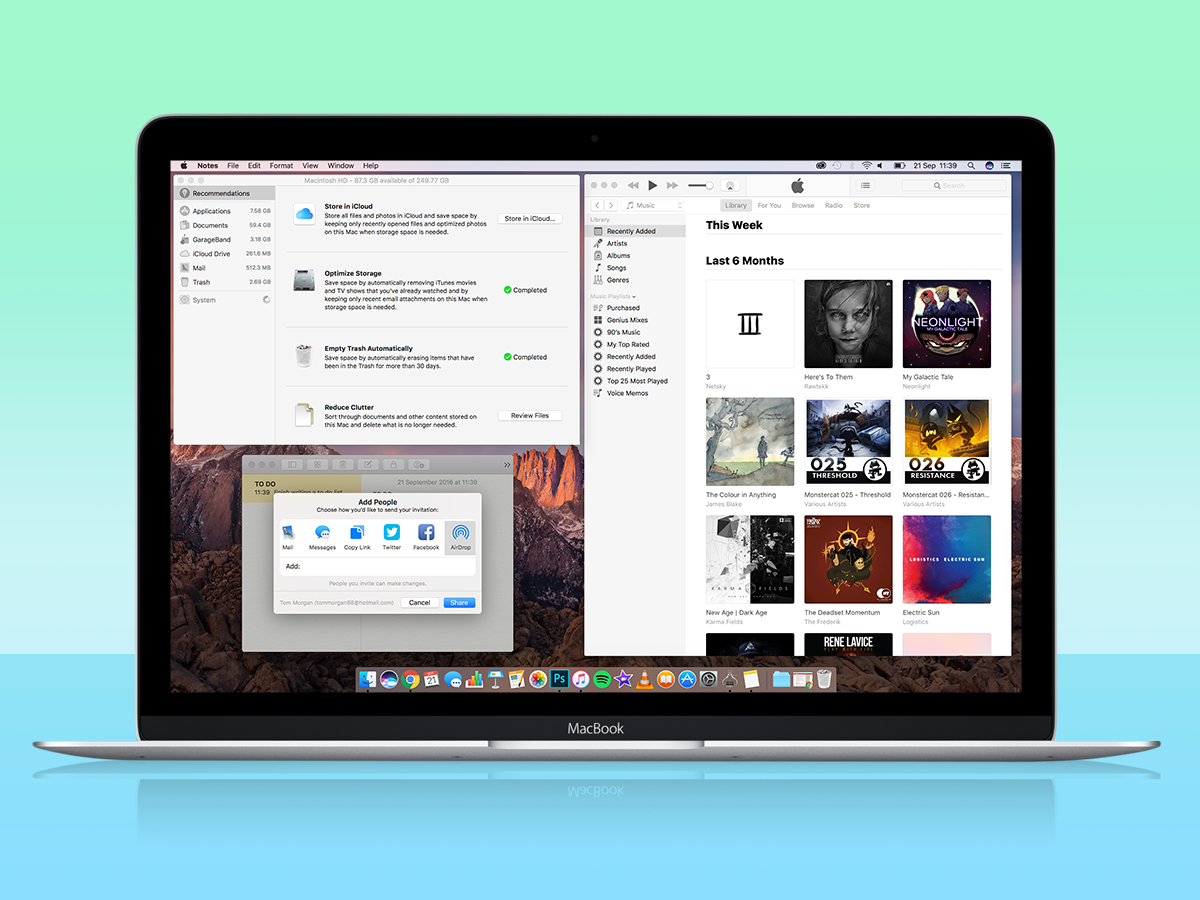 If your Mac knows that its hard drive is filling it, it starts automatically optimising the available space by backing up old and unused files to iCloud. Which is one of those really sensible things that should have been built into OS X years ago.
Every native Mac app now has tabs. Enough said.
Apple Notes now lets you share notes with friends. Or enemies. Up to you, really. It may only be a small addition, but couple it with the upgrades to Notes earlier this year, and you now have a credible rival to Evernote and the likes of Google Keep.
Oh, and then there's iTunes. Or at least, the Apple Music section of iTunes, that has seen the same overhaul as the iOS 10 app of the same name. This is good news, people. It's immeasurably more useful than its poorly designed predecessor – enough (almost) to tempt you into cancelling that Spotify sub.
macOS Sierra Verdict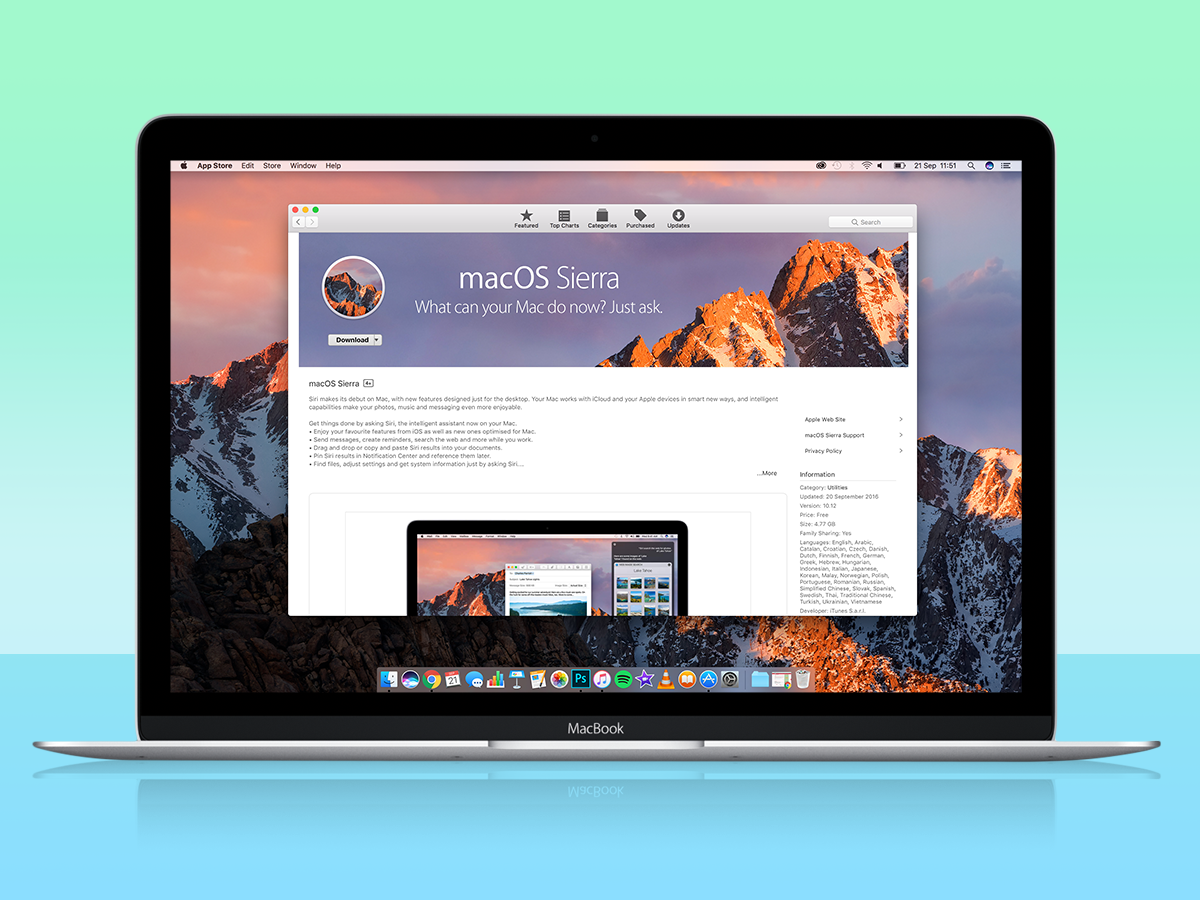 This is not one of those punch-the-air five star reviews. For all of the change in name and inclusion of Siri and nifty features such as auto-unlocking, Sierra is more of the same for the Apple desktop.
It just so happens that the Apple desktop is ridiculously refined and capable – you can gripe that it's missing Feature A or B, but in reality, your new Mac will let you do just about any computing task without spending a penny on third party software.
And it will do it all without crashing, and with an interface that will make you smile.
Stuff Says…
Small tweaks don't really justify the name overhaul, but Sierra is still proof Apple makes a devilishly good desktop OS
Good Stuff
Magic unlocking through your Apple Watch
Speak to Siri on your Mac
Free for most Mac owners
Bad Stuff
Major name change, but no major new features