Arlo Essential Video Doorbell Wire-Free review
Because one day people might start coming to see you again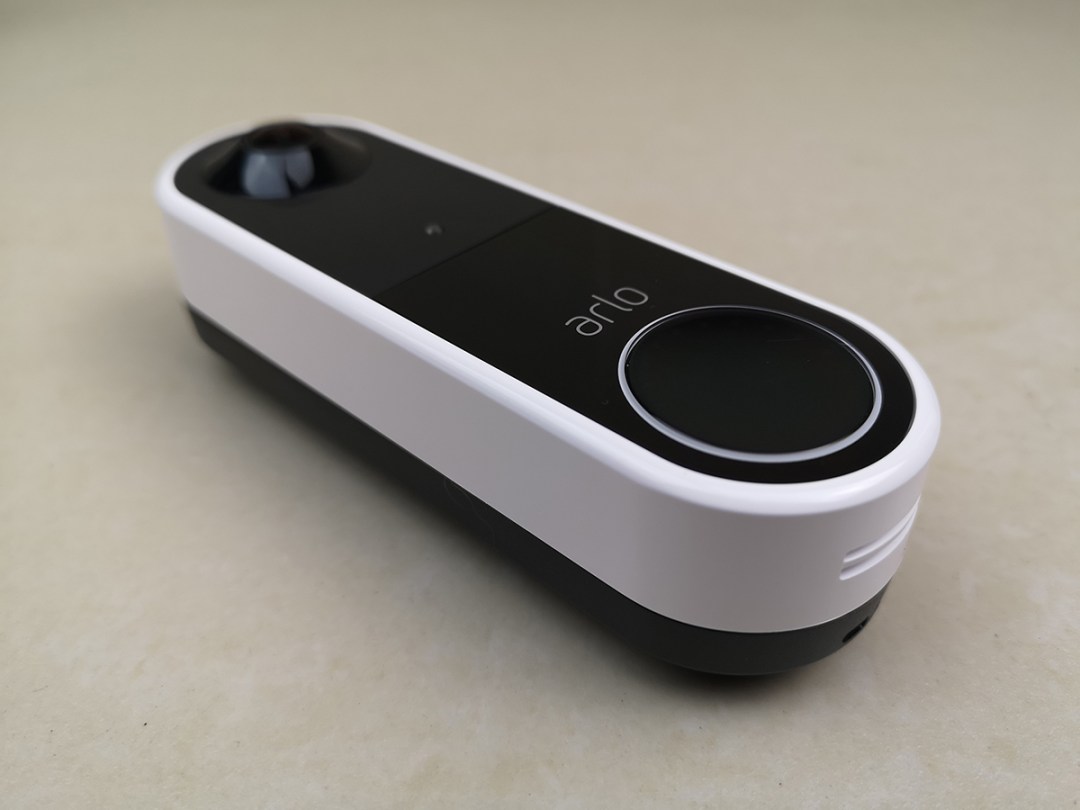 Video doorbells are like embarrassing bladder conditions: we'll probably all have one eventually. Operating over your home's Wi-Fi, they call your smartphone when someone rings the bell so you can see them on screen and have a two-way conversation, even if you're not in; and they send alerts whenever they detect movement. 
The appeal is obvious, in terms of both security (hey, there's someone prowling around the front garden!) and convenience (hey, a courier's here but I can't get to the door because of my embarrassing bladder condition!). So, with the promise of hassle-free installation plus high-def video with HDR and night vision, could the Arlo Essential Video Doorbell Wire-Free be the perfect way to smarten up your front door?  
Arlo's handsome and weatherproof new offering is pitched right between its two big rivals – Amazon's Ring Video Doorbell and Google's Nest Hello – in terms of price. Where it hopes to stand out is with a 180° diagonal field of view that should ensure it never misses a thing, from tall visitors' heads to parcels left on the doorstep. 
The motion detection works within customisable activity zones – essential if you don't want to be buzzed every time a car drives past – and, cleverly, claims to be able to differentiate between people, animals and packages.
Design: Thank you, Nest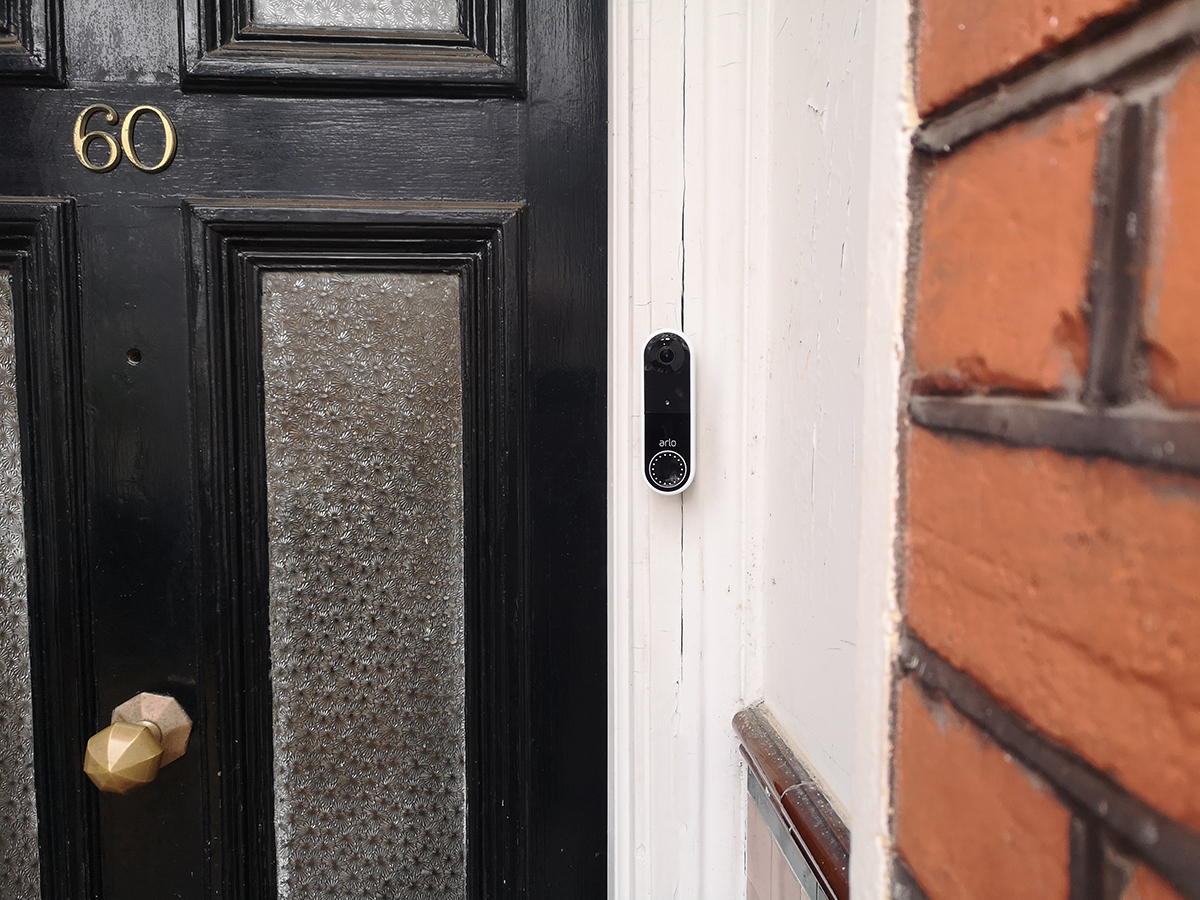 The only obvious difference between this and the standard Arlo Video Doorbell is that, as it's designed to be a drop-in replacement for your existing ding-donger, it can be installed without any electrical knowhow. Like its stablemate, it looks strikingly similar to the Nest Hello: a chunky black and white plastic pill with the camera at the top and the button at the bottom.
A ring of white LEDs around the button should make it clear where people have to press; these can be set to be on all the time, to 'breathe' on and off when motion has been detected, or to light up only when you accept a call. There's also a siren, activated from the 'motion alert' notification panel, for scaring off intruders and randy foxes.
In the box you'll find an optional angled mount so you can have the camera pointing slightly left or right, rather than directly at your hanging basket of begonias. You also get mounting screws and a couple of 3in extension cables in case your wires are too short to reach the Arlo's contacts, plus a charging cable for the battery; you should only need this once if you're connecting to existing doorbell wires, as it recharges off the mains. (You can go fully wireless instead, but your chime will no longer work and the battery will need taking out to charge every few months.)
Setup: I put a bell on you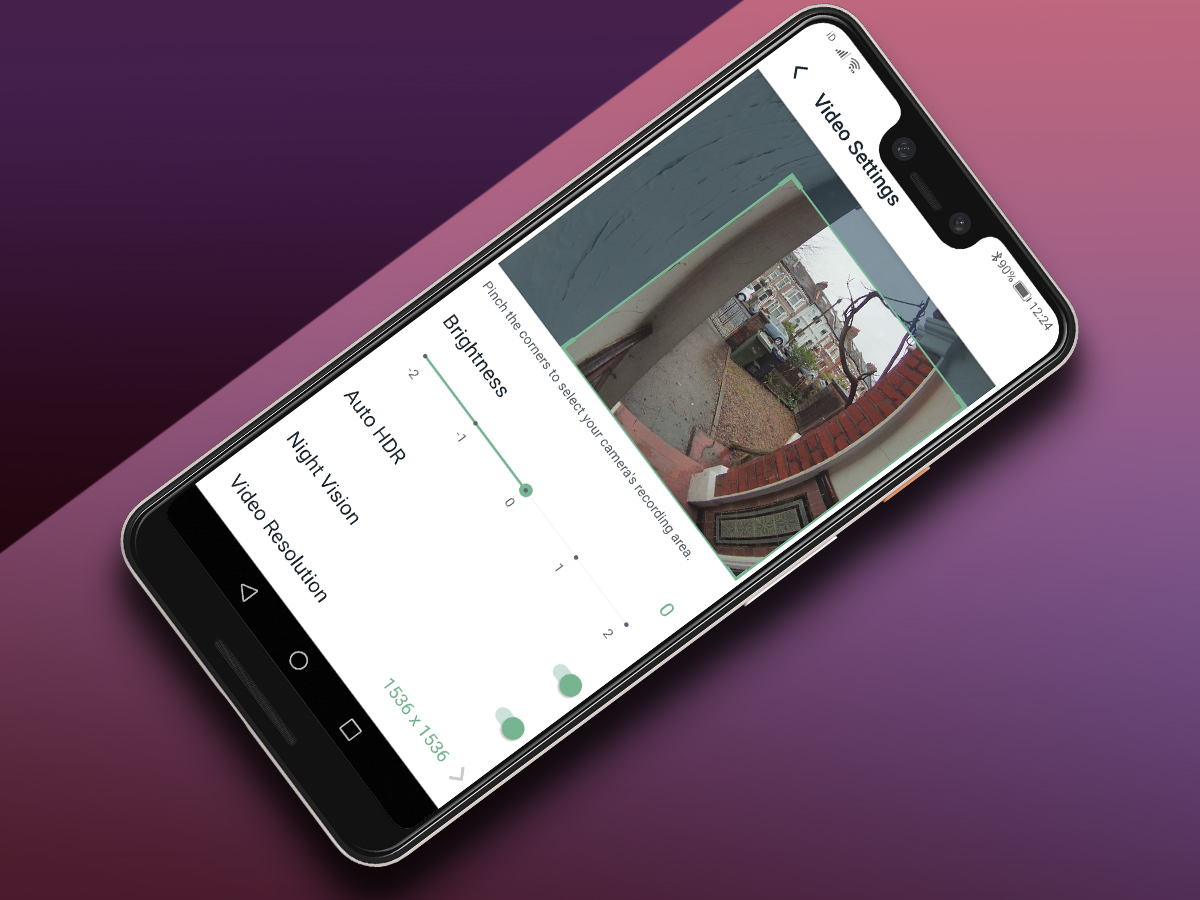 As long as you're replacing a standard mains-wired doorbell, the DIY bit here is as easy as falling off a slippery log. After turning off the power at your fusebox, simply unscrew the old bell and free the wires, drill two holes to attach the Arlo's mount, screw the wires into the contacts and then clip the unit into place. Oh, and then turn the power back on.
This is all detailed in the Arlo app, along with the equally important software setup – and this part is as easy as falling off a slippery log while heavily drunk and wearing high heels. The three main things you have to do are get connected to your Wi-Fi, set the area for video (so you can crop out those begonias) and draw the zone for motion detection (which has to be rectangular).
There's other stuff you can tweak, including video resolution, but we see no reason to change the default setting of 1536×1536, which is the maximum available.
Performance: Arlo from the other side
Well, Arlo has got the basics right. The response can be laggy at times but motion is detected (and identified), alerts are sent, and couriers bringing more exciting gadgets than this one are successfully told to "just leave it on the doorstep, thanks" because everyone's upstairs.
The image quality isn't great, though: in theory the resolution is better than HD, but less-than-crystalline optics mean faces are nowhere near as sharp as that. Still, there's no great drop-off in clarity when the light starts to fade and the monochrome night vision works well.
What might be more of an issue is the relentlessness of the alerts. If someone's already been detected coming through the front gate, you're sure to get at least one more notification when they go back out again. Slightly annoying – but now let's imagine, to dream up some entirely random examples that could apply to pretty much anyone and definitely not just me, that your other half takes five minutes of pootling about to get her bike stowed in the shed after work… or takes 10 minutes to get the dog cleaned up after a muddy walk… or takes half a fecking hour to have a socially distanced doorstep chinwag with her friend Sarah from over the road…
It'd be good if Arlo could address this with a future software update; until then, this is not an ideal product for people with testy marriages.
Verdict: Arlo Essential Video Doorbell Wire-Free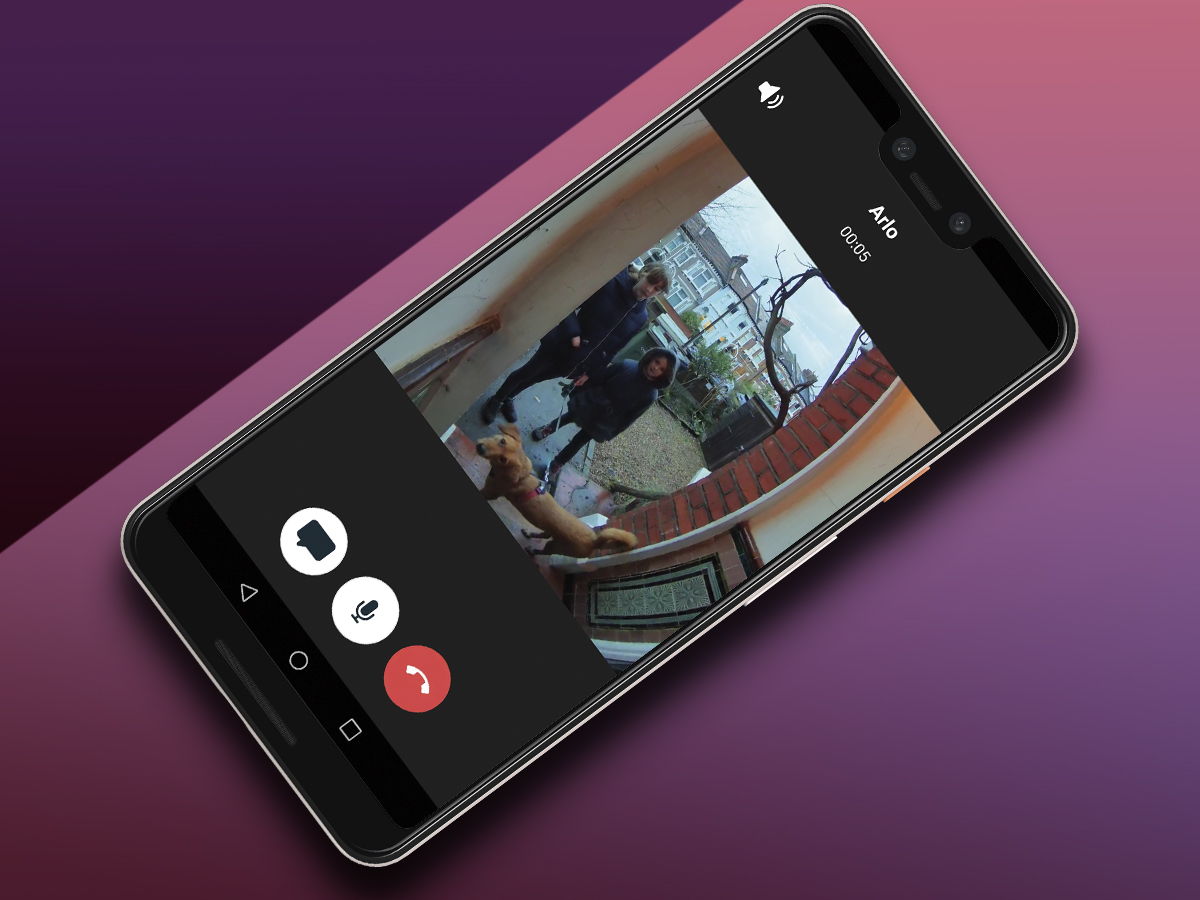 This video doorbell scores highly for ease of installation and use, and it does what it's there to do. The advantages over an old-fashioned ding-a-ling button are clear.
The real question here is about value – because once your free three-month subscription to the Arlo Smart service runs out, things get a bit complicated.
Arlo Smart costs £2.49 a month – on a par with Amazon's Ring Protect Plan (£2.50/m) and half of Google's Nest Aware service (£5/m). The three vary slightly in terms of the features they unlock, but what's certainly true of Arlo's is that it's just about essential to make the device worth owning.
Without the subscription, you lose not only cloud video recording of captured events but also, as with Nest, the use of activity zones. This means you have a choice between subscribing, turning motion detection off – effectively killing the camera as a security device – or being buzzed every time anyone or anything moves anywhere in front of your home.
Does that seem a bit mean? Hey, it's only 30 quid a year – and if you don't mind paying that, the other features of Arlo's wide-eyed watcher mean this might just be where the reign of your dirty old bell ends.
Stuff Says…
Like having an eagle-eyed bouncer at your front door 24/7
Good Stuff
Dead easy to install
Clear and intuitive app
Super-wide field of view
Video doorbells are the future
Bad Stuff
Image quality isn't great
Motion alerts aren't context-smart
No activity zones without a subscription