Asus ROG Swift OLED PG42UQ hands-on review
Gamer-grade OLEDs in your choice of 42 and 48in screen sizes. What's not to like?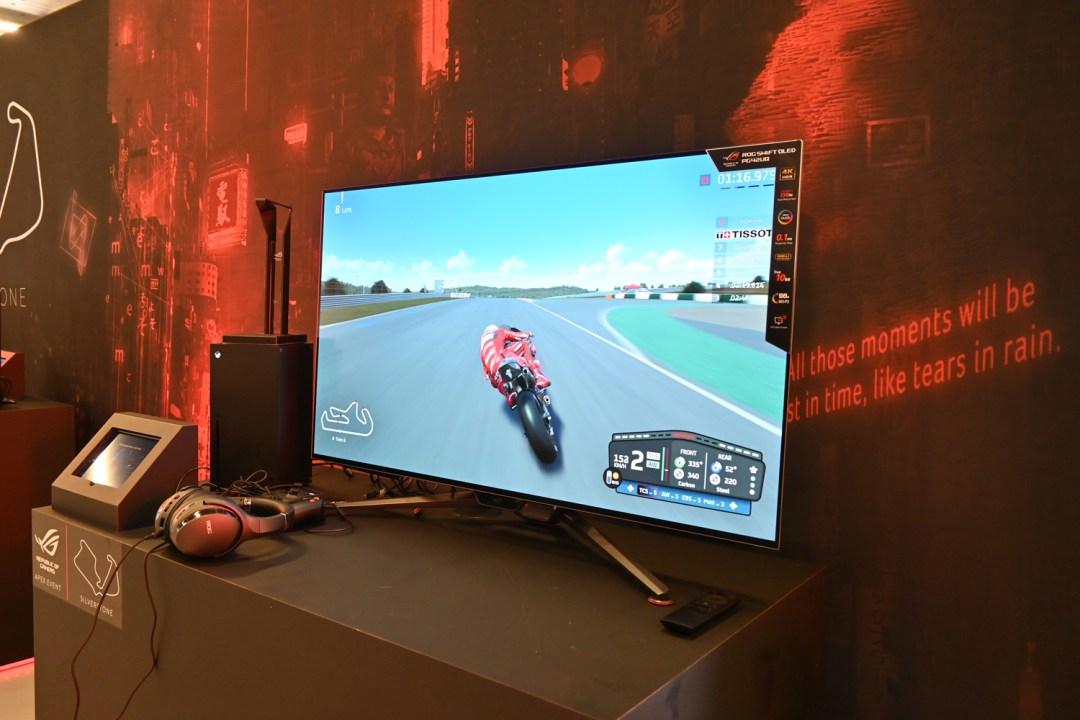 It's common knowledge OLED is the king of impeccable contrast and deep, inky blacks, whether we're talking smartphones or living room TVs – but it has taken the desktop monitor crowd a little while to catch up. Gigabyte, Alienware and OLED panel producer LG have all tested the water, but now Asus' ROG sub-brand is doing a proverbial cannonball with not one, but two new models.
The 42in ROG Swift OLED PG42UQ and 48in PG48UQ are proper, gaming-grade displays that promise higher refresh rates than any rival, adaptive sync tech to play nicely with games consoles as well as PC graphics cards, and beefed up internal cooling to help sustain peak brightness without speeding up pixel burnout.
We got an early look at both monitors at Asus' recent Apex event, testing out a combination of console and PC gaming, and strapping in to a three-screen sim rig to see whether you should plan to upgrade your old LCD.
Design & build: seriously skinny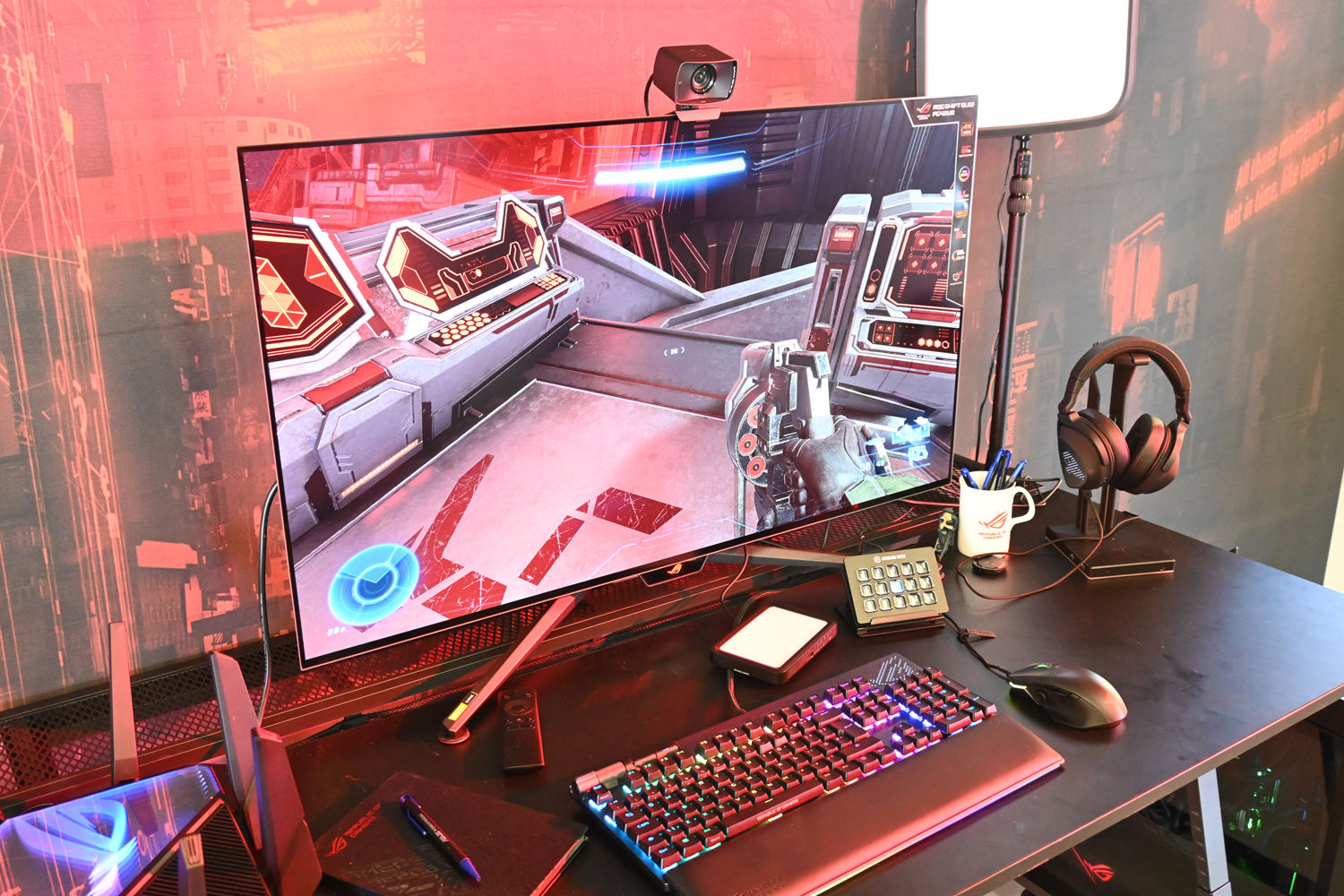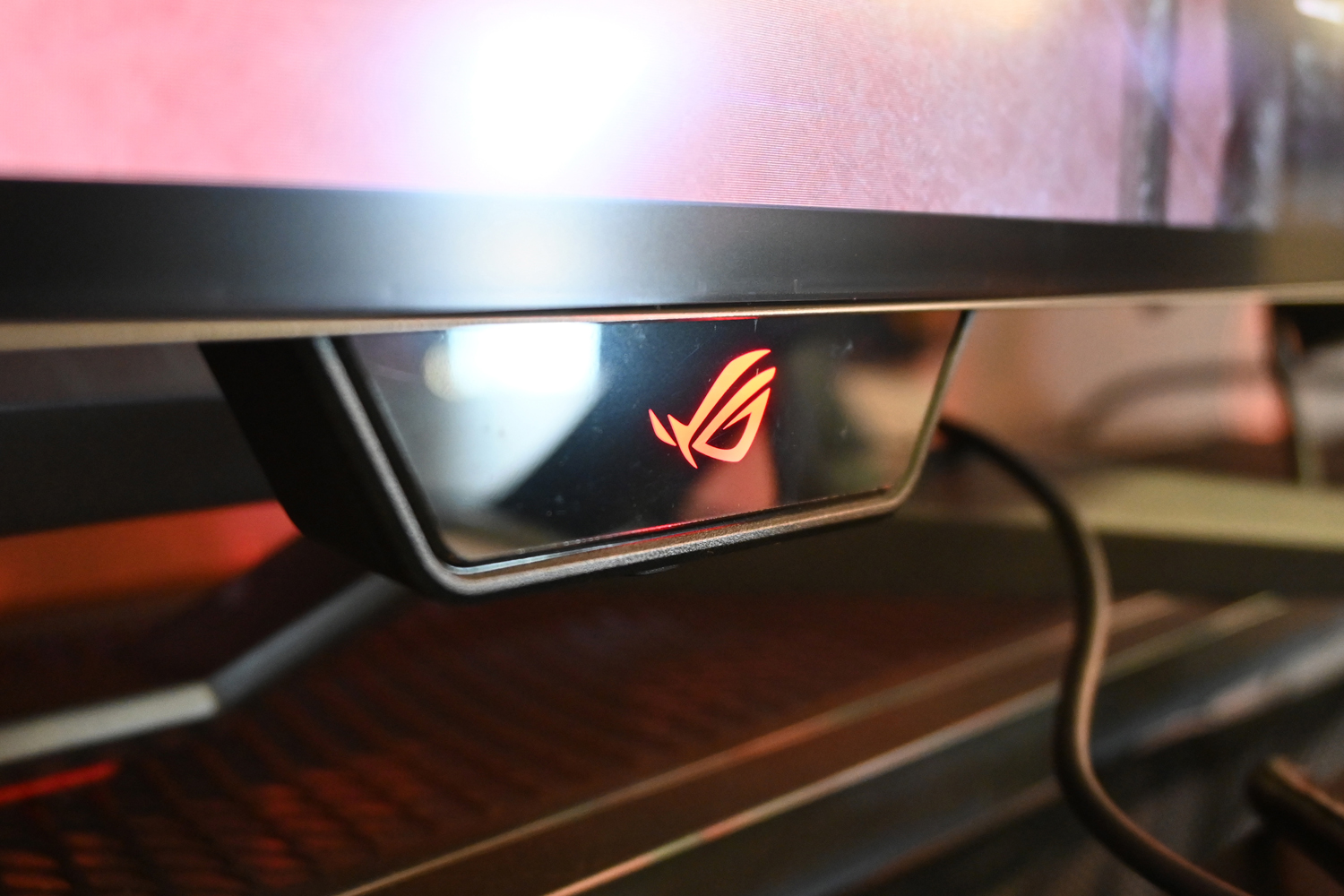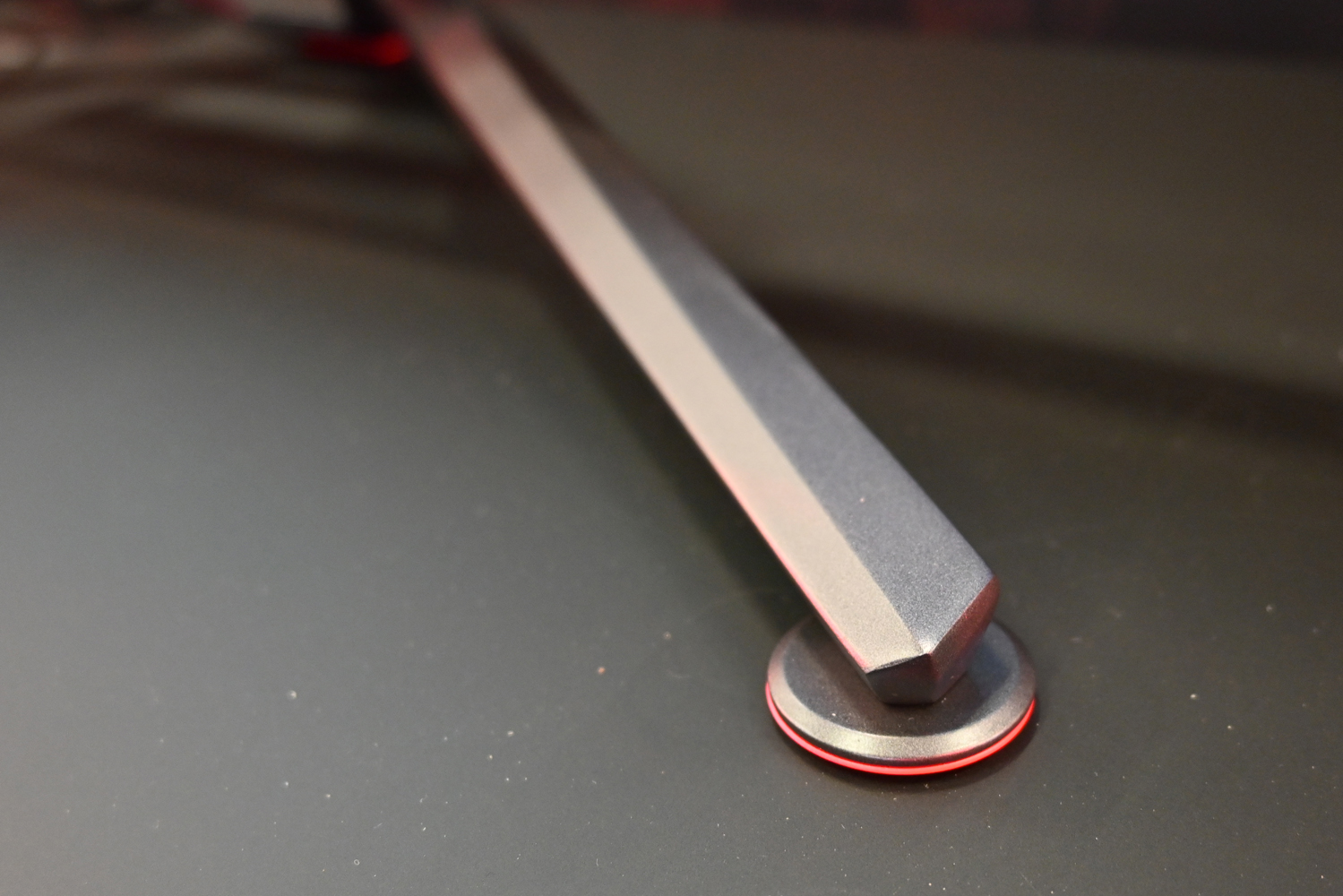 Asus could have taken a super-slim OLED panel, slapped a stand on it and called it a day – but that's not what you're getting here. Both models are certainly very slim in places, but there's a bit more of a bulge out back than you'd find on a similar-sized OLED TV. That's to make room for the uprated internal cooling, which should help the panel pump out a maximum 900nits peak brightness, and sustain it for longer without any burn-in. We certainly couldn't spot any ghosted logos or evidence of static images on show.
The chassis also holds a decent set of speakers. Two Harman-tuned 10w drivers are paired with a 15W woofer, which promise more impactful sound than the weedy speakers usually found in desktop monitors. They sounded clear and volume got pretty high, although we were hardly listening in a controlled environment. We're expecting "good TV" levels of audio, rather than something that'll make your sound bar redundant.
From the front, both screens have real visual impact, with display bezels that are practically non-existent, and a slim stand that doesn't take up much room on a desk. Important, given the smaller model is still a significant 42in. There's no height, rotate or swivel adjustment, but a welcome +/- 5° tilt range.
Gaming gear manufacturers usually can't help themselves when it comes to slapping RGB backlighting on everything, but Asus hasn't gone mad here: the ROG logo at the bottom centre up, but that's about it – and you can turn it off through the menus if it's distracting.
Features & connectivity: thinking like a gamer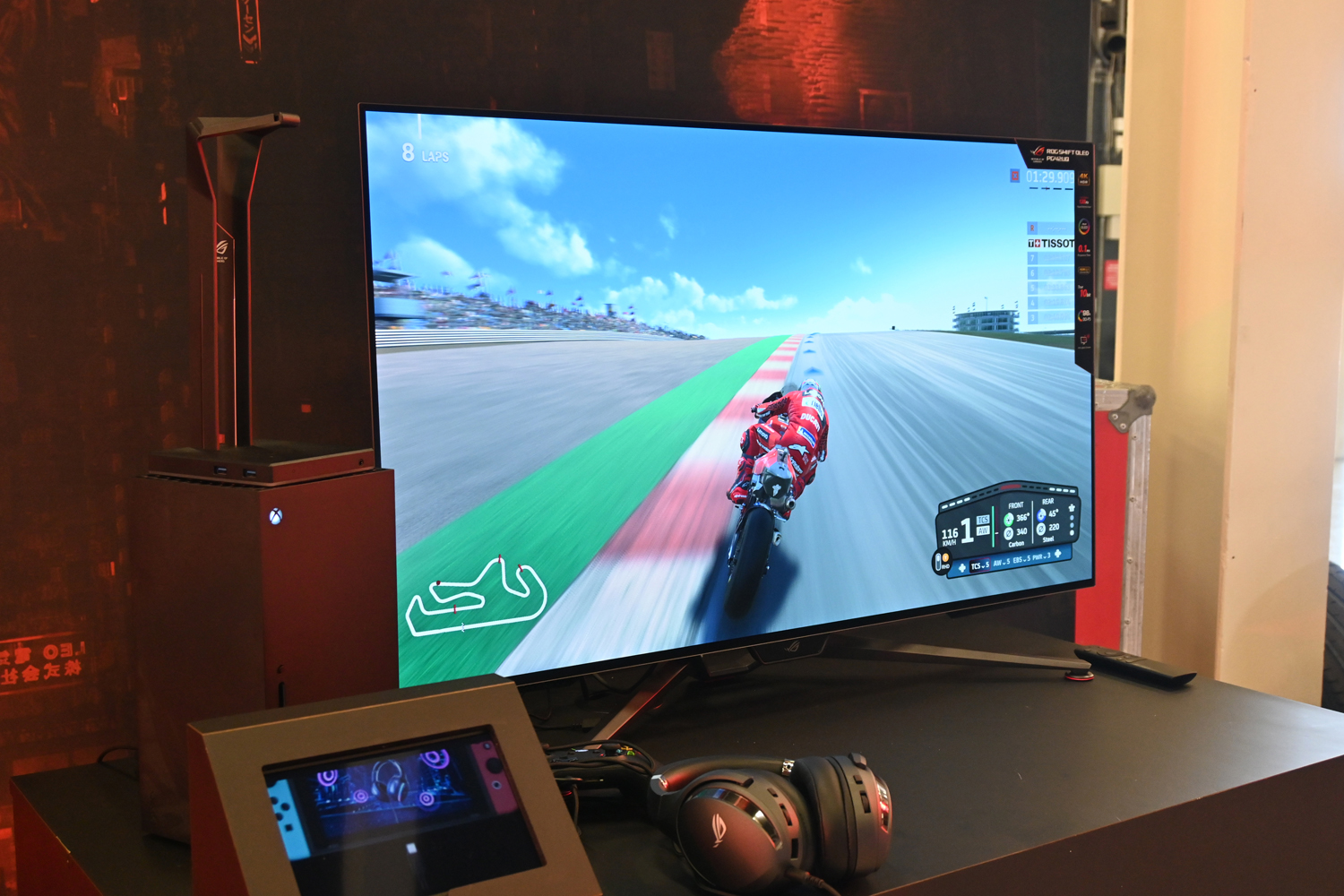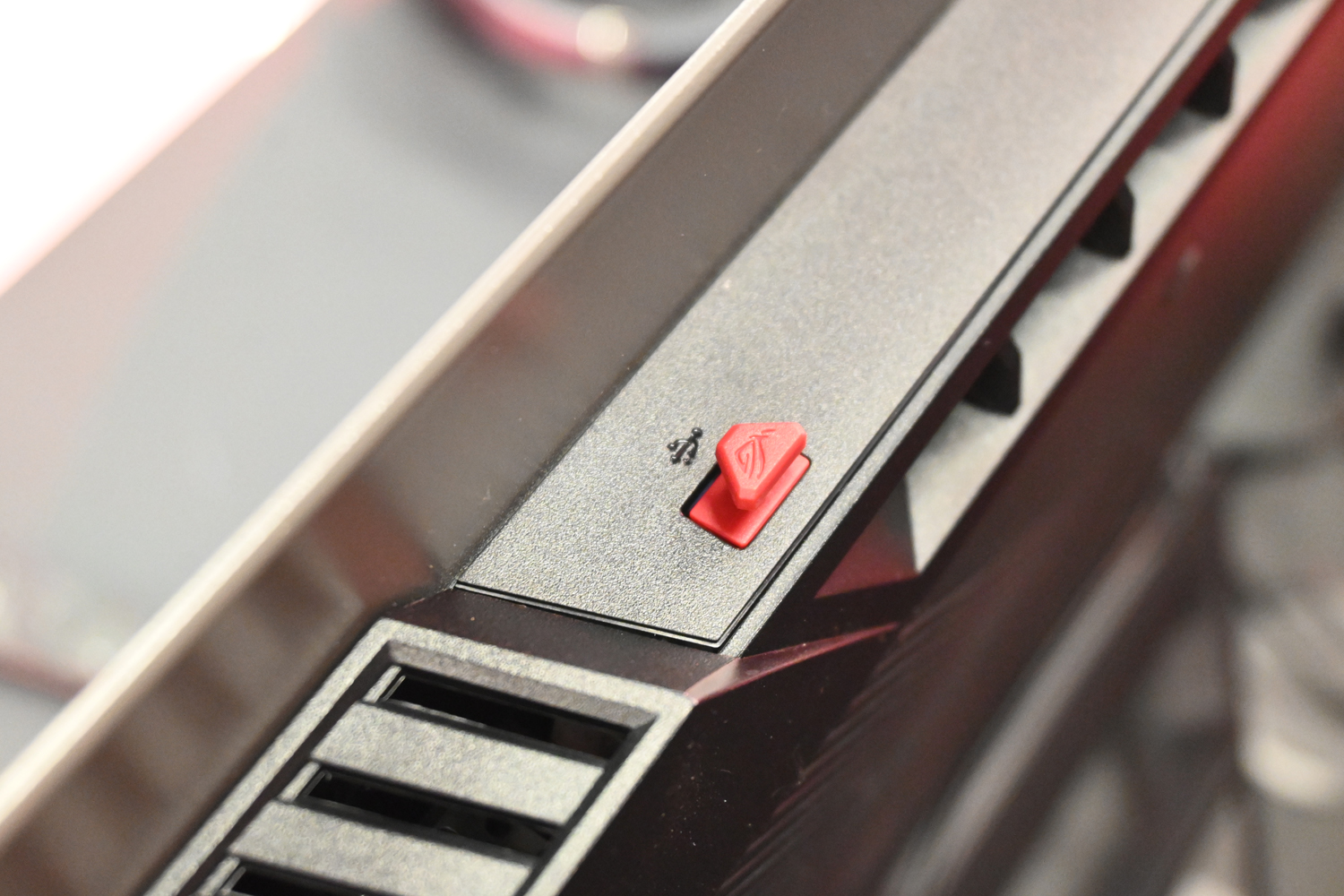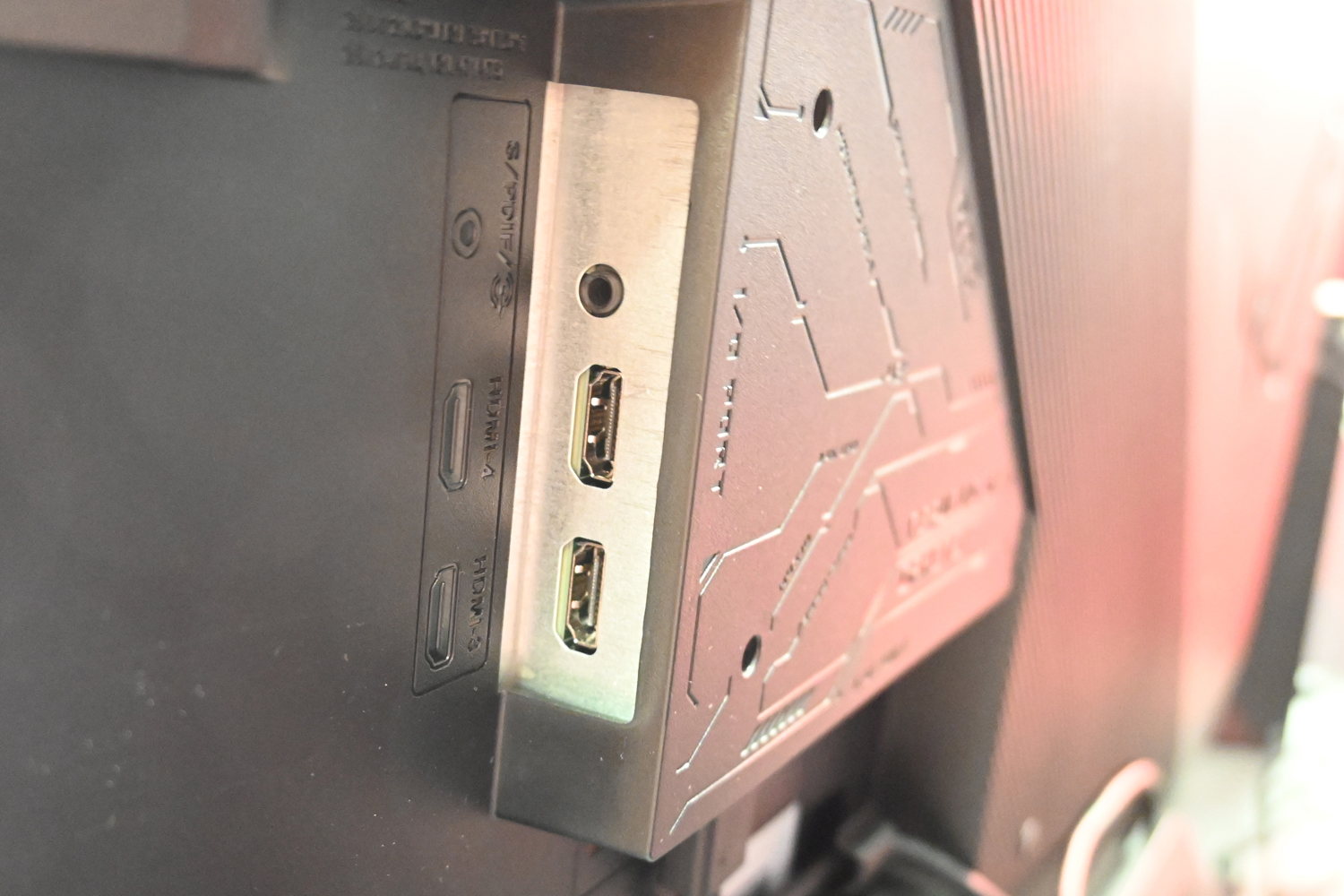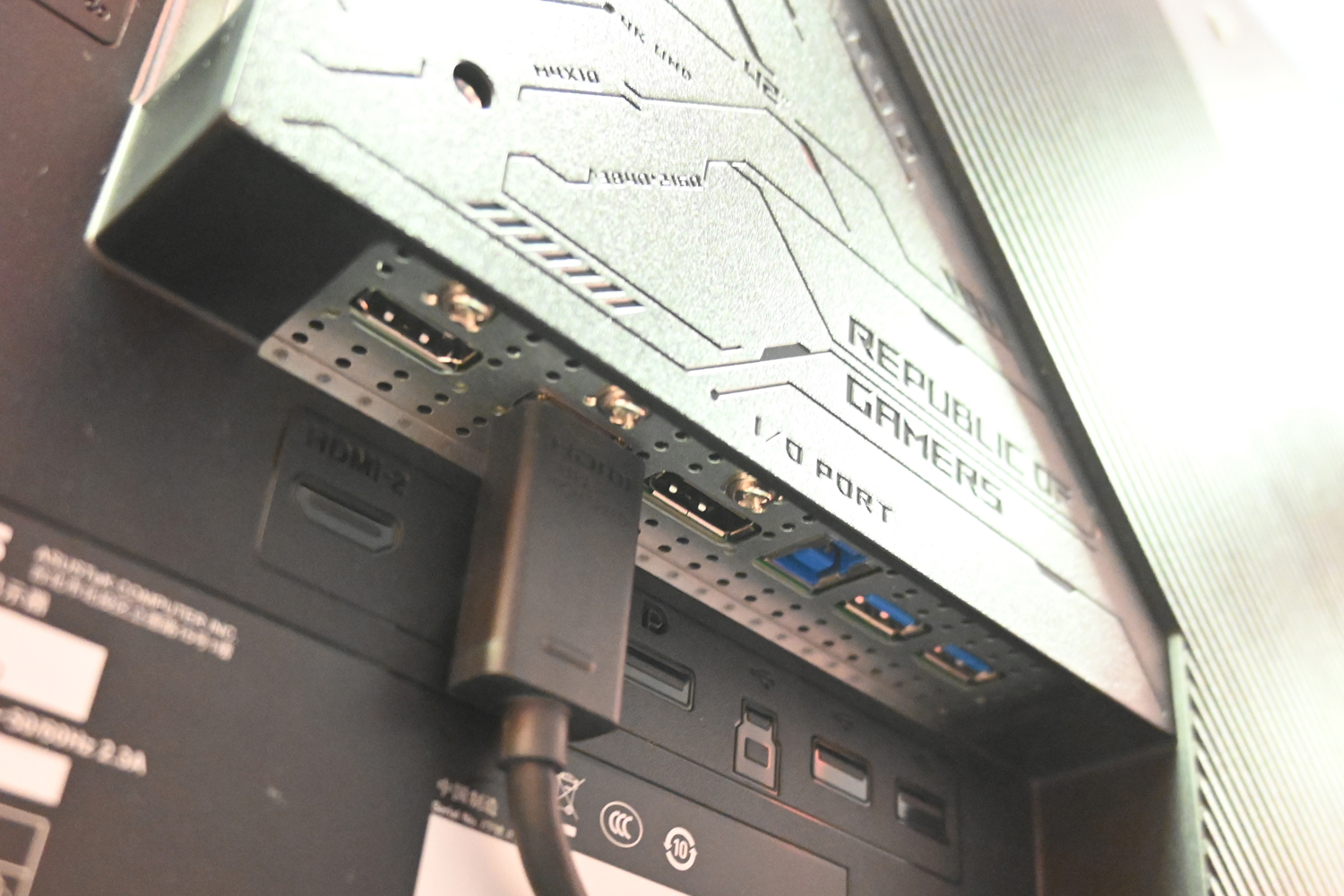 Asus knows its target audience, so has added a handful of gamer-friendly niceties as well as a good selection of ports. Up top, there's a tripod thread for fixing a webcam or key light, along with a USB port (two on the larger model) to wire it in without snaking cables across your desk.
Most of the ports are hidden behind a removable cover, which channels all the cables in one direction. You're looking at two console-friendly HDMI 2.1 ports, along with DisplayPort 1.4 (not a given on OLED TVs of this size) and two HDMI 2.0s for PC gaming, plus a handful more USB3 ports and a 3.5mm headphone port.
The five-way joystick for controlling the on-screen display is sensibly placed so you don't have to stretch uncomfortably to reach it, but Asus also bundles a remote control in the box. It'll be useful for console gamers not sat directly in front of the screen.
What you won't find are any TV features, like a tuner around back or smart streaming functions built-in. That also means no motion smoothing or other image processing, which some might appreciate.
Image quality: peak performance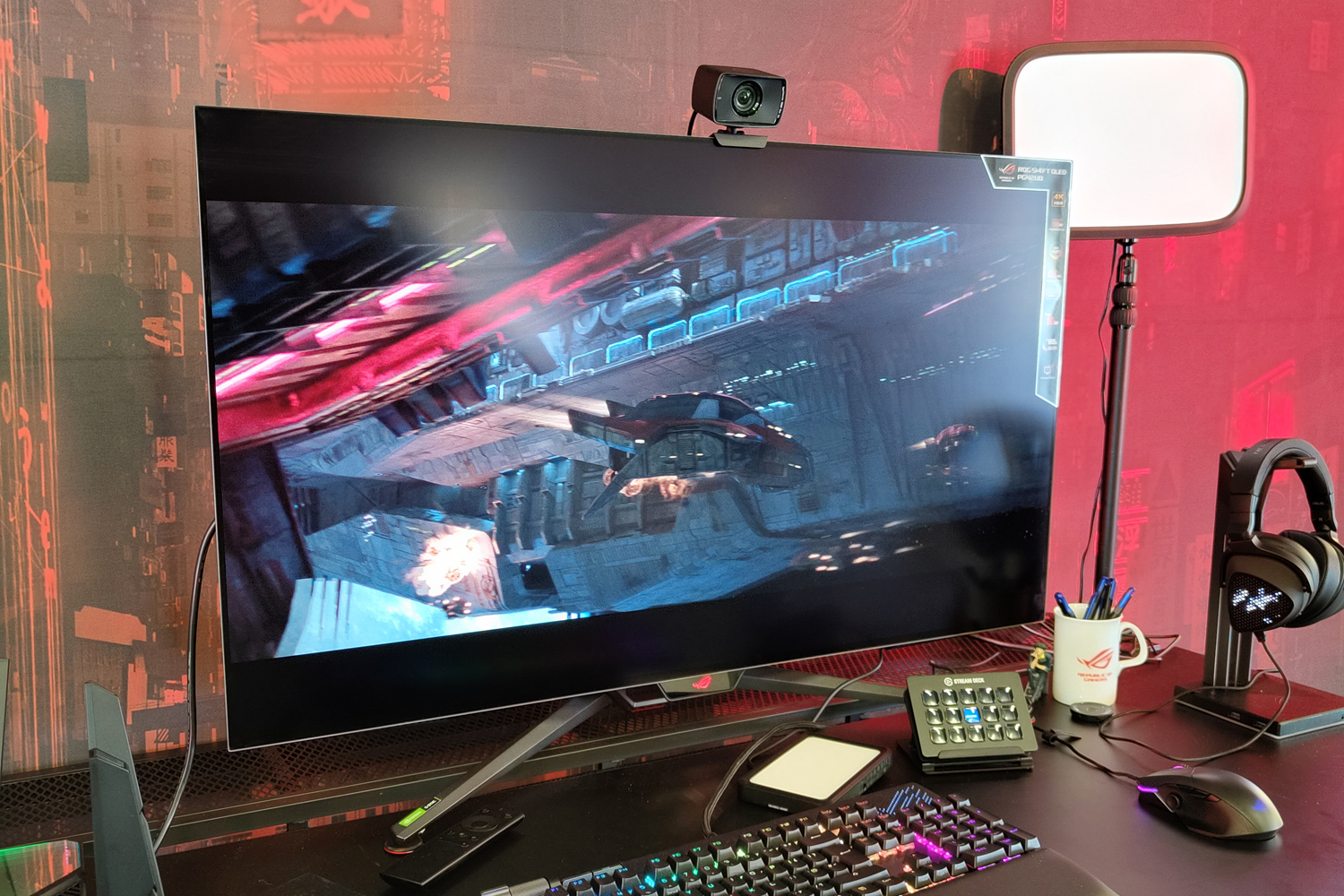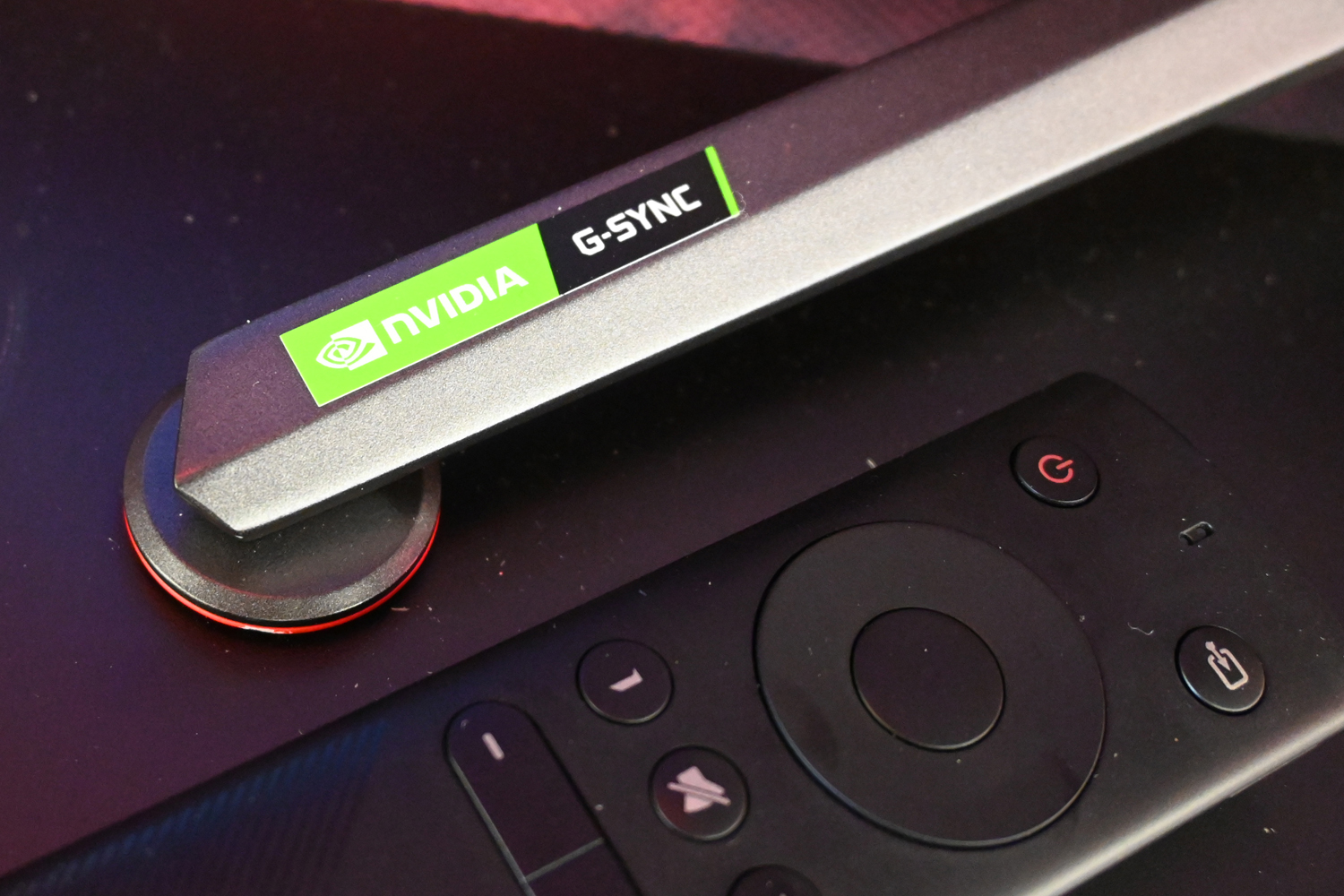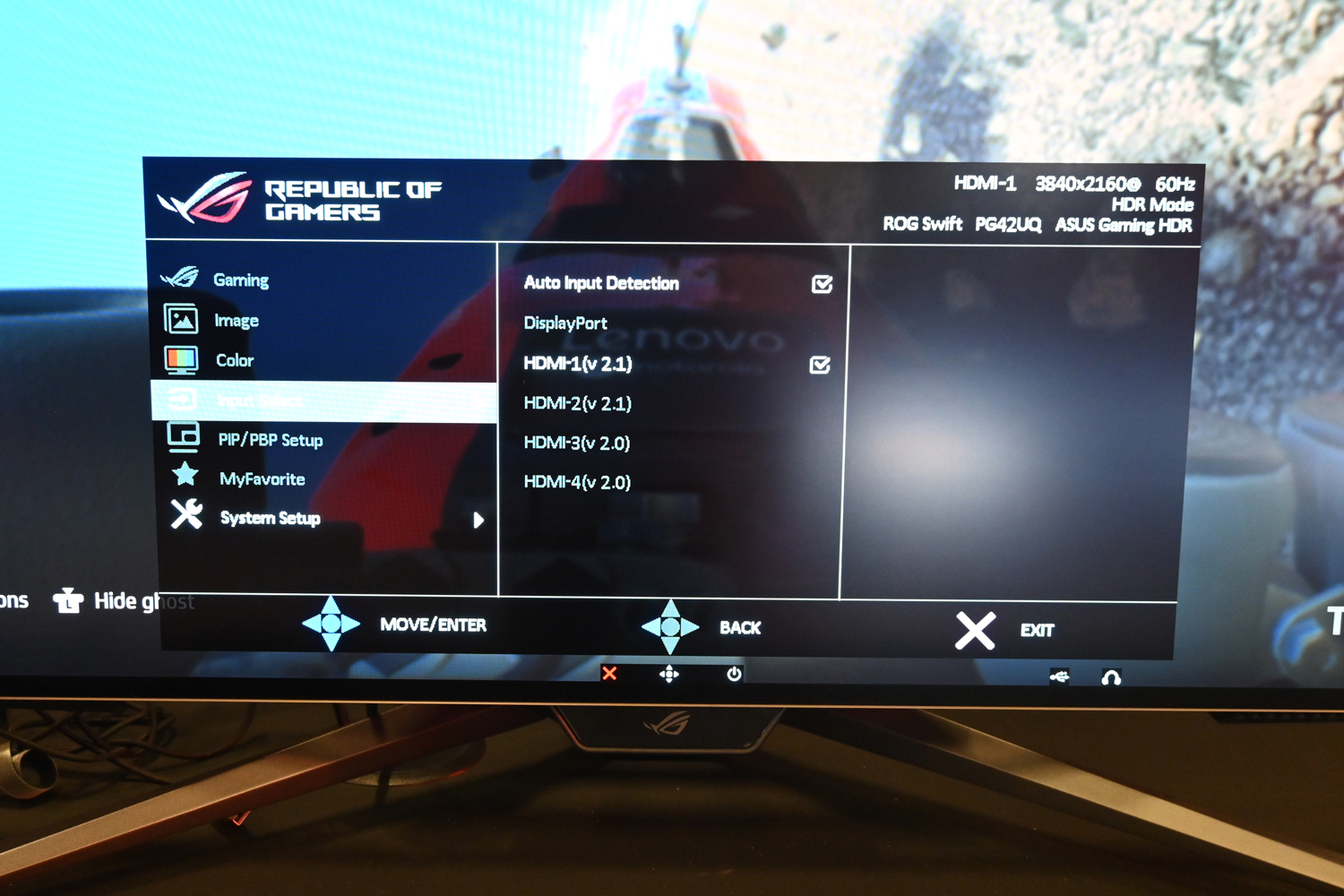 We can't think of a 4K, HDR-friendly OLED that didn't look good, but on first inspection Asus appears to have done a particularly great job with the PG42UQ and PG48UQ. Both look pin-sharp, with vibrant colours and impactful shadow detail, mixed with bright highlights and slick motion.
Each covers 98% of the DCI-P3 colour space, and comes with its own factory calibration report in the box, so creative types should be able to plug in and get straight to work. The anti-glare screen worked wonders under the harsh spotlights of Asus' demo area, letting us clearly see the darker areas of Halo Infinite's opening skirmishes.
The panels have an adaptive 120Hz refresh rate for console gamers, along with Auto low latency mode (ALLM), but PC players can overclock to 138Hz when hooked up over DisplayPort. It'll take better eyes than ours to spot the difference, as both looked gloriously smooth and responsive, but demanding FPS gamers in particular will appreciate the improvement – there are only a few rivals that can match it for speed. FreeSync and G-Sync support cuts out screen tearing if your GPU can't keep up, too.
OLEDs have near instant pixel response, so the combination of panel and refresh rate completely eliminates ghosting from fast movement. Both screens held up well with fast motion, too – avoiding smears or blurry pixels in Project Cars 2 and MotoGP 22. They also use sub-pixel rendering to make text clearer than rival OLEDs, which should make a big difference for desktop duties.
Contrast is a claimed 1,000,000:1, which is as good as anything you'll find to fit on your desk, and the 900 nit peak brightness bodes well for giving HDR video proper impact, as well as games.
Asus ROG Swift OLED PG42UQ Initial verdict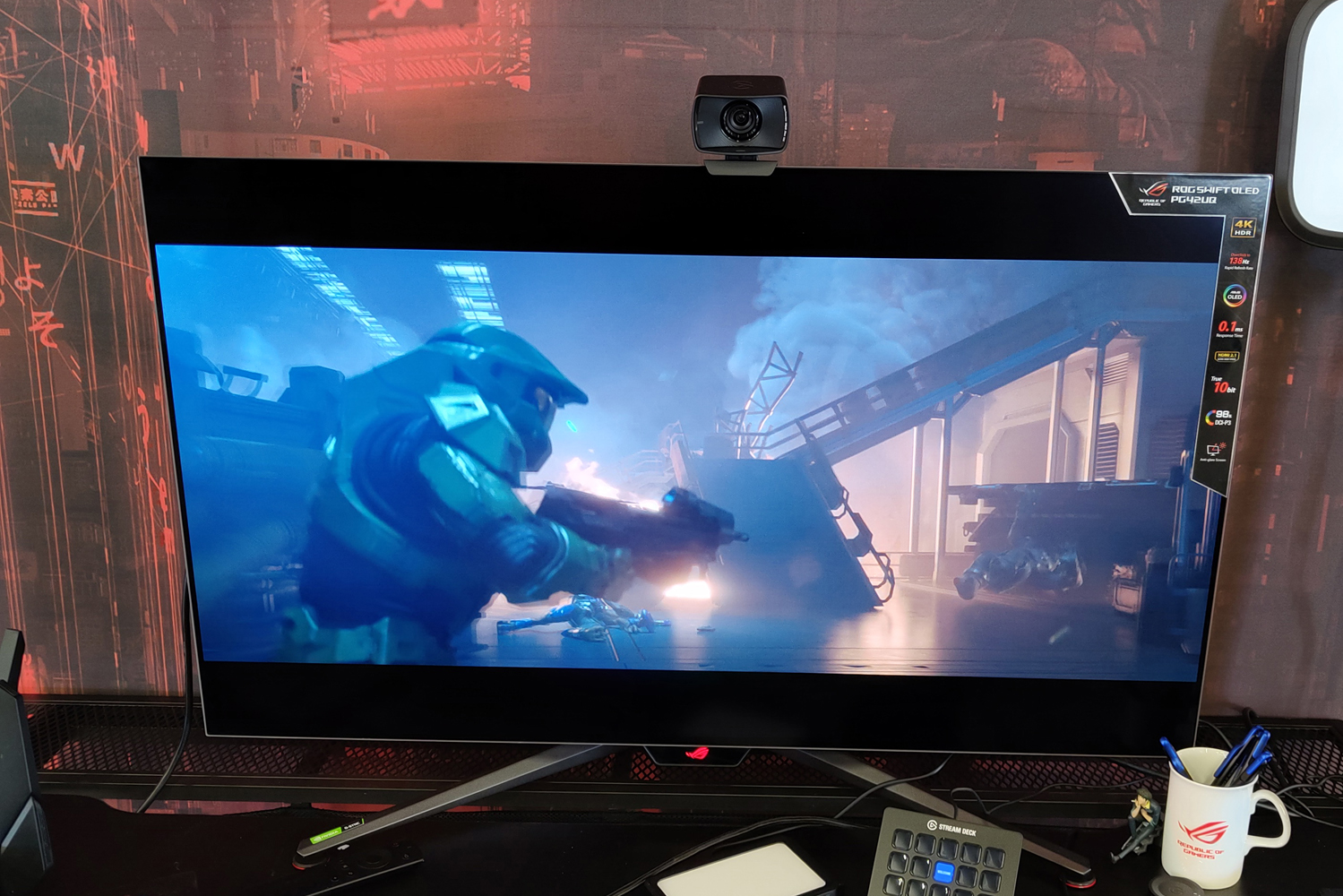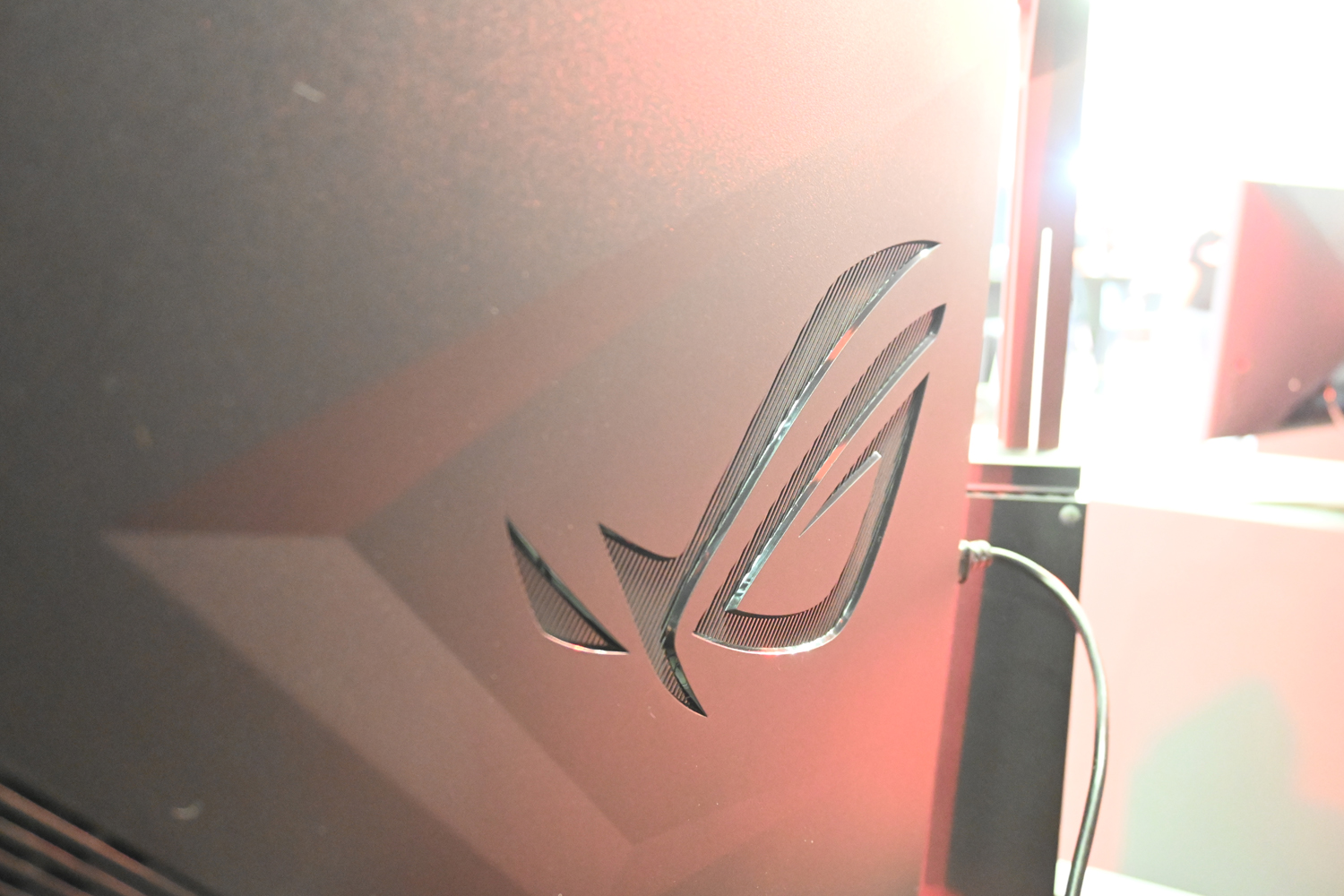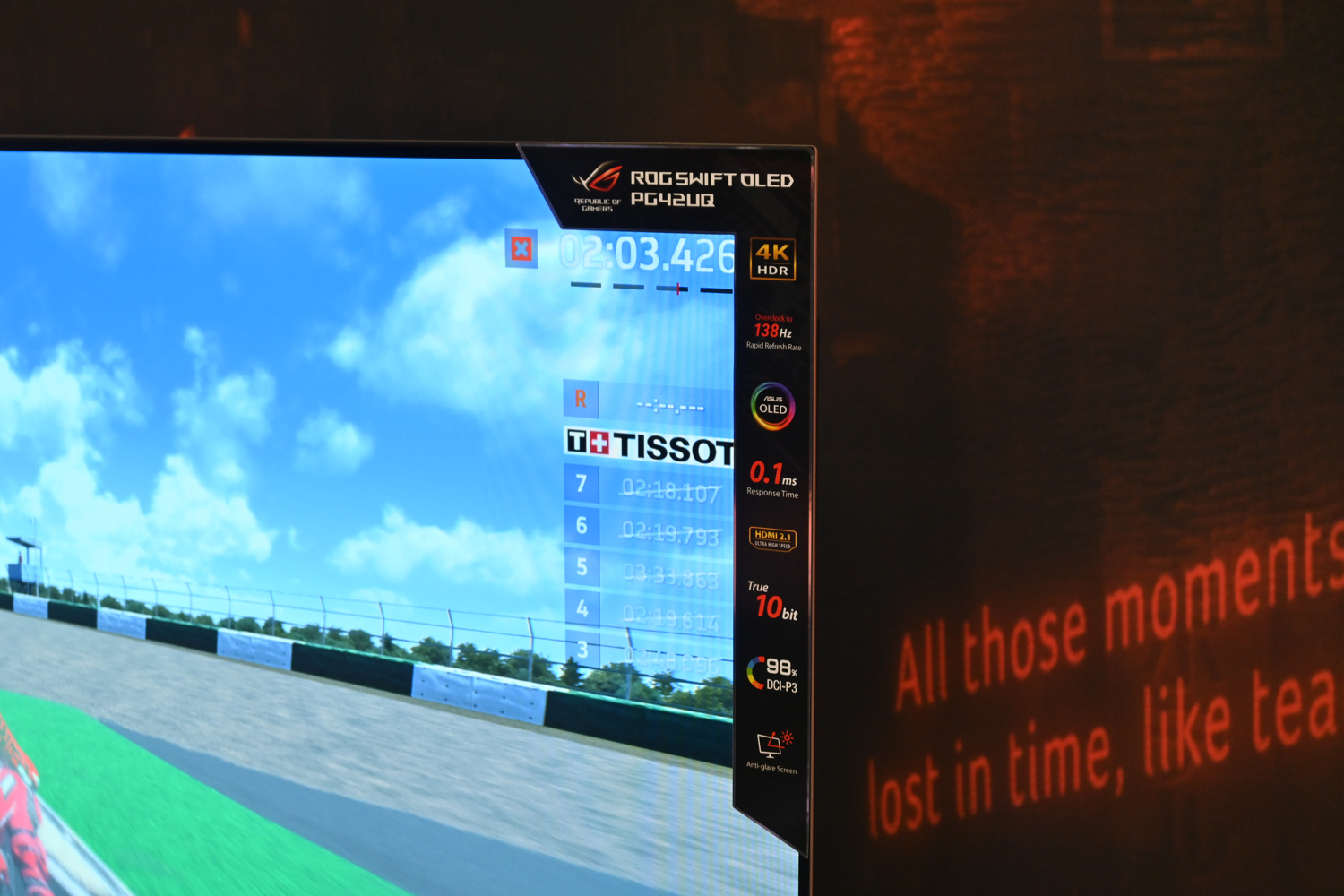 There's no doubting OLED's ability to produce superb images, and Asus appears to have done a brilliant job in combating the tech's weaknesses. More robust cooling meant none of the screens on display at the firm's launch event were forced to run at reduced brightness, despite being on for extended periods over a particularly balmy August day.
ROG has included plenty of the gamer-friendly features you'd find on more mainstream monitors, which gives the PG42UQ and PG48UQ an edge over a regular OLED TV for desktop use, and it has all the panel tech exacting players demand.
Of course no OLED is cheap. The PG42UQ is available to pre-order from Amazon UK now for £1399, and the PG48UQ will set you back £1499, also from Amazon. That pretty much undercuts the miniLED alternatives, though, so both screens stand a good chance of becoming a favourite for well-off PC gamers. Expect both models to start shipping in the coming weeks.