Asus ZenFone 4 review
Zen and the art of smartphone design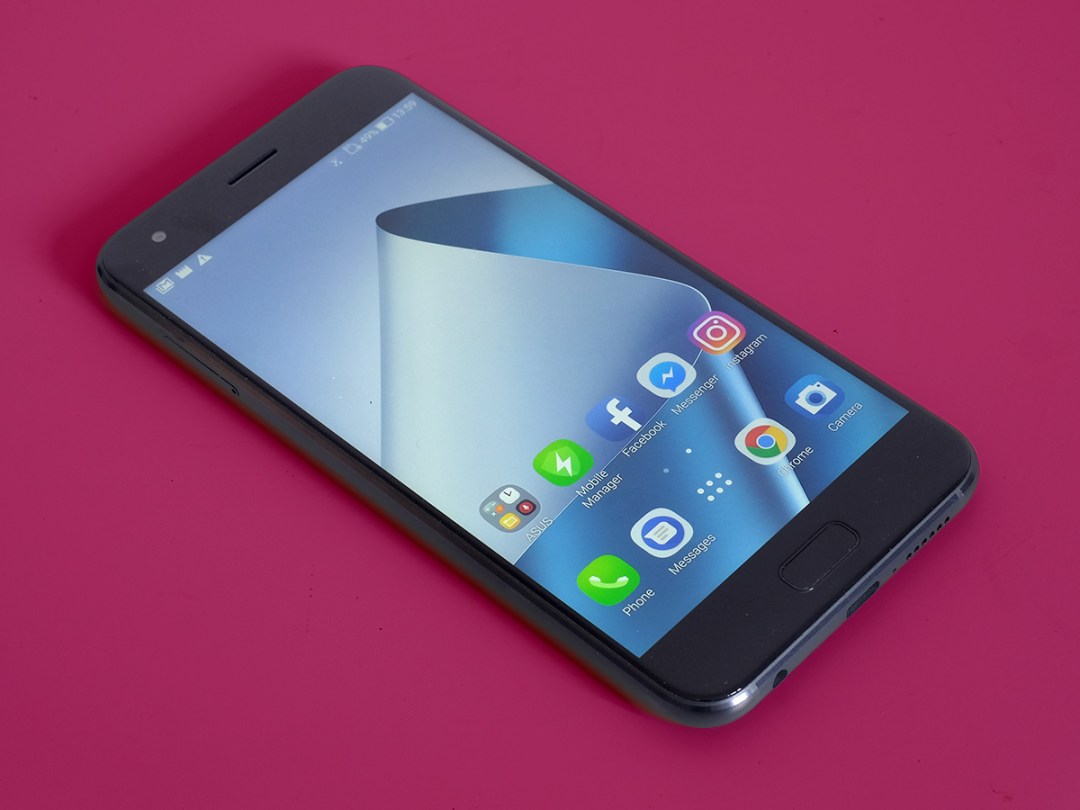 Are you tired of having a phone your friends recognise? The sheer weight of that iPhone cred getting you down?
An Asus ZenFone 4 is one way to get back to your humble roots with a phone only the nerdiest of mobile lovers would recognise. It's not like Asus is some phone-making newbie, though.
ZenFones have been around since 2014. You just don't see them on UK shelves that much.
The ZenFone 4 is is the series's big return to our shores. And with hardware that stacks up comfortably to the OnePlus, Honor and Motorolas of the world, and a price to match, it's a mostly welcome one.
Design & build
The ZenFone 4 is part of a growing army of phones that look and feel quite expensive, but don't even get close to the scary prices of today's priciest models. It costs around £449: not cheap, but a lot more affordable than an iPhone X.
It has Gorilla Glass 4 plates on the front and back, and aluminium on the sides. A year so ago, the ZenFone 4 would have looked right at home next to the top-tier phones.
Things have shifted, though. Today, a screen surround any thicker than a Cadbury's chocolate finger marks you out as a phone that needs to shape up. And the ZenFone 4 has pretty traditional screen:bulk ratio.
It also doesn't have a tapered design, making the phone seem a little boxy for something only 7.7mm thick. However, it's smart-looking and only a shade bigger than the OnePlus 5.
On the back there's a design nod borrowed from Asus's ZenBook laptops too. There's a shiny circular pattern under the glass that catches the light but doesn't make the ZenFone 4 as garishly flashy as something like the Honor 9.
All the little extras you expect from a good mid-range phone are here too. There's a good fingerprint scanner on the front, NFC, Bluetooth 5.0 and a USB-C port rather than the older microUSB kind. The highlight is 64GB storage: loads. This can also be bulked-up with a microSD card.
SCREEN & SOUND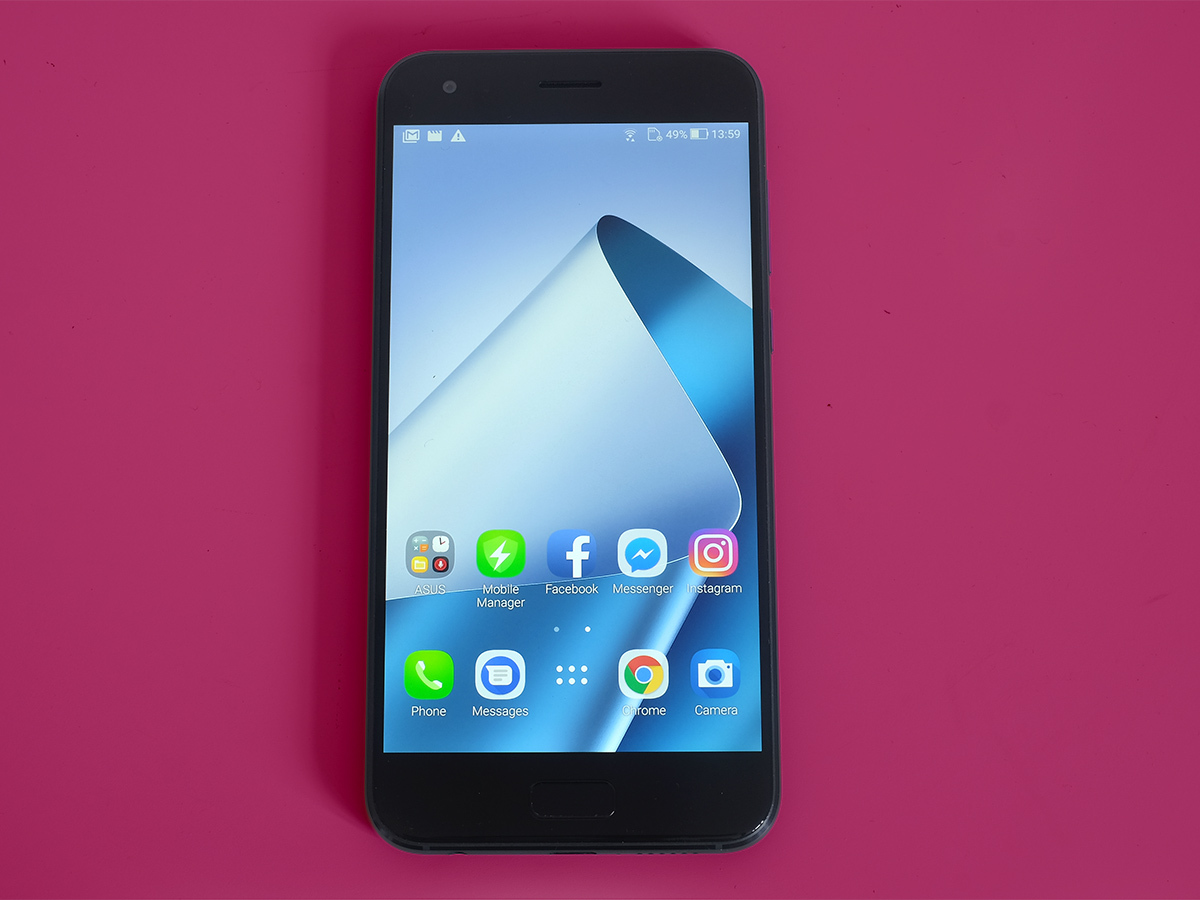 The screen is only roughly on a level with the Moto G5S Plus specs-wise, though. It's a 5.5in 1920 x 1080 pixel IPS display: pretty sharp, but we'd be complaining if it had anything less given the phone's price.
I was also not exactly wowed by the screen's colour tuning, which is a little less eye-pleasing fresh out of the box than the cheaper Moto rival.
There's a handy blue light filter, which should stop your late-night Facebook scrolling from keeping you awake, but there's no option to schedule it automatically – you've got to toggle it on and off. Like a peasant.
No mention of HDR is hardly a surprise either, seeing how this is more of a mid-range flagship, but it would have been a welcome inclusion that elevated the phone above its peers. Oh well.
Typical of Asus's nerdy style, you can customise this as you like using Asus Splendid, which lets you tweak the tone. Viewing angles are good, and it gets plenty bright enough to see clearly when you're outdoors.
Splendid is a handy software extra of the ZenFone 4. But not everyone will appreciate what Asus has done with Android generally.
Speaker quality isn't class-leading either. Top volume is good but the sound lacks the little spoonful of bass the best have, and the ZenFone 4 can sound a bit abrasive at top volume — for a phone with a decent speaker at any rate.
Software & OS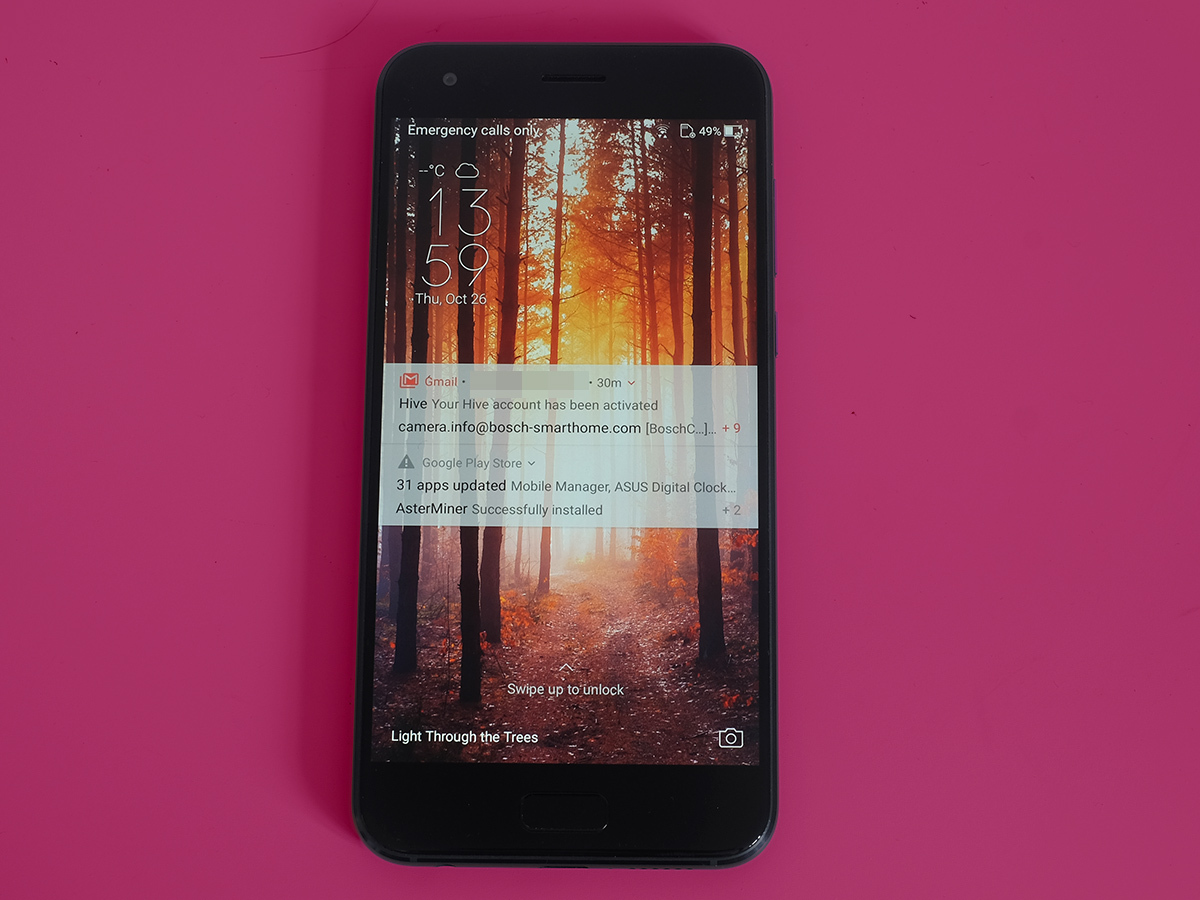 Like other Asus phones, the ZenFone 4 uses the ZenUI interface, and it's not as good-looking as the latest vanilla version of Google's OS. You get Android 7.1 rather than 8.0, although an upgrade is apparently in the pipeline.
Grumbles are mostly about the look, though, as the ZenFone 4 feels quick, and doesn't make any truly Android-mauling moves like getting rid of the apps menu.
Asus has also solved the long-standing complaint about ZenUI, that's it's filled with more crap than a Dan Brown novel. Extra apps are kept to a minimum, amounting to a few inoffensive utilities.
ZenUI still seems a little dated though, and a little ugly compared with the best. It does allow lots of customisation, though. You can choose how many app icons are squeezed onto home screens and apps menu pages, and the ZenFone 4 supports themes. Lots cost money, though, and many make the phone look worse rather than better.
PERFORMANCE & BATTERY LIFE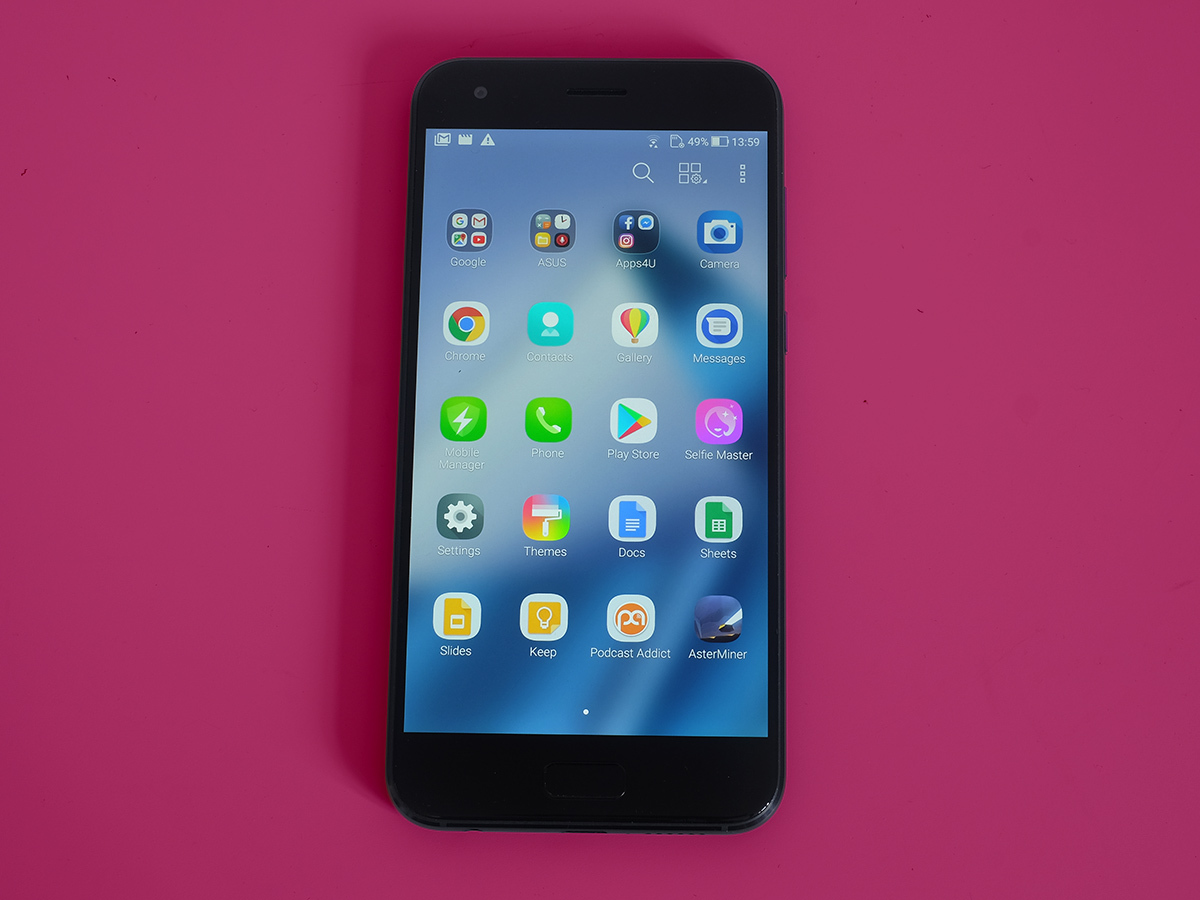 The core hardware is another area certain to raise a few eyebrows. This phone costs as much as the OnePlus 5, but has a much less powerful processor.
It goes with the Snapdragon 630, an up-to-date but ultimately mid-range CPU used in some significantly cheaper phones. This CPU has eight cores, but they're all the Cortex-A53 kind, the same used in the Moto G5.
However, just about no-one is going to notice this is a lower-power phone. High-end games run almost bizarrely well, with frame rates in Asphalt 8 looking very smooth, making it great fun to play. One of the Snapdragon 630's upgrades is a faster graphics chip, the Adreno 508, and it shows.
This is a very good phone for gamers. In Geekbench 4, though, the ZenFone 4 scores 4137 points. The Honor 9 manages around 6000.
ZenUI also adds a gamer overlay that lets you record footage and lets you programme-in macros like a pro mobile gamer. If they exist. I find this floating bar more distracting than anything else, but you can disable it if you like.
This is a tough one. You can get more power for your money from the Honor 9 or OnePlus 5. But, frankly, I don't miss it.
The ZenFone 4's 3300mAh sounds massive, and sure enough I've found the phone lasts a full day – even with an hour's messing about online looking for things to do at the weekend, a few hours of podcasts and normal app use.
With very light use you should be able to get most of the way to two days' use. However, if you're into mobiles deep enough to be considering a ZenFone, you probably use a bit more than just WhatsApp. Consider this a phone that'll last a solid day with a bit in the tank for the next morning.
An hour of Real Racing 3 takes 15% off the battery level. That's not too bad at all, suggesting you'll get over 6.5 hours of gaming off a full charge.
The ZenFone 4 offers "fast charging" but the slowest kind that can still make this claim valid. It's a 10W charger, so doesn't rocket up to 80% charge in a flash. It's not a match for the OnePlus 5.
Camera
Its brain may not have class-leading chops, but the camera specs are hard to argue with. The ZenFone 4 uses a primary 12MP Sony sensor on the back with phase detection autofocus and, still a killer feature for night photography, optical image stabilisation.
This teams-up with a lower-end 8-megapixel wide angle camera with a 120-degree field of view. You trade away image quality a bit and the wide camera is pretty useless at night, but most of the time you'll use the main sensor anyway. I'd rather have a zoom camera, but you need to upgrade to the significantly pricier ZenFone 4 Pro to get this.
The normal rear camera is very flexible indeed. When you whip the ZenFone 4 out and start shooting instantly, particularly at night, you might find the first photo uses slightly dodgy settings. You'll see the odd noisy night shot. However, aberrations aside you can get seriously detailed night photos. The phone actually beats the OnePlus 5 here, which doesn't have OIS.
You can really see the stabilisation working too, as at night people walking around will be reduced to a motion blur. To be clear: this isn't a bad thing, it's part of getting good night photos out of a phone.
As you'd hope, daylight photos look great too, with lots of fairly clean detail. The best phones have slightly better, more natural, colour in certain conditions, but the ZenFone 4 has one of the better cameras you'll find at the price.
It's quick too, with only a smidge of shutter lag.
The front camera is just solid, with the sort of solid but not mind-blowing 8MP hardware you'd expect at the price. Selfies look OK, but tend to appear a bit weak or washed-out with less than perfect lighting.
Video fans will be pleased to hear capture goes up to 4K resolution, too.
Asus ZenFone 4 verdict
The ZenFone 4 doesn't seem the phone that will launch the series from the shadows into the pockets of millions of people who think Asus only makes laptops. However, that doesn't mean it is not a very solid phone in its own right.
A night-shooting-ready camera, good quality build and lots of internal storage make this a totally sound buy. And while Qualcomm deserves the processor props for making the Snapdragon 630 such a good chipset for real-world mid-range performance without compromise, Asus still earns few points for using it.
The design isn't truly dynamic, and ZenUI is still one of the less charming Android interfaces. However, this is still a phone we'd be happy to use long-term.
Tech specs
| | |
| --- | --- |
| SCREEN | 5.5in 1920×1080 AMOLED |
| CPU | Qualcomm Snapdragon 630 octa-core |
| MEMORY | 4GB RAM |
| CAMERA | Dual 12MP+8MP, f/1.8+f/2.2 rear with PDAF, OIS, dual-LED flash. 8MP front |
| STORAGE | 64GB on-board, microSD expansion |
| BATTERY | 3300mAh non-removable |
| OPERATING SYSTEM | Android 7.1.1 Nougat w/ ZenUI |
| DIMENSIONS | 155x75x7.7mm, 165g |
Stuff Says…
Probably doesn't signal the start of an Asus assault on our phone-buying habits, but the ZenFone 4 is perfectly potent – if a little too stuck in its ways when it comes to software
Good Stuff
Competent main camera
Premium Metal and glass build
Decent gaming performance
Bad Stuff
Power a bit lacking for the cash
Beefy bezels