Asus ZenFone 6 hands-on review
Flippin' out over ZenFone's latest star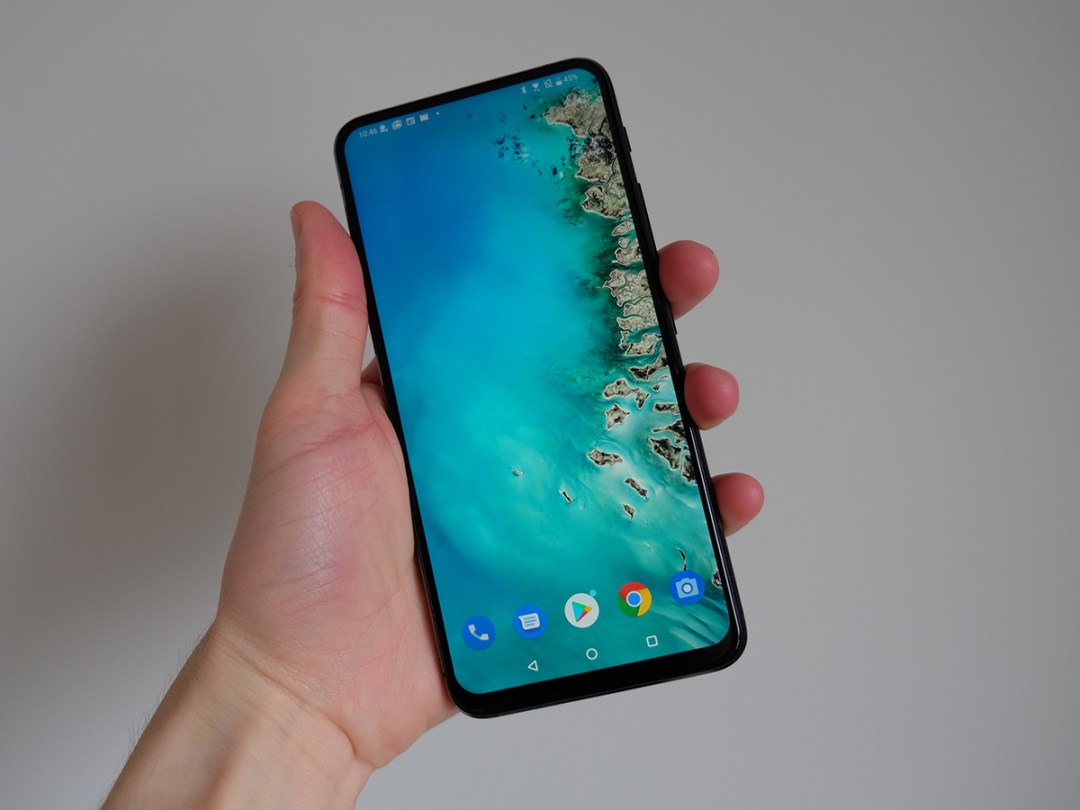 Notches, that great smartphone controversy of 2018, would appear to have less staying power than whoever won the last series of The X Factor.We've already seen various punch holes and pop-up selfie cameras that eliminate the need for a screen-interfering cutout, but Asus has an altogether different, not to mention genuinely innovative, take with the Asus ZenFone 6.
A dual snapper setup is located in a flippable module on the back of the phone, meaning the sensors can take up the role of both front and rear camera. At the press of the button the Flip Camera will rotate 180 degrees to face your grinning mush, tucking away again when you don't need it.
This means the display is truly edge-to-edge, and it really is something to behold. But that's not all that's interesting about the latest addition to the ZenFone line.
Other headline features include an enormous 5000mAh battery and a Snapdragon 855 processor, usually found making things go fast in considerably pricier phones.
Is this the phone that finally propels the ZenFone brand into the big leagues?
Design and display: flippin 'eck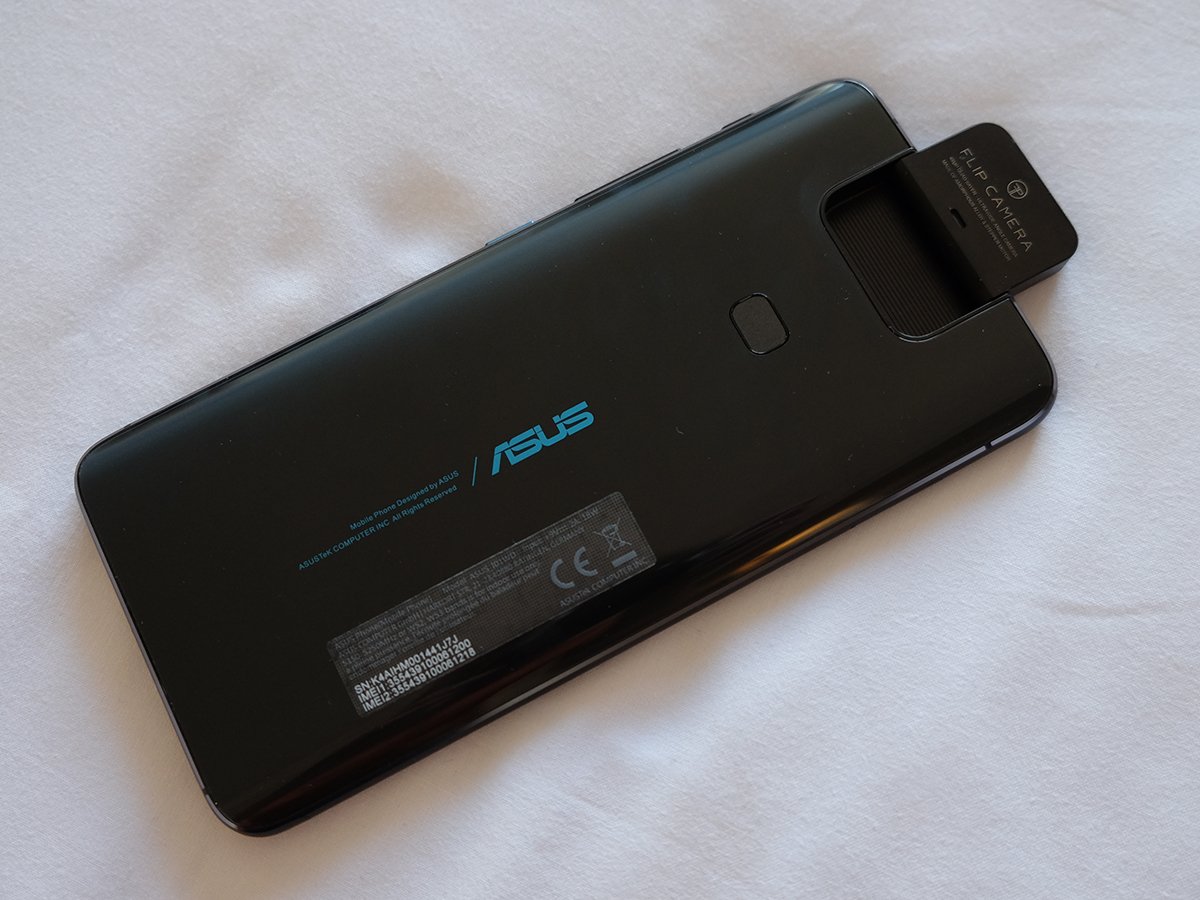 Wake the ZenFone 6 and the first thing you'll notice is that completely notchless screen. Specifically, it's a 6.4in FHD+ IPS display with a 92% screen-to-body ratio. There is a small chin bezel, but otherwise it's pretty much all display.
It's a shame Asus didn't go all out and stick an OLED on its fancy new blower, but it's still a looker of an LCD, sharp, bright and colourful, if not quite as rich as some of its flagship rivals. But enough about the screen.
By far the most interesting design feature on the ZenFone 6 is its Flip Camera. The dual sensors sit side-by-side in a motorised module centrally located at the top of the phone. It's a feat of engineering, powered by 13 gears and teeny custom-made cables.
We think the module looks a bit like a friendly robot's face, a face that flips 180 degrees to meet you when you tap the virtual front-facing camera button. You can also hold and drag up the screen to precisely control the rotation, opening up a host of different photography options.
It probably takes just a millisecond too long to activate to make facial unlocking something you'll want to do, but otherwise the whole manoeuvre is speedy and seamless.
The flippable camera module is crafted from liquid metal, four times stronger than stainless steel according to Acer. And you'd suspect it'll probably need to be should the phone fall into the wrong (probably small) hands.
We're promised it can withstand over 100,000 flips, and should you drop the phone (we tried it in the name of journalism) the phone's motion sensors will ensure the camera quickly retracts back to its resting position to avoid taking any serious damage. Clever.
Otherwise, the ZenPhone 6 is a solid, if unspectacular-looking flagship. Metal sides, curved Gorilla Glass 6, fingerprint sensor on the back (in-display would have been nice) – you know the drill. And on the bottom of the device you'll find a headphone jack, very much a collectors item these days.
The phone will be available in two colours: Midnight Black and Twilight Silver.
Software and performance: smooth sailing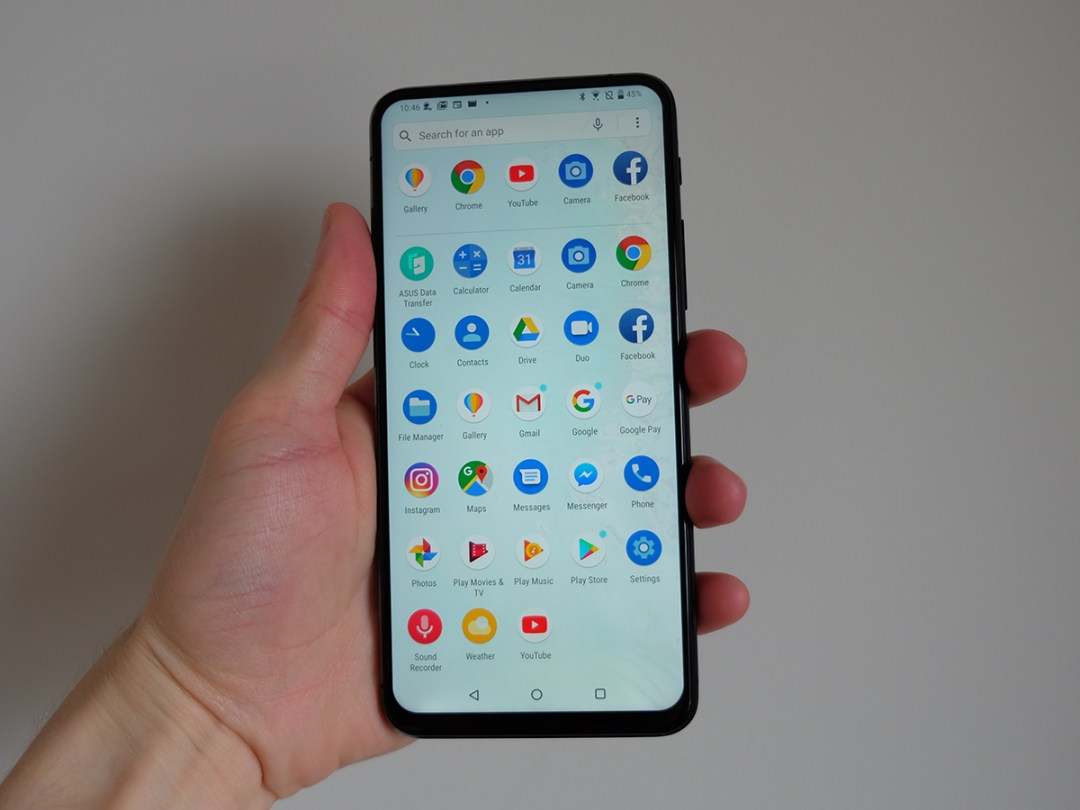 The ZenPhone 6 continues to run on Asus' own Zen UI skin, which traditionally has meant an ever presence of apps you don't want and a generally clogged up interface.
Happily, this is no longer the case, with the ZenPhone 6's software resembling something much closer to stock Android 9 with a handful of Asus apps and a few flourishes, such as an eye-catching Dark Mode. We're also fans of the brand's OptiFlex feature, toggled in advanced settings, which prioritises the performance of your most used apps by keeping them in the memory as long as possible.
On the side of the phone you'll find a Smart Key, used to summon Google Assistant, but it can also be customised to your liking. A neat party trick is asking Assistant to take a selfie, which will call upon the friendly alien camera module without you needing to manually activate it.
It might be priced somewhere in the middle, but the ZenFone 6 is very much a flagship where specs are concerned. A Snapdragon 855 and up to 8GB RAM ensure the phone is blazingly fast, and while we'll need to test it extensively, early impressions are that it'll handle anything you throw at it without breaking a sweat.
Cameras: Flip replacement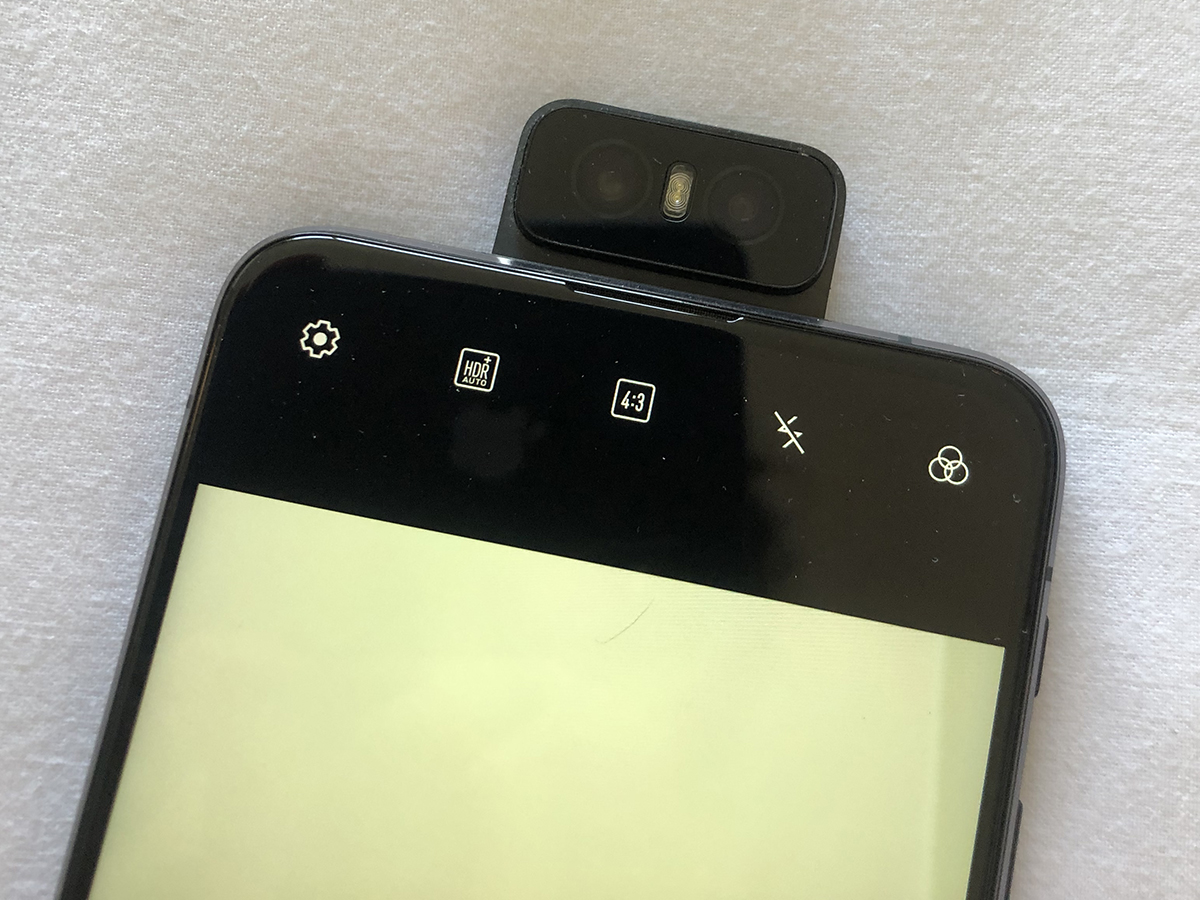 Here's where the the ZenFone 6 really comes into its own.
As mentioned earlier, Asus has an interesting take on the front camera predicament, in that its new phone doesn't actually have one.
Instead, the main dual camera array, which comprises the Sony made 48-megapixel IMX586 main sensor that's finding its way into seemingly every new smartphone at the moment, and a 13-megapixel 125-degree ultra-wide snapper that does real-time corrections, does a backwards somersault to become your selfie camera too.
We took a number of shots with both the main and ultra-wide cameras and the results were crisp and detailed, and well-lit scenes will benefit from the HDR+ mode.
It'll be interesting to see how the phone's Night mode stacks up against that of competitors The P30 flaghip and the Pixel when we take it out for some late-night snapping.
Aside from taking worryingly high-resolution pictures of your face, the flippable camera also affords you some unique front-facing capabilities, such as 4K selfie video with EIS (undeniably impressive in the demo comparison video) and auto Panoramas that don't require you to move your hand at all. The motor's rotation takes care of it for you.
Battery: big is beautiful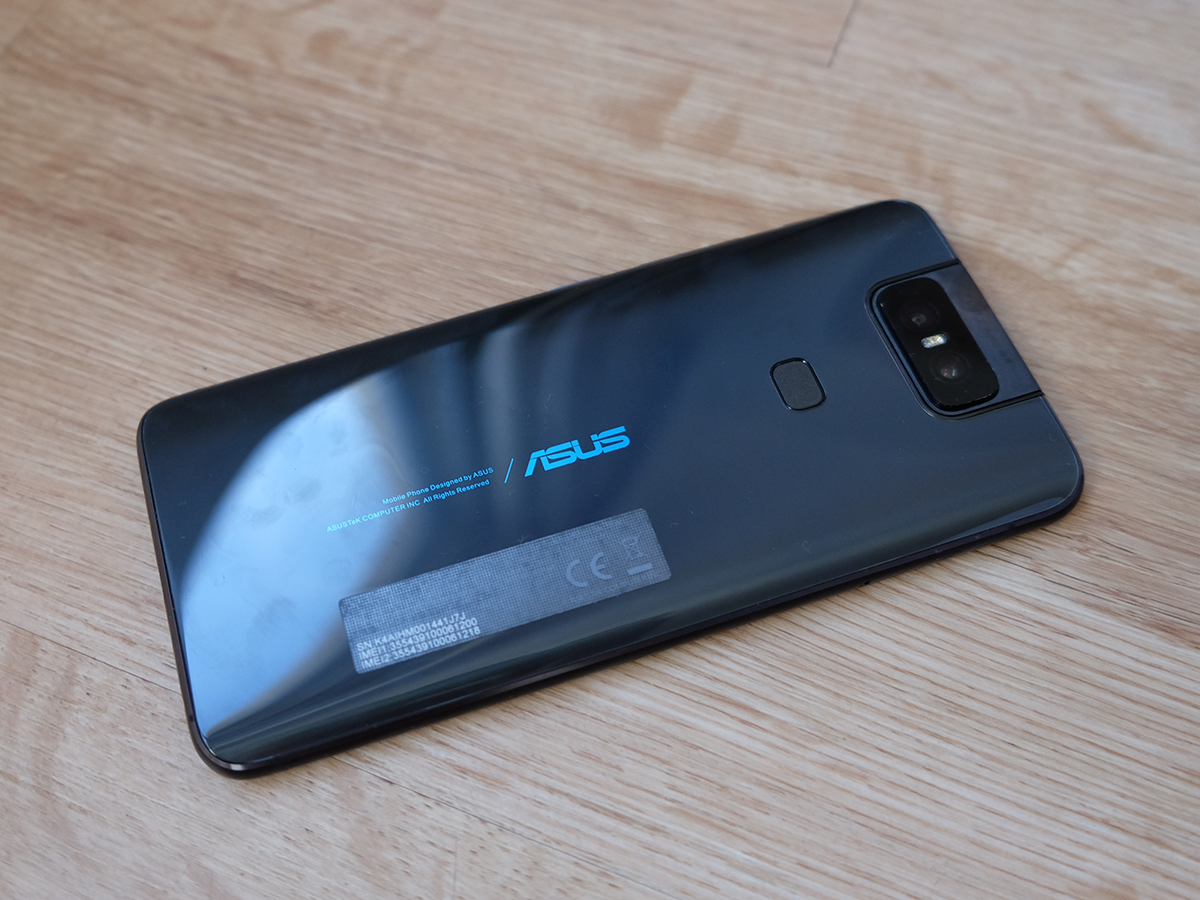 If the notch-banishing Flip Camera is the big draw of the Asus ZenFone 6, its battery comes a close second.
A humongous 5,000mAh cell means you'll be able to absolutely hammer the phone throughout the day without worrying about it conking on you.
Asus says you'll get two days of normal usage, something we'll need to test before agreeing with. What we can say though is that this battery is considerably bigger than what you'll find in Huawei's Mate 20 Pro, and that thing is a marathon runner of a smartphone.
It's also nice that its presence doesn't make the phone feel overly heavy in the hand. Charging is capped at 18W, but it's not like you'll need to be filling this blower with juice regularly. It'll more often than not be an overnight job, so super fast-charging isn't hugely important.
Asus ZenFone 6 initial verdict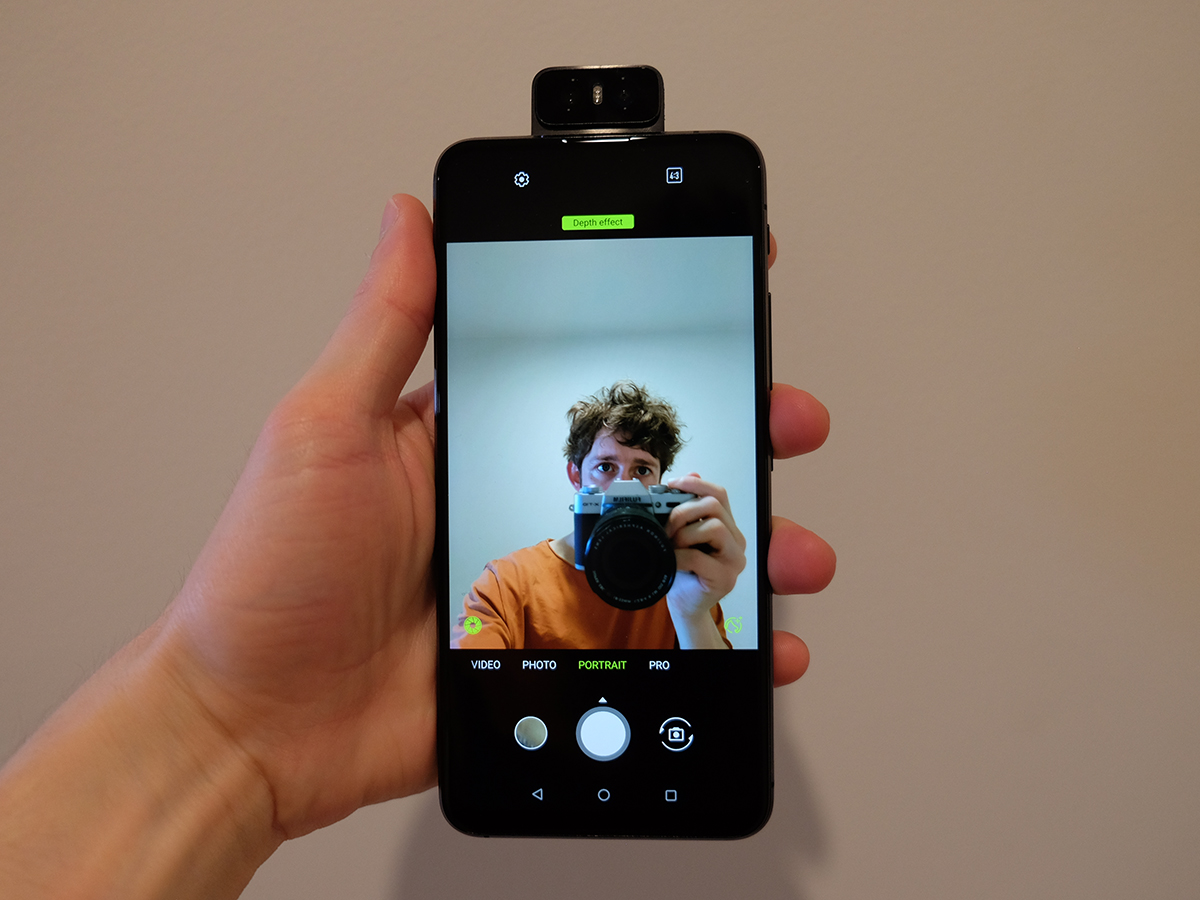 Asus' latest could easily have been another run-of-the-mill Samsung/iPhone impersonator, so it's refreshing and, dare we say it, quite exciting to see something a little different.
Sure, the flippable camera is a fun quirk, but it could be genuinely game-changing for front-facing video recording and shooting at otherwise hard-to-reach angles. We just hope the motor system is as robust as Asus assures us it is.
Throw in that heavyweight Snapdragon 855 and 5000mAh battery combo, and you've got a flagship to be reckoned with.