Asus Zenfone 8 review
Power in the palm of your hand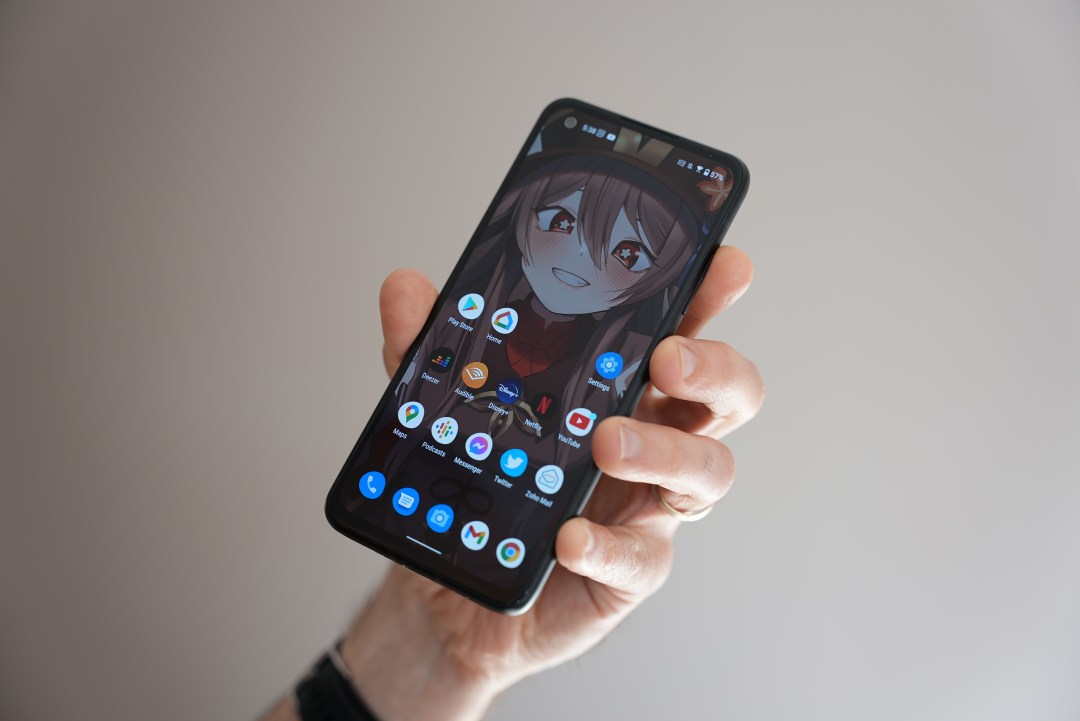 If you're cursed with stumpy fingers, then modern smartphones probably plunge you into an endless pit of despair and woe. Most blowers these days are super-sized monstrosities, so the launch of mini mobiles like Google's Pixel 5 and the Apple iPhone 12 Mini are genuine cause for celebration. Taiwanese tech giant Asus has also noticed this alarming trend and come to our rescue with the diminutive 5.9-inch Zenfone 8.
This compact handset packs some seriously beefy specs, including a powerful Snapdragon 888 chipset and 120Hz AMOLED screen, yet squashes it all down to a compact form that even Wee Jimmie Krankie could comfortably wield.
Design: Tough and a bit rough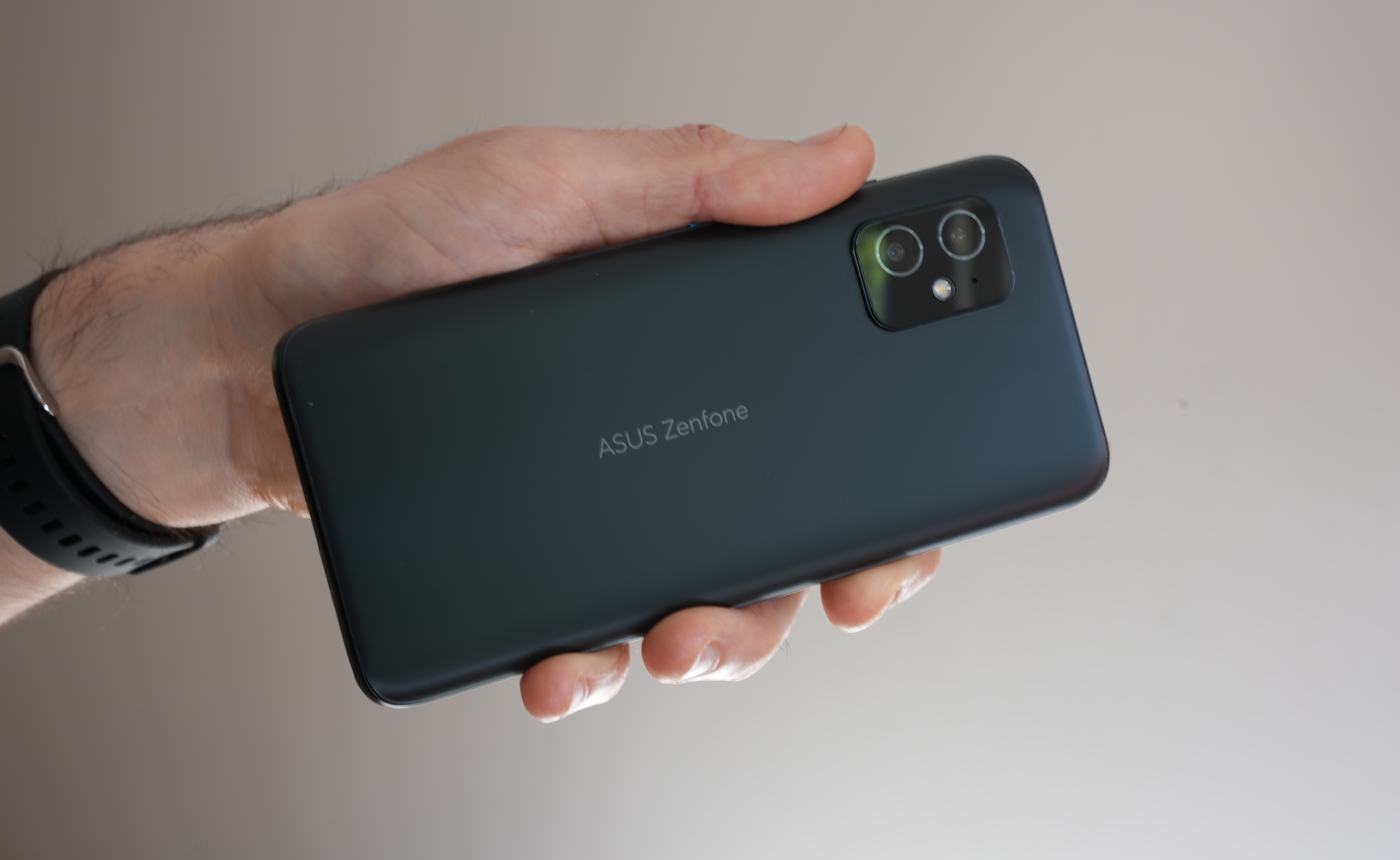 The design of the Zenfone 8 is paradoxically one of the best and least lovable things about it. I'm a massive fan of that compact build, which makes one-handed use an absolute joy.
That's helped further by Asus' bonus iPhone-style screen shrinker feature, which shunts everything down towards the bottom of the display if you're still struggling with a single mitt.
However, the bland back end is a bit of a downer, offering fewer thrills than your average wallpaper drying session. It's not exactly an eye-sore, it's just very plain, not helped by the lackluster black and white colours on offer.
Still, I have no complaints when it comes to the Zenfone's rugged creds. The Gorilla Glass 3 back and Victus display are proving perfectly resistant to scratching under duress, so the phone looks box fresh after a week of abuse.
Meanwhile the IP68 water and dust resistance means this dinky blower should happily survive the reopening of the pubs, where pints of delicious booze will doubtlessly end up sploshed all over it.
Display: Now with added orifice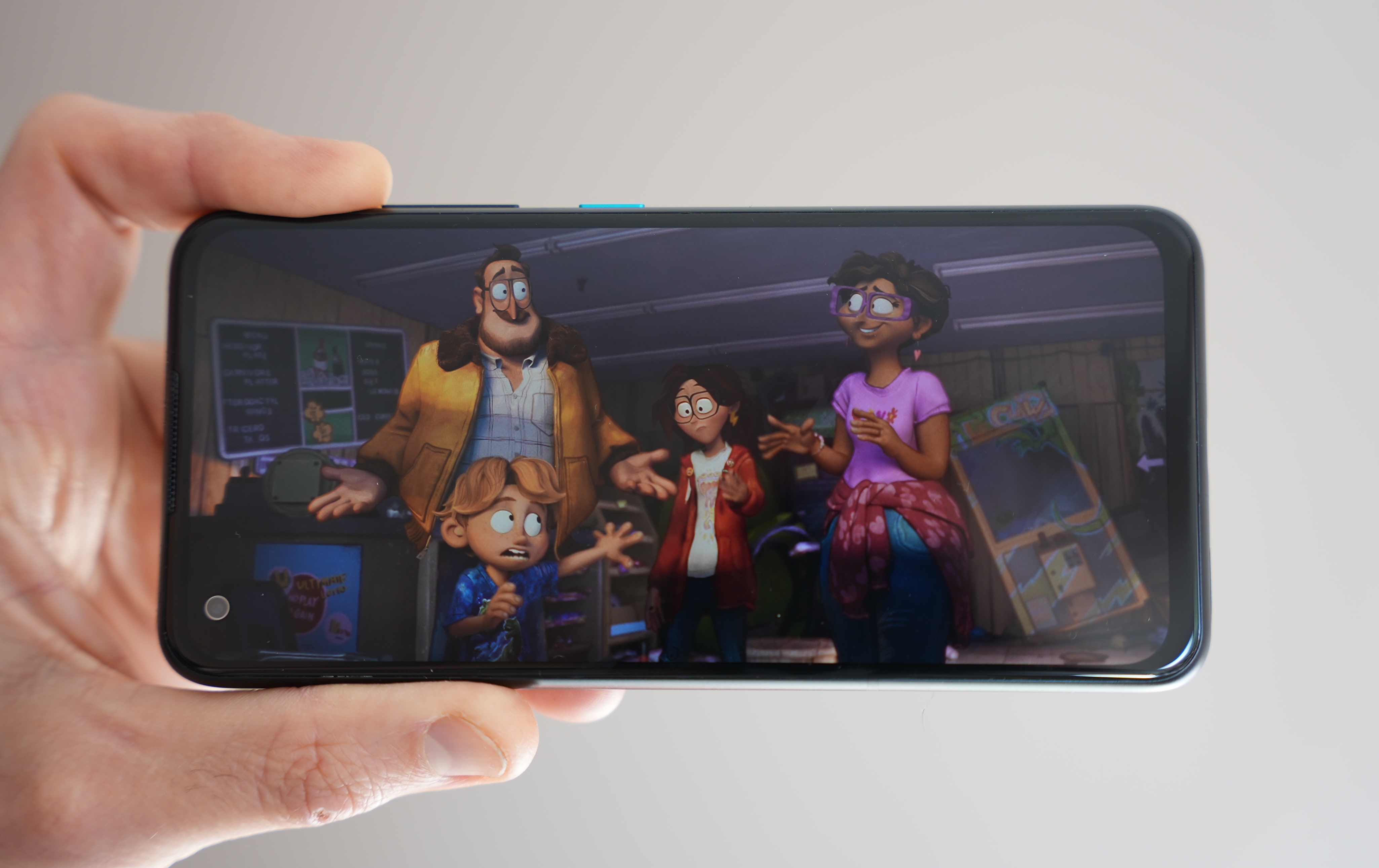 I'm also a big fan of the Zenfone's 5.9-inch AMOLED screen, which is just as stunning as you'd expect from a panel crafted by fellow mobile manufacturer Samsung.
Sure, it's compact compared with many rivals and yes, there is a selfie camera orifice tucked away in the top corner, as this model doesn't come with a flippable rear cam, for you'll need the Flip version.
However, those Full HD+ visuals are perfectly crisp while the HDR10+ streaming support means you can enjoy impressively lifelike images. Unfortunately, at the time I reviewed the Zenfone 8, I did experience a fair bit of stuttering when watching HDR content in Netflix.
Hopefully a little bug that will be squashed by Asus in no time at all. The Zenfone 8's display can also dynamically switch refresh rate, from 60Hz up to 120Hz – or you can manually bump it up full-time and enjoy a gloriously smooth experience when navigating through ZenUI and your supported apps.
Audio: Screaming eargasm
Audiophiles will absolutely adore this wee mobile too. Sure, the Zenfone's stereo speakers are simply fine, with a slightly distorted sound on top volume. However, it's the addition of a headphone jack that is the true highlight here, especially as this feature was culled for the Google Pixel 5 and Apple iPhone 12 Mini.
Get ready to crank your Hi-Res tunes and enjoy every tiny detail with crystal clarity. I also had a flawless experience with the Bluetooth 5.2 connection when using wireless headphones.
The likes of LDAC and aptX Adaptive are fully supported, while Asus' AudioWizard feature serves up an equaliser and various presets to fine-tune that output.
Software and features: If it ain't broke…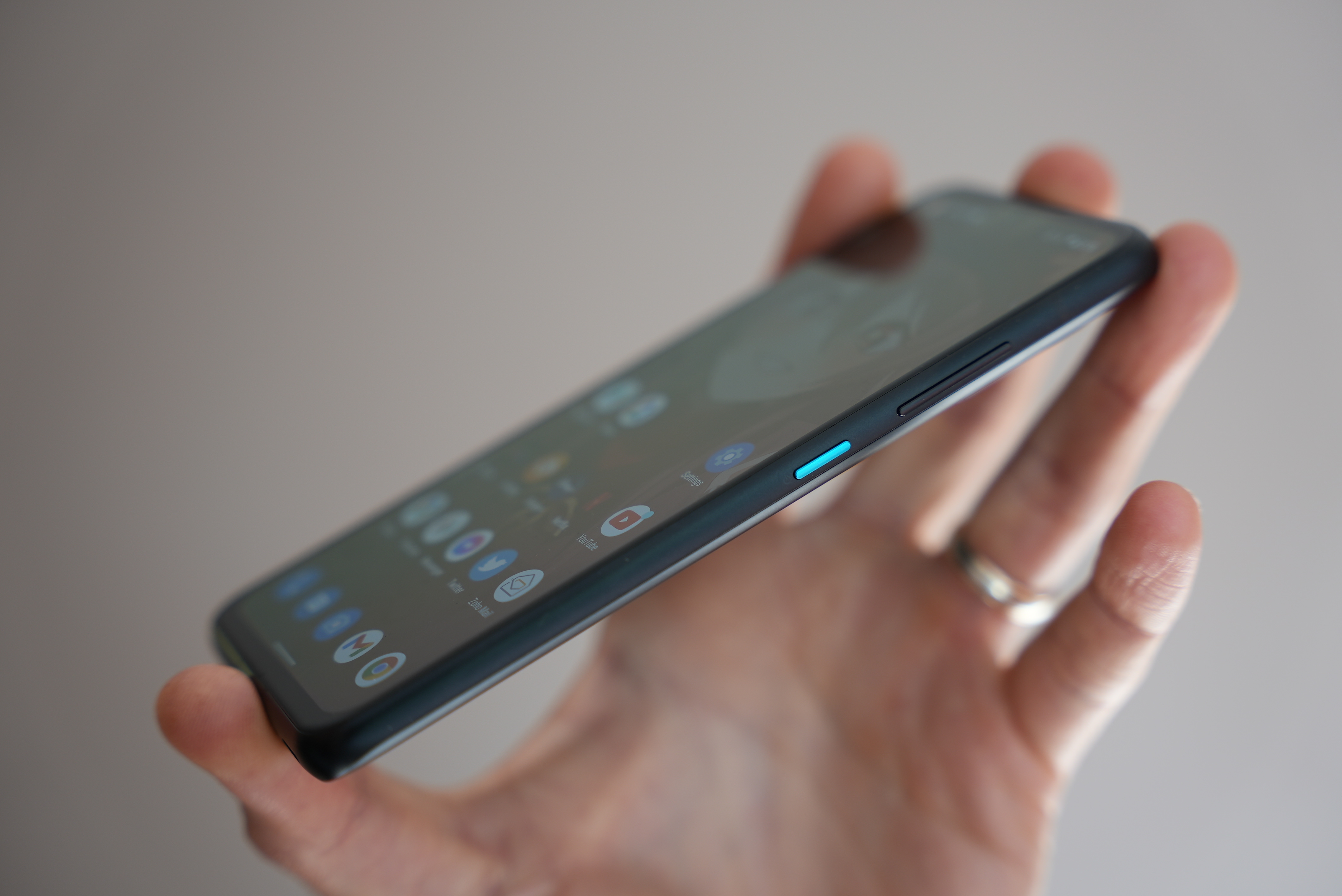 The Zenfone 8 runs Android 11 like most new mobiles, but with Asus' own ZenUI 8 launcher slopped on top. I say 'slopped' but that's actually unfair, because ZenUI doesn't mess with Android's existing design, unlike many other launchers.
This feels like a virgin setup, only with a few added bits like that one-handed mode and face recognition support. The latter seems to work even when I'm face-masked up, so I'm not confident of its security credentials.
Still, there's always the in-display fingerprint sensor as an alternative, even if this occasionally refuses to recognise my own grubby prints. You've got buckets of space for your apps and other bits here, with a choice of 128 or 256GB of UFS 3.1 storage on offer. However, like many mini mobiles, that can't be expanded with microSD memory cards.
Power and battery life: Burns bright, extinguished early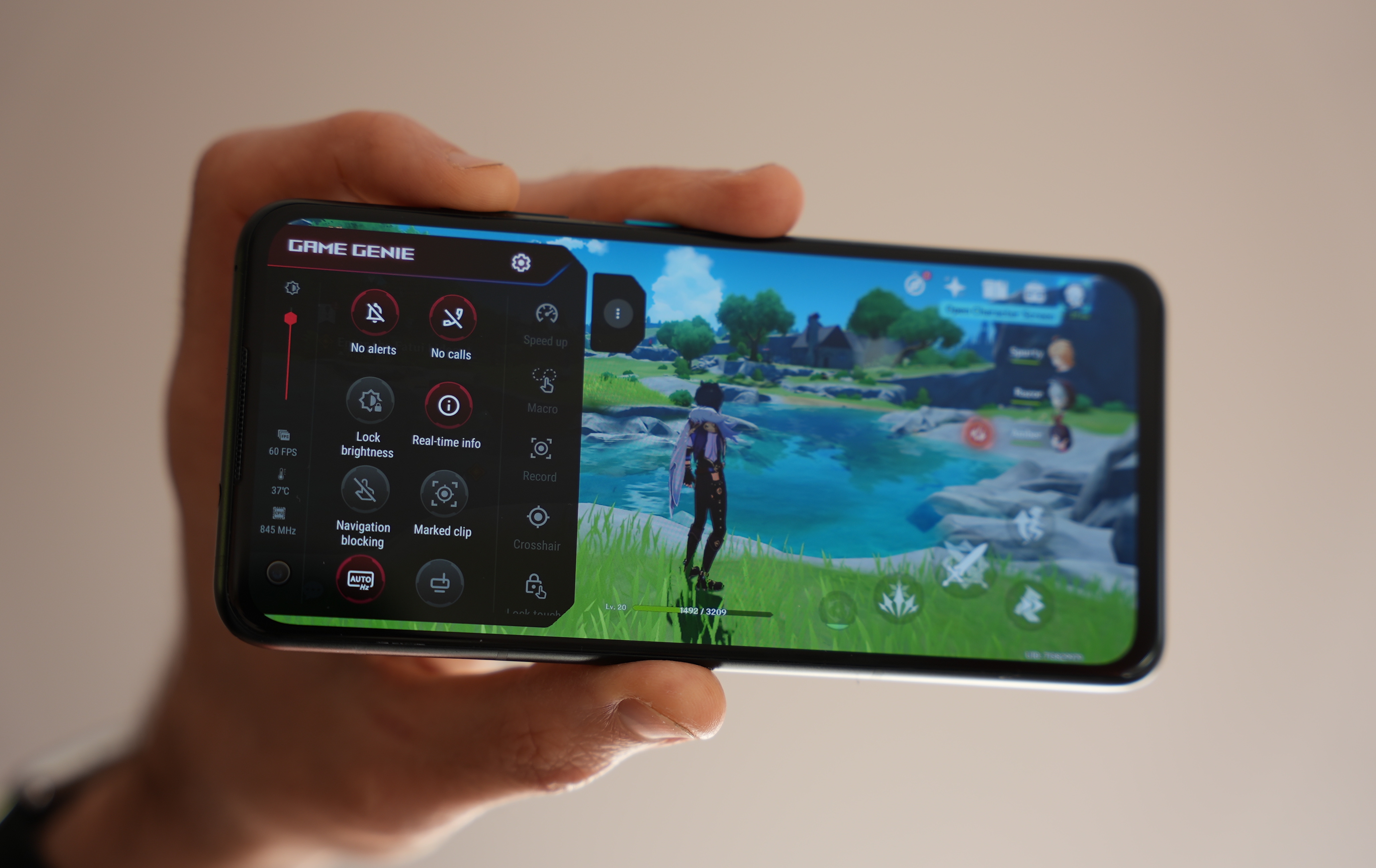 Asus managed to pack Qualcomm's mighty Snapdragon 888 chipset into the Zenfone 8's compact body, while my review model came with the maxed-out option of 16GB DDR5 RAM. Which, frankly, is nuttier than Squirrel Nutkins' nut sack.
Performance is unsurprisingly flawless, even when gaming on power-hungry Android titles like Genshin Impact. Sure, the Zenfone 8 gets a bit toasty under pressure, but this doesn't seem to throttle it.
Meanwhile the screen's 240Hz touch response rate is ideal for fast-paced games where your jabs and pokes are instantly registered, plus Asus' Game Genie feature can be called up mid-game to block notifications, record your mad skills and plenty more besides.
You also have 5G support for one of the Zenfone's dual SIM slots, alongside WiFi 6 for nippy online connectivity. The one big disappointment with the Zenfone 8 is sadly the mediocre battery life.
That 4000mAh capacity cell is usually drained before the end of the day with around four hours of screen-on time, which is sub-par even for a device this size. Best carry a battery pack with you when you venture outdoors.
Camera: Dependable snapper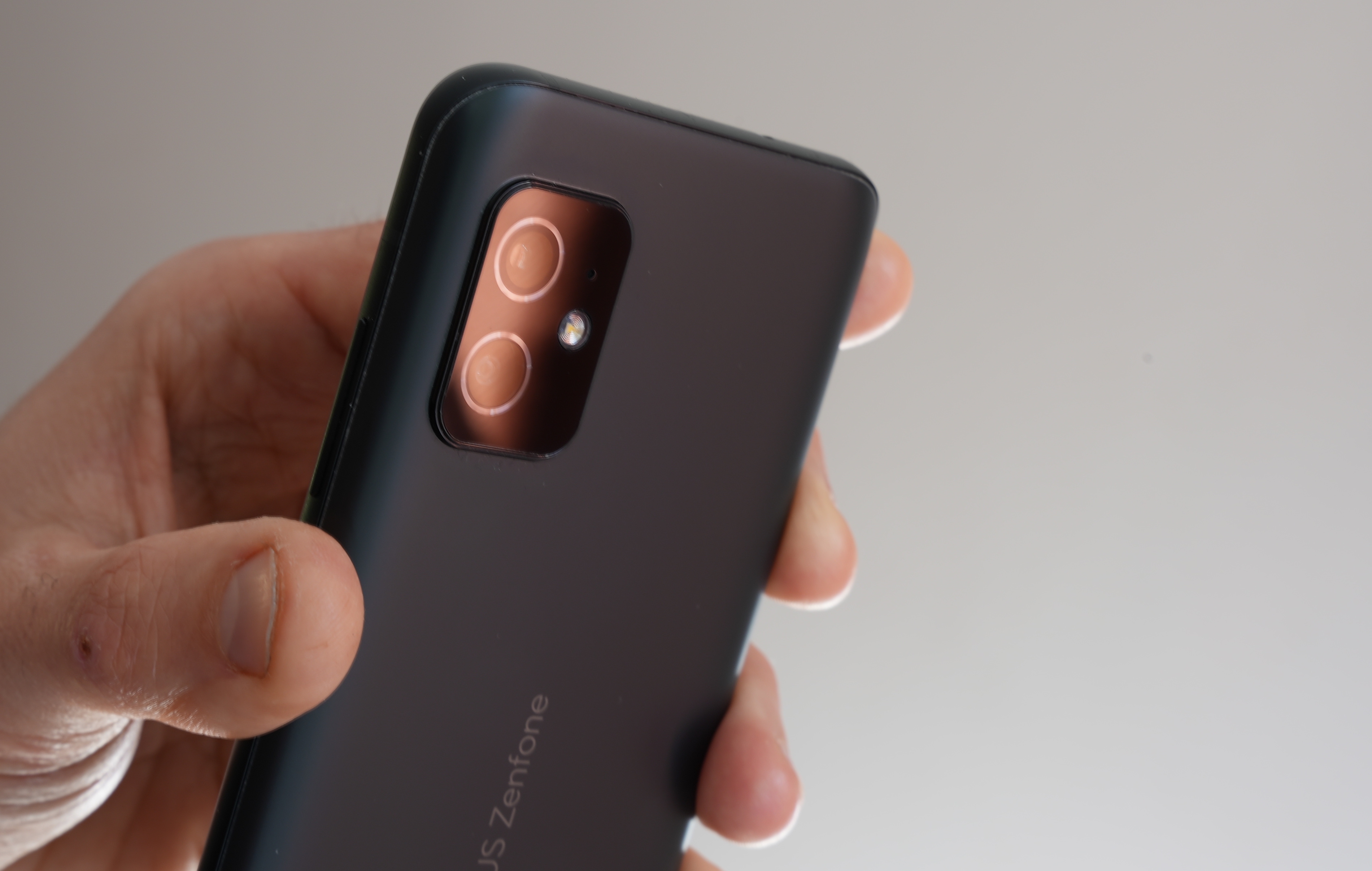 The Zenfone 8 sports a traditional dual lens camera on the back end, with the primary 64MP lens using Sony's IMX686 sensor. As with previous Zenfones, my photo samples were more than satisfactory.
Strong lighting is handled without a problem and the default 16MP auto mode churns out natural looking photos with plenty of detail packed in. That second lens is a 12MP ultra-wide shooter which uses another Sony sensor, this time the IMX363.
Once again the photos I captured were impressive, with colour reproduction only taking a slight hit and minimal distortion to boot. Of course, Asus has crammed in all of the usual bonus camera fare, including a respectable portrait mode that accurately dissects your subject from the background.
The Zenfone 8's night mode does just fine as well. Admittedly other phones like the Pixel 5 can produce brighter shots in dim conditions, but you still get snaps that closely resemble what can be seen with the naked eye.
You also have a Pro mode for photos and video recording, which allows you to tinker with the white balance, shutter speed and other elements. Speaking of video, the Zenfone 8 can produce lovely looking 4K home movies with the same natural vibe as that photo mode.
Using either the primary sensor or that ultra-wide lens, you'll get crisp results and sharp focus, while audio capture is also clear as long as the wind doesn't pick up.
If you want to get all fancy you can even record 8K video, although this will absolutely annihilate your remaining storage in no time.
It's a shame you can't flip that rear camera to the front for your selfies; for that feature, you'll need to look to the Zenfone 8 Flip instead. However, the vanilla phone's 12MP selfie shooter is fine for everyday snaps, with the same portrait smarts to make each photo all about you.
Asus Zenfone 8 Verdict
If it wasn't for the disappointing battery life, I'd have no issues recommending the Asus Zenfone 8 to anyone after a compact smartphone. Besides that, it's a beefy device with strong media chops and a dependable everyday camera, packed into a diminutive form factor that won't give you an unsightly bulge.
The Competition
Selective hardware choices make the latest Pixel more attainable – but unless you insist on the most streamlined version of Android, cheaper rivals offer a similar experience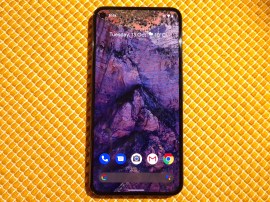 Tech specs
| | |
| --- | --- |
| Screen | 5.9in 1080 x 2400 120Hz AMOLED |
| Processor | Qualcomm Snapdragon 888 |
| RAM | 8GB |
| Storage | 128/256GB |
| OS | Android 11 ZenUI 8 |
| Cameras | 64MP + 12MP rear, 12MP front |
| Battery | 4000mAh |
| Dimensions | 148 x 68.5 x 8.9 mm |
| Weight | 169g |
Stuff Says…
A solid Google Pixel 5 rival with more powerful performance, but sadly limited battery life.
Good Stuff
Pleasingly compact
Absolute powerhouse
Clean, satisfying ZenUI
Capable camera
Bad Stuff
Mediocre battery life
Netflix stuttering
Not exactly attractive