Audi e-tron GT review: simply brilliant on the road
It might be big and quite bulky, but there's heaps of fun to be had from this superb all-electric grand tourer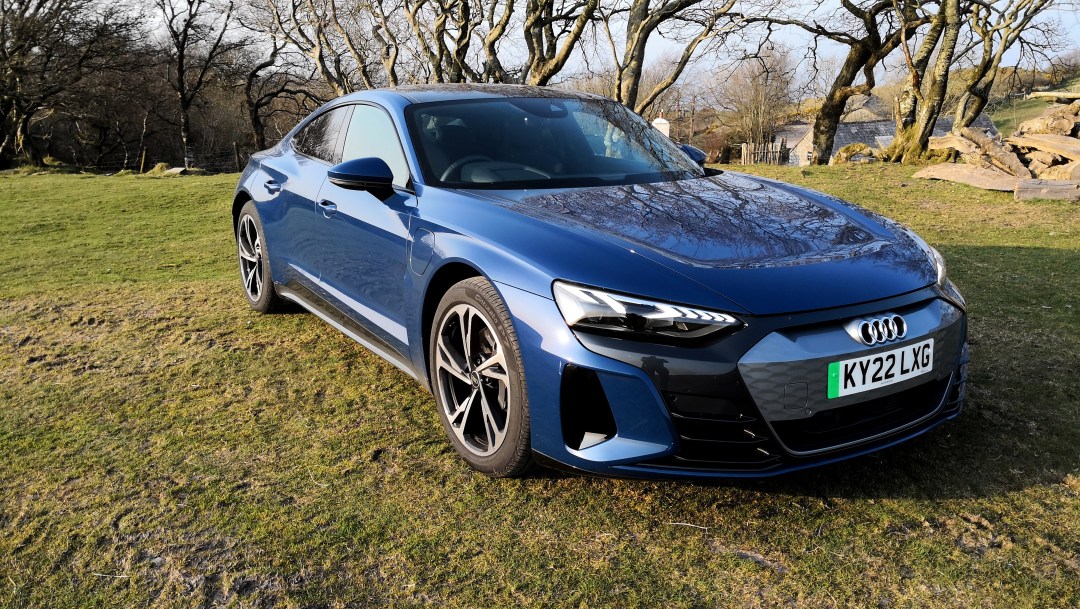 The Audi e-tron GT is a superb grand tourer. But it comes with a hefty price tag too, which can climb even higher if you add on lots of tasty options that Audi puts on the menu.
Indeed, it's brilliant in the same way that the Porsche Taycan is – hardly surprising when you consider that it uses the same all-electric platform.
Purchase one like this example, finished in Ascari Blue metallic, and you'll need to part with, oh, around 82K. The car was also armed with tantalising 20-inch gloss-turned alloys, which if you decide to drive it around some of the more challenging highways and byways of the UK, will take you well into squeaky bum territory as you fret about not crunching them against a kerb or dry-stone wall.
Styling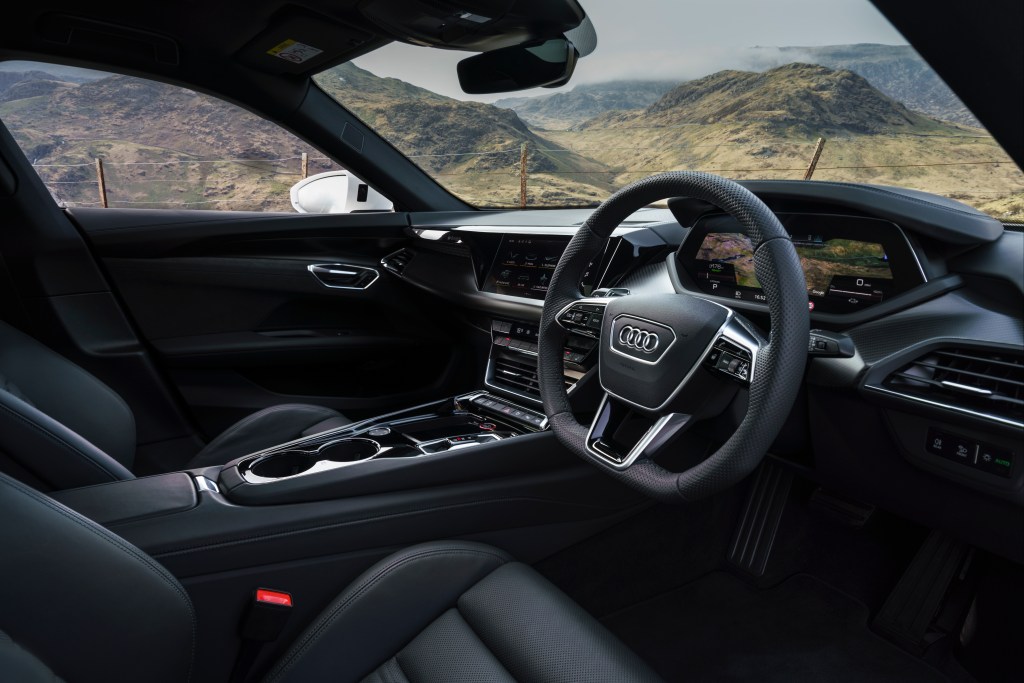 This is a big car and at 5 metres long it can be a bit of a handful when you're pootling around tiny villages in the middle of nowhere. It's even worse when you try to prise it into very small parking spaces. Reversing it, which is aided by a camera and supporting tech is quite tricky too. Unlike the high and mighty Audi e-tron Sportback, the e-tron GT is a low-slung, 2.3 ton beast of a machine. Until you get used to it, the grand tourer could even be viewed as slightly hard work. Things get better very quickly though.
On the inside, the cabin is snug, comforting and mildly luxurious. In fact, the seats and their many different settings can be adjusted to suit all but the loftiest of people. Tall folks will definitely feel a little hard done by sitting in the back though, with that roofline and the enveloping sculptured front seats leaving rear occupants a bit out in the cold. A panoramic glass roof does help to make the car feel a little airier, however.
If you're up front, there's a glorious array of in-car tech with Audi's excellent infotainment system packing in everything you need for a long run. It's nicely thought out, with sensible menus, crisp and clear graphics and a no-nonsense approach that is everything you'd expect from an Audi. Apple CarPlay and Android Auto are in there too. Our car came with a £500 Sport Sound option, which added in a beefy low-end audio soundtrack to proceedings as we hurtled along winding B roads. In fact, the more you drive it, the better the Audi e-tron GT gets. However, if it's not enough, there's the 590 horsepower RS e-tron GT edition to consider, which delivers a 0-62 mph time of 3.3 seconds. Nuff said.
The drive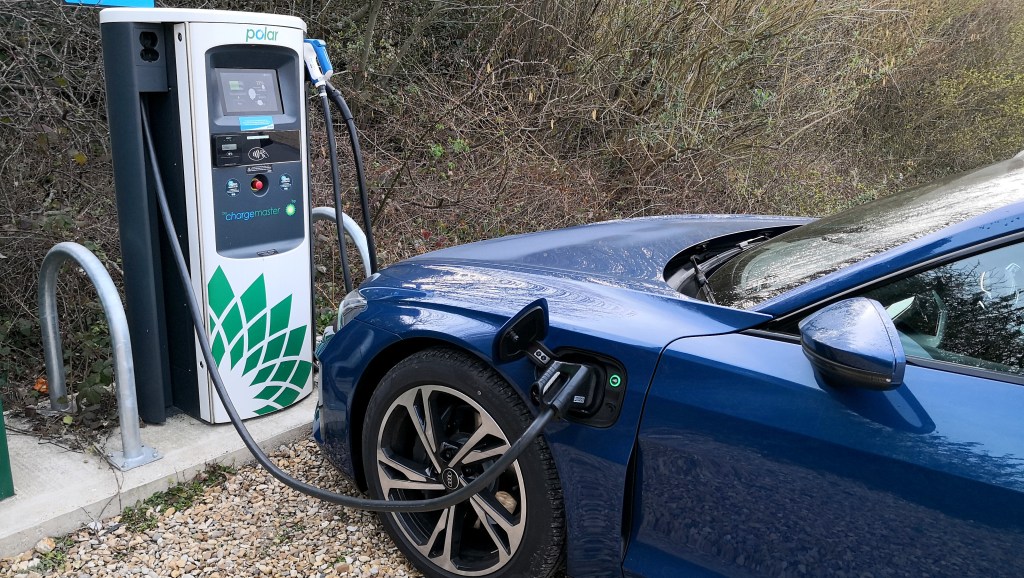 Spend some time getting acquainted with the Audi e-tron GT and it soon begins to grow on you. In fact, it becomes huge amounts of fun as you leave town and head out onto the open road. Pick a route that has plenty of challenging corners thrown into the mix and you'll discover the real point of this car. The performance is brilliant for such a hefty machine, thanks to front and rear electric motors that supply oodles of grip, aided and abetted by nifty air suspension. Optional four-wheel steering really gets it through the bends. Meanwhile, the drive modes cover all bases, with Efficency, Comfort and Dynamic offering something for any kind of mood.
Dynamic will sap the battery fastest, but it is by far the most fun to use, especially if you tap into its 523bhp overboost capability compared to the slightly more restrained 469bhp for day-to-day use. That makes it faster than the base-level Porsche Taycan, incidentally. It'll get right up to 155mph if you're in a position to do that legally too. This is helped by a suspension setup that delivers a thrill-laden experience, although the car always feels like it's stuck to the road, even on perilously tight corners. Huge tyres help make sure of that.
Putting the Audi e-tron GT through its paces will require you to visit a charging point sooner rather than later though. We tended to get just over 200 miles on a full charge. Nevertheless, find one of the country's beefiest outlets and Audi's 800V technology means you could be looking at 270kW recharging. At best, you'll more likely get access to a 100kW charger, but that should deliver 10-80% in around 40 minutes, as opposed to 30 minutes hooked up to one of those 270kW bad boys.
Verdict
That's a bit of a problem with the Audi e-tron GT, because this is a big car and at 5 You might be able to get yourself a Tesla Model S Long Range for similar money, but the Audi e-tron GT feels like more of a quality purchase. It's a great-looking grand tourer too. You get performance, sublime handline and top tech too although recharging stops might be a little more frequent than you'd like if performance comes first. Pay a bit more and you'll even have a funky synthetic soundtrack that makes up for the absence of a real engine noise. Terrific stuff.
Stuff Says…
Verdict…Despite its bulk, which can be challenging in tight car parks, the Audi e-tron GT is brilliant when you're out on the road and driving it without looking fearfully at the range indicator
Good Stuff
Fab performance
Great tech toys
Handles brilliantly
Bad Stuff
Premium price
Expensive options
Tech specs
| | |
| --- | --- |
| Motor | 350kW twin-motor, automatic, four-wheel drive |
| 0-62mph | 4.1 seconds |
| Range | 298 miles |
| Battery | 93kWh |
| Displays | 12.3-inch digital screen cluster/10.1-inch infotainment touchscreen |