Audi SQ7 TDI review
Overlook the fact it's a diesel and the SQ7 is an SUV to fall in love with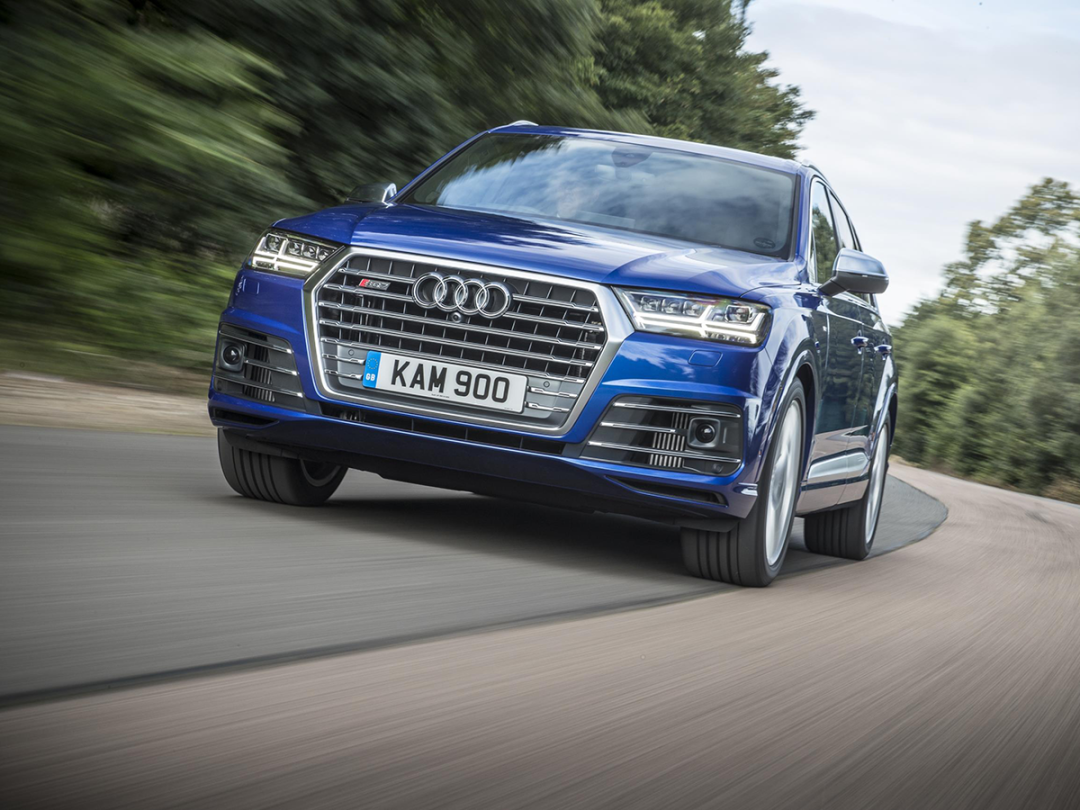 I don't really like diesels, and I tend to like my cars low and light rather than big and chunky. All of which makes the Audi SQ7, a big, diesel SUV, seem very much the wrong car for me.
And yet, after 300ish miles spent at its wheel, I was gutted to see it go.
What's more, there's one little, unassuming bit of tech onboard that, were it to become commonplace, could make me a diesel convert.
The 48V compressor makes diesel fun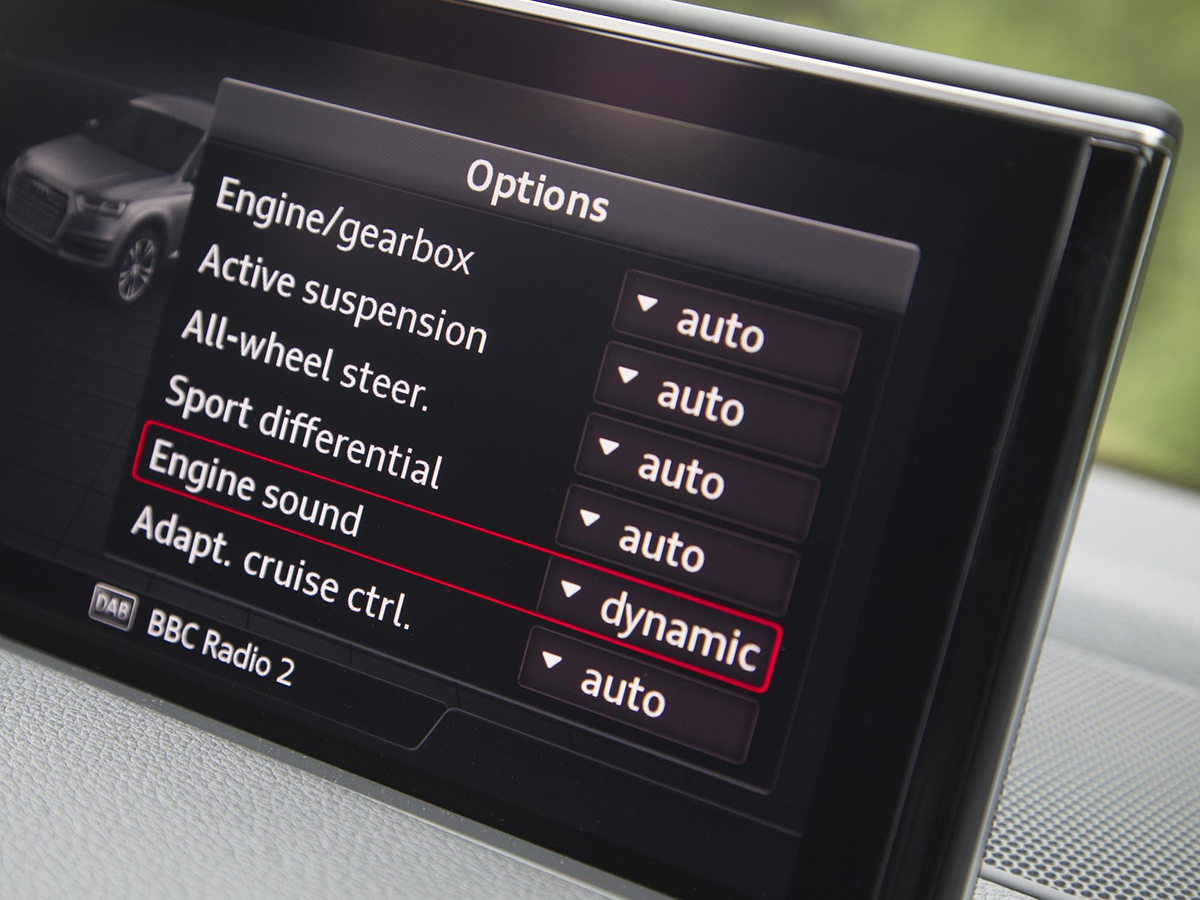 That little piece of tech is an electrically powered compressor, rated at 48V, and what it does is sit between the diesel engine and its two turbo chargers in order to boost power and reduce lag. All a bit too Top Gear for you? The long and short of it is that it makes the car faster and the power delivery more smooth.
How fast? 0-62mph in 4.8 seconds – that's how fast. How smooth? The power is delivered immediately, without the hesitation you get with a 'normal' turbo-diesel, and the blend of fossil, electric and turbo power is seamless.
All of which means that you, the driver, can entirely forget about the complicated science and careful balancing act that's happening under the bonnet and focus instead on munching miles at a rate that would be frightening were it not for how relaxed and refined the whole experience feels.
Wafty on the motorway, surprisingly engaging through the corners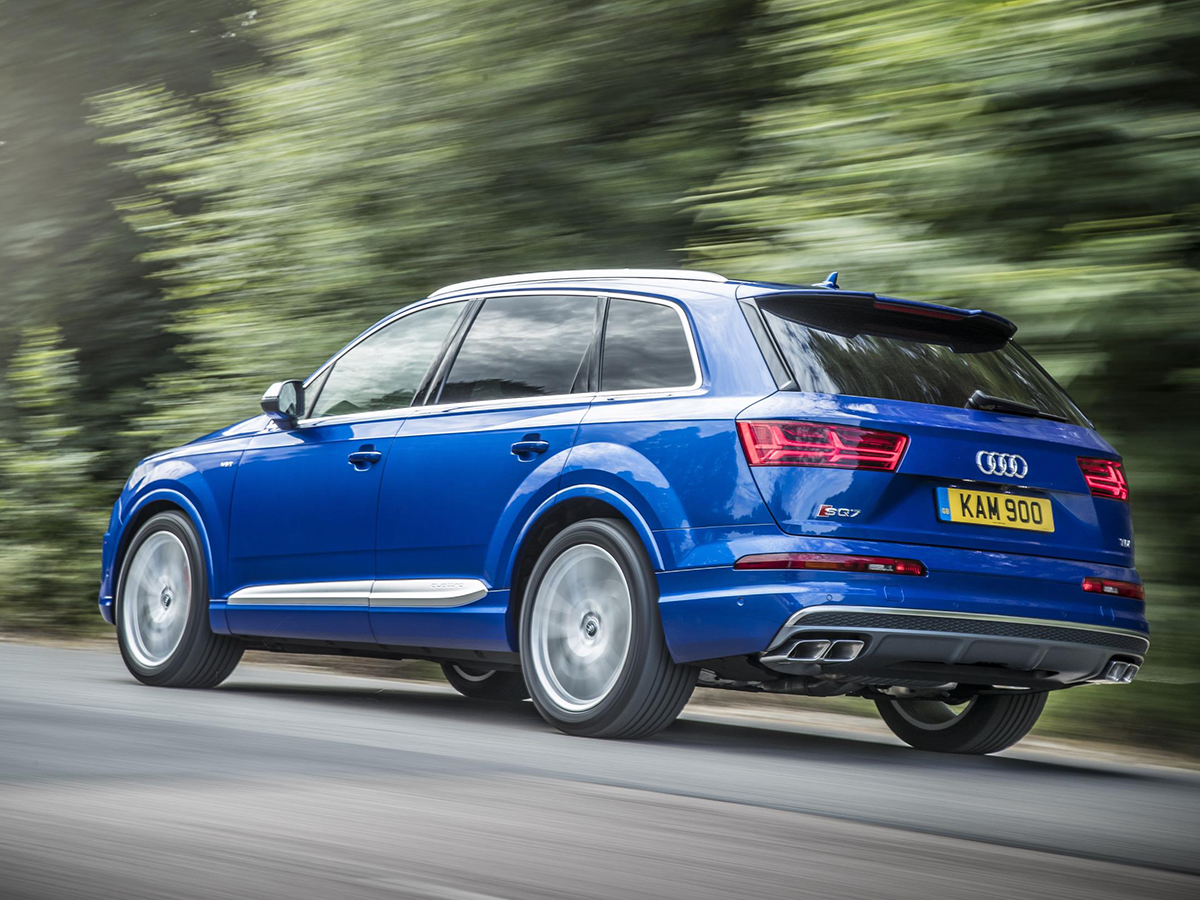 On a motorway or A-road the SQ7 is smoother than a greased-up Tour de France rider. You can glide effortlessly from point-to-point, with the speed at which you're travelling barely registering through the wheel or cabin.
In fact, that could get a bit dangerous, so I'd recommend ticking the box for the head-up display option. At £1350 it's might pricey, but it puts the speedo right in your eye line, reducing the risk of losing your license for travelling twice as fast as you think you are. Whatever speed you're travelling, the ride is never less than entirely comfortable for driver and passengers alike, although the 6th and 7th seats, available as another optional extra, are more basic and best used by small people and for shorter journeys.
But, while big and designed first and foremost to deliver speedy luxury, the SQ7 isn't completely incapable of delivering a dose of excitement to the enthusiastic driver. Find a windy country lane and engage the Dynamic mode and you'll find the car responsive and eager, even rewarding you with the sort of deep, loud, aggressive growl that will make you grin from ear to ear and that will force many to assume you're driving a car with a huge petrol engine, rather than one of those "boring, tractor-like diesels".
If you've also ticked the £5700 box for the dynamic sports pack (and I hope you have) you'll find that the sport mode has not only lowered and tightened the suspension, as it does on a standard Q7, but also introduced active stabilisation of the suspension, helping to keep the considerable mass as flat as possible as you attack your favourite hairpin on the way home from delivering the kids to school.
Clearly, if it's driver engagement and excitement that you're after you should be looking at cars far sportier and less tall (Audi's own RS6 is a good deal more thrilling without being significantly less practical), but for something this size the SQ7 is hugely impressive.
Packed full of tech
The Q7 is a well-appointed car as standard, and in range-topping SQ7 guise it's practically packed to the gills with neat touches and techie features.
Sure, the HUD is an optional extra, which is a bit of a shame, but Audi's excellent Virtual Cockpit, which replaces the usual through-the-steering-wheel dials with a 12.3in, customisable screen that can combine the speedo with, for example, the Google-powered sat-nav, is at least standard.
Speaking of Google, support for Android Auto and CarPlay is standard here (as it is on practically every new Audi) but, given that neither of those platforms appears to be going anywhere fast, you may find yourself perfectly content with Audi's own, impressive infotainment package. Still, it's good to have options.
However you receive music while driving the SQ7, there are two optional upgrades to the standard speaker available. My test car was fitted with the £1100 Bose "3D surround" package, which was so good that I find it hard to imagine I would personally justify stumping up even more for the Bang & Olufsen alternative. But then I haven't heard it. Perhaps it's mind-blowingly brilliant.
Also fitted to my test car was the Parking Pack Advanced, which goes beyond the sensors and reversing camera of the standard package and adds self-parking. Having used it to squeeze into a space at Westfield that I would never have even attempted myself, I've got to admit it's a £1500 option that I'd find hard to resist. But back to the freebies, and the bespoke leather stitching is absolutely delightful, combining sportiness and luxury with rare aplomb.
Audi SQ7 verdict
Let there be no doubt – while the Audi SQ7 will be instinctively dismissed by some as yet another super-expensive SUV for the Chelsea set, it's actually a thoroughly impressive car that genuinely pushes the envelope, especially when it comes to that electric compressor, which finally proves that a big diesel can be as engaging and evocative as a big petrol.
Unfortunately, it might be a bit too late for that. Question marks over the environmental credentials of older diesel cars are steadily turning into exclamation points, and governments are responding with higher and higher taxes and company car rates for diesel-powered motors.
The SQ7 is no fuel-sipper anyway, and you can expect to get only around 25mpg on average if you buy one. There's even talk of some cities banning diesels outright in the not-too-distant future, and although newer cars such as the SQ7 are unlikely to initially be included in such a ban, who knows what the future holds.
In short, if you're looking for something economical and environmentally friendly, the SQ7 is not that. But if, on the other hand, you're looking for something big and luxurious, wafty and imperious, but also capable of making your hair stand on end when you flick the right switch or flex your right foot, the SQ7 makes a very convincing case for itself.
If I had the money I'd certainly be tempted to buy one. Which is weird when you consider that I don't like diesels or SUVs.
Tech specs
| | |
| --- | --- |
| Engine | 4.0 TDI (diesel) quattro |
| Transmission | 8-speed tiptronic |
| Power | 435bhp |
| Torque | 900Nm |
| 0-62mph | 4.8sec |
| Top speed | 155mph |
| Economy | 39.2mpg manufacturer combined, 25mpg when tested |
| CO2 | 190g/km as standard, 199g/km as tested with optional 21in wheels |
Stuff Says…
The SQ7 is a technical marvel that makes diesel fun, but it's expensive to buy and run and will only get more so
Good Stuff
Beautifully built and rather handsome
Luxurious and packed with tech
Supremely comfortable for passengers
Easy and relaxing to drive
Very fast and quite engaging (for an SUV)
Bad Stuff
Gets through lots of fuel
Steadily increasing taxes and restrictions on diesel
A number of must-have options are very pricey