Audi TT RS (2016) – first drive review
Audi's Porsche-baiting coupe gets a fire-breathing power upgrade for 2016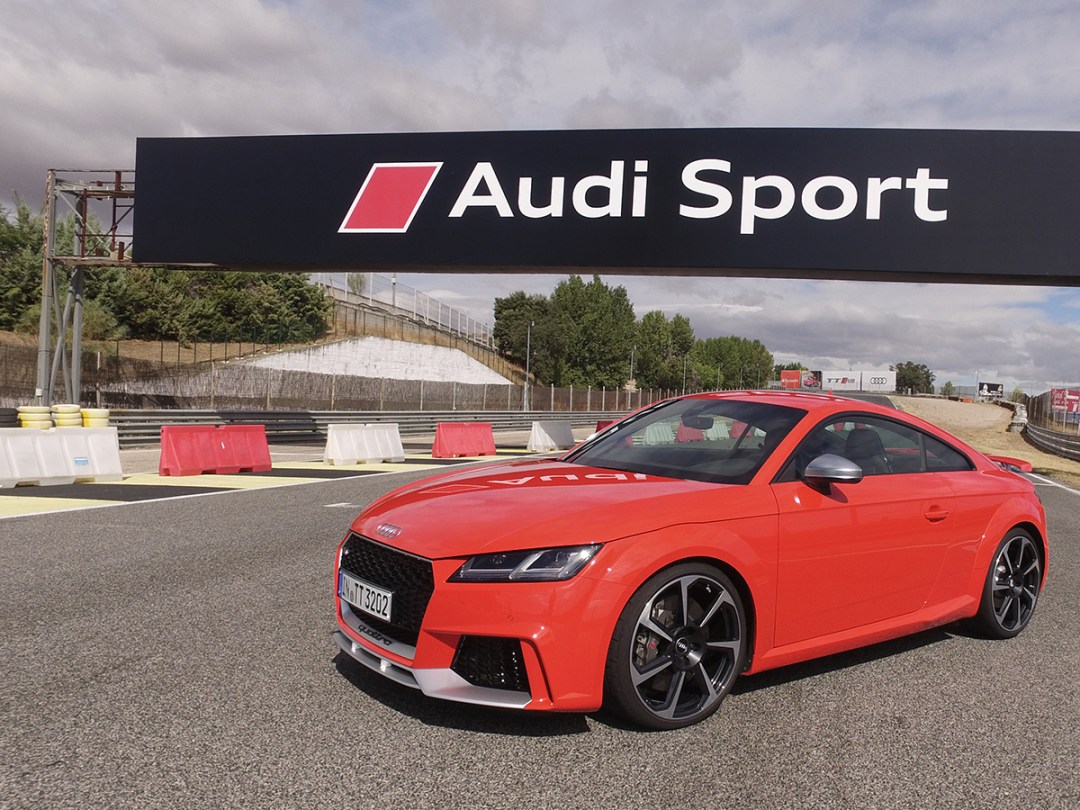 Car fans might have been a little too quick to write the Audi TT off in the past. After all, the first generation model did bear more than a passing resemblance to a VW Beetle.
The Gen 3 converted a lot of doubters when it arrived in 2014, but it was the RS that really got people to sit up and take notice. Now, some even more aggressive styling tweaks and a heap more power for 2016 will have anyone still sat on the fence quickly changing their tune.
The TT RS is the ultimate evolution of Audi's sporty two-door coupe, and really, what's not to like? Up front, a lower, angrier face with race-inspired front splitter and massive 20in alloys. Under the hood, a 2.5l, turbocharged five cylinder engine and 7-speed, dual-clutch automatic gearbox. Around back, two throaty, growling exhausts that absolutely sing when you bury the throttle. It's a potent combination.
I got to put one through its paces in Madrid, to see how it handles a mix of motorways, mountains and track driving ahead of a UK launch later this year.
Take a look at me now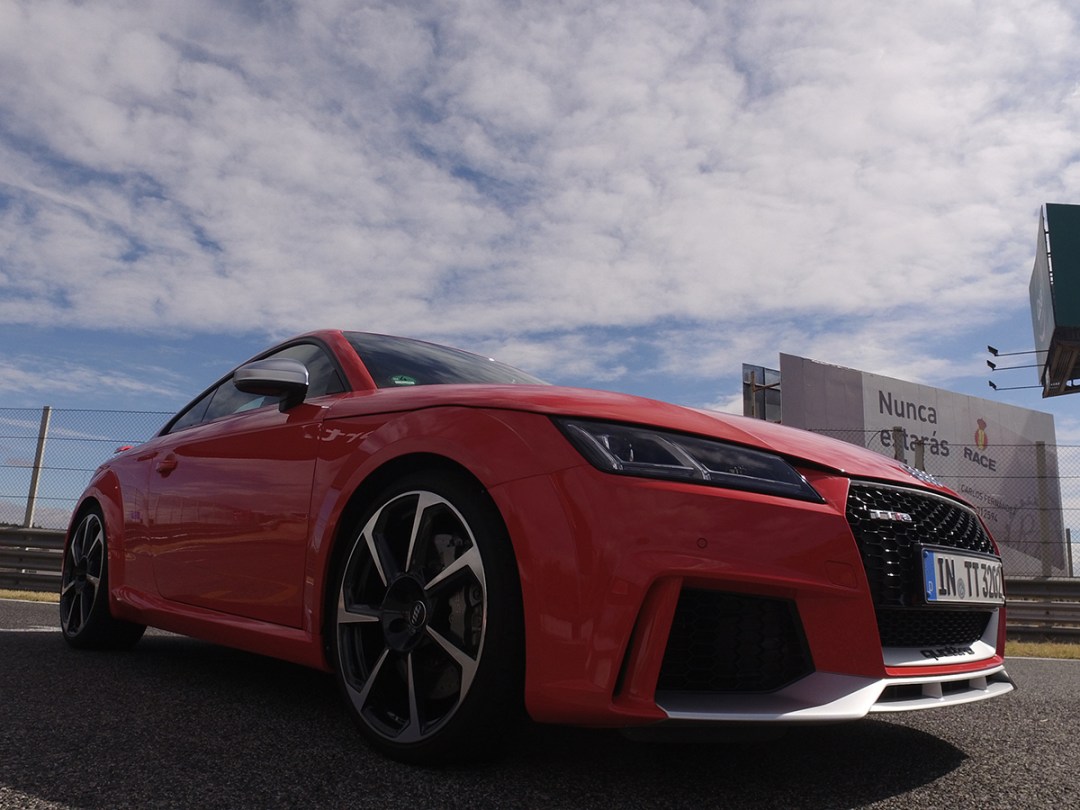 Those aggressive new looks aren't just for show. Aerodynamic tweaks have gone hand-in-hand with a brand new engine under the hood, built almost entirely from aluminium to drop as much as 26kg of weight.
It's a significant saving, made all the more impressive by the power boost. The TT RS is now knocking on the door of 400bhp, which equals a 174mph top speed and 0-62 in 3.7 seconds using launch control. Which I can absolutely confirm works as intended.
Flip traction control off, drop into Sport mode, left foot brake and bury the throttle for a second. The car holds the engine at 3500rpm, and side-stepping the brake transfers all that power to the road thanks to Audi's Quattro permanent all-wheel drive system. It's a G force-inducing, whiplash-causing bolt off the line, one that never failed to put a smile on my face.
That 7-speed auto 'box easily kept up with me, both in a straight line and when in and out of twisting bends and tight chicanes. Still, there are paddle shifters are on hand if you want to do the heavy lifting yourself.
It all comes together on a track, with the Quattro system keeping the power on the road. It's tied to the driving modes now, so gives a little more bias to the rear wheels when you're in Dynamic, but it's still just a little too controlling. You won't be throwing the back out like a rear wheel drive Porsche Cayman – the TT RS's main rival.
You feel connected to the road thanks to a responsive steering wheel that allows for sharper turns, and a torque vectoring system sending power where you need it most. It's not a laugh riot, but laser-focused on precision and performance.
Devil in the details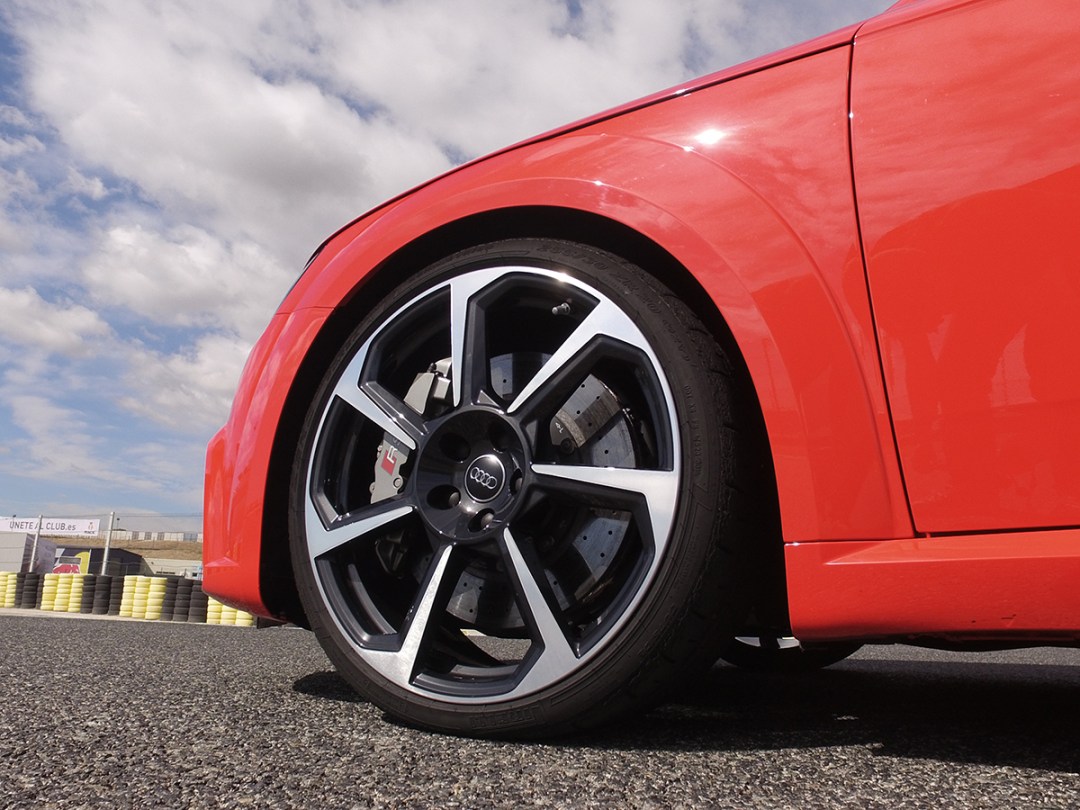 That fixed wing on the back helps force the car down when you're trying to get spirited with the accelerator, but it's another example of how restrained the RS is – even for a sub 4-second road monster. A lot of people will be happy about that, but attention seekers will be sad it's not that little bit more noticeable.
The thing is, if you want to cause a stir with the RS, you just need to feather the throttle. Audi's engineers have managed to draw a gutteral, raw-sounding growl from that engine, and piped it through twin exhausts that will definitely wake the neighbours.
It's not a synthetic sound, either – active flaps inside the exhaust draw out the decibels when you want them, but close shut with a button press when it's time to enter stealth mode. Of course, I insisted on being as loud as possible for most of my time with the car, but then I'm clearly a hooligan.
Virtual cockpit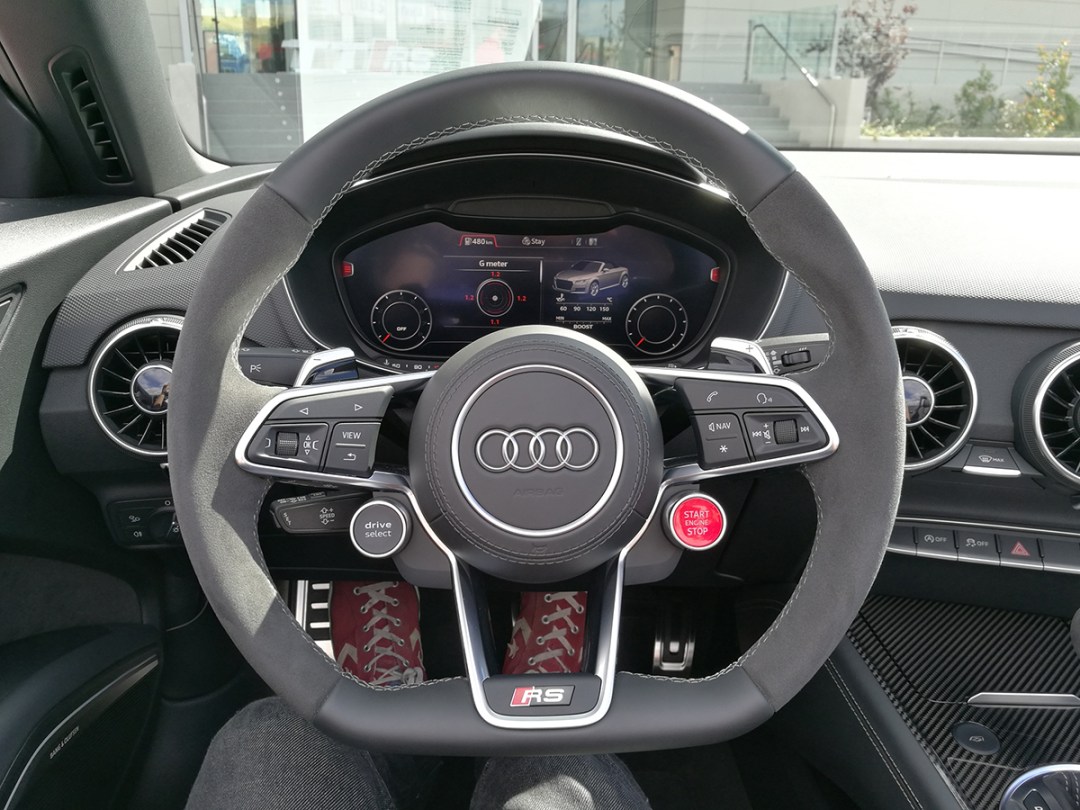 Drop yourself down into the sculpted seats and it's impossible not to notice the minimal centre console.
There's no touchscreen staring back at you – just a row of fans and that racing-inspired, flat-bottomed steering wheel borrowed from the R8 supercar, complete with the same big red engine start button and drive mode selector.
Instead, Audi's virtual cockpit replaces the entire dashboard with a high resolution screen. It's a brilliant concept, putting all the info you'll ever need to look at while driving right in front of your face.
That means the standard stuff like rev count, speed and which gear you're in, but also route guidance, music controls, traffic alerts and speed limits, and a phone dialler if you've paired your handset.
It's the detailed diagnostic breakdown that'll make real car fans smile, though. Why bother with a map when you can have a lateral G-meter showing how hard you're chucking the car in and out of corners?
Push the button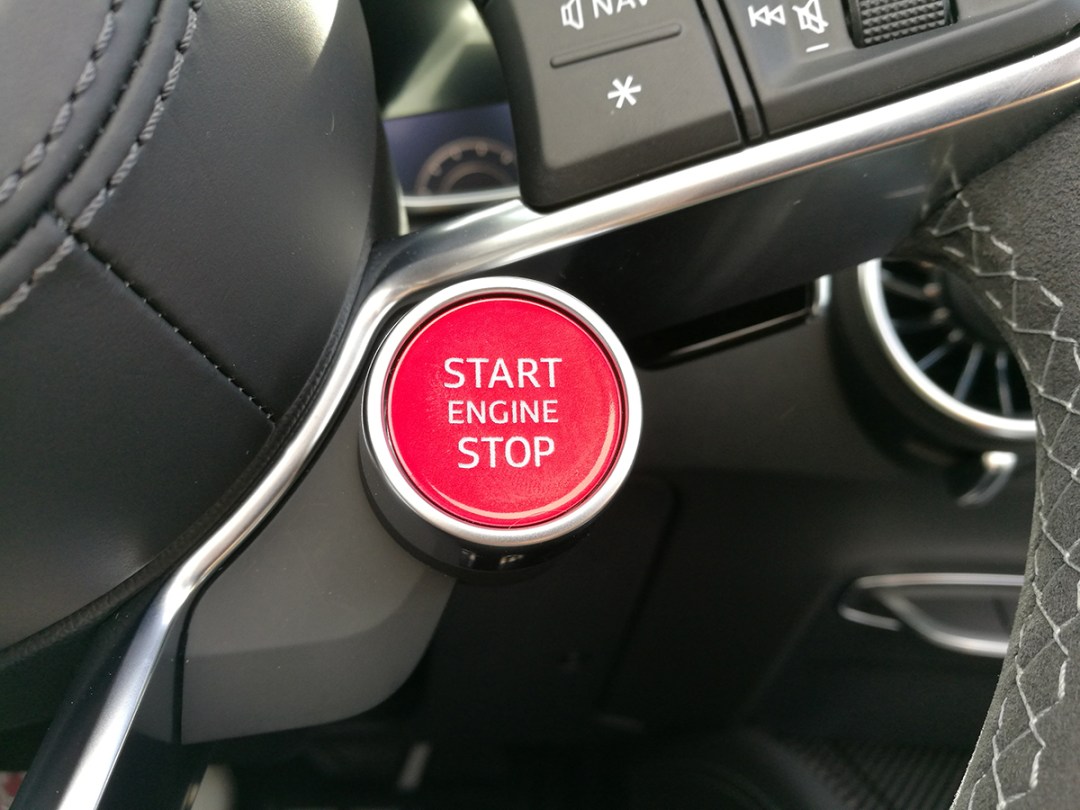 There's Android Auto on board, too, although I didn't have an iPhone handy to see if Carplay was on board too. Audi's rolled it out to the Q7 already, but is taking its time with other models.
Most of the controls are on the wheel, so you don't have to take your hands off to flick through menus, but it doesn't leave your passenger with much to do. This is every bit the driver's car.
You do still get the MMI control system (that big dial set back into the centre console), but anyone fiddling it while you're driving runs the risk of hiding your sat-nav directions in favour of changing tracks on the stereo.
Otherwise, it really is minimal in here: the temperature controls are built into tiny displays on each fan grille, leaving you to get on with the driving.
That's easily done thanks to those comfy bucket seats, which have adjustable side walls to really lock you into place while you're taking on winding B-roads. I still feel the driving position isn't as low and far forward as you'd want from a sporty two-door, but you can get pretty close with the electrical seat adjustment.
Lose the roof, keep the power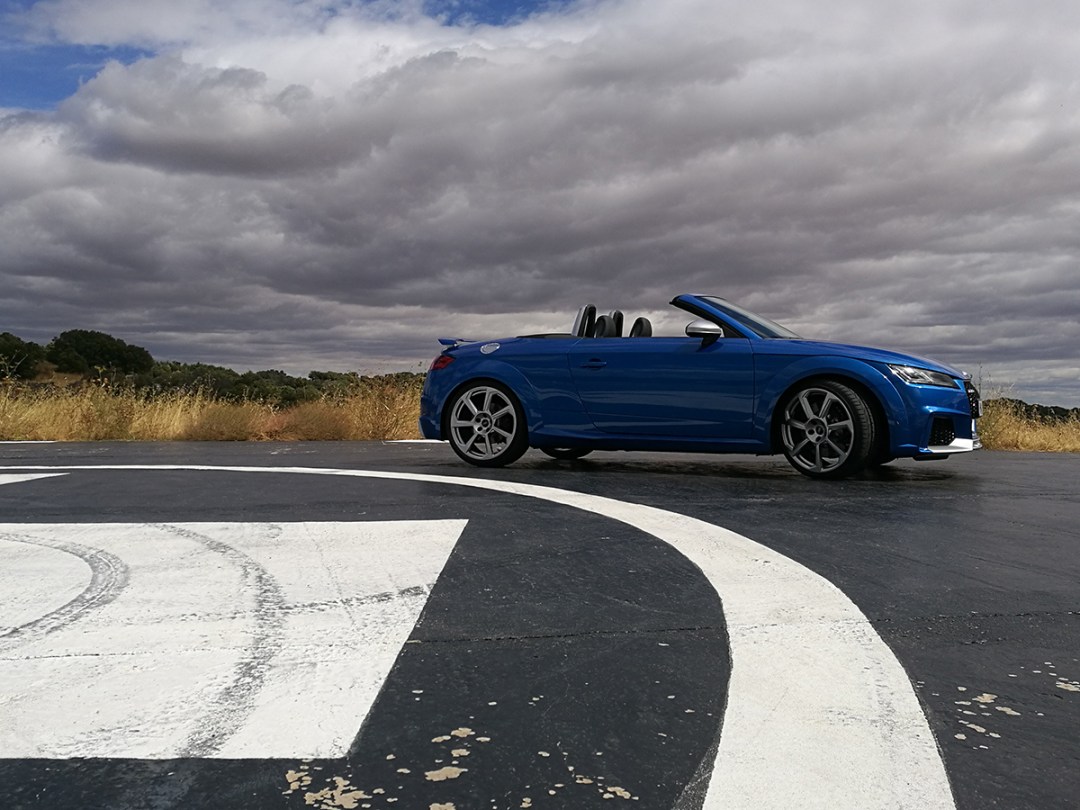 The TT isn't just a coupé , of course. I also put the Roadster through its paces.
Chopping off the roof and strengthening the sides to compensate has added a bit more weight, sure, but the Roadster still drives like the engine inside it is trying to rev itself free and escape the car. It'll hit 62 in 3.9 seconds, just 0.2sec short of the coupé.
With the roof down, there's nothing to get between your ears and that fanastic engine note, which sounds just as good here as it does in the hard top. There was a little bit of unwanted wind noise inside the coupé at moderate speeds, but here it's a case of the more, the merrier.
I took both cars out on a winding mountain route, and was impressed that there's barely anything to separate them in terms of handling. The RS sticks to the road, even when you get spirited. That won't please everyone, but at least you're a lot less likely to end up in a ditch than with a rear-wheel drive alternative.
You've got to keep the engine revving near the redline to get the little bit of extra grunt that'll really make you smile, but you won't really experience it once you hit fourth gear. And that's only because you'll be edging into license-losing territory, not because you've found the car's limits.
Light it up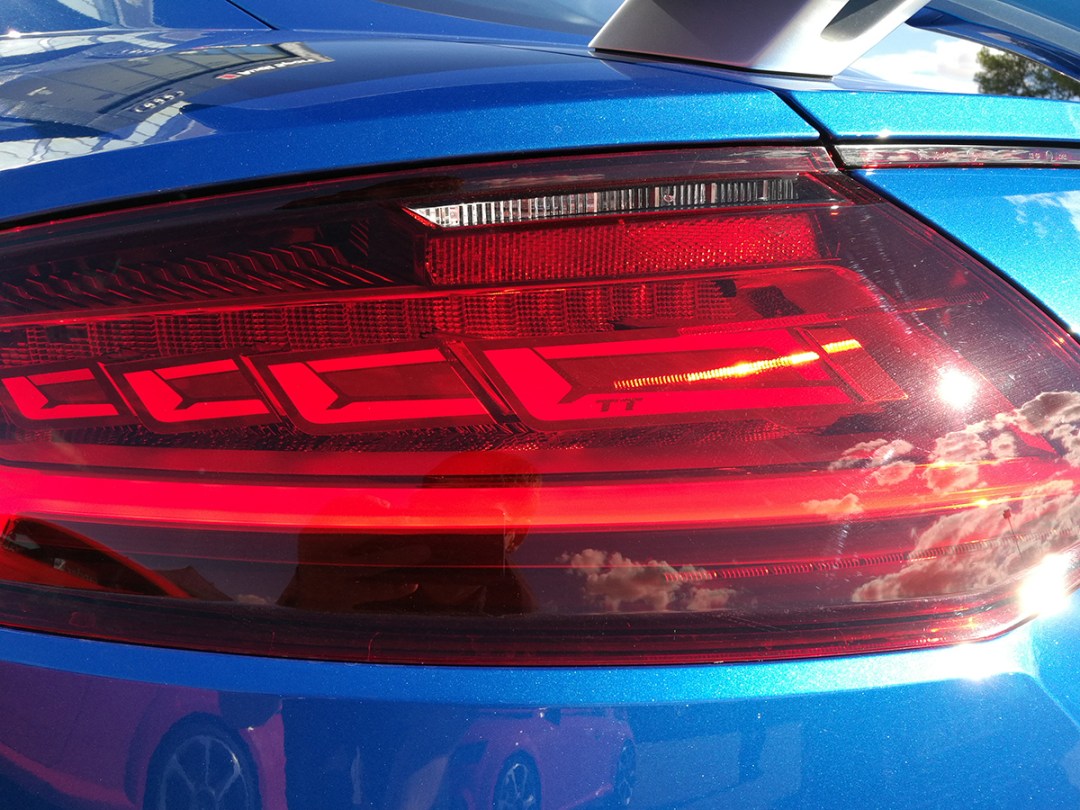 The TT RS cuts a mean figure in the daylight, but some aggressive front and rear light clusters make sure that meanness carries over once the sun goes down.
That's especially true if you splash out on the optional OLED lights, which use tech carried over from smartphones and TVs. OLEDs don't need cooling like a regular light, and weigh less too, so Audi is able to shave off a little extra bulk from the car's kerb weight.
They don't cast shadows and don't need reflectors, either, so don't need to be obscured with frosted or patterned glass. You can see straight into the lights themselves – and spot the tiny Audi T RS logo and the four Audi rings imprinted on them. It's a small touch, but it looks top notch in the flesh.
It's the way they animate into life that really makes an impression, though. The indicators sweep in the direction you're turning, and the OLED clusters light up individually whenever they're called into action. It's slick, and makes one hell of an impression on anyone that sees one coming in their rear view mirror.
Tops off, baby
Taking the TT RS Roadster out for a blitz in sunny Spain is a very different experience to the one most UK drivers are going to have once the car arrives. Back in Blighty, it'll probably spend a lot more time with the roof on.
Good job it raises and lowers in about ten seconds, then – you won't get drenched if the heavens suddenly open.
It still cuts a mean figure once the rood is in place, too – even if the grey model seen in our pics is just a little bit more… mainstream than the vibrant blue and red hues also on display during Audi's test drive event.
Audi TT RS Coupé (2016) initial verdict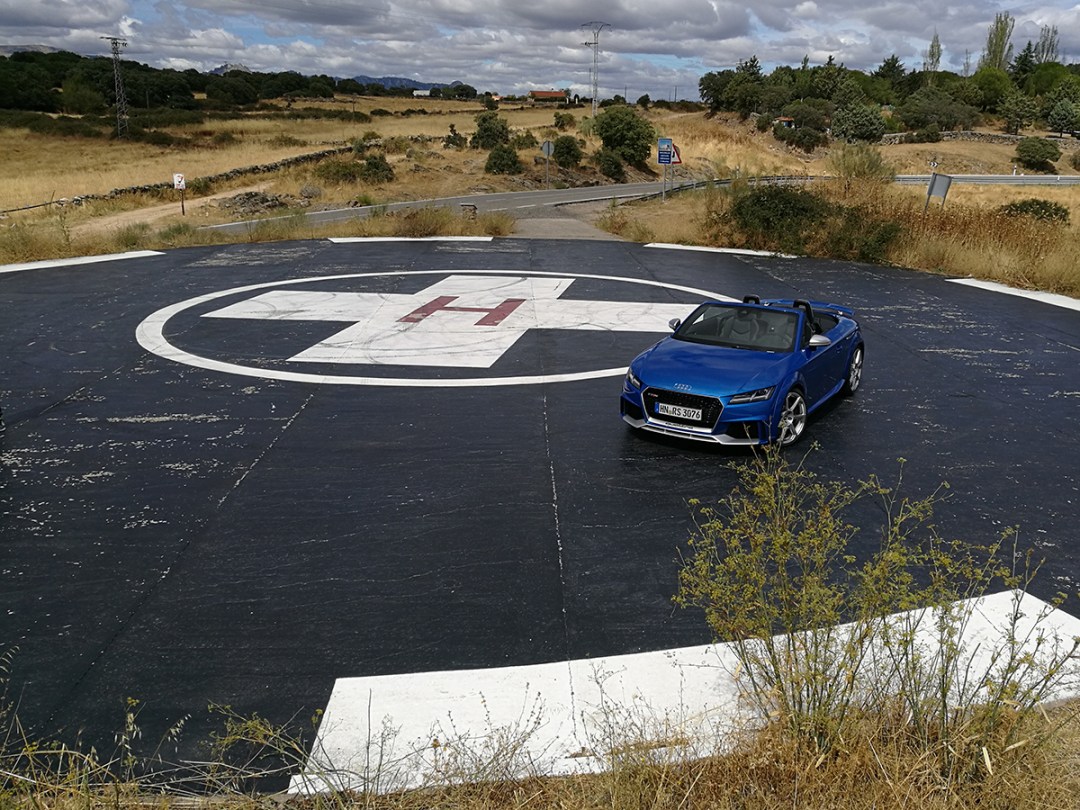 In either hardtop guise or with its roof off, in an RS badge the TT is every bit the road racer it deserves to be.
On long distance motorway cruises, dropping down into Comfort mode and setting the exhaust to Standard makes it no more of a struggle to drive than any other compact Audi. Get out into the country, though, and you can open the taps and really let that engine growl.
Few owners will ever take one onto a track, but it can hold its own here too – even if it is just a little more restrained, that little bit more serious than the competition.
Will that matter when you're driving home from work on a rainy winter evening, through chock-a-block traffic on bumpy UK roads? Nah, not really. But that's exactly where you need the gutteral exhaust note to put a smile firmly back on your face.
It's launching later this year in the UK, where hopefully we'll be able to put one through its paces and see how that stiffened suspension copes with potholes and British tarmac.
Tech specs
| | |
| --- | --- |
| ENGINE | 2.5l turbocharged 5 cylinder petrol |
| TRANSMISSION | 7-speed dual-clutch automatic |
| POWER | 394bhp @ 5850-7000rpm |
| TORQUE | 354lb ft @ 1700-5850rpm |
| 0-62mph | 3.7sec |
| TOP SPEED | 155MPH (limited) |
| ECONOMY | 34.4mpg (combined) |
| CO2 EMISSIONS | 187g/km |