Audio-Technica ATH-CKS5TW review
Big buds with bonkers battery life
There are so many new wireless earbuds around right now, that competition is really starting to heat up. No longer dominated by AirPods, wire-free buds are big news, with proper hi-fi brands getting in on the act and showing Apple what they can do.
With nearly six decades of audio know-how under its belt, Audio-Technica is well known for top-notch headphones and its latest pair of AirPod worriers offers a whopping 45-hour battery life.
With a sub-£150 price tag, the ATH-CKS5TW are better priced than a lot of their rivals, but are they any good? We went ears-on to find out…
DESIGN AND BUILD: BULKY BUDS
Audio-Technica's buds come in a pill-shaped carry case with a flattened top and bottom. It's a neat design, but a little on the big side compared to most of its rivals, and rather weighty by comparison. In fairness, that heft is down to the powerful battery power (more on that later), but it's still a bit of a unit.
The earbuds themselves feature a unique eartip design with a wibbly rubber loop that fits in your ear to hold them in place. It works pretty well, but it did take us quite some time to work out exactly where the loop was supposed to sit. The in-ears are supplied with a choice of three different rubber inserts plus an extra ring that goes around the earbud to alter the fit.
Obviously the design is down to personal preference, but we found that the ATH-CKS5TW stuck out from our ears little too much. So, although they were reasonably snug in our ears, they never really felt 100% secure. We were always aware that an errant loop of hair was all that stood between our fancy buds being safely lodged in our ears and them being accidentally catapulted onto the pavement. It was also noted by a friend that they stuck out from our ears in a similar way to the bolts that stick out from Frankenstein's neck. Of course, he meant Frankenstein's monster, not Frankenstein himself (#AccidentalPartridge) but it's a fair observation.
While we're talking design, you might wonder if there's an Apple-esque white option on offer? Nope. To paraphrase a well-worn quote, you can have them in any colour you want as long as it's black.
FEATURES: BLINDING BATTERY LIFE
These buds pack a lot more staying power than some of their rivals. In fact, you get an impressive 15 hours of continuous playback on a full charge. And the reason that charging case is a tad large is because it can store an extra 30 hours of juice once you've powered it up to the max via the USB-C port. That brings battery life to a grand total of 45 hours, which is pretty damn impressive.
The ATH-CKS5TWs also boast IPX2 water resistance so they'll be fine for the gym or a stroll in the rain but don't go jumping in any swimming pools.
INTERFACE: ON THE BUTTON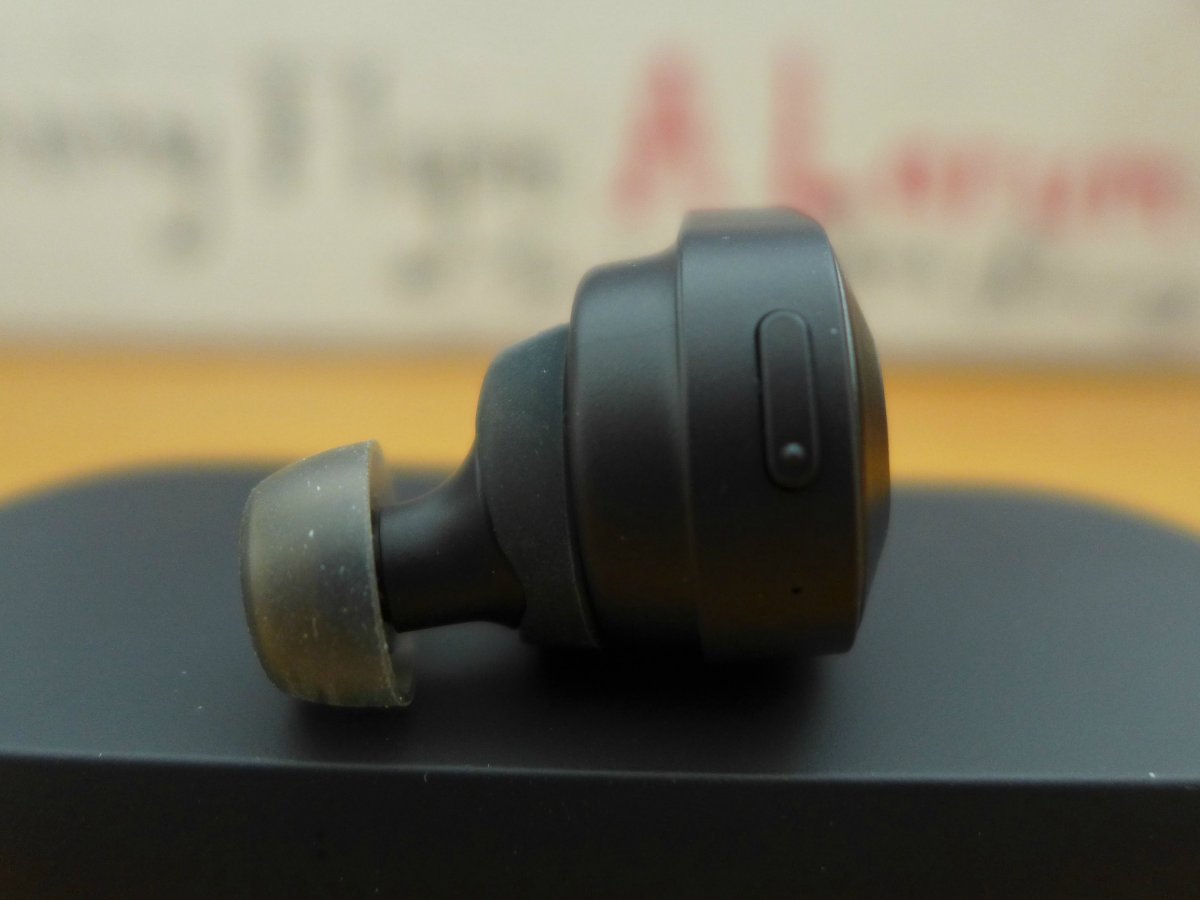 Audio-Technica's buds automatically start pairing as soon as you remove them from the case, which was a nice a surprise and much slicker than the experience on some rivals. It took no time at all for us to hook up via Bluetooth 5.0, ready for some quality listening time. Once paired, the buds turn on and off automatically when you remove them from the case and replace them. This worked seamlessly every single time.
Control-wise, you'll find a tiny button on each earbud. Unlike some other models, where you can use the same controls on either side, only the right is dedicated to play, pause and skipping tracks as well as answering and ending calls. The button on the left earbud takes care of volume (one click for up, two for down). If you're a leftie, you can swap the functions to a mirror image using the Audio-Technica Connect app, which also lets you tweak a few other settings and download firmware updates.
PERFORMANCE: AWESOME AUDIO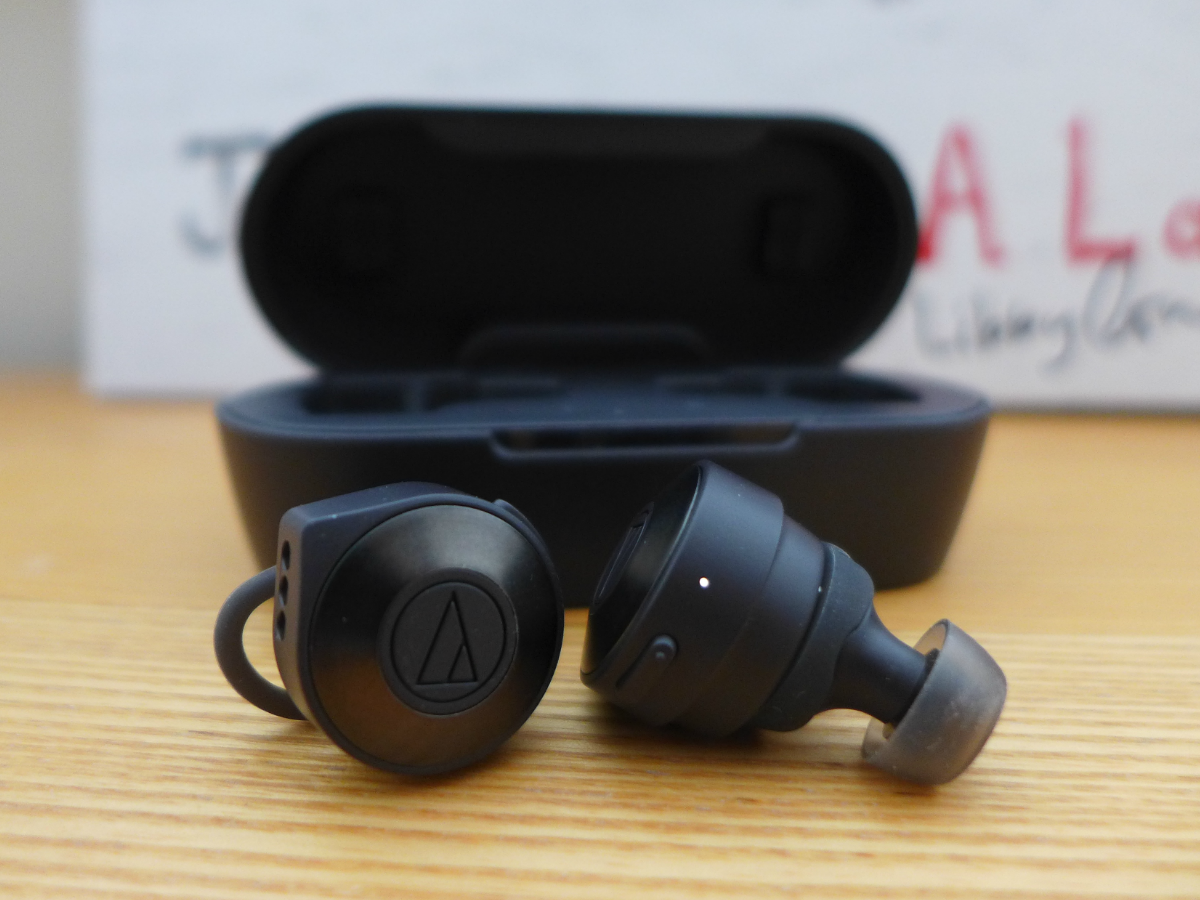 The audio is good. Really good. The ATH-CKS5TW's size means they can be equipped with 10mm drivers with a dual-layer diaphragm to deliver the best possible sound to your lugholes. The soundscape is excellent, no matter what you're listening to and the buds perform particularly well on classical and acoustic pieces and live recordings, which a lot of cheaper headphones often fail at.
Slightly unusually for Audio-Technica, there's some mighty meaty bass on board as well, but thankfully it's not overdone. Noise isolation is good – we could still hear our tunes over the teeth-rattling noise of the London Underground, which is always a stumbling block for buds with leaky audio. The buds also pack Clear Voice Capture technology for ambient noise reduction, which helped to keep smartphone conversations as clear as possible.
Audio-Technica ATH-CKS5TW verdict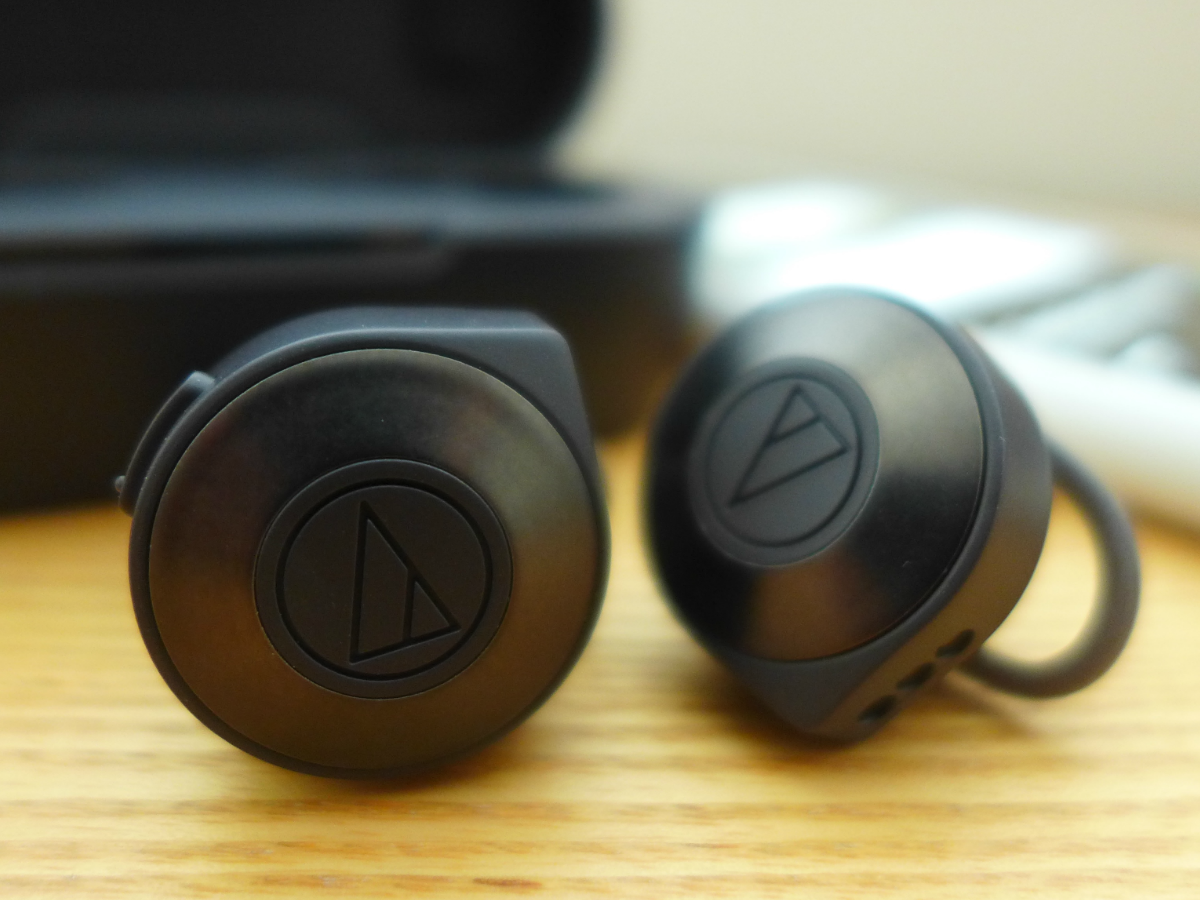 Offering incredible battery life, seamless operation, excellent audio with solid bass and great noise isolation, there's a lot to like here, especially for such a reasonable price. The carry case is a tad on the big side, but we reckon it's worth the trade-off for that sweet 45-hour battery life.
The fit of the earbuds didn't feel entirely intuitive to us – we literally had to practice taking them in and out before we hit the streets – and we did find that they protruded from our ears a little more than we'd have liked. Having said that, they did feel reasonably snug and after all, the design and fit will always come down to personal preference.
Overall, the Audio-Technica ATH-CKS5TW is an excellent pair of wireless earbuds that's well worth your consideration.
Stuff Says…
Excellent audio and long-lasting battery life make up for a slightly awkward design
Good Stuff
Excellent audio quality
Powerful bass
Bonkers battery life
Bad Stuff
Sticky-out design
Takes a while to master the fit
Weighty carry case