Audio-Technica ATH-M50xBT review
Bluetooth headphones with sound that speaks louder than their understated appearance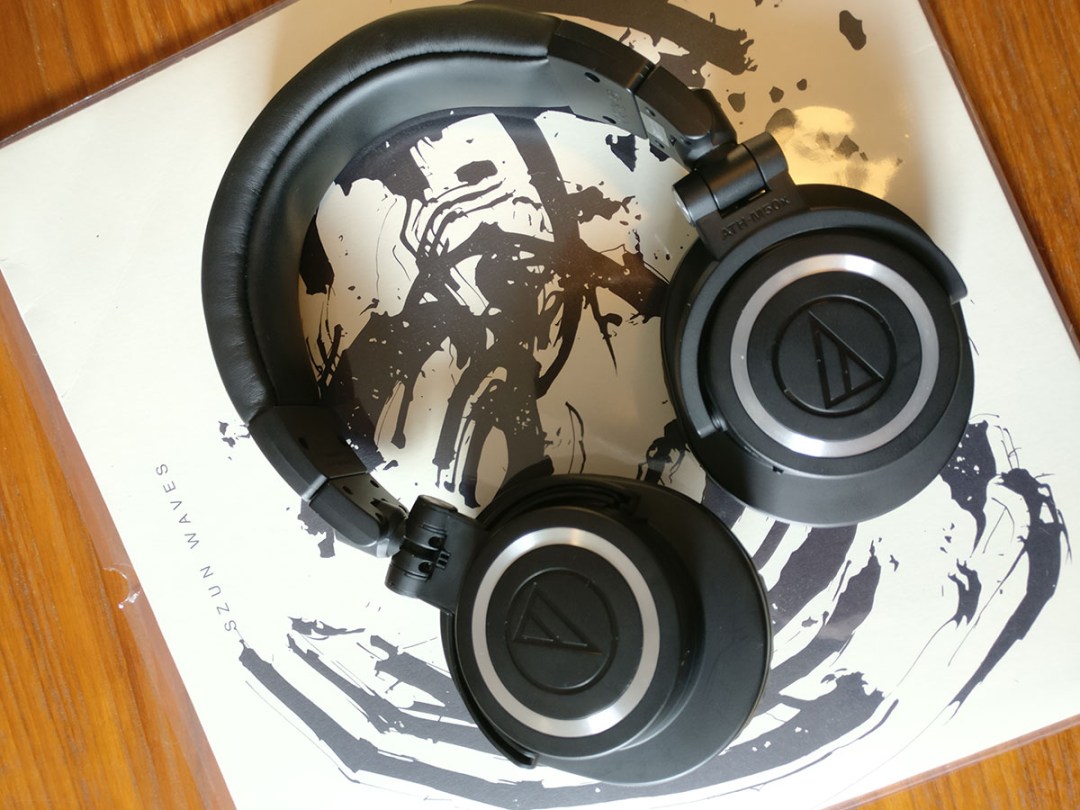 Heaven knows the headphone market is oversaturated.
Whether in-ear, on-ear or over, no matter whether you want to spend £30 or £1000, no matter if you want wireless functionality, noise-cancellation or a Tempura memory-foam earcup, you're spoiled for choice. And don't get us started on your colour options…
Which means it can be tricky to stand out from the ever-growing crowd. Some companies try to differentiate themselves with garish aesthetics, some try it with customisable colour schemes, some employ no-credibility hip-hop artists or journeyman footballers in an attempt to make themselves seen.
Others go about things the right way. Take Audio-Technica, for example. It was a force in the headphones market before the current land-grab got under way, and it has very calmly stuck to what it's good at. The ATH-M50xBT are a case in point.
Taking the enviable performance/price ratio of its acclaimed ATH-M50x wired headphones and bringing wireless connectivity without letting the price go through the roof is a sensible course of action.
Resisting the temptation to make them bright orange in the process is to be admired too. But maintaining the renowned sound quality of wired headphones having removed the wires… that can be a fair bit trickier.
Design and build: understated charm
One person's 'understated' is another's 'dull', we realise. But nevertheless, we're fans of the way these Audio-Technicas look.
The black-on-black earcup logo is pleasing, as is the articulation of the earcups that allows the ATH-M50xBTs to fold down to an easily transportable size.
The plastics feel robust, the padding of the earcups isn't a) too bulky or b) too sweaty, and at 310g they're not a burden on your head.
The earcups don't stick out so far the wearer looks like a Cyberman, and the headband is sufficiently padded without being bulky.
One of the big selling-points of the wired ATH-M50x on which these headphones are based is their robustness, and nothing about the way this wireless alternative is put together suggests they won't last for years – even in careless hands.
Features: Bluetooth beauty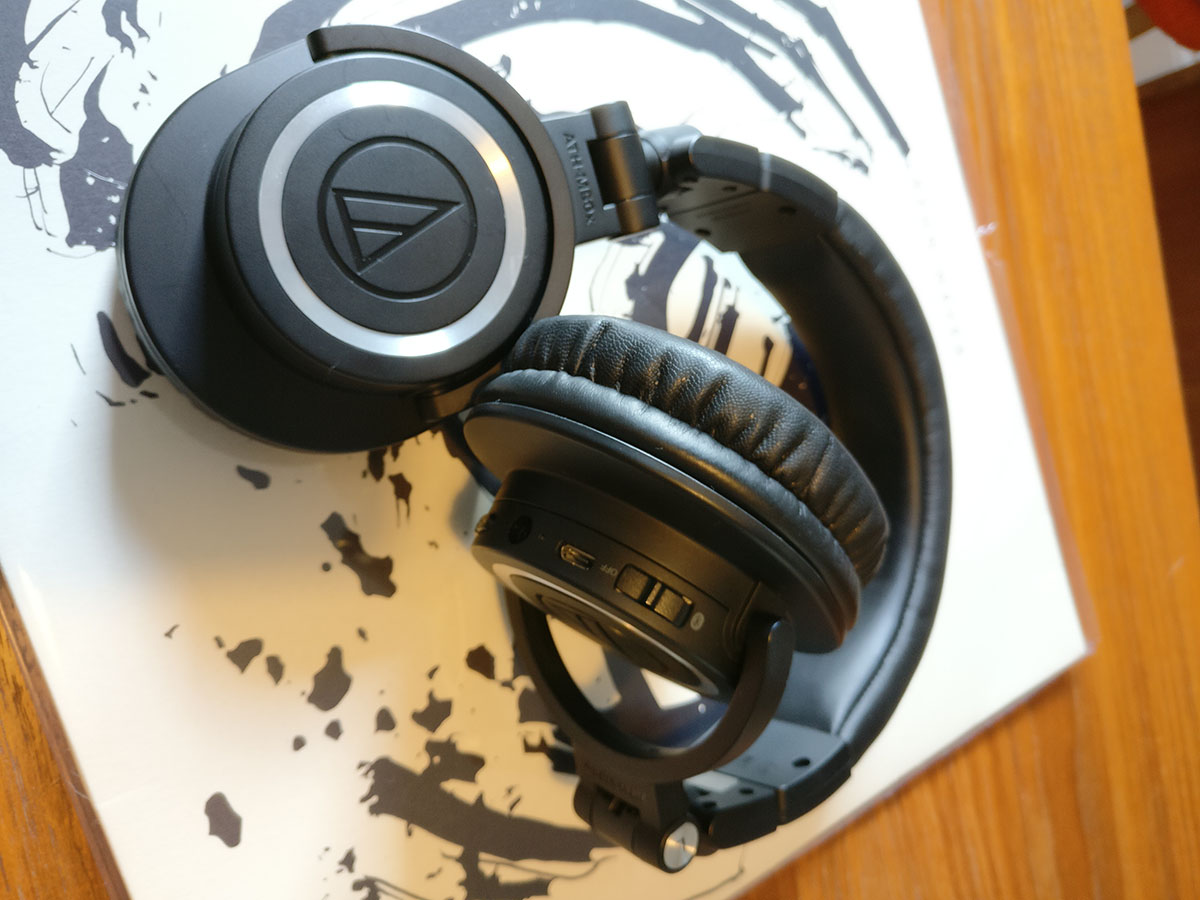 Along with the headphones, the box contains a branded pouch, a 1.2m cable with mic (unlike a lot of wireless headphones, the ATH-M50xBT can be used even if the battery is flat) and a USB charging cable.
Audio-Technica claims charging from empty takes seven hours (which seems pessimistic in our experience), and that the headphones will last for 40 hours when fully charged. So there's really no excuse for running out of juice. The headphones themselves have a predictable selection of buttons and controls.
The left earcup surround is where the action is: it has the USB socket for charging, a 3.5mm input for hard-wiring, three buttons for skip forwards/backwards and play/pause and the power/Bluetooth pairing control.
The earcup itself can also summon your smartphone assistant – just press lightly on it for a couple of seconds.
Beneath the earcups are brand-new 45mm full-range drivers. These are a new design, which is all well and good in itself – but wouldn't seem to give the BTs the ideal chance of sounding like their wired siblings.
Wireless audio is delivered via Bluetooth 5.0 (yay) but there's no aptX HD (boo). You also do without NFC pairing, which – let's face it – is no great loss.
The lack of active noise-cancelling isn't surprising given the price, and what passive noise-cancelling is generated by the snug-ish fit of the earcups isn't going to prevent you hearing oncoming traffic.
Performance: Textured exuberance
Right from the off, the ATH-M50xBTs prove an engaging and vivid listen.
Despite Audio-Technica's desire to have them sound as similar to the wired version as possible, there's a deal more exuberance to the BTs – where the wired M50x have a fairly neutral balance (which is one of the things that's made them so popular as studio or monitor headphones), the BTs are altogether livelier.
Less out-and-out accurate, certainly, but at the same time a more vivacious performer. Load up a Spotify file of The Field's Is This Power (anything smaller than a 320kbps file is exposed quite ruthlessly by the Audio-Technicas) and the wide-open soundstage and three-dimensionality of the presentation is immediately impressive.
There's real energy to the sound, and convincing management of rhythm and tempo – the low frequencies in this tune can plod terribly if unsympathetically handled, but here they act as both an anchor and a propellor. Which is exactly as it should be.
They're nicely textured, too, full of detail – and that's true of the entire frequency range. The hissing hi-hat at the top end is bright and shiny without quite become coarse or tiring; the woozy keyboard sound in the midrange wanders in and out of focus just as it should.
Given something a little more challenging to deal with (a CD-quality 16bit/44.1kHz file of Barry Adamson & Jarvis Cocker's Set the Controls for the Heart of the Pelvis, say), the ATH-M50xBTs handle it with casual authority.
That rattling top end is absolutely as crisp at it wants to be – it's not hard to imagine it getting a little brash at properly painful volumes – but the fine details are given just as much attention as the broad strokes, and it makes for an engrossing listen.
Adamson's subterranean bass guitar drives the tune forward, and the Audio-Technicas give every impression of enjoying themselves. That's an attitude that's not as prevalent as it should be where headphones at this type of money are concerned.
Yes, the ATH-Mb050xBTs come this close to overplaying their hand where high-frequency reproduction is concerned – but they want to engage with all the music you play. And for that reason alone we're fans.
Audio-Technica ATH-M50xBT Verdict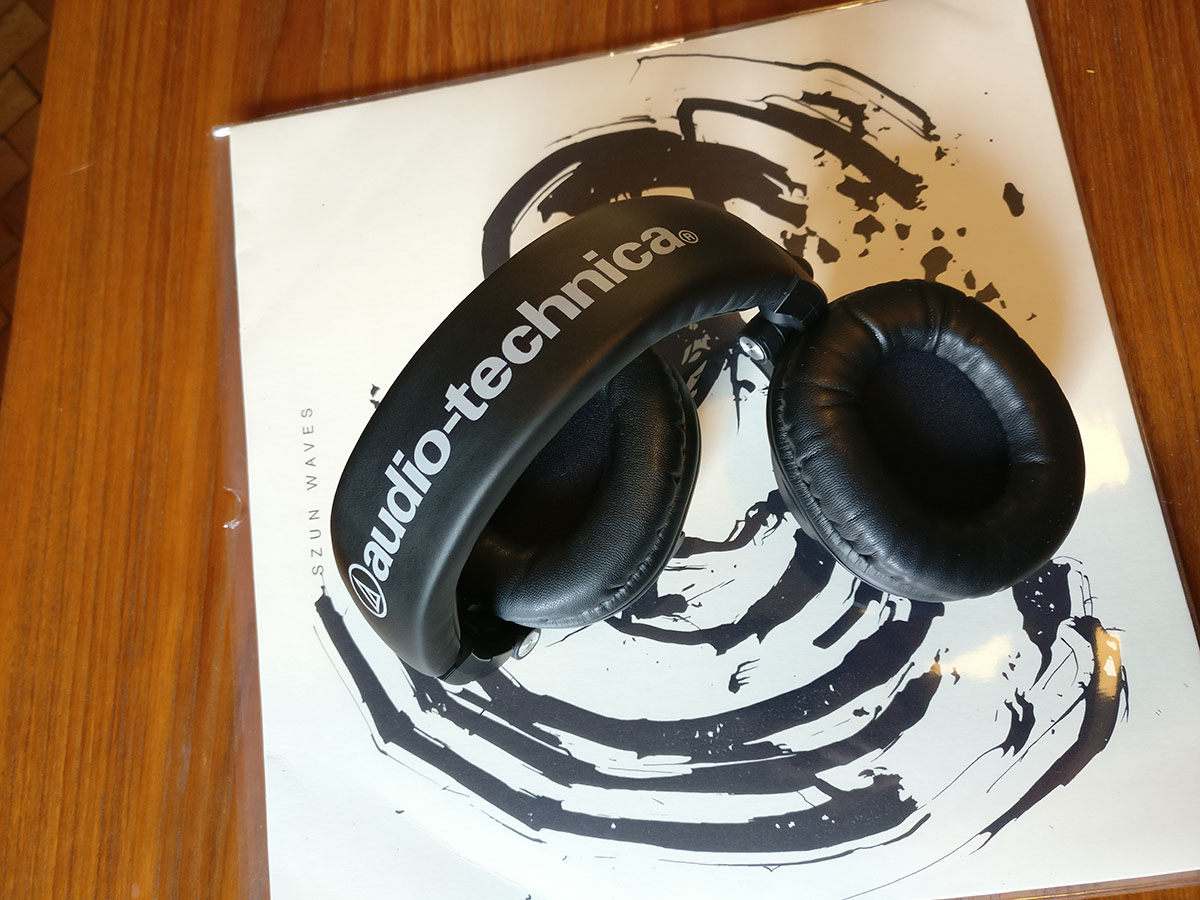 Not as dispassionate as their wired counterparts, and all the better for it.
With an impressive 40 hours of battery life on a full charge, simple design and the very fact they pay as much attention to the finer details in a piece of music as the broad strokes, they're a pair worth investing in.
Stuff Says…
An undemonstrative exterior concealing really enthusiastic sound – these Audio-Technicas are not to be taken at face value
Good Stuff
Nice simple design
Bad Stuff
No noise cancellation