Audiolab Omnia review: convenience without compromise
What do we want? Convenience! When do we want it? At a time that's convenient to us!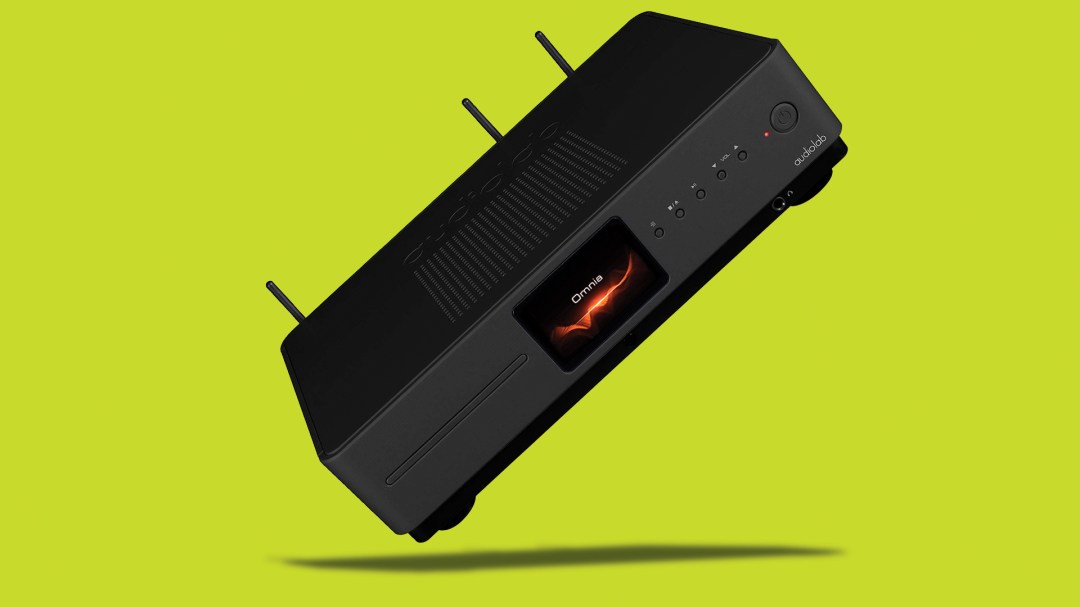 It's been a while since even the most serious-minded and self-consciously 'hi-fi' hi-fi companies have been able to make a virtue out of complexity or inconvenience. Some hi-fi companies have already addressed this issue head-on, and in the case of Naim (just to pick an example not quite at random) it's raised their profile and revitalised their profit-margins at the same time. 
Audiolab is the most recent 'proper hi-fi' company to throw its hat into the ring. This Omnia all-in-one machine will amplify your speakers and your headphones, will stream from pretty much anywhere, has a stack of extremely high-resolution inputs, can support a record player and can be part of a multiroom system. Oh, and by way of an encore it has a built-in CD drive too.
Certainly looks convenient, doesn't it? But is it any good?
Design and build
The way the Omnia is both designed and built brings the word 'purposeful' to mind. The box itself (which is yours in either black or anodised silver) is the size of a regular old-school hi-fi 'separate' – so when you consider the amount of functionality Audiolab has managed to cram inside, it's hardly surprising it weighs more than 9kg.
So no, it's not the most decorative piece of electronics you ever saw. But don't doubt it's been put together with obvious care and is built to last.
Features
So if we're picking one word at a time to describe the Audiolan Omnia, where features are concerned we're going with 'extensive'. If the Omnia can't do it for you (at least in stereo hi-fi terms), that's because it's not worth doing.
As well as amplification for a pair of headphones (there's a 6.3mm socket on the fascia), the Audiolab can drive a pair of speakers using its 50 watts per channel of Class AB amplification. That's not the most inspiring number you ever saw, but in all honesty it should be plenty to drive the Omnia's likely speaker partners – and Class AB has a fair bit more hardcore hi-fi credibility than the Class D alternative most of the Omnia's rivals deploy.
There's an overspecified ESS Sabre 32bit DAC on board, and it handles incoming digital signals from (deep breath) the pair of digital optical and digital coaxial inputs (all four of which max out at a chunkily hi-res 24bit/192kHz resolution), the Type A and Type B USB inputs (both able to handle DSD512 and 32bit/768kHz files), the dual-band wi-fi and Bluetooth 5.0 (with SBC, AAC, aptX HD and aptX Low Latency codec support).
Not a digital audio fan? The Omnia has three line-level analogue inputs, alongside a moving-magnet phono stage for connection to a turntable. As far as outputs go, in addition to the headphone and loudspeaker amplification there is an analogue output for connection to a power amplifier. And, of course, there's the disc drive which will handle your CDs (and CD-Rs and CD-RWs too).
Yes, we're happy to stick with 'extensive'.
Interface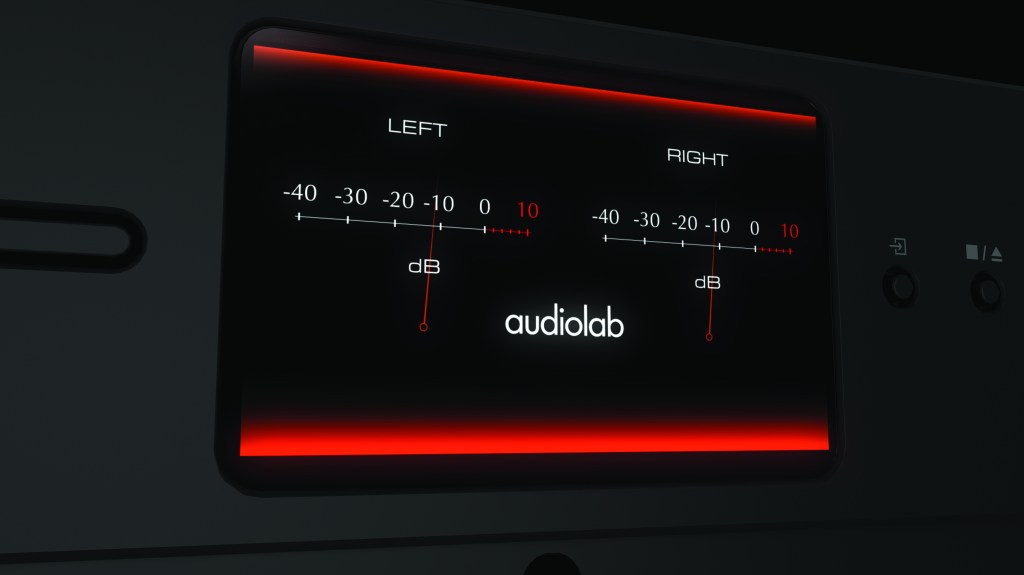 Audiolab has very sensibly built Omnia's digital interface around the DTS Play-Fi platform. This is a smart move because a) it means you can use the expansive, stable, logical DTS control app, and b) the Omnia can be part of a wider Play-Fi multi-room system with next-to-no effort whatsoever.
It's also a good move because your alternative control methods are a fair bit less satisfying. There are a few physical controls on the fascia, and they'll do what you ask them to do eventually. You just have to be patient. And there's also a remote control handset, which is a wee bit more responsive than the fascia buttons but isn't especially legible.
Still, it's easy to find out what the Omnia is up to thanks to the big, bright 4.3in LCD display in the middle of the fascia. And as well as allowing you access to set-up menus and what-have-you, it also gives you the option of analogue or digital VU meters. Because some things are just too 'hi-fi' to do without.
Performance
No matter where you source your music from – a turntable, a streaming service app on a smartphone, some network-attached storage, the CD drive, you name it – the Audiolab Omnia sounds remarkably consistent. And not only that, it sounds thoroughly enjoyable and quite (whisper it) 'hi-fi' at the same time.
It may at first sound fractionally lightweight, but it really isn't – it's just that the bass it generates is so rapid and so well-controlled that, if you've become used to low-end drone, the Omnia might seem short of substance. Listen a little longer, though, and you'll realise it's got plenty of punch and drive. It just doesn't hang around.
It's the same sort of story at the opposite end: the Omnia gets properly stuck into treble sounds, and they sound bright and substantial as a result. There's no hardness or edginess to the top end, though, just a lot of well-controlled attack. Which, again, helps the Audiolab sound like a speedy device.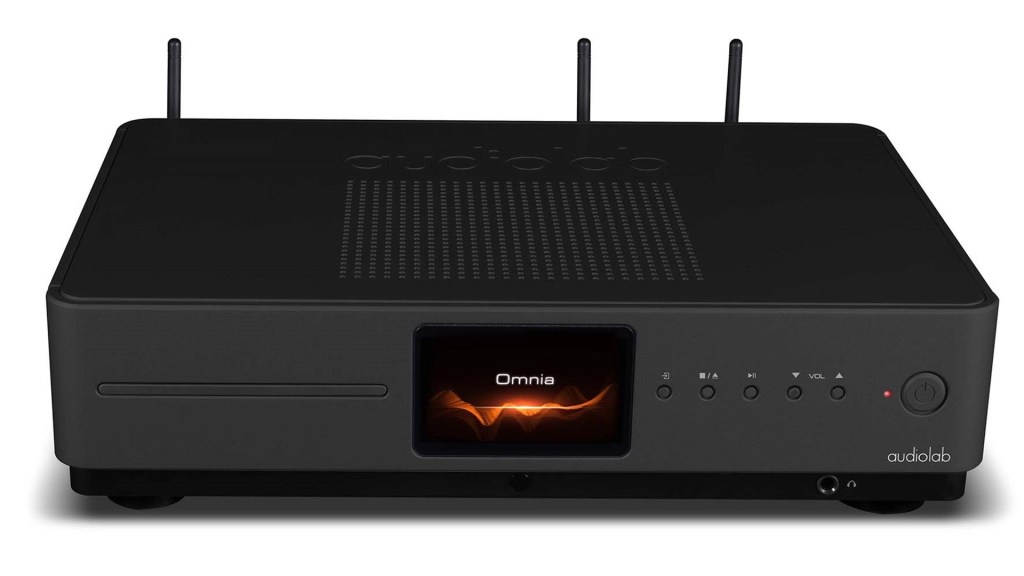 In between is where the Omnia really shines, though. Its midrange reproduction is immediate, packed with detail and really well balanced – so singers sound engaged and engaging. We're not into the biggest hi-fi cliché of the lot ("singers sound like they're in the room with you") but the Audiolab does great work with vocalists.
And in every other respect, the Omnia veers between 'good' and 'great'. It is confident with rhythms and tempos. It can express tiny harmonic variances just as readily as big dynamic shifts. It creates a soundstage that's properly organised and is easy to understand. It really doesn't seem to care what sort of music you listen to.
Actually, that last bit isn't absolutely true. About the only time the Audiolab sounds anything less than completely confident is if you decide to listen to music that's either very compressed or badly recorded in the first place. A 320kbps Spotify stream (which is marginal to start with) of Nick Cave & The Bad Seeds' Nature Boy (which was seemingly mixed to sound good on the radio) offends the Omnia's sensibilities a bit, and ends up sounding a little hard, a little edgy and more than a little indistinct. Seems you can't repress a company's 'hi-fi' instincts indefinitely…
Verdict
If you want a proper taste of a full-on hi-fi set-up without finding the money and the space for a full-on hi-fi set-up, the Audiolab Omnia will get you most of the way there. Got speakers and a smartphone? Then you can have a hi-fi system.
Stuff Says…
Proper convenience with hardly any compromise, the Audiolab Omnia is a one-box hi-fi solution.
Good Stuff
Expressive, entertaining sound
An absolute stack of functionality
Build to survive a demolition
Bad Stuff
Not too tolerant of iffy recordings
Remote and fascia controls aren't all that
Not about to win any design awards
Tech specs
| | |
| --- | --- |
| Integrated amplifier | 2x50W (8ohm) / 2x75W (4ohm) Class AB |
| Connections | Wi-Fi 5, Ethernet, Bluetooth, (aptX HD/LL) 2x optical, 2x coaxial, 2x USB, 3x analogue, 1x phono, 1x power amp |
| Streaming support | Amazon Music, Spotify, Tidal, KKBox, SiriusXM, Napster, Internet Radio, Deezer, iHeartRadio, Pandora, Qobuz, QQmusic and more |
| Outputs | 1 x pre amplifier, 1 x stereo speaker, 1 x headphone, 1 x 12V trigger |
| App | iOS, Android, Kindle Fire, Windows |
| Dimensions | 440 x156 x 327mm |
| Weight | 9.1kg |