Beyerdynamic Free Byrd review: politely in-your-face
Fashionably late to the true wireless earphone party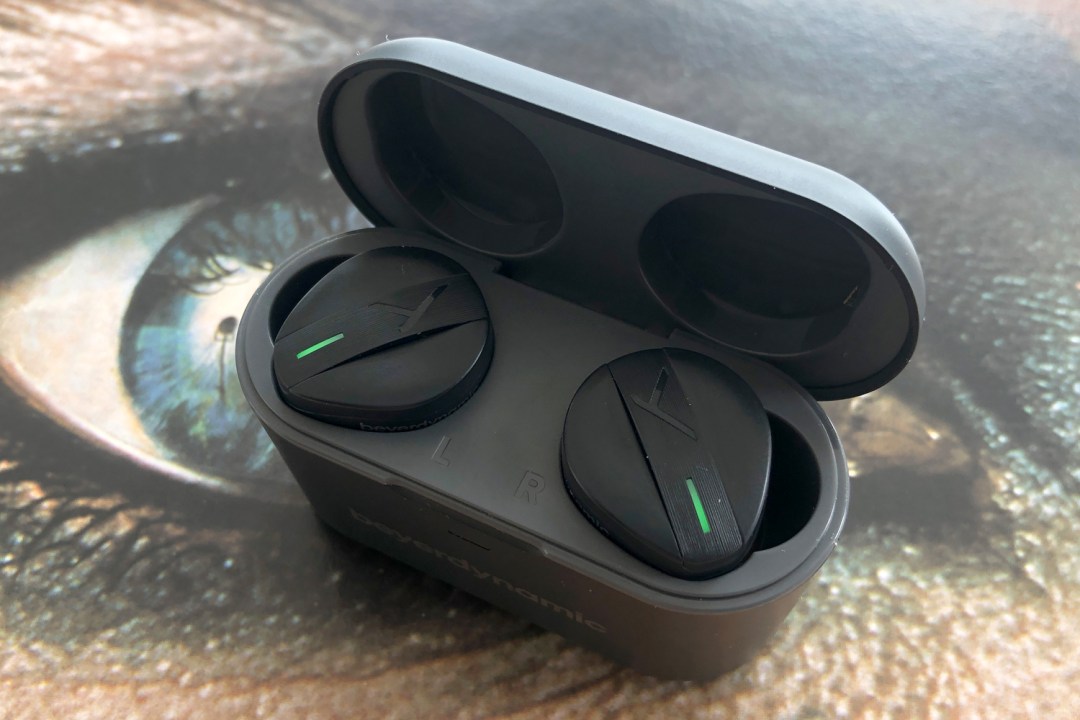 There's been a Beyerdynamic-shaped hole in the true wireless in-ear headphone market ever since it became a thing. Somehow it's taken this German headphone giant until now to get its wireless earbud act together, while obvious rivals and competitors have been refining their products and gobbling up sales for half a decade.
Still, better late than never. Well, as long as the Free Byrd do some justice to the Beyerdynamic brand, anyhow…
Design & build: too much yet not enough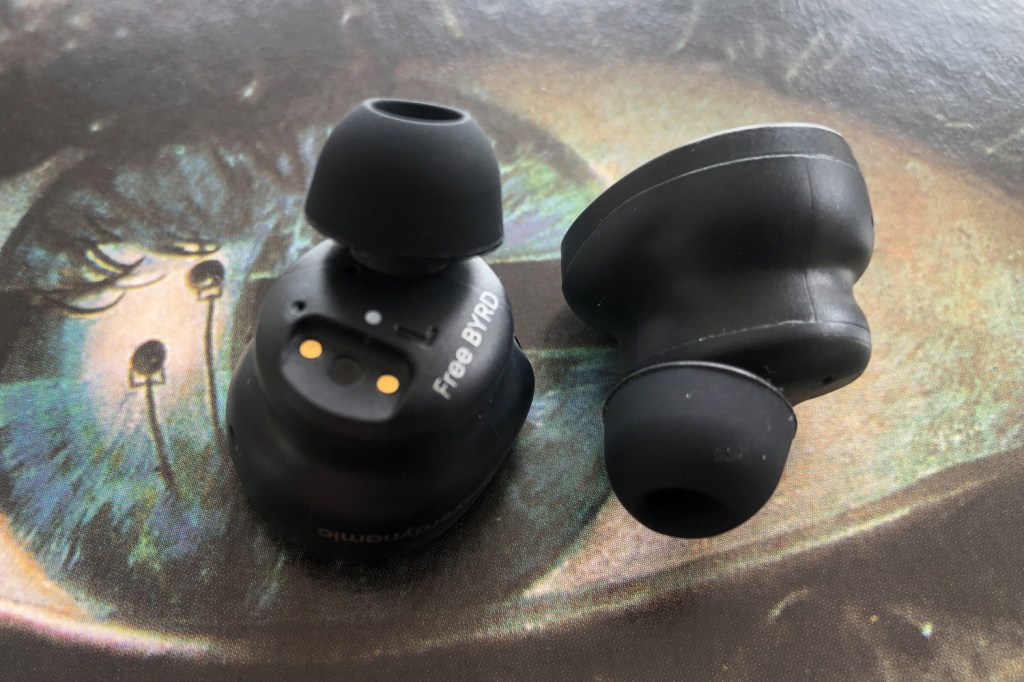 'Build' is quite easy to deal with here – it's basically flawless. Both the earbuds and the charging case in which they arrive feel sturdy, expertly constructed and made to last. The plastics from which these components are built don't feel especially luxurious, and alternative designs from the likes of Sennheiser and Sony are a little more tactile, but as far as construction and longevity are concerned, there's no cause for alarm.
And up to a point, 'design' is dealt with confidently too. After all, true wireless earbuds need to be small, light and comfortable – right? And while the Free Byrd aren't the smallest earbuds around, and at 7g each are far from the lightest, they're undoubtedly comfortable. A full eight pairs of eartips (foam and silicon) are provided in the box, so if you can't find a pair to fit you nicely then it's almost certainly your ears that are at fault.
The 'twist-to-fit' configuration of the earbuds ensures a good combination of comfort and security too (as long as you accept these are not sports 'buds). They form a good passive seal against external sounds at the same time, and an IPX4 rating means they're pretty hardy.
But there's something rather prosaic about the design and finish of the Free Byrd. No one wants 'bling' from their earbuds, but there's nothing wrong with a visual hint as to how much money they cost you is there? The Beyerdynamics are unflashy and unshowy, and as a result they seem unpremium too, certainly when compared to the obvious rivals.
Features: got what you need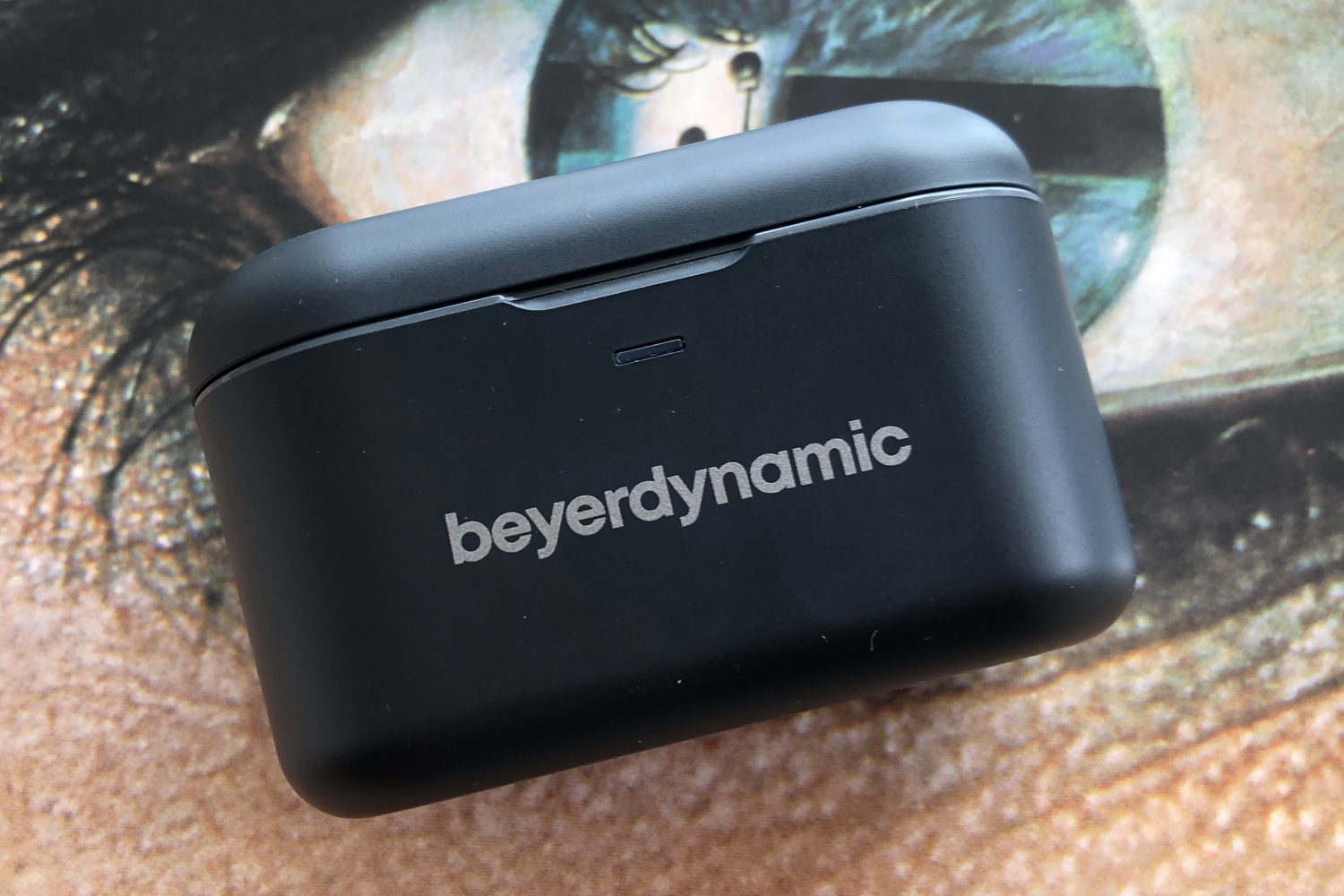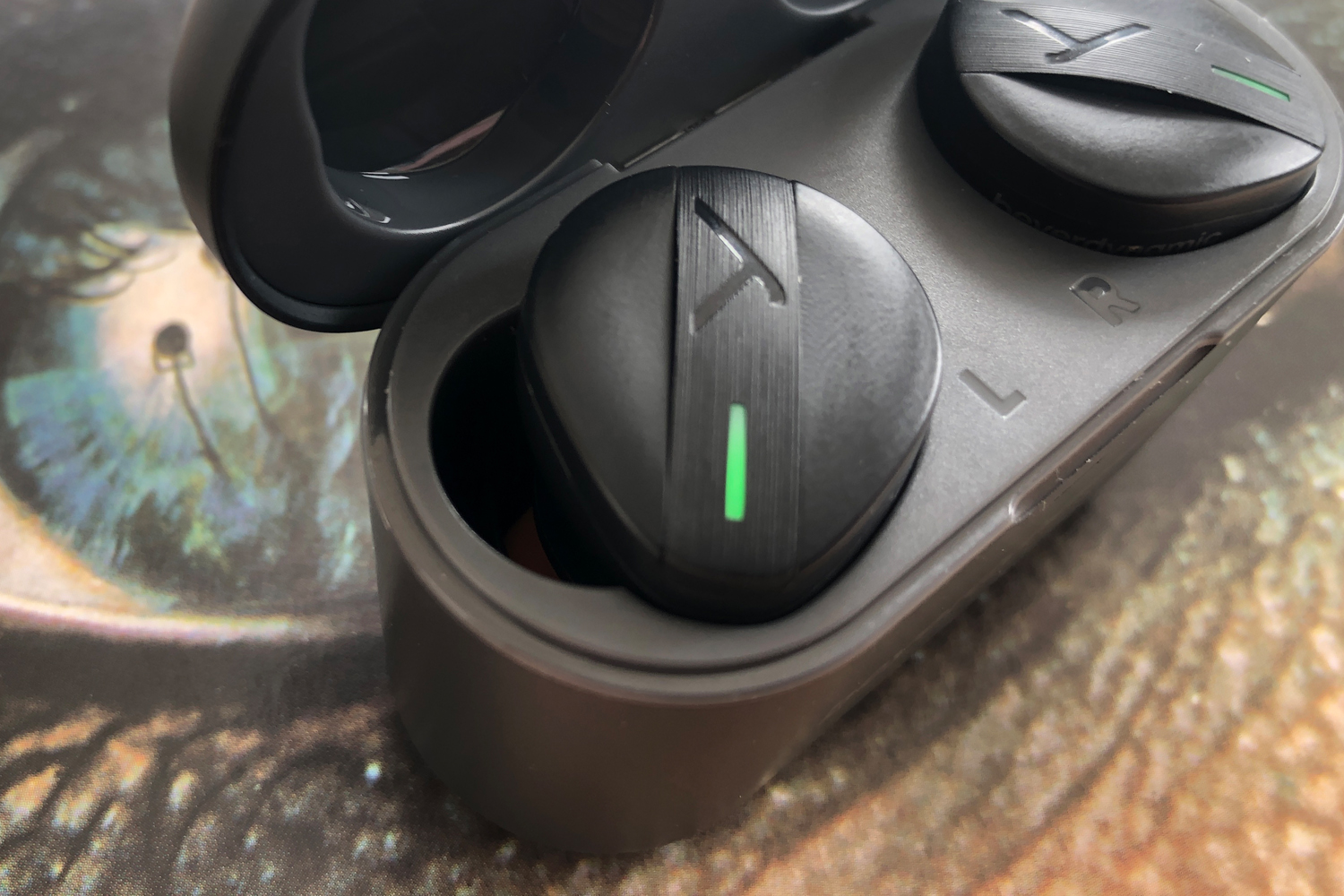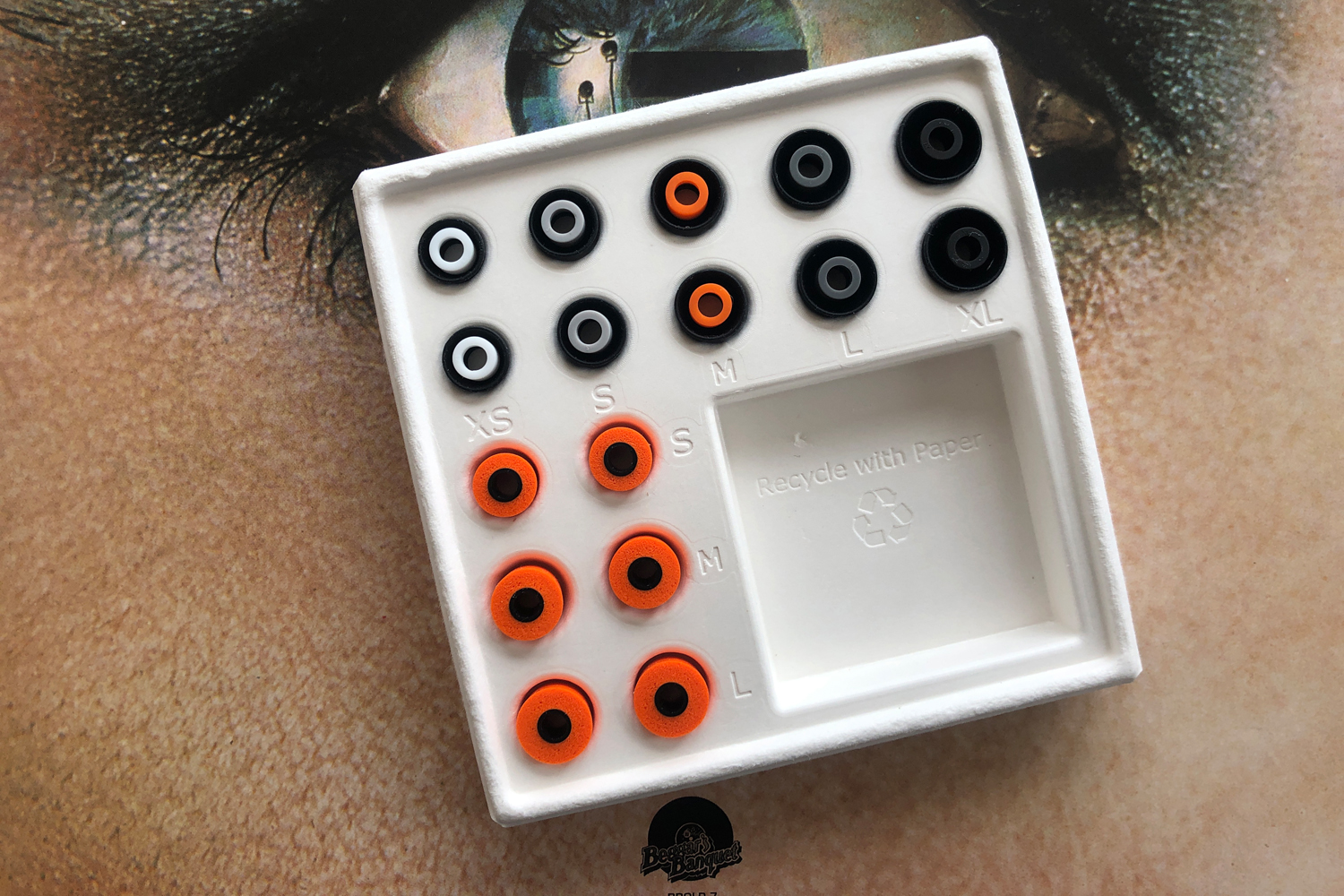 Bluetooth 5.2 for wireless connectivity with SBC, AAC and aptX Adaptive codec support is a great jumping-off point. A couple of 10mm full-range dynamic drivers to deliver sound looks promising too.
Battery life of between 8 and eleven hours (depending on whether or not active noise-cancellation is switched on) plus another 19 hours from the charging case aren't quite such exciting numbers, but should be adequate for most people most of the time. Wireless recharging via any Qi-certified pad is a nice touch, and an hour's power from a 10-minute blast is useful too.
As far as ANC goes, it's a binary 'on/off' system with a third setting for 'transparency' available too. A total of six mics takes care of noise-cancellation, voice-assistant interaction and call quality – the Free Byrd feature Qualcomm's dual-mic cVc arrangement in a drive to make the latter as competitive as possible.
Beyerdynamic Free Byrd interface: hear me now
As befits a product at a premium price, the Beyerdynamic Free Byrd have a number of control options – and they're all very nicely realised.
Each earbud has a sizable, raised capacitive touch-surface, and from here the major operations are all available. 'Play/pause', 'skip forwards/backwards', 'volume up/down', 'answer/end/reject call' and 'noise-cancelling/transparency' are all available, and all work consistently and reliably.
You can also use the touch-surface to summon your source player's native voice assistant (there's no built-in voice control). Interaction here is just as reliable and predictable as it is via touch control.
The Free Byrd are compatible with Beyerdynamic's MIY (Make It Yours) control app, and this too is a properly sorted and useful option. As well as being able to select 'on' or 'off' for noise-cancellation, there are quite a few EQ presets available – along with a Mimi-based test designed to deliver sound based on your specific hearing profile. It's rapid, simple, and the results are impressive.
Performance: almost but not quite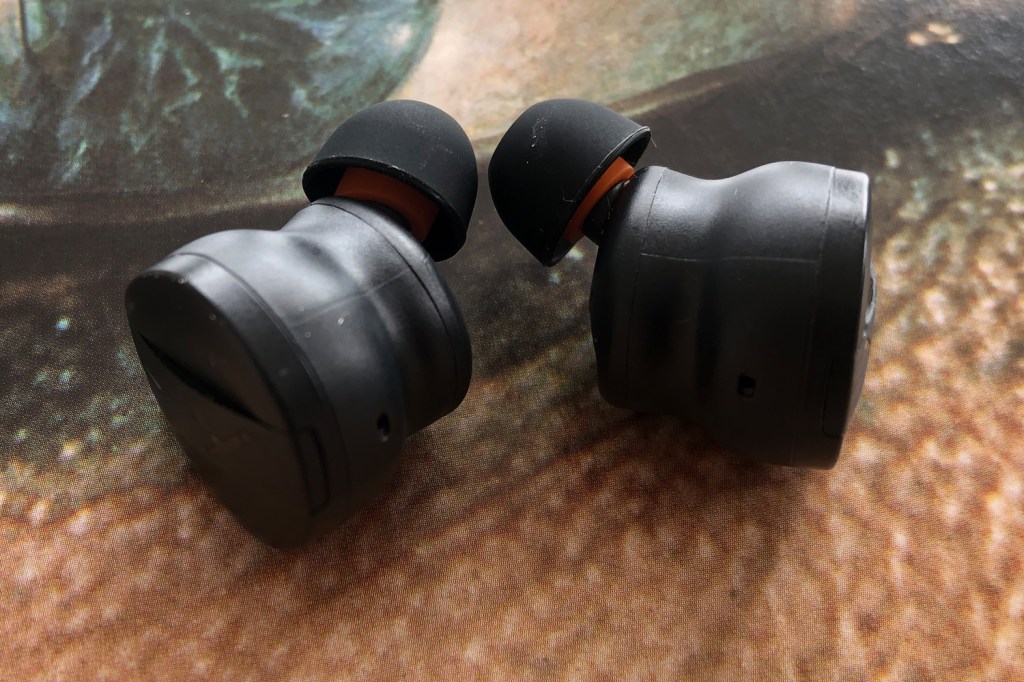 Mind you, take as many hearing tests as you like and/or fiddle with the EQ settings as much as you want – you won't be able to make the Beyerdynamic shift their fundamental sonic profile all that much. No matter the circumstances, no matter the sort of music you're listening to, the Free Byrd are always an energetic, upfront and politely in-your-face listen.
Some recordings suit this attitude nicely, of course. Listen to Four Tet's Mango Feedback and the vibrant, front-foot presentation makes perfect sense. They dig deep and hit hard where low frequencies are concerned – but they control the bass stuff well, so rhythmic expression is strong and tempos never collapse under the weight of the low end. The same energy and attack is on display throughout the midrange, which is never less than communicative and (if given an appropriate singer to work with) authentically vivid.
The top of the frequency range is just as energetic, but there's a slight rolling off of the top end that makes treble sounds either a) fractionally dull or b) properly behaved and controlled, depending on your preference.
The soundstage is big, organised and easy to understand, and there's more than enough space available for the silences and absences in the recording to be given as much prominence as the actual sounds. Detail levels are decent and overall momentum is never in doubt.
Switching to something a little less concerned with drive and attack (such as Blame by Gabriels), though, and the Free Byrd are on more uncertain ground. They continue to do great work through the midrange, giving the close-mic'd vocal full expression, but the recording's lack of bombast exposes a rather blunt, inarticulate way with dynamics. The best earbuds will make each pluck of the upright bass sound like an individual event with its own set of harmonic variations, but the Beyerdynamic are matter-of-fact and short of insight. The result is a presentation that lacks eloquence and character.
They're similarly 'almost but not quite' where active noise cancellation is concerned. On the 'plus' side, the Free Byrd do a comprehensive job on lower-frequency intrusions – and do so without shifting their sonic position in the slightest. They're not so adept where higher-frequency external distractions are concerned, though – and so end up doing a good, rather than a great, job at keeping you isolated from the outside world.
Beyerdynamic Free Byrd Verdict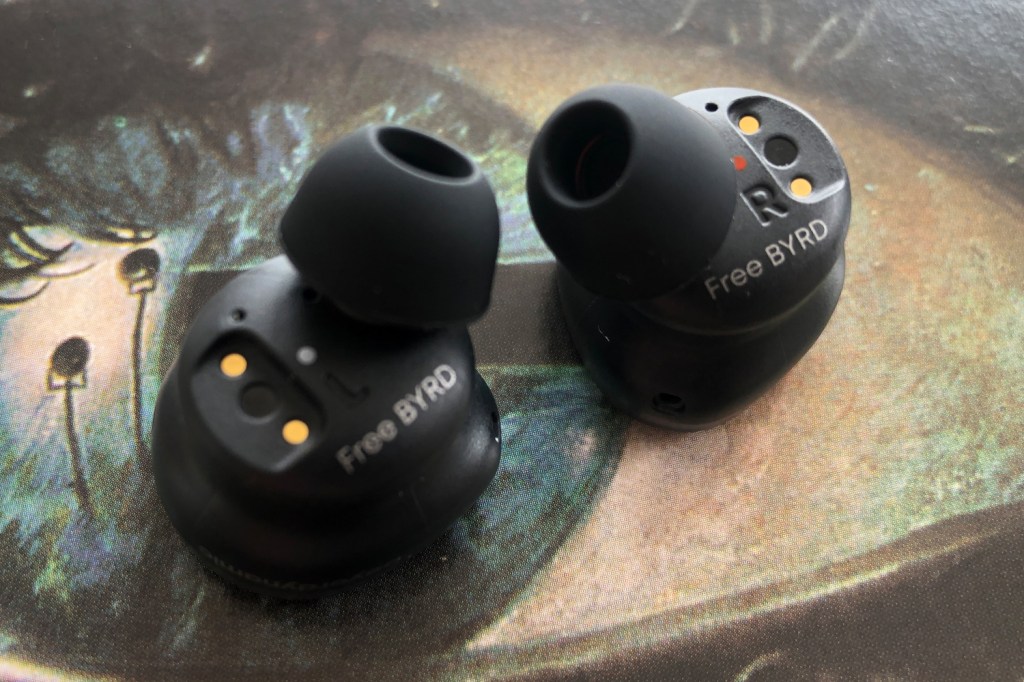 There's lots to like about the Beyerdynamic Free Byrd – they're properly made, their control options are numerous, and they sound very engaging indeed in a rather over-caffeinated, tears-before-bedtime sort of way. But they're far from short of competition, and when lined up against their best rivals they can sound less than eloquent.
Still, these are early days in the story of Beyerdynamic's true wireless earbuds adventure, and we're already keen to hear what comes next.
Stuff Says…
They're not without charm, but more importantly the Beyerdynamic Free Byrd are not without competition.
Good Stuff
Muscular, energetic sound
Mimi sound personalisation
Good spec, good control options
Bad Stuff
Can sound rather blunt
Don't look or feel the money's-worth
Can be beaten for noise-cancellation