BMW i8 review
The BMW i8 hybrid supercar lands from the future to reassure petrolheads that excitement and eco can co-exist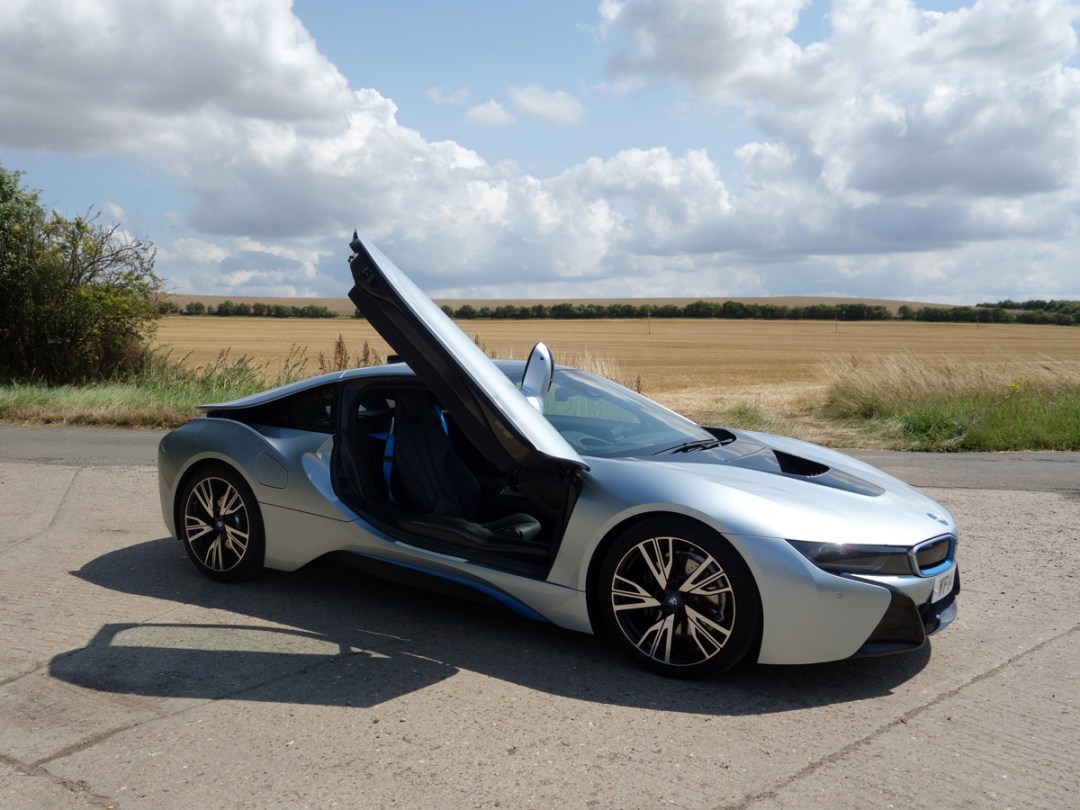 Car makers so far aren't in agreement on how to dress the future. Tesla, for example, based its electric technology around a conventionally good-looking car with the Model S. For the i8 supercar, BMW is basically saying, 'dammit, this electric stuff is new. Let's style it new, too'.
The i8's swoops, cutaways and indents are taken straight from the 2009 concept car while the electric motor married to a highly tuned 1.5-litre turbocharged engine is equally bold.
We've seen million-pound hybrid hyper cars from McLaren, Ferrari and Porsche, but at just under £100,000 the i8 is flirting with affordable and no less exotic given it's also built around a carbon fibre tub. It's got breathtaking looks, right-on engine tech and heaps of government tax-breaks, but can it really deliver the on-road performance of the likes of rivals such as the Aston Martin Vantage V8 or Audi R8?
Future sound

Great sound is vital for a supercar, but how can an electric motor and a three-cylinder engine match the soul-pounding thunder of a V8 or V10? We don't know how, but they can. The i8 sounds fabulous. We suspect synthesizer trickery but it matters little.
Sport mode turns the digital dials from a meditative blue to hellfire red, the petrol engine is ignited and suddenly it's no more Mr Green Guy. Shifting through the automatic's six speeds using the wheel mounted paddles brings about a fearsome bassy crack on each change, and the engine howls as if it's got at least three more cylinders as speed multiplies. At times you hear the distinctive (and no less appealing) three-pot thrum, while the controlled scream from the electric motor is one of the best we've heard.
Extreme yoghurt weaving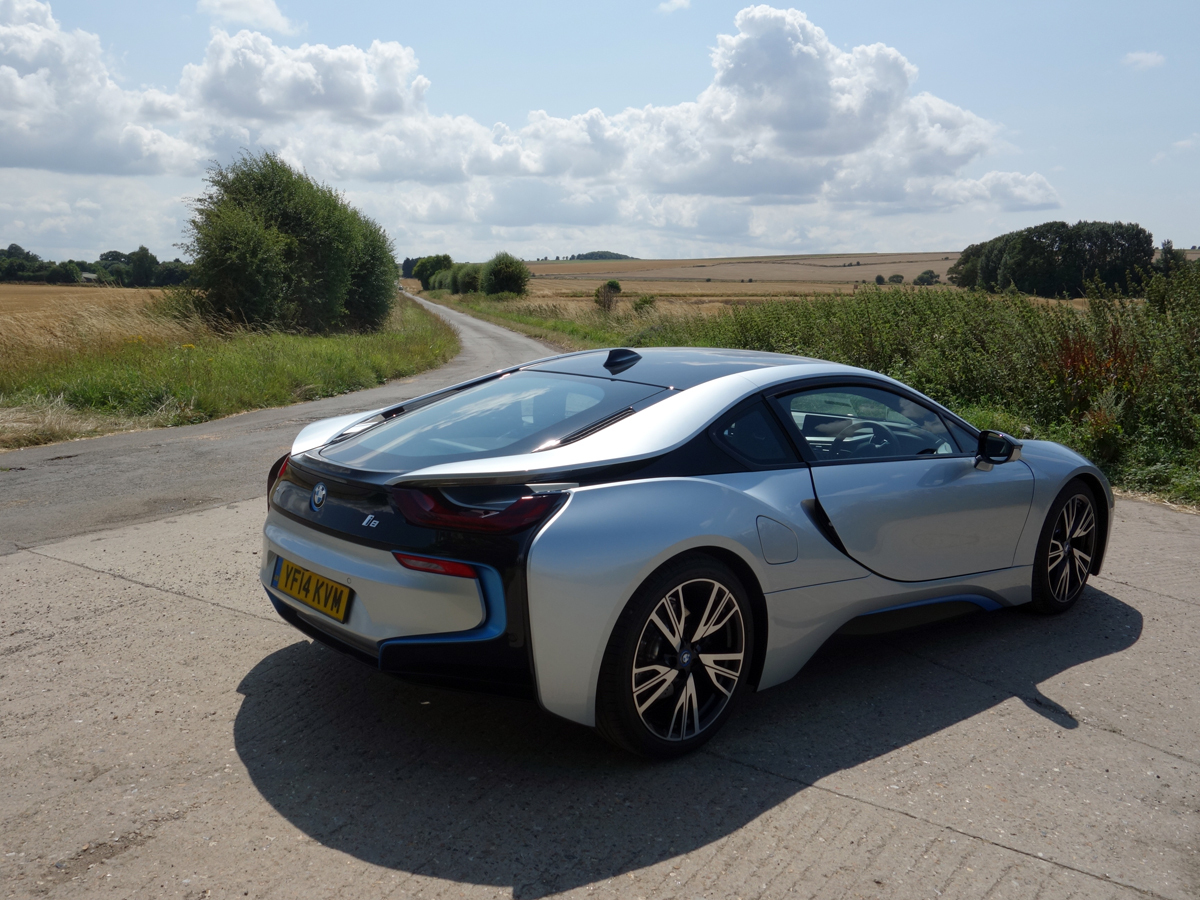 Because the core of the car is made of plastic woven with carbon fibres, the whole thing is still relatively light at 1,490kg – even with those two engines.
It's also very stiff – you feel it when you corner hard and realise you could take that same corner much, much faster.
With the petrol engine at the back driving the rear wheels and the electric motor at the opposite end powering the front wheels, the all-paw traction is excellent and the weight balance spot on. With the steering weighted up in Sport, the car feels fabulous. And it rides beautifully. Firm but with each clattering pothole wrapped in velvet and disposed without fuss.
Oh, I see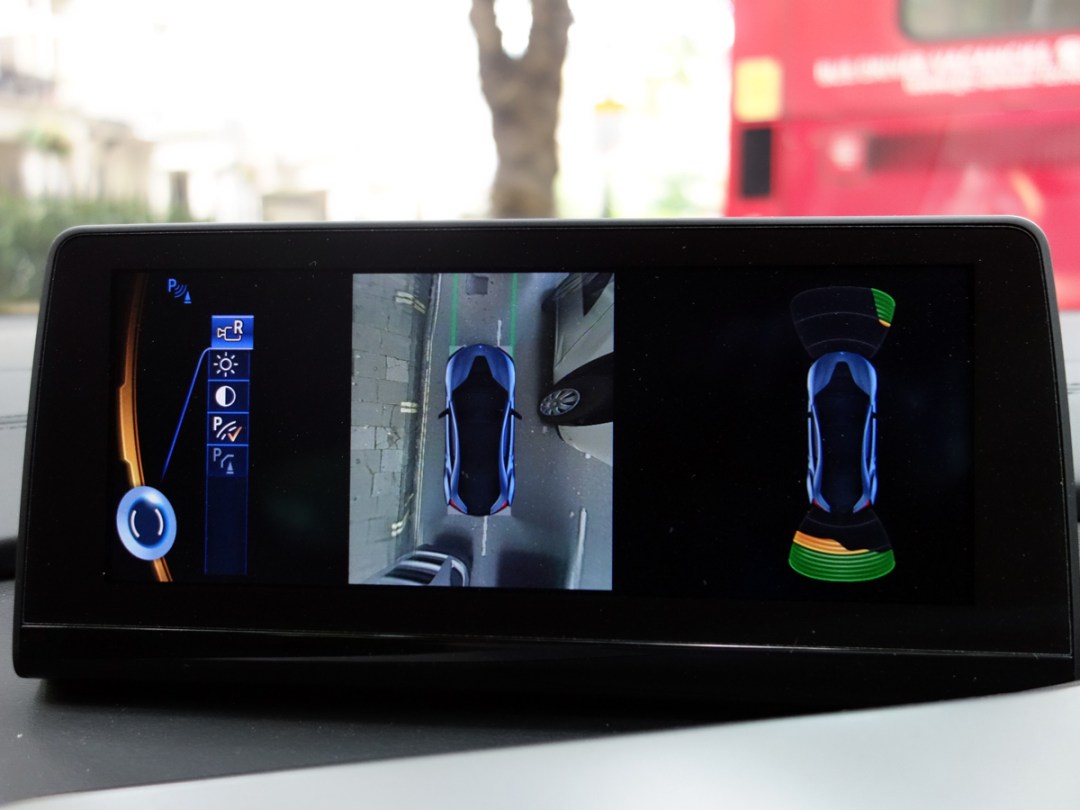 No car we've ever driven has been fan-filmed in London to the same extent as the i8 and we were very glad of Surround-view to help us avoid anything dumb for YouTubers to lap up. This takes feeds from body mounted cameras to display an impressive drone's eye view of the car so you don't whack those 20in wheels on kerbs, taxis or vans nudging over for a closer look.
This option also bundles in collision avoidance tech that at one point in an Oxfordshire village terrifyingly flashed up a graphic of a cyclist onto the heads-up display and briefly slammed on the brakes. There was an oncoming cyclist but we'd both decided there was enough room and neither of us appreciated the car's input.
Government sanctioned fun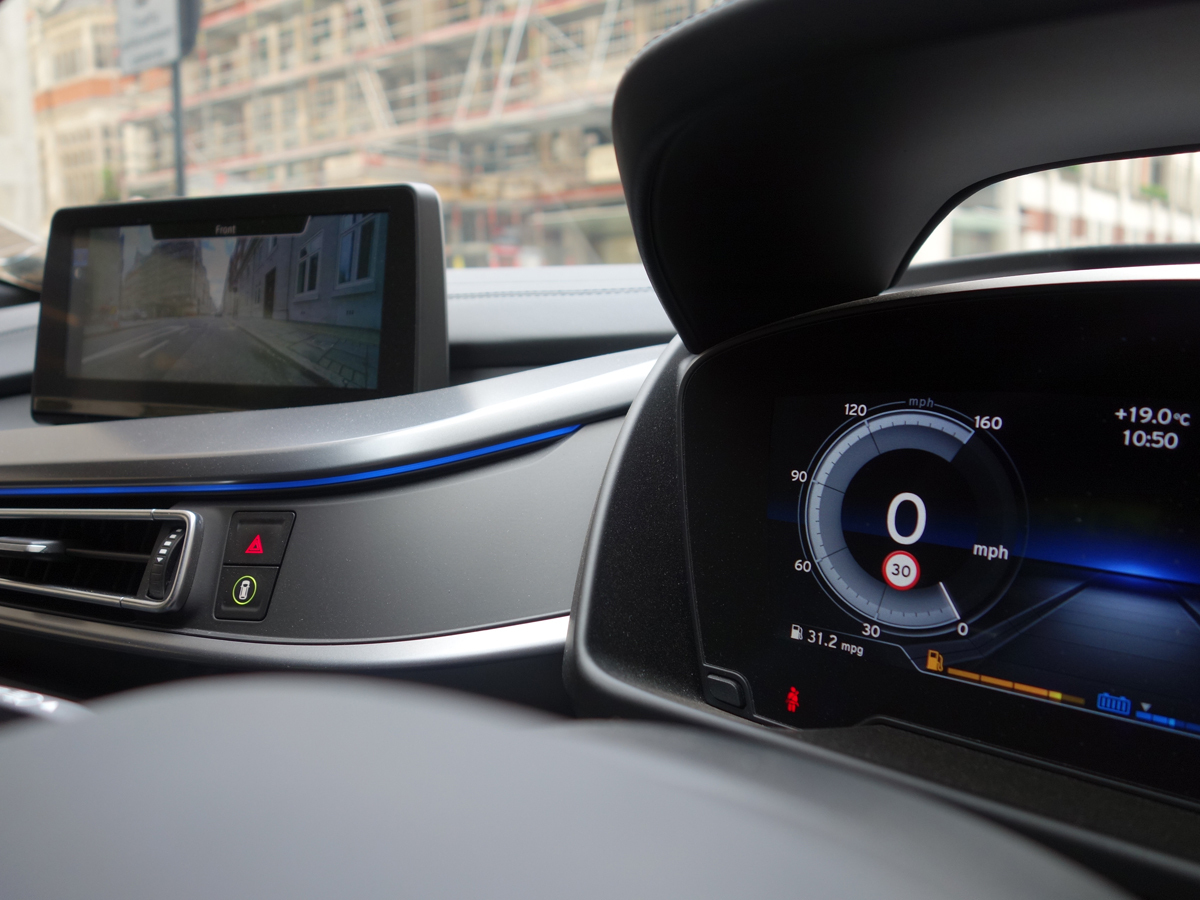 Not only will our Government waive the i8's annual VED tax, it'll also hand you a £5,000 discount. Which is like trading food stamps for aged Comte at the farmers' market.
It's because the i8 can officially run 23 miles on just electric power once the lithium-ion battery pack's been topped up. The electric-only thrust is not as potent as that in its urban cousin, the i3 supermini, and most owners will run it in tandem with the 1.5-litre engine to give a full 357bhp, but it does allow BMW to record 135mpg fuel consumption and CO2 of 49g/km. This is laughable, but the 33mpg we achieved over 122 miles of more sinning than saintliness was staggering for a car of this potency.
Days of the week supercar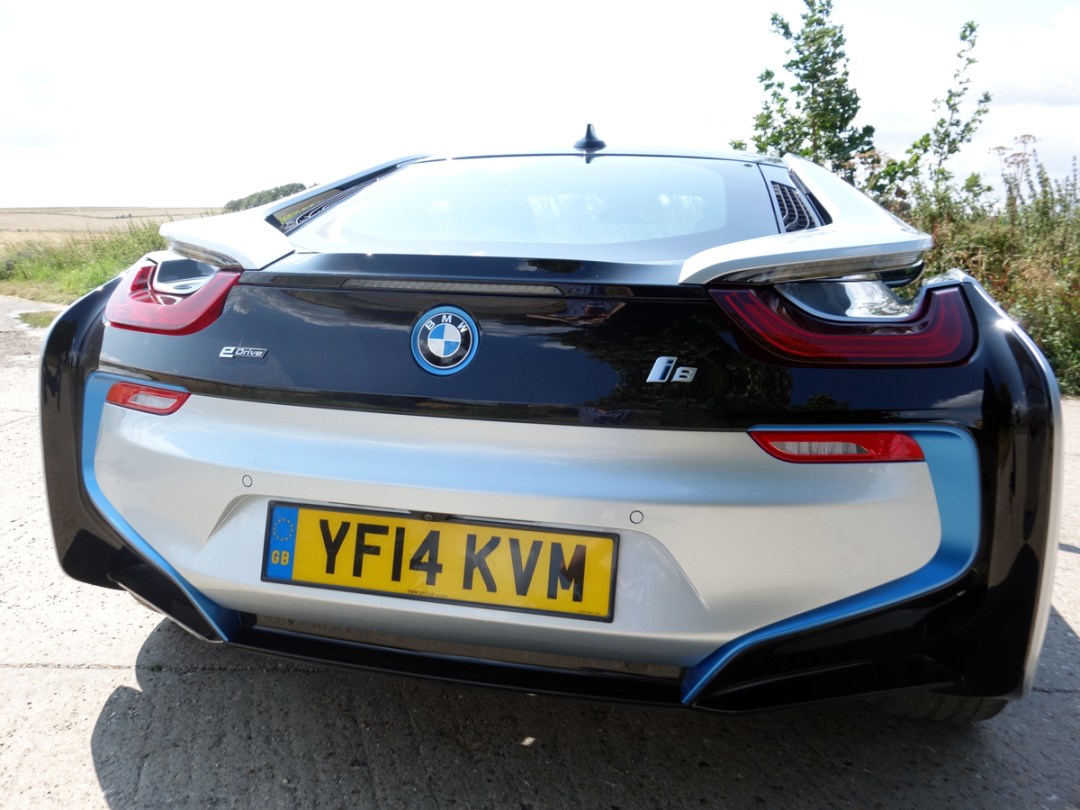 The boot's tiny but otherwise the i8 can be used everyday without stress. It takes a bit of undignified bottom shuffling to get over the high sills and into the cabin, but those very light 'dihedral' scissor-like doors open up wide to help you.
The view out front is expansive, the steering light in all driving modes but Sport and the six-speed auto does its thing effortlessly.
The elevated 8.8in screen is manipulated as it is in all of BMWs posher cars – with a wheel control instead of touch, and it displays sat nav with 3D graphics showing buildings, along with a host of other info. Listen to DAB digital radio or sync your smartphone to stream music. There's nothing else out there that can match the i8 for interior tech and quality. Next year's Audi R8 replacement might run it close.
BMW i8 verdict
The BMW i8 is like one of those all-you-can-eat salad buffets at a pizza restaurant. Approached with serious restraint it's healthy and good for planetary well-being, but go to town and it also delivers a kick of delicious badness.
It's naughty and nice in perfect harmony, and like the salad, this plug-in hybrid is nowhere near as saintly as the official description would have you believe. But it's still a hell of a lot more efficient than its near price rival the Aston Martin Vantage V8 and arguably more fun to drive. And just look at it.
READ MORE: Nissan's virtual Batmobile speeds from Gran Turismo to Goodwood
Stuff Says…
Stop hoarding the petrol and cease trolling the climate-change forums: the i8 proves there's a bright eco future for speed-freaks and car-geeks
Good Stuff
Supercar performance with hatchback economy
Astonishing looks
Sounds absolutely awesome
Fabulous cabin and in-car tech
Bad Stuff
No-one will hit the headline economy figures
Tiny boot and little rear leg room