Brisant-Secure Ultion Smart review: all bases covered
Make it through the night with a military encrypted door lock claiming to stay so solid even if someone hacks your toaster.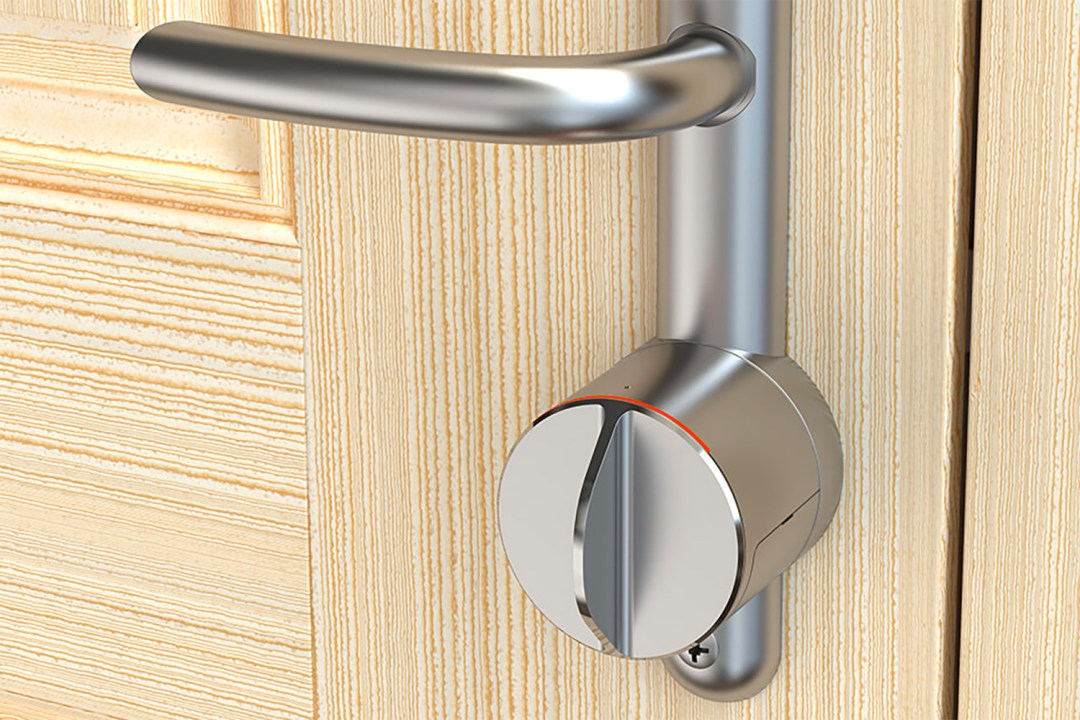 Nobody has nailed the smart door lock in the UK yet. Brisant-Secure thinks it has a chance by combining its physical locks, trusted by locksmiths, with a military-encrypted Danalock V3 taking care of the connected stuff, like geofenced auto-unlocking and support for multiple smart home platforms. Zigbee, Z-Wave, Amazon Alexa via IFTTT and Apple HomeKit with Siri are all good here.
First impressions are promising. It looks like a door lock, it comes with a key and the contemporary finish won't alert anyone to the wizardry going on inside. Installation is simple too, from the unnervingly easy removal of your existing lock to fitting the Ultion Smart there are no holes to drill, wires to connect or plugs to plug, all while following a short video tutorial.
Pairing with the Danalock app is instantaneous if uninspiring, but it works and it's feature-rich with electronic invites for guests (including integration with the AirBnb app), geofencing for auto-unlocking on approach, auto-locking after a selected number of seconds, a latch timer and the cutely titled 'Twist assist' that locks the control wheel from inside with a tiny nudge – great for young, elderly or restricted mobility users.
Once auto-lock is enabled and you've set a geofence radius you'll receive a notification when you leave the zone or re-enter it. Reassuringly the lock doesn't kick in until you're within Bluetooth range and in tests we found it to be entirely reliable. A slight downside is the dentist's drill sound of the 12v motor and lock mechanism – it's not annoyingly noisy, but you might need to rethink your technique when sneaking in late at night.
Our Bluetooth-only model felt slightly restrictive, but for the paranoid among you it's Brisant's most popular and can still be voice-controlled with Alexa via a smart speaker and the IFTTT app, or linked to devices like smart lights. Internet-connected models increase remote functionality, while the HomeKit specific version adds Apple Watch support and Siri commands to the delight of iOS users.
Door supervision
Check the security creds. Algorithms are AES256 secure to military standard, connections are encrypted, and authentication data is dealt with by a cryptoprocessing chip so nothing leaks. The lock itself has 20 points of drill protection, plus TS007 3 Kitemark, Secured by Design and Sold Secure Diamond status. It's undergone 8,000 hours of weather testing when just 240 are required, while Brisant offer a £1,000 guarantee against someone snapping the lock.
A Bluetooth wireless keypad (£119) is also available as an added accessory. Setup separately a few metres from the door, it's paired with the app just like the lock and can store 20 individual PIN numbers that can be added and removed whenever required. Brisant also offer matching 'furniture', including door numbers, letterboxes and various handle styles finished in stainless steel, white, black, polished chrome, polished gold. Fancy.
Stuff Says…
It's no good doing half a job… Smart locks are either secure digitally or secure physically. The Danalock V3 is available individually to mixed reviews, but with hardware from a name trusted by locksmiths, clever encryption gets added minerals to stop real intruders. Whether you're tech-savvy or not all bases are covered and we can overlook the boring app and noisy motor if it means proper peace of mind where home security is cornered.
Good Stuff
Heavy encryption
Lots of smart home options
Bad Stuff
Noisy motor
Keypad is optional accessory
Tech specs
| | |
| --- | --- |
| Battery | 4xCR123A up to 1.5 years |
| Motor | 12V 1.5Nm torque |
| Encryption | AES256 |
| Connectivity | Bluetooth/Wi-Fi |
| Smart home | Apple HomeKit, Amazon Alexa, IFTTT, Samsung Smartthings, Zigbee, Z-wave |