BT YouView+ Ultra HD box review
It's got 4K footie on it, but is that enough to beat the all-conquering Sky Q?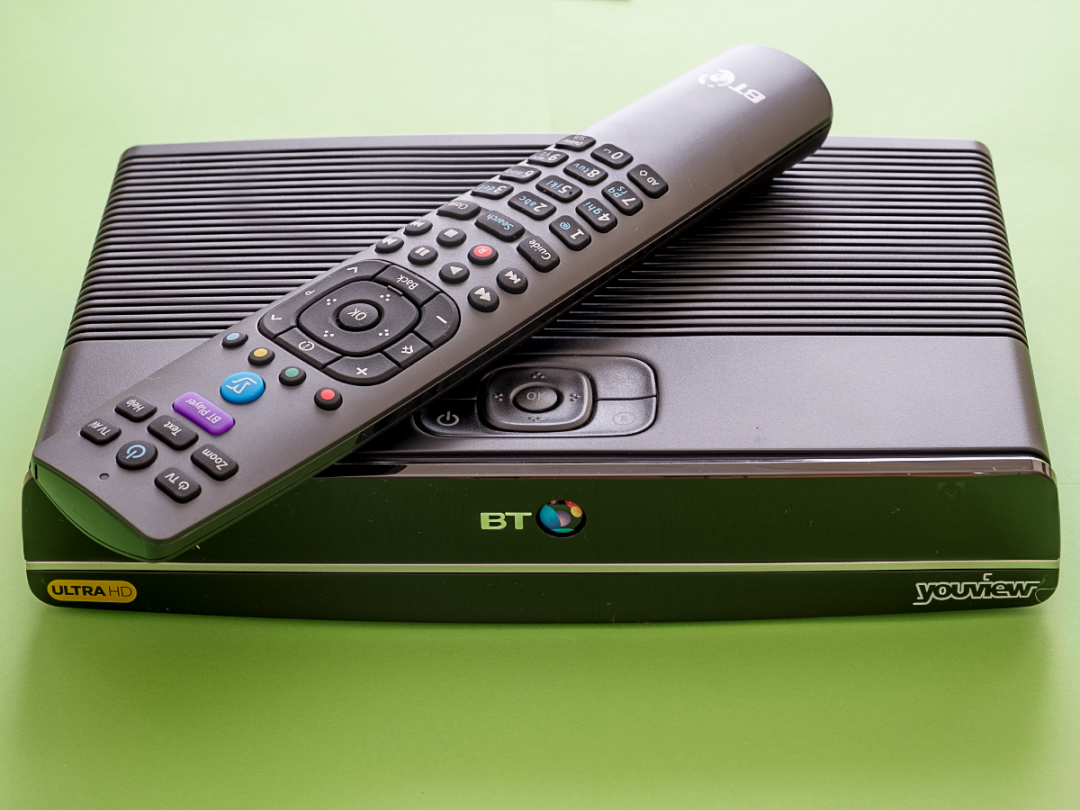 To use a sporting metaphor, BT's YouView+ Ultra HD box is that supremely gifted winger who just never learnt to shoot. It's Nani, basically.
It does some things so well I wanted to start applauding in my front room, and is easily the match for Sky Q or Virgin TV V6 in many areas. However, it suffers from a couple of glaring omissions that left me cursing its ineptitude.
That doesn't mean it's not worth getting, but if you're about to embark on a relationship with it, you'll need to do it with open eyes about those limitations.
BT YouView+ Ultra HD box design: Does the job
The YouView UHD box looks almost identical to the standard BT YouView+ box, with only the Ultra HD branding on the front giving the game away. Like the older box it's made by Humax; you might also see it called the Humax HDR-T4000.
It's impressively small – far shorter than the Virgin TV V6 box and narrower than Sky Q. You'll certainly have no problem finding a space for it, although note that it does need line-of-sight for the remote to work, so you won't be able to hide it away in a cupboard.
That's not something that you'd especially want to do, as it's fairly unobtrusive in its looks, but don't expect it to give you any wow moments either. The black plastic it's made from looks a little cheap and sat next to a PS4 or Xbox One S it'll appear distinctly last-gen. Overall it's nicer than the Virgin V6, but not quite up there with Sky Q.
On top you get a few buttons – Standby, Record, YouView, Back and OK – but I can't see anyone using them unless they lose the remote and find themselves marooned on Animal Planet two minutes before the start of the Champions League Final. Round the back you get HDMI, Ethernet, SPDIF for audio output and ports for aerial in and out. You'll need most of these, too, because the Youview+ Ultra HD box does things a little differently from Sky Q and Virgin's V6.
Rather than give you all of the channels over your broadband connection or satellite, as those rival services do, you get half of them via your Freeview aerial. As a result, you'll need to hook up a TV aerial to the box in order to get the likes of BBC and C4, while connecting the Ethernet port to your BT Hub will let you access the 'premium' channels and on-demand content.
This is not surprising: the YouView platform was conceived by BT, the BBC and others specifically in order to promote Freeview. Nor is it necessarily a bad thing, so long as you have a decent Freeview reception. If you don't, though, you may find that some of the 70-odd Freeview channels are missing from the service.
BT YouView+ Ultra HD box software: YouView wins the day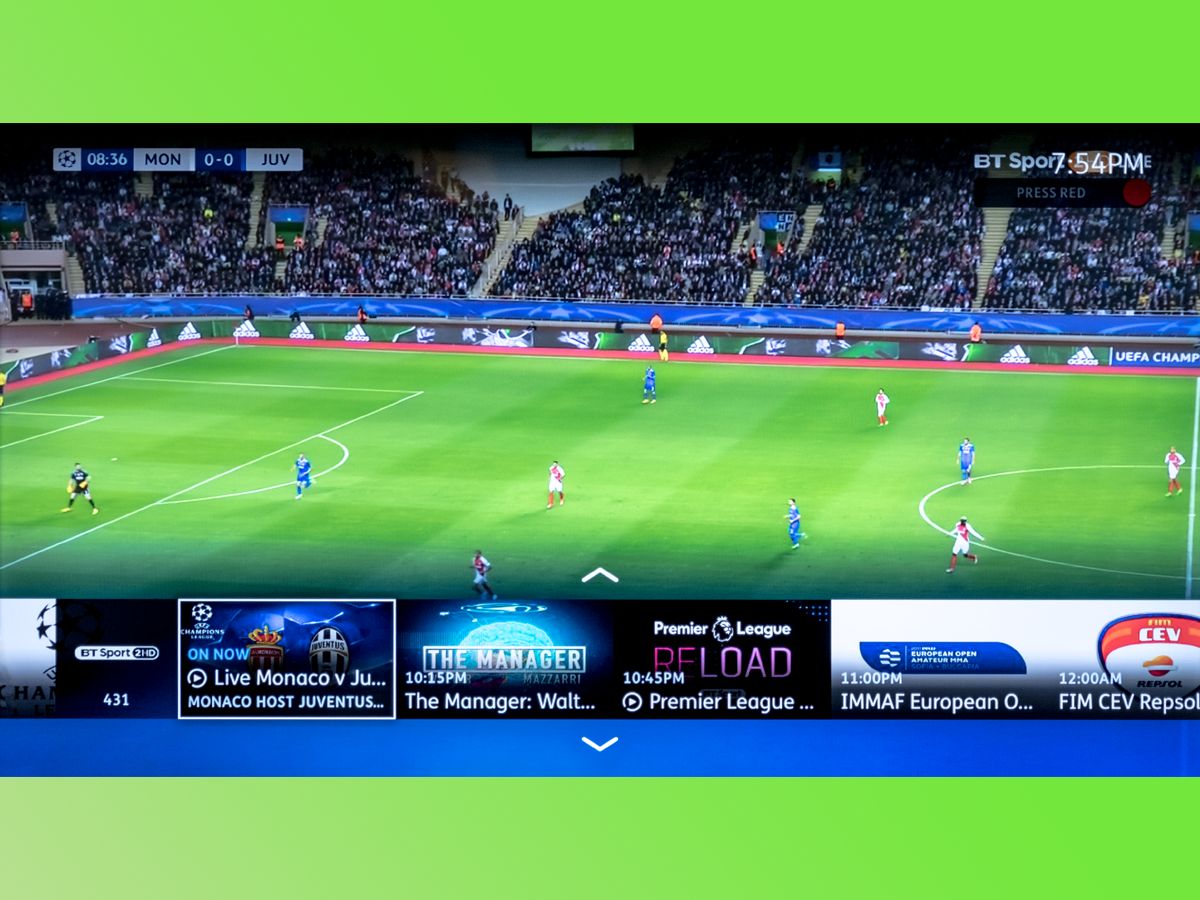 In use, the BT YouView+ Ultra HD box is a really smooth operator.
The first thing to note is how easy it is to get to the good stuff. YouView is a really well thought out platform, and typically gives you several routes to what you might want to watch. For instance, press OK while watching and a semi-translucent info panel will slide into view along the bottom. You can scroll forward on this to see what's coming up later on the channel, or back to see what've you've missed. And, if any of these shows are available on catch-up, you can jump straight into them.
Everything's beautifully laid out – you get thumbnails of every show, whereas on Virgin it's all just text – and it's every bit as fast as if you were browsing Netflix on a phone or tablet.
Want another option? The dedicated YouView button on the remote will bring up a similar panel, which as well as again showing you what you're watching will let you jump straight into the various on-demand apps, your recordings or the full TV guide.
That guide also gets a dedicated button on the remote, and again it's really slick: fast, easy to read and filter, and with just the right amount of info. Again, you can scroll back in time for up to seven days and watch something you might've missed, or forward to set reminders and recordings.
Yet more? The universal search feature will bring up options on catch-up or on-demand and show you future episodes which you can set to record. And it really is universal, pulling in info from Netflix and Now TV as well as searching all of BT's on-demand content.
Everything's just really well organised and displayed. Take catch-up: on Virgin, choosing an previously aired show will sometimes take you straight to the show, and sometimes just to the relevant app, where you'll then need to search for the show all over again. On BT it always takes you to the show. And Sky's not even in the same league on this front: it forces you to download the show before you can watch it.
THE REMOTE
The BT remote isn't quite as well laid out as the onscreen interface. It's quite big, although thinner than Virgin or Sky's, and while it's packed with buttons, they're not always that well positioned.
I found the main navigation keys to be far too close to the surrounding buttons and kept hitting 'Back' rather than 'Down'. The fast-forward and rewind keys are also a little small given how often you'll probably use them and while you can step forward or back in 15-second bursts you can't leap forward by 15 minutes as you can on Virgin.
You do get dedicated buttons for YouView, BT Player, Search and Guide, but it would've been nice to have one to jump straight into recordings or apps.
BT YouView+ Ultra HD box 4K content: Great for footie fans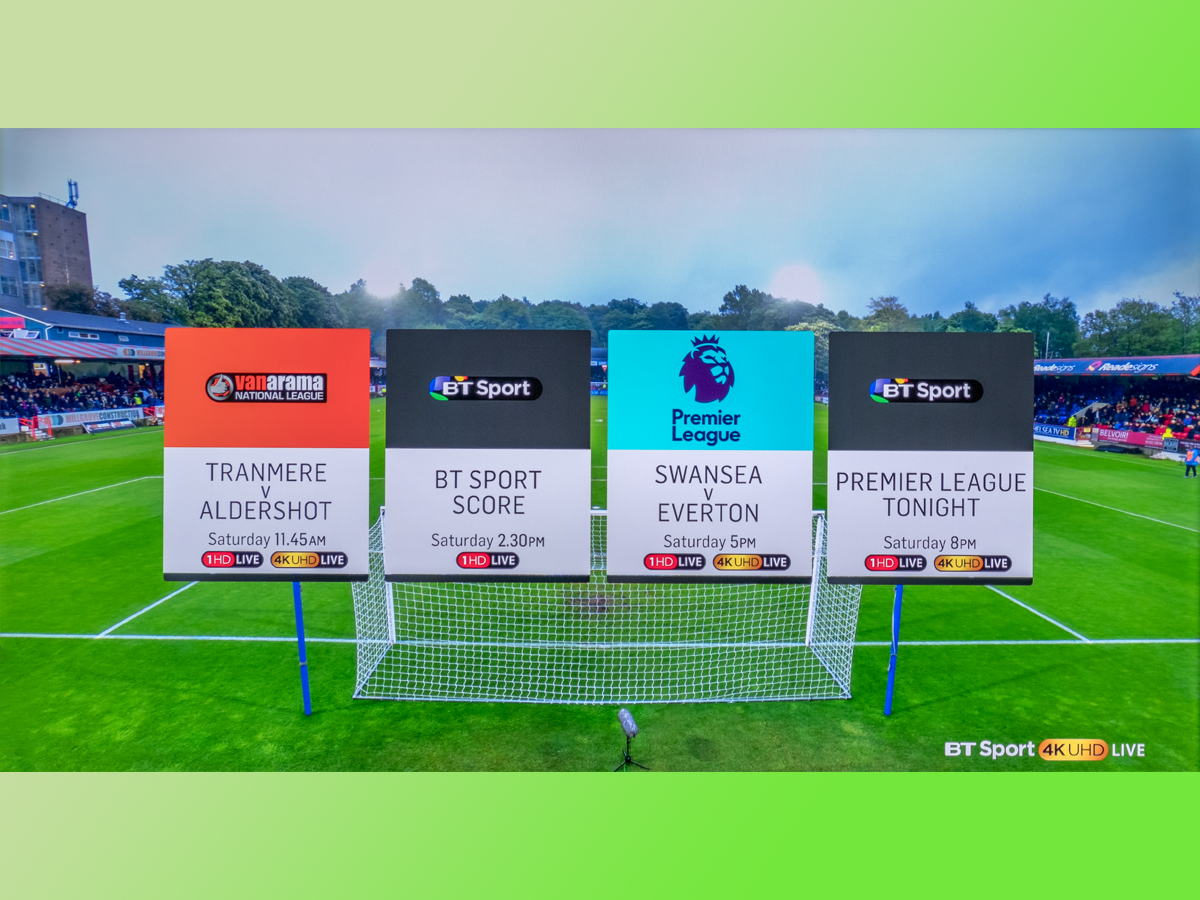 The fact that the words 'Ultra HD' are including proudly in the box's name gives you some idea of its main selling point, but actually it's a bit of a red herring unless you're a football addict.
Yes, the YouView+ does have Ultra HD content, but right now that's restricted to one channel: BT Sport 4K UHD. This was actually the first 4K channel to launch in the UK back in 2015 and it features a decent amount of football. Want to watch Manchester United vs Swansea City in the best possible resolution? You got it. Tempted by highlights of the Champions League quarter-finals? No problem.
In all, BT has 42 live English Premier League games, many of which are shown in 4K. It also has the exclusive UK rights to the Champions League, and again shows the majority in 4K. You'll also find rugby, Moto GP, boxing and other events in UHD. But don't go thinking there'll always be something new to watch on it – there's generally only one or maybe two 4K live events broadcast each day, so you'll find a lot of the programming taken up with trailers for the service.
Picture-wise, it's superb. Compare it to a HD broadcast of the same game and you'll notice the extra clarity and detail immediately. The fact that it runs at 50fps – standard TV is 25fps – also makes a difference, with footage appearing as silky smooth as a Lionel Messi dribble.
Whether it's worth paying the extra for, though, is less obvious. Outside of sport, your only 4K options here are via the built-in Netflix app. And while Netflix does have loads of great 4K content, notably many of its own Originals, chances are you already have access to a Netflix app via your 4K TV or games console.
All of which puts BT firmly between Sky and Virgin in the 4K pecking order. Virgin has no 4K content of its own – just Netflix and YouTube – so BT clearly trumps it on this front so long as you like sport. But Sky remains the undoubted leader in the 4K field, with on-demand movies and entertainment also available in the high-res format, in addition to huge amounts of sporting content of its own.
I should also mention HDR at this point. The YouView+ UHD box is technically capable of outputting HDR, if it gets an update. But until that update arrives, it hasn't got it. Shame. That's the same deal as on Virgin and Sky, though, so it doesn't count too harshly against BT.
One other thing you will get here though – and not on the other two – is Dolby Atmos. Atmos is the next-gen surround sound setup which really puts you in the heart of the action, by pumping sound from above as well as around you. It does this either through ceiling-mounted or upwards-firing speakers. Either way, it's incredibly immersive, particularly for live events such as… yep, football.
This is a real feather in BT's cap, as Sky doesn't currently support Atmos, and Virgin, while it technically can output in the Atmos format, doesn't have any content to take advantage of it. You'll need a compatible setup, obviously, but if you really care about football then 4K and Atmos makes a great combination.
BT YouView+ Ultra HD box catch-up and on-demand: Nicely handled
While BT TV may be lacking on the 4K front, particularly if you're not a sports nut, there's enough good stuff elsewhere on the service that you won't need to do anything stupid like, y'know, read a book or talk to another human.
Assuming your Freeview reception is good, you'll get all of the standard terrestrial channels and their various spin-offs, plus the likes of Dave and Film 4. On top of those Freeview channels you then get whichever 'premium' channels you pay for. Which, in this case, will be all of them: in order to get a YouView Ultra HD box you have to sign up for BT's most expensive TV package anyway.
Total Entertainment, as it is called, gives you about 70 premium channels. They're mostly the same ones you'd find on all of the other services – National Geographic and History, Gold and Comedy Central, Fox and SyFy etc etc.
You also get AMC, which is basically BT's version of Sky Atlantic. No, you don't get such riches as Games of Thrones and Billions, but you do get the new Pierce Brosnan-starring western The Son and the new series of Fear The Walking Dead sooner than you'd get it elsewhere. And of course you also get BT's entire sports offering, including the 4K output. All of which puts it above Virgin TV, which has very little exclusive content of its own, but still a way behind Sky.
If the exclusive content is a little lacking, BT TV does at least give you plenty of catch-up and on-demand options. On catch-up, you get UK TV Play – home to Dave and Yesterday, among others – as well as the big five terrestrial channels. That isn't the case on its rivals, so if old episodes of Yes Minister are your thing, you'll be sorted.
For on-demand, you're looking at the built-in Netflix and Now TV apps, should you have subscriptions – although note that Now TV here is restricted to movies, not sport or entertainment – plus BT's own BT Player.
The latter is decent if you're prepared to pay. There's a dedicated button for it on the remote, and the app itself is nicely laid out. You can easily filter the guide so it shows only free content, but that drastically reduces your options. The superb Mr Robot and Orange is the New Black are both available, but not a lot else.
You can at least buy a decent amount of films and box-sets on the service. Rogue One will set you back £4.99 for a 2-day HD rental, for instance, while Moana costs £13.99 to keep, also in HD. That's roughly the same as you'll find on Amazon Instant Video or iTunes.
BT YouView+ Ultra HD box recordings: Curiously hobbled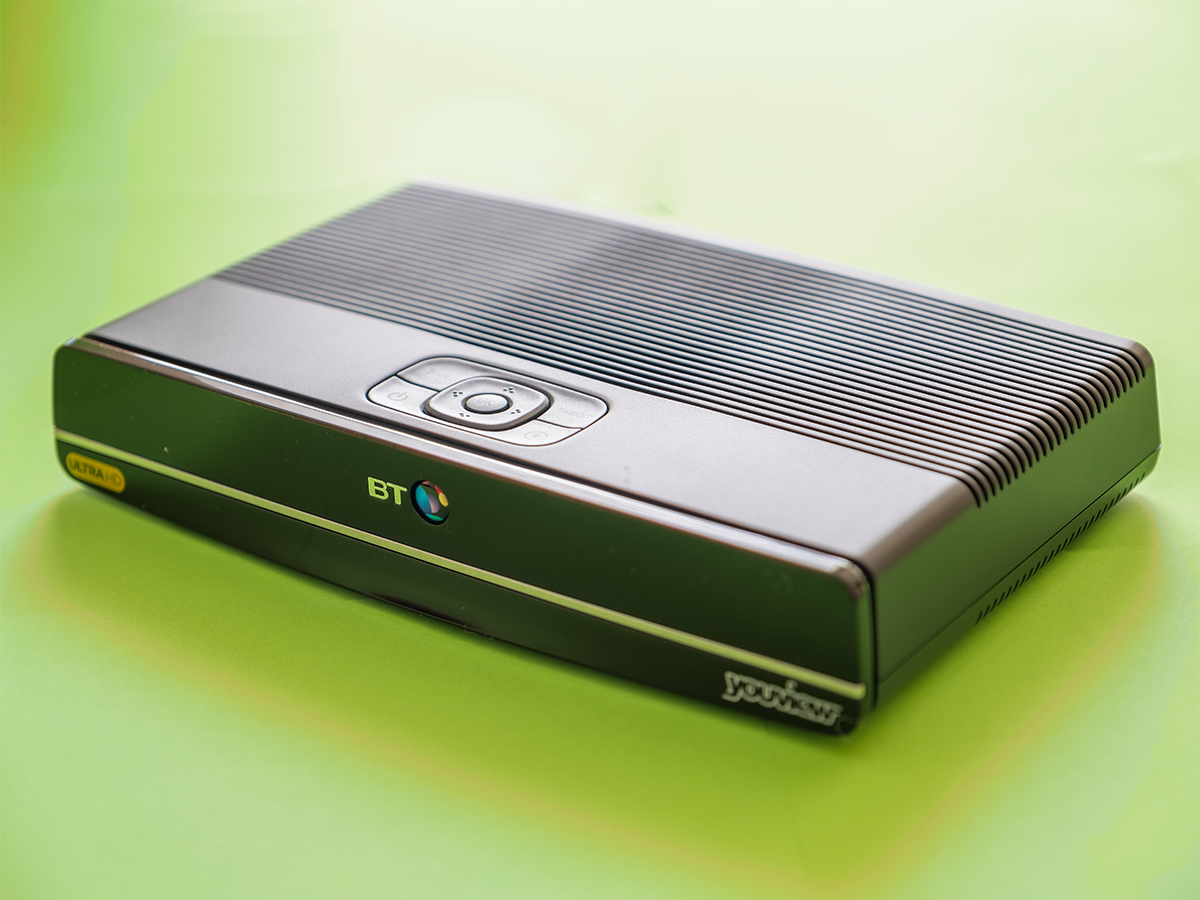 The BT YouView+ Ultra HD box has only two tuners inside it, meaning you can record two while watching another from catch-up or on-demand. This leaves it some way behind Virgin V6 and Sky Q, which can record six shows at once.
It's not particularly well-equipped to deal with series links and the like, either. While you can set a series to record, it's nowhere near as smart as Virgin's TiVo in this regard. There, you can search for actors and record any films or shows featuring them, or record shows across many different channels. Here, you can merely record all episodes of a given show on a given channel.
Nor do you get clever suggestions for shows you might like based on what you've watched before, as you do on Virgin and Sky. You can't even set it to start recording a few minutes before a show to ensure you don't miss the start, or extend the recording for a few minutes after the end.
Inside the box there's a 1TB hard drive, which is good for around 60hrs of UHD TV, 250hrs of HD or 600hrs of standard-def. Not that you should bother with that last option. I mean come on, SD in 2017? Don't be a fool.
BT YouView+ Ultra HD box multiroom: Don't bother. Just don't
If recordings are a bit of weak spot, multiroom is worse. Whereas Sky and Virgin both let you share recordings around the house, BT's boxes don't seem to talk to each other at all. In fact to call it multiroom is a bit rich given that really you're just getting two separate boxes in separate rooms.
All you can really do with your second box is use it as a standalone device. That's fine if two people want to watch different shows at the same time, but it doesn't allow you to watch TV in the way many people do these days, for instance starting a show in one room before continuing later in another.
Not only can you not share recordings between boxes, but even content you buy on BT Player can only be watched on the box on which you bought it. That's particularly crazy, given that anything you buy can watched on the BT TV app. So you could have a situation where you buy a film on the living room box, then can move into the bedroom to continue watching it, but only on your tablet – not on your second BT YouView box. If you have a Chromecast you can at least cast from the BT Sport app to your second telly, but weirdly that's not possible from the BT TV app.
There are actually scores of frustrations to the way it works, for instance the fact that you can subscribe to Sky Sports via the BT TV service… but not if you have a second BT box. And you can't have more than two boxes. And you'll need a second Freeview aerial – or to run a cable from your living room to the second room – if you want BBC and ITV on the second box.
Basically, if multiroom is a big thing for you then you should discount BT TV straight away.
BT YouView+ Ultra HD box app: Mobile mayhem
The BT TV app is just as frustrating. Or rather the 'apps' are frustrating, because you'll need three of them to actually get the full service.
The first is the main BT TV app, which lets you watch (some) live TV, (some) on-demand content and set recordings. None of the Freeview channels are available to watch live or on-demand, which is fairly standard and the same on Virgin and Sky. But bizarrely, nor are the BT Sport channels. Instead, to watch them, you have to download a second app, BT Sport. Oh, and if you want to buy or watch on-demand content from the BT Player, you'll need a third app, the wonderfully named BT TV Purchases.
It is, frankly, a shambles.
You can't watch anything you've record on your YouView+ box on any of the three apps, and you can't download on-demand or catch-up content for offline viewing, other than things you've bought via the BT Purchases app. The apps themselves are fairly slick and well presented but the whole thing is so restrictive and confusing that it just leaves a sour taste. I can only presume that BT has decided this whole app thing is never going to take off.
BT YouView+ Ultra HD box cost: You get what you pay for
Trying to work out the pricing on TV boxes is a task akin to counting the number of times Theresa May says "strong" or "stable" in one week. You'll need good maths skills, basically.
It obviously varies wildly depending on what package you take out, whether you're an existing customer and which broadband deal you go for. Some of that is made easier here in that you have to take out a BT broadband and phone subscription in order to get BT TV, and you have to take out the top content package in order to be allowed a UHD box.
As a result, the cheapest possible BT YouView+ Ultra HD deal comes in at £47/month plus a £60 installation fee. That would give you lots of TV, including all of the BT Sport channels, plus 52Mb broadband. A second box plus the ability to watch on mobile would set you back another £5/month plus £100 for the box – and note that it'll be a standard HD box not UHD.
If you wanted the absolute best package, you'd take the 76Mb broadband deal, add Sky Sports HD and Sky Cinema, and you'd be up to £97.50/month, although strangely now with only a £30 installation fee. And you can't get a second box if you get Sky Sports, remember.
In general, it's a little cheaper than its two rivals. The basic Sky package sets you back £50/month including broadband, but for that you're only getting a 17Mbps line. For the top package, including all the sport and Sky's fastest broadband, you'd be looking at £120/month plus £100 installation – and that doesn't even include BT Sports.
For Virgin it's much the same: £60/month plus £115 installation, rising to over £100 with a second box and the Sky channels. Virgin's broadband is theoretically much faster than BT's though…
In short: they're all about the same but BT will usually cost a little less.
BT YouView+ Ultra HD box alternatives: Go contract or go on-demand?
The obvious comparisons are with Sky and Virgin. As I've hopefully made clear by now, Sky Q beats BT in most areas. If you want the best, especially with 4K, you should swallow your principles and pay into Mr Murdoch's retirement fund.
Against Virgin it's a closer battle. BT is far nicer to use, with much more flair and, well, sense to how things are laid out. If you're a football fan the 4K Premier and Champions League games will obviously also swing the deal. But on the other hand, Virgin is a better bet if you want to do modern, techie things such as record a show in one room then watch it in another, or download recordings to your mobile. BT needs to catch up on those fronts or risk being left behind.
If I wasn't prepared to pay for Sky, I'd probably go for BT though. It's overall a nicer service to live with, so long as the multiroom issue doesn't bother you.
Of course there is a fourth choice: ditch the contract altogether. If you, for instance, got a standard YouView box for your Freeview, then added Netflix, Amazon and possibly Now TV subscriptions, you could cut your bills drastically and get tons of great TV too. This won't be a good option if you're a big sports fan, but for everyone else it's worth investigating.
BT YouView+ Ultra HD box verdict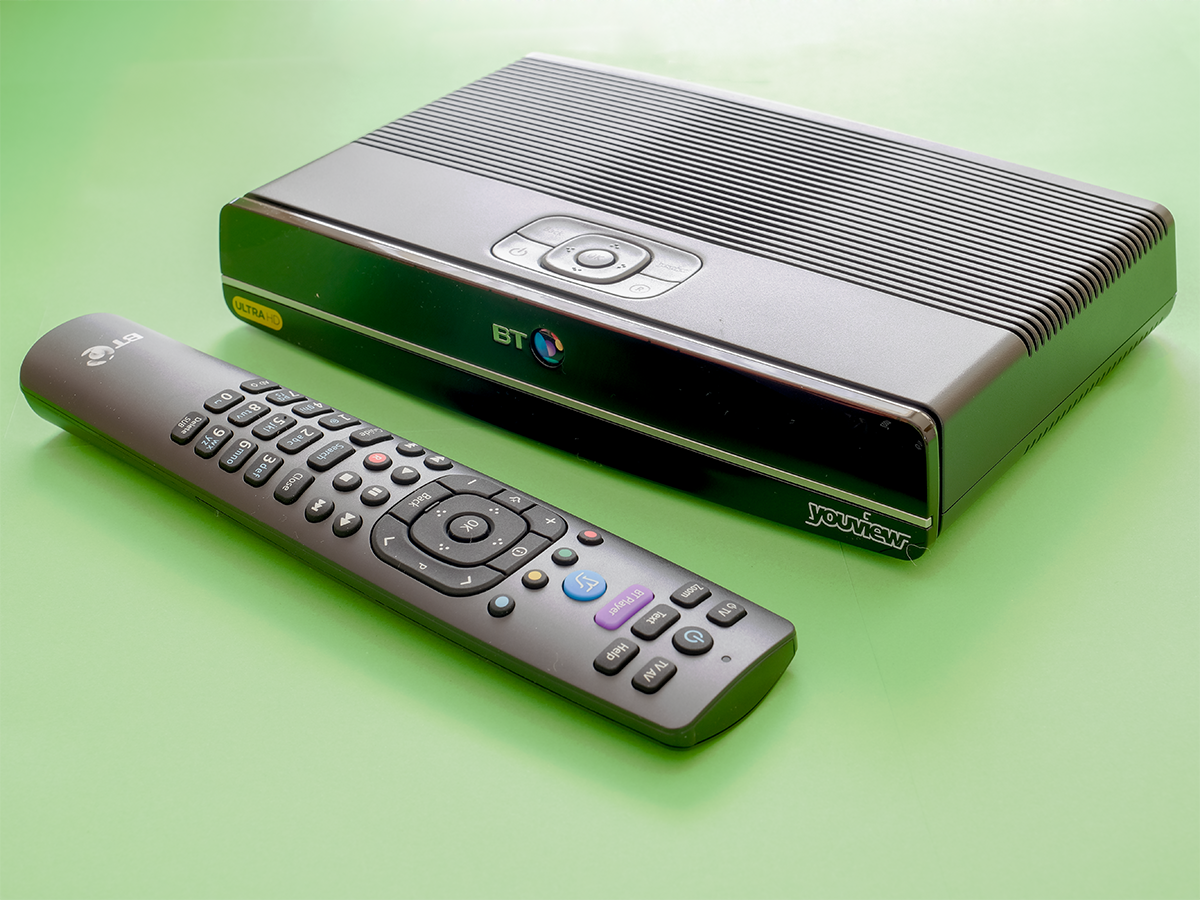 There's a lot to like about the BT YouView+ Ultra HD box. It's a joy to use thanks to a really slick, intuitive interface and as a standalone box it's near flawless. Finding stuff to watch on it is really easy and it does a fantastic job with catch-up TV.
It'll also delight you if you're a football fan. Watching Barcelona in full flight in 4K is just something else; you'll never be content with HD again. Yes, Sky has more footie on offer, but BT has the Champions League, and that's where the real quality is to be found.
It's not without problems, but they are almost entirely faults of the BT TV service rather than this box itself. On the content side Sky Q clearly trumps it thanks to the combination of Sky Atlantic and 4K films, and while BT beats Virgin on account of the 4K football, that's not saying an awful lot. When it comes to multiroom and mobile viewing, meanwhile, it's really poor – way behind the other two.
So what you're left with is a really good device for watching a pretty decent service.
If you're a BT subscriber with a 4K TV, it makes total sense to get a YouView+ Ultra HD box. If you're a new customer then Sky Q should still be your first choice, but BT is now a comfortable second.
Stuff Says…
BT's YouView+ Ultra HD box is slick, smart and a fine choice if you want 4K footie on your telly. But Sky's still better
Good Stuff
A joy to use thanks to great design and menus
4K football looks amazing
Catch-up handled really well
Cheaper than rivals
Bad Stuff
Multiroom is poor
Mobile apps are awkward and limited
No 4K beyond football and Netflix