Canon EOS 200D review
Can Canon's smallest ever DSLR take on the mirrorless clan?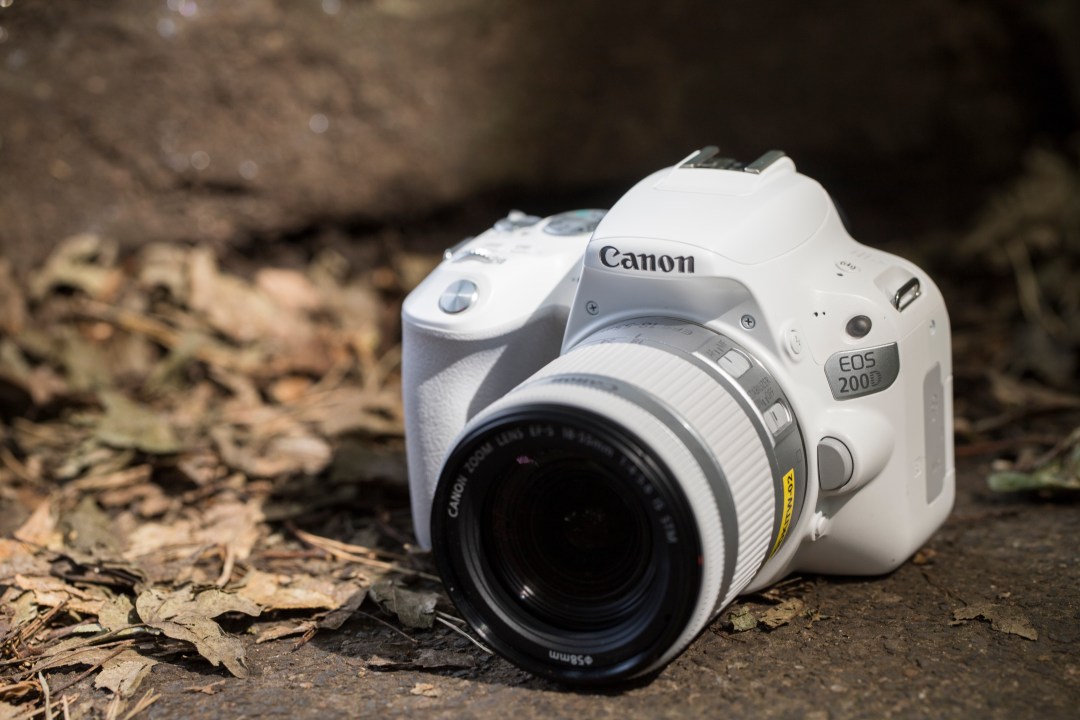 It's taken Canon four years to bring out a successor to its itsy-bitsy, teenie-weenie entry level model, the 100D.
Now the 200D is here and it's the smallest ever DSLR with a vari-angle screen. In the age of mirrorless, the big question has to be whether Canon can take on rivals like the Olympus' OM-Ds by shrinking down its DSLR.
Sitting in the middle of the basic EOS 1300D and the more advanced 760D and 800D models, there's a decent array of tech which has been squeezed into the small(ish) body of the 200D, which is also known as the SL2 stateside.
If you're firmly committed to the idea of your first 'proper' camera being a DSLR, the 200D is aimed directly at you. Let's find out how it stacks up.
Design: Small but far from pocketable
The 200D's claim to fame is that it's the world's smallest DSLR to feature a vari-angle screen. It's not exactly the same as being David Attenborough's nephew, but we'll take it.
The trouble is that, while that may have been an impressive feat once upon a time, plenty of mirrorless models still make the 200D look chunky by comparison.
Still, when you consider that there's an APS-C sensor and all of the features you'd commonly associate with a DSLR, the small body is still relatively impressive, and certainly something to consider if you're looking for a travel or backup camera from a larger Canon DSLR.
We've been using the white version of the 200D, which is unlikely to be to everybody's tastes – and for some reason manages to be a few grams heavier than the classic black model.
For those who like to go really crazy (well, in Canon terms), there's also a silver colourway available. But bear in mind that most lenses are only available in black.
Despite being small, the 200D still has a decent number of buttons and dials for controlling key camera settings. There's a mode dial which is recessed into the camera body for a nice clean line. Unlike some other entry-level cameras on the market, there aren't hundreds of modes on the dial to baffle you – there's just your standard manual and semi-automatic options, as well as fully automatic, scene, and creative modes.
A dial just behind the shutter release is used for changing aperture or shutter speed, depending on your shooting mode, while there's a four-way navigational pad on the back of the camera which you can use for various functions – again depending on what you're doing at the time.
The 200D's screen is touch-sensitive, and gives you access to lots of functions. If you press the quick menu button, you'll be able to tap around the screen to make selections. Or if you're shooting in Live View, you can use the screen to change AF point or fire off the shutter release.
Much has been made about the fact that the screen can vari-angle – and in fairness it comes in handy when trying to compose from an awkward angle, such as waving the camera above the heads of a crowd.
Features: Options galore for beginners
The sensor inside the 200D is the same as you'll find in the EOS 800D and the EOS 77D. It has already proven itself to be a pretty capable performer, but perhaps most interestingly it has Dual Pixel CMOS AF, meaning the 200D is now the cheapest Canon model to offer this tech.
In essence, Dual Pixel CMOS AF means you get faster autofocus and tracking performance when using Live View, or recording video. When you're focusing through the viewfinder you get 9-points, which are clustered towards the centre. The central point is the more sensitive cross-type. This is not the most advanced AF system you'll ever come across, but it should see the majority of beginners well, locking onto the subject quickly and reliably in most conditions.
The 200D features an optical viewfinder, which only offers 95% coverage. That's probably not going to be an issue most of the time, but you may find that something creeps into the edge of your frame without you noticing from time-to-time – just something to watch out for.
4K video recording is sadly not a feature here, but you do get Full HD recording at frame rates of up to 60p. Again, most beginners should be more than happy with this, but if videography is your main concern, you may want to look elsewhere – all of Panasonic's compact system camera models offer 4K video, for example.
If you're new to the DSLR game, you'll probably find the optional guided interface to be quite handy. It shows you how changes you make to settings affect your final image.
Built-in Wi-Fi is pretty much standard these days, but this does separate the 200D apart from its 100D predecessor. You can connect to your smartphone for remote control and to transfer your photos across for those all-important online shares.
Shooting at 5fps is also available – while not particularly revolutionary, it's serviceable enough for capturing the odd action-shot, particularly if you're photographing something with reasonably predictable movement. Which probably rules out your dog.
As the 200D uses the same sensor already found in proven Canon models, we were expecting it to perform well – and it does.
It puts in a solid performance in a range of different shooting conditions, which should suit the varied types of photography that most beginners are likely to want to tackle.
Noise is well controlled up until around ISO 1600, where it starts to creep in if you're looking out for it. At ISO 3200 and 6400 it's even more obvious, while those top speeds of 12800 and 25600 best avoided unless you're absolutely desperate to get the shot.
Detail is well resolved, with those 24 megapixels providing plenty of crisp details for you to look at. Smoothing starts to become problematic from around ISO 3200, particularly if you're looking closely – but if you stick to A4 or below, smudginess isn't too obvious until you hit ISO 6400.
Colours are well reproduced, being lovely and vibrant and displaying that warmth that Canon has become known for. Since Canon's metering system works off the active AF point, you might find it slightly under or over exposes if you're shooting something of particularly high contrast.
Otherwise, exposures are generally pleasing when using the all-purpose metering setting. The automatic white balance setting tends to move towards the yellower-end of the spectrum when faced with strong artificial light, but generally it copes well with lots of different lighting conditions. You can set a specific white balance setting if ultimate accuracy is your thing.
Canon EOS 200D verdict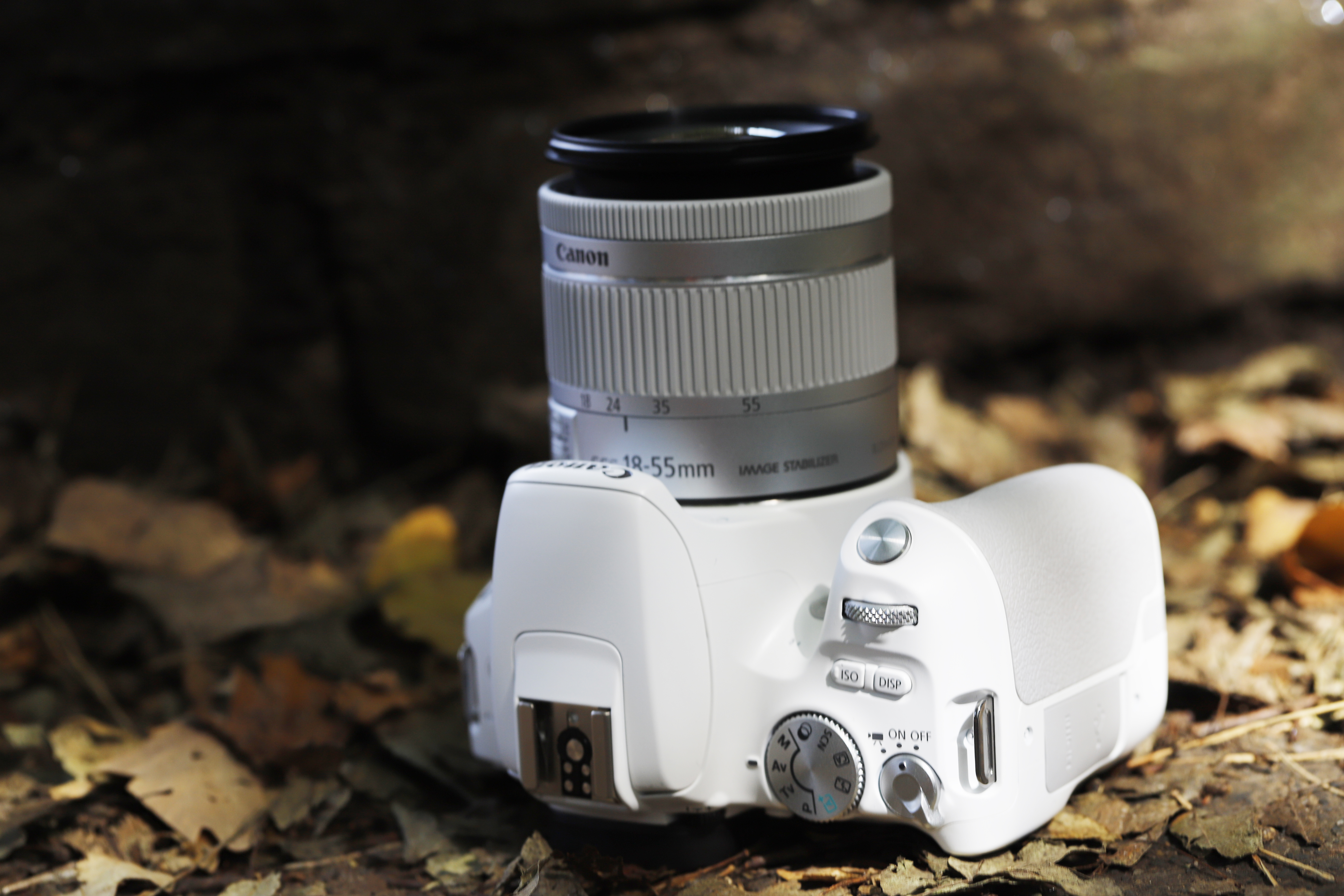 Canon has done well to squeeze some of its more advanced tech into this model, while keeping it friendly for beginners.
There's enough stuff here to make it a possible backup or travel model for those using some of Canon's mid-range models, too.
If you're attracted towards DSLRs but are generally put off by their large size and bulk, this is the smallest you're going to get. While it may not be as small and lightweight as some of the smaller mirrorless models on the market, the handling and features of a DSLR make it a nice alternative.
Image quality is very good, as you'd expect from the high-quality sensor and processor combination, and by entering into Canon's eco-system, you get a pretty-much unrivalled set of potential lenses and accessories.
Overall, this is a very attractive and nicely performing model for entry-level users. It doesn't exactly set the world alight, but if you're in the market for this kind of camera, it's definitely a good option.
Tech specs
| | |
| --- | --- |
| Sensor | 24.2 megapixel APS-C CMOS |
| Processor | DIGIC 7 |
| ISO Range | 100-25600 (expandable to 51200) |
| Video | Full HD at 60p |
| Screen | 3-inch, Clear View II TFT, 1040k-dot, vari-angle touchscreen |
| Viewfinder | Optical pentamirror, 95% coverage |
| Autofocus | 9-point AF |
| Shutter speeds | 30 sec – 1/4000, Bulb. |
| Burst rate | 5fps |
| Weight | 453g (including battery and memory card) |
| Dimensions | 122.4 x 92.6 x 69.8mm |
Stuff Says…
A great first option for beginners who prefer DSLR-style handling and features over those on mirrorless cams
Good Stuff
Compact size for a DSLR
Has an optical viewfinder
Good image quality in most conditions
Big range of lenses
Bad Stuff
Still larger than mirrorless rivals
Only nine AF points