Canon EOS 5D mark IV review
The king is dead, long live the king - Canon's latest 5D is a real champion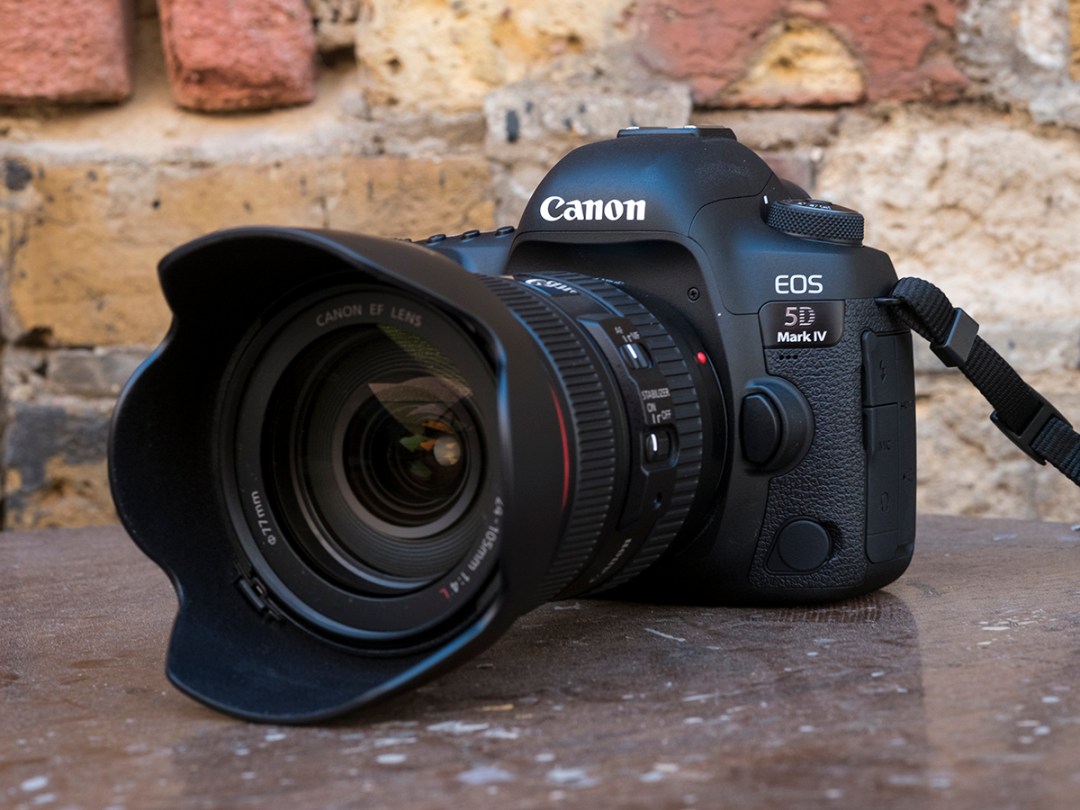 Canon's excellent EOS 5D gets better with every iteration – it's pretty much impossible not to like it.
Popular with enthusiasts, filmmakers and professional photographers alike, each well-rounded generation helped you get great shots – without the bulk and expense of the top-of-the-line 1DX.
The 5D Mark IV builds on that long heritage, and from the outside looks all too familiar to the outgoing Mark III. On the inside, though, there's been some serious re-engineering.
There's a 30.4MP sensor, up from 22MP in the Mark III, with twin image processors keeping things speedy. Add in similar 61-point autofocus system to the flagship 1DX Mark II, 4K video recording, and a touch sensitive screen, and you've got one seriously desirable DSLR.
Canon EOS 5D mark IV design: THAT FAMILIAR FEELING
Canon knows better than to mess with a good thing, which is why the Mark IV looks a lot like the last 5D – right down to the button layout. That'll keep anyone upgrading from a previous version happy, and won't force pros to learn a new layout if they're working with a dual camera setup.
That's not to say there haven't been a couple of slight tweaks, though. The grip is a little deeper, making it easier to get your mitts around it, and the pentaprism encasing the optical viewfinder is a little taller to make room for the new GPS and Wi-Fi unit.
Otherwise, if you've been using a 5D Mark III (or II, or even an original 5D) then you should feel right at home here.
There's a fantastic selection of buttons and dials to help you dive straight in to what you need to change, and it feels very intuitive in the hand. The quick menu, accessed by pressing the Q button (funnily enough), is particularly useful for gliding through various options.
The one new button is within easy reach above the rear control dial. This is customisable to your preference, but a particularly useful configuration is to have it control ISO – meaning you hold the button down and use the front scrolling dial to adjust the setting. No more moving the camera away from your eye to make those changes.
Canon has upgraded all the seals for better weather protection, so a heavy rain shower doesn't have to mean your shoot is over.
Canon EOS 5D mark IV screen: Touchy-feely
The whole experience is boosted by the touch-sensitive screen. Manufacturers are finally waking up to the fact that high-end users also want the benefit of quick touch technology, and this is the best implementation we've seen on a DSLR to date.
The 1DX Mark II only had touch controls when shooting in Live View, but here you can make menu selections at any time.
We found it became second nature to use both the buttons and the screen together for a fluid and easy experience – for example, pressing the physical ISO button then using the screen to select a value.
Don't like touch screens for your high-end stuff? No problem: you can switch it off if it bothers you.
It's a little disappointing there's no tilting or articulating action, but on the plus side, the display is ultra sharp and has a great viewing angle. Your slightly awkward angles are still possible, but you won't be using the Mark IV for selfies.
The viewfinder gives 100% coverage of the scene, and it wonderfully bright. There are arguments for and against electronic viewfinders, but most pro photographers still prefer the optical kind like you'll find here.
Canon has still made some improvements to bring some electronic advantages, though. Intelligent Viewfinder II technology basically means you get info on shooting modes, a level to help keep your shots straight, and a grid to help with composition. You can switch all that gubbins off too, if you want to keep it simple, but the level can be particularly useful.
Canon EOS 5D mark IV video: 4K time
The 5D has been the go-to SLR for film makers for what seems like forever. Even Canon didn't expect it to prove so popular at first, but now movie making is a big part of the Mark IV.
That means 4K recording at 30fps, or Full HD video at 60fps. You can go slo-mo too, with 120fps recording at 720p. Separate headphone and microphone jacks let you record and monitor audio at the same time, and the touchscreen comes in very handy for pulling focus mid-shot.
It's also got dual pixel CMOS AF in all video modes, which helps keep those tracking shots looking pin-sharp in post-production.
Canon EOS 5D mark IV image quality: Sharp as you like
As we've generally come to expect from Canon sensors, the 5D Mark IV produces superb results. There's a fantastic level of detail, and while you don't have the super-high resolution of the 5DS or 5DSR, the 30.4MP sensor leaves you with A2 print-worthy snaps – more than enough for most people.
Colours are great on the whole, with nice saturation and depth, although perhaps a little cooler than on previous Canon models – especially when shooting in overcast conditions. That's something to watch out for, but easily remedied by changing the white balance setting.
Exposures are fantastic, and although the metering is weighted to the active AF point, Canon's new metering sensor does a great job of determining the overall scene to get an accurate and balanced exposure.
AF was no slouch on the 5D Mark III, but there's a notable improvement here in Live View. Before, the camera would slowly and clunkily focus on the subject in front of you when you selected a point. Now you have something which is almost instant and, you know, actually usable in more than just macro or studio settings.
There's also a greater spread of focus points across the scene, and although still centred around the middle of the frame, there are more options to choose from for those subjects lingering on the outer edges.
It's very capable of keeping up with moving subjects, too. You can shoot at 7fps, which might not be ideal for high speed sports and action, but is decent enough for most situations.
Not only is the AF snappy in all but the darkest of conditions (it can shoot down to -3EV, or -4EV if you're using live view – that's darker than moonlight, FYI), but the resulting images are detailed and free of noise. ISO 25600 is surprisingly usable, and while some noise creeps in to certain areas of the shot, it's only really at 100% that you're going to notice.
Canon EOS 5D mark IV Dual-pixel RAW: The 5D IV's secret weapon
One of the most interesting new features comes in the shape of Dual Pixel RAW which, in theory at least, lets you shift the point of focus eeeever so slightly in post to rescue any shots that have just missed the mark.
We had somewhat limited success with the tech. You can open DPR images in Adobe Camera Raw (used by Photoshop), but you can't do anything special with them – instead you need to use Canon's own slightly laborious Digital Photo Professional, which is available as a free download.
Here you can do things like make micro-adjustments or shift the bokeh – or at least in theory. It's not the most intuitive of software to use, and although we've managed to sharpen up out of focus areas ever so slightly, in our shots it wouldn't be enough to quite save something that hadn't worked.
It may be that the technology works slightly better with longer lenses, but either way it's probably best not to rely on it too much. It's also worth noting that shooting with DPR enabled ups the size of raw files to around 60MB a pop – you're gonna need a bigger SD card.
Canon EOS 5D Mark IV verdict
If there's one thing advanced enthusiasts and pro photographers are going to lust after this year, the 5D Mark IV is it. And with good reason: It's not necessarily an all-singing, all-dancing model, but what it does, it does extremely well.
Canon has continued to build and improve, making this a fantastic new addition to the range. It's a fantastic all-rounder that should see you well for a variety of different subjects, producing beautiful, detailed and vibrant images.
It's intuitive to use, too – both to anyone familiar to the system and those moving up from something a little lower down the range. Tweaks like adding the touch-sensitive screen and the extra customisable button don't distract from using it, but instead add to the experience.
This is not a cheap camera by any stretch. For now at least, it's more expensive than the 5D Mark III was when it made its debut. Hopefully the price will drop a little in the coming months, but if you've got the readies this is a very, very nice camera indeed.
Tech specs
| | |
| --- | --- |
| SENSOR: | 30.4MP full-frame CMOS |
| AUTOFOCUS | 61-point AF with Dual pixel RAW |
| FRAME RATE | 7fps |
| DISPLAY | 3.2in, 1620k dot touchscreen, 100% FOV optical viewfinder |
| CONNECTIVITY | Wi-FI, GPS |
| BATTERY LIFE | 900 shots |
| DIMENSIONS | 151x116x76mm, 800g (body only) |
Stuff Says…
Canon does it again with a 5D camera to be proud of. The Mark IV builds on the heritage of previous models and brings new improvements that make it simply superb.
Good Stuff
Genuine improvements like touchscreen control
Dual pixel RAW is incredible (when it works)
Fantastic video and still photo quality
Bad Stuff
New features mean a higher debut price
Some bugs to iron out in dual pixel RAW