Canon PowerShot G1 X Mark II review
Another contender for the most powerful point-and-shoot camera in the world
The Canon PowerShot G1 X has been the Japanese company's premier point-and-shoot for the past couple of years, and now it's been replaced by a "Mark II" edition rather than an entirely new model. You could be forgiven for thinking this indicated a mere minor update – but that's not the case.
The Mark II makes a number of significant improvements on its predecessor: namely a lens that has a wider wide angle (24mm versus 28mm), larger maximum aperture (f/2.0 versus f/2.8) and longer optical zoom range (5x versus 4x); a more accurate autofocus system (31 points versus 9); and a much shorter minimum focus distance (2in versus 7.9in, allowing you to take photos of objects very close to the lens). Wi-Fi and NFC are also now on board.
But do these improvements justify the G1 X Mark II's steep price? Almost…
Same old sturdy stuff, but slinkier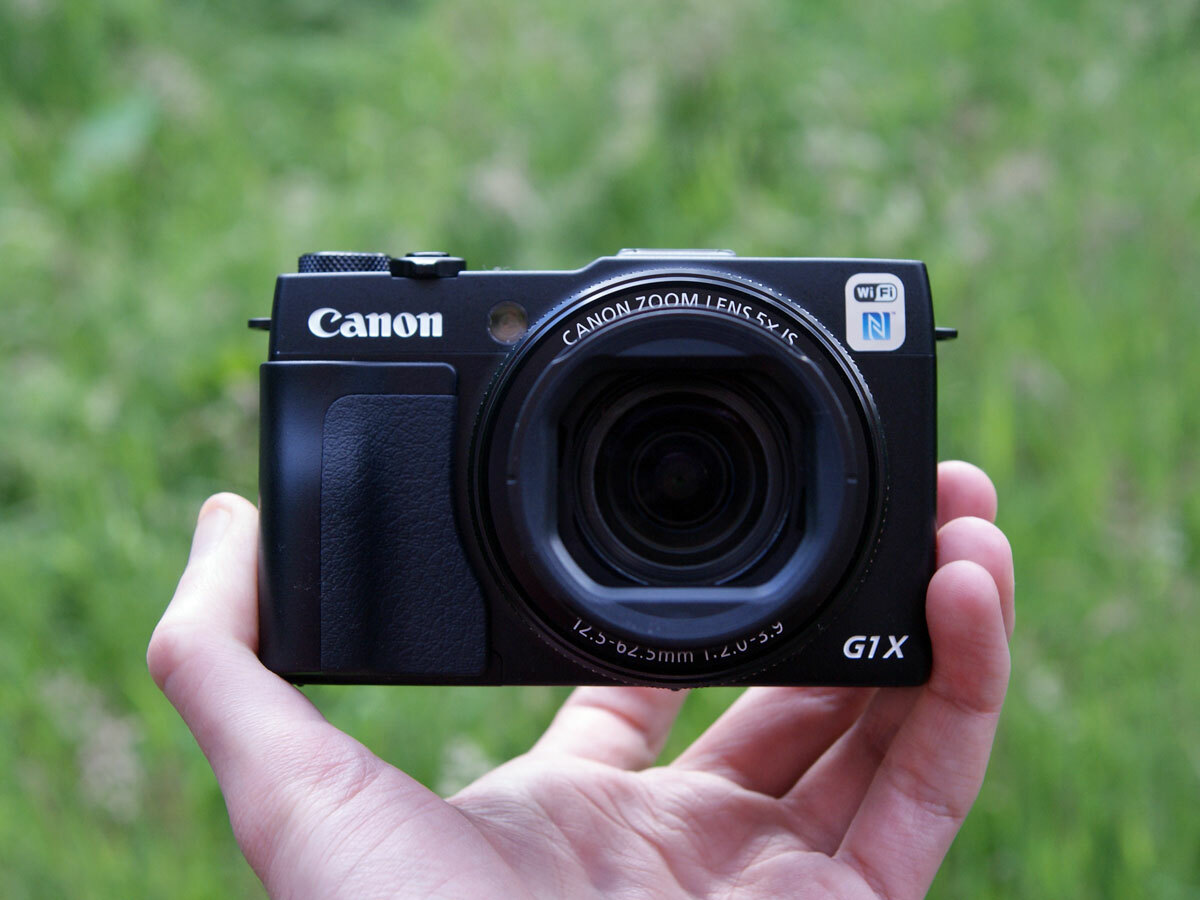 Canon's PowerShot G series has long been regarded as the gold standard for build quality in high-end point-and-shoots, and the G1 X Mark II won't do anything to dispel the notion. It's tank-like in its solidity in the hand, and this particular version (the one sold in Europe, the Middle East and Africa) has an extra-chunky grip that, in tandem with the wide, grippy barrel of the lens, keeps it securely in your hand.
The Mark II looks a lot less chunky overall than its predecessor (although it actually weighs a small amount more), although it's still too large for a trouser pocket. There's no viewfinder this time (more on that below), but you still get a hot shoe for adding one or another accessory, such as a flash. It's also compatible with an underwater case that'll protect the camera up to 40m below the surface.
One improvement we should note is that the lens cap is now automated and integrated. The first G1 X had a separate lens cap that was just asking to get lost, so we're much happier.
Photo and video quality: slight improvements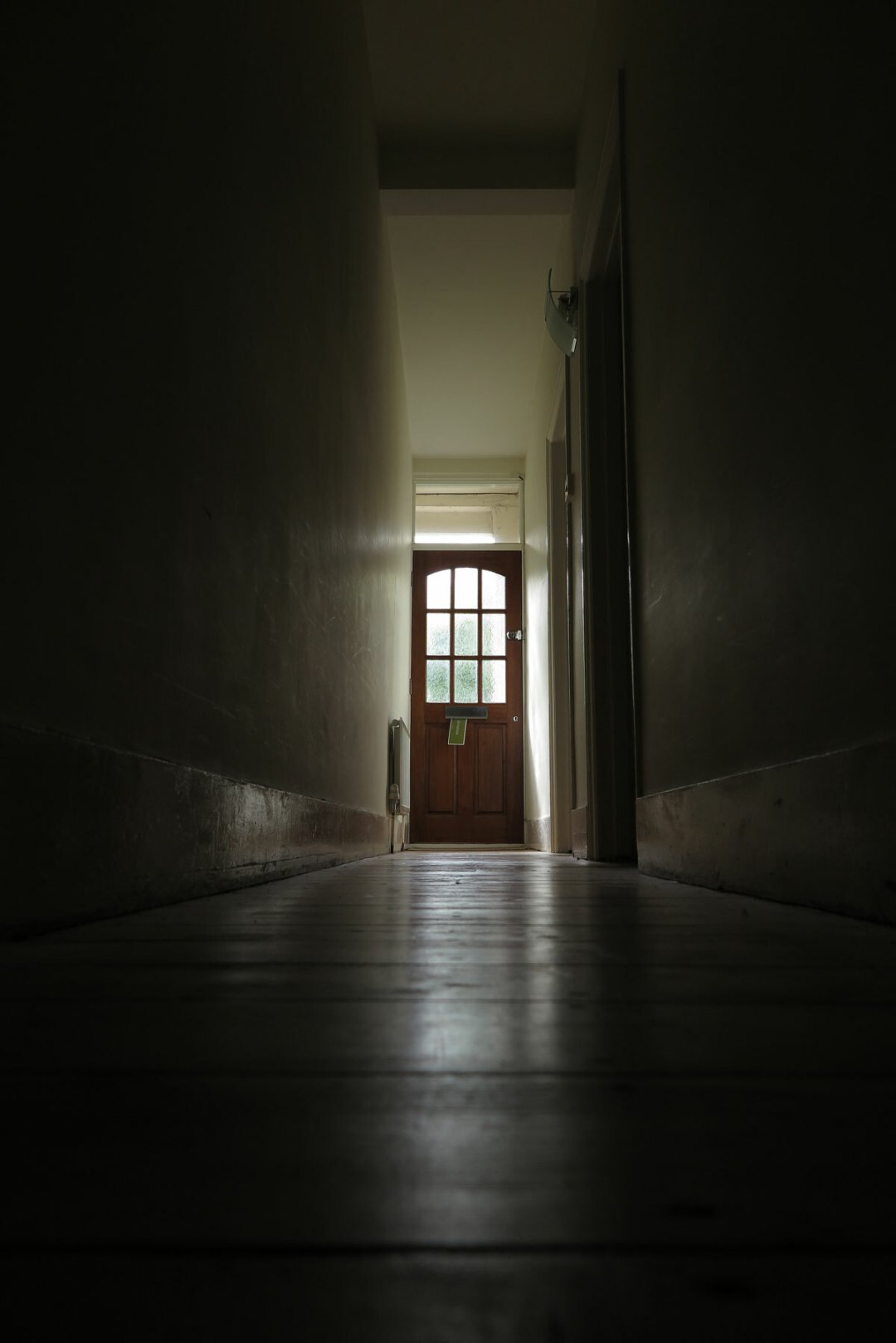 Picture quality-wise the Mark II might not appear to offer a lot over the model it's replacing: the sensor is the same 1.5in 13.1MP CMOS and the ISO range remains the same (100-12800). And the G1 X was one of the best compacts around for picture quality, chiefly thanks to that huge sensor (it's almost as physically large as a DSLR's APS-C sensor, which improves its light-gathering chops and shutter speeds, thus helping avoid noisy and blurry images; the optical image stabilisation, which remains here, helps too).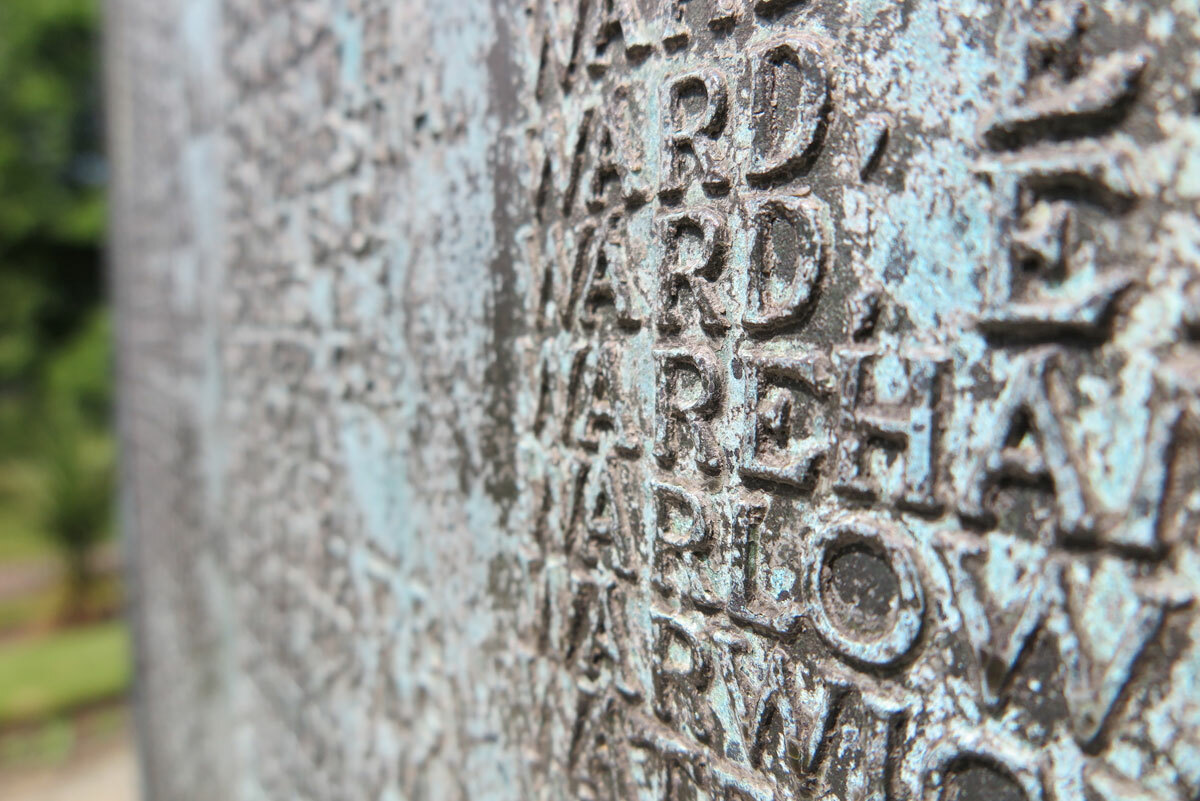 But there are improvements, and they chiefly come courtesy of the new lens. The wider aperture not only makes the potential shutter speed even faster – and thus pictures even sharper and less noise-plagued – it also allows you to achieve a narrow depth of field more easily, making this one of the best compacts around for taking photos and videos with bokeh. And the lens' rounded aperture blades make that bokeh look lovely and smooth, as you can see from the above shot. The new processor also helps speed up operation slightly. Oh, and you can still shoot RAW if you wish, which'll please enthusiasts who love to tweak images in Photoshop.
The G1 X Mark II does however feel a little outmoded in terms of its video capture capabilities. It can capture 1080p, 720p and VGA video, but only at 30fps, and the lack of an external microphone input means you have to rely on the built-in stereo mics – not exactly a sign that Canon is taking video too seriously here. Video looks fine, but we don't recommend this for people for whom video is as important as stills.
Sorry, I haven't a view(finder)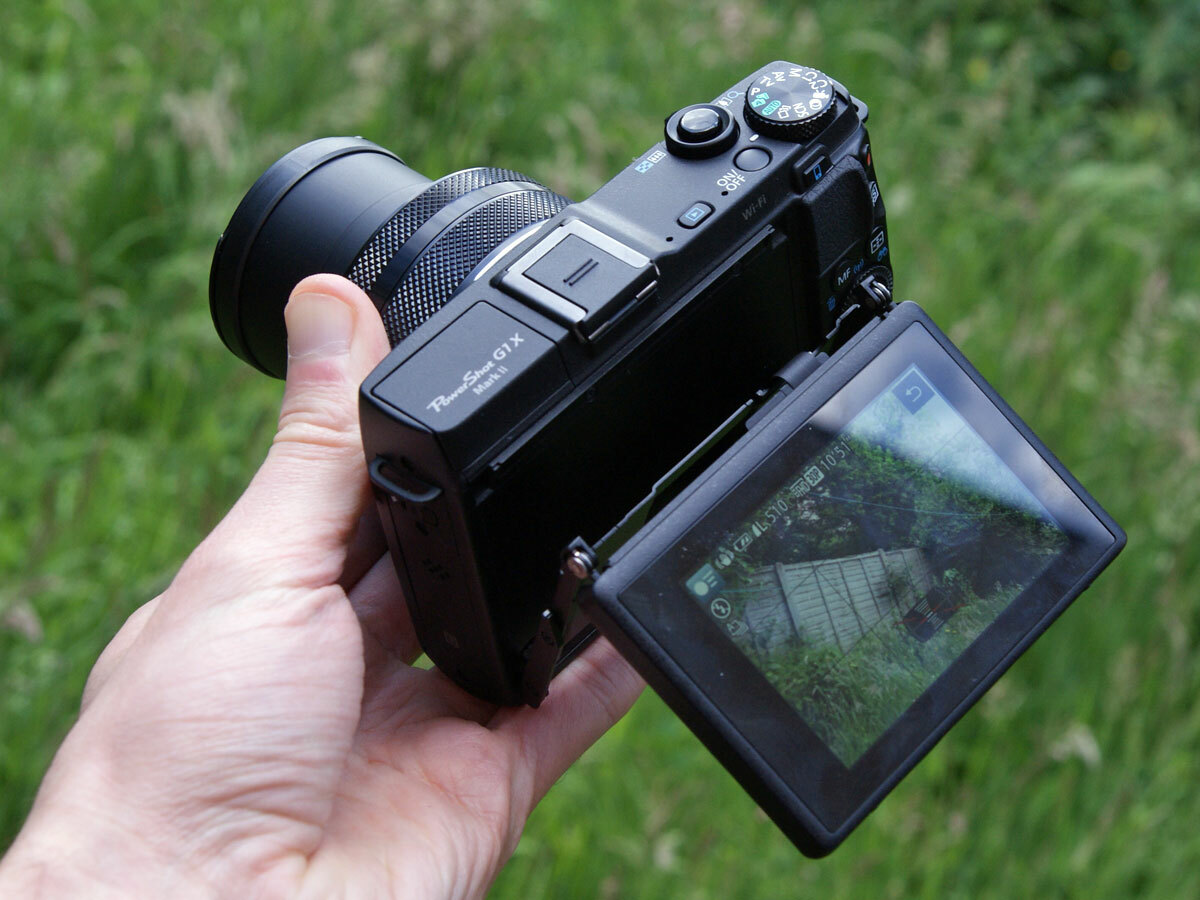 One change from the original G1 X that we can't get behind is the removal of the optical viewfinder. While viewfinders might seem like a relic from photography's analogue days, there are times when they're damn near essential. Framing a shot on the Mark II's LCD screen is fine when you're indoors or at night, but on a blazing sunny day it's hard to make out what's being displayed on there. A viewfinder eliminates that issue, and we were surprised to see neither the original model's simple optical or (even better) a new OLED electronic viewfinder here. Canon sells one of the latter as an optional accessory – but it's going to cost you another £250 on top of the Mark II's £730 price. Bad move, Canon.
The screen, however, is excellent when the conditions are right. At 3in it's the same size as the G1 X's, but slightly clearer thanks to a higher pixel count. It's also touch-sensitive (something that's far from essential on a camera, but occasionally handy here for quickly setting a focus area) and can be twisted to face almost any direction.
The control layout has been rejigged, and the camera has not one but two rings around the lens. One (which turns smoothly) is always set to control manual focus, while the other (which moves in clicky increments) is customisable and can be set to control various functions including aperture, exposure compensation and ISO sensitivity. These will come in really handy for shooters who want to manually change settings quickly.
Another tangible improvement is to autofocus, which feels a lot brisker and more accurate thanks the big increase in AF areas (Canon claims it's up to 42 percent quicker).
Canon G1 X Mark II tech specs
Wi-Fi: Connect poor
Does NFC stand for "no fanks, chum"? We're increasingly finding ourselves disillusioned with the technology, or at least the way in which camera makers are using it. The idea here is that you tap your NFC-equipped Android phone on the side of the G1 X Mark II and the two gadgets instantly connect via Wi-Fi, either for the purposes of transferring photos and videos across or so you can use Canon's app to remotely take photos on the Mark II. But, in a situation that we're finding all too familiar, after 15 minutes of having the two devices repeatedly attempt and fail to connect we gave up.
We found it quicker to manually connect them – but once you do so, you realise that there really is little reason to go through the whole fiddly process. Canon's app feels like a gimmick at present, too simple to be of any real use – although to be fair to the manufacturer, the apps from Sony and Samsung come across as similarly pointless. NFC and cameras just aren't a compelling combo at the moment.
Canon G1 X Mark II verdict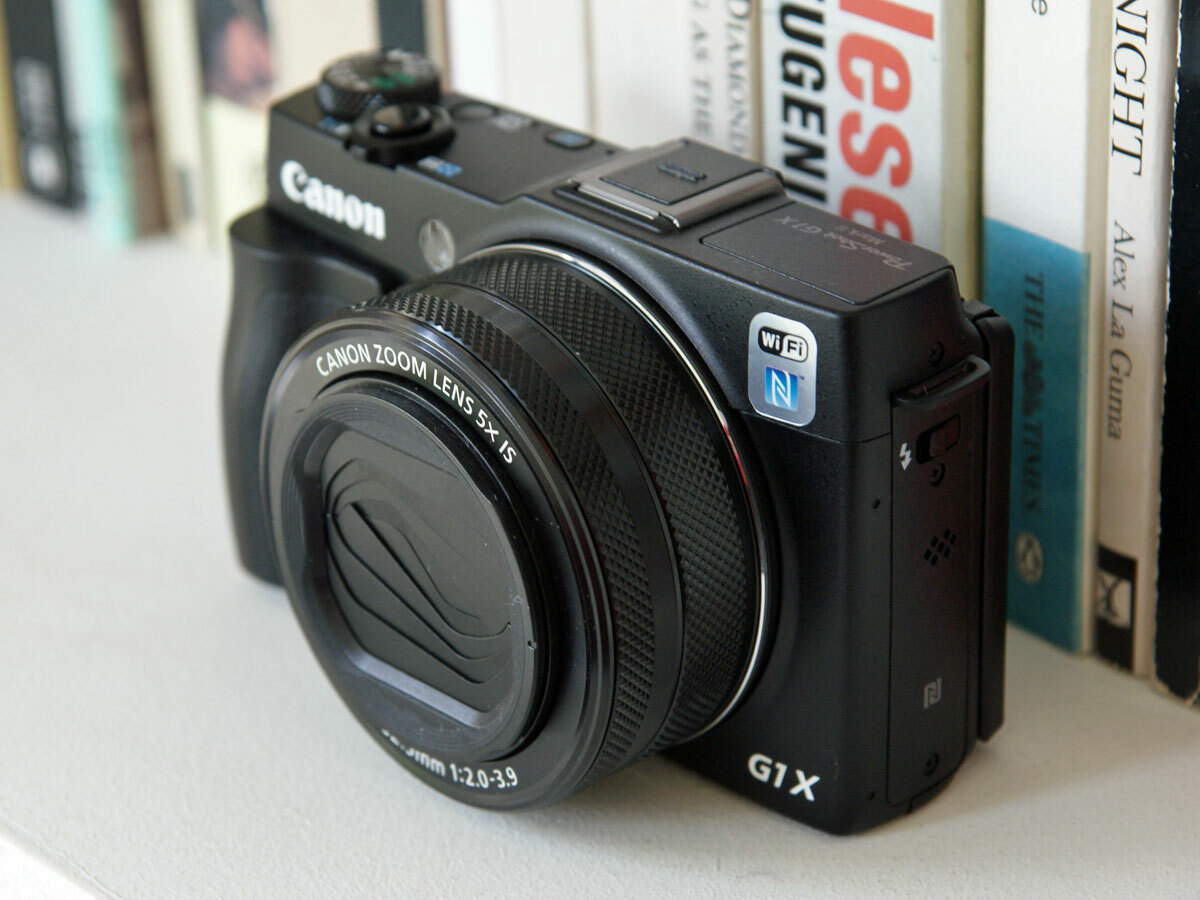 Just like its predecessor, the Canon G1 X Mk II is one of the most powerful compact cameras on the planet.
It's true that it's pretty hefty, that the zoom range is still fairly limited and that the video is fairly underwhelming compared to some rivals (this isn't a particularly versatile camera – something like the Sony HX60V is far more adaptable) but in terms of sheer still image quality there aren't many non-system cameras around that can beat it.
But it's pricey, and for this reason we suggest you might consider smaller system cameras such as the Sony A7R or Fujifilm X-T1 before pulling the trigger.
READ MORE: The 10 best compact cameras in the world right now
Stuff Says…
Within its limits, the Mark II offers some of the best stills we've seen from a compact – but several small flaws take off a little of the shine
Good Stuff
Large sensor
Fast f/2.0 maximum aperture
Tilting touchscreen
Bad Stuff
No viewfinder
Limited video options