Dacia Jogger review: fit for all the family
Lots of space and hugely impressive fuel economy makes this budget-busting seven seater a hit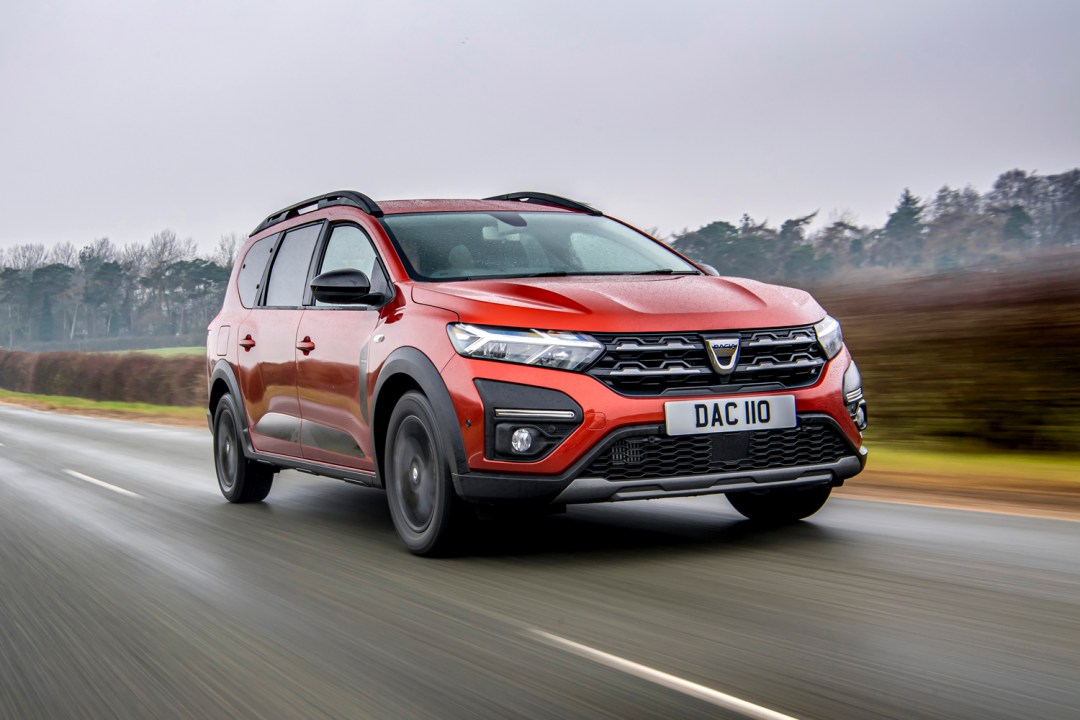 Dacia has built up a fine reputation for delivering great value with cars like the Sandero and Duster. Now we can add the new Dacia Jogger to that list.
The seven seater is built on the same CMF-B platform as the Sandero and will set you back £18,745 – less than what some brands are asking for a supermini. The example seen here is the Dacia Jogger Extreme SE TCe 110, which adds some extras that take the price to £19,640. That's still less than a boggo five-door hatchback from the likes of Ford or Peugeot.
There are some compromises of course, hardly surprising for a sizeable estate-slash-SUV that costs under 20 grand. This isn't a hugely sophisticated set of wheels. But you do get pretty much everything needed to enjoy practical motoring, without parting with a small fortune in order to get it.
The styling
The Terracotta Bronze metallic paintwork is a £595 option, but considering the Dacia Jogger is so affordable we say why not go for a dash of extra colour. Mainly because it's fairly unadventurous in the design department, although far from ugly. In fact, the designers have worked wonders given what they probably had to play with from the accounts department.
There's a distinct absence of chrome, which appears to be a conscious decision; it makes the car look a little more butch and willing to take on the great outdoors. Save for the front grille highlights and badge, the car is basically matt black everywhere it isn't Terracotta Bronze.
The Jogger sports a neat utilitarian look as a result, boosted by black 16in alloys, modular roof bars and a shark fin aerial. That's gloss black by the way, just to mix things up a bit. LED headlights add a purposeful look to the front end, while the long back wings and rear end are pretty low-key. This isn't a showy car; just enough of a looker to not leave you feeling embarrassed as you drive around in it.
Inside the Extreme SE edition you'll get some decent upholstery and comfy seats, with the front ones even being heated. Branded floor mats, a soft feel leather steering wheel and some chrome treatment on the air vents spice things up a little too.
The rest of the interior is fairly spartan, with a split folding rear bench seat and two more seats behind. It's perfect for the task in hand, which will be to get families from one place to another. The fold up picnic tables on the back of the front seats are another nice touch.
The drive
Considering it only has a 999cc petrol engine, the Jogger performs admirably once you're out on the road. Performance isn't exactly dazzling, but it's impressive when you think how small that three pot lump really is. Acceleration isn't quick, with 0-62mph taking 11.2 seconds, but once you're rolling it feels really happy. Especially on the motorway, where you can cruise along in relative comfort. It does tend to feel a little wooly during manoeuvres and a tad skittish on lumpy surfaces, but the Jogger has plenty of stopping power – despite having drum brakes on the back wheels.
The six-speed gearbox covers all bases, although the enormous gear knob feels a little too industrial-strength for its own good. Power delivery can be a little haphazard too, until you get used to the way the Jogger ticks. The experience feels a little bit rough around the edges, but once you've acclimatised yourself to its rugged transmission you'll be shifting up and down like a good 'un. Top speed is 114mph but that's plenty, with the legal limit on motorways arriving quickly enough when you get out on a run.
The Jogger's other hugely impressive aspect is its fuel economy. It's hard to dispute the WLTP-tested 48.7mpg combined average. In fact, we found it virtually impossible to burn through a tank full of fuel over the course of a week, despite a couple of longish runs up and down the M3. So, not only do you win when buying the Jogger for a bargain price, you'll score over time too thanks to the frugal-ness of the engine. Good news in these cash-strapped times.
The technology
Dacia keeps things fairly lean on the in-car technology front, which is hardly surprising given the low asking price. Fear not though, as there's a reasonable 8in infotainment screen mid-dash. It looks a little basic, with the low resolution taking the edge off slightly. Still, there's a perfectly acceptable sat-nav, DAB radio and compatibility with Apple CarPlay and Android Auto.
The 3.5-inch TFT instrument panel carries on with the slightly industrial feel and refinement is minimal, but everything works as it should. There's convenience too thanks to keyless entry.
On a less technical level, there's plenty of practical help for drivers, with electrically adjustable and heated mirrors, a reversing camera and fully adjustable steering wheel. A collection of driver aids top it all off should you want to make use of them.
Dacia Jogger Extreme SE TCe 110 verdict
You could easily move house using the space inside a Jogger, with its 565 litre boot rising to a humungous 1,819 litres with the seats down. That's a lot of space. Moving your family is just as easy too, with those two removable extra seats at the back being perfect for those with lots of offspring.
In that respect, the Jogger is a hugely practical thing with neat tweaks like the customisable roof bars that can be rearranged in order to carry different things, right on up to 80kg.
Performance from that tiny three-cylinder engine isn't quite as refined as other cars on the road, but it performs admirably enough and delivers excellent fuel economy. The Jogger is also easy to park because, although it looks long at 4,457mm, it fits nicely into most UK spaces. You get some extra height with this car, but you don't get the bulk of a full-on SUV either.
Currently there's not much else like it on the market, and for that the team at Dacia should get a big old pat on the back.
Stuff Says…
A bargain-basement and very frugal seven-seater that sips fuel although lacks a little refinement
Dacia Jogger Extreme SE TCe 110 technical specifications
| | |
| --- | --- |
| Engine | 999cc turbocharged petrol |
| Transmission | 6-speed manual |
| Power | 108bhp |
| Torque | 148lb ft |
| 0-62mph | 11.2sec |
| Top speed | 114mph |
| Fuel economy | 48mpg |
| Kerb weight | 1200kg |
| Cargo volume | 565l |