Dell XPS 13 (2018) review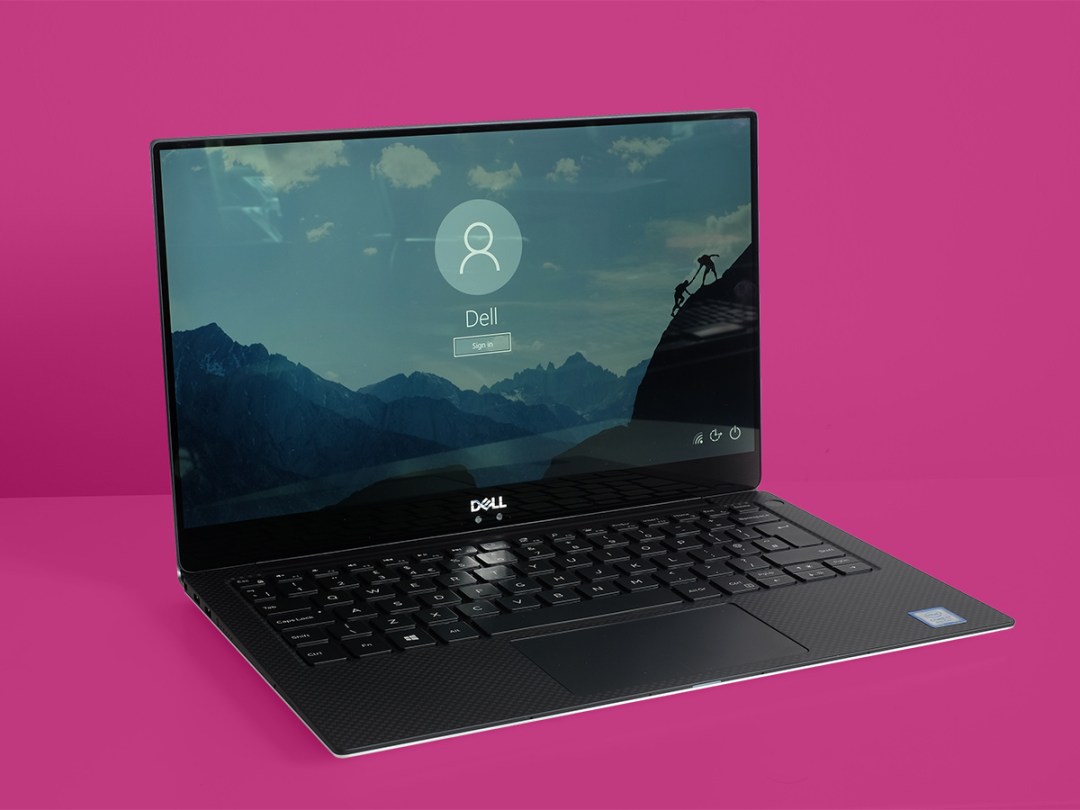 What's the most desirable laptop out there? If you just want thin-ness maybe it's the Acer Swift 7. If you love Apple it's the MacBook Pro. Easy. Want portable gaming? The Razer Blade is about as smooth as they come.

The Dell XPS 13 is still the laptop we often end up recommending, though. It has a bit of everything. You get style, portability, performance and great battery life. And every part of it just feels, well, good.
Just a few months on from its late 2017 refresh, Dell has given the XPS 13 another spruce-up. It's thinner and lighter than ever. We think you'll love it. Unless you just bought the last version. In which case you'll probably be a bit angry. Sorry.
Dell XPS 13 (2018) Design
In late 2017, Dell released a version of the XPS 13 with 8th Gen Intel Core processors. But that was the only real change. This new 2018 version actually tweaks the design.
You get the classic carbon fibre-look inside and aluminium on the exterior, but the laptop is now 60g lighter. No big deal. And only 11m thick: bigger deal. Among ultra-slim laptops, the XPS 13 was never the thinnest or lightest; it still isn't, but this 2018 XPS now isn't far off the skinniest out there.
The look is a brand of executive chic. It's edges are a little more severe than some, and the XPS 13 doesn't try that hard to convince your fingers of quite how thin it is. It's not a show-off. Well, not too much of a show-off.
Build quality is great. It's solid, doesn't flex, there are no weird seams. And while some of you may prefer aluminium on the inside, the soft touch inner is meant to be part of the XPS 13's appeal. Metal obsessives have plenty of other options to choose from.
The one sting, the one part other than the price that makes us chin-stroke for a while about recommending the XPS 13 to everyone, is the connection array. You get three USB-C ports and a microSD. And a headphone jack. That it's it.
There are no full-size USBs, no dedicated video outputs. If you want to plug something in, you may well need an adapter.
Still, all the USB-Cs support DisplayPort. And the two on the left side are Thunderbolt 3 sockets. This is an ultra-fast spec that lets you plug-in super-demanding add-ons. They even support graphics card enclosures, able to turn the XPS 13 into the world's least likely ultra-powerful gaming rig.
But, let's be honest, who's going to do that?
Dell XPS 13 (2018) Keyboard & trackpad
The XPS 13's main concern? The quality of experience on offer. Something it delivers in spades.
Its trackpad is a delight, for example. It has a super-smooth textured glass surface and a crisp clicker, one that can only really be bested by a MacBook. And even then it's partly a case of personal preference. The pad isn't huge, but mostly because there's not space for anything larger.
The keyboard is great too. It's your usual slightly shallow key affair, but is quiet, there's solid resistance and typing on the XPS 13 is a pleasure. If you like your keys with a pronounced click, the XPS 13 doesn't offer that. The action is on the smoother end here.
There's a backlight too, a single-colour one with two levels of intensity. It's nothing like the multi-colour array of the Razer Blade Stealth, but the XPS 13 just doesn't take such opportunities to show off.
It's relentlessly sensible. But this approach does have some pretty cool results. The XPS 13 has a fingerprint scanner, but it's built into the power button. You might wonder if it has one at all to start with. This is one of the fastest, most reliable Windows scanners we've used too. It'll get you out of standby in under a second.
The XPS also uses an IR camera array to unlock the laptop with your face. It's quick as well. However, just like the last XPS 13 the camera's position is a bit odd. It sits under the screen. Accidentally fire up the camera app and the chances of a jowly catastrophe are high. This sacrifice has been made because Dell thinks the screen is more important than the webcam. We tend to agree.
Dell XPS 13 (2018) Screen & Sound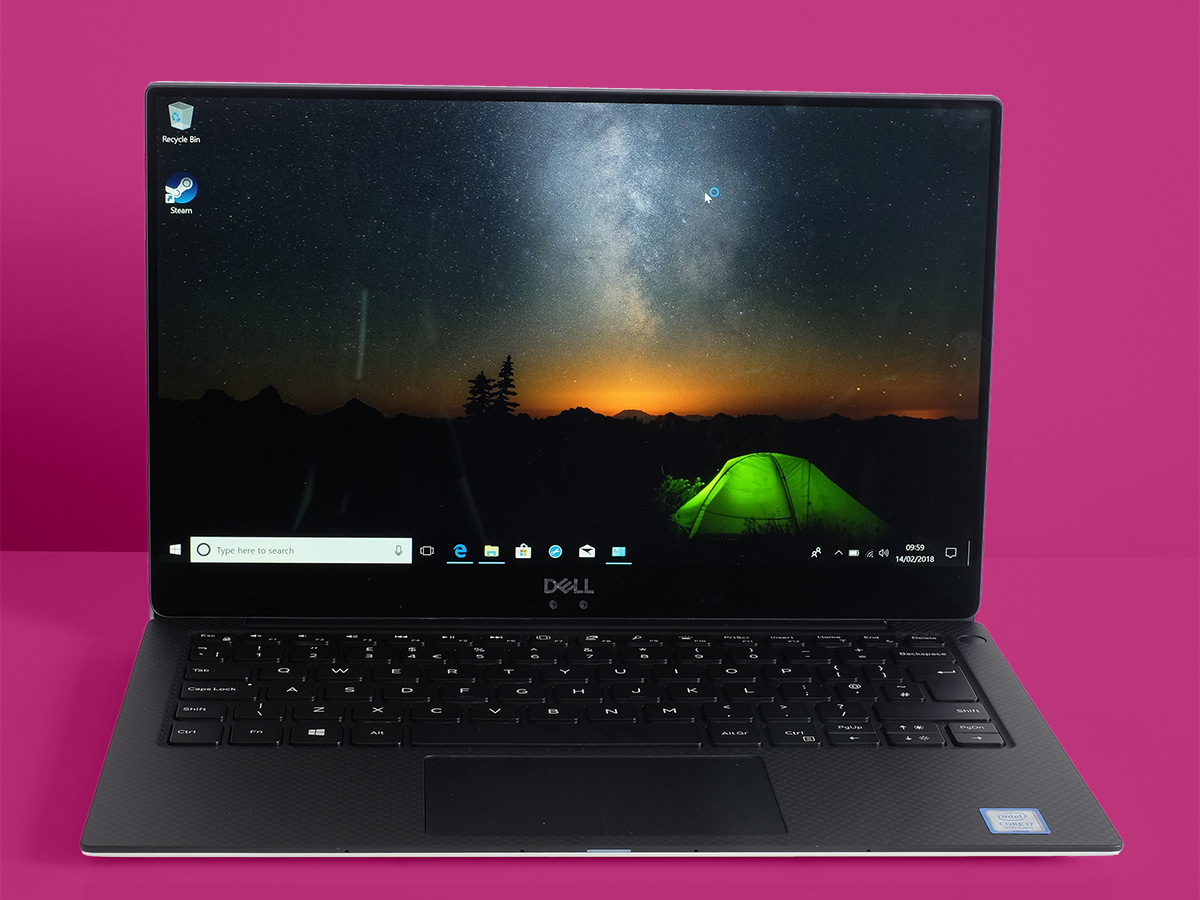 As we've come to expect, the XPS 13's display is 13.3in across, with an incredibly slim surround that helps the laptop take up as little space as possible. You can have it with either a 1080p or 4K screen: ours is the 1080p version, but the upgrade to 4K costs around £150.
That's not a bad deal, but we're pretty happy with this 1080p panel. It's an IPS screen, and it nails just about every aspect of image quality. Contrast is great, colours are well-saturated but natural-looking and top brightness is excellent.
Glossy laptops like this aren't always the best fit for use outdoors, but the XPS 13 also has an anti-glare coating that helps take the edge off reflections. Sure, we'd like to one day see an XPS 13 with an OLED screen with better image quality than your average cinema, but this is a just-about-perfect display for a laptop like this.
Playing the captain sensible role again, our XPS 13 does not have any hybrid elements to it. The screen is non-touch and the hinge doesn't let you fold the screen flat. Not even close. Upgrade to the 4K version and do you get a touch display, though: another reason to consider the jump up.
Want to use the speakers while watching a movie (preferably not while on a flight, thanks)? The XPS 13's are fine. There's a hint of body to the mids, and the sound isn't entirely thin. There's the tiniest grain of bass. However, Apple's MacBook speakers are a lot better.
Dell XPS 13 (2018) Performance & battery life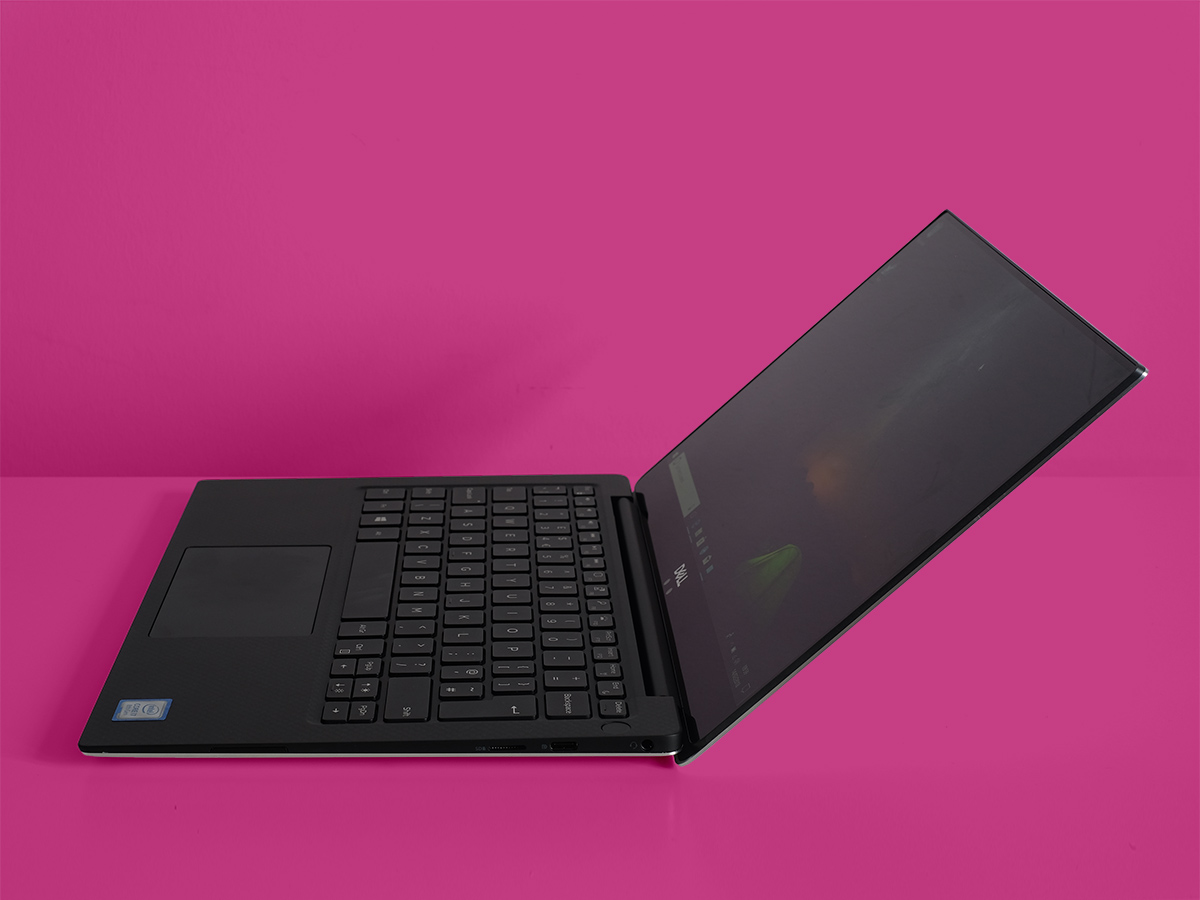 As you'd hope for a laptop that costs well over a grand, the XPS 13 saunters through Windows 10 like it owns the place. It's responsive, and thanks to Intel's 8th Gen processor, you get alarmingly good peak performance.
Our XPS 13 had a Core i7-8550U CPU, a higher-end spec, with 16GB RAM and a 512GB SSD. These newer processors have four cores rather than two, so get you much closer to the power of 2017 laptop that might weigh 3kg and be 3cm thick.
This is the norm in 2018: it's a great time to buy a thin and light laptop. You could easily use the XPS 13 as the brains of a music studio, or to edit those massive photos you took with your DSLR. This makes us miss the full-size USB and SD slots of older XPS 13s even more, but at least the connections you do get are fast.
What you don't get here is gaming performance. The XPS 13 uses the HD 620 GPU that's part of its Intel chipset. And unlike the CPU side, it hasn't improved much since last year.
Firing up Skyrim, (because there's not much hope of running The Witcher 3 or Middle-Earth: Shadow of War here) it runs well at 720p, with Medium detail settings. Or 1080p Low. It'll just about manage 1080p at Mid-level graphics, but scenery judder shows the GPU is struggling.
An XPS 13 with Nvidia MX150 graphics would be a killer combo, letting you play much more recent games. Would the laptop still be as thin, as light, as long-lasting? Probably not. However, the HP Envy 13 proves it's not a mad, impossible idea. That laptop is only slightly thicker and heavier than the XPS 13, and some versions have the GeForce MX150.
But the XPS 13 is for people who want a very slim laptop, which we have to accept. Grumpily.
Those dimensions also come at the expense of battery capacity: in 2017, the XPS 13 had a 60Wh battery. The 2018 version has a 52Wh one. This is one reason not to buy an XPS 13 with a 4K screen, as that screen will drain more juice than our 1080p version.
Dell says the laptop can last for up to 19 hours, 46 minutes using Word, which obviously sounds crazy-good. Back in the real world with the screen at 50% brightness, the Dell XPS 13 last a shade under 10 hours when playing back a high-quality movie.
It's no big surprise the last version lasted longer, as the latest Intel CPUs mainly ramp-up power, instead of radically increasing power efficiency.
Still, we're pretty happy with a laptop that can last through a day's work. It beats most competitors too. And if you're working indoors, you won't necessarily need the screen as bright as 50% anyway.
Dell XPS 13 (2018) Verdict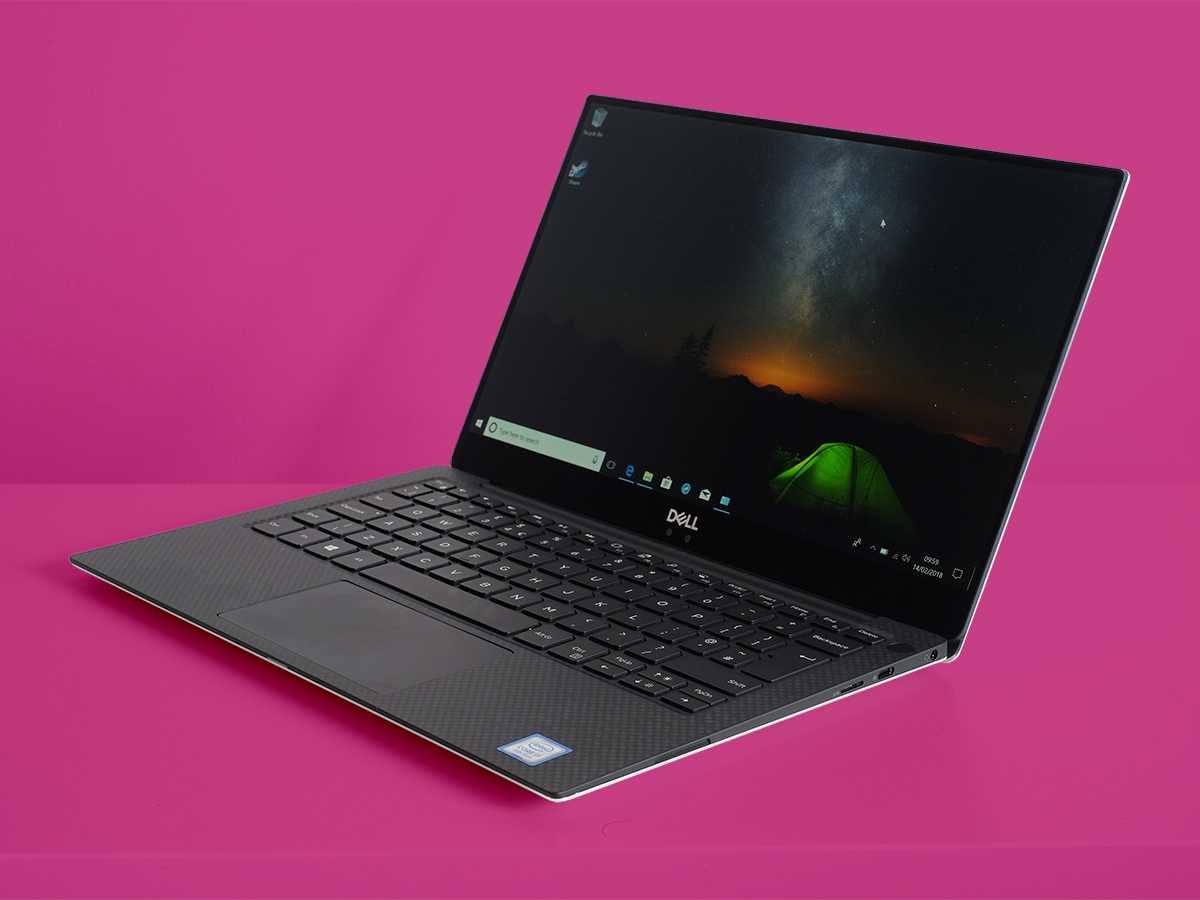 The Dell XPS 13 is one of the best, most consistent portable Windows laptops in the world. There are no gimmicks, no flimsy parts. Every element is top-quality.
Owners of an XPS 13 from the last year or two probably don't need to upgrade, unless the idea of shaving off a few millimetres or adding a couple of cores gets you really excited. Everyone else, though? This should be your go-to Windows ultra-portable. If you can afford it.
It isn't cheap, after all. For less cash you can get part of the way to this level, with an HP Envy 13 or Acer Swift 3. But they're just not an XPS.
Tech specs
| | |
| --- | --- |
| SCREEN | 13.3in 1920×1080 Full HD |
| CPU | Intel Core i7 8th gen |
| MEMORY | 16GB RAM |
| STORAGE | 512GB SSD |
| OPERATING SYSTEM | Microsoft Windows 10 Home |
| BATTERY | 52wH non-removable |
| DIMENSIONS | |
Stuff Says…
Royalty among Windows laptops, this is an ultraportable we wish we could keep for good
Good Stuff
Fantastic Full HD screen
Thinner and lighter than before
Superb all-round build quality
Bad Stuff
Battery is smaller this time
Still a costly machine