Dell XPS 15 2-in-1 review
Can Intel and AMD on the same chip deliver success to Dell's latest hybrid?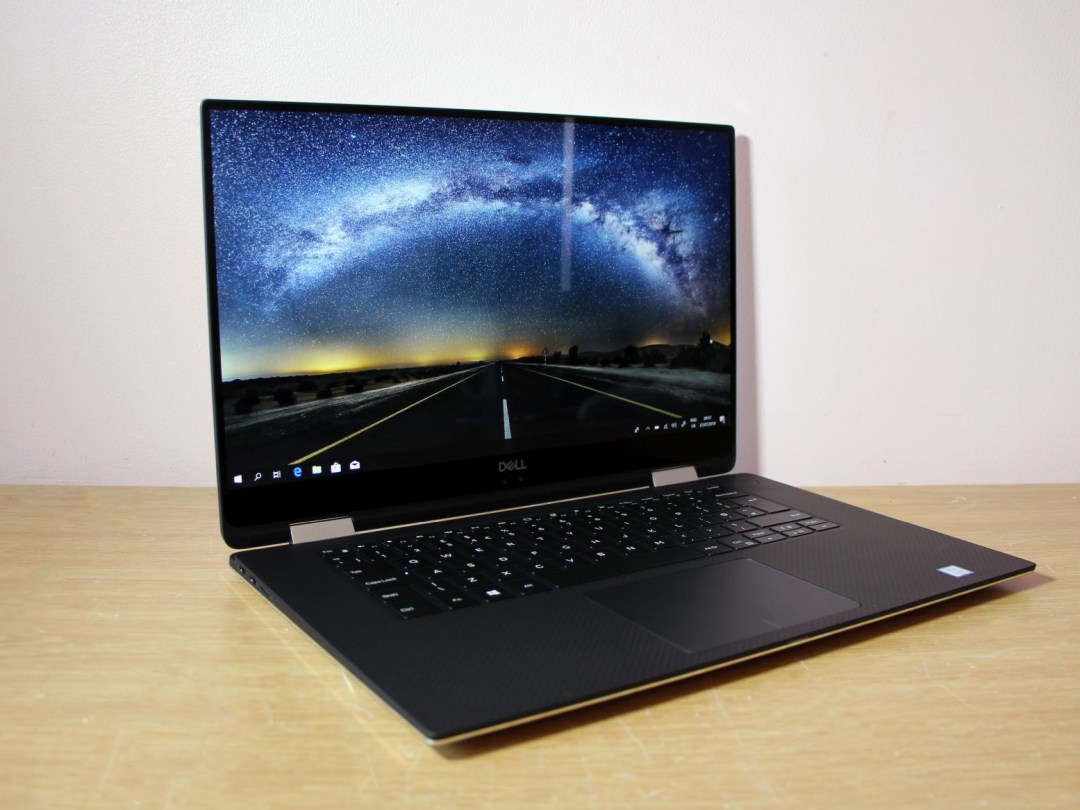 The Dell XPS 15 2-in-1 is a hybrid in every sense of the word.
While we're used to seeing machines with hinges or detachable screens take on that label, it's more unusual to find one with an Intel processor sitting pretty alongside AMD integrated graphics.
Of course, the XPS 15 2-in-1 ticks the box for the former too, with a hinge that allows the screen to lean all the way back into tablet format when that's all you really need.
At over £2000 though, does it have a performance that's as premium as its design?
Design & Build: a bit of a looker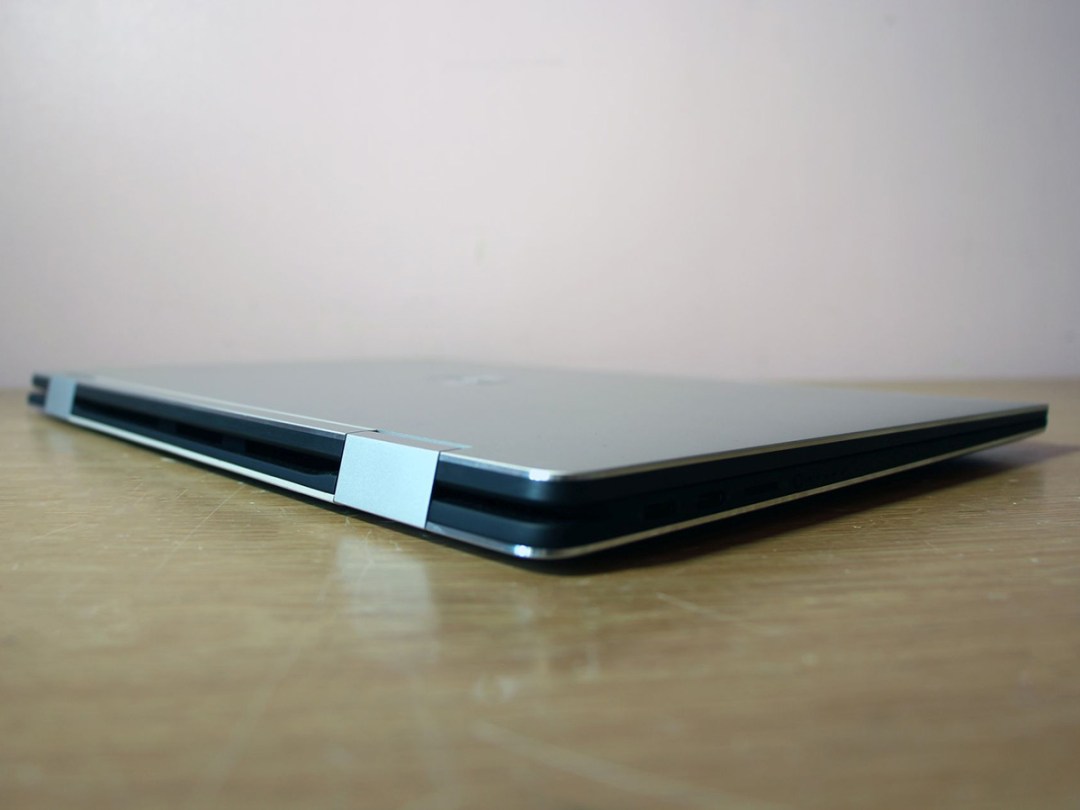 The XPS 15 2-in-1 is very attractive machine indeed, with an anodized aluminium lid and carbon-fibre keyboard that are becoming familiar sights on Dell's premium machines.
There are chunky aluminium hinges, and build quality is consistently excellent: there's no give in any of the Dell's panels, the screen is sturdy, and the hinges are rock-solid.
In fact, I'd say the Dell is stronger than most of the other hybrids on the market – and just as robust as the conventional Dell XPS 15.
That's good, and the Dell's dimensions aren't bad either. Its 1.97kg weight and 16mm thickness compare well with conventional 15.6in laptops, and that weight matches the thicker, chunkier Microsoft Surface Book 2.
You'll only get something lighter or slimmer if you make compromises, like poorer performance, detachable screens or fabric keyboards.
And, anyway, it's not as if the Dell is particularly chunky. If you're used to carrying around a modern, mid-sized machine, this hybrid won't be any different.
The left-hand side has a neat battery indicator, and around the edges you'll find pairs of USB 3.1 Type-C and Thunderbolt 3 connectors. They all function as DisplayPort outputs, and all work for power delivery too. The power button even functions as a fingerprint reader, and the webcam is slotted neatly beneath the screen. A stylus is also included for the touchscreen, and it's excellent – precise and well-weighted.
The only downfalls? There's no wired networking, and the only full-sized USB port comes from an adapter.
Screen: light and dark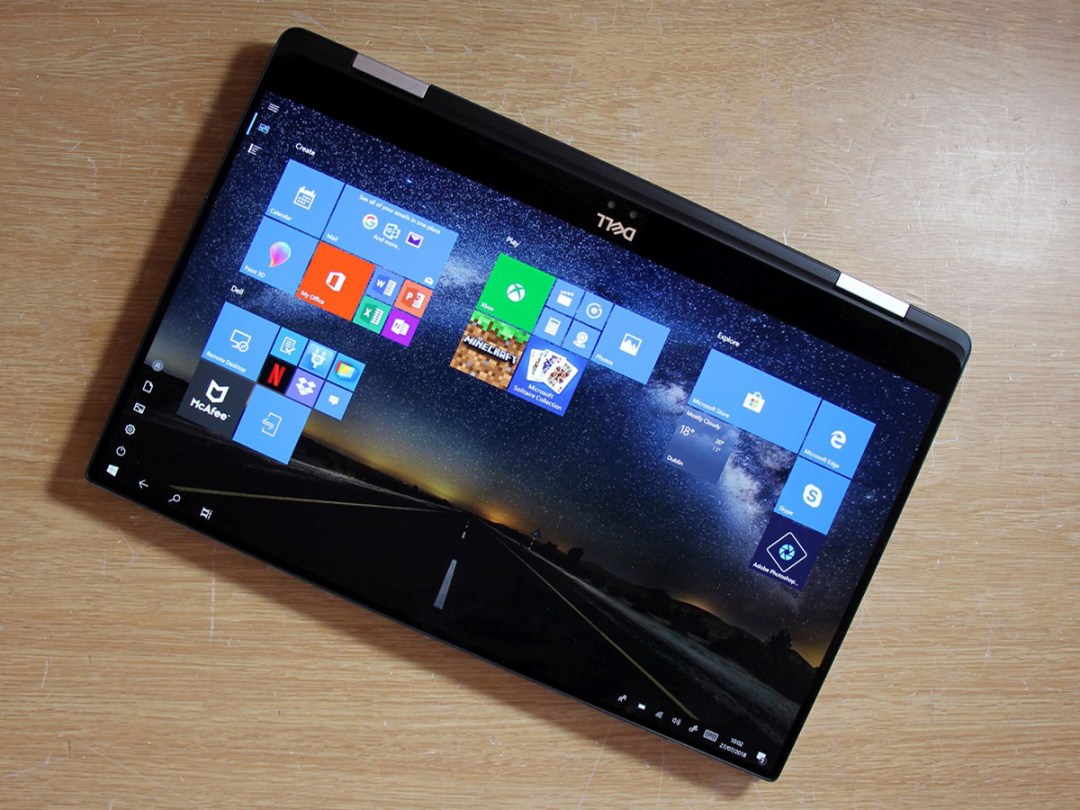 The 16:9 15.6in touchscreen is a 4K Gorilla Glass panel with an anti-reflective coating, and it works as an impressive screen for productivity and entertainment alike.
The brightness level of 471cd/m2 is huge – far better than most laptops – and is paired with an impressive black level of just 0.3cd/m2.
Those figures deliver a contrast ratio of 1570:1. That doesn't just beat Dell's claims of 1500:1 – it makes a big impact on day-to-day use. The huge brightness means that the Dell can be easily used outdoors and beneath bright lights, and the deep black measurement ensures darker areas do look suitably dingy.
These impressive results also mean that colours are incredibly vibrant. There's plenty of punch in bright areas, and the gradients between different shades are rendered smoothly.
The panel is consistent, too. At the bottom corners of the screen the backlight strength only dropped by around 8%, and elsewhere the panel only lost 5% of its backlight. Anything below 10% is good.
Some of Dell's colour figures, however, are more ordinary. The Dell's average Delta E level of 3.77 can't match the sub-2 benchmark, and the temperature of 6,947K is a little chilly.
That said, the Dell covered 99% of the sRGB gamut, which is excellent, and it handled 94.4% of the Adobe RGB gamut – another good result. It even handled 92.3% of the broadcast-friendly DCI P3 gamut.
Those colours, when combined with the huge contrast and brightness levels, paint a good picture for the Dell's screen. The 4K resolution provides pixel-perfect detail, and the contrast, brightness and black points provide vibrancy, depth and subtlety in equal measure. Only the most demanding creatives won't be sated by the accuracy at play here.
Performance: a bit of a powerhouse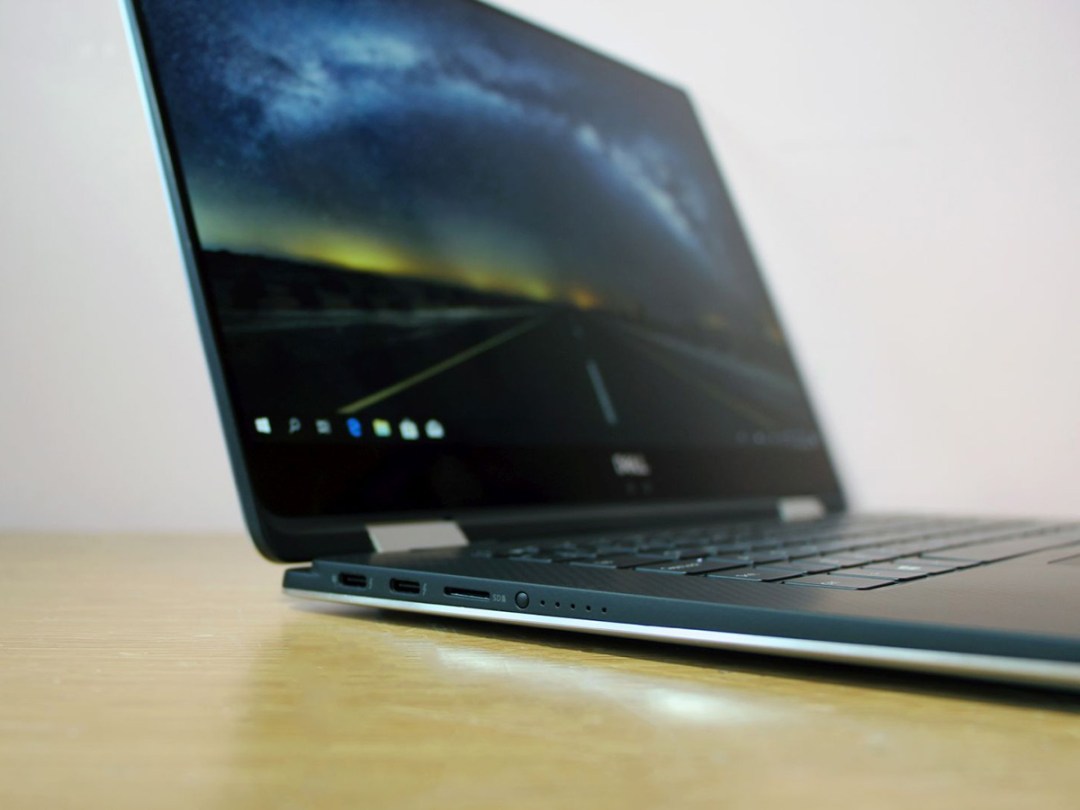 The star running the show here is the Intel Core i7-8705G processor. Despite the branding, this chip mixes hardware from Intel and AMD to deliver a better balance of processing power and graphical grunt.
The Core i7-8705G is a quad-core, Hyper-Threaded chip that takes its 3.1GHz stock speed and boosts to 4.1GHz. It's paired with an AMD Radeon RX Vega M graphics chipset, which has a boost speed of 1,011MHz, 20 compute units and 4GB of dedicated memory.
The main chip, on the other hand, gets 16GB of memory and a 512GB SSD – both excellent components.
From the get-go, this sounds very promising indeed. The Core i7 is a familiar and powerful quantity, while AMD says that its GPU outpaces Nvidia's GTX 1050.
In the single- and multi-core Geekbench tests the Dell XPS returned results of 4,746 and 15,211. Those scores are impressive: the former is on par with mid-range desktop chips, while the latter outpaces almost anything inside conventional laptops.
You'll motor through Photoshop, video editing tools and Office applications, and it'll handle multi-tasking with ease. Unless you run CAD tools, huge databases or anything that requires a high-end workstation, the Dell will manage.
And then there's AMD's Vega GPU, which is surprisingly swift. With Rise of the Tomb Raider running at 1080p and High settings, the GPU averaged 34fps, and it sliced through Middle Earth: Shadow of Mordor with a superb 51fps.
You won't be able to play top titles at 4K, but the Dell will handle most games at 1080p with modest settings alterations. If you play more modest games – like Fortnite, PUBG or eSports titles – then it certainly won't have any problems.
A bit of a powerhouse, then, but the new chip does hinder thermal performance. While the XPS is silent during low-intensity tasks, when you push the processor the fans spin up – and, when this happens, the Dell is louder than its admittedly weaker hybrid competition.
That extra noise is undoubtedly caused by the new chip, which has a peak power draw of 65W – at least 20W higher than any of Intel's more conventional chips.
Dell claims a fifteen-hour battery life for this machine, but we couldn't get it beyond seven hours. That's a fair old difference. You may make it through a whole day if you're careful with the screen brightness, but that's the limit – reach it if you're able.
Keyboard & touchpad: Magnetic attraction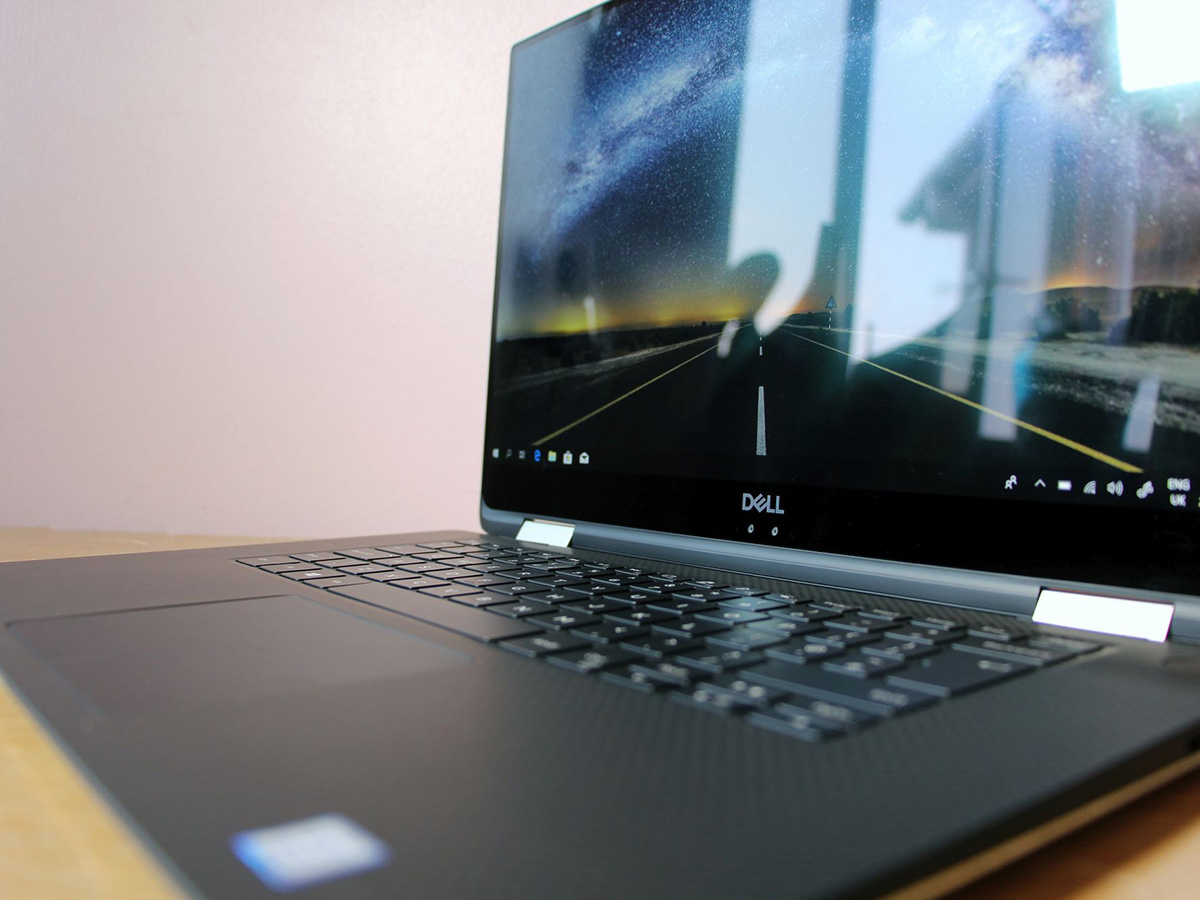 Dell has fitted an interesting keyboard into the XPS. The firm claims that it's based on 'maglev' train technology. As outlandish as that sounds, we can see the link: magnets.
Instead of using the traditional membrane or scissor designs, Dell has placed a magnet beneath every button to mimic a conventional keyboard, while only allowing the buttons to move a tiny 0.7mm. This helps to make the entire laptop slimmer.
The keyboard feels snappy, tactile and fast – but it's not without issues. It's excellent when it comes to hammering your way through documents, with a consistent and responsive feel, but the magnetic system doesn't disguise the sheer lack of physical movement. It won't bother many people, but bear in mind that Dell's sleight of hand isn't completely convincing.
Beneath the keyboard you'll find a glass-coated Microsoft Precision touchpad. It's great, with no problems.
Dell XPS 15 2-in-1 verdict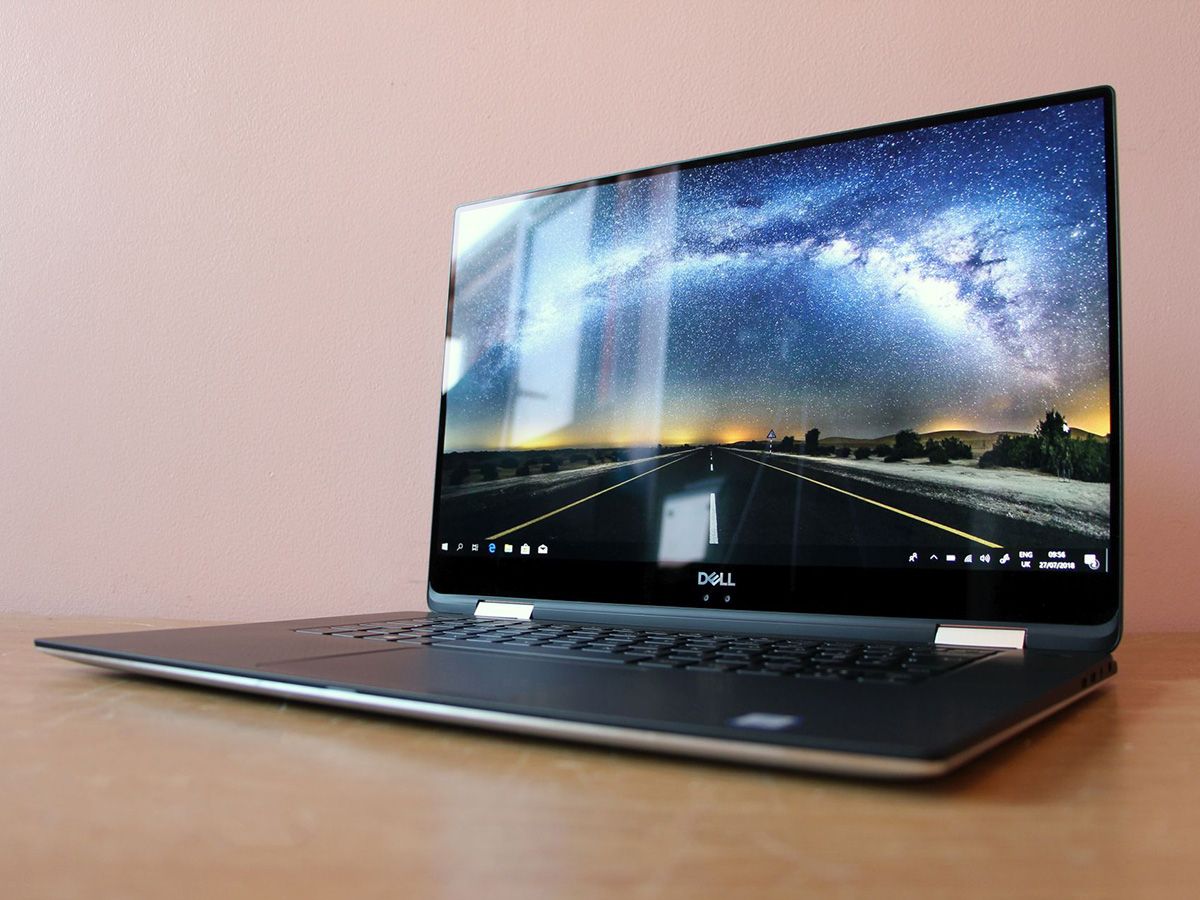 The Dell XPS 15 2-in-1 is a rare and excellent hybrid. It looks and feels great, the 4K screen has superb contrast, and the innovative keyboard is great for work.
On the inside, the Intel and AMD hardware provide huge power. The Dell will handle almost any work task alongside some after-hours gaming, while the touchscreen improves the Dell's creative ability.
The powerful chip does hit battery life and thermal performance, but these aren't new compromises, and they're certainly not ruinous.
Put simply, the Dell XPS 15 2-in-1 is superb. It's powerful, portable and versatile, with huge performance and impressive ergonomics. It is expensive, but worth the cost if you need a next-level hybrid for proper portable work.
Stuff Says…
A powerful, portable and versatile hybrid, but with the price tag to match
Good Stuff
Exceptional Intel and AMD hardware
4K touchscreen with great contrast
Sturdy and good-looking design
Good keyboard and great trackpad
Bad Stuff
A little too noisy
Battery life doesn't match Dell's boasts