Dell XPS 27 AiO review
An audiophile's all-in-one with a gorgeous screen that doubles as an artists' easel
Spend more time tied to a desk than on the move? Forget buying a laptop – you want an all-in-one PC.
They're a lot more powerful than your average notebook, have bigger displays that won't leave you squinting, and you can actually get comfortable while you're working, instead of ruining your spine hunched over a tiny laptop.
Apple's iMac has been the all-in-one to beat for years, mixing design, display and performance in a near unbeatable package, but it might not hold the crown much longer: say hello to the XPS 27.
How to take on the might of Apple, though? You can't go thinner. You can't go more minimal. You'll have to go louder.
The XPS 27 is a monster all-in-one with a whopping 10 speakers – pretty much making it the go-to single box PC for audio pros. Or at least that's the idea.
DELL XPS 27 DESIGN & BUILD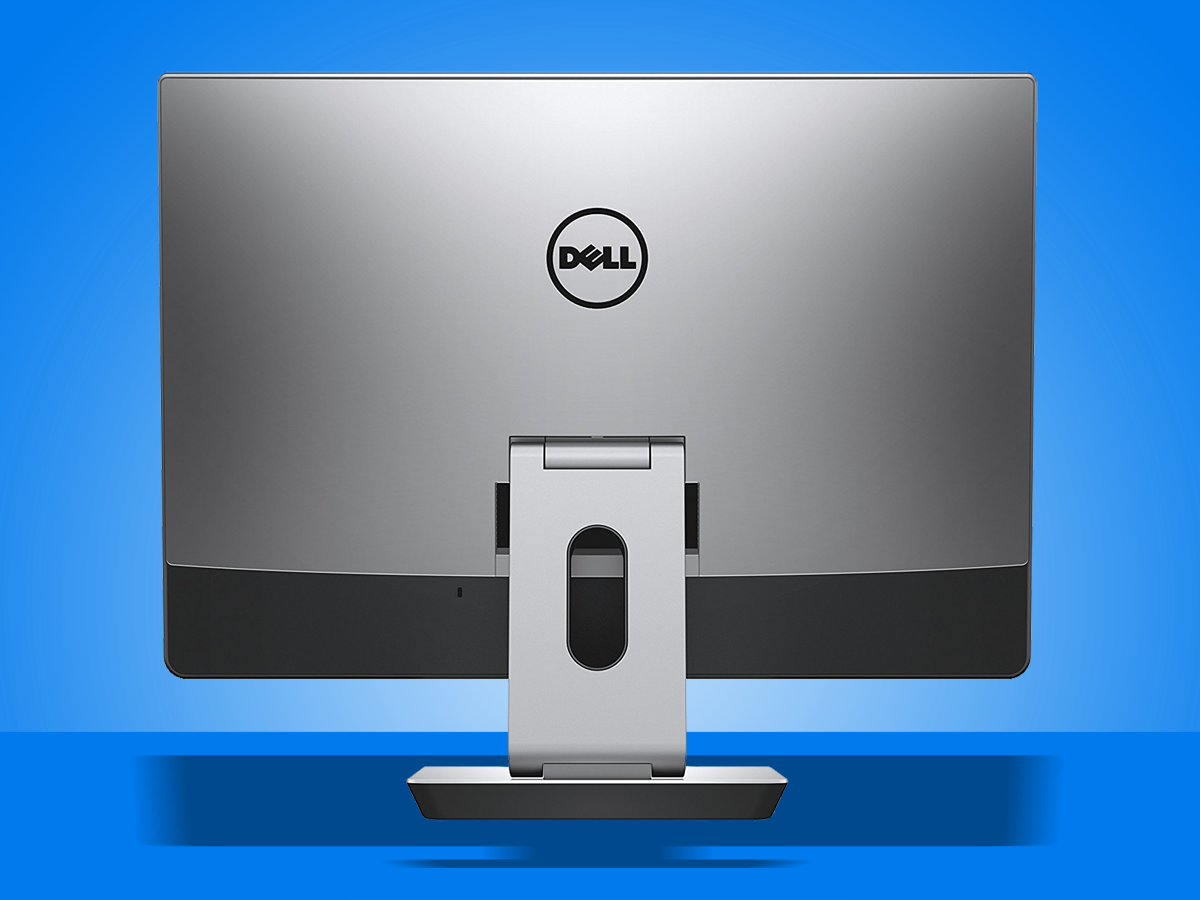 No, it isn't machined out of a single slab of aluminium. And no, that beefy stand isn't as sleek as Apple's super-slim iMac. But to be honest, how much time do you spend looking at your screen from the sides or back?
From the front, the XPS 27 demands attention, with one sheet of glass covering the entire face. Sure, that 27in screen is huge, but when you're staring down the barrel of six forward-firing speakers, it isn't the thing you notice first.
Think of it like having a built-in soundbar and you're not far off.
The slightly thicker shell leave space at the sides for a headphone jack, SD card reader and USB port, as well as the power button. It saves scrabbling around the back every time you want to plug something in.
However you feel about the design, there's no escaping the fact that the XPS 27 is a bit of a heavyweight. Tipping the scales at 17kg, you're going to need to make sure your desk can take the strain before you stick one of these on it.
DELL XPS 27 DISPLAY & SOUND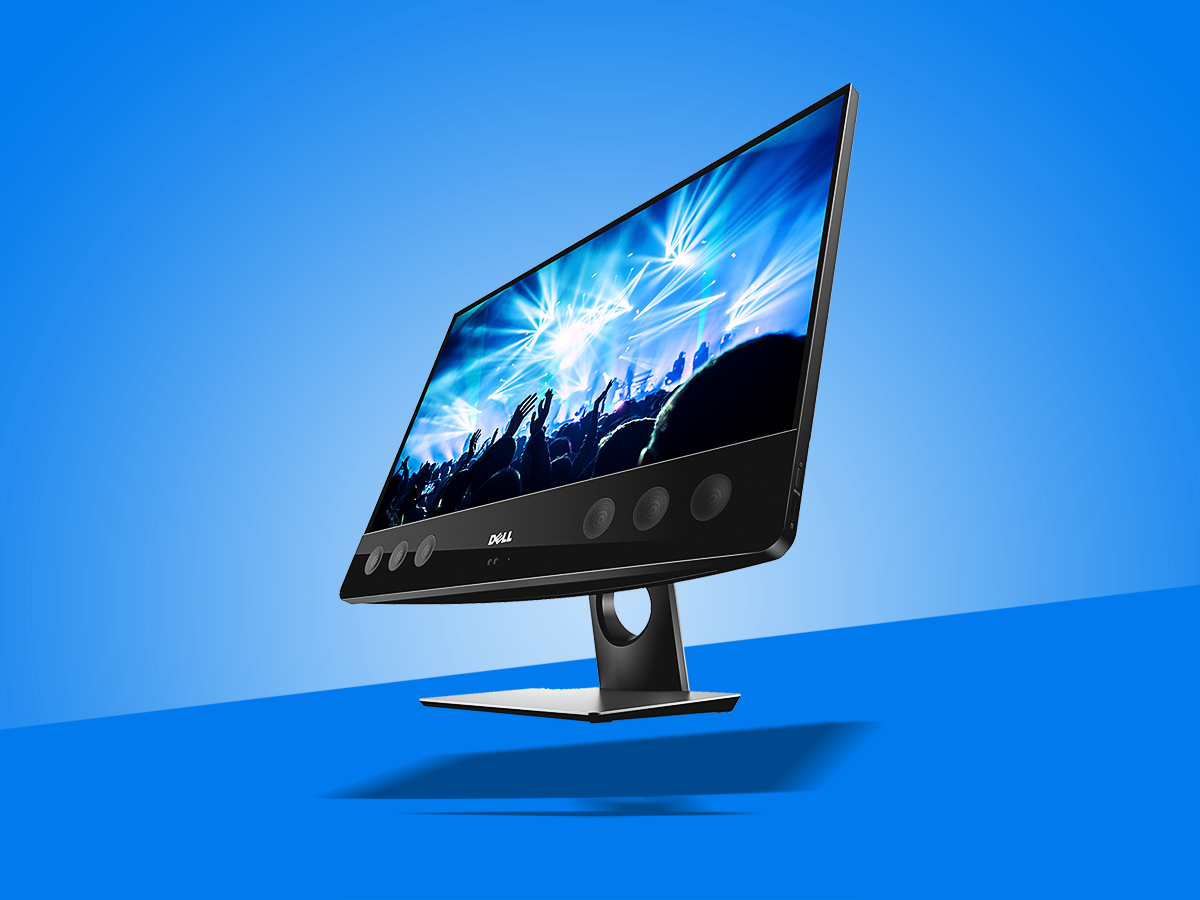 The 27in IPS display is, quite simply, gorgeous. The 4K resolution is perfect for editing photos, graphic design or video editing, where every pixel of screen space makes the difference.
There's enough graphical grunt to play 4K video smoothly, if you can get hold of it, and the colours are exceptional. Dell's PremierColor function lets you quickly toggle between colour gamuts like Adobe RGB, sRGB and even cinema-grade DCI-P3 – just in case you weren't already convinced this was a machine for pros.
Viewing angles are fantastic, and it's easily bright enough to use in direct sunlight – handy if you've worked your way up to that hallowed corner office.
It would have been nice to be able to use that stunning screen as an input, though.
Sound definitely matches screen in terms of quality. You get four full-range drivers and two tweeters, which deliver a clear high-end and punchy, vibrant mid-range notes. The passive bass radiators do a decent job of delivering low-end rumble, too – even if it's no replacement for a dedicated subwoofer.
It's loud, too. Turn the volume down to below 25% and you'll still be able to hear it from across a room. At full blast, you wouldn't want to sit directly in front of it without ear protection.
For an all-in-one, that's pretty much unheard of.
DELL XPS 27 PERFORMANCE
With an Intel Core i7-6700 CPU keeping the Windows desktop ticking over, there's more than enough power here for most work tasks. It usually runs at 3.4GHz, but can Turbo Boost up to 4GHz when you need some extra oomph.
No, it isn't Intel's latest whiz-bang Kaby Lake silicon, but with only marginal performance gains, you aren't missing out by sticking with tried-and-tested skylake.
There's 16GB of RAM on board, too, which means multitasking won't be a problem. You'll be able to open massive Photoshop projects with minimal slowdown, or fill that 4K screen with hundreds of Chrome browser tabs.
The on-board GPU is a fairly meaty AMD Radeon R9 M385. It has 4GB of dedicated video memory, which is perfect for hardware-accelerated apps like Photoshop and Premiere Pro, but don't think that translates into amazing gaming performance.
That's partly because of the huge 4K resolution, but also because it's a part you'd normally find in a gaming laptop – not a full-fat desktop part. If you're realistic with your settings, though, the XPS 27 can still lead a double life as a gaming machine.
At 1080p, Valve's FPS juggernaut Counter Strike: Global Offensive maintains a smooth 100fps frame rate. Action RPGs like DOTA 2 and League of Legends are playable at 2560p, but you'll have to stick to older titles if you want to game at 4K.
After ten minutes, the internal fan had kicked up to a noticeable level, but if you're using headphones (or pumping music out of the speakers) you can drown it out easily enough.
DELL XPS 27 USABILITY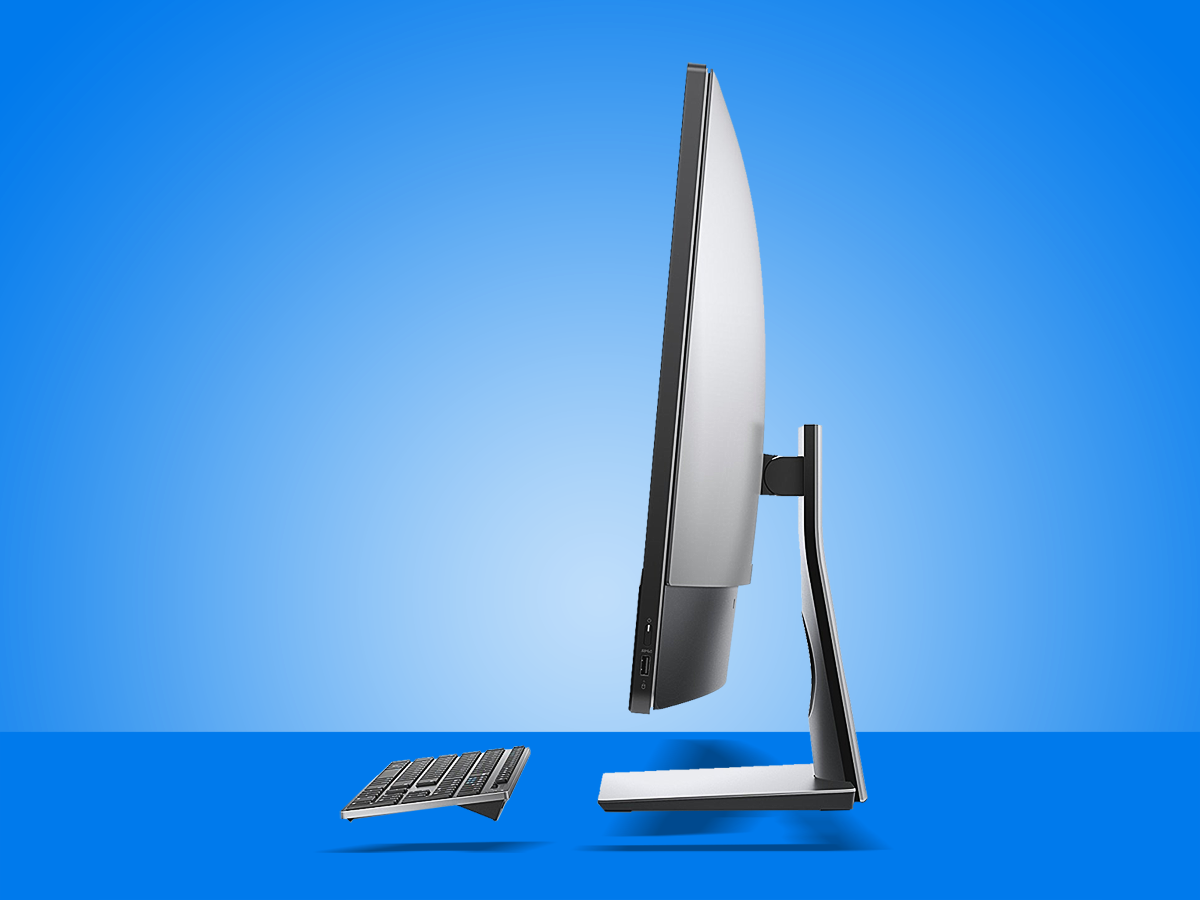 Once you've finished admiring the gorgeous screen, the XPS 27 loses a bit of its sheen when you actually start using it. That's all down to the bundled wireless keyboard and mouse, which are disappointingly basic.
The keyboard feels a bit spongy and the ergonomic mouse has tiddly side buttons that aren't all that easy to reach. They're a bit like the headphones you'd get with a new phone: they work, but you wouldn't want to live with them forever.
At least you don't have to plug the USB dongle in and waste a USB port, as both work over Bluetooth.They both take AAA batteries, though, which feels a little cheap. Apple's Magic Mouse and keyboard both charge over Lightning and are included in the box.
At least you can ditch them and use the touchscreen, with easel mode really coming into its own once you open up Photoshop or any graphic design app. With no need to add a separate graphics tablet, you can keep your desk clean and concentrate on the task at hand.
The stand isn't completely sturdy, though. It has a tendency to wobble when you apply pressure, or tap the screen with any significant force. That's disappointing to see in a machine that costs over £2500.
Dell doesn't include a stylus in the box, either. Digital artists will need to add their own.
THE COMPETITION
Let's be honest: the only real competition is Apple's 5K iMac. No other all-in-one desktop comes close in terms of design, and it's the machine to beat when it comes to screen quality too.
The XPS has fewer pixels with its 4K screen, but by the time you've added a Core i7 CPU, doubled the amount of RAM and swapped the base model's Fusion Drive for a 512GB PCI-E SSD, the 5k iMac will set you back £2834 – some £200 more than the Dell. It only works as a fixed desktop system, too – if you want to draw on-screen, you'll have to buy an iPad Pro instead.
The Apple has better peripherals, but whether Windows or Mac OS is better for work will boil down to your personal preference.
Microsoft's Surface Studio has some art-friendly features, but you still can't get hold of one in the UK. When it does eventually arrive, we're betting it'll cost more than the XPS too.
Dell XPS 27 verdict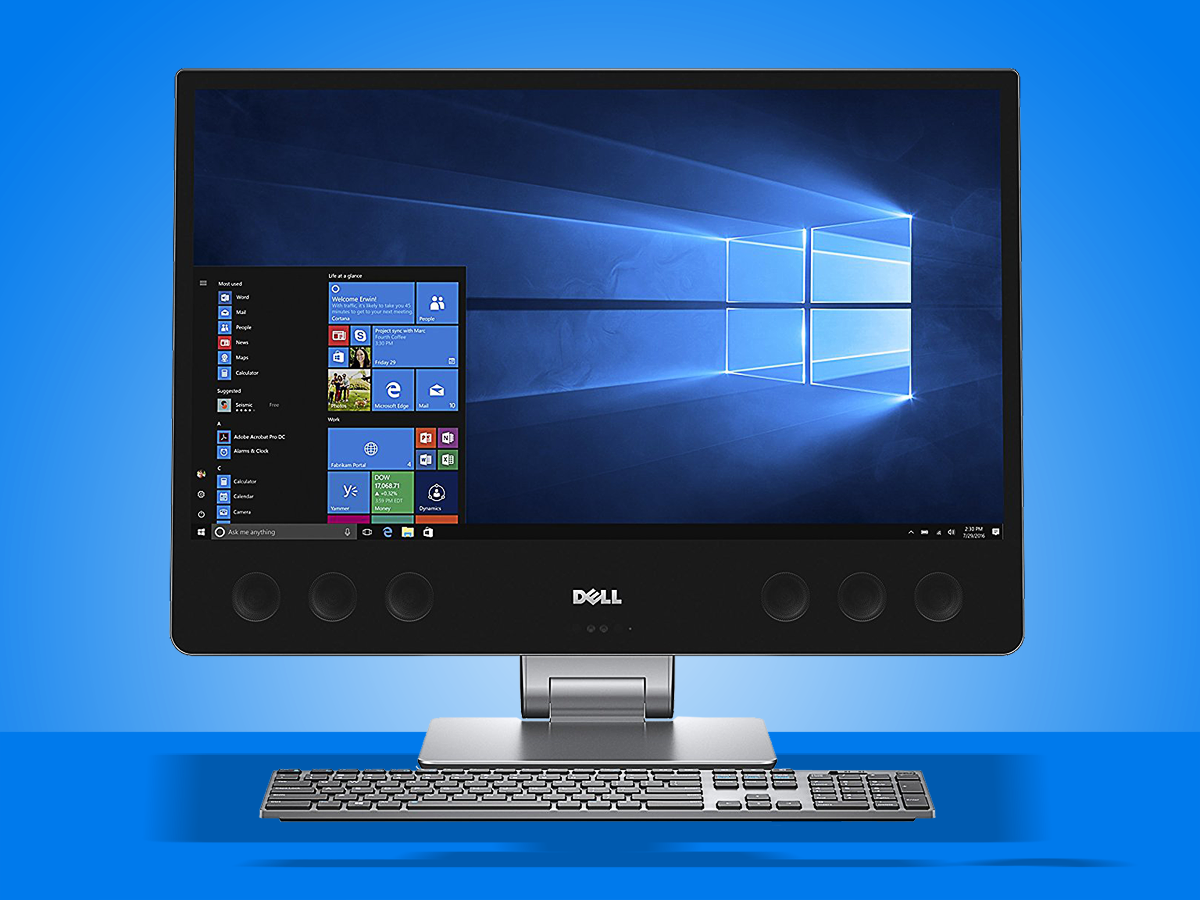 The XPS 27 is Dell's best all-in-one yet: it's powerful, it has a gorgeous display, and that tilting hinge helps it stand out from Apple's class-leading iMac.
It's a strategy that works: if you're handy with a stylus, have a serious Photoshop addiction, or mix music for a living, there's plenty here to like.
Those unique features have a few minor imperfections, though, and the design is going to divide opinions. Sound quality is excellent, but there's no escaping those speakers. If you want minimal, the iMac should still be your weapon of choice.
The hinged touchscreen will definitely earn Dell some fans, though. Swap out those bundled peripherals and this stands out as one of the best Windows all-in-one systems out there.
Tech specs
| | |
| --- | --- |
| SCREEN | 27in, 4K (3840×2160) IPS touchscreen |
| CPU | Intel Core i7-6700 quad-core |
| MEMORY | 16GB DDR4 RAM |
| GPU | AMD Radeon R9 385 |
| STORAGE | 512GB PCI-E SSD |
| OPERATING SYSTEM | Microsoft Windows 10 Home 64-bit |
| DIMENSIONS | 435x625x80mm, 17kg |
Stuff Says…
It might not be as slim or svelte as an iMac, but the XPS 27 makes up for it in power and flexibility. The best Windows all-in-one you can buy
Good Stuff
Gorgeous 4K display that tilts for digital artists
Enough power for serious art or video work
Sounds fantastic for an all-in-one
Bad Stuff
A bit portly compared to an iMac
Bundled keyboard and mouse feel cheap
Hinge is a bit wobbly