Denon AH-C830NCW review: sonic goodness but rivals loom large
Fashionably late to the party, there's plenty on offer here - but it's a crowded party
Safe to say Denon hasn't rushed into anything here. These AH-C830NCW (along with their less well-specified AH-C630W siblings) are the company's first true wireless in-ear headphones. And when you consider everyone from footwear brands to interior design gurus have a pair to sell you, it means Denon (a company with well over a century of history) is rather late to the party.
Mind you, 'late' is fine as long as you're the best when you finally get around to showing up. But that's the real trick, isn't it?
Design and build
The design of true wireless in-ear headphones is established, and Denon is not the sort of brand to just ignore market trends and serve up a design that's going to confuse or frighten anyone. Faced with the choice of 'lozenge shape' or 'dangly stem', it's gone with the latter – but to give the company some credit, the AH-C830NCW are a relatively stylish example.
The earbud shape is carefully ergonomic, and Denon provides three sizes of silicone eartip to assist in getting the fit just so. The shiny housing looks good (until your fingers dull the shine, at least) and proves just slippy enough to make getting the 'buds out of their neat little charging case a bit more of a pain in the neck than it otherwise would be. The stems finish at an angle, and finish in a quite elegant silver cap.
As is the case with pretty much any Denon product you'll ever encounter, built quality (and, consequently) longevity seem assured. There may not be a lot of stuff here for your money, but what there is looks and feels the part. And you can choose between black or white finishes.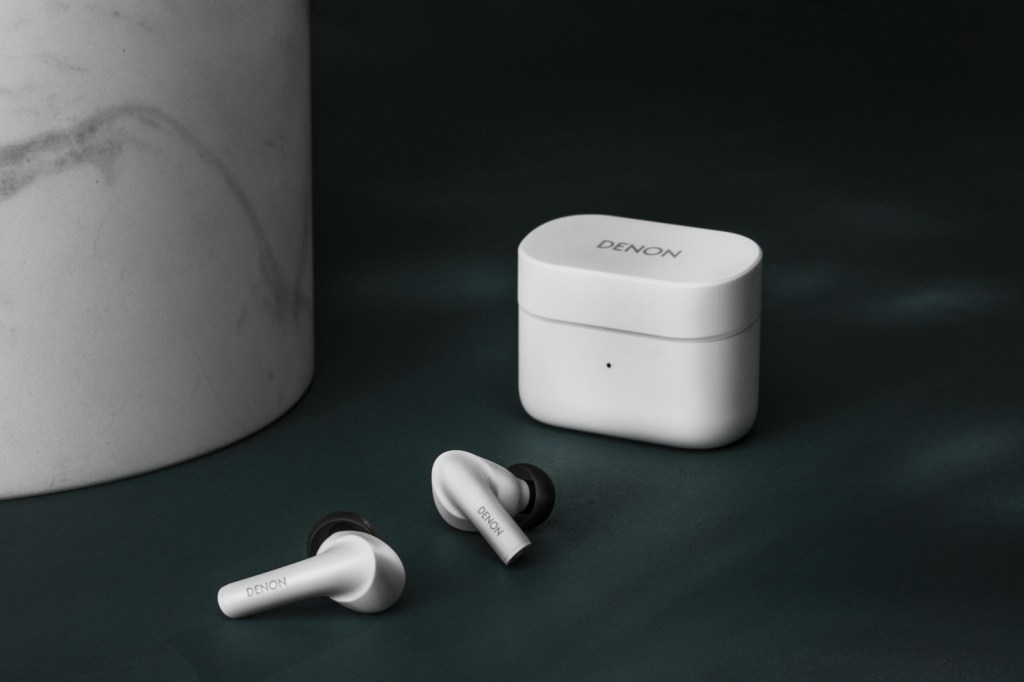 Features
The biggest difference between these 830s and their more affordable relatives is the appearance of active noise-cancellation. It's a three-stage system, cycling through 'on', 'off' and 'ambient' (which gives a little boost to external sounds). There are a couple of mics in each earbud to assist the noise-cancelling processing, while a further three take care of call clarity.
The Denon use Bluetooth 5.0 for connectivity, which is decent enough – but codec compatibility extends only as far as SBC and AAC, which really isn't. Still, it's efficient enough to deliver a battery life of near enough five hours from the earbuds with another four charges in the case – that with noise-cancelling engaged. Switch it off and the numbers rise to an all-in total of around thirty hours, with the 'buds accounting for six hours of that. Charging is via USB-C – there's no facility for wireless charging here.
Once it's piped aboard, sound is delivered by a couple of biggish (11mm x 10mm) oval full-range drivers.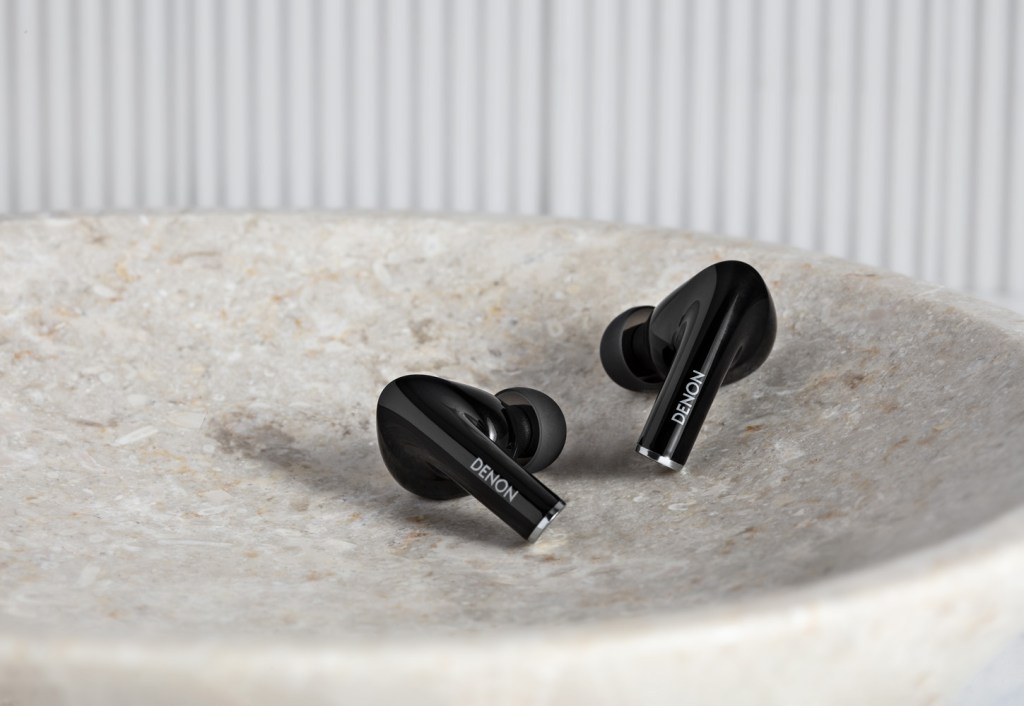 Interface
Unlike any number of similarly priced alternatives, the Denon do without a control app – instead, everything is taken care of using the touch-surfaces on each earbud.
In this instance, though, 'everything' doesn't amount to much beyond the basics. You've control of 'play/pause', 'skip forwards/backwards', 'cycle through noise-calling options' and 'answer/end call'. No volume control, no EQ adjustment, no voice-assistant… this is a boldly old-school approach to a user interface.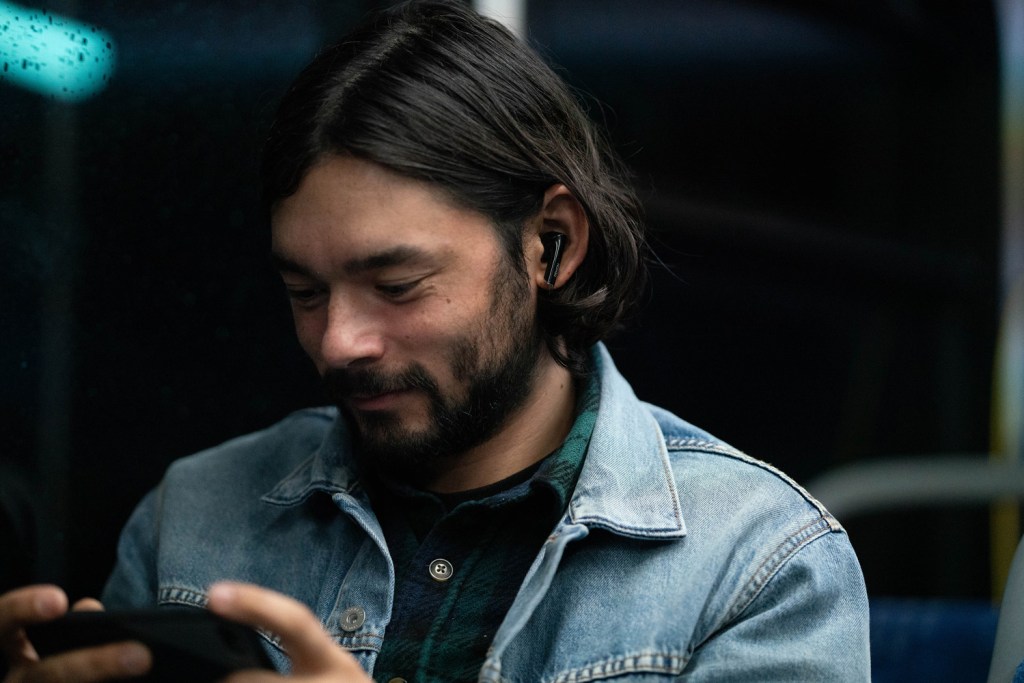 Performance
No EQ adjustment means dealing with the sound Denon has dealt, which may not seem ideal to any number of prospective owners. Those who hear the AT-C830NCW in action, though, will realise it's not the deal-breaker it might have been. Denon has voiced these earbuds expertly.
Having said that, though, the most committed bass-heads will probably want to look elsewhere. The low frequencies these earbuds deliver are deep, sure, nicely shaped and textured… but they're balanced, too, where many alternatives push them forwards in the name of 'excitement'. Listen to David Holmes' Gone and even the deepest bass sounds stay in their lane, keeping clear of the midrange and allowing the rhythm and tempo full expression rather than dragging at it. That's as it should be, but not every true wireless earbud is brave enough to insist on it.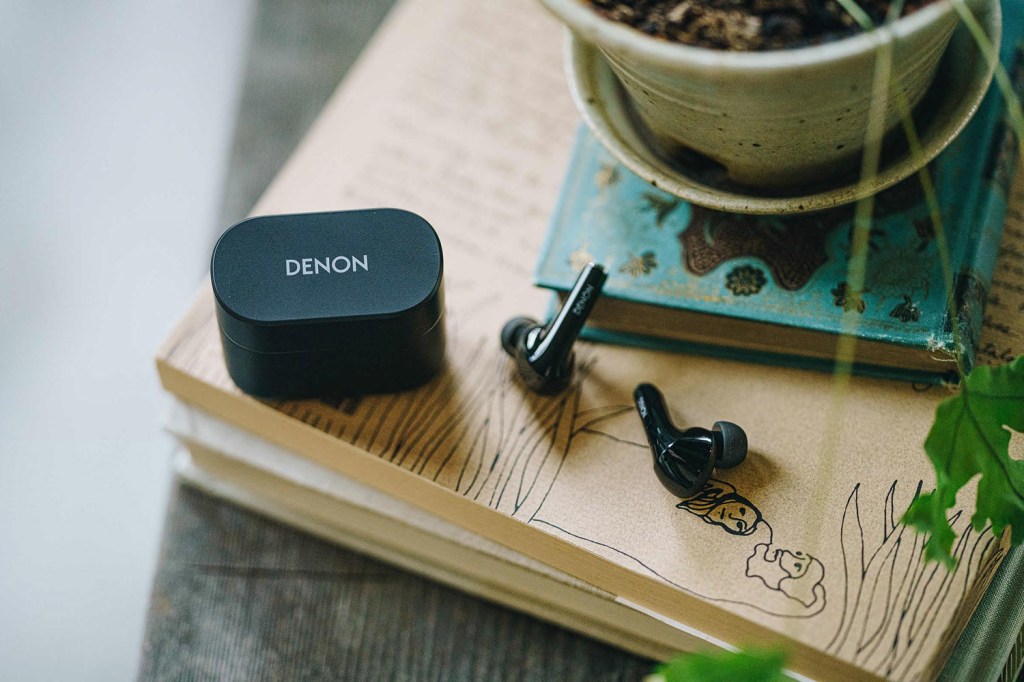 They're equally skillfully balanced elsewhere, too. The midrange fidelity during serpentwithfeet's Wrong Tree is outstanding – poised, brimming with detail and utterly believable. The top of the frequency range, too, is nicely judged, with enough substance to offset the bit and shine these Denon earbuds can generate. Rhythmic expression is equally good, and the earbuds build a big, focussed soundstage that's explicitly laid out and simple to understand.
There's nothing meaningful to complain about where overall tonality is concerned, and while noise-cancelling is in the 'very good' category rather than the 'outstanding' alternative that some price-comparable alternatives can manage it's hardly a disaster. If you're interested in banishing most background noise rather than sitting there in a blanket of silence, there's not too much to criticise here.
Verdict
It would be easy to overlook the Denon AH-C830NCW. The price puts them up against some proper alternatives, and their relative lack of functionality could make them look a bit impoverished. But you can trust Denon to serve up the sonic goods – why wouldn't you?
Stuff Says…
If you want earbuds to mess about with, look elsewhere. But if you want them to listen to, get an earful of these.
Good Stuff
Balanced, realistic sound
Nice build and finish
Good noise-cancelling
Bad Stuff
Some gaps in specification
Ordinary battery life
A stack of rivals
Tech specs
| | |
| --- | --- |
| Driver | 0.4″ Oval, Dynamic |
| Bluetooth | 5.0 with LE |
| Codec | AAC, SBC |
| Battery life | 24hrs using case and with ANC off |
| Waterproof rating | IPX4 (buds only) |
| Dimensions (earbuds) | 0.86 x 0.9 x 1.38in |
| Weight (earbuds) | 0.19oz |
| Dimensions (case) | 2.3 x 1.2 x 1.8in |
| Weight (case) | 1.52oz |