DJI Mini 3 review: earn your wings
How to fly on a budget - is DJI's new Mini 3 worth it?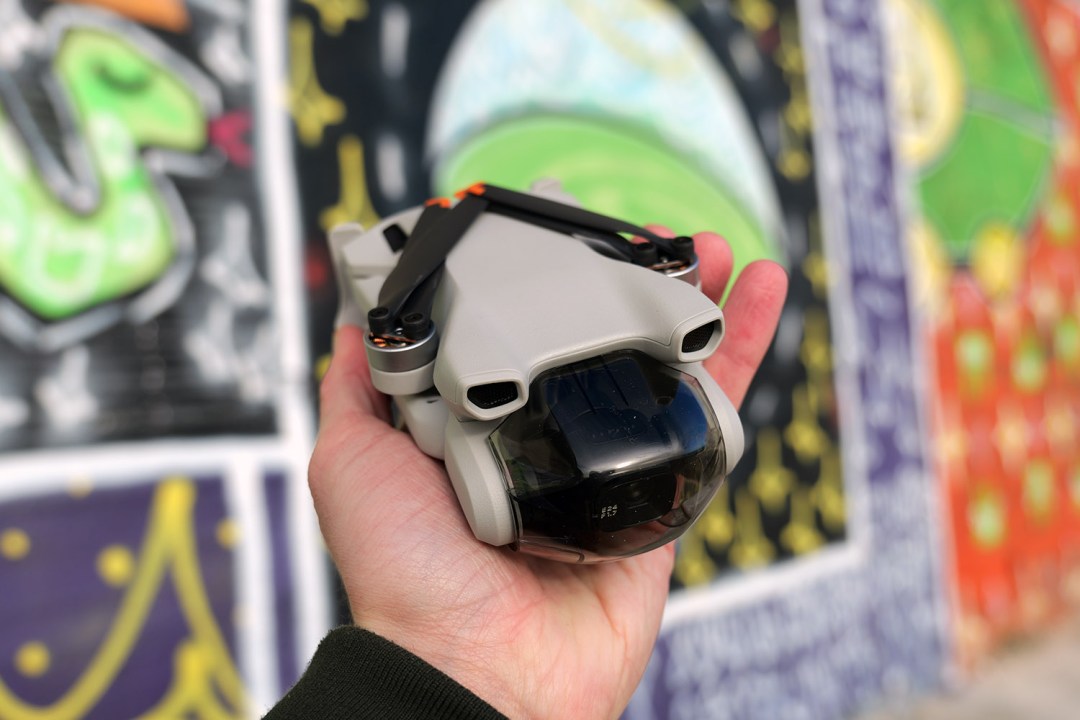 Back in May of last year we ran the rule over the DJI Mini 3 Pro, calling it 'the best lightweight drone you can buy'. And we stand by that today: the Mini 3 Pro is the first sub-250g drone where camera performance doesn't feel like a huge compromise, and it also flies like a dream thanks to responsive controls, long battery life and a bundle of safety features.
But what if the Mini 3 Pro is just a little bit too rich for your blood? If you're taking your first tentative steps into the world of aerial videography and photography, plonking down over £700 can feel like a major investment. Enter DJI's newest model, the Mini 3.
This drone strips back on a number of features, but costs almost £200 less – all while offering many of the same functions as its pricier stablemate. Could this be the ultimate budget-friendly beginner drone to get you started on your journey, or should you just spend the extra cash on the premium Pro?
Design and build quality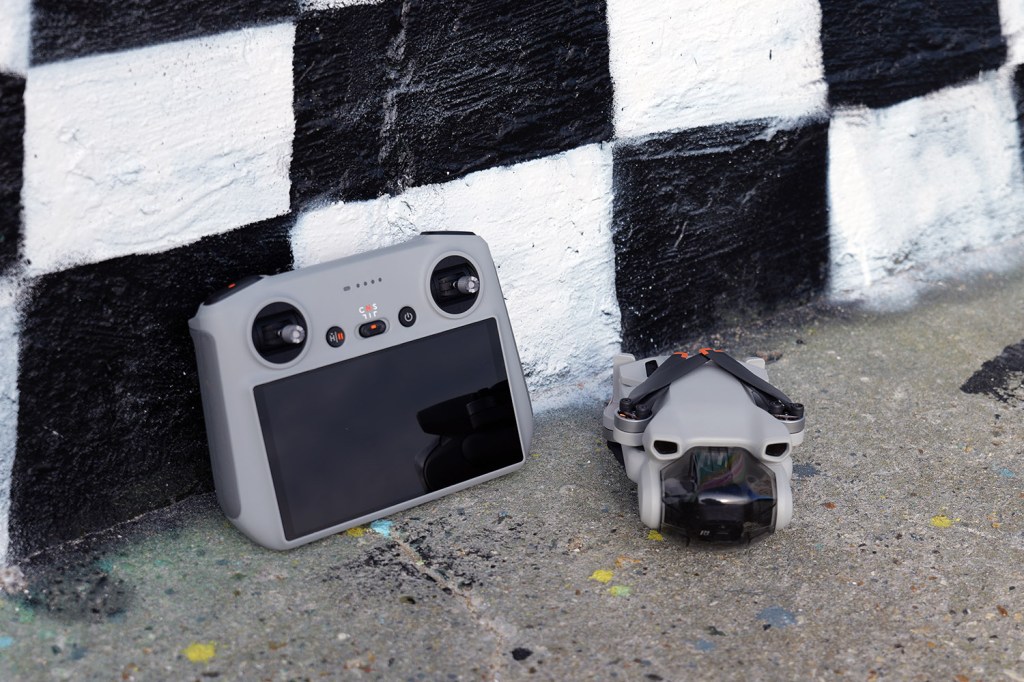 On first look the Mini 3 appears to be almost exactly the same as the Mini 3 Pro. The two models are the same size and weight, give or take the odd millimetre and gram: 148 x 90 x 62mm in size when folded down and about 249g with a battery and micro SD card loaded.
Obviously, this makes the Mini 3 very portable (in fact you can fit the folded drone in a coat pocket), but the weight is key for an additional reason: being under 250g means it can be legally flown in locations where heavier drones are prohibited. With some exceptions, bulkier models can't be flown in 'residential, recreational, commercial and industrial sites' (which, if you think about it, covers most of the UK), and not within 50m of (or above) unaware people. But the Mini 3, being sub-250g, isn't subject to these restrictions. Fly away.
Despite the lightweight build, the drone is sturdily constructed and, when folded, will happily sit in a backpack or bag without you needing to worry too much about it getting damaged. The most delicate part that you should be wary of – the camera and gimbal – can be protected with a clip-on plastic cover, which comes in the box.
The other physical part is the twin stick remote. You can purchase the Mini 3 for £519 with DJI's standard RC-N1 controller (which connects to your smartphone with a cable, and lets you control the drone through the DJI Fly app), or for £669 with the premium RC controller, which includes its own bright 5.5in touchscreen and built-in software. The latter is the better option, certainly (it's less fiddly to set up each time you fly, and leaves your phone free), but the former works absolutely fine while being more budget conscious.
Flight performance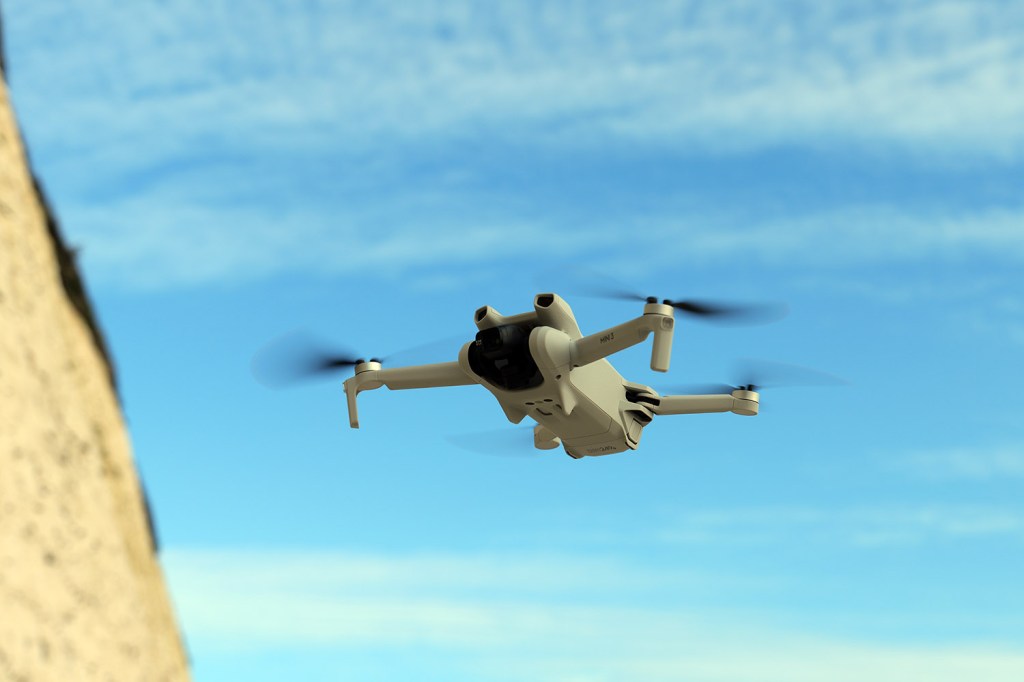 The Mini 3 has an astonishing battery life that gives it 38 minutes of flight time on a single charge. That's excellent for a cheap drone (it's four minutes more than the Mini 3 Pro in fact) and as a consequence when flying we never felt rushed or panicky about running out of power.
It's a nippy and responsive flier too. You can get it off the ground (and land it later) by tapping a button within the app if you wish, but once you actually take control it feels intuitive enough for even novices to quickly get to grips with. Top speed in Sport mode can hit a brisk 16m/s (about 35mph) in calm conditions, and when the breeze does pick up it still flies steadily, using its downward-facing sensors and GPS to hover in place in winds of up to 10.7m/s (about 24mph).
One big difference – and potential disappointment – from the Mini 3 Pro model is the lack of front- and back-facing sensors for obstacle avoidance. With the Mini 3 there's no safety net against collisions, so you need to be more aware of the drone's surroundings when flying. With no sensors, there's also no Active Track automated follow-me mode, which means you can't have the drone autonomously film you while you're cycling, climbing or performing another activity – a feature we really liked on the Mini 3 Pro.
As with all DJI drones, if the Mini 3 loses transmission signal with the controller (or if you just want it to fly back on its own), a return-to-home mode will autopilot it back to its take-off location and land, all without you having to lift a finger.
Video and photo quality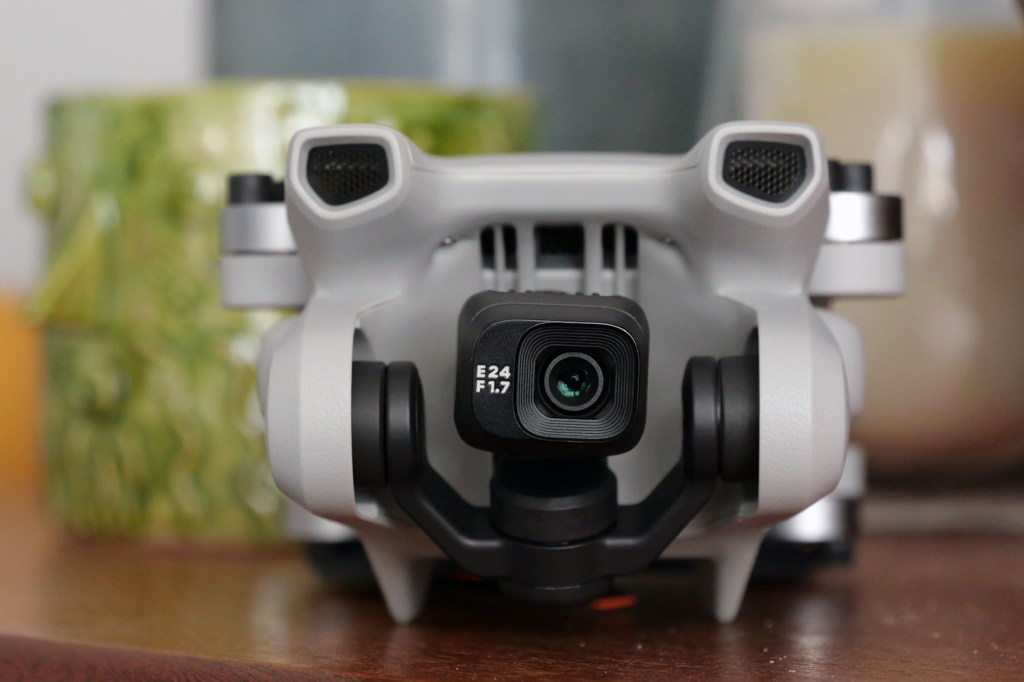 The Mini 3 and Mini 3 Pro both have 1/1.3in CMOS sensors in their gimbal-mounted, auto-stabilised cameras, but that's where the similarities largely end. The Mini 3, understandably given its entry-level status, has a much less powerful imaging setup: it can take 12MP photos (the Pro takes 48MP photos) and capture 4K video at 24/25/30fps (the Pro does so at up to 60fps).
The Mini 3 also doesn't include a slow-motion video capture mode, support the H.265 codec and offer access to D-Log or D-Cinelike picture profiles for easier colour correction and grading, so there's plenty of blue sky between it and the Pro model when it comes to the camera capabilities.
That's understandable given the price difference and while we were initially slightly disappointed at the setup here, it does deliver good results in normal lighting conditions and pretty decent ones in lower light conditions.
Photos can be shot in DNG RAW or JPEG (or both simultaneously) and come out fairly well too, although the low resolution means there isn't much room to crop in from the original frame without the lack of detail becoming too obvious. There's also some softness around the corners of the frame, but in general the quality is more than acceptable for a budget drone. These samples were shot in RAW and quickly tweaked in Lightroom, but otherwise are unedited.
DJI Mini 3 verdict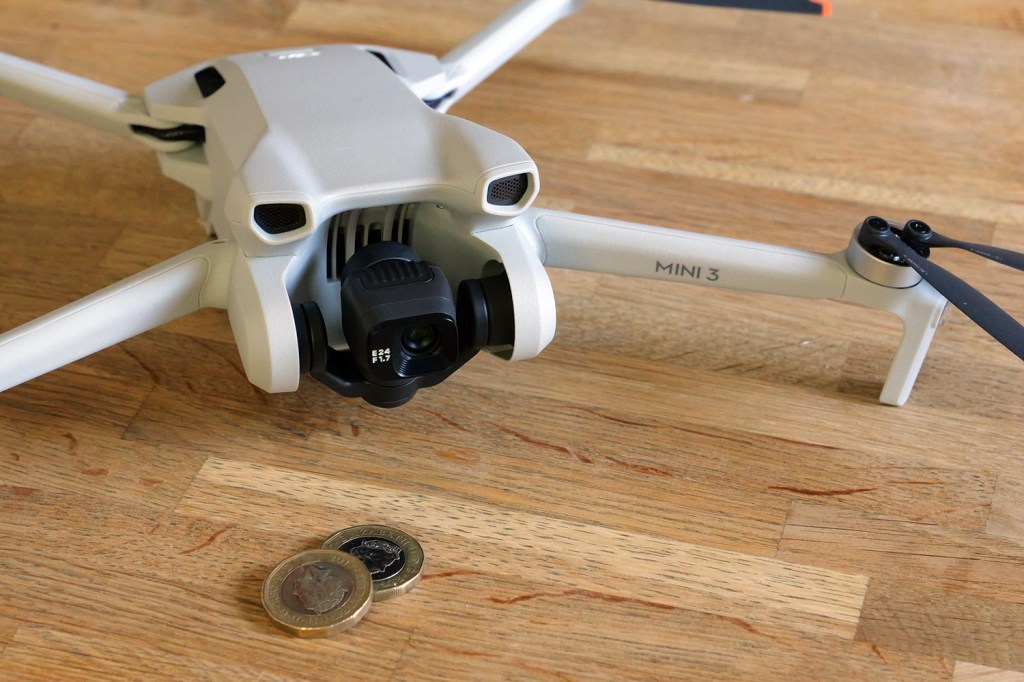 While there are definite downsides to the Mini 3 in comparison to its Pro cousin, the upside – a near-£200 saving – is a major one. At just over £500, it represents a great deal for the drone newcomer.
You're getting a small, portable fly-anywhere quadcopter with incredible battery life, simple operation and solid imaging performance, and once you've mastered the basics and are hankering for something a bit more powerful, you can always upgrade to another of DJI's excellent drones like the Mini 3 Pro, Air 2S or Mavic 3.
Stuff Says…
A superb entry-level offering that's a perfect buy for first-time drone pilots
Good Stuff
Incredible battery life
Decent camera performance
Great value for money
Lightweight and easy to fly
Bad Stuff
No front or rear obstacle detection
No Active Track auto-follow mode
No D-Log/D-Cinelike video modes
DJI Mini 3 technical specifications
Flight time
38 minutes
Camera sensor
12MP CMOS, 1/1.3in
ISO range
100-3200
Video resolutions
4K at 24/25/30fps; 2.7K at 24/25/30/48/50/60fps; FHD at 24/25/30/48/50/60fps
HDR at 24/25/30fps only
Storage
MicroSD
Connectivity
USB-C
Dimensions
148x90x62mm (folded), 251x362x72mm (unfolded)
248g