DJI OM 4 review
Positives and negatives collide - meet the magnetic gimbal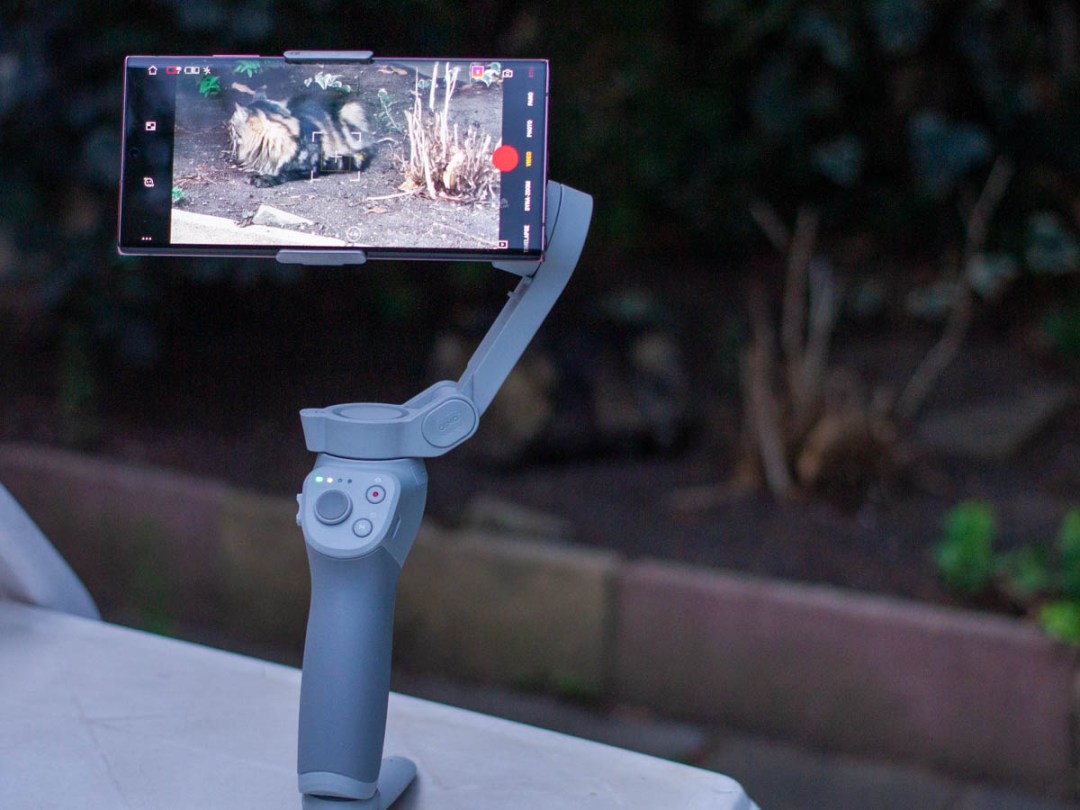 DJI has churned out some of the best steady-cam tech of the last decade with is Osmo Action – a nifty GoPro rival and the fantastic Mavic Mini, quite possibly the most accessible high-quality drone of all time. Now, the Chinese drone and gimbal powerhouse is whacking magnets on its latest smartphone stabiliser – the unpolarisingly good, DJI Osmo Mobile 4.
At first glance, the OM 4 (short for Osmo Mobile 4), could be an Osmo Mobile 3 in a different colour. Dig a little deeper though and you'll discover that there's a new motor, joystick material, and a handful of software boosts in the companion app. None of those make this an altogether new bit of kit though. What makes the OM 4 special are those magnets. Unlike the Osmo Mobile 3, the OM 4 doesn't feature a fixed smartphone clamp.
Instead, you can use either a thin, lightweight clasp, or a magnetic kickstand (you get both in the box) – both detachable, fusing your phone to the arm of the gimbal, which would make many a smartphone owner nervous, right?
In the box: More money, more gadgets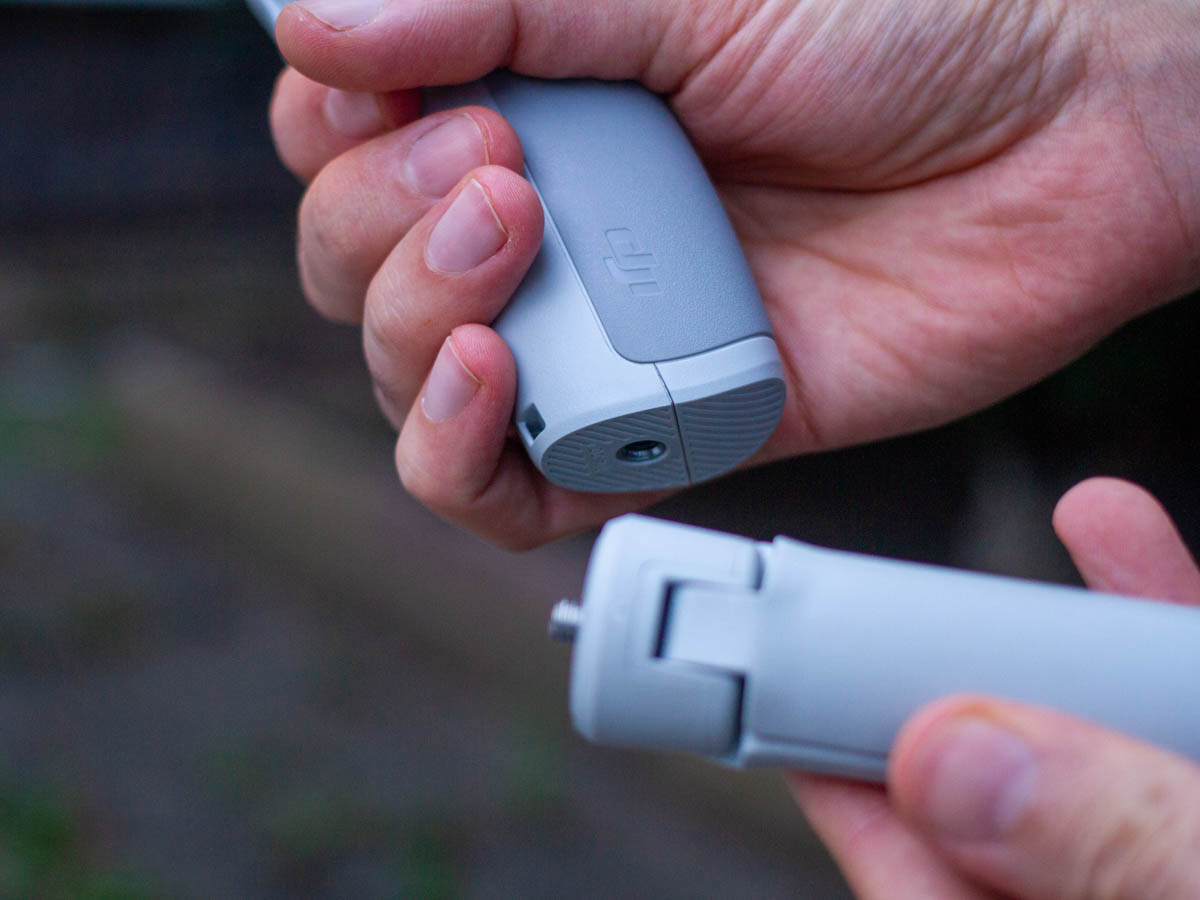 The OM 4 costs £139. That's a lot more than the Osmo Mobile 3, which started at £99, climbing up to £119 for the added accessories option.
The OM 4, however, only comes with those added accessories. In the box, there's the gimbal itself, a carrying bag, one magnetic ring holder, one magnetic smartphone clamp, a wrist strap and a tripod base for self standing stable goodness.
That makes the OM 4 one of the most expensive mobile gimbals on the scene. Luckily for DJI, it's also one of the best – if not the best when you factor in its compact, collapsible design.
Clasp: Mighty magnets ahoy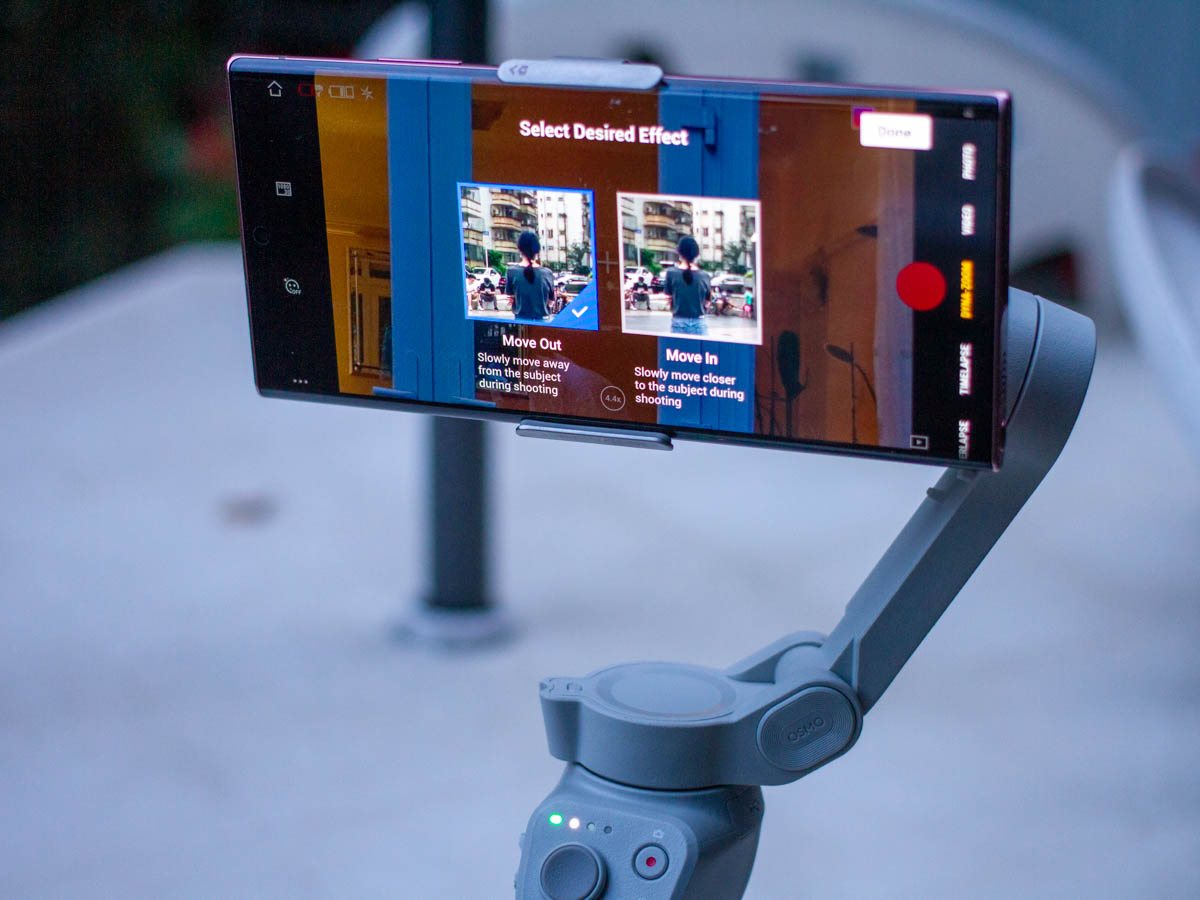 To use the DJI OM 4, you'll need to attach a magnetic metal clasp, or a neat kickstand ring to the back of your phone. Which you use will depend on what phone you have.
The clasp is an evolution of an old school gimbal claw grip. It's spring-loaded, lightweight and not too bulky. This can securely latch onto virtually any smartphone and won't let go unless you prise the phone out of its metal arms with intent.
If you have a plastic phone and fancy yourself a bit of a risk taker, you can stick a metal ring to the back of it using the adhesive bonding sticker in the box. The metal ring isn't recommended for glass phones, but would be our choice from a convenience point of view. The idea of ditching a grip in favour of a handy, tiny kickstand stuck on the back of our phone is a dream come true.
Alas, in our short week with the OM 4, we only used it with glass phones so were unable to test out the ring. Nontetheless, one thing we can say is that the magnets of both the clamp and ring are incredibly strong – after a couple of hours, we were waving around our mounted Samsung Galaxy Note 20 Ultra 5G without a care in the world.
What's new: Mainly magnets tbh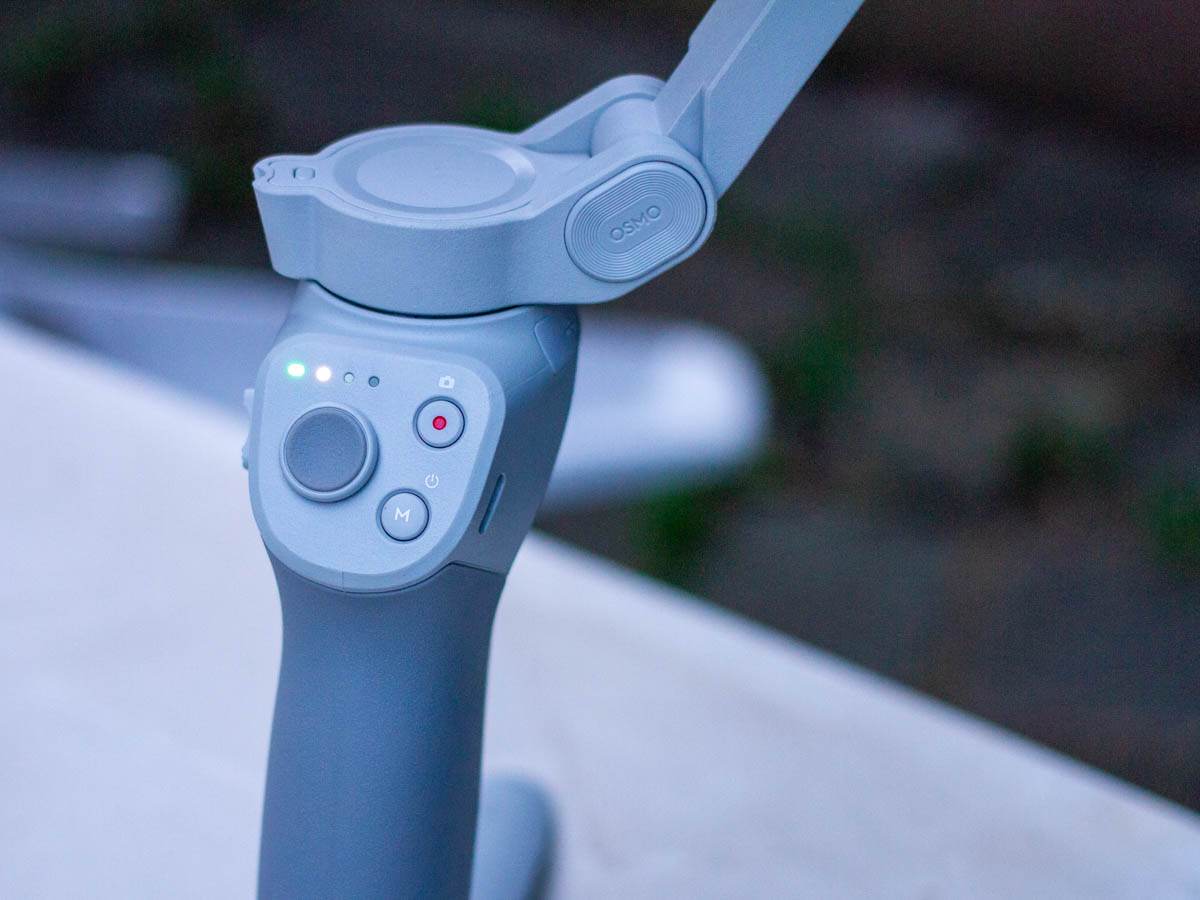 Aside from those magnets, the OM 4 is virtually identical to the Osmo Mobile 3 in terms of dimensions, buttons and ports. There's a USB-C port to the right for charging, and a USB-A port so you can use the Osmo Mobile 4 as a power bank.
Function and record buttons adorn the main part of the grip, and there's a joystick and zoom slider for your left thumb to switch between. We'll be honest, we used it more as a phone holder than an all-action gimbal living our best lockdown life with it.
While battery testing it, we watched hours and hours of streaming video on the Note 20's massive screen, all perfectly angled for our viewing pleasure, courtesy of the OM 4. The Osmo Mobile 3 got mega hot after half an hour of use – especially if the phone being stabilised wasn't perfectly centred in the mount.
The OM 4, however, stays cool as a cucumber with its new motor – and when moving, is also quieter. The OM 4 also delivers more reach too – around 10%, however if all you care about is core stabilization, the Osmo Mobile 3 and OM 4 both perform very comparably.
Features: Digital dolly zoom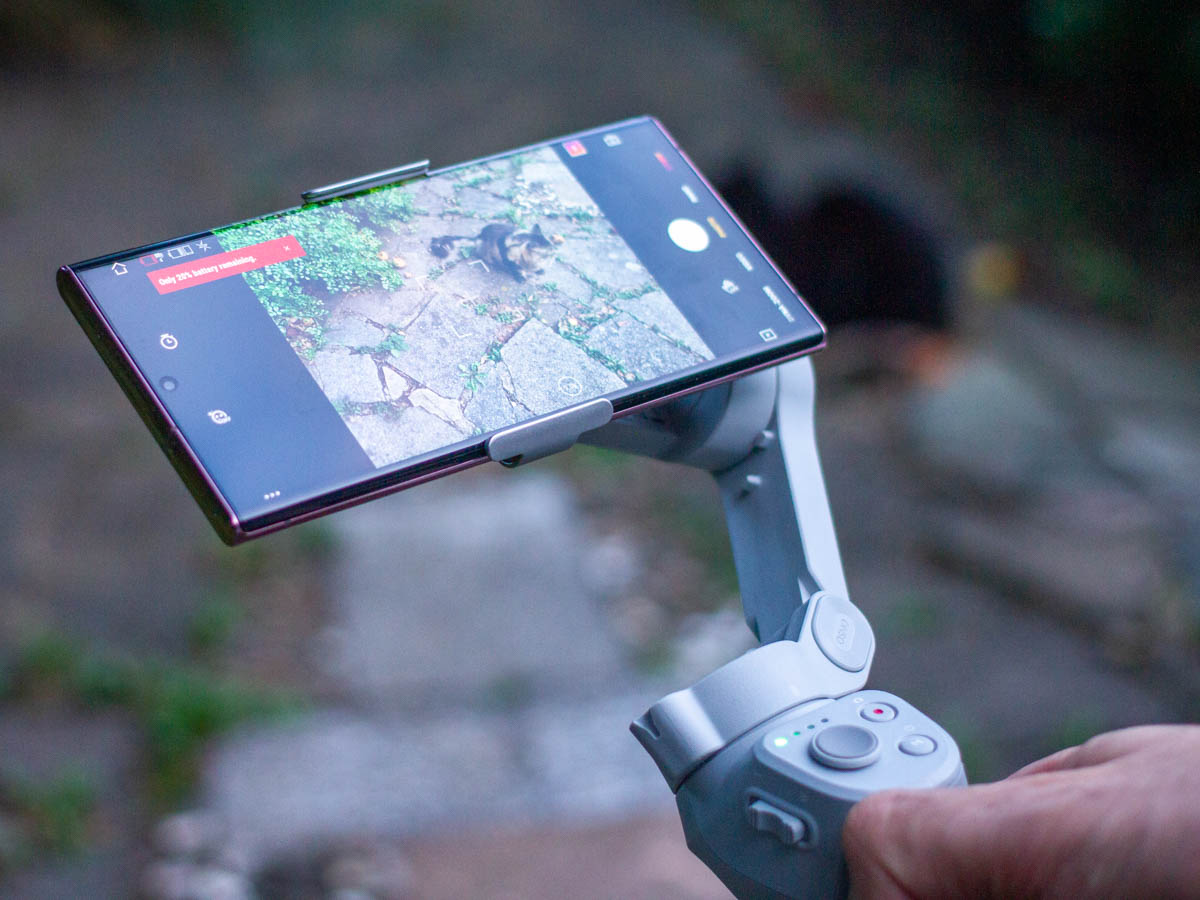 Heard of a dolly zoom before? That's when a camera pans into a subject while the zoom pulls away, keeping the subject the same size but warping the background.
It's a camera trick made famous by Hitckcock, and now, it's a smartphone party trick that can be attempted by you, with the latest version of the DJI MIMO app. The results aren't great – it uses digital zoom, so results can be a bit crusty – definitely not a reason to pick an OM 4 up.
Onto more positive notes, the OM 4's follow mode is excellent, tracking subjects around a frame like glue. Other Osmo Mobile 3 highlights are back including: Spin Shot, Timelapse, Motionlapse, Hyperlapse, Sports Mode and 4x/8x Slow Motion.
We're also big fans of intelligent panorama. Simply set the OM 4 down on its tripod base, hit a button and the gimbal shoots a series of shots and stitches them together for the widest ultrawide shots known to human. The OM 4's 15-hour quoted battery performance is identical to that of the Osmo Mobile 3, and in turn, a full day of stabilized adventuring won't be an issue
DJI OM 4 verdict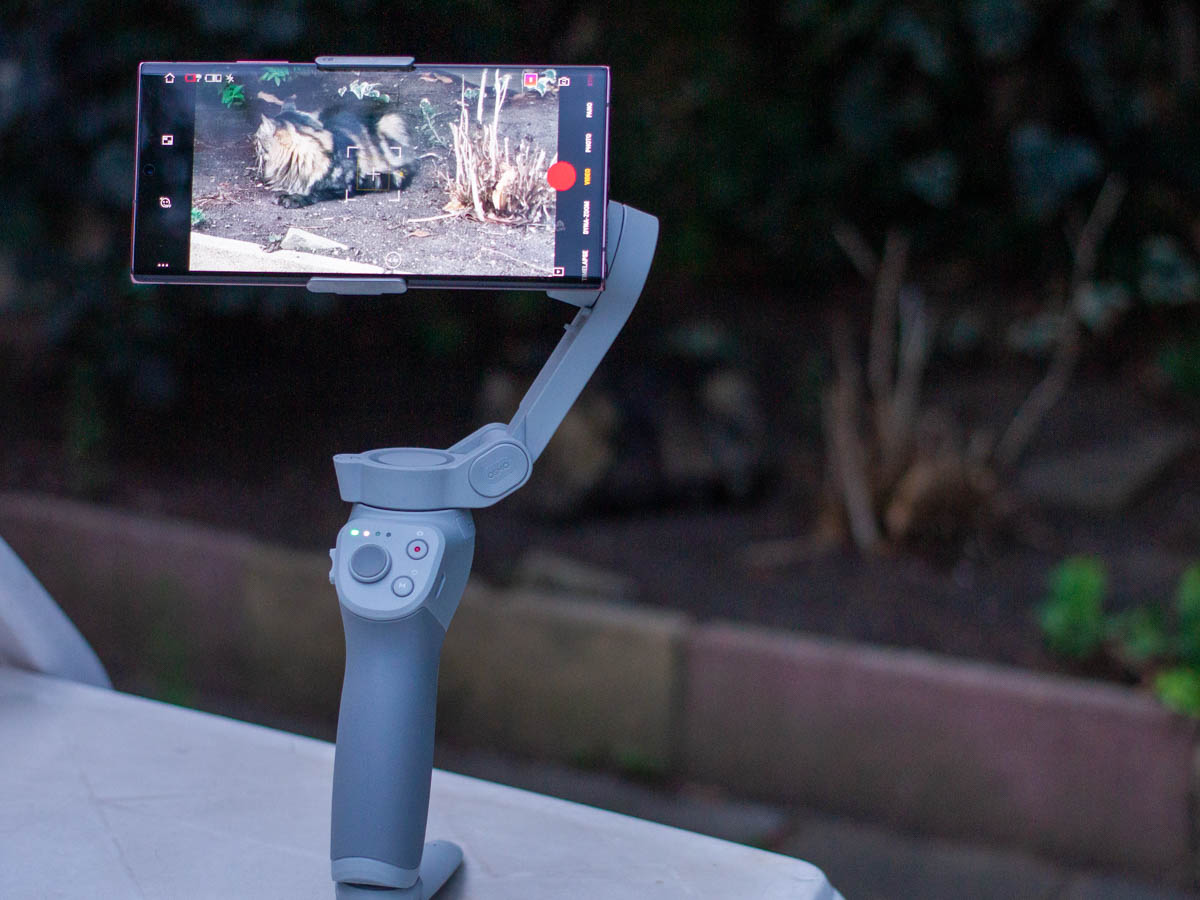 If you don't mind clamping your phone down every time you come to attach it to your gimbal, then the £99 Osmo Mobile 3 is still the best value option on the scene – even with its last-gen motor which can get hot under the collar.
That said, if you love convenience and want the best out there, stump up an extra £40, and bag yourself a tripod stand and a few accessories along with your gimbal and enjoy the OM 4's collapsible, compact, detachable steady-cam excellence.
Stuff Says…
A stellar stabilizer with an undeniable attraction – the magnetic OM 4 is the most convenient gimbal around; but you can get similar stabilisation for less if you pick up the cheaper Osmo Mobile 3
Good Stuff
Most convenient gimbal around
Excellent battery life
Solid build quality
Bad Stuff
Costs more than the Osmo Mobile 3
Core performance similar to predecessor
Ring mount only works with plastic phones