Dyson Pure Cool purifying fan review
Hot town, summer in the city? Dyson wants to be your biggest fan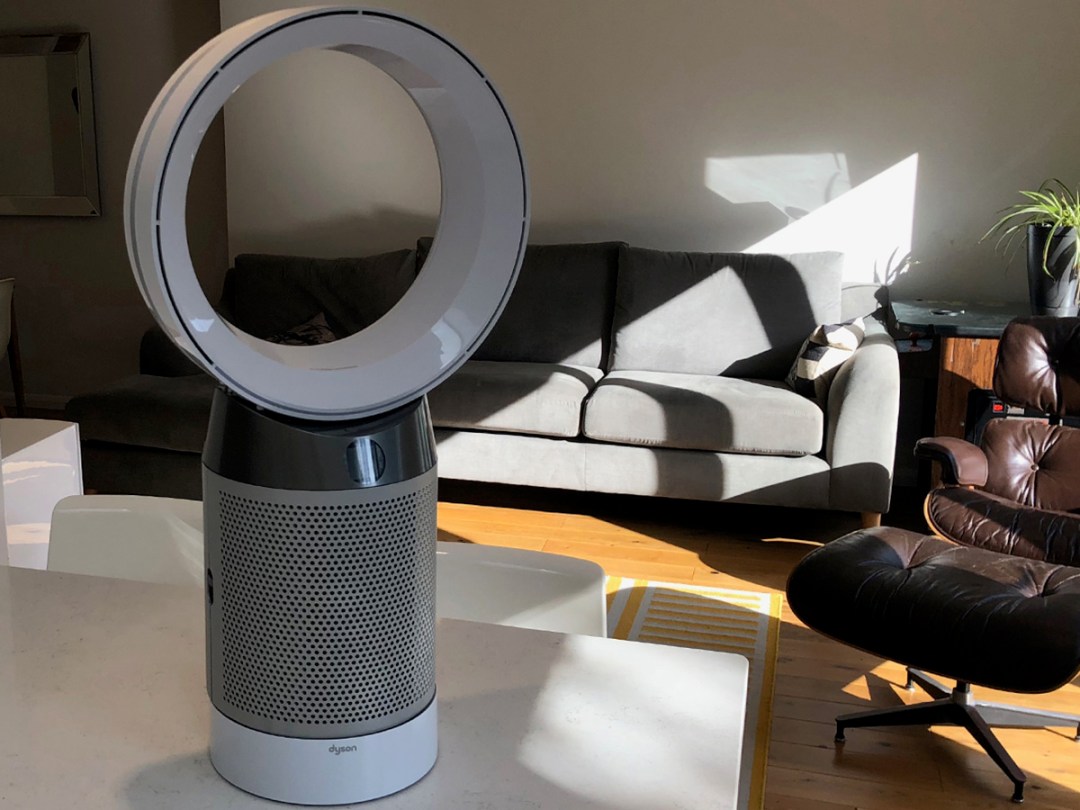 What's cooler than being cool? Ice cold! Alright, alright, alright, alright, so the recent heatwave might be on the way out, but scientists reckon soaring summer temperatures are here to last for the next four years at least.
So the Dyson's wind machine might just be a canny investment.
Glance at the price tag and an investment it certainly is, especially when portable air conditioners are in a similar cost bracket. Granted, Dyson devices have never been cheap and almost always live up to their premium reputation, but we're talking about a fan. How special can it be?
The Pure Cool claims to offer more than the sum of its parts by being an all-year-round air purifier that'll cleanse the household of sin. Ok, not sin, but most airborne nasties in the immediate atmosphere. It does this by automatically sensing particles and gases then capturing 99.95% of them in some sort of Ghostbusters trap.
In the opposite direction you should receive a constant wave of circulating cool. clean air using Dyson's Air Multiplier technology. If it does what it says it does, it's onto a winner, if not it's back to togas and giant leaves in the Stuff office.
DESIGN: RING IT UP
The Pure Cool is available as an oblong floorstanding tower for £499.99 or a circular desk fan for £399.99 – the model where our focus lies here.
Made entirely from plastic, it's lightweight if you need to nimbly relocate it around the room, while the combination of a chunky base and the serene way it shoots air means the device always feels stable. But more on which way the wind blows later.
As with all Dyson fans, it's bladeless so you can pretend to be an illusionist and put your arm through the middle of the ring (jazz hands and silk shirt optional). Around the edge of the rim are slits where the Pure Cool pumps out over 290 litres per second of smooth, powerful air.
Below the round colour digital display sits a perforated silver fuselage containing an air filter system. Plates on either side pop out with the press of a button when they need replacing. The base unit manually pivots up or down, or electronically oscillates up to 350 degrees.
It's a gorgeously contemporary contraption that's typically Dyson in appearance, and from a practical point of view easier to keep clean than traditional desk fans when getting your Mr Sheen on.
Also bundled in the box is a power supply, as the fan is unfortunately entirely mains operated, and a small but effective remote for controlling virtually every aspect of the Pure Cool's operation. For everything else there's the Dyson Link app.
OPERATION: BREATHE EASY
The remote takes care of powering on and off, fan strength up to 10 (sorry Spinal Tap fans), Night-time mode, auto settings, oscillation, airflow direction and info for changing the display. It's simple, instantaneous and takes minutes to master.
When you're ready to exorcise the house of evil gases, first download and register yourself on the iOS or Android Dyson Link app. Enter the Pure Cool's Wi-Fi password and follow the instructions to connect it to your home network.
The app initially offers a real-time read out of the air quality in your area, but then be prepared to go down the wormhole and descend into terrifying levels of depth when it comes to controlling and monitoring interior air quality.
As well as past and present reports for temperature, humidity, filter life and an Indoor Air Quality Index (AQI) reading, the Pure Cool detects particles including pollen, dust, pet hairs, smoke, bacteria and allergens. And that's just for starters.
Also detected are nitrogen dioxide (NO2) levels and other potentially harmful gases released by combustion. Plus, Volatile Organic Compounds (VOCs) including formaldehyde and benzene. This can also been shown on the Pure Cool's digital display.
Features: Overflowing with 'em
The Pure Cool is connected, just like the outgoing model, so you can control it with the Dyson Link app on your iOS or Android phone. It goes into even more detail than the LCD screen, letting you check up on air quality, temperature and humidity.
Then, if you're really feeling gross, you can dig down and see exactly what kinds of particles the Pure Cool is detecting with its three sensors.
A combination of sealed high efficiency particulate air (HEPA) and activated carbon filters remove nasty gases, while a glass HEPA filter captures microscopic allergens and pollutants.
On warmer days increase airflow in your direction for personal cooling. On cooler days change the airflow direction through side vents for the same levels of purification, without the chills. This is a one button operation on the remote.
If the Dyson isn't your biggest fan, Alexa might be, so it's good to know the device is Amazon voice-enabled. Commands include increasing airflow to turning on Night-time mode, which comes into its own when you're struggling to sleep.
Air pollution could be keeping us awake at night as exposure to potentially harmful particles takes its toll, and this isn't just based on asking a few of our mates – it's based on a recent study of 1,000 people over five years in the US by the American Thoracic Society.
The Dyson, then, becomes a stealthy sleep aid too. Night-time mode purifies and cools on the quitest settings, dimming the display in the process, for up to eight hours. Simply hit the crescent moon button on the remote and keep tapping until you hit your desired duration. You can also use the app to schedule the fan for seven days.
It would be great to see Dyson actively suggesting what you could do to reduce the amount of each particle in the air around you, though, instead of just telling you how filthy it is inside your home.
In the future, the Pure Cool could detect high levels of dust and communicate with your Dyson 360 Eye, to automatically trigger a vacuum cycle – but right now you've got to do all that manually. Now that would take us to no.1 fan status.
Dyson Pure Cool verdict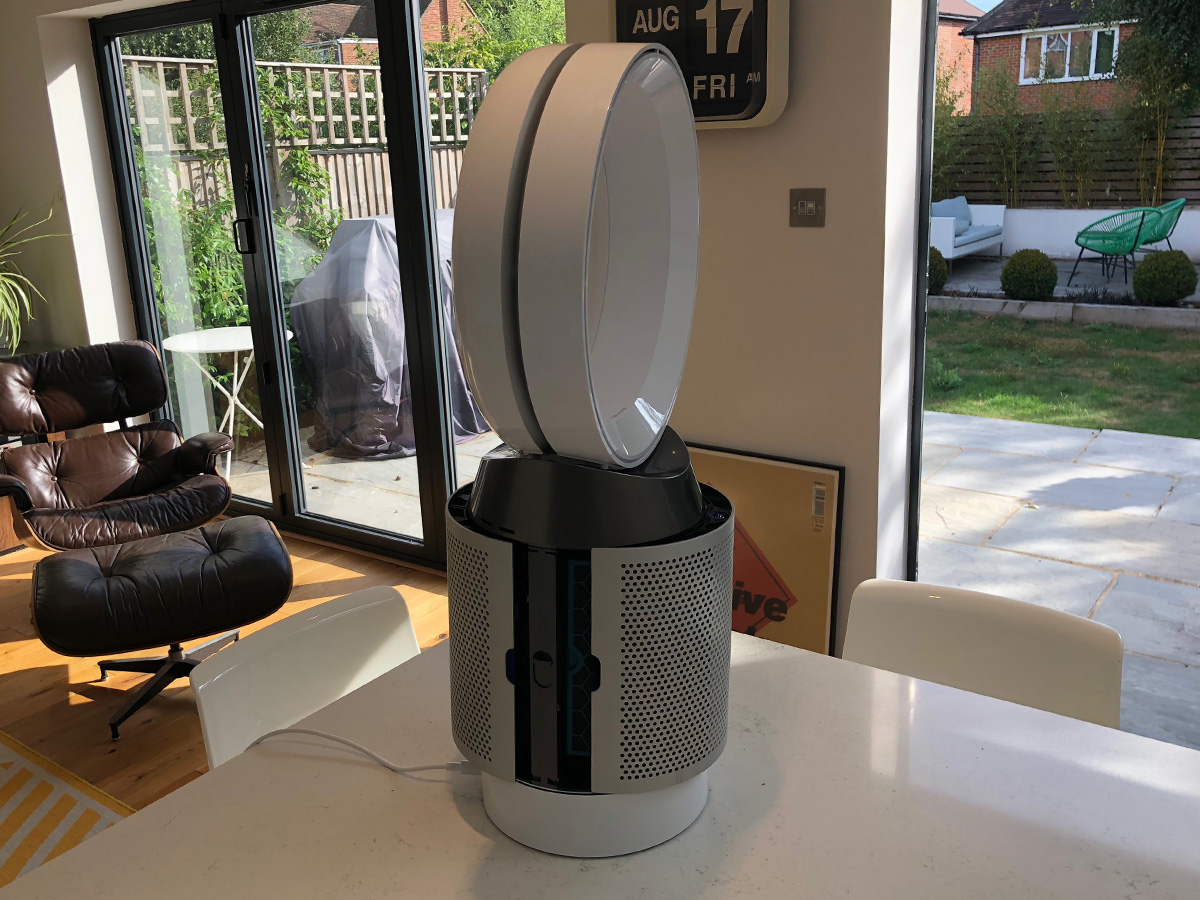 Dyson's desktop fan is a feature-packed device that's a worthy addition to your smart home. Its considered design works with most interiors and despite being completely plastic, the build quality is as good as we've come to expect from the brand.
There's no doubting the power the Pure Cool pumps out, but if it's blessed relief from the sweltering heat, you're after you'll be a tad disappointed. The Pure Cool just doesn't blow cold enough to compete with a similar priced air conditioning unit. That being said, it's the best looking one we've seen.
As an all-year-round air purifier it starts to justify the price tag. The Pure Cool is one of the first products we've seen that actively tells you what it's up to, which earns it serious brownie points. Allergy sufferers aren't the only people that stand to benefit from a purifier; after all, just because your nose isn't constantly streaming, it doesn't mean your air is fit to breathe.
The clever combination of filters work effortlessly to cleanse the atmosphere and are rated to last an entire year before they need replacing, when used for 12 hours a day.
A comprehensive app, Amazon voice smarts and Night-time mode all add to the allure, and there's definite peace of mind in knowing that if there is something in the air tonight, your Dyson has detected and dealt with it.
Stuff Says…
A Dyson that delivers us from airborne nasties
Good Stuff
Dyson design and build quality
Comprehensive air purification
Fantastic app and features
Bad Stuff
Not that cold
Not wireless
Expensive