Dyson Pure Hot+Cool Purifier review
The firm's first purifier than can be used year-round
Keeping the home clean isn't just a job of mopping up spilled beans, dusting the picture frames or scrubbing the skirting boards. Clean air is just as important.
Being invisible, we often forget about the pollutants and allergens air can contain, which are detrimental to our health. And if you're a city dweller, living by a road or an industrial area, you're more at risk.
And don't just take our word for it. This was also recognised by the Government earlier this year when it launched its Clean Air strategy to improve air quality in the UK. Many might think that they're escaping it when in the house, but that would be foolish. Dodgy gases easily make their way into your home and worse still, become trapped. Thankfully, we don't have to walk around in gas masks 24/7 (just yet) but in the meantime, there are a good number of tech companies currently working to make certain our living environments cleaner and safer than ever.
One of the most recognised is British-born Dyson. The company has been innovating in the air filtration space for years now, and it'd be pretty difficult to find a firm who takes so much care when designing such products. But does its latest Pure Hot+Cool purifying fan, launched earlier this year, cut it? This nifty bit of kit is not only said to capture 99.95% harmful particles, but it's the company's first purifier that can heat and cool a room at the same time, allowing it to be used year-round.
DESIGN: A FAN OF ELEGANCE
Unlike previous Dyson purifiers, the Pure Hot+Cool is available only as a smaller oblong floorstanding or desktop tower for £499.99, there are no larger or different shaped models available at different price ranges like with pat Dyson models. Not yet anyway. Nevertheless, in true Dyson style, the fan is bladeless and made entirely from plastic, ensuring it's lightweight if you need to nimbly relocate it around the room, while the chunky base means the device always feels very stable.
This iconic design, which was first introduced with the Air Multiplier back in 2009, means the Pure Hot+Cool can shoot a steady release of air from its small vents that are located around the edges of the pedestal-mounted tube. There are no moving parts in sight due to the tube not having any blades inside it. Instead, the pedestal of the fan contains a brushless electric motor that takes in air and feeds it into the tube.
Air flows along the inside of the device until it reaches the slits, pumping out 28 litres of smooth yet powerful heated or cooled air, every second. It's this cunning design that allows for the empty space in the centre of the fan head that you can punch your arm through, something that almost everyone who has been into a Dyson store will have done at some point. Once the novelty has worn off though, you'll come to realise that this design is also quite practical as it's way easier to keep clean than traditional fans. A light dust and it'll be looking like new again.
Standing proudly like a badge of honor in the centre of the fan is the circular, digital colour display, which will notify you of current air quality in real-time, as well as show off small animations when settings are changed via the buncled remote control or the companion app, Dyson Link. Below this sits a perforated silver fuselage containing an air filter system. Plates on either side pop out with the press of a button when they need replacing (Dyson says this should be once a year). The base unit manually pivots up or down, or electronically oscillates up to 350 degrees.
Overall, the Pure Hot+Cool is a fan of elegance. Minimally designed and modern without being over-the-top while offering consumers the designs they've come to know and love. One thing we'll say, however, is that we'd like to see it offered in different shapes, sizes and colours. Although we are sure Dyson is already working on this
FEATURES: AIR TODAY, GONE TOMORROW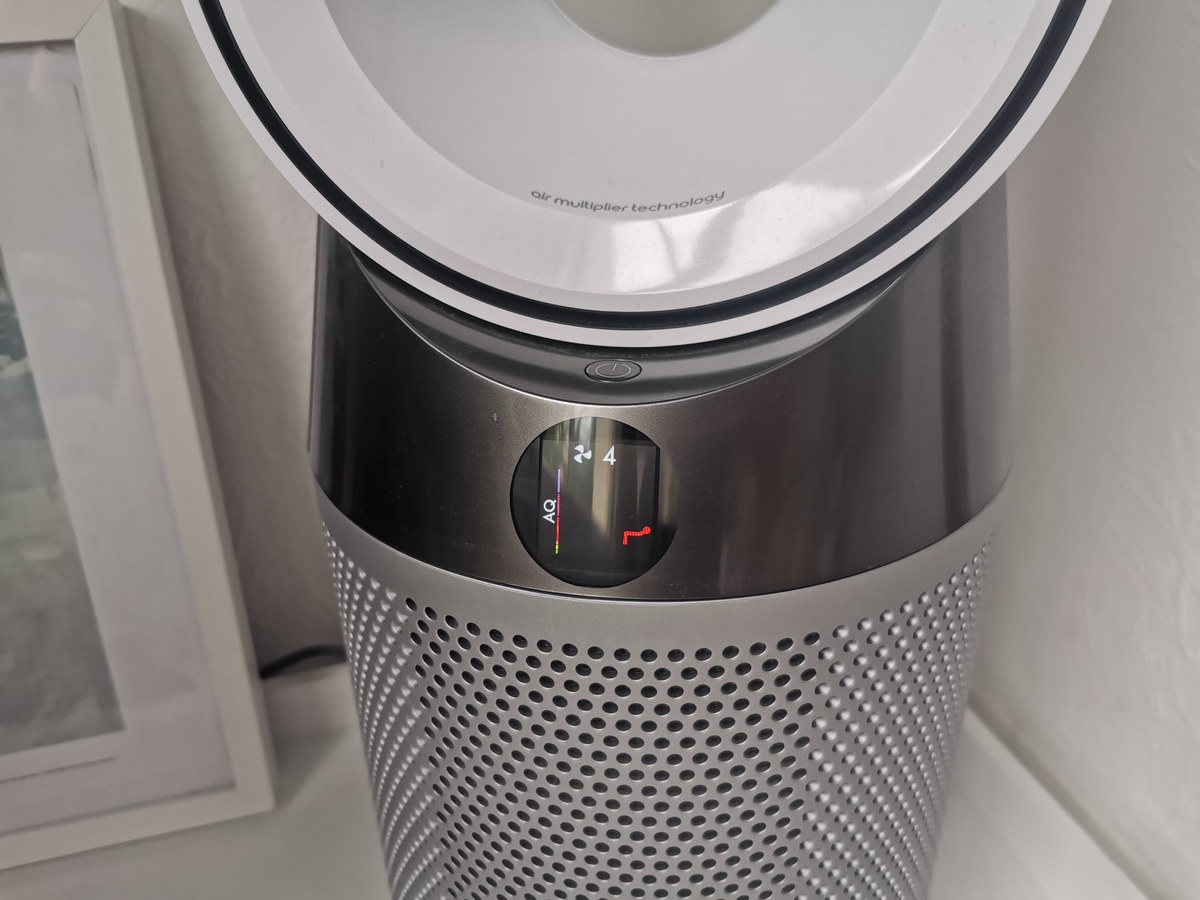 Dyson's Pure Hot+Cool fan is not just a thing of beauty, it's actually super smart, too. Like the last few models that came before it, the fan is connected – meaning you can control it with the Dyson Link app on your iOS or Android phone, from anywhere.
If you prefer things old school, there's a neat little remote included in the box that can be used for controlling just about every aspect of the Pure Hot+Cool's operation. However, the app can do more than the remote, so it's worth an install. To do so, download from your platform's respective app store, register yourself, enter the Pure Hot+Cool's Wi-Fi password and then follow the instructions to connect it to your home network.
Once installed, the app allows you to schedule the fan to warm or cool the air while you're out and about, and to switch on automatically before you head home, or to clean the air during the night while you're sleep, without the need for manual operation. And it doesn't stop there. The app is actually one of the fan's most useful components because it goes into even more detail than the LCD screen, letting you check up on air quality, temperature and humidity. It even lets you have a proper nosy at exactly what kinds of particles it's detecting with its sensors.
While we're on the subject, there are three sensors, each of which monitor what's in the air. Then, using a unique algorithm, it processes the input to provide real-time indoor air quality reports, which notifies users of temperature, humidity, filter life and an Indoor Air Quality Index (AQI) reading. The Pure Hot+Cool also detects particles including pollen, dust, pet hairs, smoke, bacteria and allergens. Most importantly, though, it is also to uncover nitrogen dioxide (NO2) levels and other potentially harmful gases released by combustion. Plus, Volatile Organic Compounds (VOCs) including formaldehyde and benzene, all of which is shown on the fan's display if detected. And we know it works.
Spray a deodorant can, for example, or leave the window open during rush hour, and you can literally watch it detect the change in air quality levels from green (good), to yellow (fair), to orange (poor), to red (very poor) and then to indigo (extremely poor) and the worst of the lot, violet (severe), before cleaning the air around you and getting the levels back down to a safe, green state. It's able to do this via a combination of sealed high efficiency particulate air (HEPA) and activated carbon filters, which work together to remove the nasty gases, while a built-in glass HEPA filter works in tandem to capture other microscopic allergens and pollutants.
OPERATION: FOOL PROOF
We've been testing Dyson's Pure fan set up at home for the past few months, and as you probably can expect from the unpredictable British spring time weather, that's included both sun-zero temperatures as well as the odd hot and humid days.
It was an absolute pleasure to use, probably because it was all so simple to master, with functions being instantaneous. Both the app and the remote can be used to power the fan on or off, increase of decrease air power strength between 1 and 10, enter night-time mode, which dims the display and quitens the fans, oscillation, airflow direction and info for changing the display.
Changing the airflow direction means the air will to come out of the side vents of the fan as opposed to just the front, in case you need to heat or cool and hard to reach crevices. For instance, you can use this feature on warmer days to increase airflow in your direction for personal cooling and then on cooler days, change the airflow direction for the same levels of purification, without it feeling too intense.
We preferred using the app, as the remote can seem to have a tiny bit of latency from time to time. For instance, when you altered one of the fan's settings, such as increasing the fan speed, the display will show you which setting it's changing with a small animation. However, you'll have to wait until the screen has decided to stop showing you this before you can use a different control, such as the degree of oscillation. It's a small annoyance, but if you're impatient, it can cause a huff and puff.
If you're super lazy, and own an Echo device, there's also a Dyson Amazon Alexa skill so control the fan with your voice. When it came to switching between heating and cooling modes, we found the Dyson Hot+Cool really showed its true potential. Having heated our room to beyond 20 degrees, we quickly shuffled the device's temperature down into full-on cooling fan mode. Despite this slightly unlikely use, the unit offered instant response, switching its heated airflow to a refreshingly cool output in surprisingly spritely fashion. The room was cooled again in no time.
While the Dyson Pure Hot+Cool is brimming with features, it isn't perfect. But what is? Still, we'd have liked to have seen the app actively suggesting what could be done to improve the air quality in your home instead of just telling you it's cleaning it. It'd also be cool if it could detect the air quality without needing to be powered on, and only switch on when it believes your home needs a clean. Even so, these might be features we see in future Dyson devices.
DYSON PURE HOT+COOL VERDICT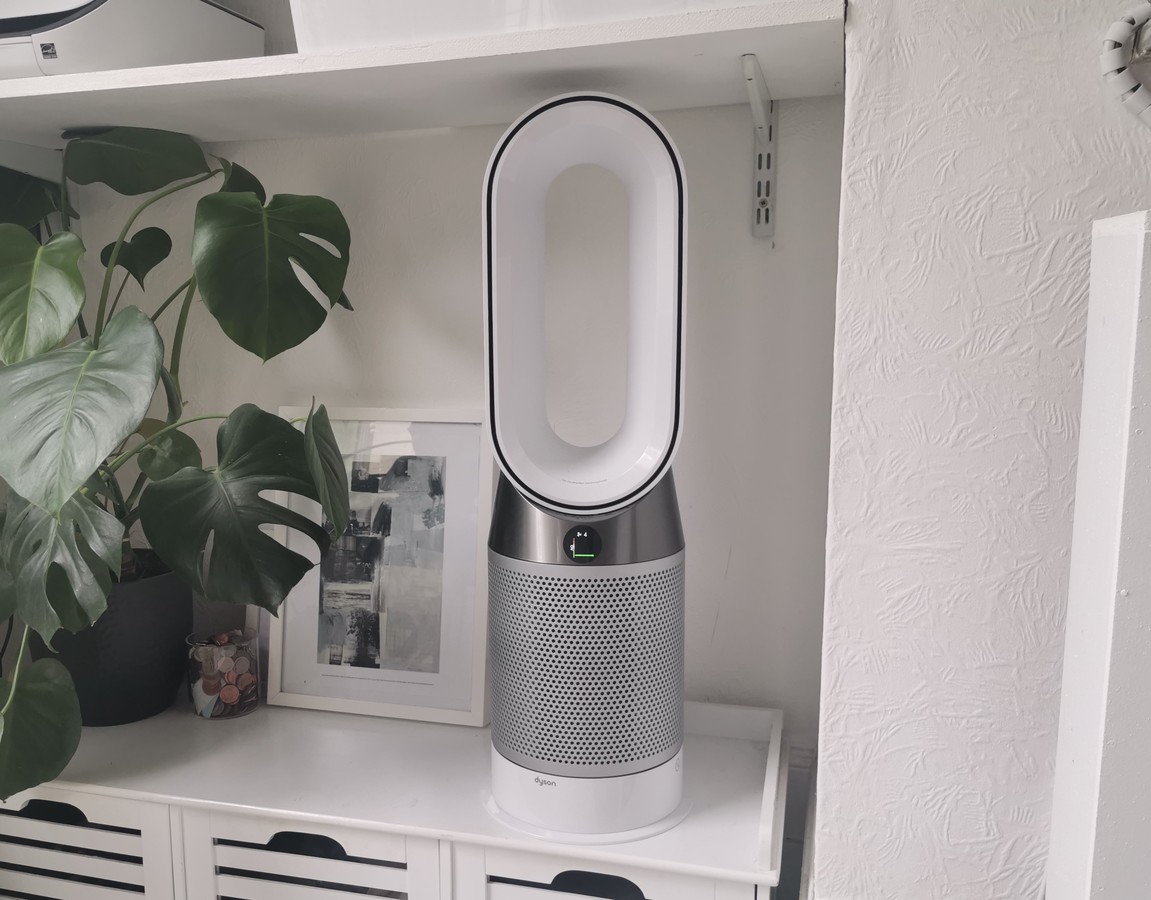 Aside from the obvious £499.99 pricing constraints, Dyson's Pure Hot+Cool fan is a strong performer that not only handles its dual heating and cooling capabilities with ease, but the feature-packed device is a welcome addition to the home of anyone concerned about the health and wellbeing, giving you real-time information on the nasties that may be filling up your lungs as you breathe.
The device's considered design works with most interiors – we can't imagine anyone thinking it's ugly. Despite being completely plastic, the build quality is also top notch, just as we've come to expect from the brand. It might not be for everyone, but this powerful heating and cooling device really does fulfil its cleans, working better than we initially expected, and will most definitely satisfy the temperature demands of users all year round.
Well done Dyson.
Stuff Says…
Minor niggles aside, the Dyson Pure Hot+Cold Purifier does exactly what it says on the tin with plenty of aplomb
Good Stuff
Exceptional design and build quality
Can be used year-round
Speedy purification reactions
Great app and features
Bad Stuff
Pricey
Slight latency when altering settings