Eclipse TD307 mkIII review: small and stylish sound
'Uptight' is too weak a word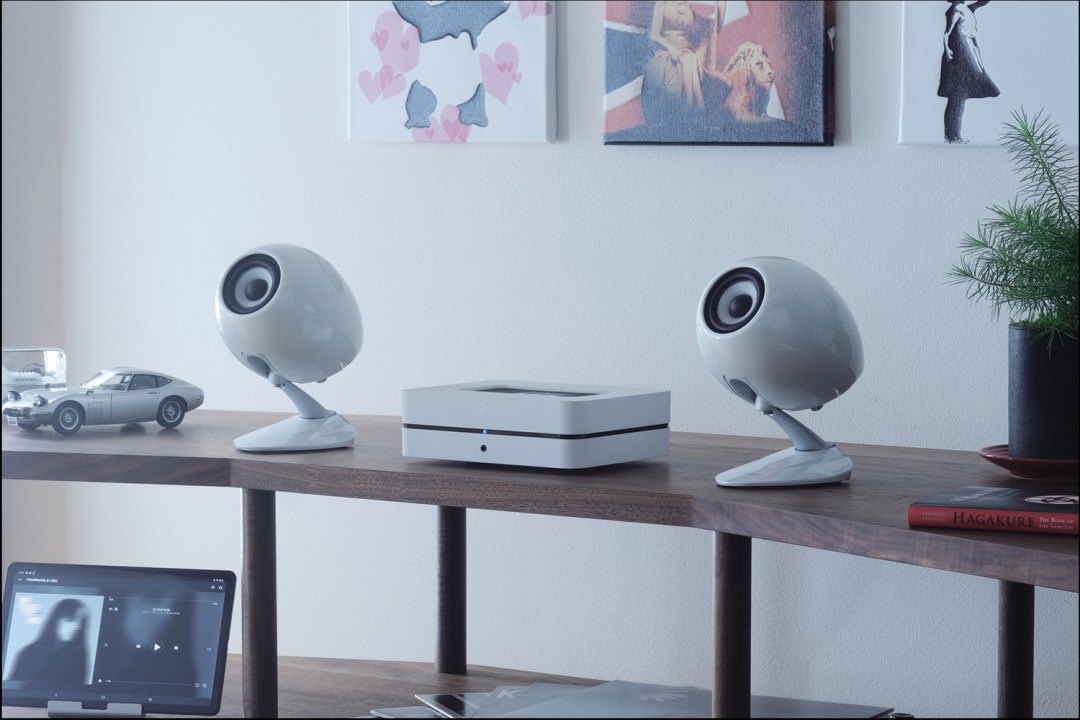 'Nonbiri'. It's Japanese for 'laid-back' or 'leisurely', but it could just as easily mean 'Eclipse product development'.
It's been over seven years since the company last launched a new model. And while you should never judge a book by its cover, one look at the TD307 mkIII and you might nevertheless wonder what exactly Eclipse has been up to in all that time…
Design and build: eggcellent etc and so on
You'll never mistake an Eclipse loudspeaker for the work of any other manufacturer. Forget parallel lines and square edges – Eclipse is convinced that an egg-shaped cabinet is the key to optimum performance. The fact that it makes its speakers look a bit like the one-eyed aliens from outer space in a 1950s sci-fi movie is just a happy coincidence.
The TD307 mkIII is available as a single speaker, and costs £300. But given that most of us prefer stereo sound, and that the speaker's 212x135x184mm (HxWxD) dimensions make it perfect for desktop use, it seems sensible to test two and say the asking price is £600. Still, if you want to build a home cinema surround-sound system of TD307 mkIIIs, it's good to be able to buy five rather than three pairs.
The Eclipse are available in glossy black or glossy white finishes. They come complete with an integrated stand, which features a great deal of adjustment – so the TD307 mkIII can be positioned more-or-less anywhere you like and still be angled to fire right at you. And, as everyone has come to expect from Eclipse, they're built and finished to a very high standard indeed.
Features: small is (maybe) beautiful
They may look deeply individual, but there's little that's unusual about the feature-set of the TD307 mkIII. These are passive loudspeakers, after all.
Eclipse has always favoured the single-driver approach to cover the whole frequency range – and the TD307 mkIII feature a 65mm fibreglass cone backed up by a disproportionately hefty magnet system. The improved magnetic force should, in theory, allow for bigger sound-pressure levels and lower distortion. And the single driver means no crossover network, of course, which means no reduction in dynamic response, and no requirement for balancing frequency integration like multi-driver designs must.
The driver itself has a claimed frequency response of 80Hz – 25kHz. That's not especially deep, but then these are small speakers with small drivers – and besides, it's an improvement on the 100Hz extension of the model they replace. So there should be a hint of bass, at least. Given their 80 dB/W sensitivity rating and 25 watts power-handling capability, though, you need to accept these are never going to be especially loud. Another reason to consider them as part of a desktop system, then.
Most unusually, the driver isn't attached to the speaker cabinet at all. Well, it's unusual for most speakers but it's absolutely standard practice for Eclipse. The driver is connected to an internal five-point stay, with a high-mass anchor connecting it to the speaker's stand. This way the cabinet stays inert and vibrations are steered out of the structure.
Eclipse goes to these lengths because it's adamant that reproducing the time domain as accurately as possible is the key to convincing sound – that's what 'TD' stands for, in fact. Most rival manufacturers consider the frequency balance to be more important. And that's why most rival speakers sound the way they do, and why the TD307 mkIII sounds the way it does…
Performance: sit still and pay attention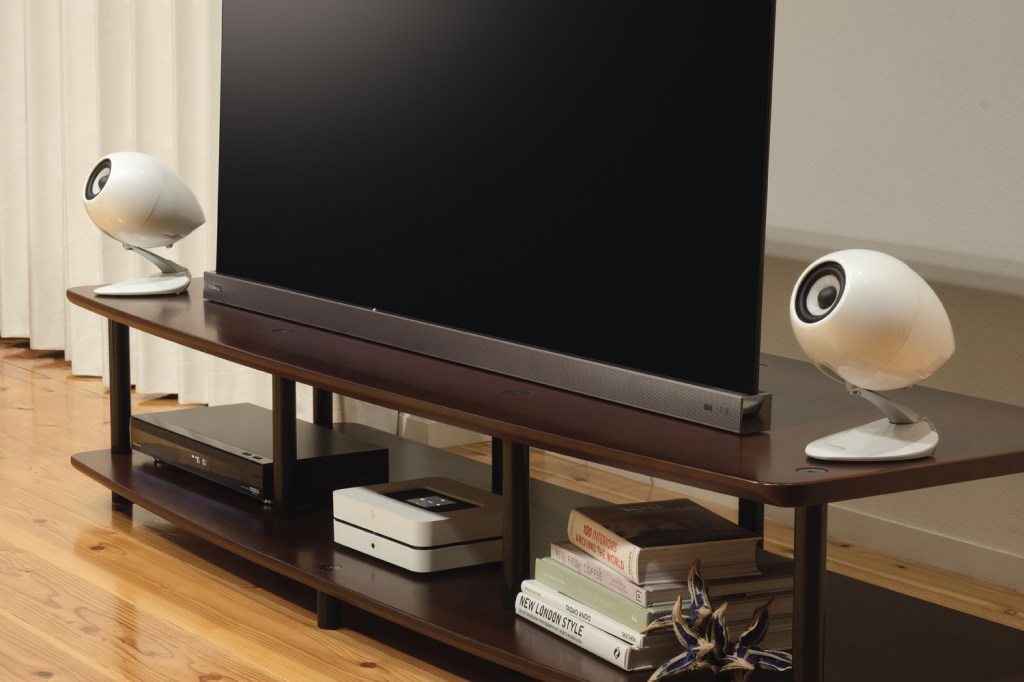 Before making any kind of judgement – good, bad or indifferent – about the way the Eclipse TD307 mkIII sound, you absolutely, positively have to take utmost care with their positioning.
To say the TD307 mkIII are sensitive to their positioning is to understate it somewhat. 'Uptight' only gets you part of the way to appreciating these Eclipse speakers' preoccupation with positioning.
They must be close to your listening position – 'near field', they'd call it in the world of professional audio. They must be pointing at you – really accurately, directly at you. There's a little screw in each stand to help fix them in position, and that's why. Because if they're not close to you and pointing right at you, you'll never hear what they're capable of.
And make no mistake, if you indulge them where positioning is concerned, they're capable of plenty. In some ways (but not all, oh dear me no), they're absolutely untouchable.
Positioned perfectly on a desktop, driven by a little Chord Anni amplifier, and playing a hi-res digital audio file of MC Solaar's Qui Sème le Vent Récolte le Tempo, they are without question the most positive, most direct, most rigorously focused and most staggeringly detailed pair of desktop speakers you can buy, at any price. In these respects, they're entirely without serious competition.
If there's detail in a recording, the Eclipse will extract it and hand it over, integrating it into the overall presentation in the most naturalistic and unforced manner imaginable. It'll get exactly the emphasis it requires, and it will form a part of a remarkably vivid, explicit overall picture. Doesn't matter how fleeting, how distant or how minor it is, it won't escape the TD307 mkIII. Not a chance.
But they're not simply obsessive detail-dealers. The sense of event, of performance they're capable of generating is equally impressive and equally thrilling. They can draw you into a recording in a manner that very few speakers (at any price and of any size) can rival. They're an absolutely unambiguous, startlingly direct and uninhibited listen.
Downsides are few, but significant. The acute lack of low-frequency extension and out-and-out power the TD307 mkIII generate robs the MC Solaar tune of a stack of scale and presence – it's entirely predictable, given the dimensions of the driver and the cabinet in which it sits, but anyone who values 'punch' in a recording is going to feel short-changed here. The bass the Eclipse are capable of producing is swift, and just as lavishly detailed as everything above it – but it's lightweight in the extreme.
And the importance of their being perfectly positioned becomes apparent if they're not. Sit even slightly off-axis and the top of the frequency range becomes diffuse and vague – and so you're left with a sound that's basically all midrange.
Eclipse TD307 mkIII verdict
You don't buy a two-seater sports car if you need a people carrier, and you don't buy a pair of Eclipse TD307 mkIII if you can't accede to their requirements.
But if you only need two seats/are prepared to indulge them, these speakers will reward like little else.
Stuff Says…
Even if you don't love the way their speakers sound, you've got to love the way Eclipse does its thing
Good Stuff
Incredibly detailed, positive and convincing sound
Impressive engineering
Best-looking desktop system around
Bad Stuff
Don't do 'bass' as you might want it
Neurotic about positioning
Not cheap