Ember Cup and Mug 2 review: confusing, powerful, and piping hot
Wave goodbye to cold cups of tea
As a nation, us Brits rely on a well-made brew to get through the day – stereotypes be damned – and can all agree there are few things worse than a cold cuppa. We're not the only ones to think so: Ember's smart mugs are here to keep your hot beverages at the perfect temperature.
Packed with a heating element, built-in battery, and Bluetooth tech, Ember's mugs look stylish, and mean you'll never have a cold cup of tea again. "How much is a never-go-cold cuppa?" you might ask. At least £100.
A cup of tea that stays toasty for hours sounds ideal, but do Ember's mugs warrant such a high price? And how do they fare as yet another smart home device in your house?
Ember Mug 2 and Cup design & features: Warm, calm and collective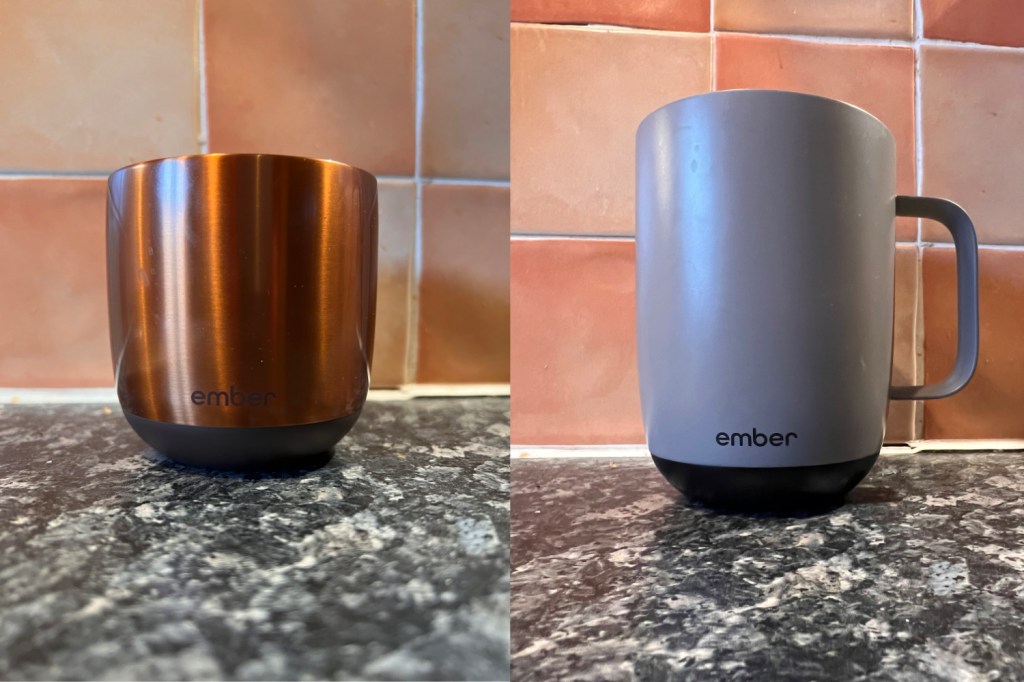 The Ember range consists of the Ember Mug 2, Ember Cup, and Ember Travel Mug. We're taking a look at both the Cup (designed for smaller espresso drinks) and Mug 2 (designed for larger hot beverages).
The Mug 2 comes in two sizes (10oz or 14oz) and three colours (white, black, and grey). It's made from stainless steel with a ceramic-coating, so it'll look like all your other mugs. The stainless steel body means the mug feels lightweight, despite the extra battery tech down below. The handle of the mug is a little on the thin side, but it's not something you particularly notice when drinking from it.
One big kudos for the Ember mugs is that they don't get as warm as others. Touch the side of the mug and you'll feel some warmth, but you'll easily be able to hold it (more on this later). If you're looking for a stand-out design for your snazzy new high-tech mug, Ember also offers some metallic options for the Mug 2: Rose Gold, Gold, Copper, and Steel.
Since the Ember Cup is designed for espresso drinks, it's much smaller, as you'd expect. It holds 6oz, which is enough for a couple of espresso shots (they're about 1oz each) and some milk on top. The cup is made from the same material, but is only available in black or metallic copper. There's also no handle on the Cup because of it's size, but that won't be a problem thanks to the insulation.
When it comes to cleaning, be ready to break out the marigolds and washing up liquid: unsurprisingly neither the Cup nor the Mug 2 is dishwasher-safe. You can't stick them in the microwave, either – but then why would you need to, given they heat drinks themselves?
Ember companion app: great, but we'd rather a biscuit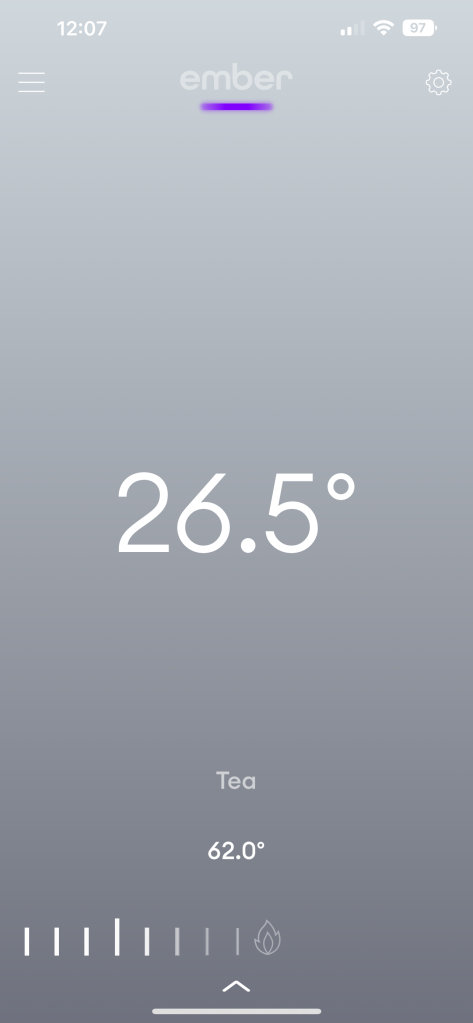 As smart devices, Ember cups have a seemingly obligatory companion app. Ember's works rather well; it's simple, not too cluttered, and really responsive. You have to select a mug to connect to when first opening the app, which irks if you only have the one – surely it can tell using the Bluetooth connection.
Otherwise, we've got no complaints. The main page lets you quickly adjust the temperature with a quick swipe to the left or right. Swiping up reveals preset temperatures (with an option to program in your own), a tea timer, and rather oddly, some recipes. You can also quickly access the settings, change the mug's LED light colour, and even connect to Apple Health.
Performance: nothing lukewarm about it
We've not seen any smart tech that can raise the heat (pardon the pun) on your hot drinks game quite like an Ember mug does. You make your brew (tea or coffee) as you would any other, with sensors automatically switching on the heating element when you pour liquid into the mug. It then holds the temperature at your preferred default, or you can pick a different one on the fly.
Each Ember mug can hold drinks between 50°C – 62.5 °C, meaning you can leave your cuppa and do something else. When you return it'll be at just the right temperature. The heating element doesn't radiate outwards, which isn't just good for power efficiency: it means you won't need oven gloves just to take a sip, as it's less warm to the touch than a normal ceramic mug.
It doesn't just keep the bottom part of the mug toasty and the top part lukewarm, with all of the liquid being kept at roughly the same temperature. It didn't drop below our in-app target, either.
The battery is slated to last around one and a half hours, although we found that estimate was a little high. Drink your cuppa as normal and you'll make it through a few tea breaks, but if you regularly forget about your brew, it'll be a different story. We've at times not even made it through a full cup before the battery trickles out. At least the app notifies you when you're at 5% charge, so you can pop it on the charging coaster. If you're sat at a desk, it makes sense to use the coaster anyway – unless you're a fan of circular stains on all your furniture.
Could you use an Ember Mug or Cup to heat up cold water? Yes, but the firm doesn't recommend it. We twiddled our thumbs for 50 minutes before a cup of regular tap water hit 62 degrees, so don't think of this as a replacement for a regular kettle.
Ember Mug 2 and Cup verdict: Hot or not?
Tea drinkers and coffee addicts should be in no doubt: an Ember Mug 2 or Ember Cup will serve your thirst-quenching habits well. They can keep a drink warm for over an hour, and look rather stylish as far as kitchenware goes, with no shortage of colours to choose from.
Yet we can't help but feel a little daft when needing an app to update our mug's firmware. Maybe it's the future, but equally it could be teetering on the edge of smart tech going a step too far.
These are expensive gadgets, too. Anyone who can't stand cold tea, or needs longer than the length of a coffee break to finish their cup, might be able to justify the price. But for the average consumer, or those that aren't fans of having an app for everything? Risk a burnt tongue and just gulp your brew down a bit quicker.
Stuff Says…
Packs intense heating power and looks rather snazzy for a mug. Ideal for keeping hot drinks warm, if you don't mind spending big on yet another app-controlled gadget
Good Stuff
Holds heat extremely well
Looks rather stylish
Packs a battery
Bad Stuff
Not dishwasher or microwave safe
Battery life isn't great
Very expensive
Ember Cup technical specifications
| | |
| --- | --- |
| Size | 3.3in x 3.3in |
| Capacity | 6oz (178ml) |
| Weight | 326g |
| Power | Built-in rechargeable battery |
| Dishwasher/microwave safe? | No |
| Material | Ceramic |